Image Lake and Glacier Peak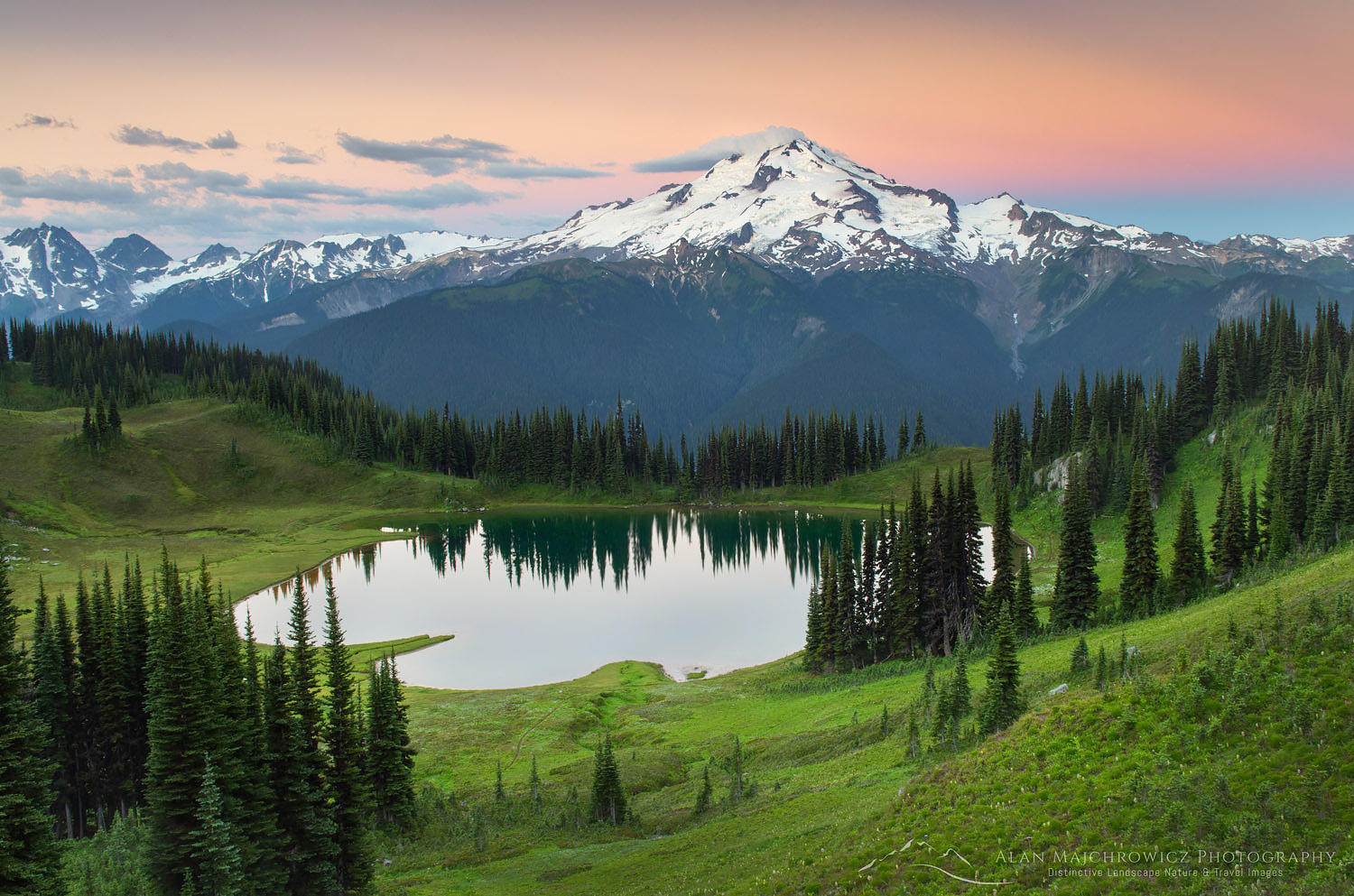 Glacier Peak Image Lake #58240   Purchase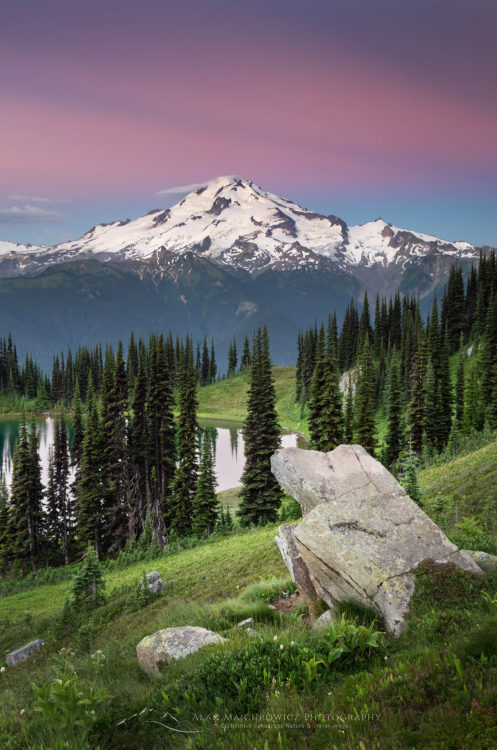 Image Lake Glacier Peak  #58240   Purchase
Recently I made a five-day backpacking trip to one of my all time favorite areas in the North Cascades, Image Lake . Located in the Glacier Peak Wilderness this is one of the classic views of lake mountain glacier in the Northwest. Image Lake is rivaled only by a few other spots such as Picture Lake/Mount Shuksan, and Tipso Lake/Mount Rainier. The big difference here is that you're not likely to run into crowds, or more than a couple other people for that matter. My last visit to this outstanding location was back in 2000 and I've been wanting to get back there ever since.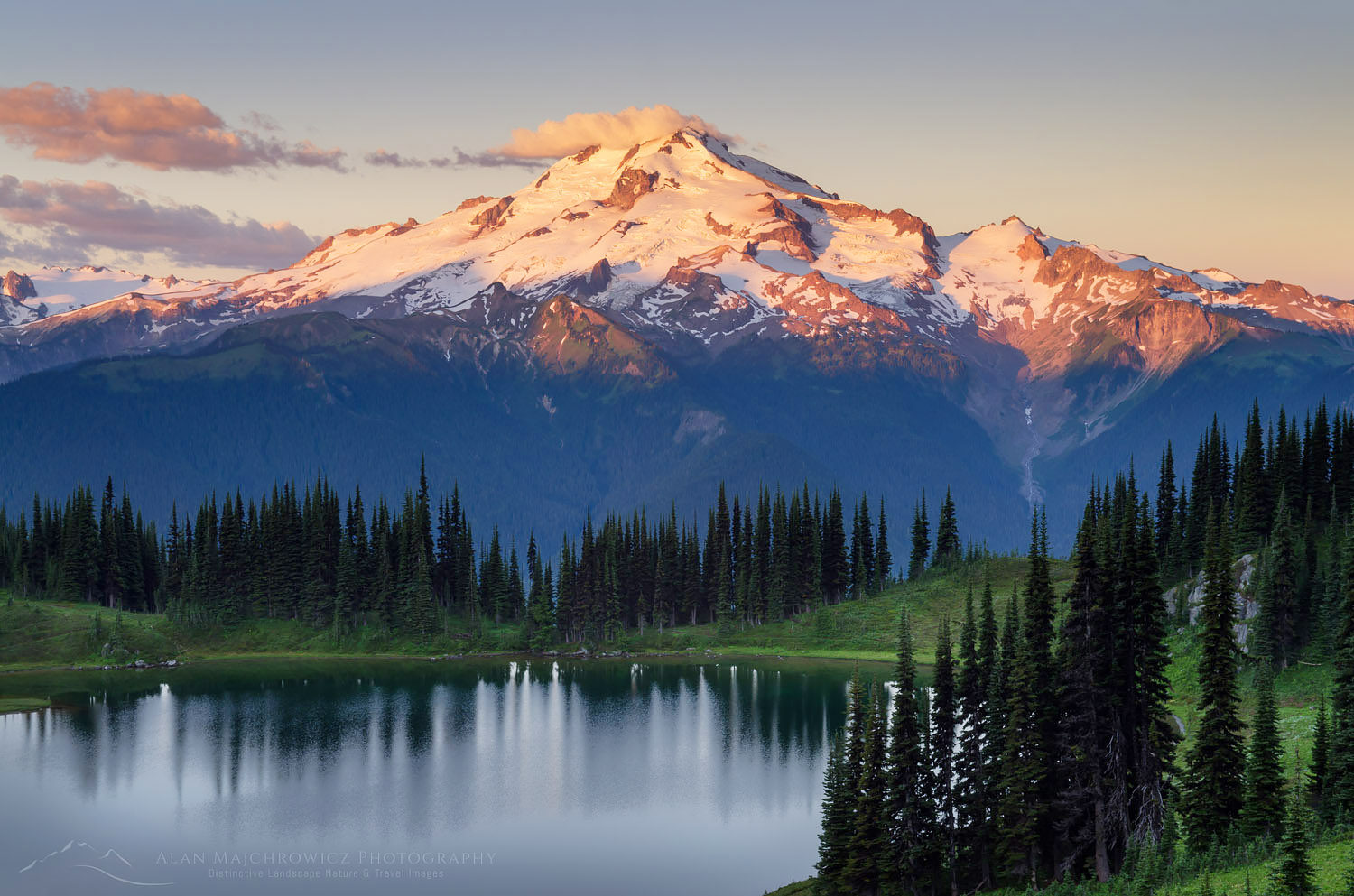 Glacier Peak  Image Lake #58248   Purchase
Due to a series of winter floods, subsequent lack of repair funding, and environmental studies, the Suiattle River access road has been closed for nearly 12 years. I'm not very optimistic that the road will remain open for long. The whole length of the river valley is made up of ancient volcanic debris from past eruptions of Glacier Peak. During the rainy fall and winter months the river routinely eats away at this easily eroded material. Despite extensive repairs there are still several areas where the road is still very vulnerable. It won't take much, I'm afraid, to put it out of commission again.
Hiking In
Image Lake on Miner's Ridge is a fairly long backpacking trip that requires at least several days to justify the effort. The total roundtrip mileage is about 32 miles with 4500′ of elevation gain, most of it in the last five miles. Of course there is much more to see than just plopping down at the lake so figure on adding several more miles and another thousand feet or so of elevation to that. On all three of my visits I encountered parties that did it in two days. However, I really don't see the point of carrying a full load that far and high to take a quick look around and head back the next day. I consider three days a minimum.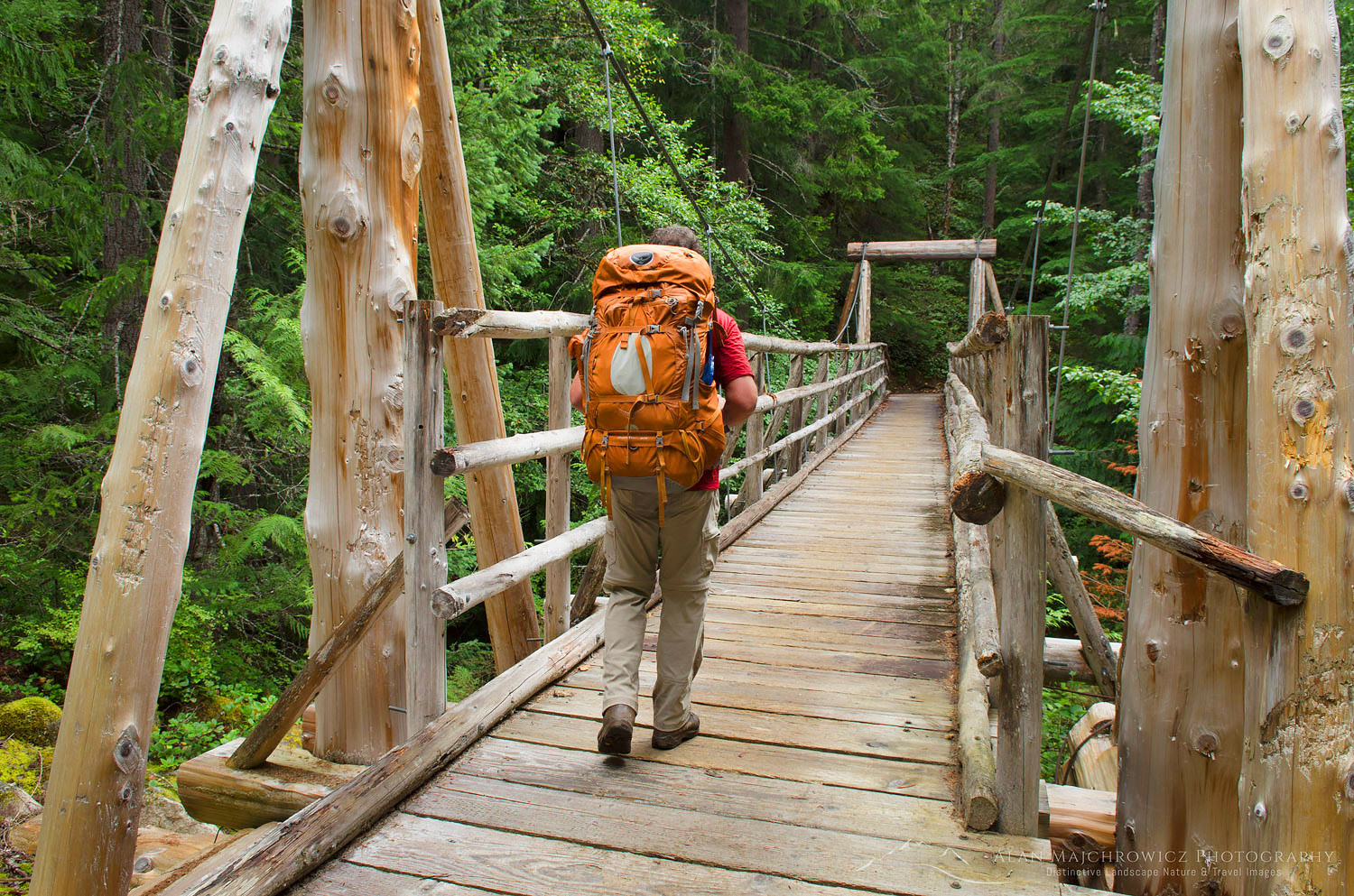 Backpacker on Canyon Creek Bridge #58176   Purchase
The first nine or ten miles travels along the Suiattle River through gorgeous old growth forest with massive trees. One of the highlights comes when crossing Canyon Creek on a very well built suspension bridge. Such a large and sturdy structure is rare in the wilderness. Horses also use this trail so it needs to be able to stand up to heavy weights. At around ten miles the real work begins, non-stop switchbacks from the river valley to the top of the ridge. Fortunately the upward grind is in the shade of forest almost all the way up. On this trip it was fairly cool with heavy overcast and fog. However, the intense humidity had me sweating like a pig while just putting my packing on! When I got to camp I was soaking with sweat.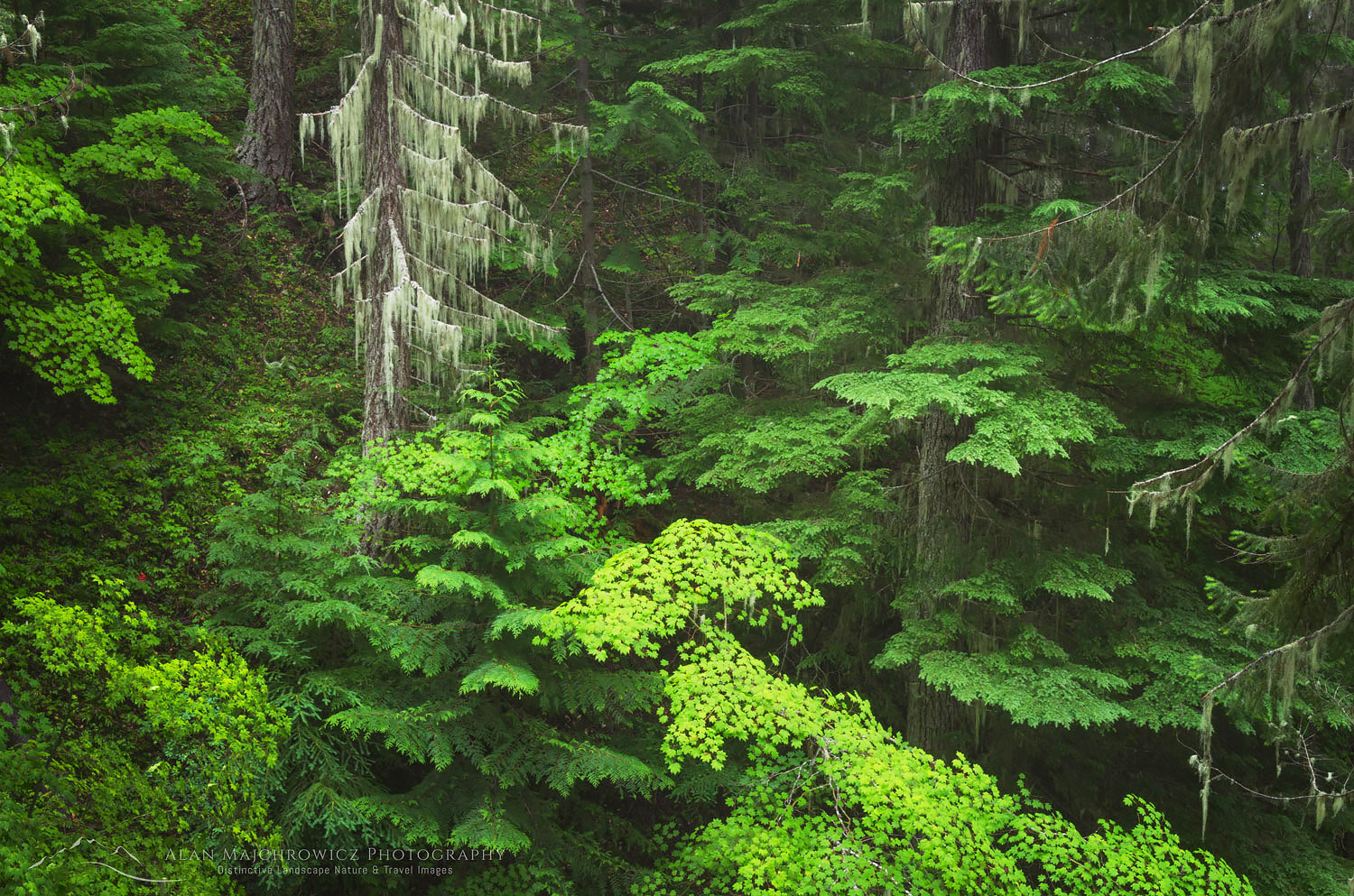 Old Growth Forest Glacier Peak Wilderness #58192   Purchase
At The Lake
Image Lake itself is nothing to go out of your way to see. It's a very shallow lake which has a soft sediment bottom, and is usually covered with hatching insects in summer. Image Lake is not the best for swimming, but good to cool your toes off. The real reason that makes the lake so special is its situation on Miner's Ridge. At about 6000′ high it has a perfectly placed front row seat view of the heavily glacier-cloaked NE face of Glacier Peak.  At 10,541′ Glacier Peak is the most isolated of the five volcanoes in Washington.  It is definitely one of those views you could just sit for hours or days admiring. And since it so far out you'll most likely have it to yourself! On this trip I had the whole ridge and lake basin to myself for two whole days.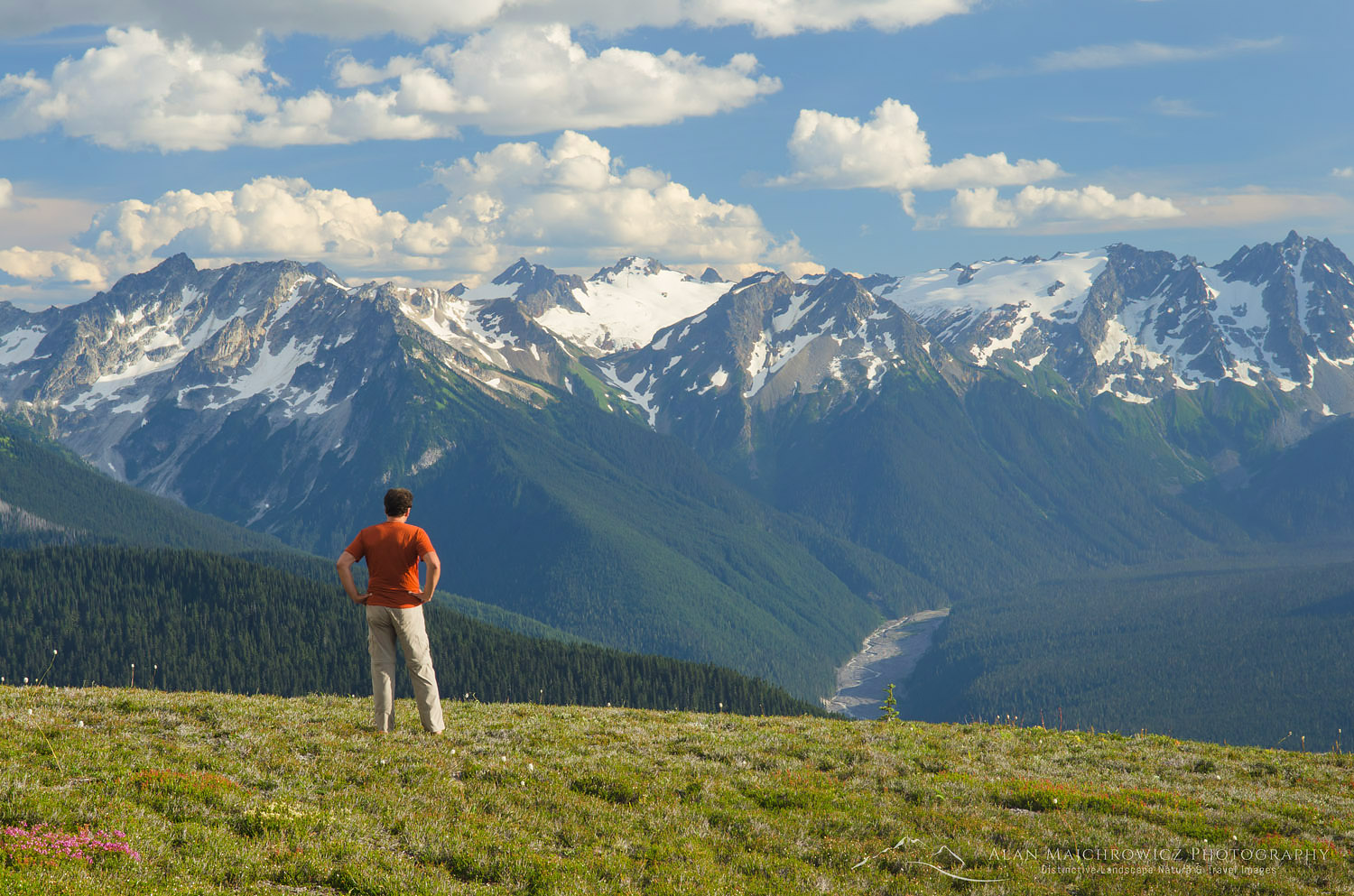 Upper Suiattle River Valley from Miner's Ridge #58279   Purchase
If you are looking for a truly extraordinary wilderness experience then spend a day or two at the lake before heading east along Miner's Ridge. This route traverses through high meadows to Suiattle Pass and beyond to Cloudy Pass and glacier fed Lyman Lake. Nearly the entire length of the trail is above tree-line.  Along the way you'll travel through some of the most astonishing mountain scenery in the North Cascades accessible by trail. Seven to ten days would be perfect to enjoy such a trip and you'll have memories to last a lifetime.
If you'd like to purchase prints or license any image for commercial use just click on any image or search by keyword.
Glacier Peak and Miners Ridge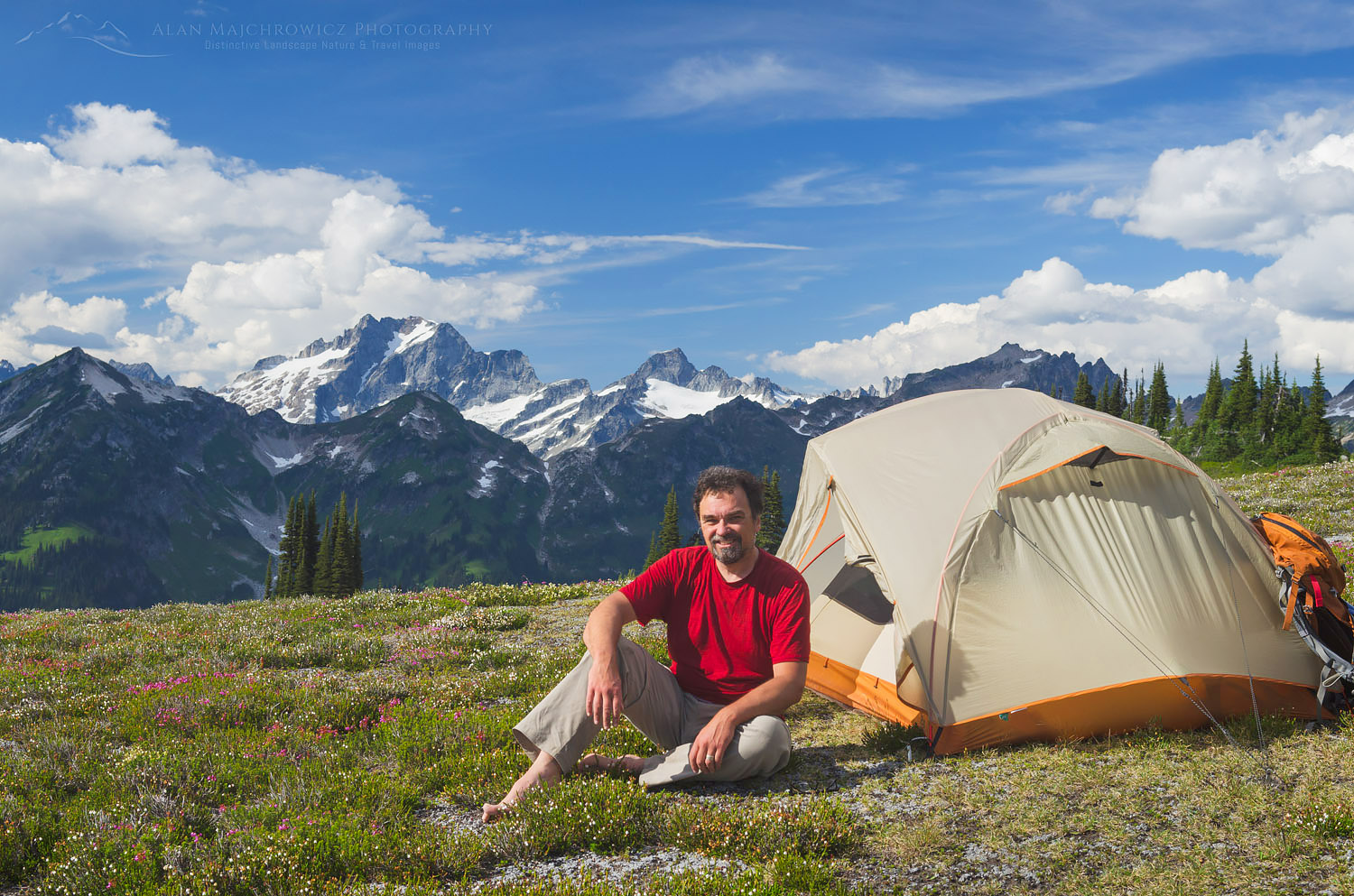 Camp on Miner's Ridge, Dome Peak in distance #58268   Purchase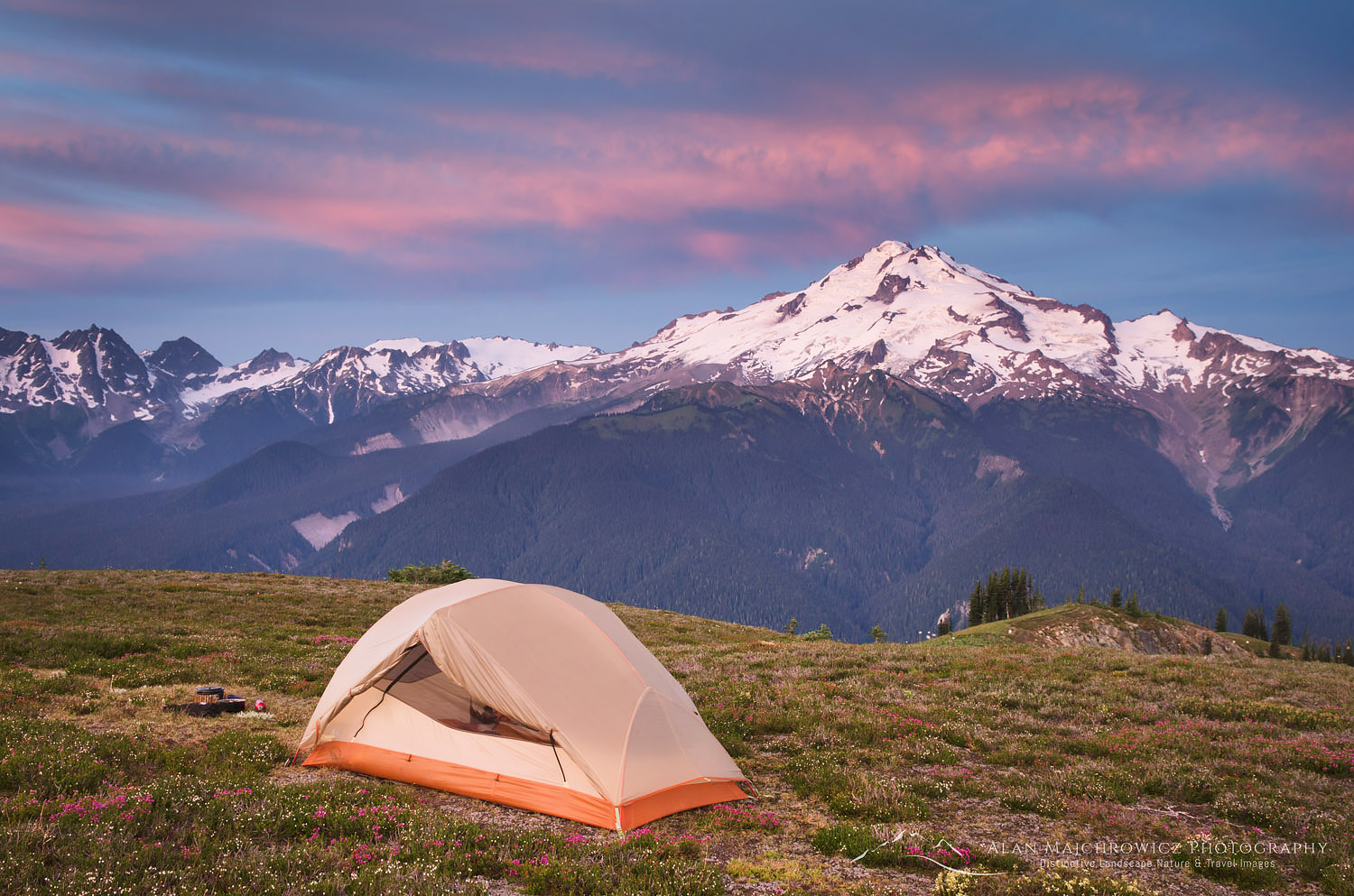 Miner's Ridge camp, Glacier Peak in distance #58317   Purchase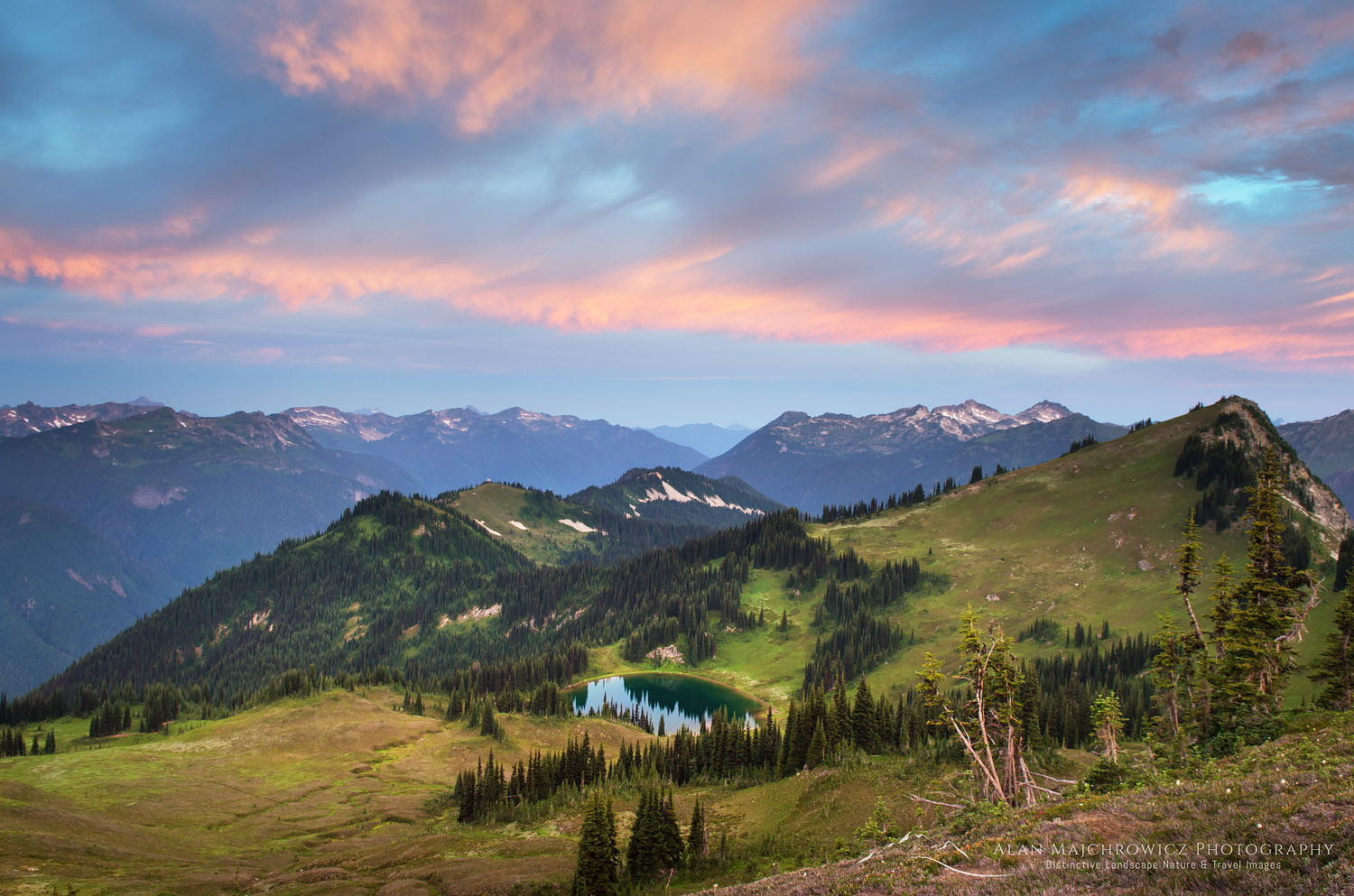 Miner's Ridge and Image Lake #58322   Purchase