Cirque of the Towers Wind River Range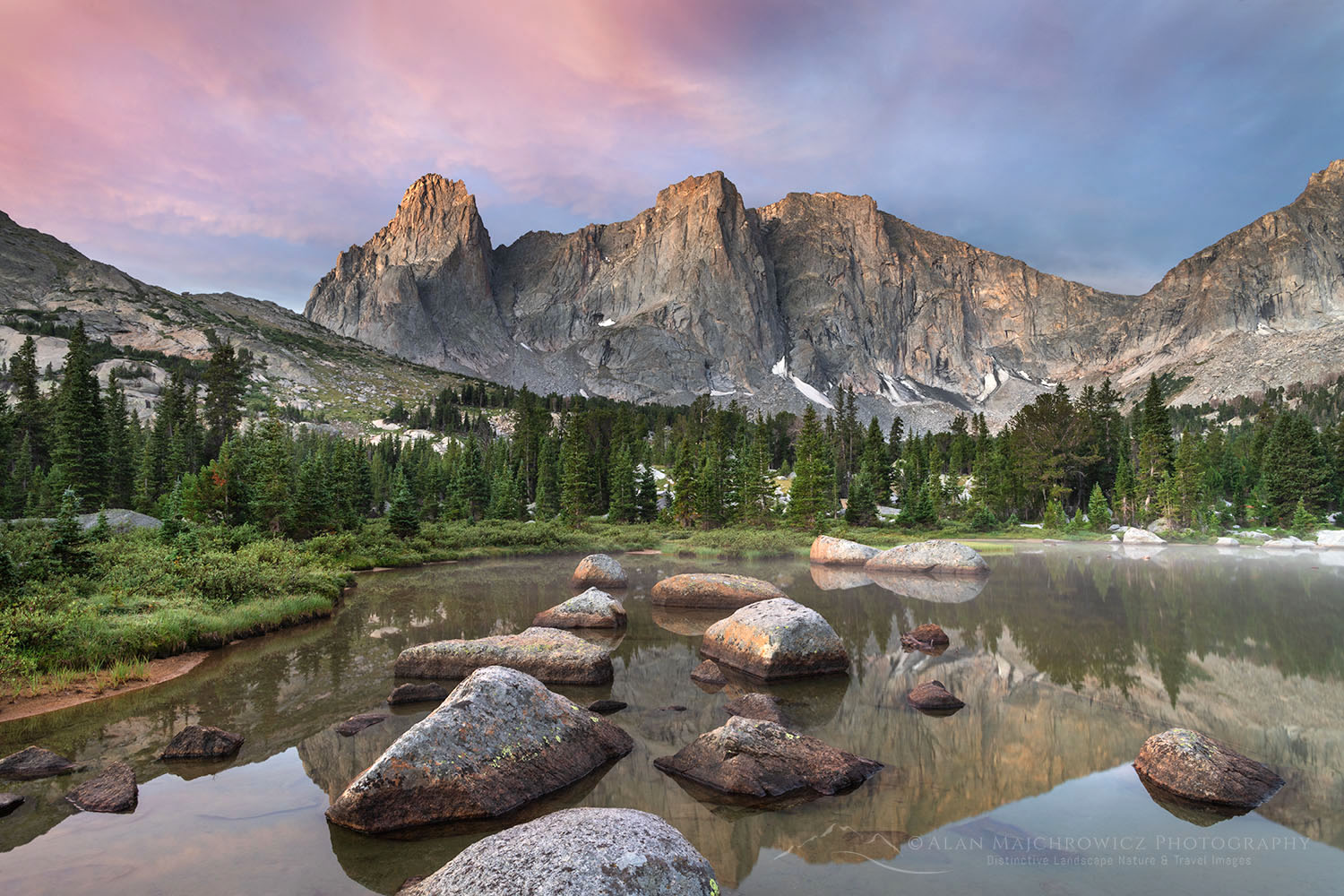 Cirque of the Towers Wind River Range #78372  Purchase
The Cirque of the Towers is one of the most popular destinations in Wyoming's Wind River Range. Only Island Lake and Titcomb Basin come close in popularity. Both locations are mind-bogglingly beautiful with plenty of features to lure the outdoor enthusiast. The Cirque of the Towers however is more of a draw for rock climbers. Its numerous spires and big granite walls with dozens of routes are a climber's dream.
This summer I made my third trip to the Cirque of the Towers with the goal of coming back with some great new photos. The previous trips were difficult and only partially successful for photography due to widespread wildfire smoke. So I've been waiting for the right time to make a return. As with my last trip to the Cirque, my plan was to also include a few days at nearby Deep Lake.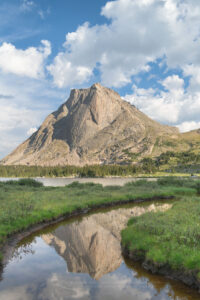 Mitchell Peak Cirque of the Towers #78320  Purchase
This is also the second part of two backpacking trips to the southern Wind River Range. The first segment was a 7-day trip to Pyramid and Shadow Lakes. Shadow Lake sits on the backside of the Cirque of the Towers and is often part of a loop trip to the cirque that crosses over Texas Pass.
Some people may wonder why I didn't just do that loop hike or one of several other longer scenic loops. The reason is that since my main goal is photography I need both flexibility and plenty of extra time built into my trips. Often I end up waiting for several days at a location for the right light for photography. So while most loops in the area can be done in 4-7 days, I would need more like 9-14 days. And going solo with lots of camera gear means I'd be carrying an unholy amount of weight.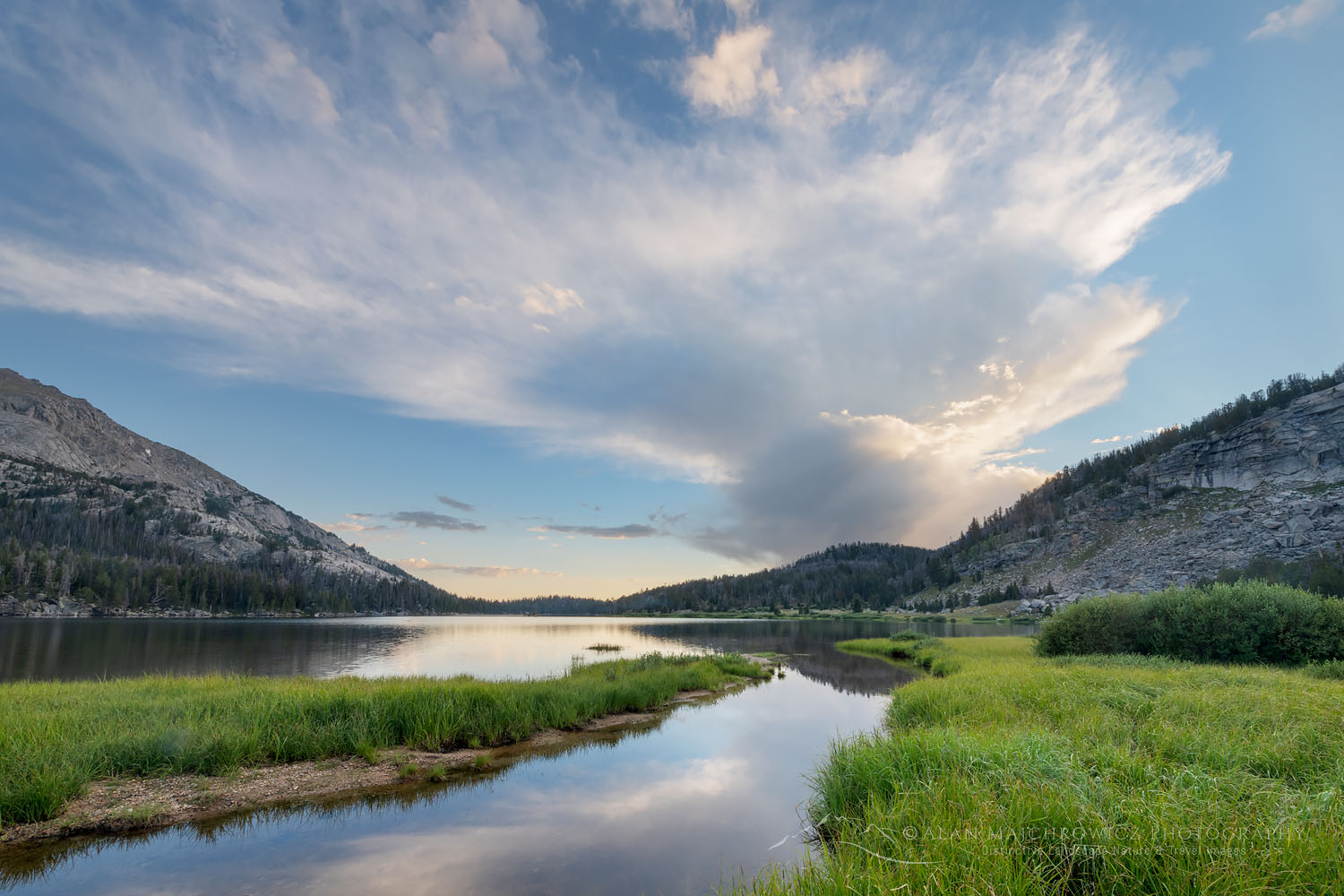 Big Sandy Lake Wind River Range #78267  Purchase
Big Sandy trailhead to Big Sandy Lake & Jackass Pass
After a few days in Pinedale, I returned to the Big Sandy Trailhead. This trailhead was also the start of the first trip and is the jumping-off point for many other destinations. One look at the parking area might shock a first-time visitor. The lot is big, always full, and often overflows nearly a mile back down the road. But again this trailhead is the starting point for many different destinations, so not everyone parked there is going to the same place.
The approximately 5.5-mile hike to Big Sandy Lake is pleasant with minimal elevation gain. And it's entirely possible to continue from Big Sandy Lake into the Cirque in one day. However, Big Sandy is a nice place to spend the first night if you got a late start. Or if like me you enjoy hiking at a leisurely pass and would like to photograph evening light at the lake. There are plenty of campsites along the west and north sides of the lake. But if you arrive late in the day you may be out of luck finding one.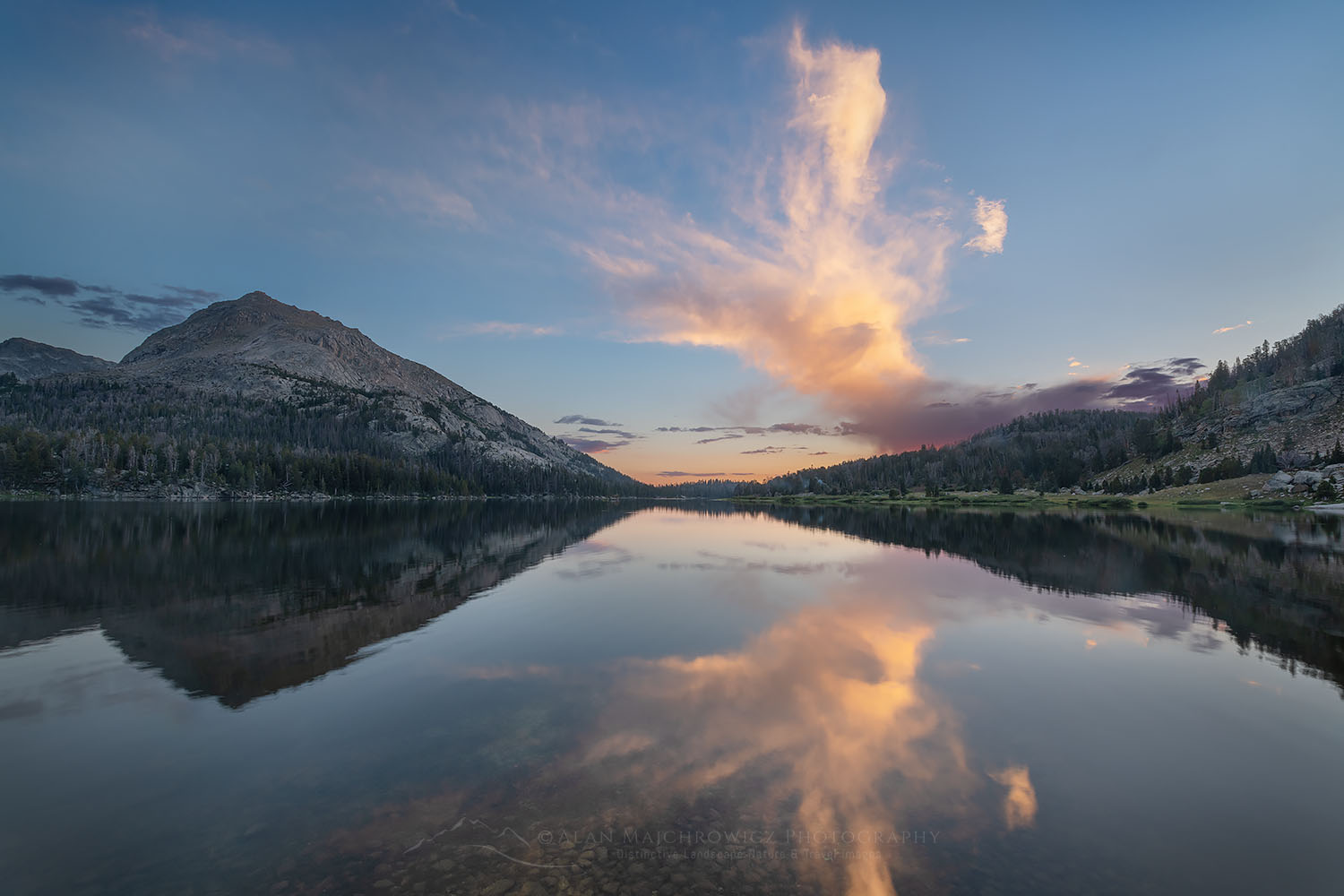 Big Sandy Lake Wind River Range #78299  Purchase
On the second day, I got a crack of dawn start to tackle the climb to Jackass Pass and down to Lonesome Lake on the other side. The pass is only 2.4 miles from Big Sandy Lake with about 1100′ of elevation gain. However, there is a surprising amount of significant ups and downs along the way. Plus much of the trail is over rough rocky terrain. Starting up in midday sun and heat is not recommended.
At a little over the halfway point, there is a junction with a trail marked "Climbers Route". This trail climbs through a boulder field along Arrowhead Lake to a lower pass SW of Jackass Pass. I've never done it but although it looks like a quicker route I've heard it's very difficult and tiring. Most hikers follow the main trail, even though from here on it's often steep and in a few spots easy to lose. From the pass, it's a descent to Lonesome Lake with stupendous views at every step.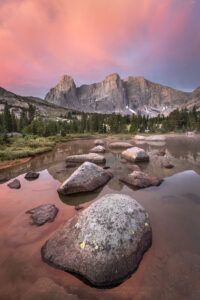 Dawn at Cirque of the Towers Wind River Range #78372  Purchase
Lonesome Lake Cirque of the Towers
Though it was a short hike up and over the pass I was ready to find a campsite near Lonesome Lake and relax a bit. Most of the better sites are east of the lake on both sides of the North Popo Agie River. Hanging food or using bear-proof canisters is absolutely necessary. Not so much because of bears but for the bold thieving squirrels!
*It must be noted here that camping is not permitted within 1/4 mile of Lonesome Lake.  It would seem pretty obvious that an area that receives such heavy use would need a little extra love and consideration. Most people follow that rule but not all. It seems some hikers who get a late start, or thru-hikers that travel from dawn to dusk are too tired to bother, or even care.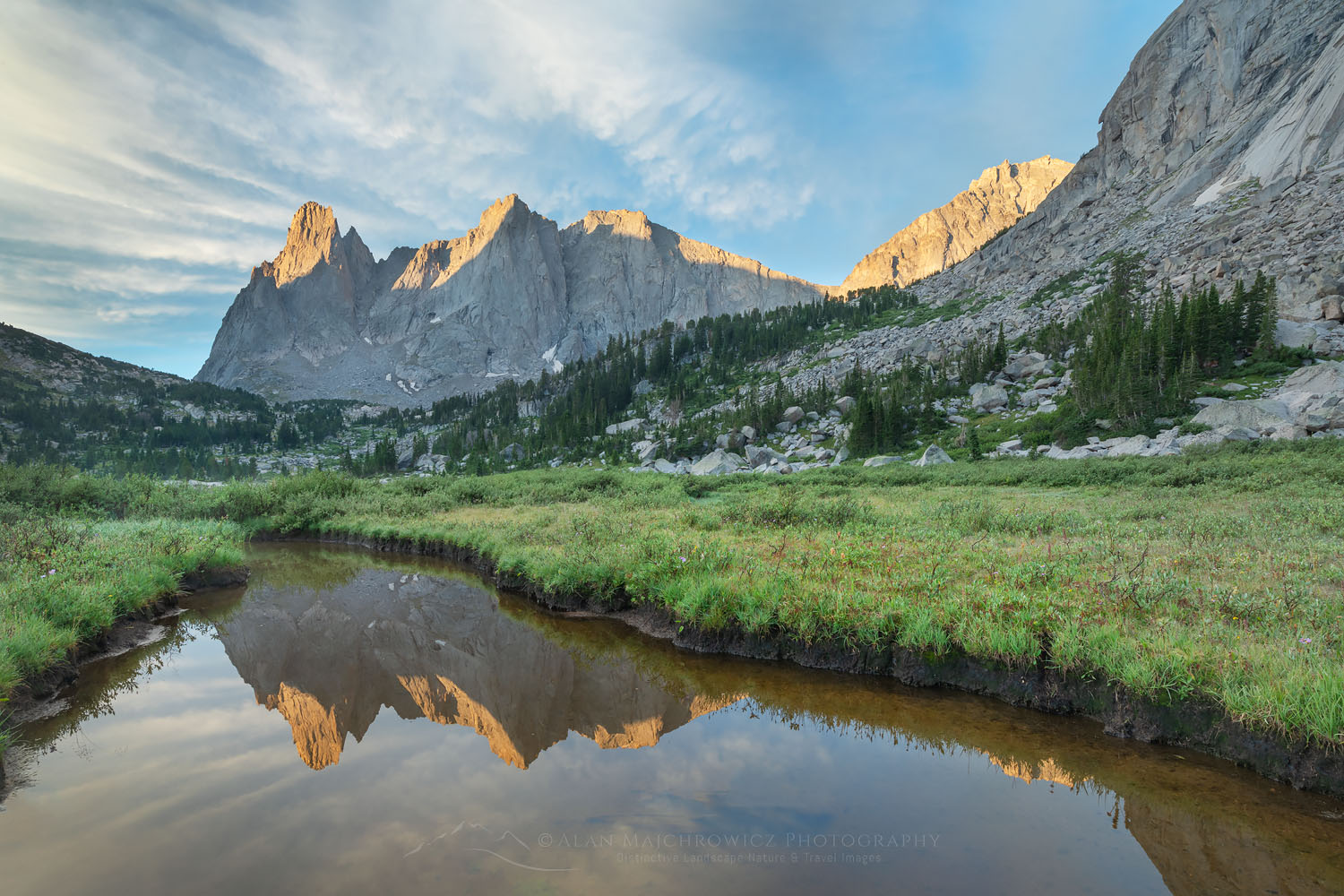 Cirque of the Towers Wind River Range #78418  Purchase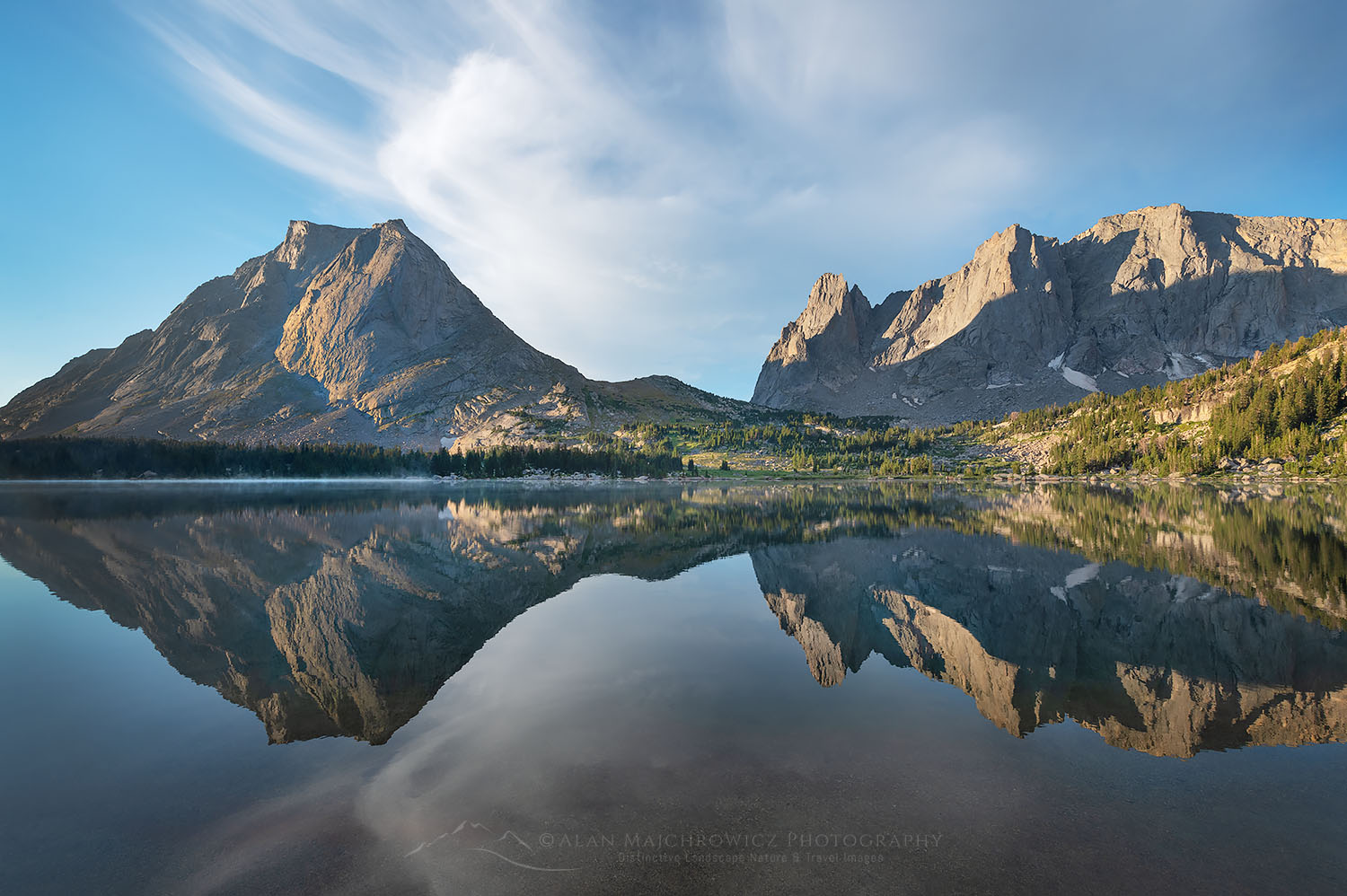 Lonesome Lake Wind River Range #78444  Purchase
As usual, after setting up camp I scouted the area around the lake for photo compositions. One of my favorite spots is near the outlet on the south side of the lake. There are plenty of partially submerged boulders in the water to aid in composing photos. Another good spot is on the NE side of the lake by grassy meadows and streams. Both offer different views of the Cirque and give some variety to your images. During one morning with particularly good light, I first set up by the boulders and then ran to the other end while the light was still good, and back again to the start. It was exhilarating, and went a long way to make up for days of boring light!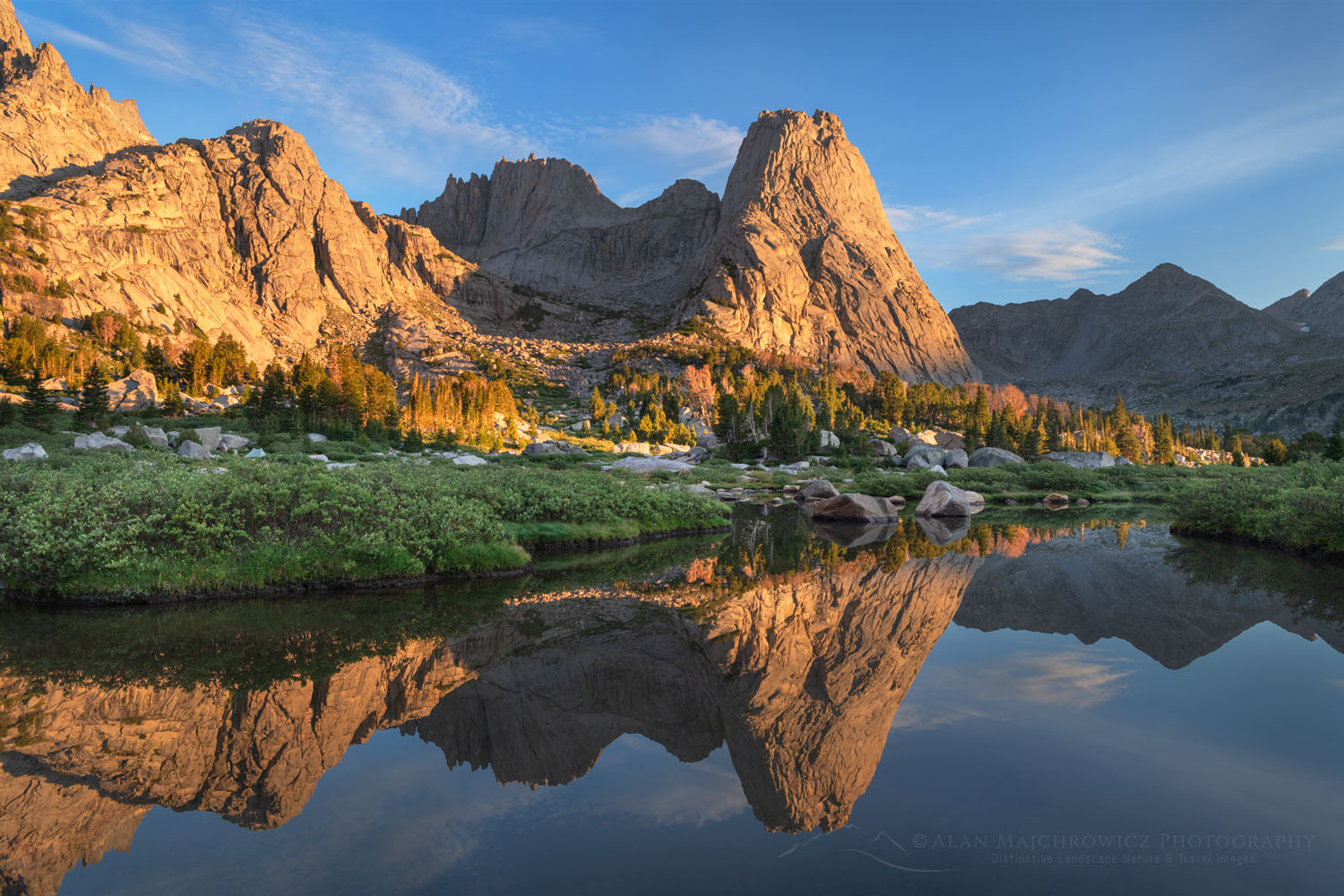 Pingora Peak Wind River Range #78530  Purchase
Upper Cirque of the Towers
Aside from Lonesome another fantastic area is higher up and closer to the towers of the Cirque. This is where most of the climbers set up camp. And once again it is advisable to arrive very early in the day to find a suitable campsite. Being almost above the tree line this area can be problematic for hanging food. Again, bears aren't much of a problem in the Cirque, as far as I know, but smaller critters are. Bear-proof food canisters are a good idea in the upper Cirque. An alternate ingenious method is to hang food from a long branch secured on a big boulder.
There are several features in the Upper Cirque attractive for photographers. The first is a small wide waterfall pouring over a smooth rock face. You'll need an ultra-wide lens here though to get a good composition. Behind the waterfall are several small ponds which perfectly mirror Pingora Peak and the other towers.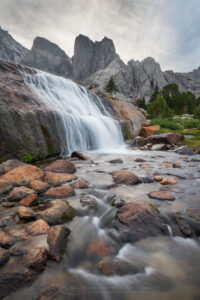 Cirque of the Towers Waterfall #78490  Purchase
A little further back and a short scramble up is a glacial tarn beneath the walls of Warrior Peaks. It has a greenish-blue color from glacial flour. Again, you'll need a wide-angle lens for compositions here. Plus, lighting can be tricky since the towers are mostly in full sun or total shade. Of course dramatic sunrise or sunset, clouds make the task much easier.
For just about any visitor whose sole destination is the Cirque of the Towers I definitely would advise spending at least two nights. For serious photography, I would double or triple that.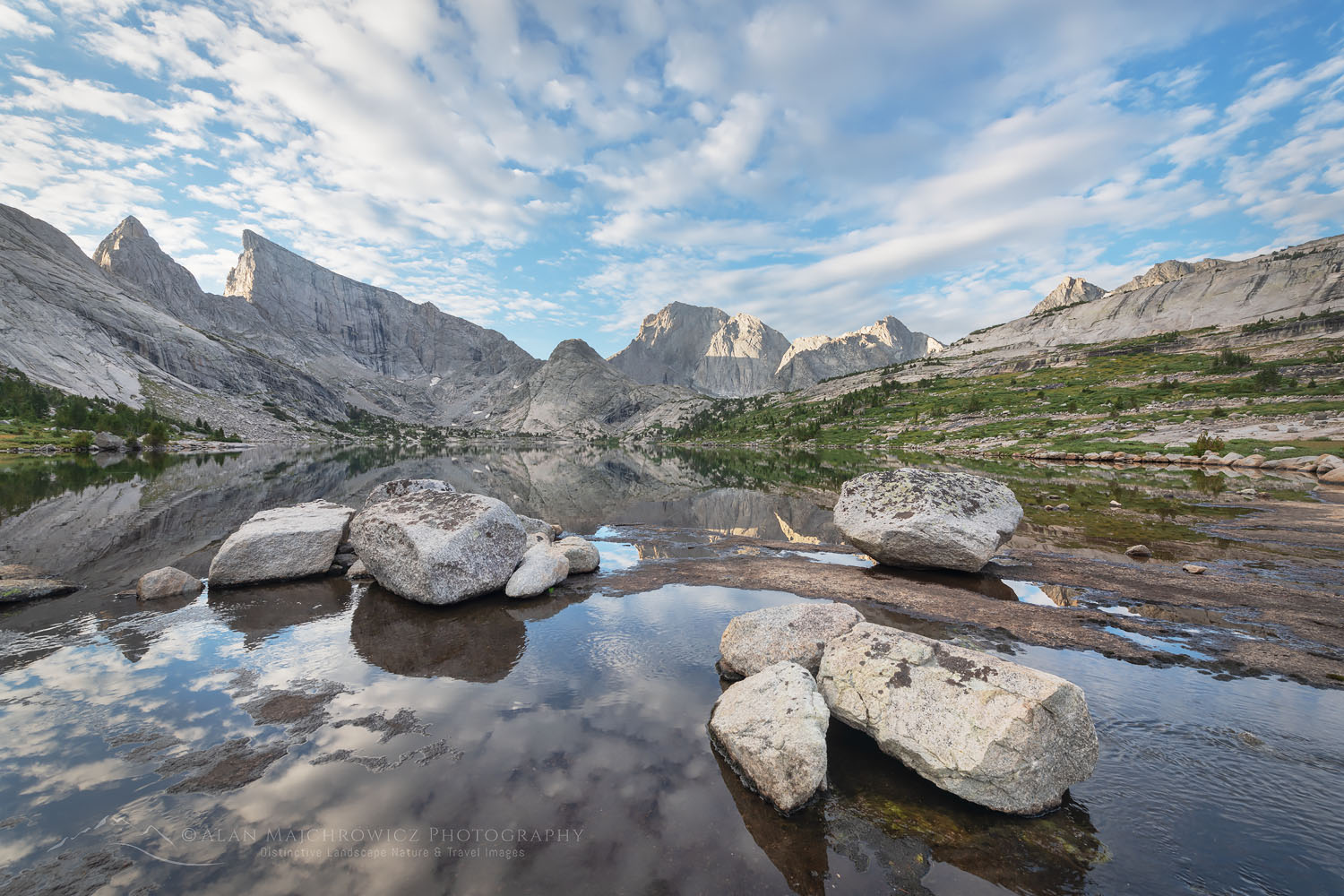 Deep Lake Wind River Range #78599  Purchase

Deep Lake
After spending time in the Cirque my next destination was Deep Lake. From the Cirque it's less than a 6-mile hike, but first, a climb back up and down Jackass Pass is necessary.  So to beat the heat and get a campsite at Deep Lake another sunrise start was in order. I was already higher up so the climb wasn't too bad. But the hike back down the pass to Big Sandy Lake was still tiring, due to all the ups and downs and rough terrain along the way.
From Big Sandy to Deep Lake the trail is mostly pleasant and easy. The last mile or so is a bit exciting as you must route-find your way up and across an extensive slab of granite. Once at Deep Lake the views are again stupendous. The rocks and lake make a perfect frame for the backdrop of East Temple and Temple Peaks. Behind you is another impressive sight, the peaks of the Cirque of the Towers in the distance.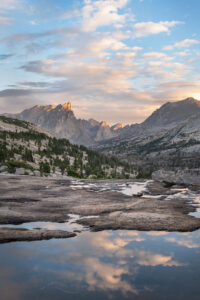 Cirque of the Towers from Deep Lake #78568  Purchase
The area around Deep Lake doesn't see as many visitors as the Cirque but finding a campsite is generally more difficult than at the Cirque. Mainly because of the lack of suitable flat spots. Many backpackers set up tents on the broad flat granite slabs near the lake outlet. Tents are then anchored down with large rocks.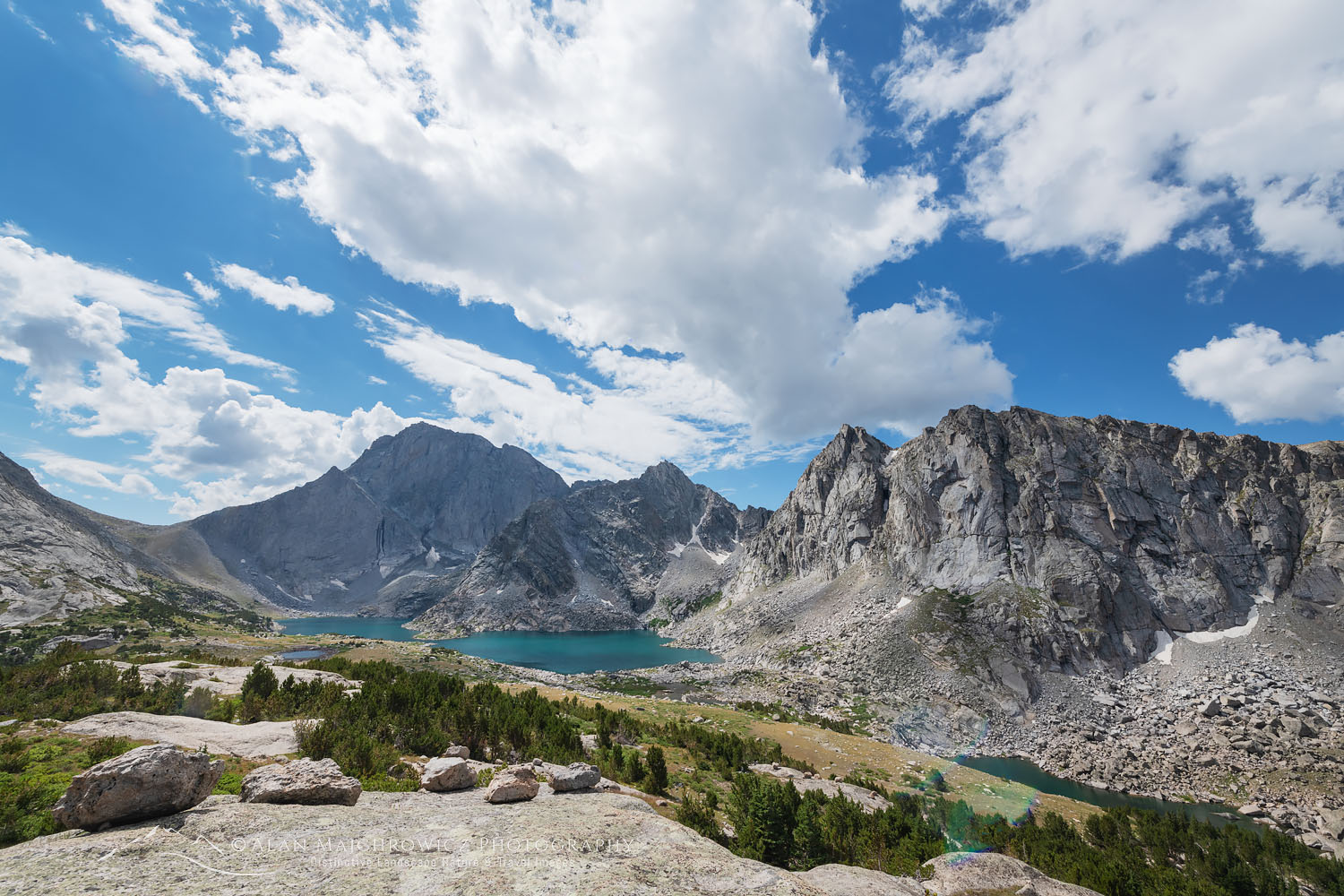 Temple Peak (L) and Lake #78649  Purchase
Temple Peak and Temple Lake
While Deep Lake can be a destination in itself there is far more to explore and see. Along the west side of the lake, there is a good trail that climbs up to a saddle on the long ridge. It's only about a twenty-minute hike to the broad pass with even more impressive views and more exploring. A short and easy trail leads down to Temple Lake and the rock and flower gardens surrounding it. The more ambitious can continue up to Temple Pass and then the long ramp to the summit of East Temple Peak.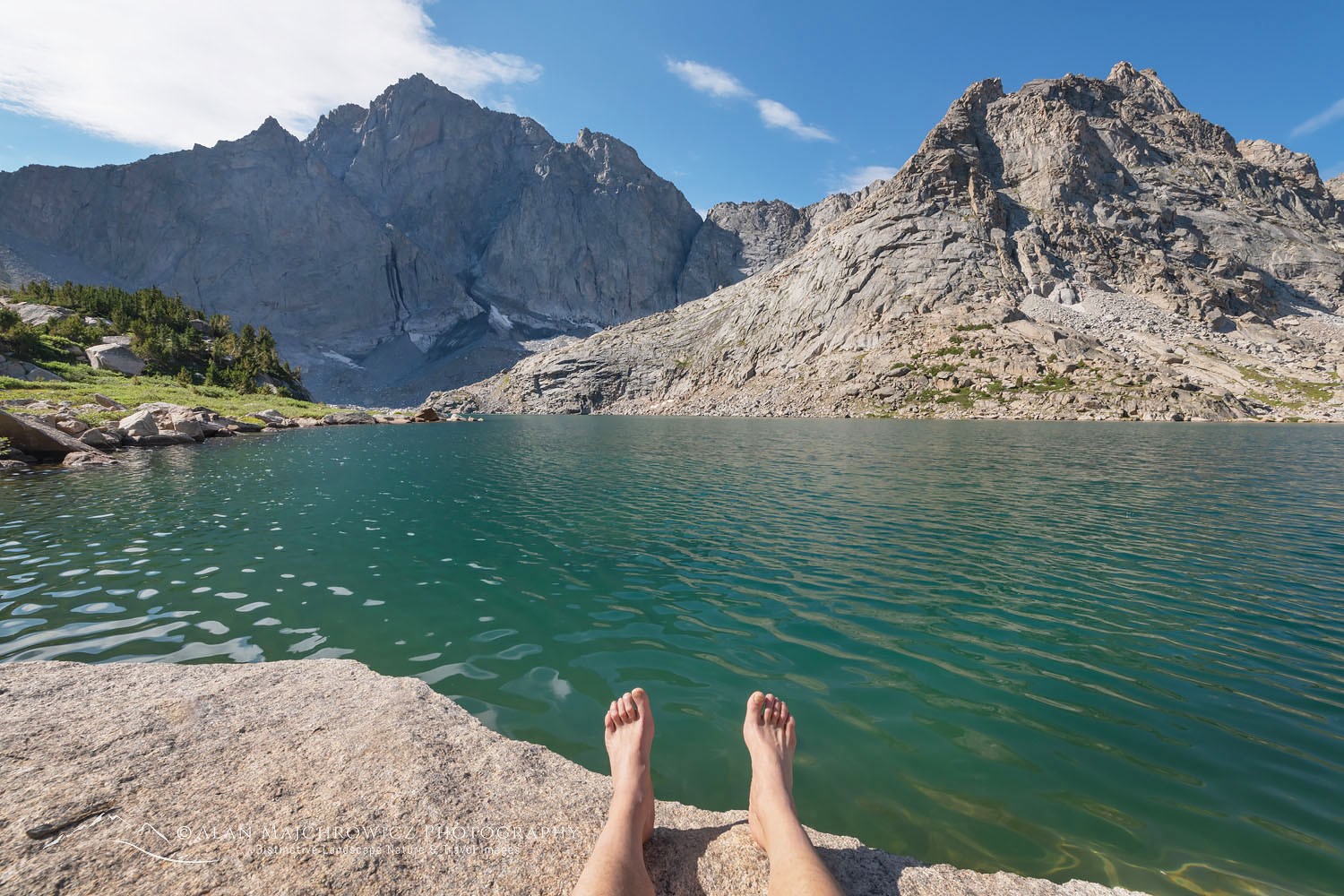 Temple Lake #78625  Purchase
I was hoping to be able to spend a night or two in the vicinity of Temple Lake for more photography. However, I only had one night left and I was still waiting for some good light back down at Deep Lake. Oh well, another excuse to come back in the future!
That evening back at camp and the lake some nice clouds were hanging around during the first part of golden hour. They didn't stay for a nice sunset glow but it was productive anyway. In the morning there was a bit of a repeat light show but in reverse.
Packing up and hiking down the trail back to my truck I again had that satisfying feeling of wrapping up another great trip and returning home warm set of memories. Not to mention lots of new images!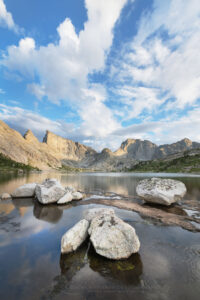 Deep Lake Wind River Range #78674  Purchase
If You Go to Cirque of the Towers and Deep Lake:
Distance: ~31 miles round trip
Elevation: ~2300″ not including numerous elevation gains and losses
Difficulty:  Moderate
Red Tape:  As of 2022, no permits are needed
Maps: Wind River Range South; Beartooth Publishing
Guidebooks: Beyond Trails in the Wind River Mountains
*Please be courteous and think of future visitors, respect the signs, and don't camp within 1/4 of Lonesome Lake. Also, camp at least 200′ of lakes and trails and 100′ from rivers and streams.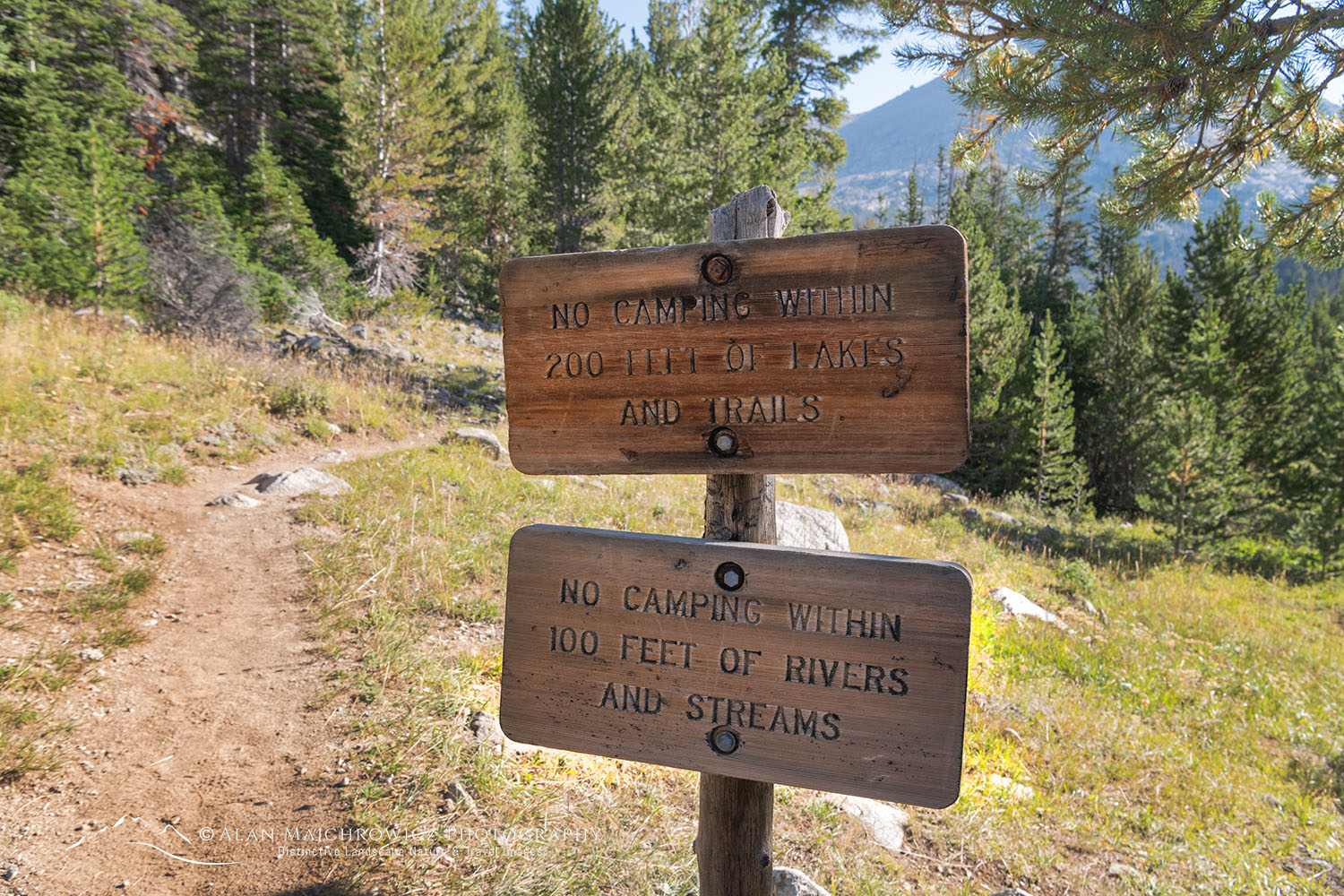 Big Sandy Trail signs Wind River Range #78683  Purchase
The Big Sandy Trailhead is located about 56 miles south of Pinedale. The last eight miles or so can be rough and slow going but is passable for ordinary passenger cars. Adjacent to the trailhead there is a small campground, and there are also scattered sites along the last few miles of the road. Like most trailheads in the Winds, parking can be at a premium, get an early start.
Make sure you take along plenty of insect repellant. The Winds are notorious for their ravenous hordes of mosquitoes and flies. Although they weren't too bad during my trip in early August. Also, be prepared for dramatic weather changes. Summer thunder and lightning storms are very common along the Continental Divide. Because of this stay off high ridges and summits during the afternoon.
The town of Pinedale makes a great base for multiple trips into the Winds. It has everything you'll need, from good food and lodging to one of my favorite outdoor recreation stores, the Great Outdoor Shop. It's stocked with everything needed for a successful trip, including a very knowledgeable and friendly staff. Don't visit Pinedale without dropping in! Right next door to the great Outdoor Shop is the best place to go for a post-trip meal, the Wind River Brewing Company. They have excellent burgers and great brews!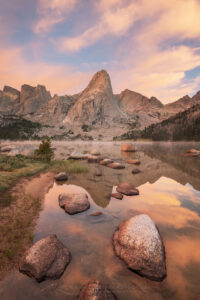 Pingora Peak Wind River Range #78384 
Leave No Trace
Please Please Please!  Don't plan a trip to this or any other wilderness area unless you are prepared to follow the guidelines of Leave No Trace (LNT). The Wind River Range and all other wilderness areas throughout the world are under incredible pressure from growing amounts of visitors. Please do your part to help preserve these precious areas for future generations!
To learn more about the principles and practicing LNT please take a few minutes to visit the Leave No Trace Center for Outdoor Ethics. Your children and grandchildren will thank you!
Seven Leave No Trace Principles
Plan ahead and prepare.                                       

Travel and camp on durable surfaces.                 

Dispose of waste properly.                                                                         

Leave what you find.                                            

Minimize campfire impacts (be careful with fire).

Respect wildlife.  

Be considerate of other visitors.
Photo Gear Used On This Trip
Nikon D850
Nikkor Lens:
14-24mm 2.8G ED
24-70mm 2.8E ED
Gitzo 1532 Tripod
Really Right Stuff B-55 Ball Head
B+H Polarizing Filter
Vello FWM-N2 Remote Shutter Release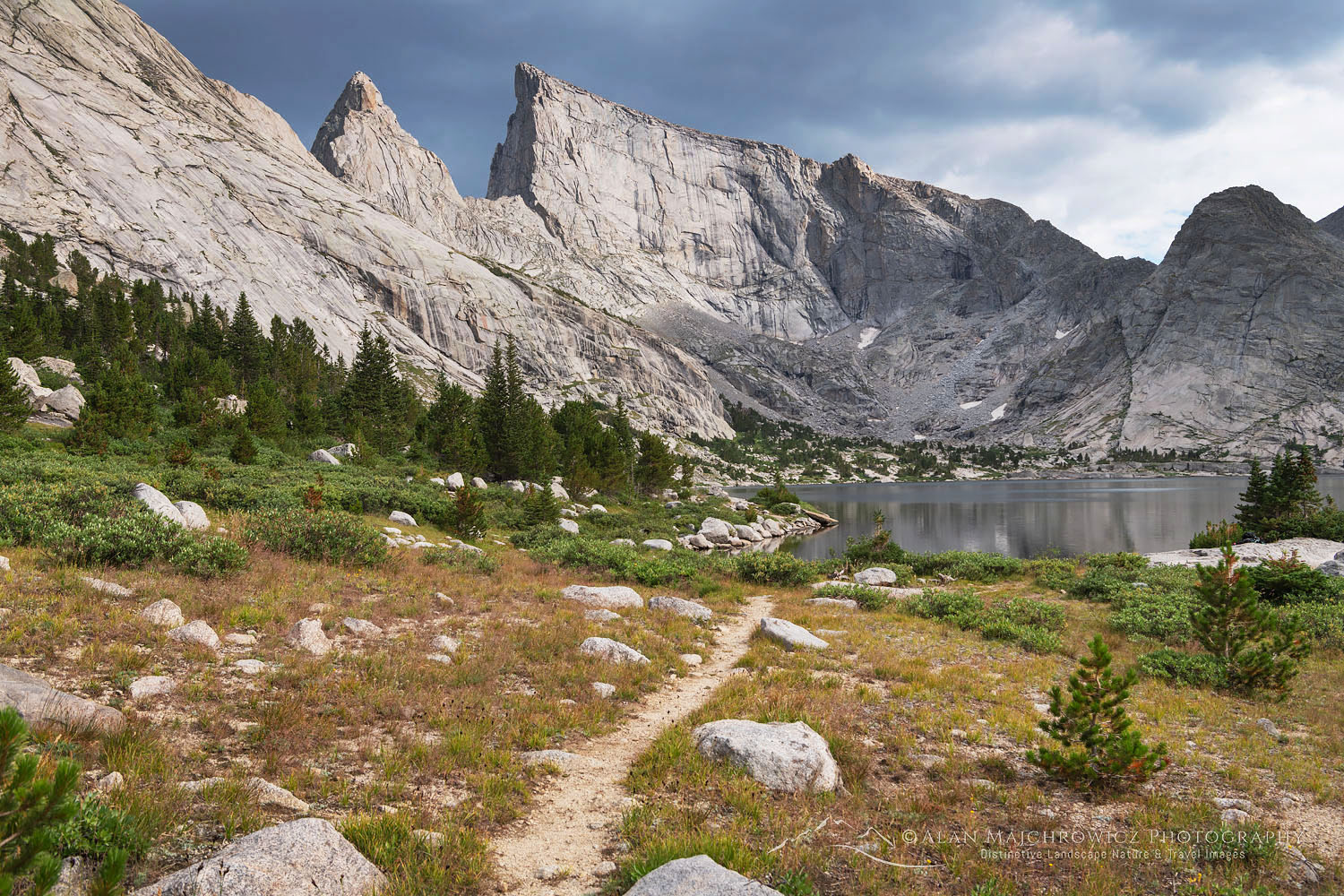 East Temple Peak and  Deep Lake #78557  Purchase
If you enjoyed reading about the Cirque of the Towers Wind River Range please share it with your friends and family.
Also, check out these other Wind River posts!
Wind River Range Pyramid and Shadow Lakes
Central Wind River Range Backpacking
Bonneville Lakes Wind River Range
Island Lake Wind River Range
Titcomb Basin Wind River Range
Indian Basin Wind River Range
Green River Lakes Wind River Range
All photos appearing in Cirque of the Towers Wind River Range are available for Commercial Licensing and Fine Art Prints. Click on any image to purchase, or contact me for more info!
Cirque of the Towers Wind River Range