Bay of Fundy New Brunswick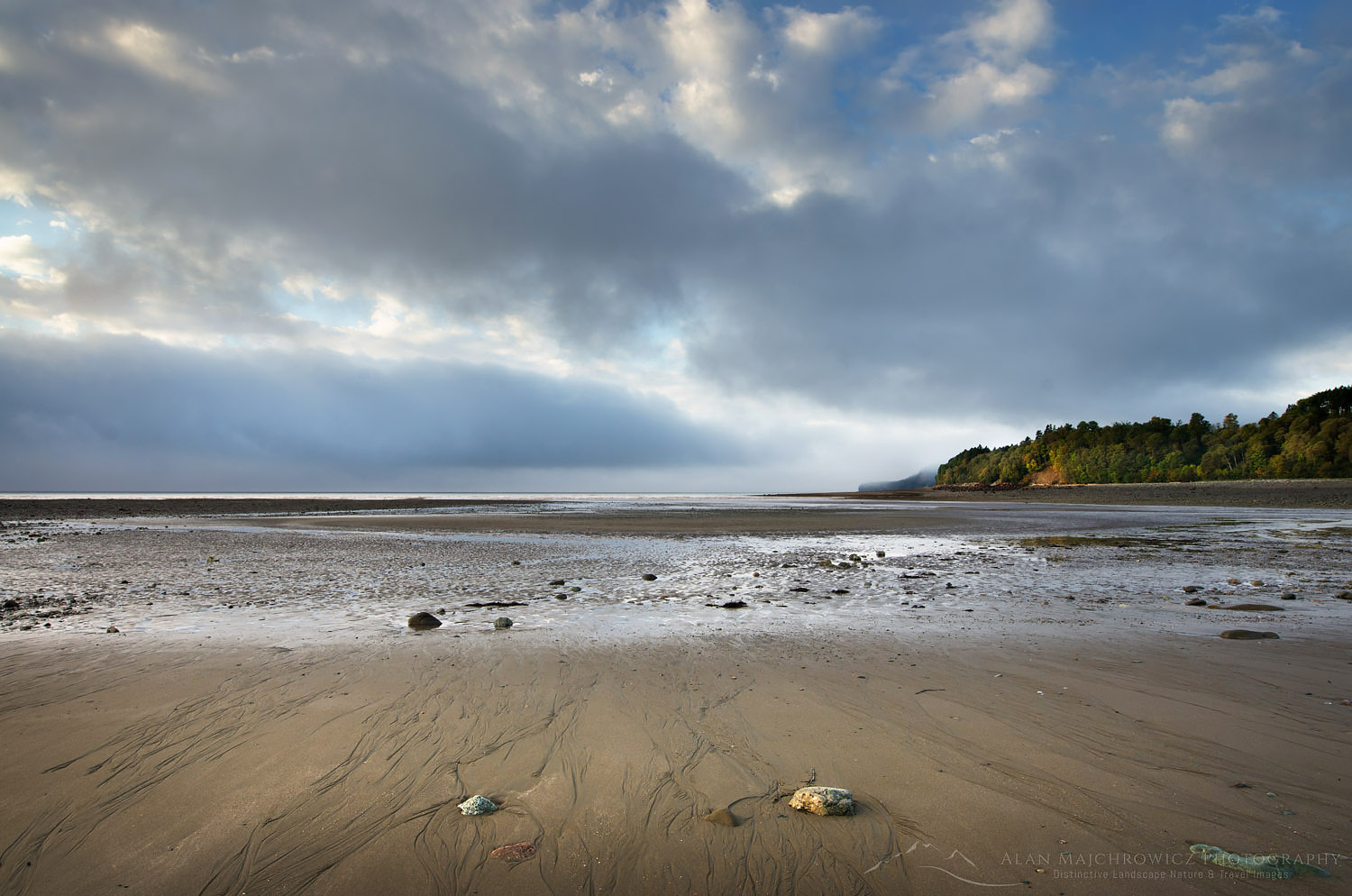 Bay of Fundy at low tide  #58545    Purchase
A year ago I made my first visit to the Bay of Fundy New Brunswick. For many years the Atlantic Provinces of Canada have been on my must-see list. Last year my wife, Coleen, and I finally had the opportunity to visit and photograph in this beautiful region. Our plan was to spend six weeks traveling to Nova Scotia and New England for fall color photography. Since we had to drive through New Brunswick we couldn't miss the opportunity to check out the fabled Bay of Fundy.
Fundy National Park
Fundy National Park was our first stop in the Atlantic Provinces after leaving New England. Fundy National Park showcases a rugged coastline, over 25 waterfalls, a dense Acadian Forest, and of course the famous tides. We excitedly pulled over at the first overlook of the bay. After such a long drive across the continent, it was a welcome sight to see and smell salt water again. We checked in at the visitor center to secure a campsite then quickly set up our home for the night.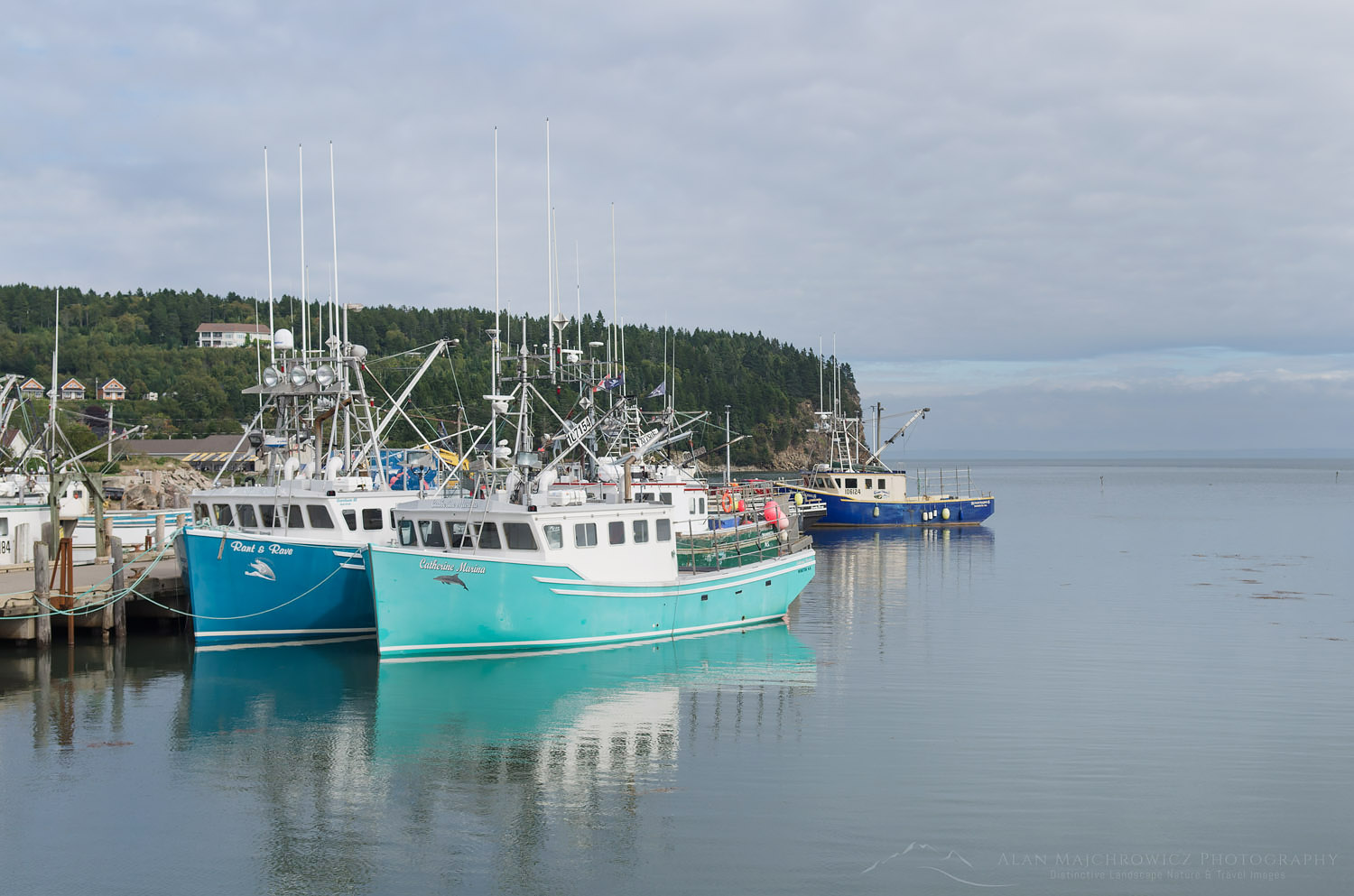 Fishing boats, Alma, New Brunswick  #58493   Purchase
We stayed in Headquarters Camp and found it very convenient, being very close to the bay. Campers in Fundy National Park have a variety of options available in three different campgrounds. You can choose between a traditional tent and RV sites, yurts, rustic cabins, oTENTik, or the new Goutte d'Ô. Goutte d'Ô is a structure with a water droplet shape suitable for couples or families. I must warn, however, along with the park's daily use fee per person, the cost of renting out an oTENTiks, or Goutte d'Ô could be higher than a nice motel room.
Alma, Bay of Fundy
Our next objective was to pay a visit to the small town of Alma in search of lobster. While in town I made some photos of fishing boats moored to piers at high tide. My plan was to make some comparison photos of low and high tides. We searched the town but couldn't find any open lobster shacks. It turned out the season had closed so there wasn't any lobster available. So we settled for the next best thing, clam chowder, and fish & chips. I wish I could report that we had a good introduction to east coast seafood, but it wasn't to be. The clam chowder was very watery, with hardly any cream clams or flavor. Unfortunately, the fish & chips were no better, a small fillet covered in thick very greasy batter. Although we were sorely disappointed, our dining luck will greatly improve in the coming weeks!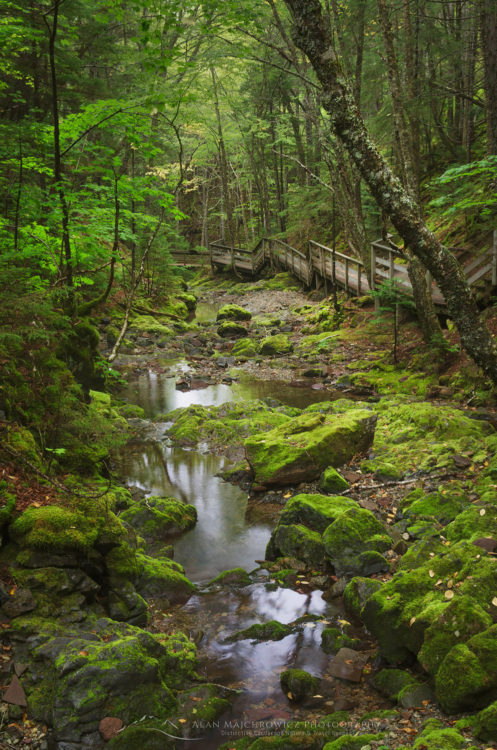 Dickson Falls Trail, Fundy National Park  #58487   Purchase
Dickson Falls
Aside from the obvious attraction of the bay and its tides, Fundy National Park also has over 100 kilometers of trails. I wanted to check one of those trails before getting ready for evening photography. I decided on the popular Dickson Falls Trail, a short walk into a forested ravine to a famous waterfall. Upon entering the forest I was immediately struck by the heavy fragrant scent of spruce trees. Forests in New Brunswick and Nova Scotia are classified as Acadian, a mix of northern hardwoods and boreal spruce usually found in the far north. A well-constructed boardwalk trail takes you through a cool green forest that felt more like home in the Pacific NW. Due to all of New England and the Atlantic Provinces experiencing a severe drought, Dickson Falls turned out to be a disappointing trickle.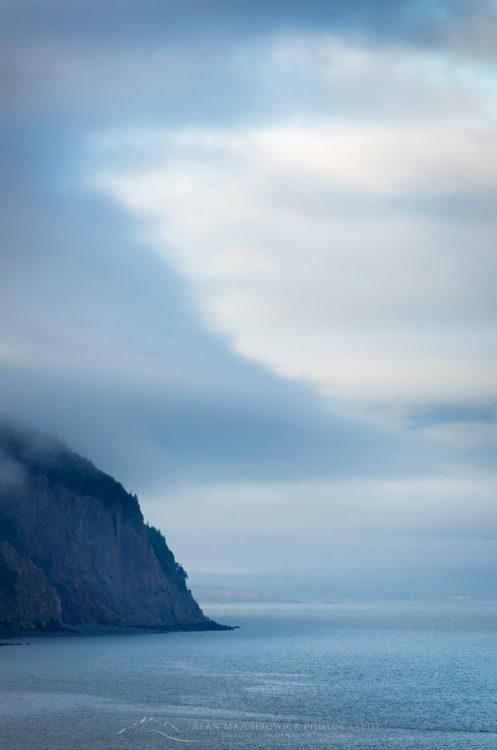 Bay of Fundy headlands  #58518   Purchase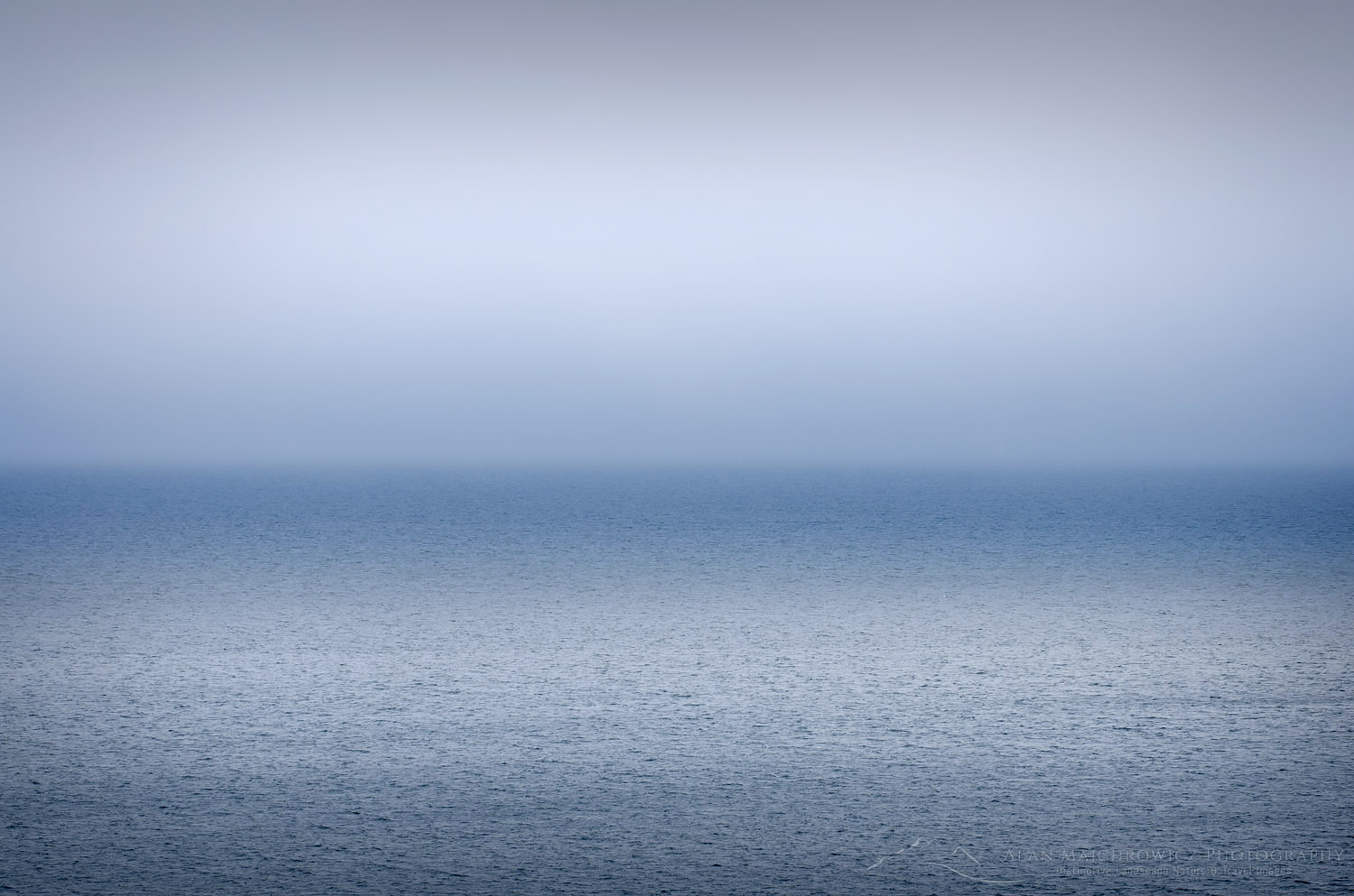 Fog over Bay of Fundy  #58525   Purchase
After the hike, we returned to a wide overlook of the bay and settled in to see what kind of light evening will bring. A quaint feature of Fundy National Park is the placement of red Adirondack chairs in quiet scenic locations. It was relaxing to take advantage of the chairs as we gazed across the bay hoping to see whales. While we didn't see any whales in the bay I did manage to make a few semi-abstract photographs of cloud patterns.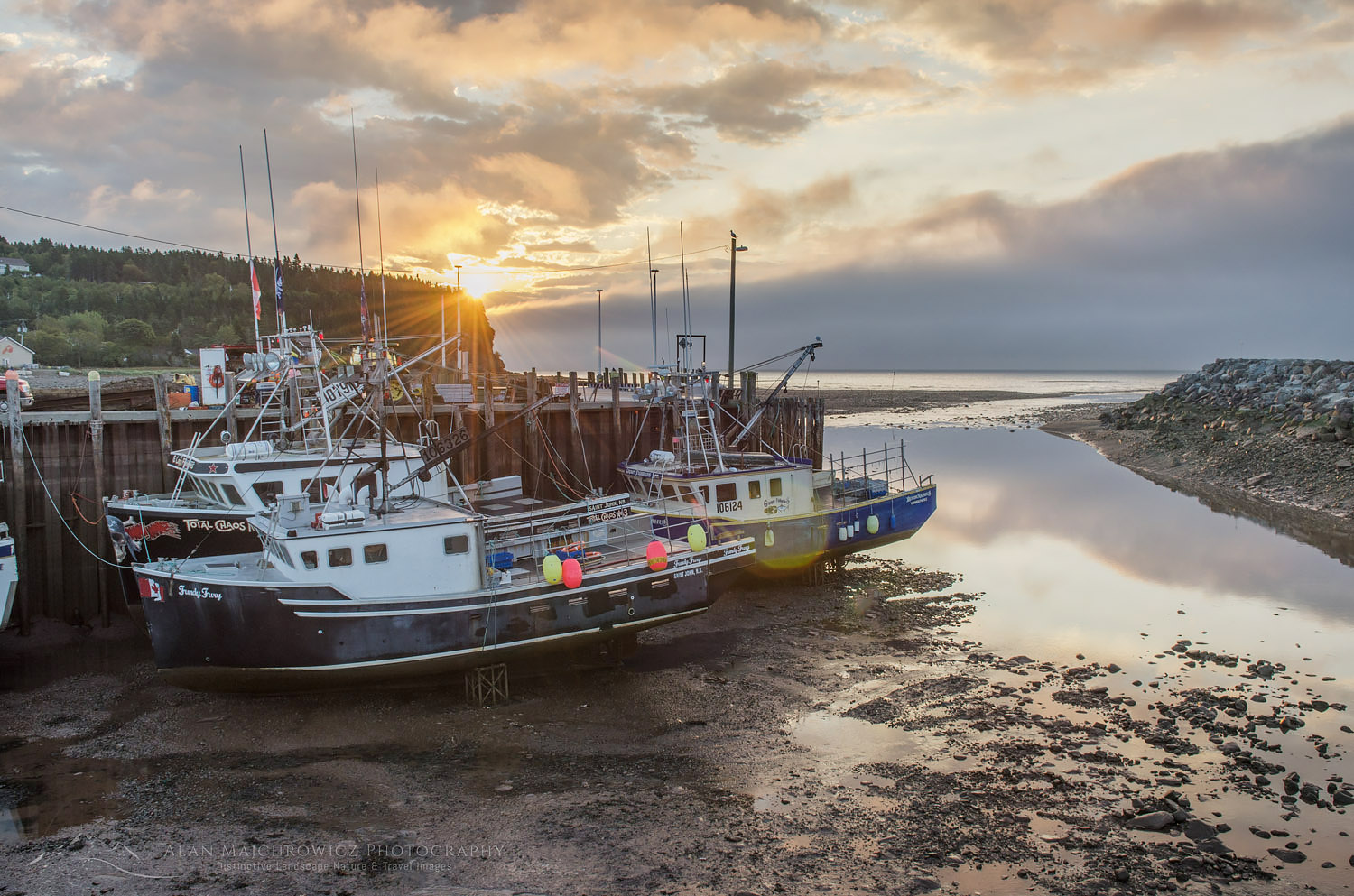 Fishing boats at low tide, Alma New Brunswick  #58535   Purchase
Fundy Low Tide
I got up early the next morning to drive down to the bay for low tide. It was quite a sight to see such a low tide. All the fishing boats were now resting high and dry on a gravel and mud seafloor. After scouting for photos along the expansive low-tide beach I headed back to camp to pack up and move on to Nova Scotia. I was hoping to make a stop along the way at Hopewell Rocks to photograph the famous sea stacks. However, as we pulled into a full parking lot the sight of a large number of tour busses was discouraging. I knew from experience that the best views for photography would be crowded with tourists. So with a tinge of regret, we instead drove on to our next main destination, Cape Breton Highlands, Nova Scotia.
It seemed a shame though to have only a little more than a day for this area. I guess we'll have to come back again!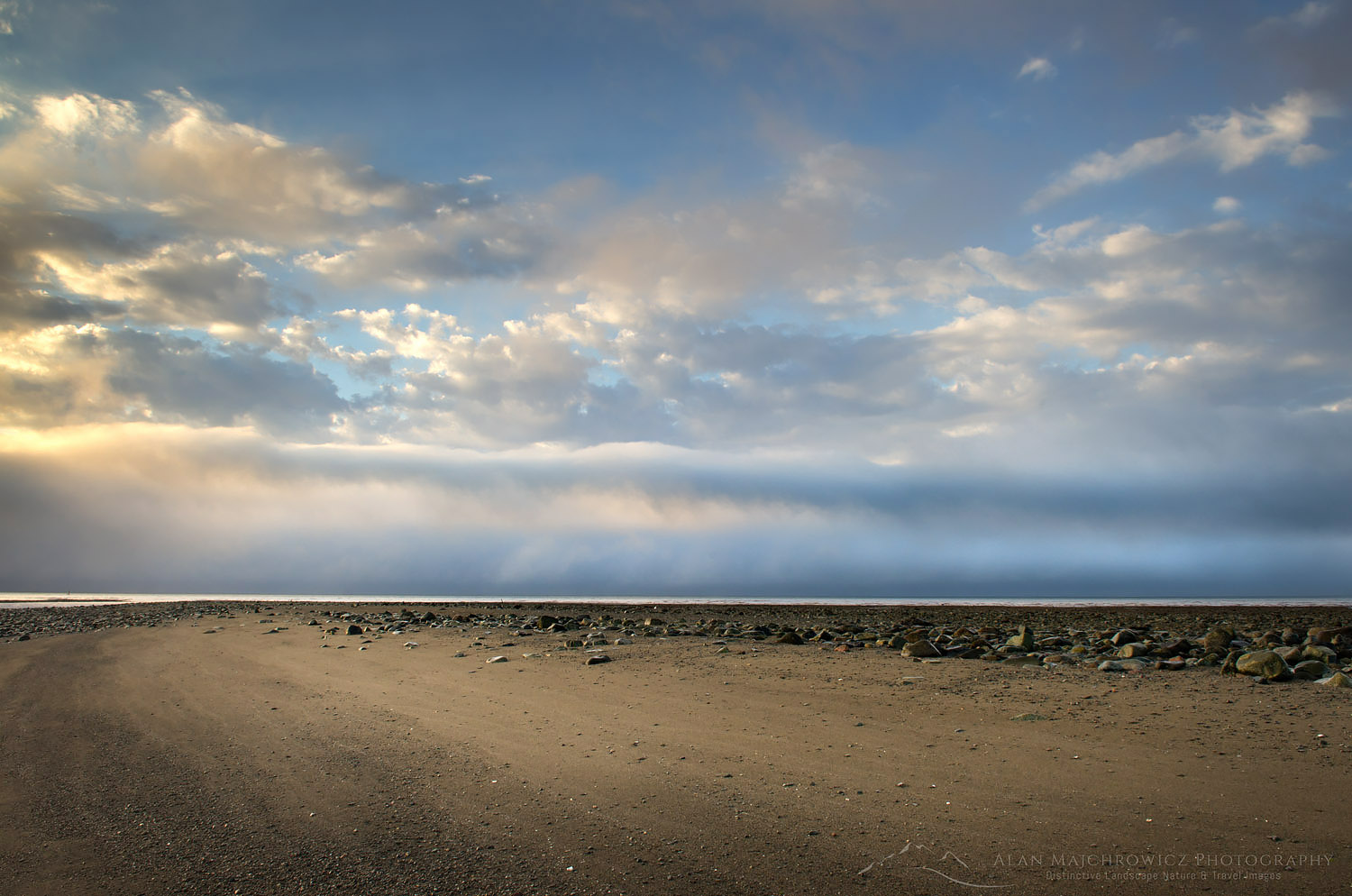 Bay of Fundy low tide  #58540   Purchase