Photographing Bonavista Peninsula Newfoundland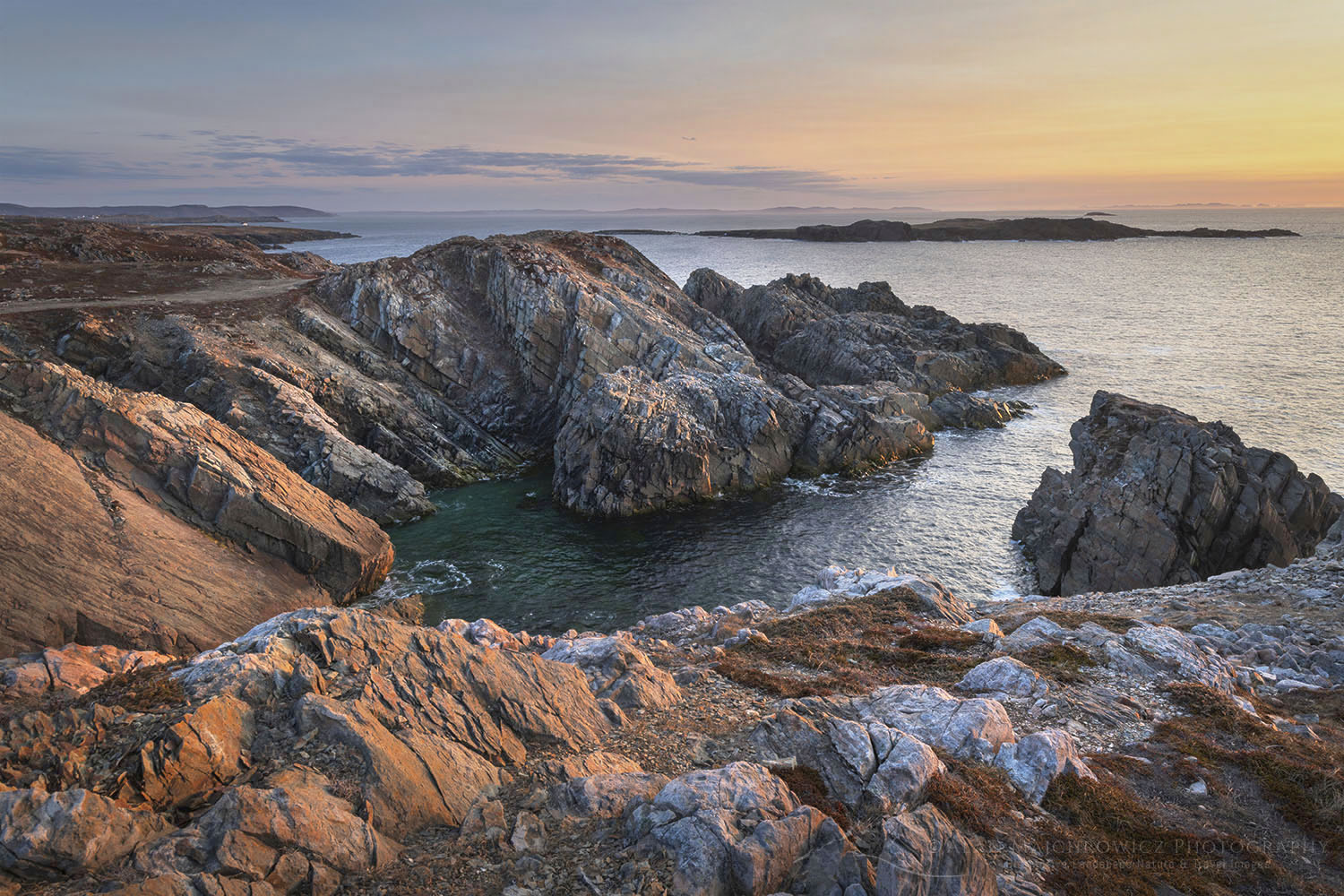 Cape Bonavista Newfoundland #79571  Purchase
This post is the second of several detailing and giving tips for photographing in Newfoundland and Labrador.
Canada's Atlantic province of Newfoundland and Labrador has some of the most beautiful rugged coastlines in all of North America. And the Central Region of Newfoundland arguably has some of the scenic coastal areas in the province. A visitor can spend weeks exploring the area's countless coves, peninsulas, inlets, and villages. All of these features are perfect for capturing another famous attraction, icebergs. Riding the Labrador Current down Iceberg Alley many of these icebergs and packs of sea ice end up trapped in the maze of inlets. From May through June icebergs of all sizes and shapes can often be seen moving along the coast or grounded in coves.
For Photographers traveling to Newfoundland for the first time, Bonavista Peninsula, Twillingate Islands, and Fogo Island are great places to photograph icebergs. But there is also much more to photograph. Colorful fishing villages, puffin colonies, historic sites, and spectacular coastal trails, to name a few.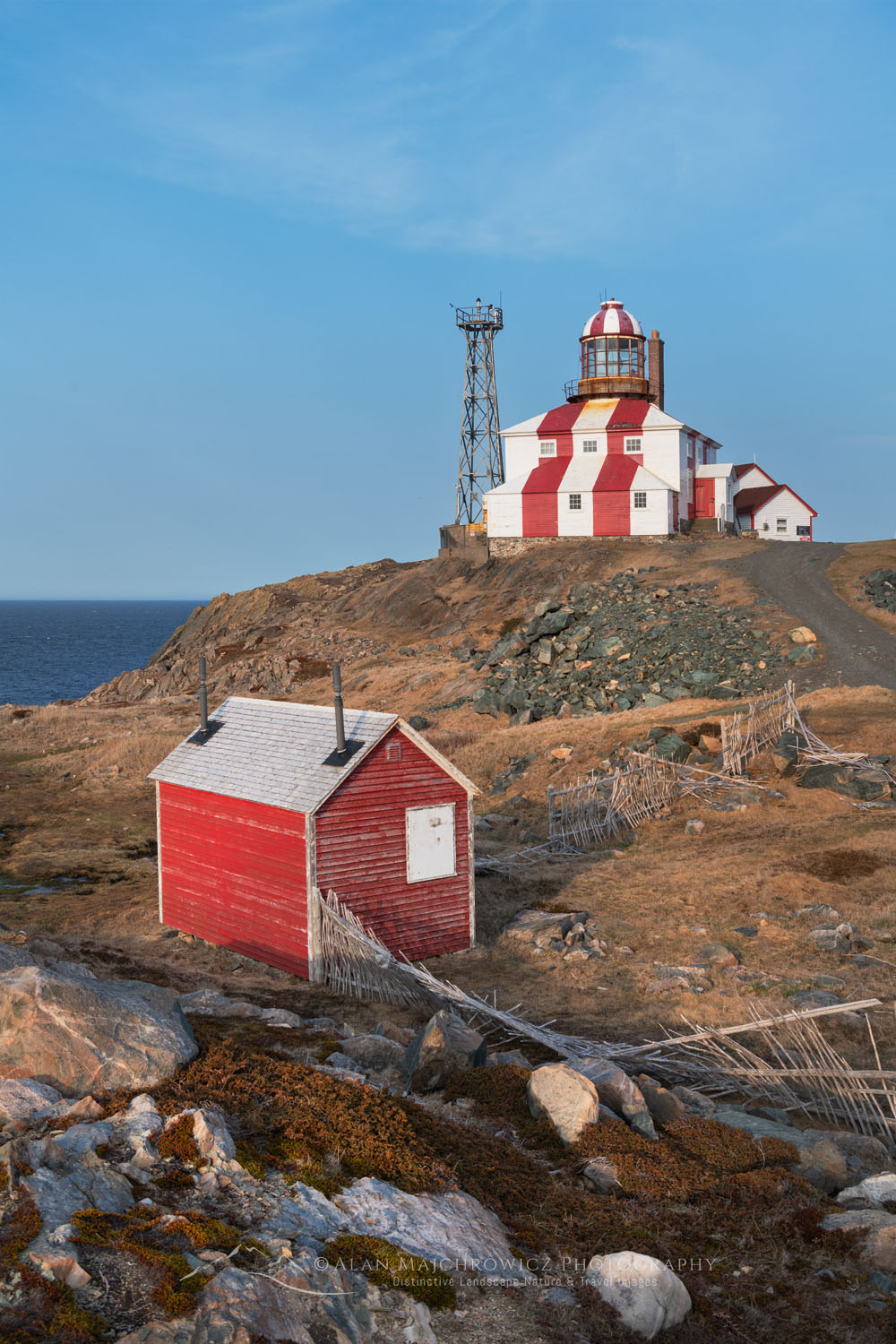 Cape Bonavista Lighthouse Newfoundland #79620  Purchase
Photographing Bonavista Peninsula: Cape Bonavista 
On my recent photo tour of Newfoundland and Labrador, the Bonavista Peninsula was one of my first main stops. At the head of the peninsula, Cape Bonavista has several great spots for photography.  Firstly, there is the squat red and white striped Cape Bonavista Lighthouse. This very photogenic lighthouse sits above the edge of the cape, with the best angles just below its western side. Many photographers also include an old red shack and a wooden fence in disrepair. If there is no wind present good photos can be made of the lighthouse during blue hour light.
Adjacent to it is a monument to John Cabot's historic first landing on North America in 1497. Although he landed in Newfoundland in 1497, the exact location is still undetermined and disputed.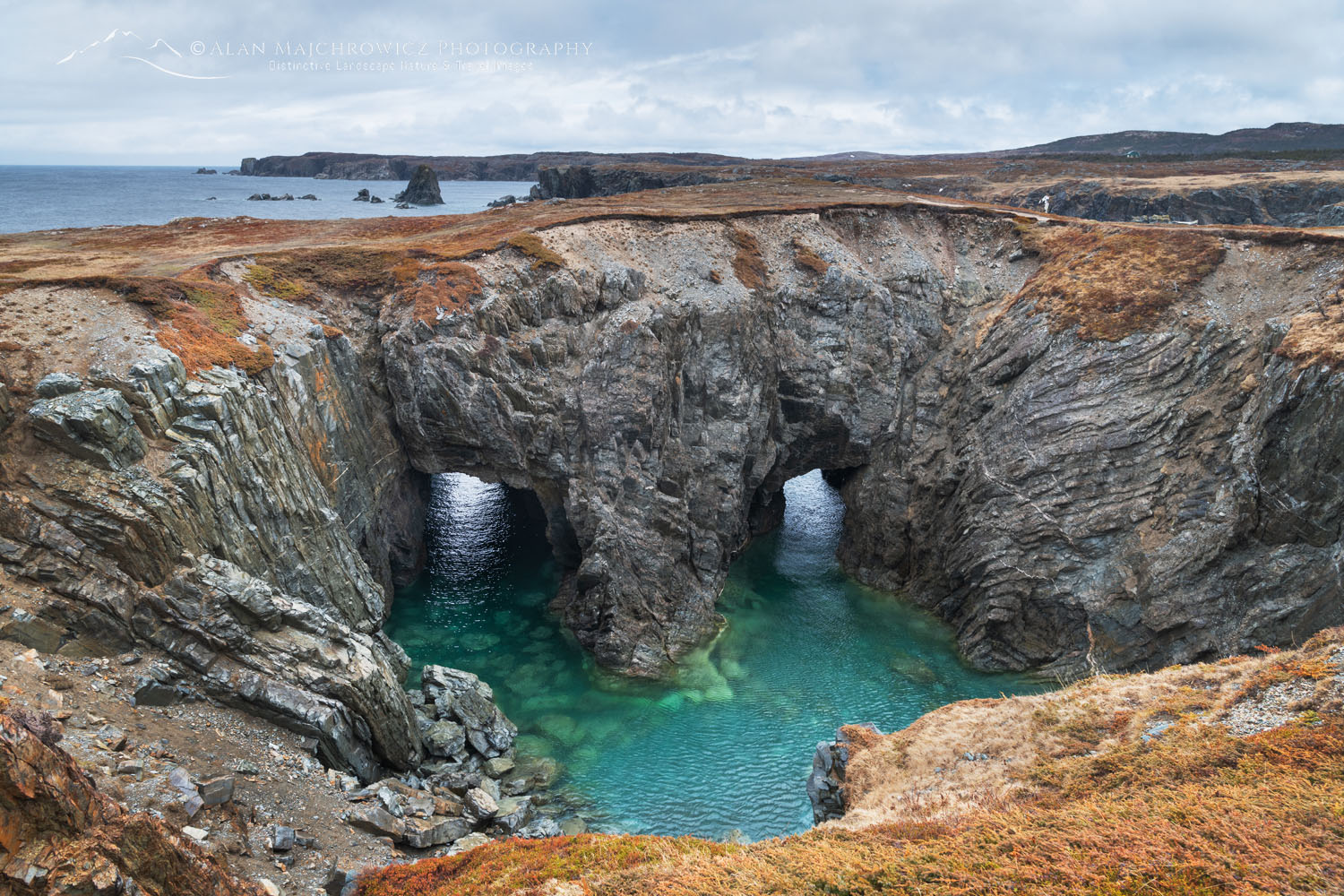 Dungeon Provincial Park Newfoundland #79637  Purchase
South of the lighthouse on the unpaved Dungeon/Lance Cove Road are numerous excellent places to pull over and just gaze in wonder at the scenery. This road follows a rugged coastline with endless sea stacks and mini coves. One of the highlights here is Dungeon Provincial Park with its angry-looking double sea cave. This is also a UNESCO Discovery Global Geopark site.
Photographing Bonavista Peninsula: The Klondike Trail
A few miles further south is Spillars Cove and the Klondike Trail. The Klondike Trail traverses some of the most spectacular scenery in all of Newfoundland. It traverses the edge of cliffs with incredible views high above the Atlantic. The terrain is a mixture of rocks, heather, mosses, and grass reminiscent of Scotland, or the Arctic.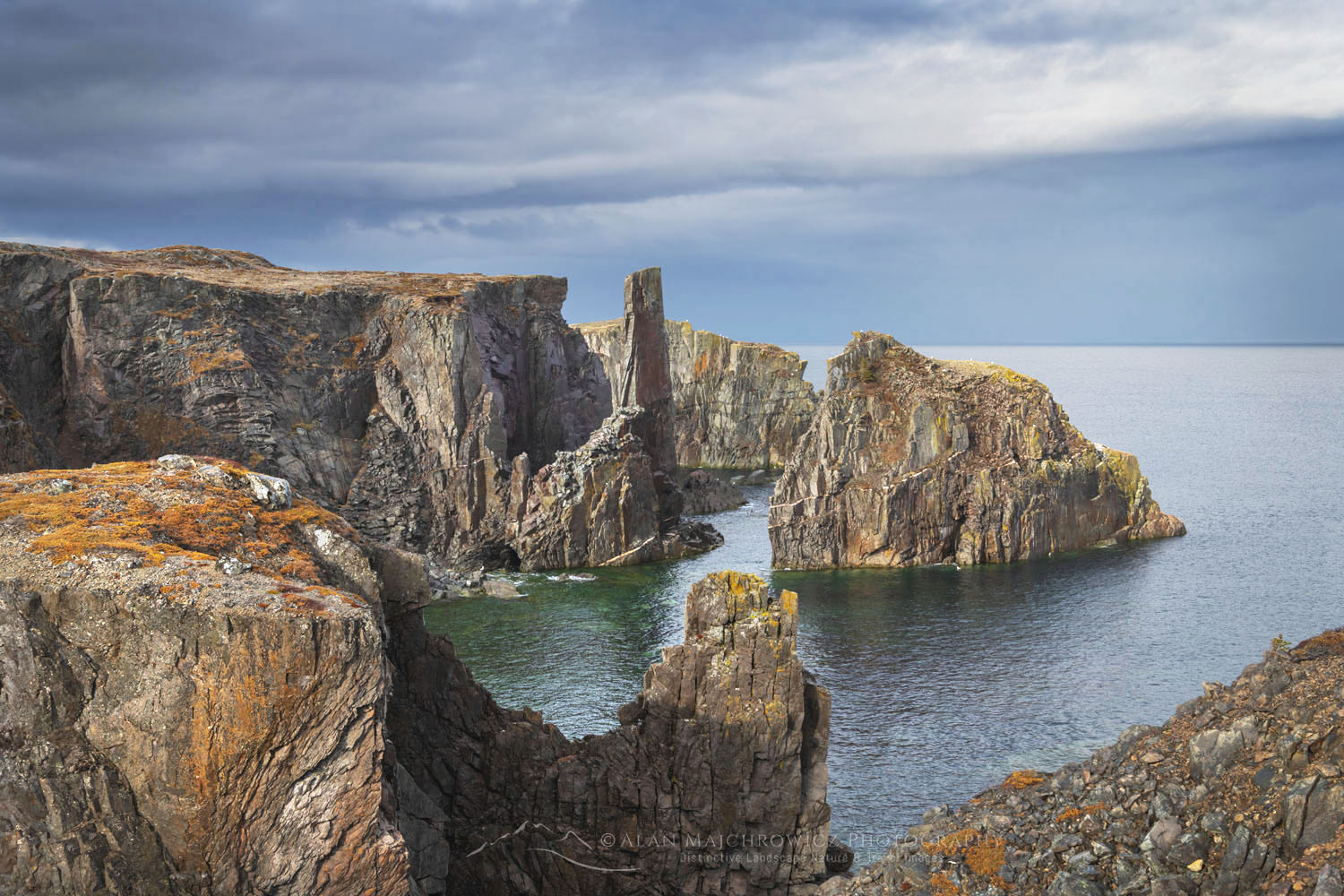 Cable John Cove Newfoundland #79648 Purchase
At its east end the trail winds around Cable John Cove. For photographers, this cove is where some of the best compositions are, including The Chimney, an eye-popping tall and slender sea stack, which is also a UNESCO Discovery Global Geopark site. A small colony of Atlantic Puffins also nests on a seas tack in this cove.
Photographing Bonavista Peninsula: Elliston and Puffins
A few miles further south on the main road is the picturesque town of Elliston. Also known as "The Root Cellar Capitol of the World" with 133 documented root cellars. A few of them, like the ones near the puffin viewing site, are worth photographing. The town also has a memorial to the 251 sealers who lost their lives in the Sealing Disaster of 1914. In addition, there is the John C. Crosbie Sealers Interpretation Center. It exists to help bring to life the lives and hardships of sealers in a bygone era. Unfortunately, it was still closed for the season during my visit.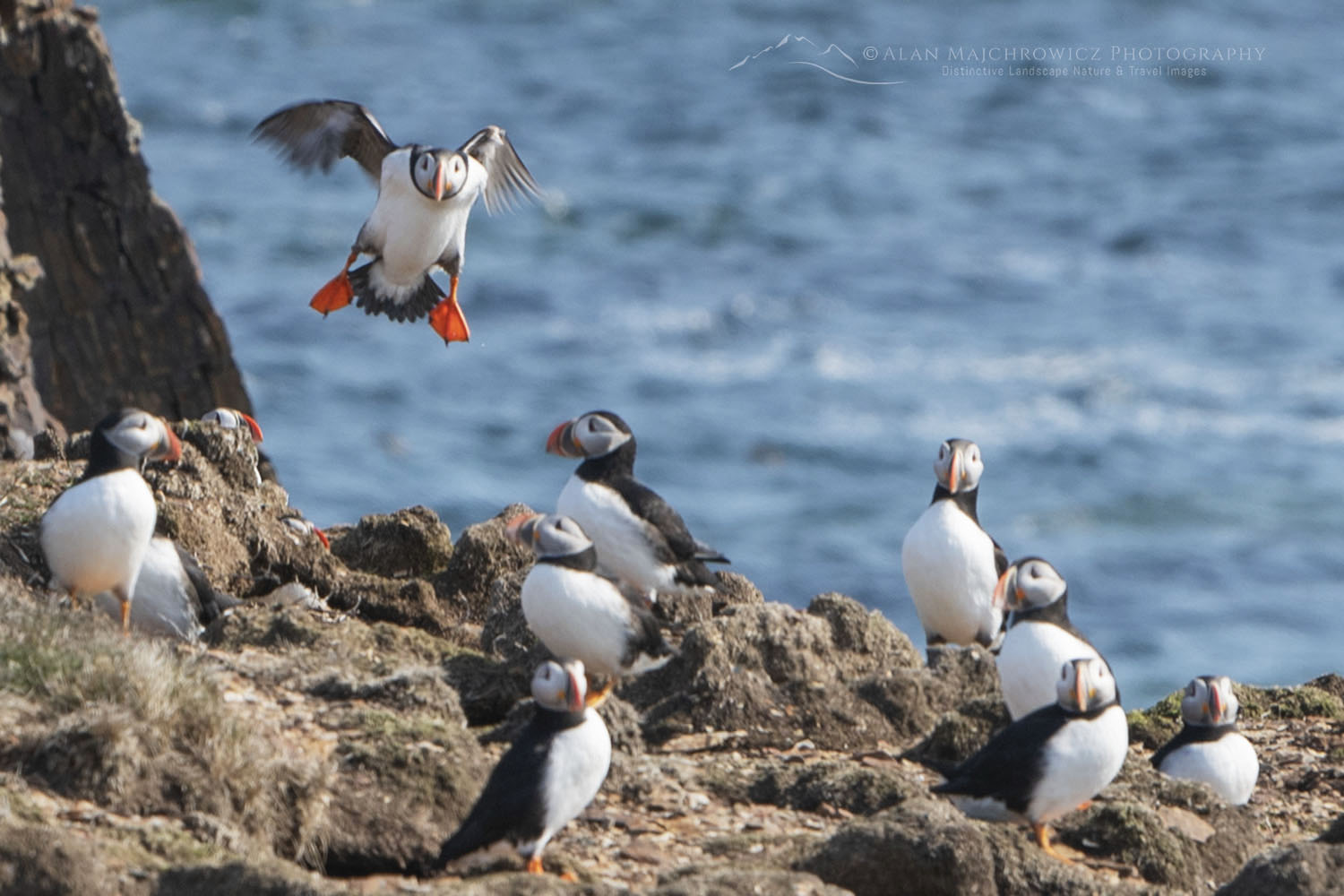 Puffin Colony Elliston Newfoundland #79588
But the real attraction here is the puffin viewing site. The site offers the closest accessible views of a colony of nesting puffins in all of North America. Atlantic Puffins are also the official bird of the province of Newfoundland and Labrador. A short trail leads to a wonderful cliff-edge view of these squat comical seabirds.
Although on my trip in May, I didn't see any icebergs in the Bonavista area this is a good location to photograph them. May, June, and early are the prime months to see them throughout Newfoundland and Labrador. Check out Iceberg Finder to keep track of current sightings.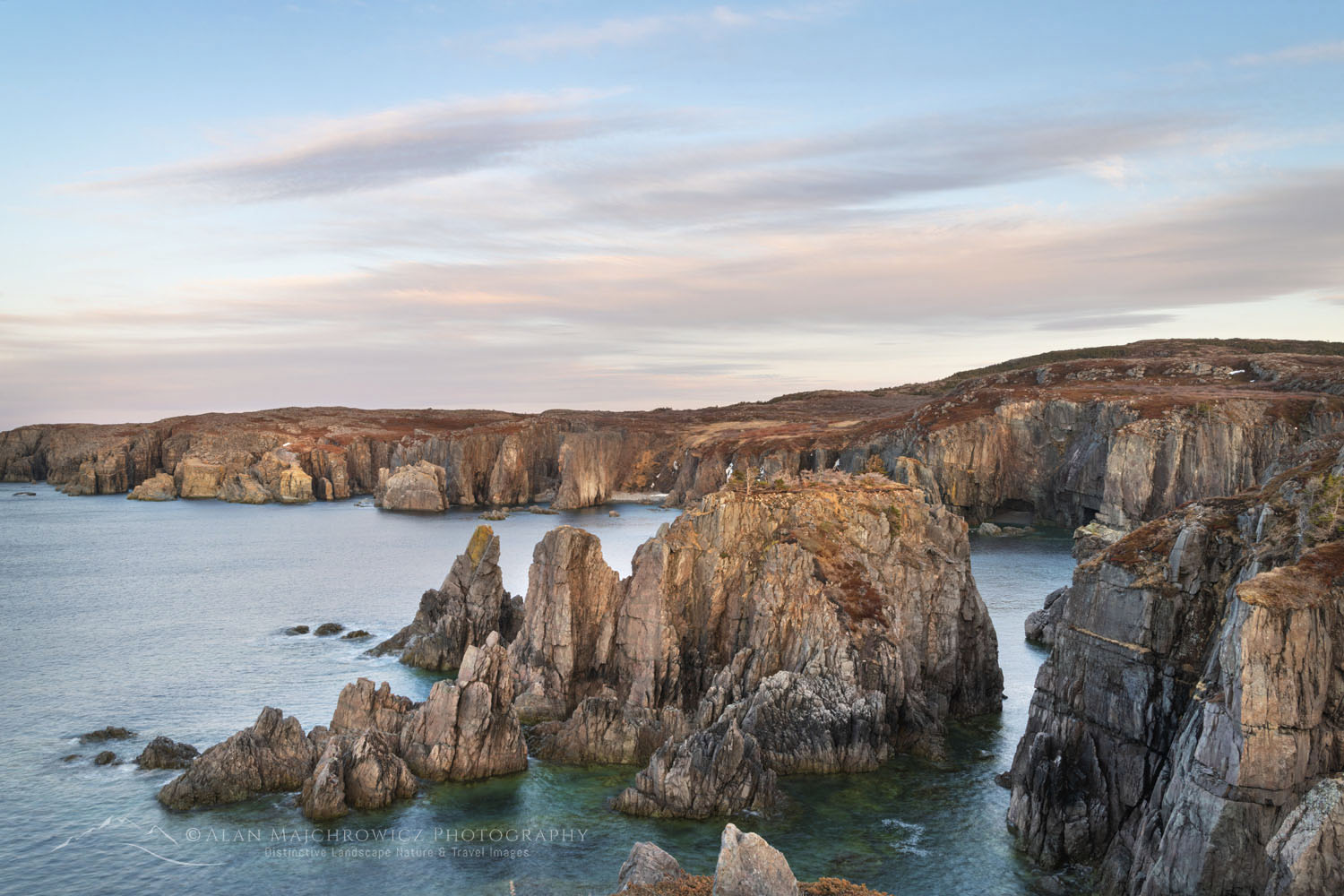 Cable John Cove Newfoundland #79713 Purchase
Essential Tips:



cape Bonavista is a great area to photograph long-exposure seascapes. Bring a Big and or Little Stopper Neutral Density Filter, or their equivalent.
For photographing Puffins, you'll need at least a 200mm lens. For isolating individual birds a 400mm lens would be the minimum. The photo appearing in this post is heavily cropped from a photo using a 200mm lens.
Cape Bonavista is a good location for both morning/sunrise light and evening/sunset light.
Iceberg and whale viewing tours are available in the town of Bonavista.
Like most of coastal Newfoundland, the Bonavista Peninsula can be very windy. Dress appropriately and be extremely cautious near cliffs.
There is ample free primitive camping at John Cabot Municipal Park adjacent to the lighthouse and along the Dungeon/Lance Cove Road.
The town of Bonavista has plenty of lodging and all standard amenities.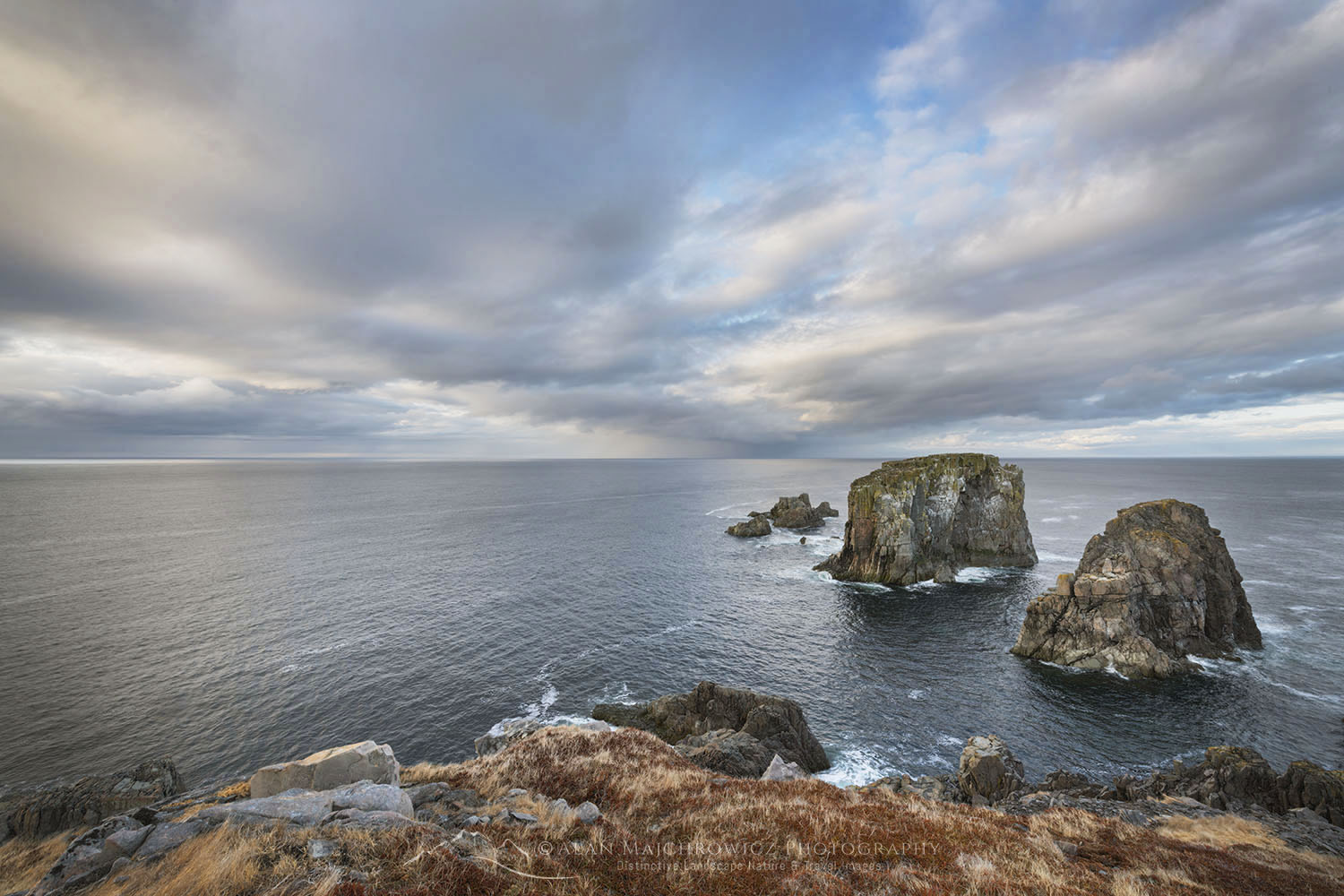 Cape Bonavista Peninsula #79693  Purchase
Tips for Traveling in Newfoundland
Seasonal Closures: After the weather, seasonal closures were my next introduction to Newfoundland. The official summer/tourist season doesn't begin here until June 1.
Nearly every provincial park, historic site, visitor's center, campground, restroom, gift shop, etc., is shut tight until then. Of course, there are exceptions, but they are far and few between. On the other hand, all of this pretty much guarantees that you'll escape the summer crowds and have most places all to yourself!
Lodging: Since I nearly always car camp on my photo tours, I can't say much about lodging. However, there are only a few large towns/cities in the province, so you'll most likely be looking for lodging in very small towns with limited accommodations. Book very early!
Camping: I didn't find many campgrounds anywhere, aside from provincial and national parks, which were closed. However, free camping is available just about anywhere that isn't private property. This mainly consists of gravel roads on Crown Land and trailheads.
Rest Areas: There are none! I have to include this since it was such a shock to me. Even driving from St. John's on the Trans-Canada Highway to the other end of the province there was not one rest area or port-a-potty. Secondary and backroads? Forget about it! Keep that in mind when starting out in the morning after drinking a big mug of coffee, or that breakfast burrito!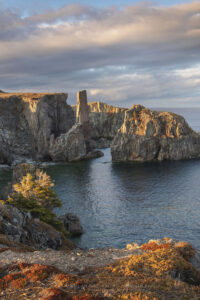 Cable John Cove Bonavista Peninsula #79695  Purchase
To see more images check out these galleries:
Newfoundland and Labrador 1
Newfoundland and Labrador 2
Check out our new Newfoundland Sea, Sky Land, Ice Fine Art Folio
Also, Check out the first post in this series:
Photographing in Newfoundland and Labrador/Cape Spear
Coming up next: Photographing, Twillingate, and Fogo Island 
All photos appearing in Photographing in Newfoundland and Labrador/ Cape Spear are available for Commercial Licensing and Fine Art Prints. Click on any image to purchase, or contact me for more info!
Photographing in Newfoundland