Washington Pass North Cascades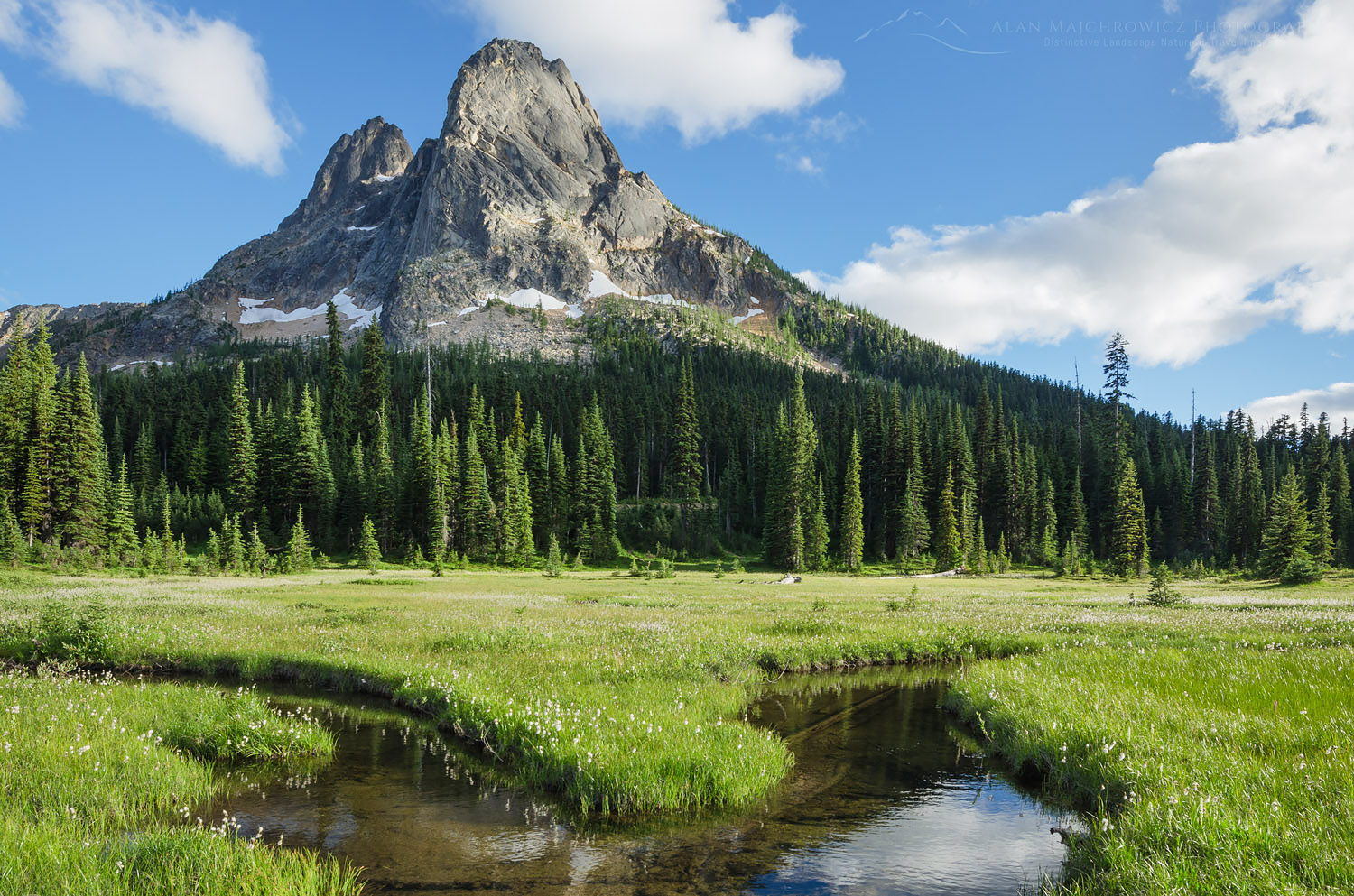 Liberty Bell Mountain North Cascades   #61304   Purchase
My last post featured a hike up to Maple Pass along the North Cascades Highway of Washington State. This post will feature the second part of that short trip. Not far up the road from Rainy Pass and the Maple Pass trailhead is one of the premier areas of the North Cascades, Washington Pass. Sitting at 5477′ this is the high point of the North Cascades Highway. It also features one of the best views of dramatic mountain scenery in the state accessible by vehicle. During the winter months the pass closes due to deep snows and hazardous avalanche conditions.
Proudly guarding the pass is Liberty Bell Mountain and its attendant peaks, The Minute Man and Early Winters Spires. All of these and surrounding peaks are composed of a pinkish type of granite carved from the Golden Horn Batholith. The quality of rock attracts climbers from all over the globe, and in early spring ski mountaineers.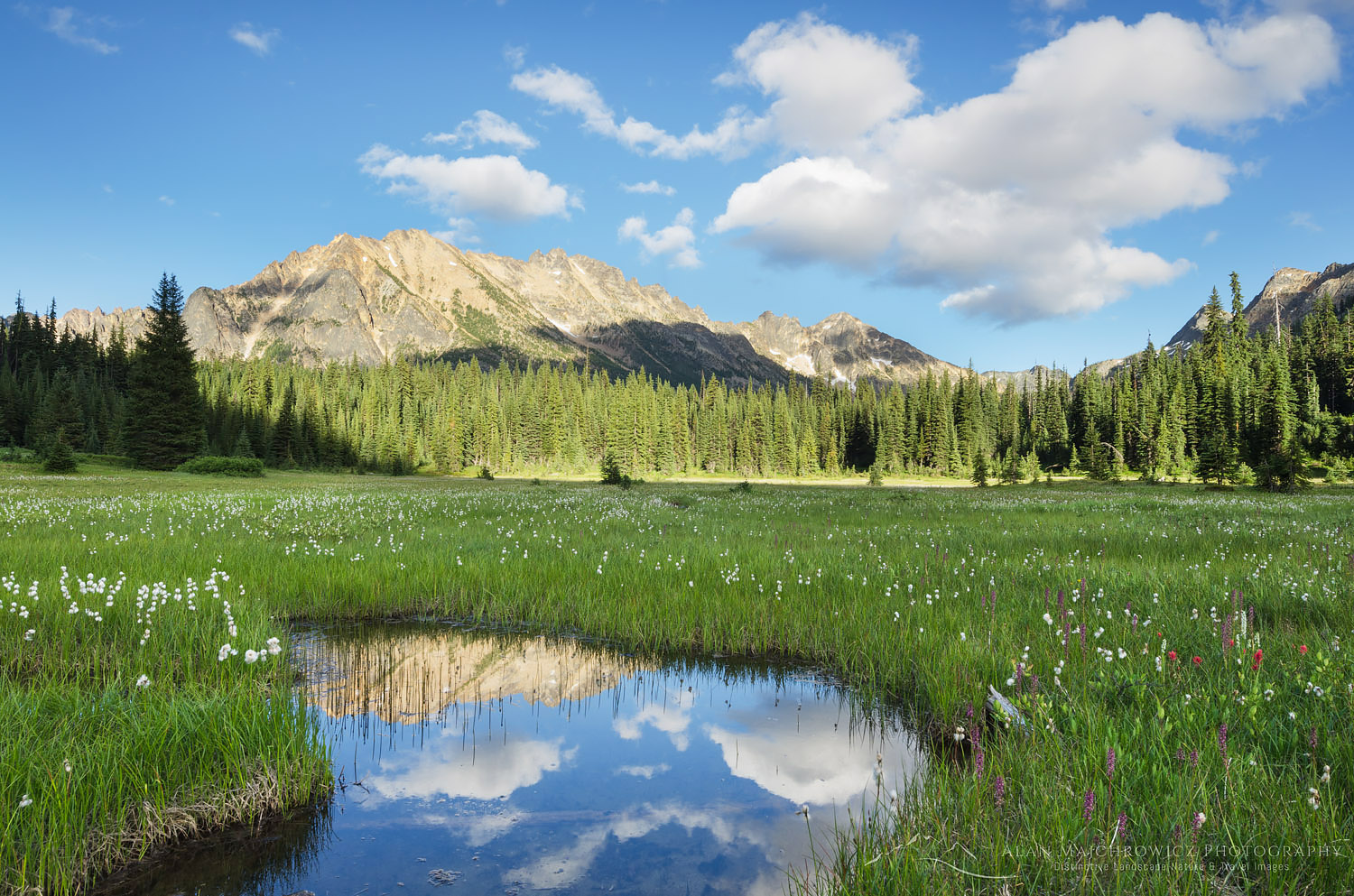 Kangaroo Ridge from Washington Pass #61316   Purchase
The aesthetic beauty of the area also attracts photographers, me being one of them. Most visitors new to the pass generally head to the dramatic views of the overlook area. However I enjoy the peaceful solitude of the adjacent meadows and the wonderful compositions it offers. The meadows are the headwaters of State Creek and can be classified more as wetlands. Photographing on the spongy ground requires very light steps to protect the delicate plants. Another requirement is a willingness to get your feet wet and a tolerance for swarms of flying biting insects!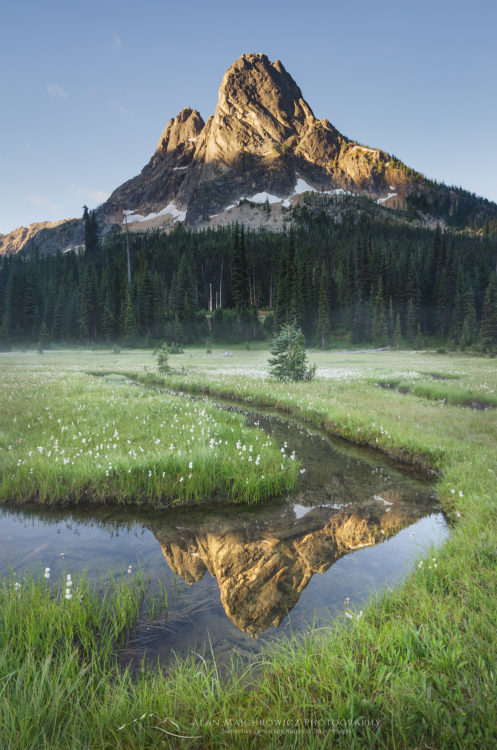 Liberty Bell Mountain North Cascades #61365  Purchase
Autumn is also another great time to visit as the subalpine larches fringing Liberty Bell are turning gold. However the sun is then at a lower angle and doesn't illuminate much of the north face of the mountain. When the road opens in spring you can also get an idea of how the pass looks in winter conditions.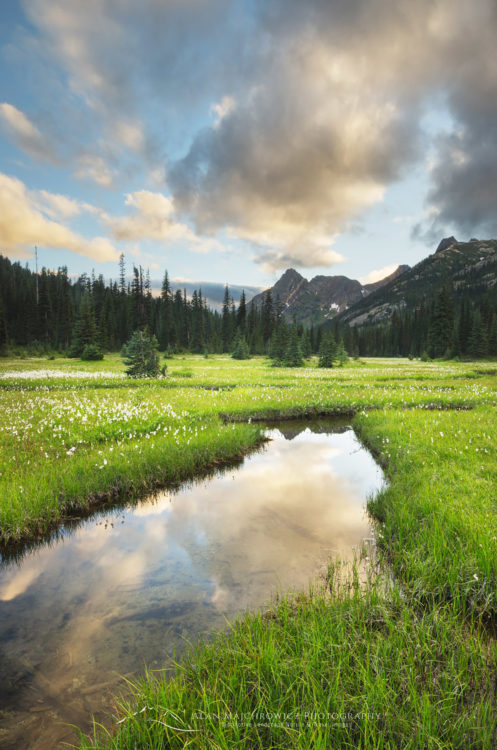 Washington Pass #61343  Purchase