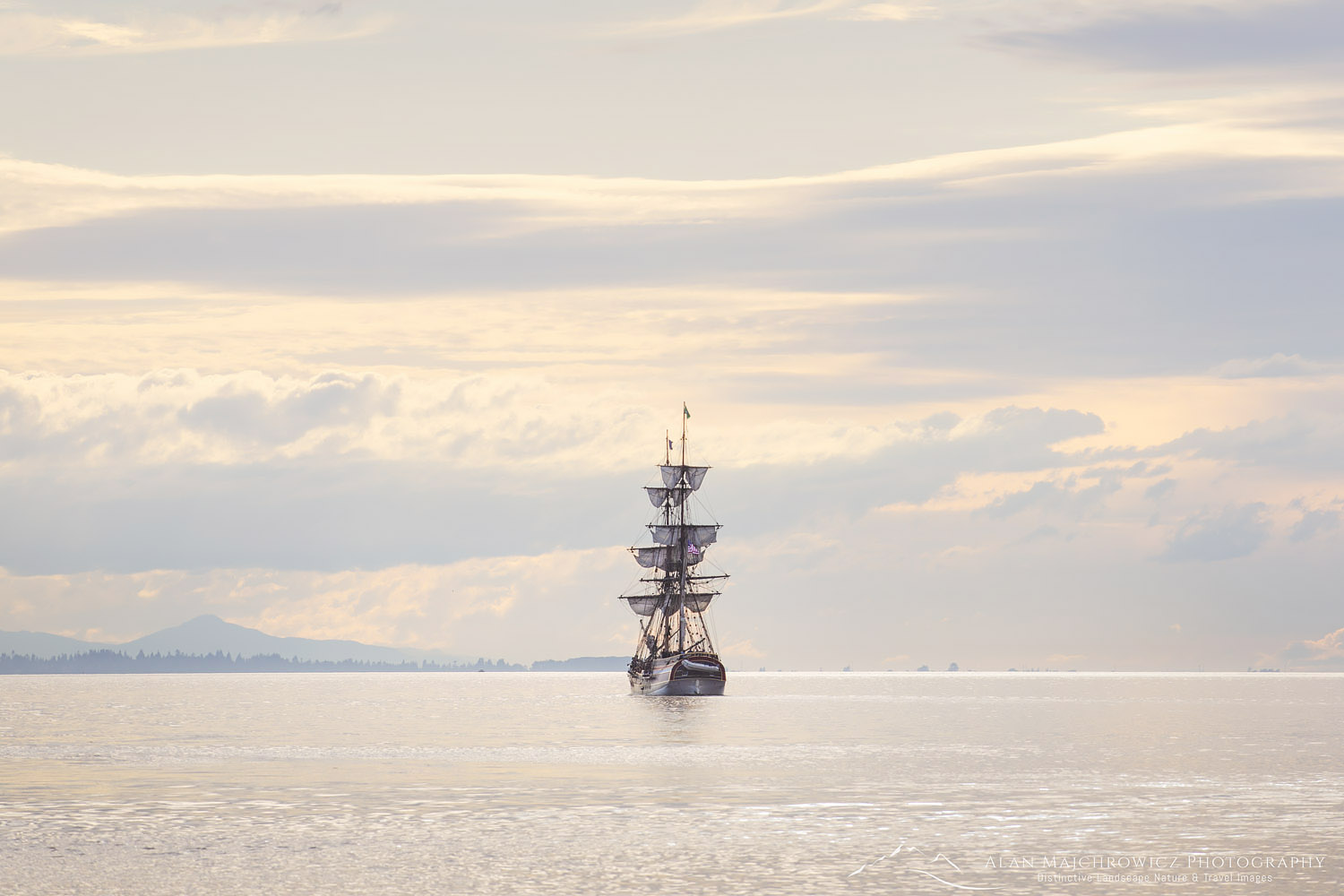 Lady Washington Semiahmoo Bay  #62496  Purchase
A few weeks ago I had the opportunity to take an evening cruise on an authentic tall ship. The Lady Washington and her companion, the Hawaiian Chieftain, were spending the weekend in Blaine Harbor. Both of these ships are owned by the Grays Harbor Historical Society, in Aberdeen Washington. Throughout most of the year they cruise to ports in Washington and Oregon, and down to California in the fall. When both are in a port at the same time they offer an afternoon mock battle cruise and then an evening sunset cruise.
The Lady Washington is a replica of the original eighteenth century ship. She was the first American vessel to make landfall on the west coast of North America. Her smaller companion, the Hawaiian Chieftain, was built in 1988 for cargo trade in the Hawaiian Islands. Fans of the Pirates of the Carribean movies may recognize the Lady Washington as the ship featured in The Curse of the Black Pearl.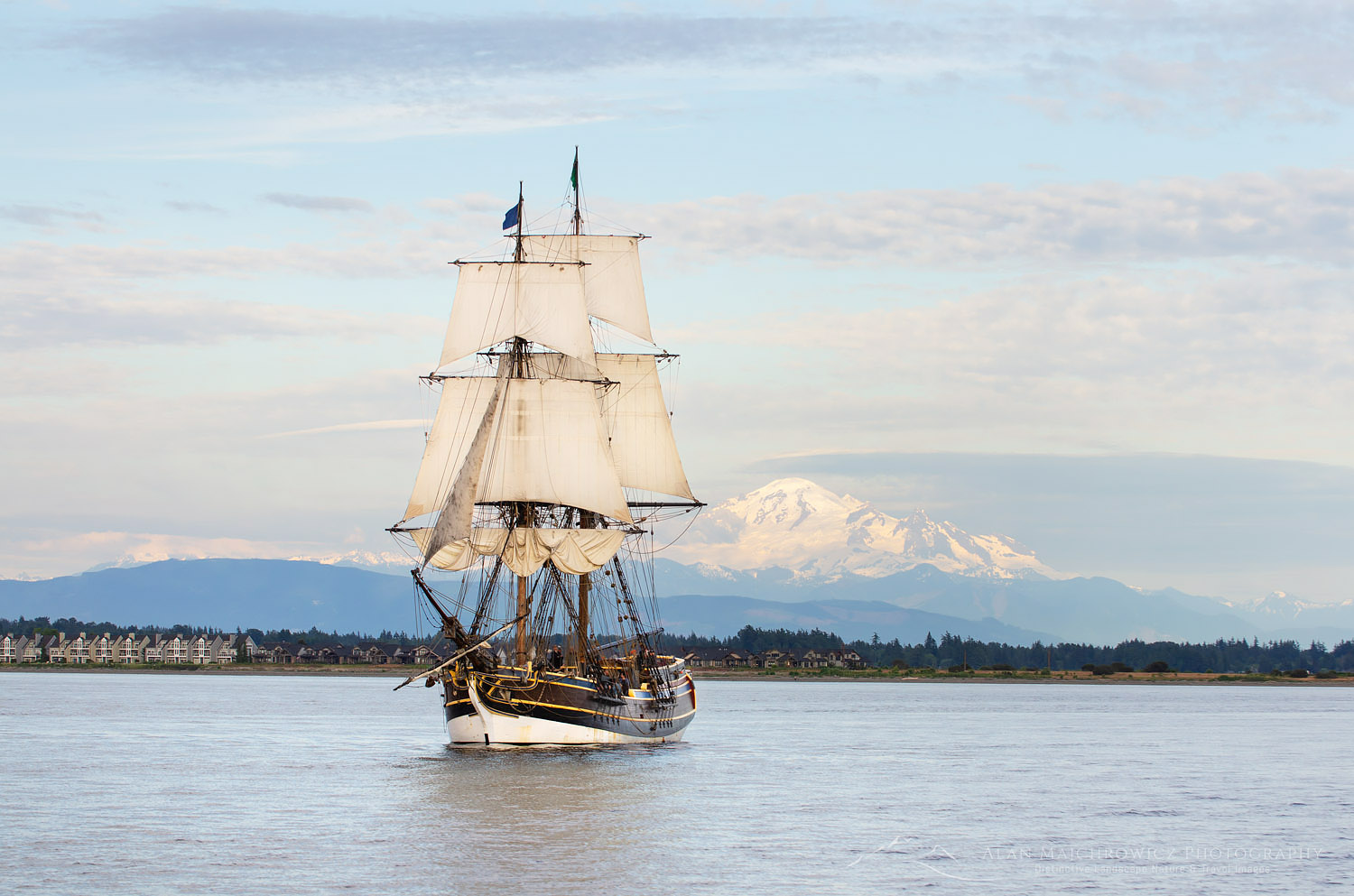 Lady Washington and Mount Baker  #62509  Purchase
Sailing in Semiahmmo Bay
I'm a great fan of historical sailing ships. During my youth one of my hobbies was building scale models of various eighteenth and nineteenth century ships. Back then I could rattle off the names and function of all the sails and rigging. So I took advantage of their visit to Blaine Harbor and bought a ticket for the evening sunset cruise. Of course my other motivation was to make some photos of the ships at sail in the evening light.
Most folks on the evening cruise that day chose to sail on the Lady Washington. That was also my first choice since it is the bigger and more dramatic looking of the two. However, since I was out to make some photos, I chose the Hawaiian Chieftain. That way I could photograph the Lady Washington at sail. My choice in vessels was perfect, as we set out to sail the Lady Washington was out in front with a beautiful golden sky as a backdrop. Even the crew took time to grab their cameras!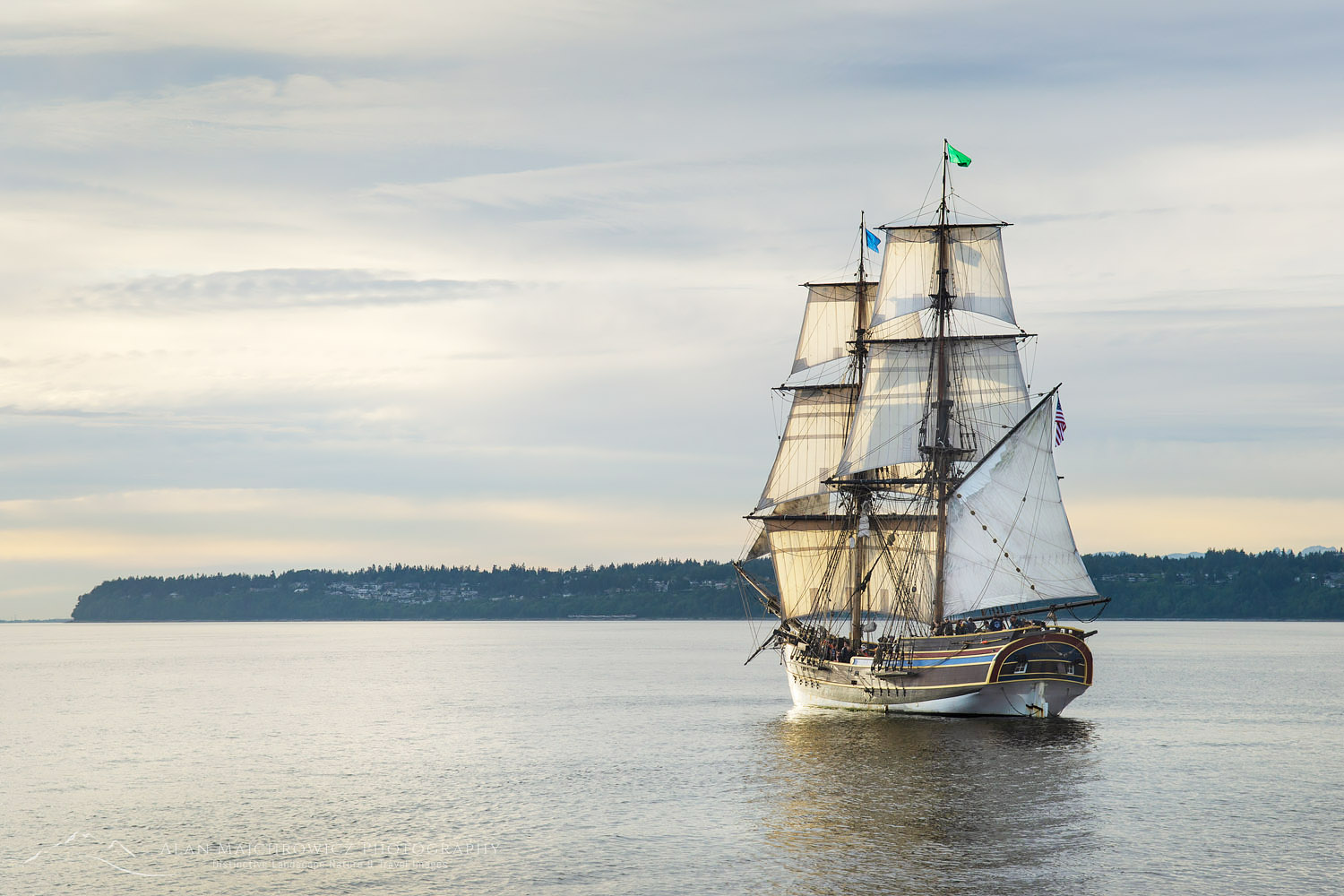 Lady Washington at sail in Semiahmoo Bay  #62537  Purchase
The cruise went on for about three hours out in Semiahmoo Bay, and I was able to make many photos in the changing light. Some of the most notable were of the Lady Washington with Mount Baker as a backdrop. However, the only disappointment was the lack of wind. There was only an occasional slight breeze to fill the sails and push us on at 1.5 knots per hour.
If you would like to know more about the ships and their schedule please check out the Grays Harbor Historical Society website. I hope you enjoy these photos, I'll definitely be adding more the next time these ships are in port!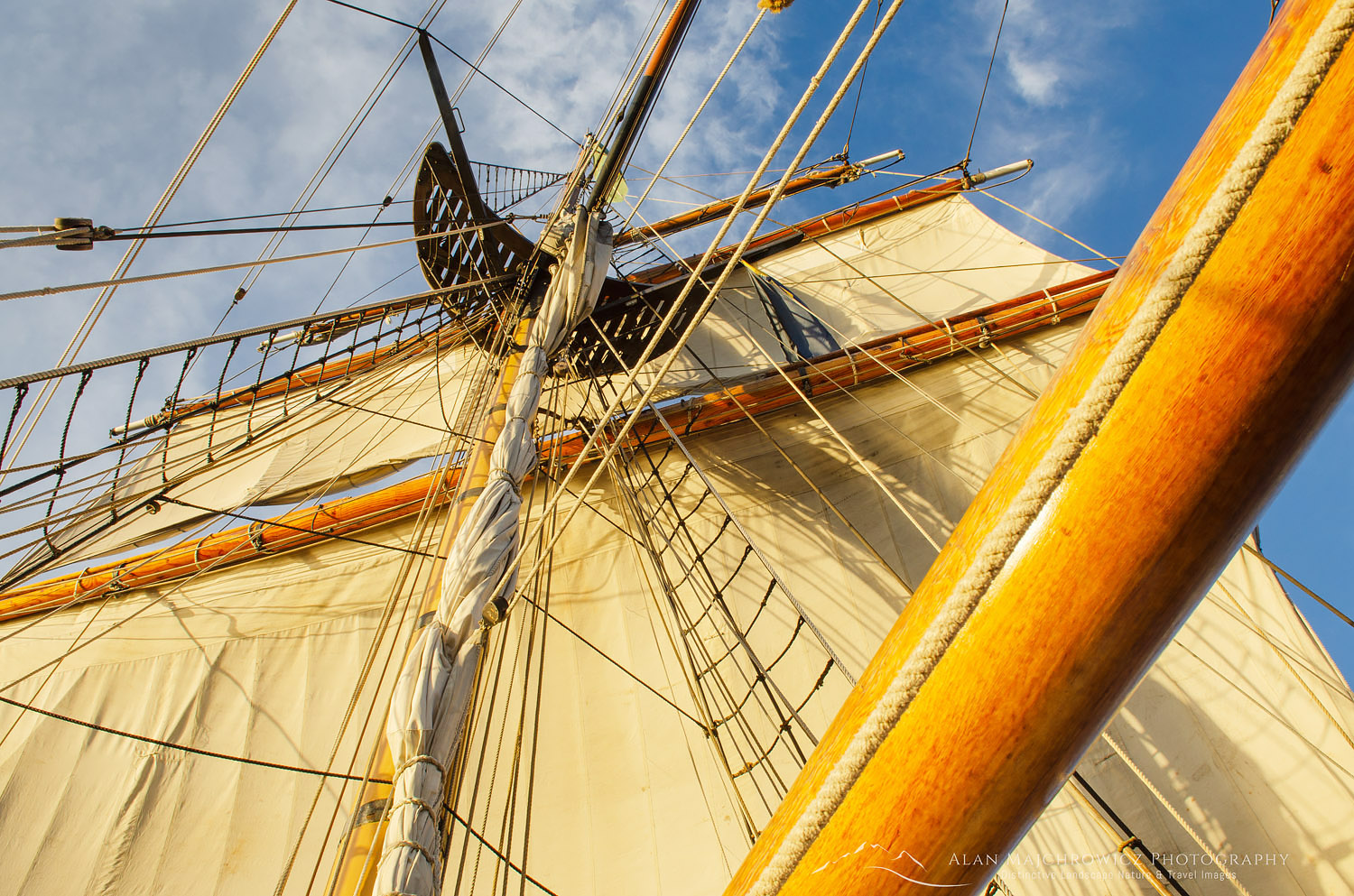 Hawaiian Chieftain Sails and Rigging  #62582   Purchase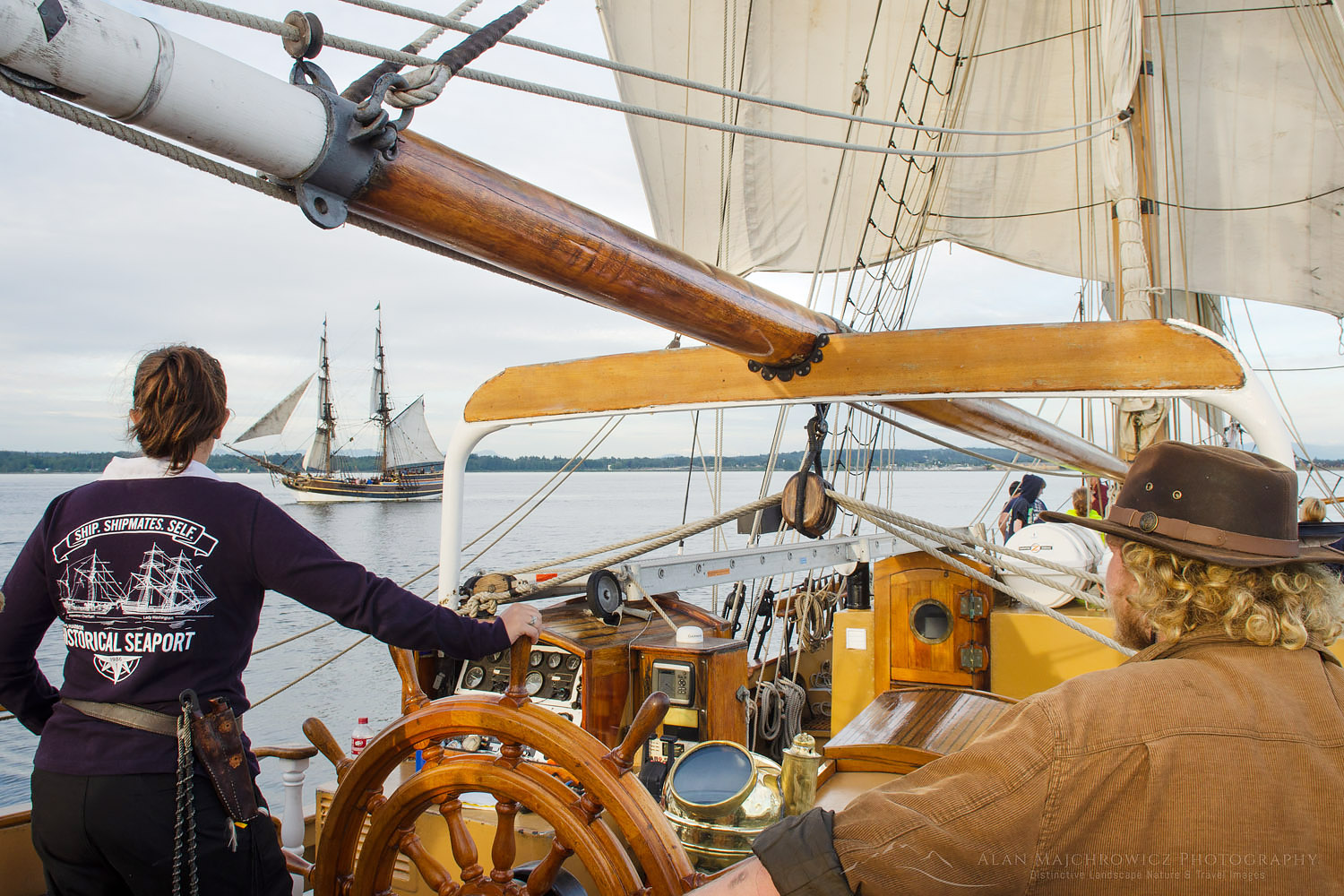 Sailing on the Hawaiian Chieftain   #62515  Purchase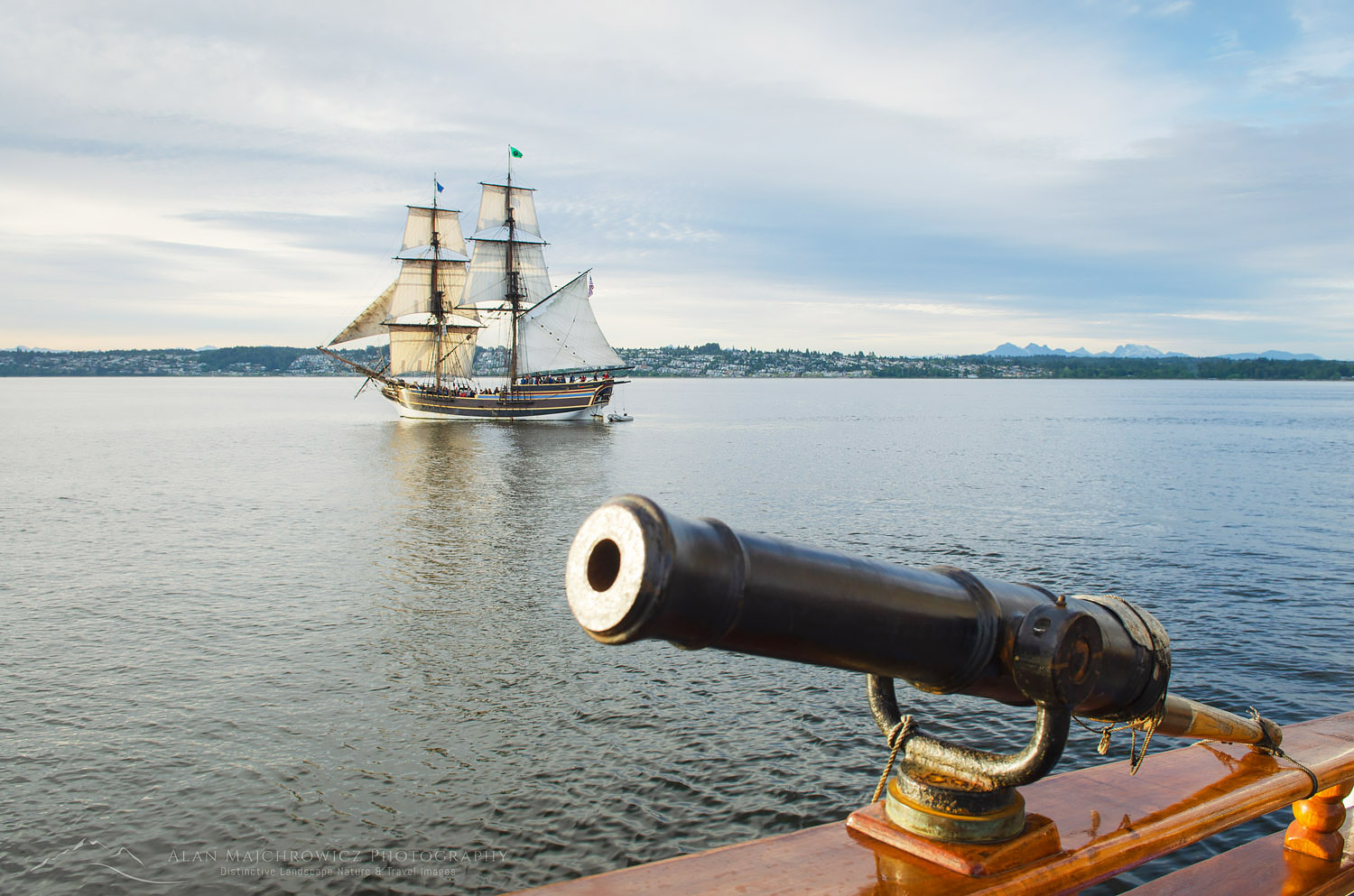 Lady Washington at sail in Semiahmoo Bay  #62523  Purchase