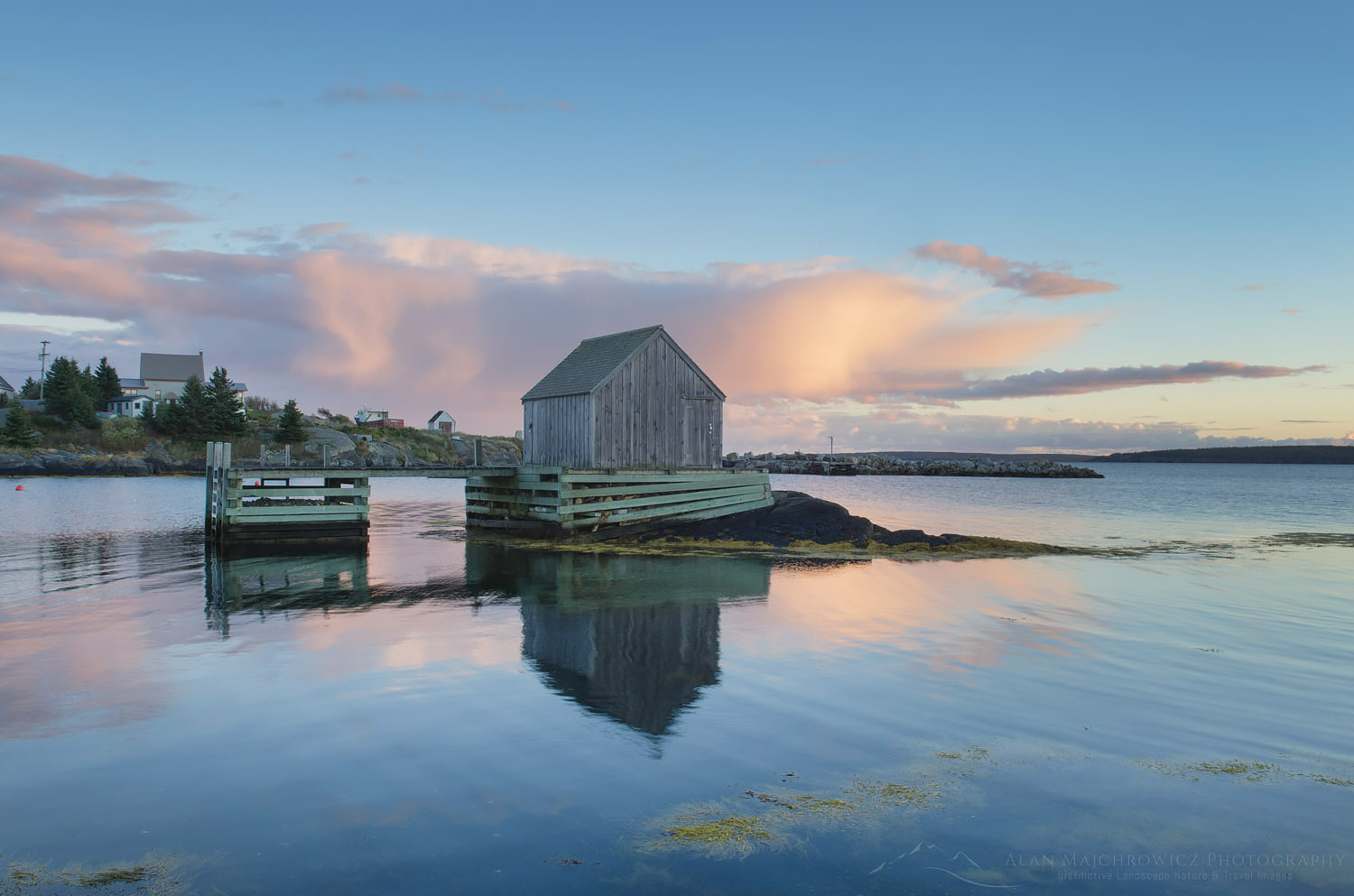 Blue Rocks Nova Scotia  #58819   Purchase
Bluenose Coast Nova Scotia
In my last post, I left off with our departure from Cape Breton Island Nova Scotia. In this post, I'll be talking about our visit to the Bluenose Coast of Nova Scotia. This area of Nova Scotia has been high on my photography wish list for many years. Bluenose Coast contains some of the most famous tourist attractions in the Province. Situated southwest of Halifax the area includes Peggy's Cove, and the lovely coastal villages of Chester, Mahone Bay, Lunenburg, and Blue Rocks. How the term Bluenose originated is up for debate, some say it is a derisive term dating to political divisions of the late eighteenth century. However, others will say it refers to a bluish variety of potato or the nose color of locals in winter.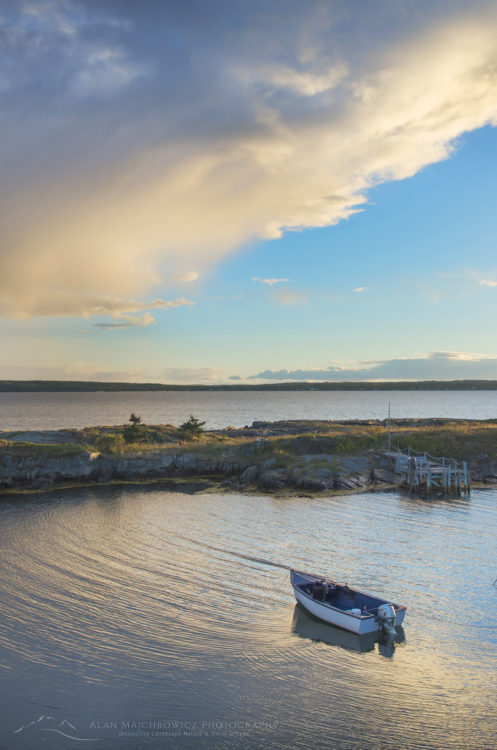 Blue Rocks, Nova Scotia  #58804  Purchase
Our drive from Cape Breton Island down to the Bluenose Coast was again a long tiring journey. Not only was the weather rainy discouraging, but the route we took was also longer than anticipated. Instead of taking a direct course via the main highway, we decided on a more scenic drive along the coast. While I won't say this was a mistake we did find the road to be exceedingly long with very few coastal views. Most of the way traveled through heavily forested lands dotted with tiny villages. Occasionally the roads break out on the coast with views of numerous islands. According to our travel brochures, this area northeast of Halifax is a haven for wilderness-loving sea kayakers. I'd love to be able to return and explore this vast area with a boat.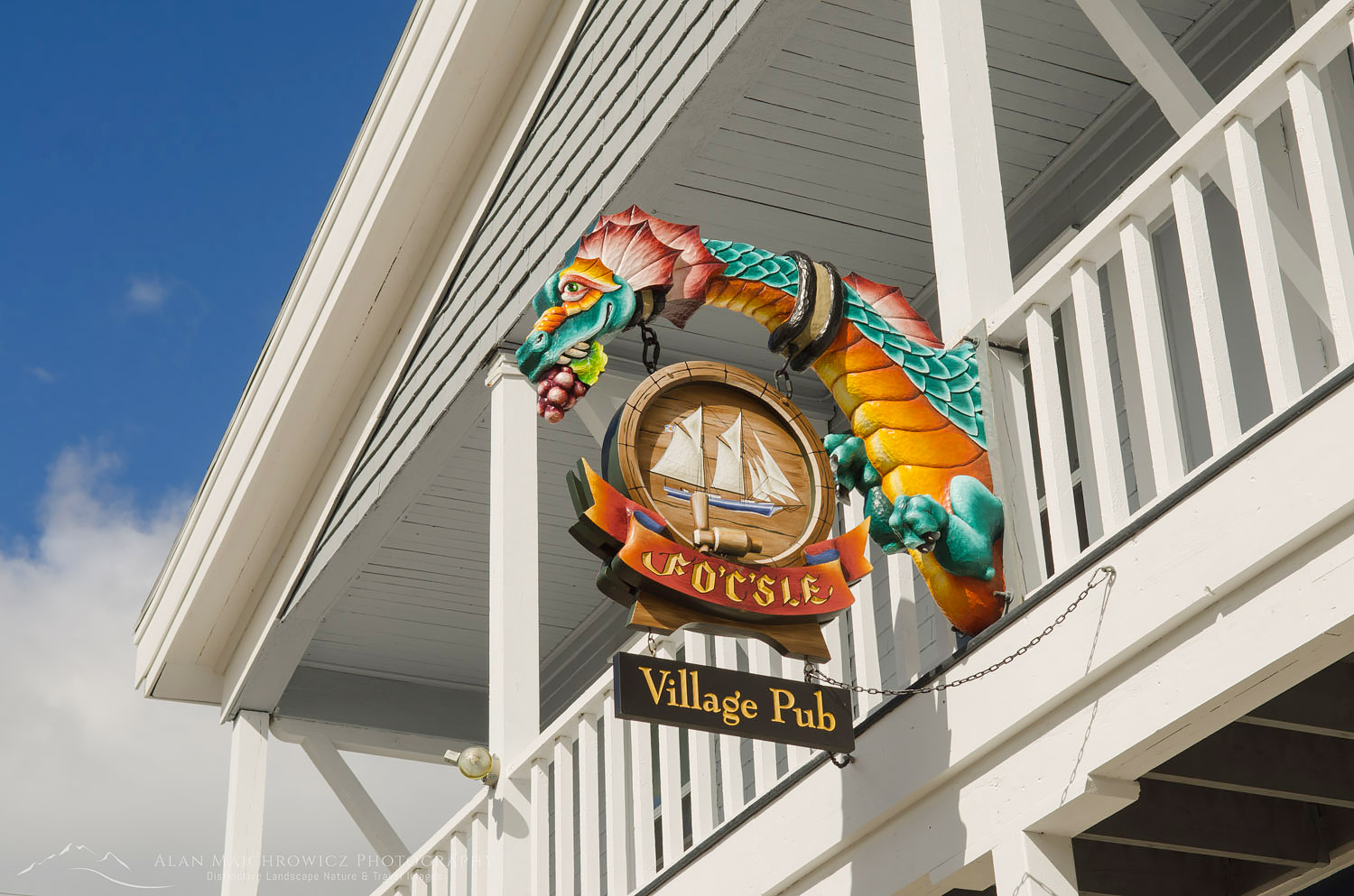 The Fo'c'sle Pub Chester, Nova Scotia #58700 
At Chester
Between the rain and the torturous road, we decided to finish the drive to Bluenose Coast the next day. We weren't too thrilled at the prospect of finding our way through the Halifax area at night. After anxiously getting through Halifax in the morning we decided to base our stay at Graves Island Provincial Park. Well situated near all the sites I was hoping to photograph, Graves Island also had some of the best campsites on our trip. After setting up camp we went on to check out the nearby town of Chester. Founded in 1759, Chester is a quaint village on Mahone Bay noted for stately old homes and a thriving artist community. Along with a boat-filled harbor, Chester is also home to The Fo'c'sle, Nova Scotia's oldest pub. I couldn't resist photographing the whimsical dragon hanging above the entrance.
After a few weeks of photographing mostly nature-oriented locations, we were finally in Coleen's environment. Picturesque coastal towns with lots of shops to browse through were something she had been looking forward to. Although I'm mostly a wilderness nature lover I also was enjoying the change. The next day was perhaps the most memorable of the entire trip. It was a big day with lots of sites to see and photograph on the Bluenose Coast. We began it with breakfast at The Kiwi Cafe in Chester, a colorful establishment with great food, after which we proceeded to Lunenburg and Blue Rocks. Along the way, we passed by Oak Island, the site of questionable buried treasure, made famous on the History Channel's Curse of Oak Island tv show. Needless to say, we didn't stop by to check it out.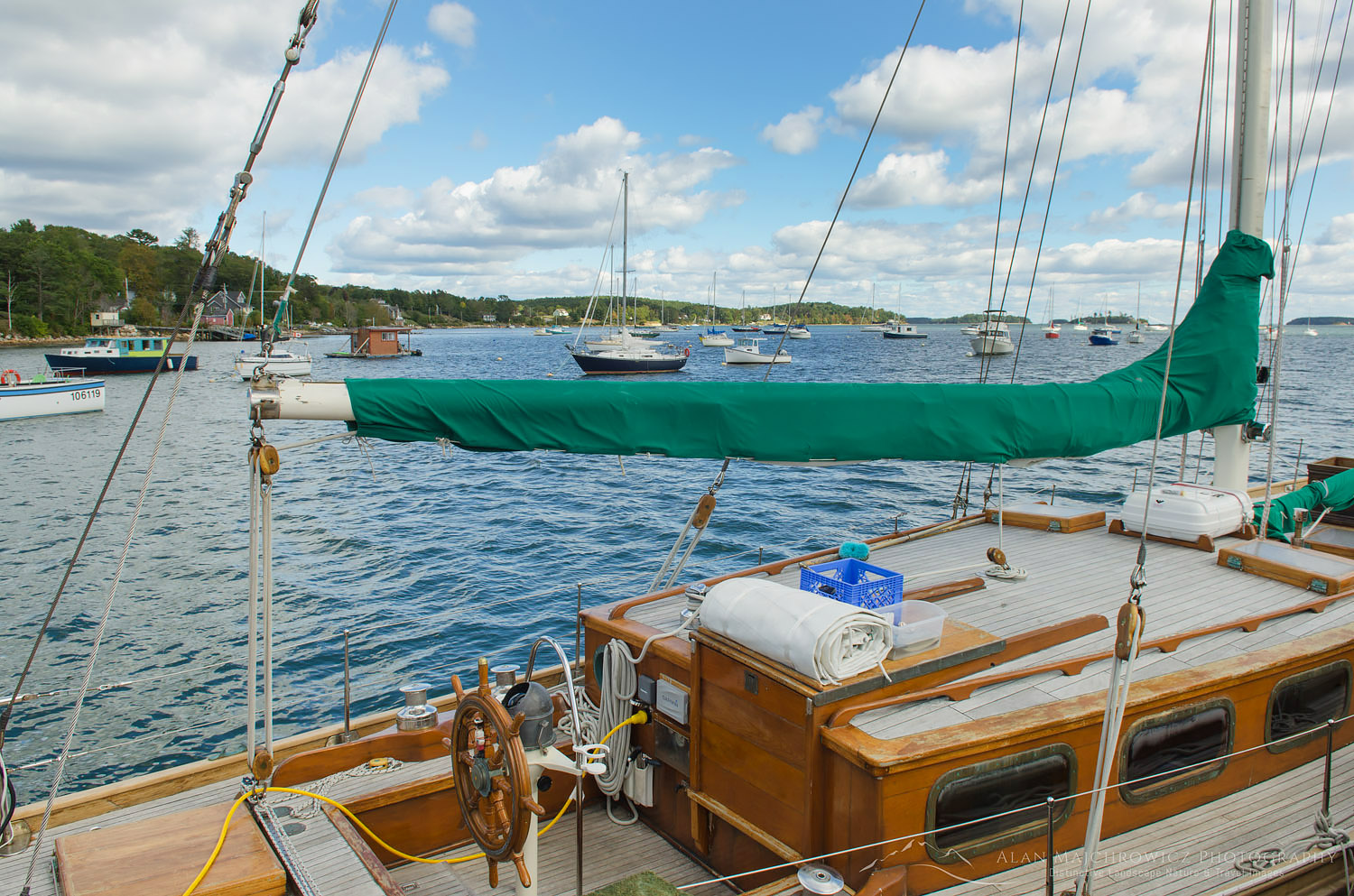 Mahone Bay Sailboats  #58726  Purchase
Mahone Bay & Lunenburg
Along the way, we had to stop in the town of Mahone Bay for the annual Scarecrow Festival and antique fair. Even without the festival, the town is worth a stop. Dating back to 1754, Mahone Bay has numerous eclectic boutiques, art studios, antique shops, B&Bs, and restaurants. Of course with the festival in full swing Mahone Bay was overflowing with tourists, including us. We ended up spending several hours there checking out shops and the over 250 whimsical handmade scarecrows. But we had to move on, I was anxious to scout Lunenburg and the tiny fishing community of Blue Rocks. Aside from Peggy's Cove these two locations are perhaps the most scenic and photographed in all of Nova Scotia.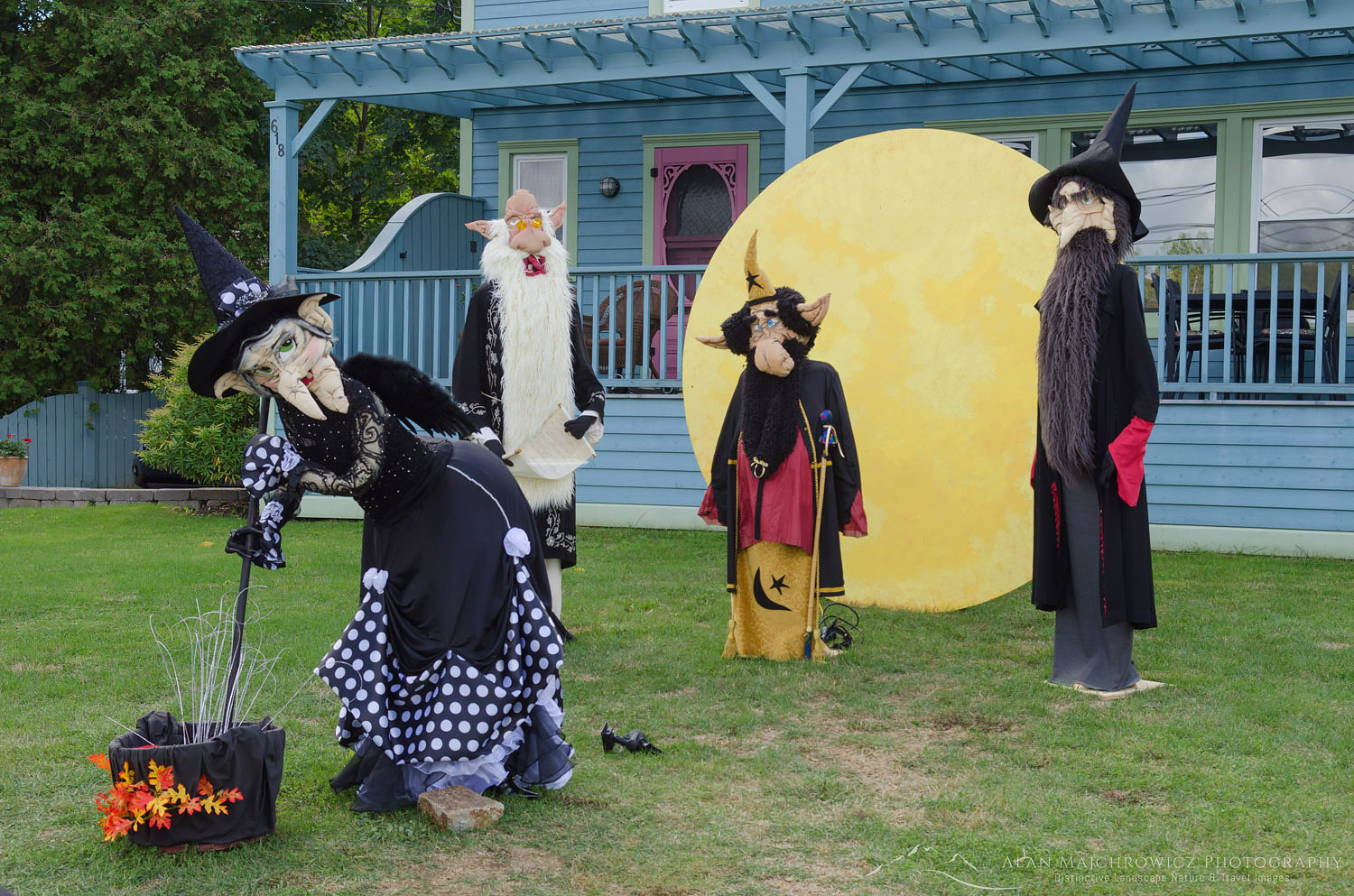 Mahone Bay Scarecrows  #58715  
Lunenburg is yet another old historic fishing town. In my mind, it was the most interesting one we visited. The town sits on a gentle hill overlooking the bay, with many of the historic buildings sporting vibrant colors. For photographers looking to capture these colorful buildings on the waterfront, there is no better spot than a park directly across the bay. You have the option of photographing from the waterfront or up a hill on the edge of a golf course. The latter offers a wonderful elevated view of the town and boats.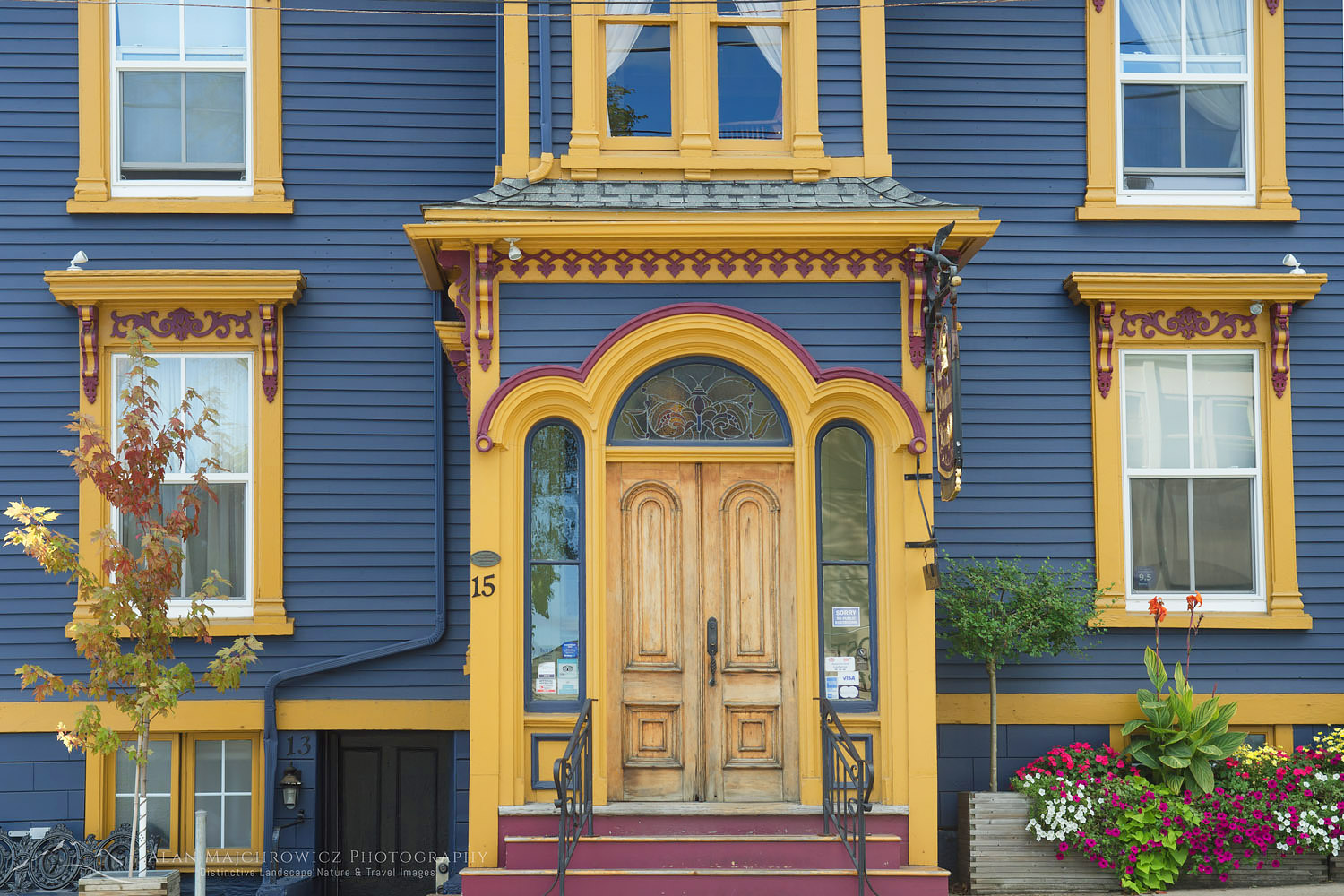 Colorful Lunenburg Architecture  #58737  Purchase
Blue Rocks Fishing Community
After finding these locations and making a few photos we went on to scout Blue Rocks. Being new to the area it was a bit difficult to find among the maze of roads. However, there was no mistaking it on arrival. Blue Rocks is just a small community with several fishing shacks and boats on a calm inlet. The location though is classic, old colorful fishing shacks, and boats moored alongside with islands and the Atlantic as a backdrop. And the rocks are blue, with the layers eroded into fantastic shapes. With crystal-clear water and bright yellow skirts of seaweed, the rocks boats, and buildings present a dazzling array of colors and shapes. I was bubbling over excitement at photographing this wonderful location! The only thing missing though were clouds, the sky was an empty electric blue. Perfect for picnics and leisurely drives but not for photography.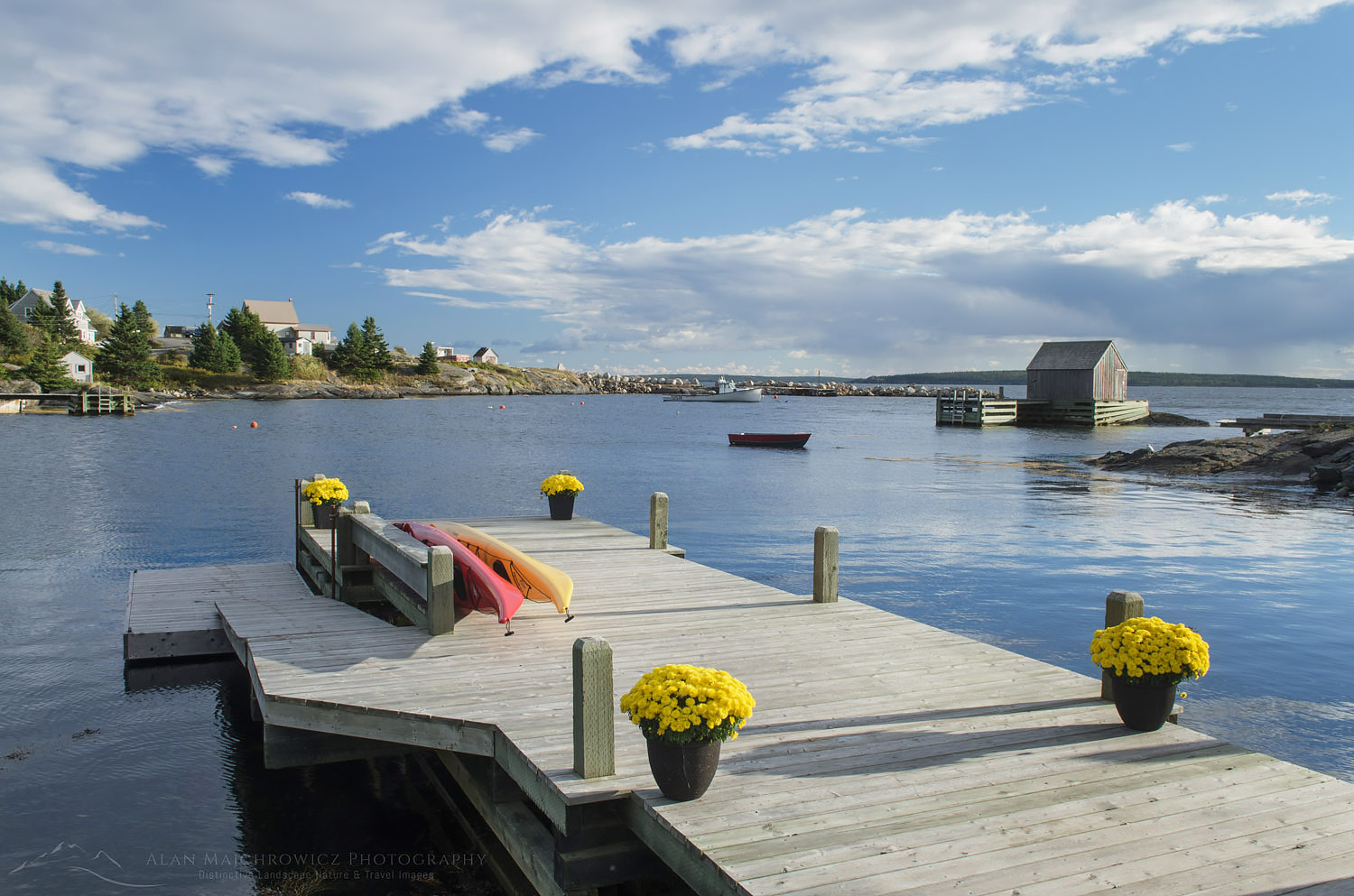 Blue Rocks, Nova Scotia  #58778  Purchase
It was still early so we went back to Lunenburg to check out the town and have a bite to eat. We found another gem at the tiny Salt Shaker Deli. I would highly recommend stopping by if you are in the area. The food was wonderful, probably the best seafood chowder in the Province, and the friendly staff and outstanding harbor view made for a memorable experience.  And if this wasn't enough, as we were finishing our meal I noticed some interesting clouds moving in!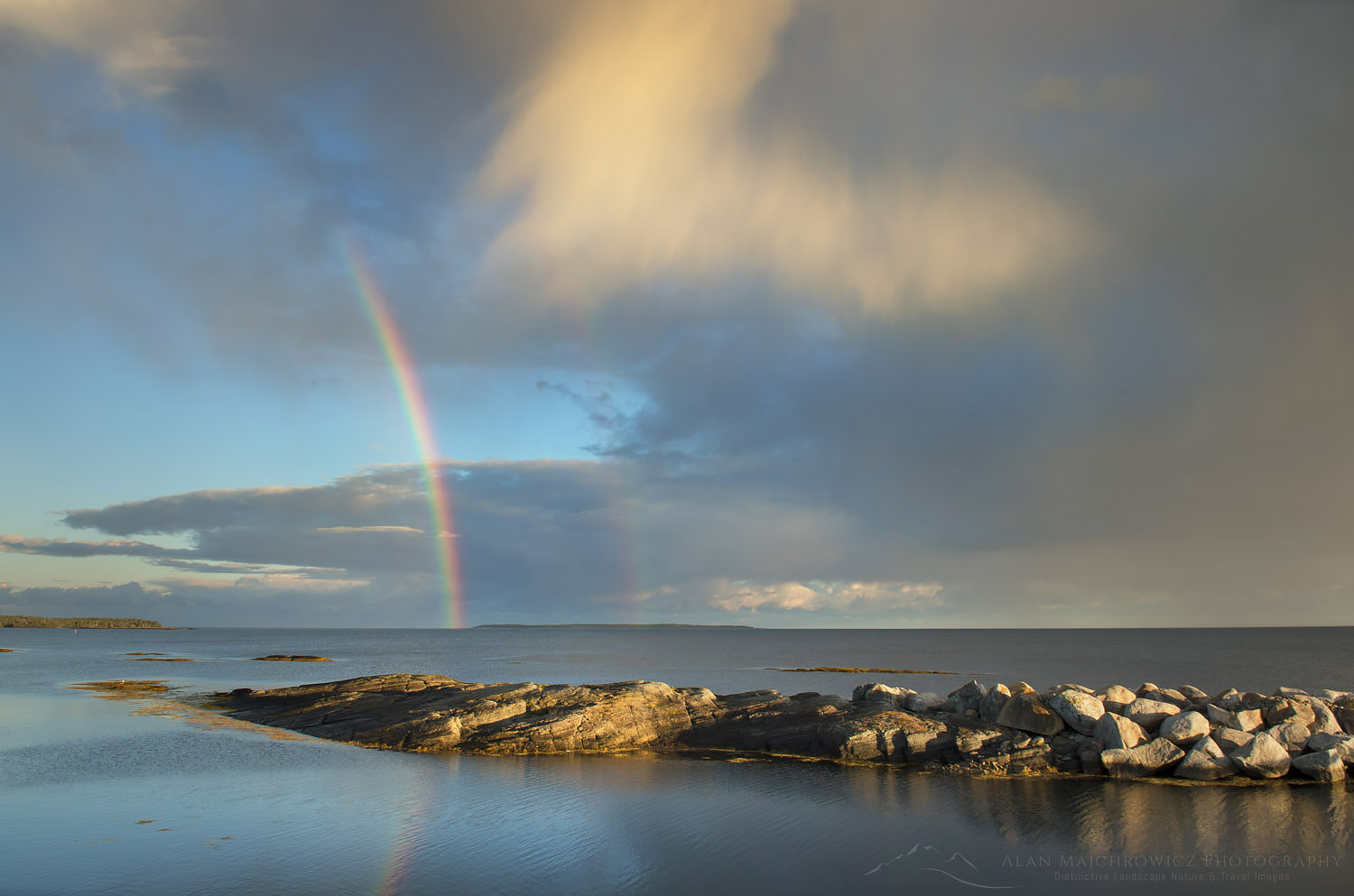 Blue Rocks Rainbow  #58795  Purchase
Blue Rocks Evening Photography
We planned to head back to Blue rocks after dinner for evening light, and then hurry back to Lunenburg to photograph the waterfront at twilight. Arriving at Blue Rocks the sky darkened and rain began to come down in sheets. A complete opposite of the earlier sunny blue sky. I was getting discouraged at my prospects when the showers began to move on. The elements for some great evening light were beginning to come together. Firstly a rainbow began to take shape, followed by curtains of rain and clouds being illuminated by the setting sun. Moving around I found many compositions among the boats and fishing shacks. As the light began to peak and fade I worked to photograph one of the most iconic shacks in the last glowing light of the evening. So far this was the best combination of light and subject matter on the trip.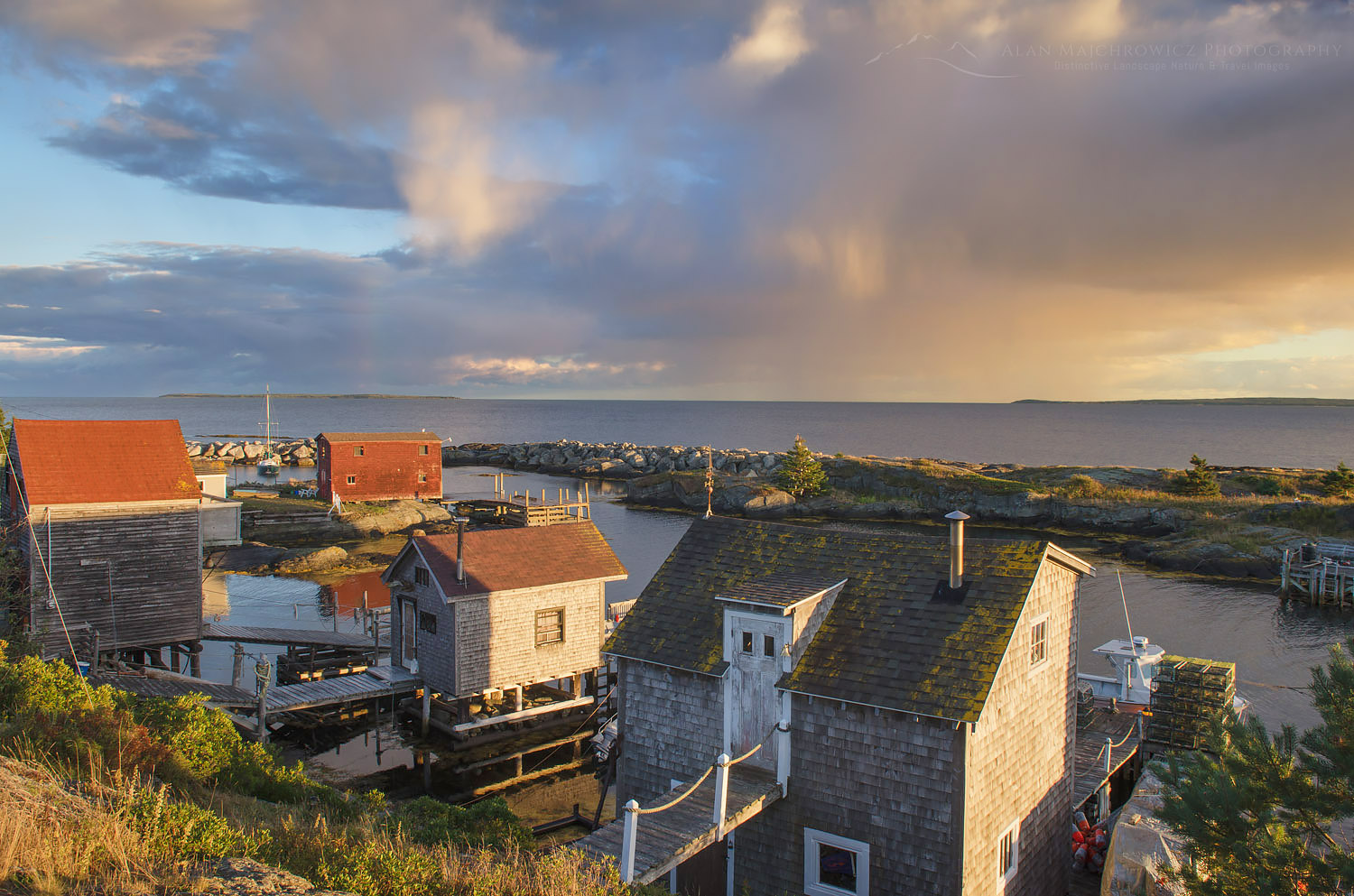 Blue Rocks, Nova Scotia  #58807   Purchase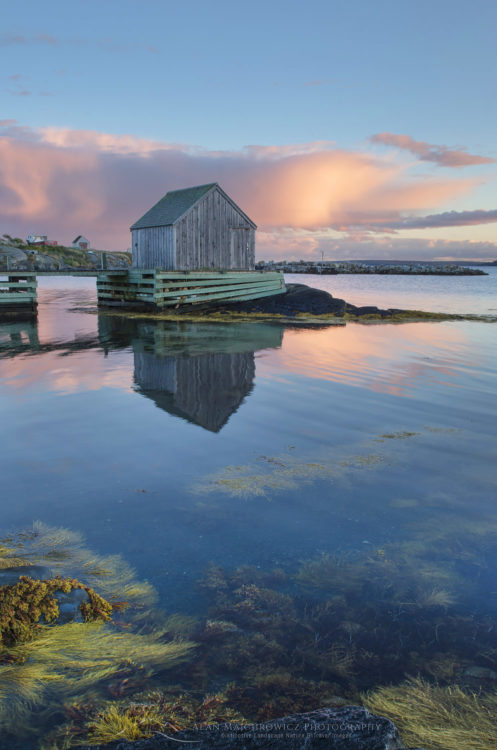 Blue Rocks, Nova Scotia  #58825   Purchase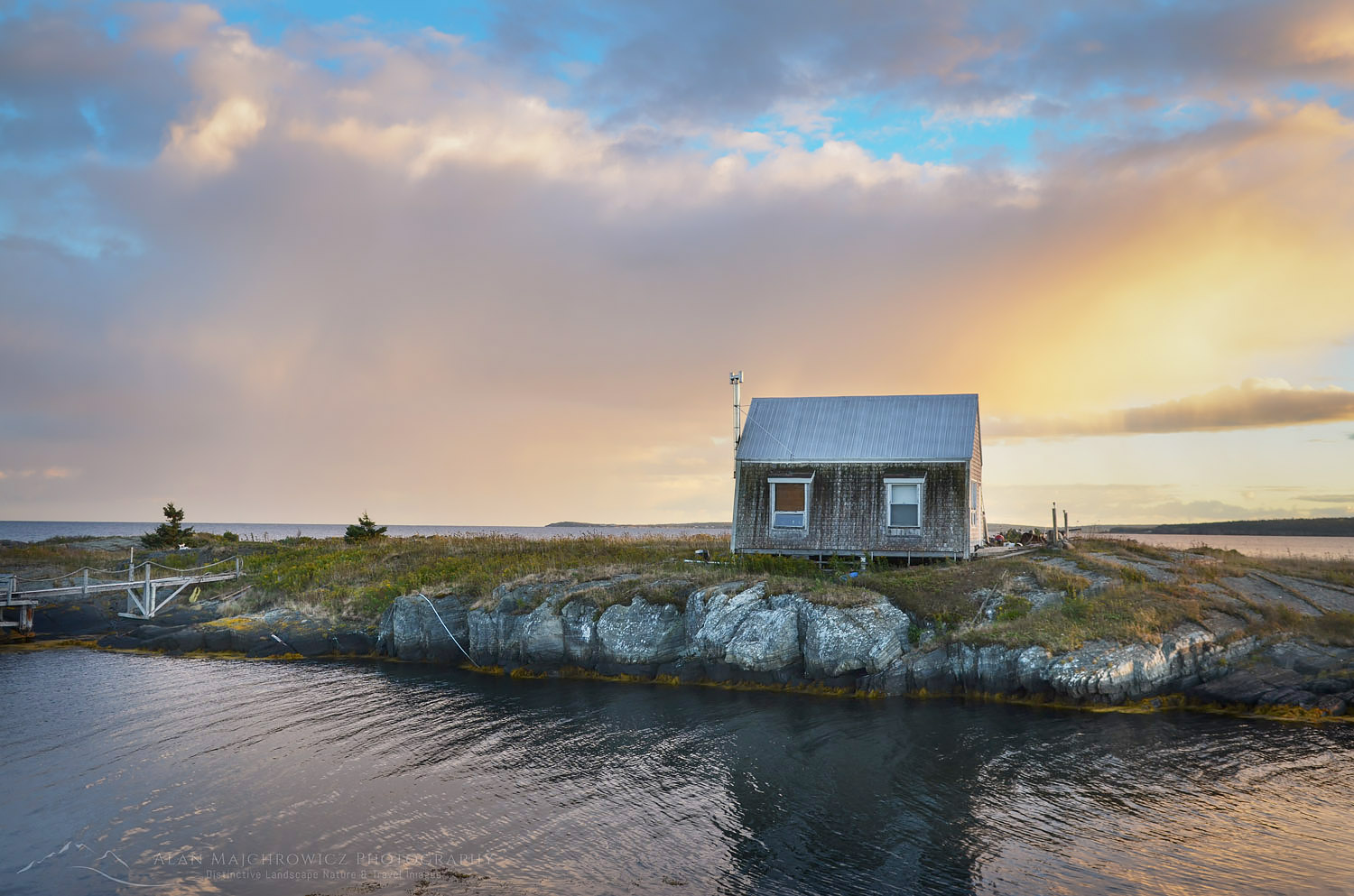 Blue Rocks, Nova Scotia  #58811  Purchase
We were also able to get back to the Lunenburg location in time for more photography. I quickly set up and made some photos just as the lights began to turn on in town with a purple twilight glowing above. All in all, it was a perfect autumn day, sightseeing in historic towns with Coleen, great meals, and successful photography. But there was more in store for us along the Bluenose Coast the next day at Peggy's Cove, our final location in Nova Scotia.
Lunenburg, Nova Scotia  #58836  Purchase