Lime Kiln Point State Park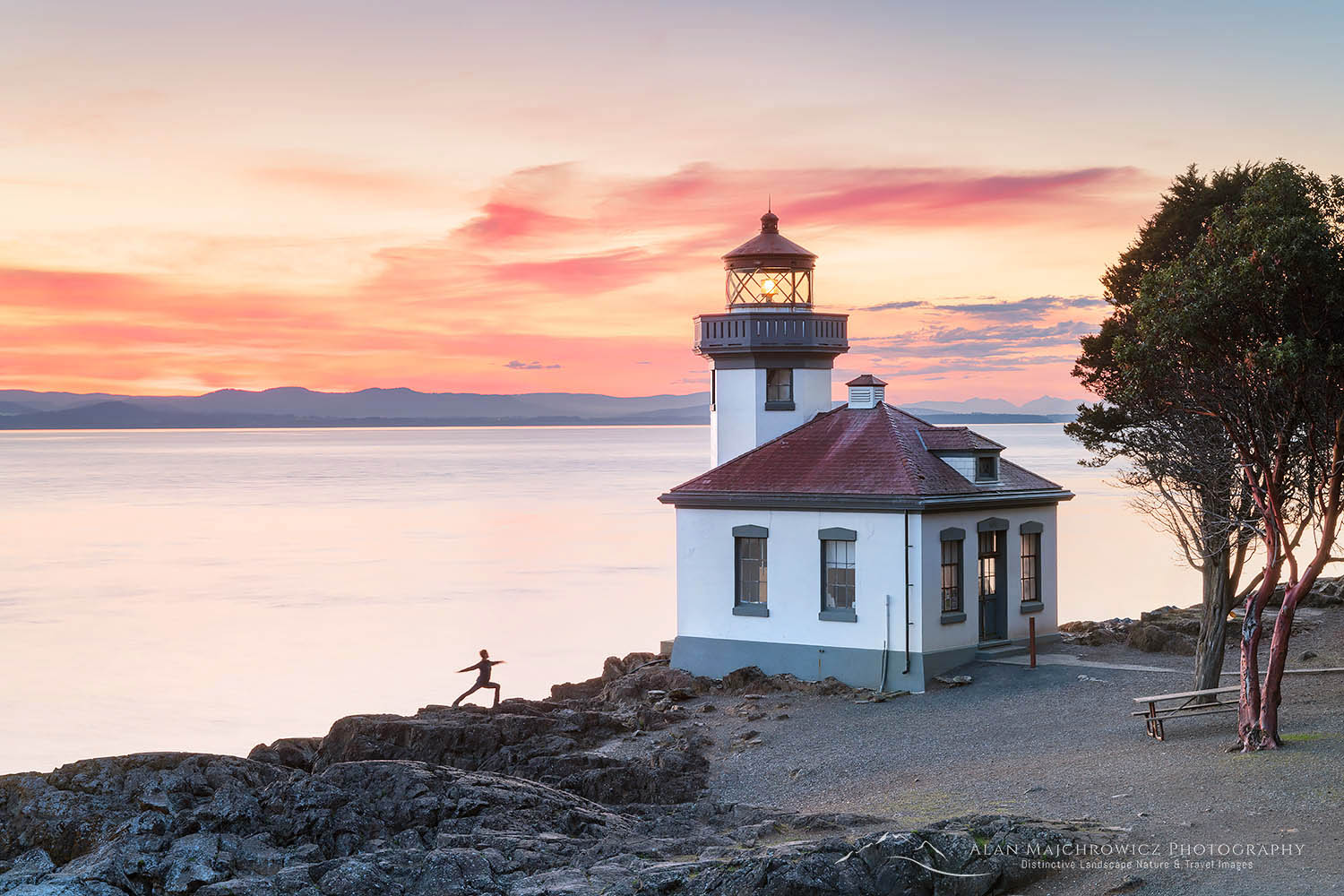 Lighthouse at Lime Kiln Point#64955  Purchase
Lime Kiln Point State Park is located on the west side of San Juan Island in the San Juan Islands of Washington State. Facing Haro Strait and Vancouver Island, the park is one of the best spots in the world to view wild killer whales from the land.
The park is not very large, and it isn't a quick drive destination. In fact, it can take a bit of prior planning to make a trip worthwhile. This is mainly due to the need to take a ferry to Friday Harbor on San Juan Island. Since the park and ferry terminal are on opposite sides of the island you'll also need to take your vehicle along for the ride. But don't think you can just drive up to the terminal and be loaded on the ferry! The San Juan Islands are a very popular destination, especially on summer weekends. So to avoid ruining your outing you'll need to reserve a spot in advance. Scroll down to the bottom of this post for some travel tips!
Killer Whales off San Juan Island
Marine Life
If you're visiting Lime Kiln Point for viewing marine life you won't be disappointed. The surrounding waters are home to the Southern Resident Killer Whales. They are a group of about 75 killer whales, or orcas, that live for most of the year in this part of the Salish Sea. Aside from orcas, sea lions, seals, porpoises, and minke whales frequent these waters.  On our visit, there were numerous sea lions playing close to the shore. But don't expect close-up personal views of orcas, they swim farther offshore. Bring your binoculars or spotting scope for good views, predictably we forgot ours. The photo above is from several years ago on a whale-watching tour.
It should be noted here that the Southern Resident Killer Whales are considered an endangered species. Their population has dropped from 85 to 75 individuals in recent years. This is mainly due to a drastic reduction of their prime food source, coho salmon. Their situation is compounded by numerous other factors, including increased stress due to noise levels from pleasure boats and freighter traffic. To learn more please check out the Center for Whale Research.
Roche Harbor  #64910  Purchase
Touring San Juan Island
The park was our main destination for photos, but since we arrived early we had all day to explore the entire island for more subject matter. Another lighthouse at Cattle Point at the southern tip of the island was on my shoot list. However, the lighting conditions there we not very good so I'll need to return in the future to photograph it.
Roche Harbor is a historic seaside resort town on the northwest tip of San Juan Island. Here can be found Hotel De Haro, the state's oldest continually operating hotel, in business since 1886. Judging by the looks of it Roche Harbor is the go-to destination for the yachting crowd. There is plenty of lodging and dining here, along with a general store well stocked with a variety of wines.
While on San Juan Island you can also check out English Camp and American Camp. These are part of San Juan Island National Historical Park. Not many people know that The United States and Great Britain nearly went to war in 1859 over possession of the island. The only casualty of this near conflict was a pig. Thus the incident went down in history to be known as The Pig War.
Salish Sea Container Ship #64926  Purchase
Photographing at Lime Kiln
After our short tour of the Island, we drove back to Lime the park in time for evening light and sunset. The lighthouse is the most obvious subject matter here. However, there are also great views south of the Olympic Mountains. I found them to work well as a backdrop for telephoto shots of freighters, and also on their own. Of course, there is also marine life. You'll need a good telephoto lens for photographing killer whales.
Lime Kiln Point Lighthouse #64939  Purchase
The lighthouse photographs are best in the evening and sunset. There are plenty of excellent spots on the rocky shore to set up different compositions. A variety of focal lengths will work here, from wide to short telephotos. The classic south-side view of the lighthouse will be illuminated much better in winter when the sun is further south. However, at that time you'll need to create a wide panoramic to include the sunset and structure in the same frame. In summer the north side will be in sunlight. Then you can photograph the lighthouse looking south with the Olympic Mountains as a backdrop. Unfortunately from this angle, there are few spots to set up your tripod, so getting a good composition may be difficult.
Lime Kiln Lighthouse #64906  Purchase
How to get to Lime Kiln Point
As mentioned above, you'll need to review the ferry schedule carefully and reserve a vehicle spot in advance. You can still drive on without a reservation, but I definitely wouldn't recommend it. On a Friday or Saturday in summer it appears like everyone in the state is going to the islands. You won't need a reservation if you are just walking on or taking a bicycle. But remember the park is not within walking distance from the ferry terminal at Friday Harbor.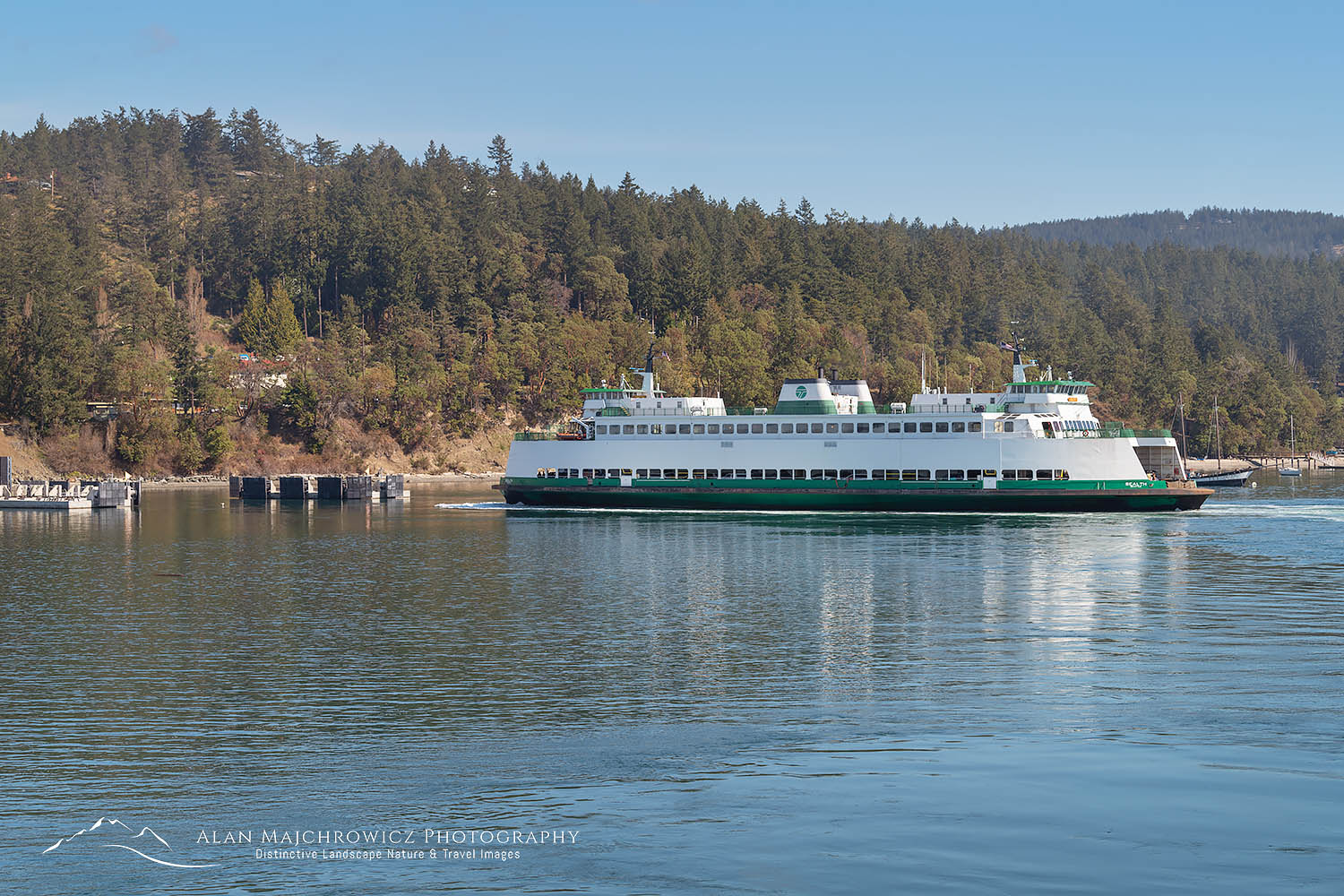 San Juan Islands Ferry  #64889  Purchase
There are two ferry routes to Friday Harbor, one is a direct nonstop passage from Anacortes. The other makes three stops, at Lopez Island, Orcas Island, and Shaw Island. If you have the time I recommend the latter. It's a much longer passage but more scenic as the ferry sails past numerous picturesque islands. If possible, try to time your return ferry passage for the evening before sunset. There are excellent photo opportunities then, with the islands and Mount Baker bathed in warm light!
Thanks for reading this post, I hope you enjoyed it. Please consider sharing it with friends family and colleagues!
All photos on this post are available as fine art prints and for commercial licensing.