Boulder Pass Glacier National Park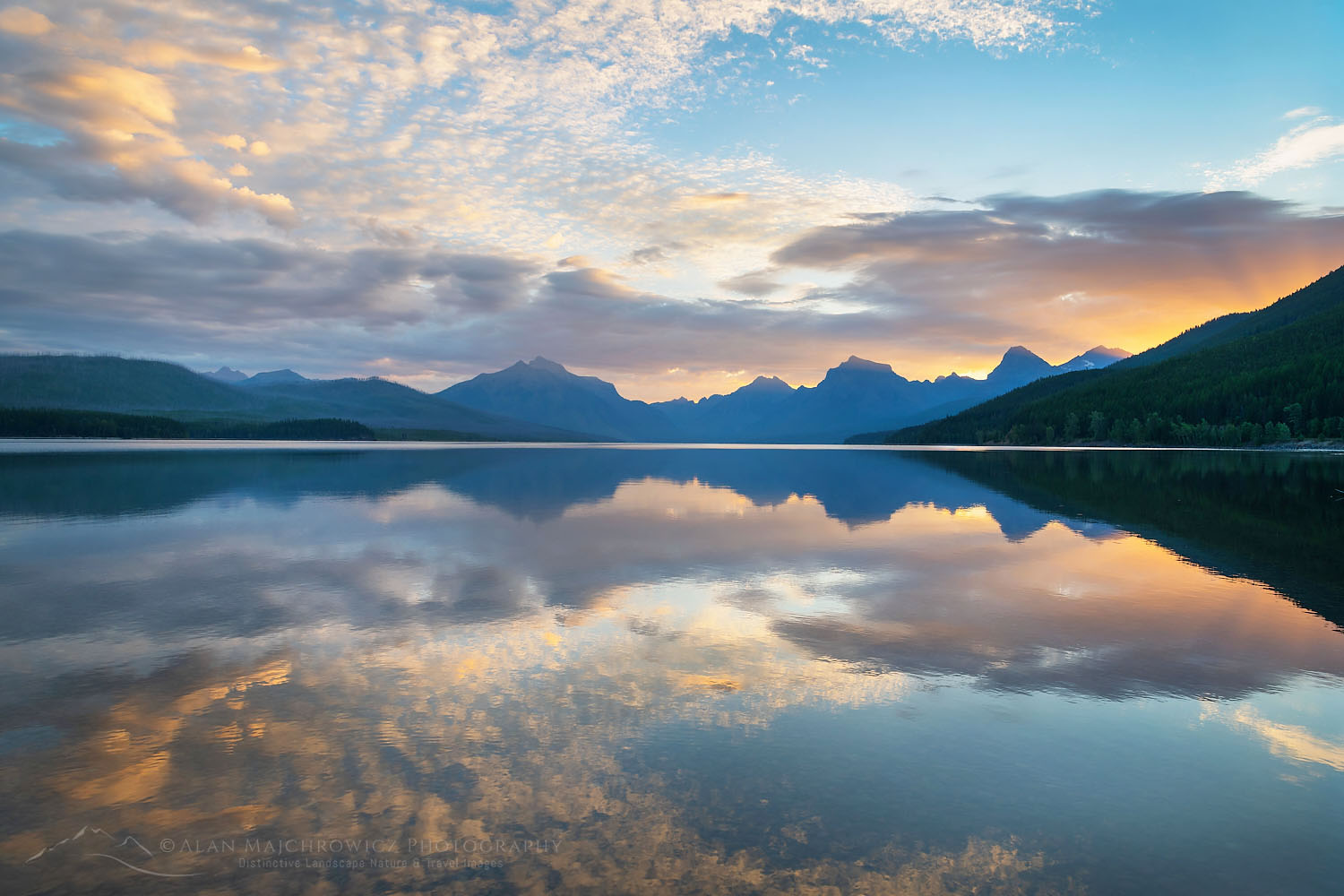 Lake McDonald Glacier National Park #69738  Purchase
Glacier National Park is one of the most popular national parks in the country. It averages around 3,000,000 visitors a year. That's a lot of people, and you would be correct in thinking the park has an overwhelming amount of visitors. However, like most popular national parks, nearly all of those visitors only experience the park along front country roads and its iconic attractions. In Glacier, the vast majority of visitors only travel along Going-to-the-Sun Road and stay only for a day. If they get out of their car to experience the park it is most likely at Logan Pass.
Indeed, on any given summer day the line of traffic on Going-to-the-Sun Road begins well before dawn. The parking lot at Logan Pass usually fills to capacity by 9 am. Soon after that, there is traffic congestion similar to that in any big city, and most scenic pullouts have no open parking spaces left. Those that want a more in-depth experience often choose day hikes beginning with Going to the Sun Road. And a smaller percentage explore trails in other sections of the park. The smallest percentage of visitors choose overnight backpacks to more well-known backcountry destinations.
It would seem that there is no corner of Glacier National Park free from crowds. This would be true if the park service didn't have a strict permit system in place that limits backcountry campsites. This system is necessary to preserve the wilderness experience, and also protect fragile environments and wildlife. The visitor wanting to spend a night or two in the backcountry must negotiate the online permit reservation system. This can be very frustrating as nearly all sites fill up many months in advance. Some sites can even be closed and reservations canceled at the last minute due to bear activity.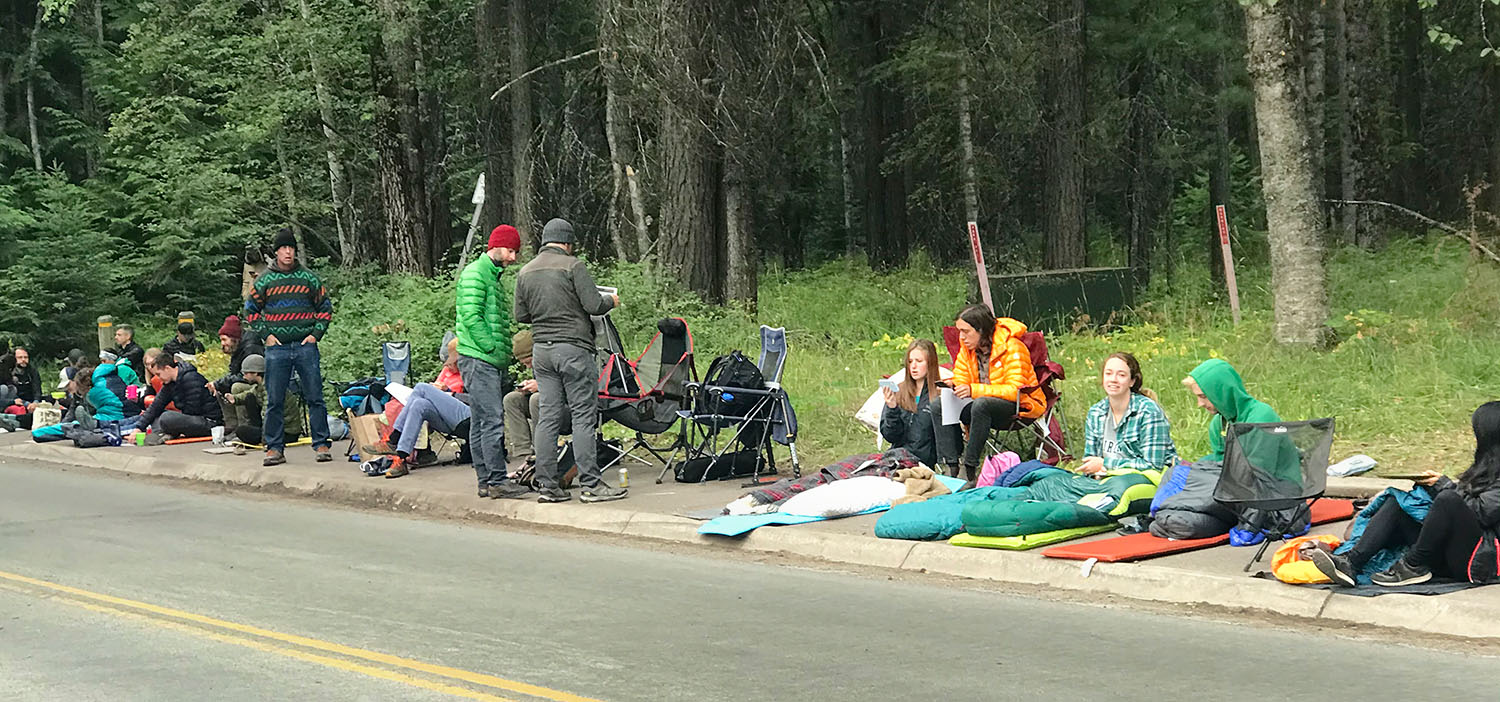 Wilderness permit line Glacier National Park
Obtaining a Permit for Boulder Pass
All this changed last summer. Because of the COVID pandemic, Glacier was operating the permit system on an in-person first-come basis only. So I saw this as a chance to improve my odds of doing a multi-day backpacking and photography trip into one of the most beautiful and remote areas of the park. Nearly all photographers gravitate to several well-known places in the park, such as Logan Pass, Lake McDonald. But my plan was to photograph in Kintla Lake and at Boulder Pass, a relatively unknown area for photographers.
So with time on my side, I set about obtaining a permit for a six-day trip. Accommodations in Glacier during the summer months are difficult to come by in a normal year. But last summer I had to work even harder to find a place, resorting to some obscure places I've found over the years. Fortunately, I found a place outside the park only minutes away from the wilderness permit office.
It still wasn't easy to get my permits though. The line for permits was long and people began arriving well before dawn. On my first attempt I got there around 6 am and there were already at least 40 people in front of me. After waiting a couple of hours I heard that my chosen sites were already filled. So the next day I set my alarm for 1:30 am. Upon arriving at the office I was relieved to see there were only four others already in line. With a camp chair and my sleeping bag, I got comfortable until the office opened at 9. The waiting paid off and I left with a permit for my desired sites and dates in hand.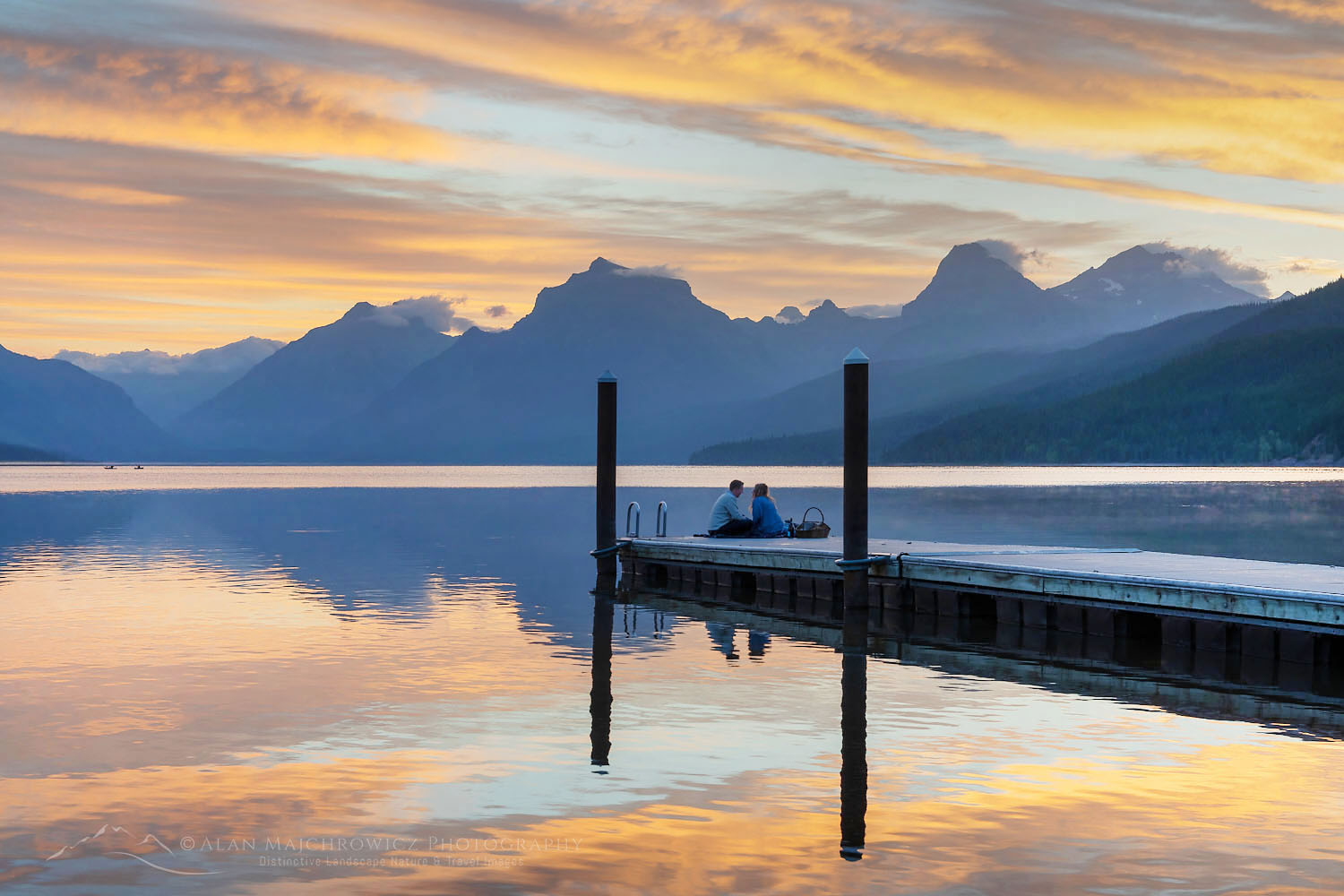 Sunrise proposal on Lake McDonald Glacier National Park #69805
Extra Time in Glacier Park
After obtaining my permit for Boulder Pass, I still had a couple of days to wait to start my trip. With time to kill there was no lack of ways to use it. Every morning and evening since arriving I set up to photograph at Lake McDonald. During my stay there were several very nice instances of light, making the efforts worthwhile.
One morning after arriving at the lake before dawn there was a couple on the nearby boat dock. I didn't pay much attention to them until I saw the man drop to one knee. It was then apparent he was proposing marriage. He certainly chose the right day and time since the sky was ablaze with color at dawn.
On another occasion, I was sitting on the beach in the evening. A couple showed up that apparently were just married since the woman was wearing her wedding gown. They were there for some post-wedding portrait photographs. I wonder how many such events take place here during the year?
During this free time, there was also the opportunity to get in a day hike or two. After a quick look at the park map, one hike, in particular, rose above the rest, Sperry Chalet and Comeau Pass.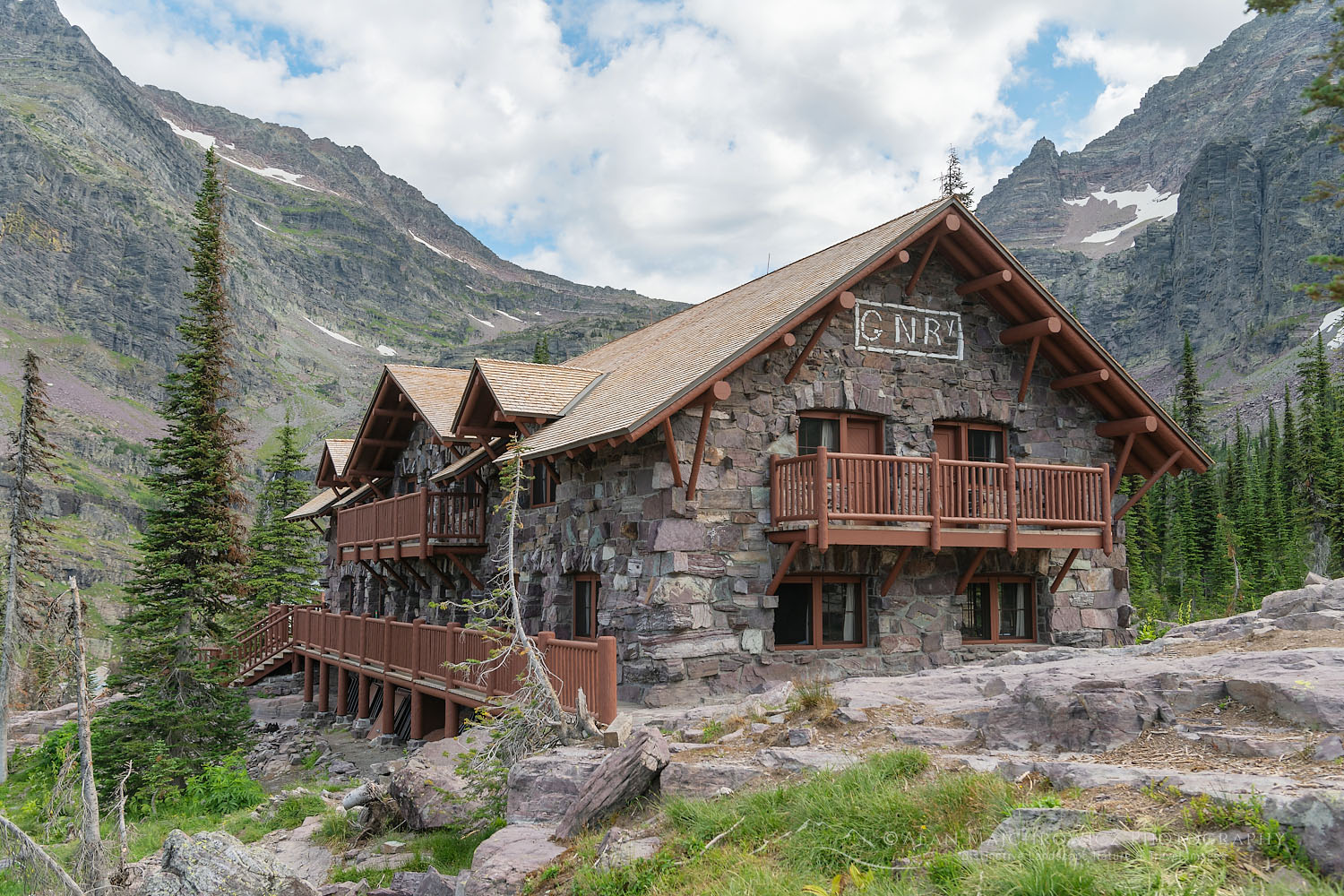 Sperry Chalet Glacier National Park  #69749
Sperry Chalet
A few years back the historic Sperry Chalet burned in the Sprague Fire. It was since rebuilt and this summer it was again open for business. Further up the trail from the chalet is Comeau Pass with an overlook of the Sperry Glacier. Together they offered a chance for me to see a new area of the park while getting a good workout.
The hike begins at the trailhead across the road from Lake McDonald Lodge. There is a huge parking area and it too overflows with cars by noon, so I got there early in the morning. The hike to Comeau Pass and back is around 17 miles with a nearly 5000′ in elevation gain. This is definitely a full-day leg burner unless you're a trail runner who does this kind of thing before breakfast.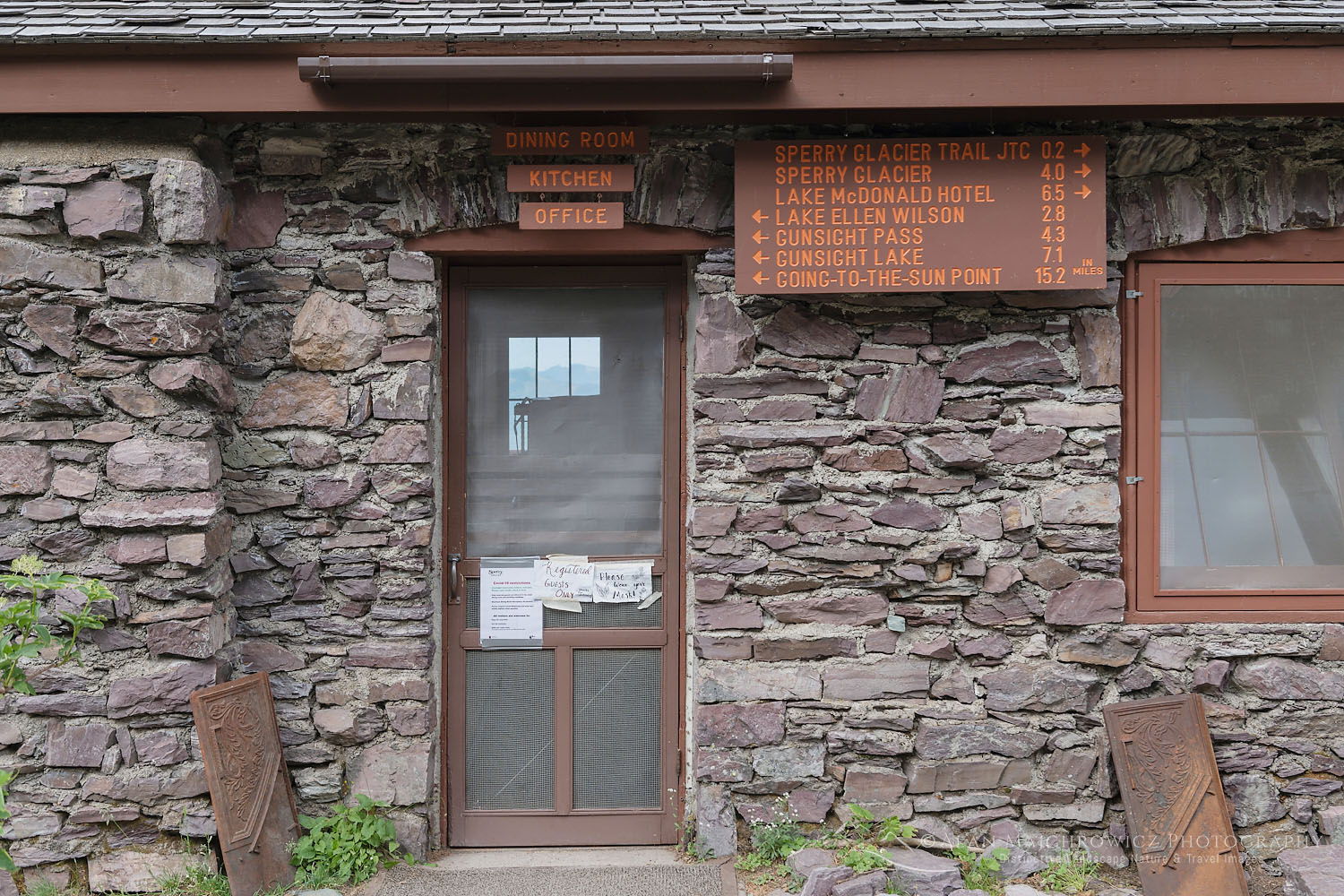 Sperry Chalet Dining Hall  #69752
If you make it all the way you'll be rewarded with spectacular views at an elevation 1500′ higher than those at Logan Pass. Most hikers on this trail however are happy to get as far as Sperry Chalet, about 12 miles round trip with 3600′ elevation gain. The chalet sits right at the tree line, and the views down the valley are great, but the best scenery lies further up.
The chalet can be described as rustic elegance. Although during the pandemic only registered guests were allowed inside I was able to peak in the windows. There was a classic western lodge or cabin look to the rooms. The chalet has no electricity but there were oil lamps in the rooms, adding to the charm. There is a separate building for dining, looking in the door the aroma of freshly baked cinnamon rolls was wafting out. Sadly again only guests could enter this summer.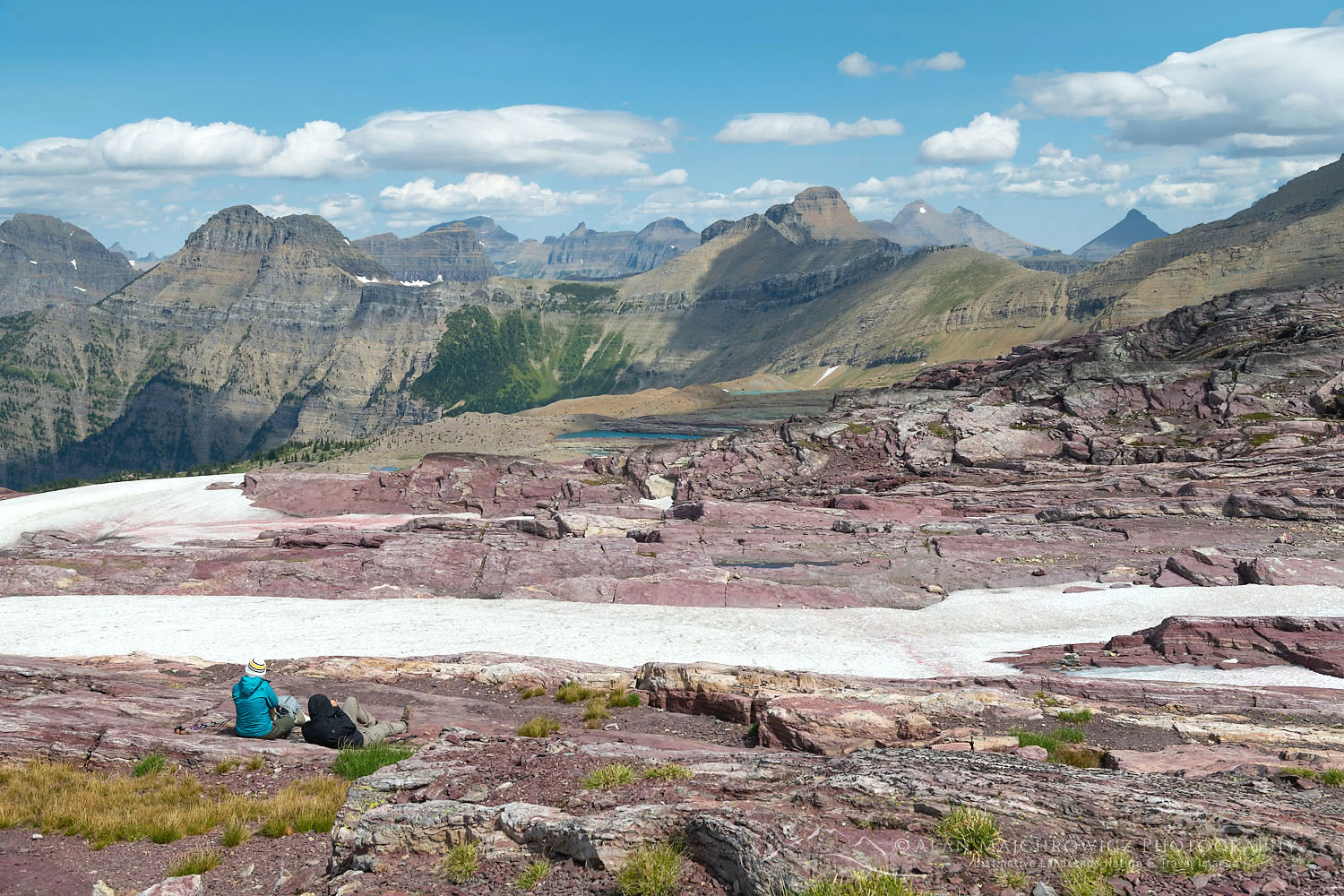 Comeau Pass Glacier National Park #69770
Comeau Pass
From the Chalet, the trail passes numerous waterfalls, wildflowers, interesting rock layers, and two alpine lakes. Finally, as you get closer to the pass it appears the trail dead-ends at the base of a cliff. However, when you get there a steep narrow stairway cut into the cliff awaits you. Something any fan of Lord of the Rings will enjoy. It's kind of a short tame version of the Stair of Cirith Ungol, but there aren't any giant spiders or Dark Tower on the other side. There are cables to assist in ascending and descending. On my hike the stairs acted like a wind tunnel gone nuts, it would have been difficult to get down safely without them.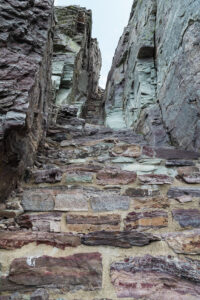 Comeau Pass Stairway Glacier National Park #69777
Wildlife is another perk of this hike. On the way up to the pass, a herd of mountain goats blocked my way. They took a while to move on so I played wildlife photographer for a few minutes. On the way down a passing hiker alerted me to a grizzly sow and two cubs not far from the trail. I saw them from a good distance and was happy they weren't closer.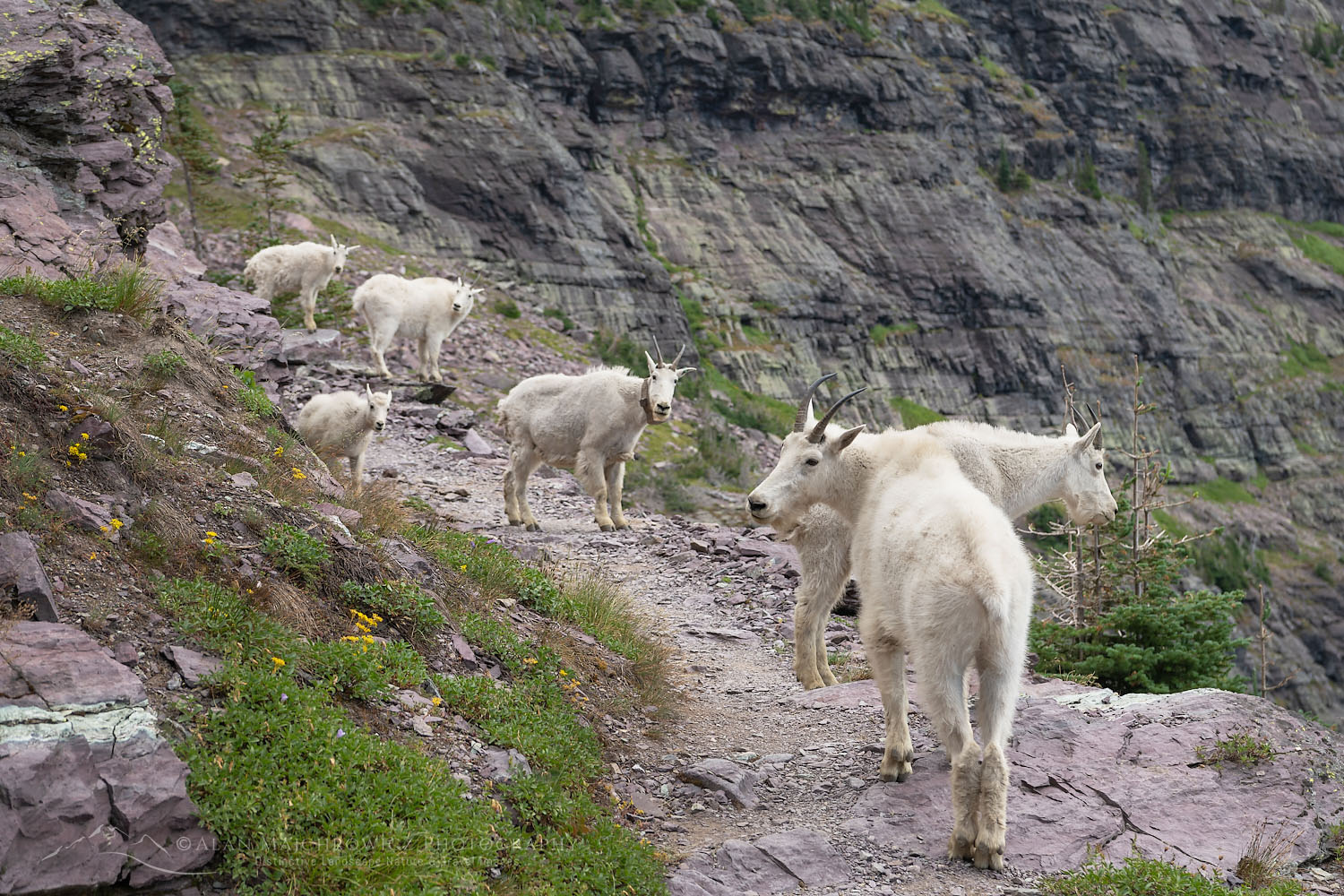 Mountain Goats Comeau Pass Trail  #69757
Even though I was already on several lengthy backpacking trips in the past month the last few miles back from this one was slow and tiring. It was nice to get back to camp relax and recoup before starting my six-day trip to Boulder Pass.
Click here to read part two of Boulder Pass Glacier National Park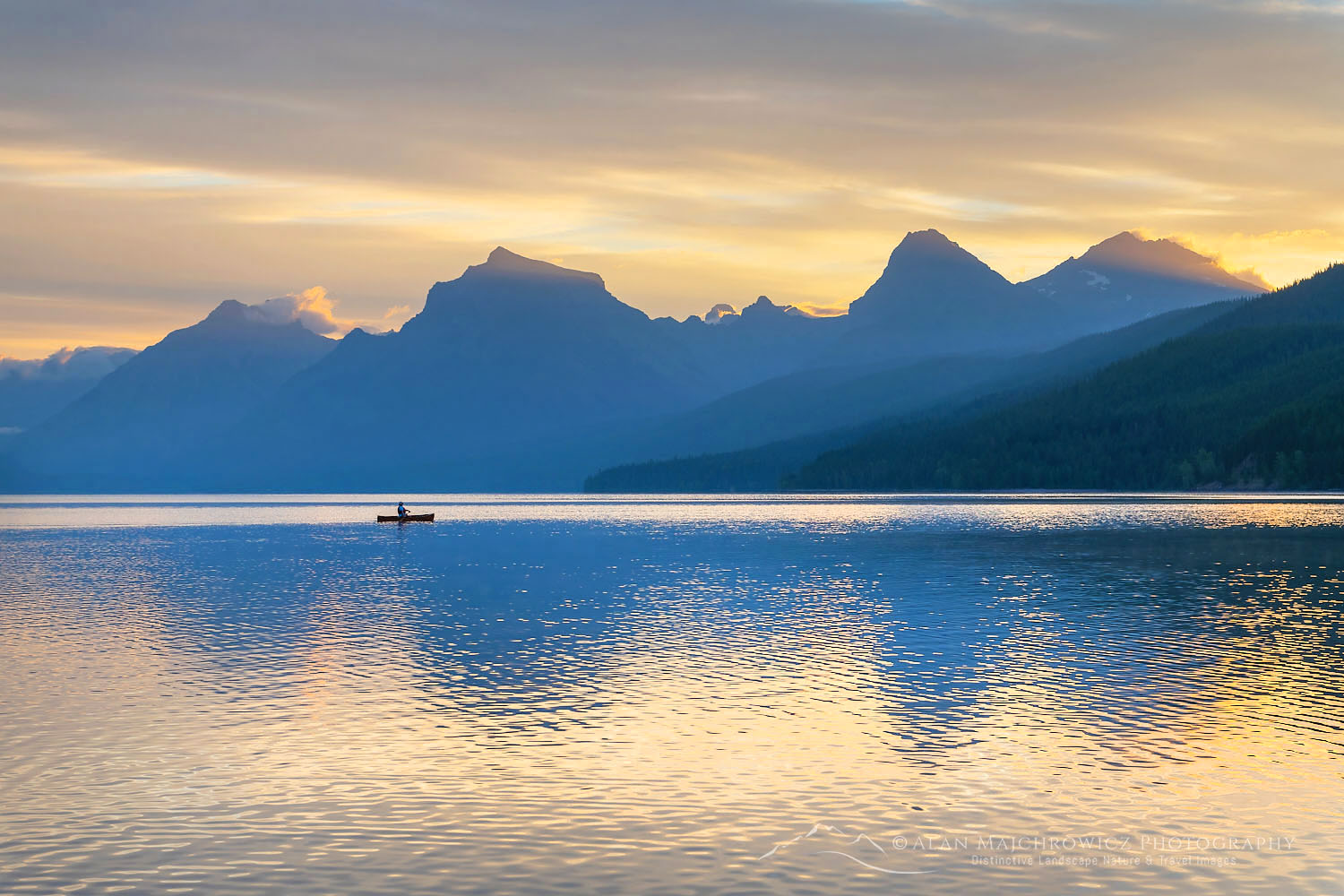 Lake McDonald Glacier National Park #69818 Purchase
If you enjoyed reading Boulder Pass Glacier National Park please share it with your friends and family. Next up Boulder Pass Glacier National Park Part 2!
Photos appearing in Boulder Pass Glacier National Park are available for Commercial Licensing and Fine Art Prints. Click on any image to purchase, or contact me for more info!
Boulder Pass Glacier National Park