Boulder Pass Glacier National Park Part 2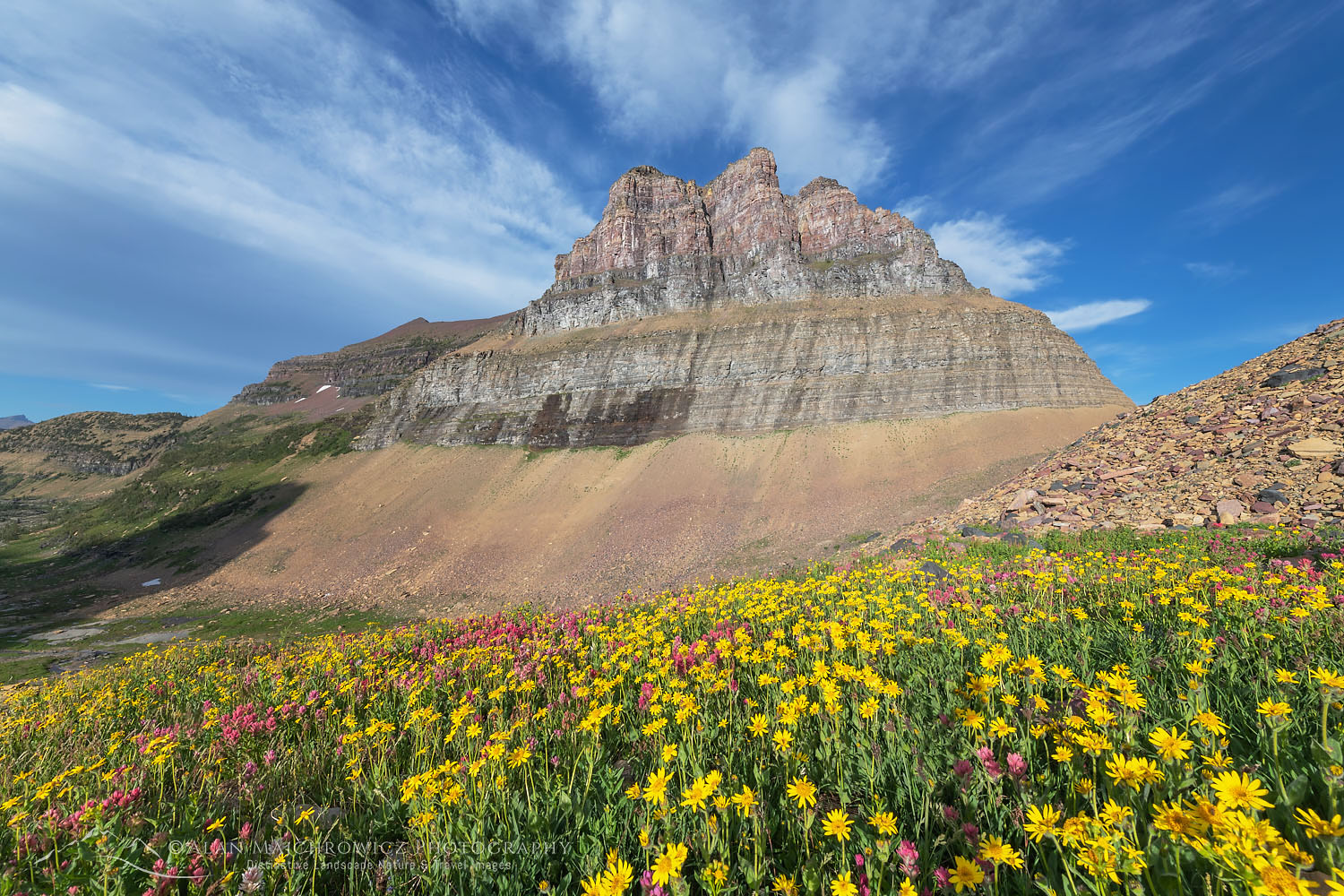 Boulder Pass Glacier National Park #69880  Purchase
Read: Boulder Pass Glacier National Park Part 1 here
Glacier National Park is truly one of the great gems in the national park system. It has many attributes which set it apart from other parks. In addition to being a national park, it is also a biosphere reserve, world heritage site, and international peace park.  It is the home of one of the last strongholds of grizzly bears in the lower 48. And although it contains two dozen named glaciers, the park's name reflects the sculpting of its terrain by ice age glaciation.
All of this and more attracts visitors from around the world, to the tune of 3,000,000 visitors a year, on average. The reasons visitors flock to the park are as diverse as the park's features. Some come to marvel at the beauty of the mountains. Some hope to see wildlife close up. Others come solely to escape the crushing pressures of modern-day society. Unfortunately, the latter have little chance of doing so when touring the park by car.
Others like me come to the park to photograph the dramatic landscape of the northern Rocky Mountains. As I mentioned in my previous post, I've been to Glacier many times over the years and photographed it in all seasons. Nearly all of those trips were to iconic front-country locations. But last summer I took the opportunity to visit a remote and special corner of Glacier National Park, Kintla Lake, and Boulder Pass.
First Day Along Kintla Lake
The remoteness of Kintla Lake and Boulder Pass in the northeast corner of the park looked appealing to me. It was a long hike and passed through areas with lots of photographic potential. But first I needed a wilderness permit, and it took me a couple of tries to obtain one. Even though it was August the park service just opened campsites at the pass the day before. So I was one of the first to stay there that season.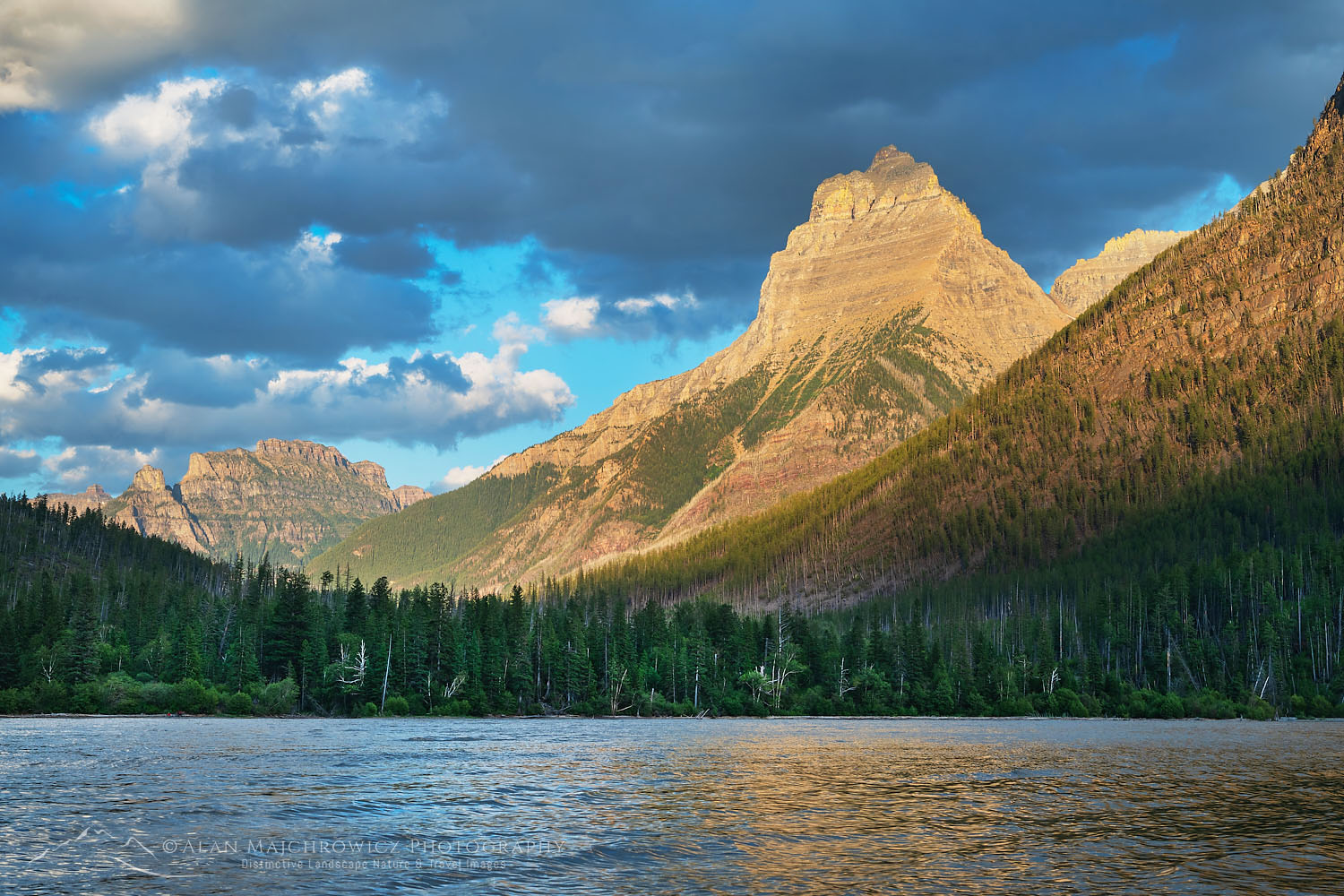 Kinnerly Peak Kintla Lake  #69835  Purchase
The hike begins at Kintla Lake and reaches Boulder Pass 17.5 miles later, with about 3200′ of elevation gain along the way. Some hardcore long-distance hikers can make the trip in one day, but nearly everyone splits it in two. It's also possible to continue down Boulder Pas, down to Waterton Lake, and exit the eastern side of the park. A popular loop trip would begin at Kintla Lake and exit at Bowman Lake, or vice versa. My plan was to simply do an out and back on the same route.
The first day was a pretty easy hike along Kintla Lake to Kintla Head camp. It's a pleasant hike mostly through the forest with a few views of the lake along the way. The first day or two on a long hike is sometimes the hardest since your pack is full of food and fuel. At camp, it was a pleasure to sit around the food prep area with other hikers and swap stories and backgrounds. I usually travel solo so chatting it up with others is a welcome treat.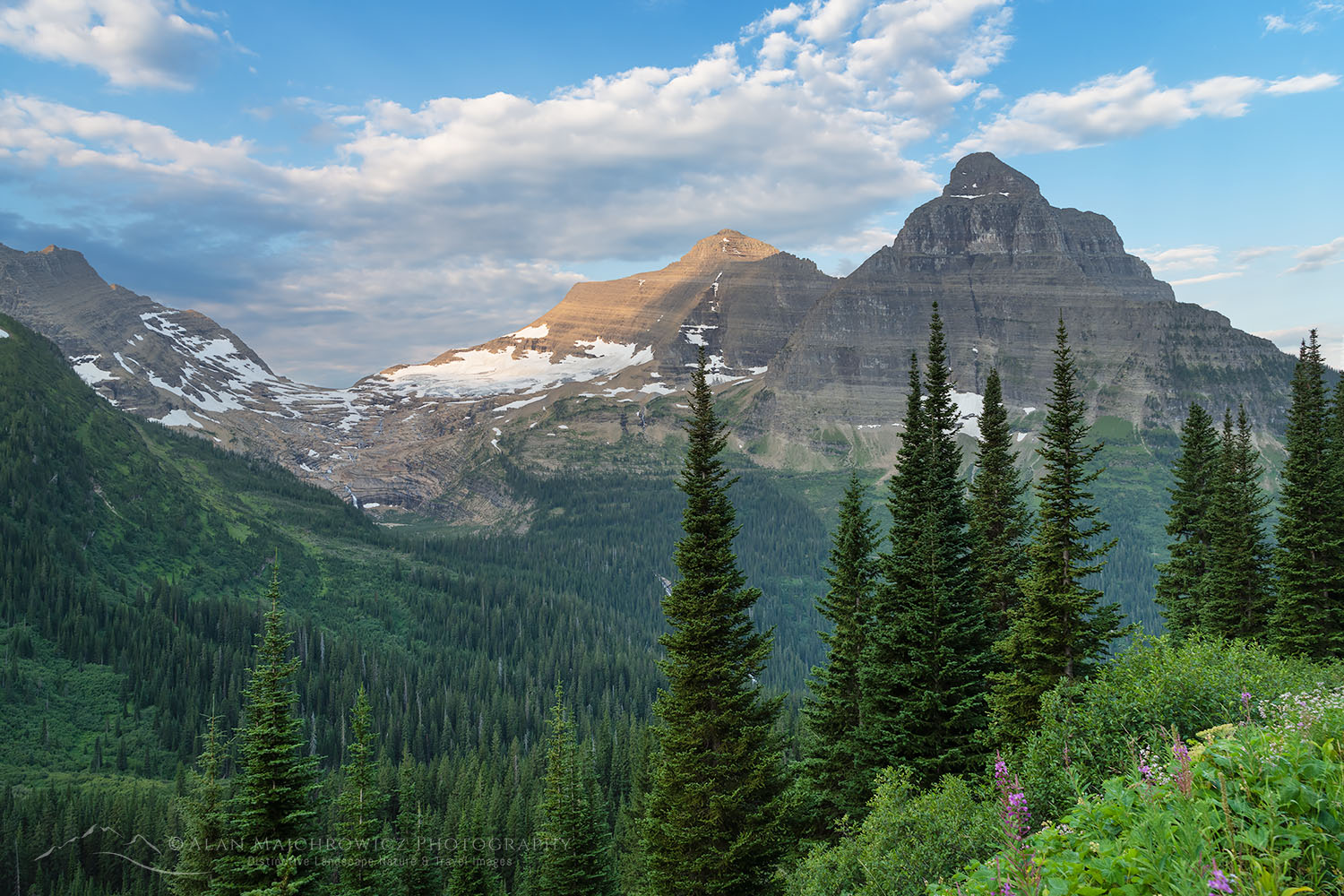 Kintla Peak Glacier National Park #70050  Purchase
Kintla Lake to Boulder Pass Glacier National Park
The hard work would come the next day. It was another 11 miles to Boulder Pass camp, with nearly all of the 3200′ of elevation coming in the last miles. I got an early start to beat the heat and travel at a leisurely pace. Just past the head of Upper Kintla Lake, the work began. The trail wasn't too steep or difficult, just a long constant uphill slog. At one point the trail passes through about a mile of thick shoulder-high brush. Often it was so thick it was hard to see the trail or rocks and roots.
It seems to take forever to reach the point where signs of the subalpine begin. And although the view across the valley to Kintla Glacier is rewarding it's difficult to tell where the trail tops out at the pass. It was when I was just below the pass that I saw my first grizzly in the backcountry.
I've been backpacking for 40 years and this is my first bear encounter, go figure. The bear was a sow with two cubs about 25 yards uphill of the trail. Since I was following the book and making plenty of noise she saw me and slowly moved away. But proceeding further would have brought me closer to the next switchback. So I waited and continued to talk loudly. The bear eventually moved on and I continued up to the pass. A couple of passing hikers, who apparently felt close bear encounters weren't anything to worry about, lightheartedly kidded me for talking so loudly to ward off the bear.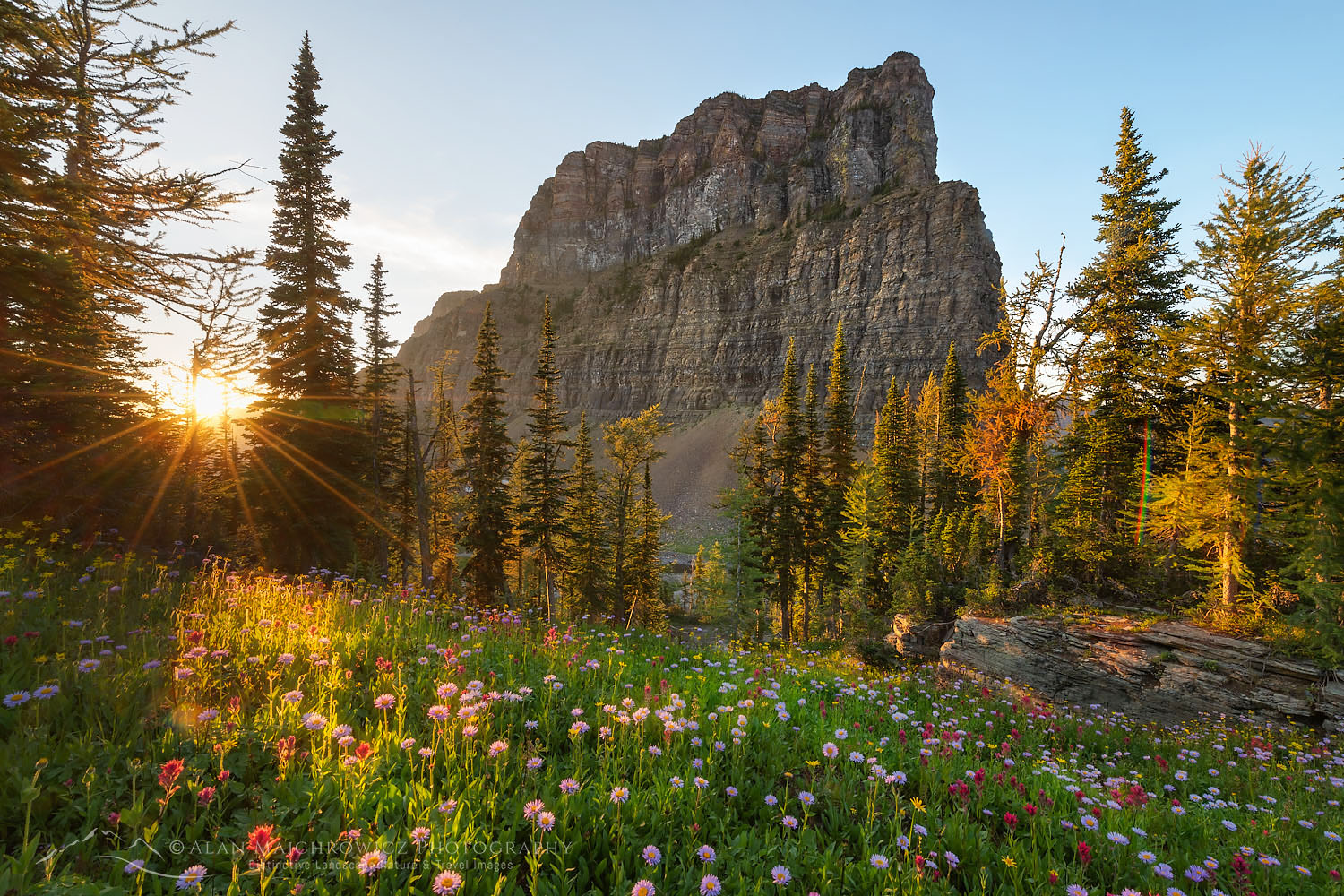 Boulder Pass Wildflowers  #69886  Purchase
At Boulder Pass Glacier National Park
Finally, the trail reached the pass with all its glorious views. At this point, an oddity struck me. Everywhere you go in Glacier Park you're passing by or walking over colorful layers of sedimentary rock. However, at Boulder Pass, I was walking over a vast expanse of ancient lava.
Afterward, I did some geology research and found out that it was Purcell Lava.  Long ago when the area was still beneath an ancient sea molten rock squeezed up from below and flowed onto the sediment forming rocks. It was also interesting to see that this lava exposed at the pass was smooth and bore striations from past glacial activity.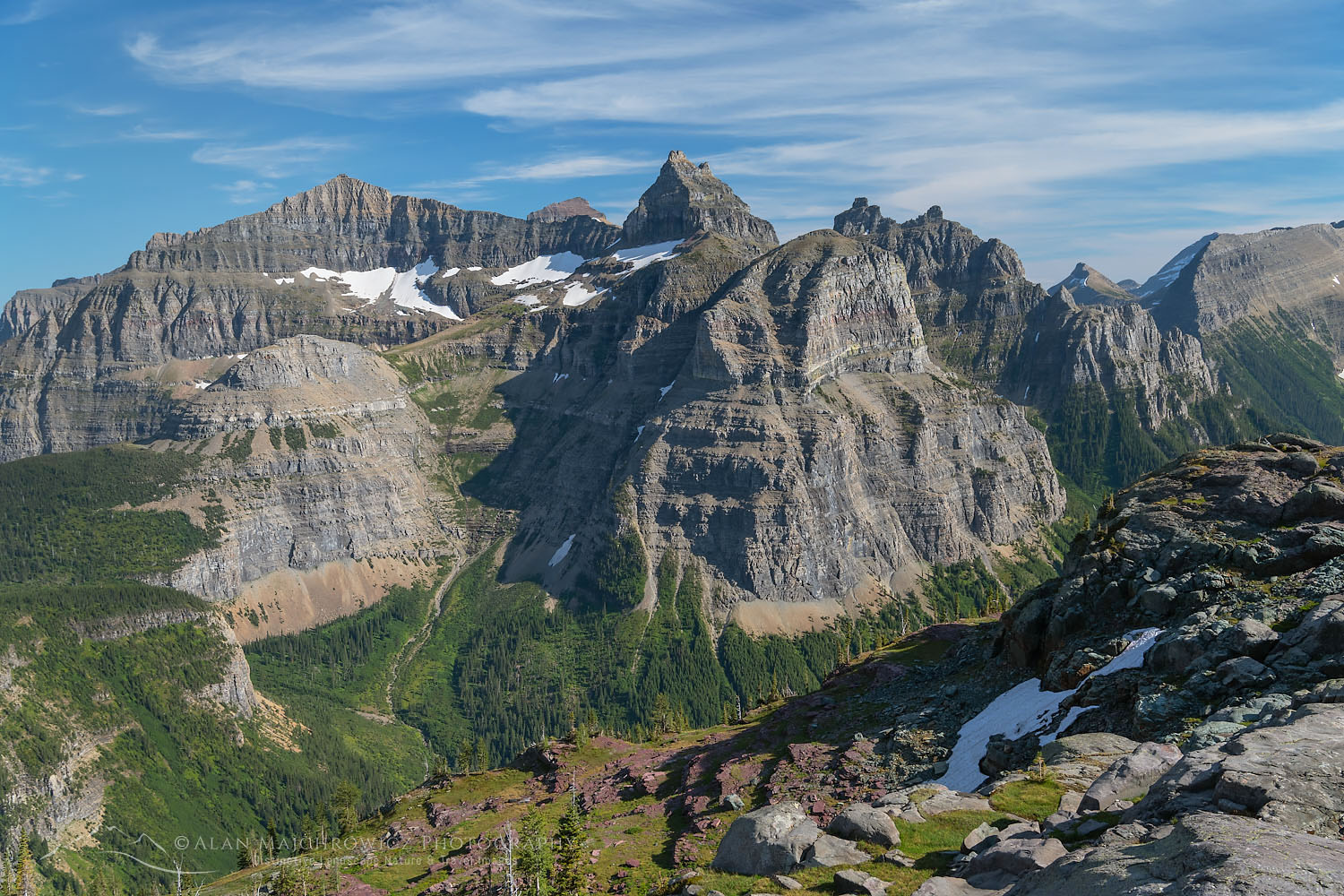 Thunderbird Mountain from Boulder Pass   #69907  Purchase
The Boulder Pass camp has three tent sites, a food prep area with hanging poles, an outhouse, and one very aggressive marmot. I've never come across a marmot that was so intent on obtaining food or salt from sweaty backpack straps. You have to be on guard since marmots can easily chew through straps, shoelaces, and other important items in search of nutrients and food. This guy had the appearance of having seen quite a few winters and fortunately eventually gave up on his pursuits.
I had three days to explore and photograph the area, and after a bite to eat I was eager to get to work. It turns out that Boulder Pass is a pretty big area with a few adjacent benches and basins below Boulder Peak. There was everything from lush meadows, streams, and tarns, to glacial moraines and debris. Plenty of subject matter to keep me busy.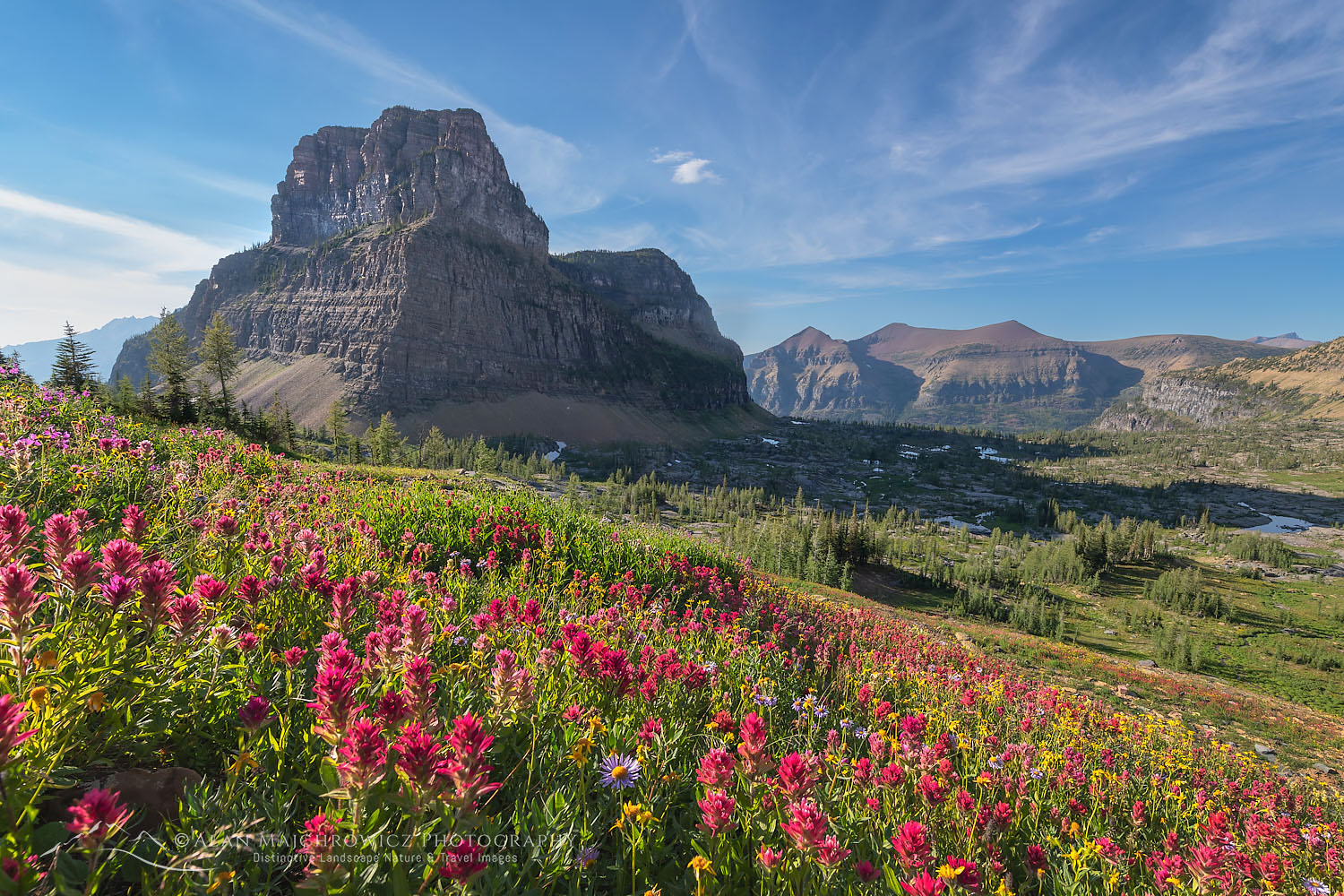 Wildflowers at Boulder Pass  #69947  Purchase
Hello Bear
After some exploring, it was getting towards golden hour in the evening. The best option was to go back to the meadows teeming with wildflowers. The compositions I wanted meant shooting very low to the ground with an ultra-wide-angle lens.  With the setting sun shining through the trees and colors glowing all the elements were coming together. I was absorbed in photographing the moment.
It was then I heard a noise and looked up from the camera to see a large grizzly bear. It was just rounding a corner and coming up the trail about 50′ away. We both saw each other at the same time and the bear jumped back a bit in surprise. Very slowly I stood up while at the same time reaching for my bear spray. At this point, I remembered the sow and cubs from earlier in the day. I carefully looked behind me to see if I was in the unfortunate position of being between a mother and her cubs. There was no sign of them so perhaps this was a different bear.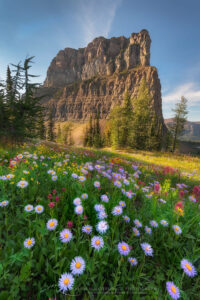 Wildflowers at Boulder Pass  #69970  Purchase
After a few seconds, which seemed much longer, the bear slowly moved away downslope while watching me. Then it turned its head and bolted away. This was about as close as I ever would want to get to a grizzly. I can't say I was terrified, but I was nervous and very conscious about keeping my wits and not making a wrong move. After a while, I went back to photographing my composition.
I've since told this story many times and have always gotten the same question. Did you get a picture of the bear? No, I didn't, at the time photographing the bear was the last thing on my mind.
Hole In The Wall Trail  #69893  Purchase
Hole In The Wall Boulder Peak
At the east end of Boulder Pass, the trail descends into the large horseshoe basin of Hole In The Wall. From there it continues to Browns Pass and Waterton Lake, or Bowman Lake. Day hiking on Hole In The Wall looked inviting but there was still a lot to investigate at Boulder Pass.
One area, in particular, was a series of benches on the west side of Boulder Peak. The views from there looking down to Pocket Lake and out to Kintla and Kinnerly Peaks were fabulous. In addition, some wispy clouds were moving in which could make for a great sunset. Since this was my last day at the pass, and it was mostly blue sky days while there, this seemed like the best chance to get some good photos.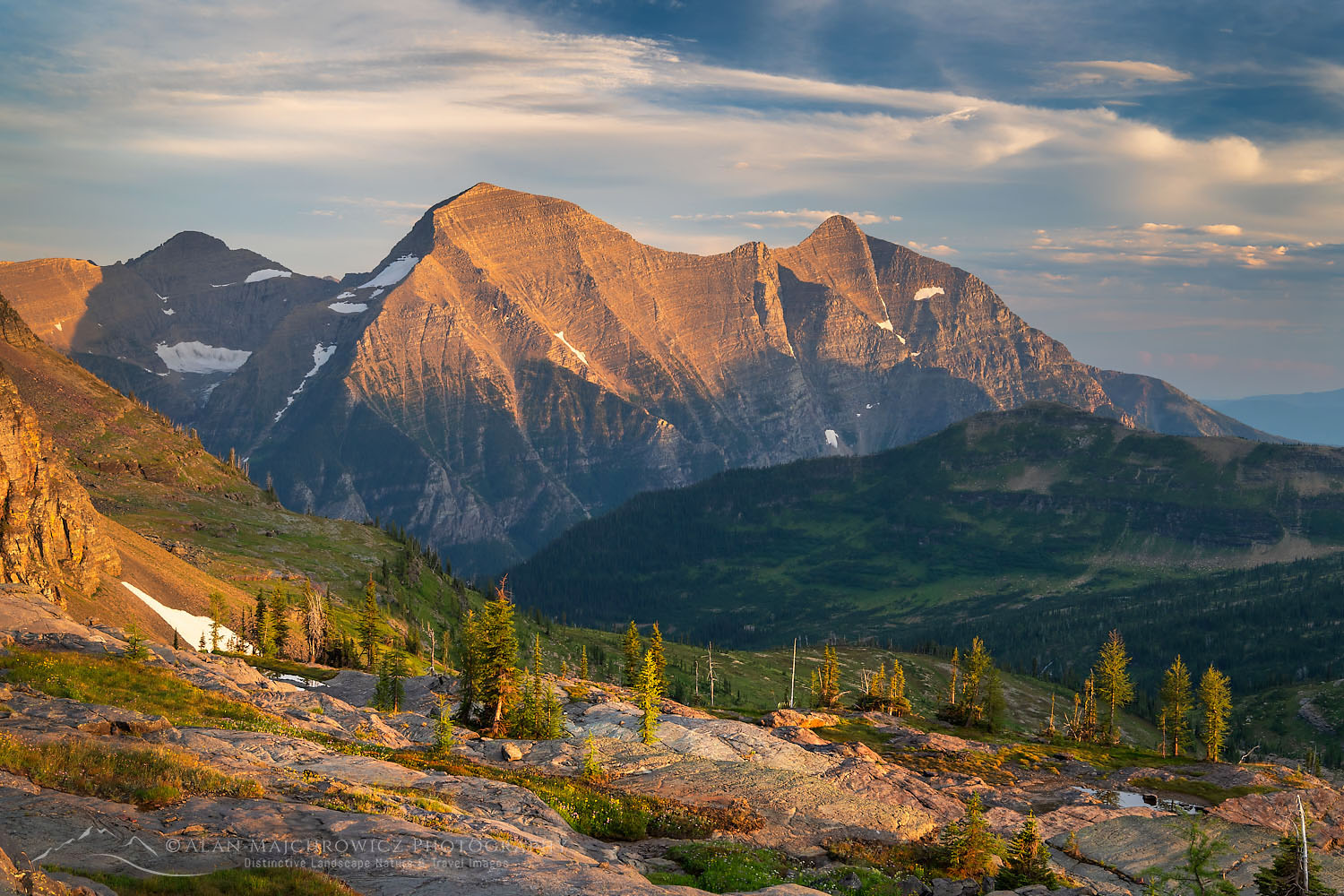 Rainbow Mountain from Boulder Pass  #69907  Purchase
Another thing that I noticed just below the west side of Boulder Pass was the presence of Subalpine Larches. These are a special type of conifer which in the fall their needles turn brilliant gold and fall off. In all my years of looking at photos of Glacier Park, I never saw any pictures of these trees in fall. So it was surprising to see them. Of course, this means that a trip to Boulder Pass in late September would be well worth it.
The next day I hiked back down to the Camp at Upper Kintla Lake. The lake was pleasant and scenic but nothing like the dramatic scenery up at the pass. The following day was the long hike out to complete the trip. It was a sweet feeling to have finally made such a wonderful trip to a new section of the park. It was also a bit sad when reflecting on when or if I'll ever return.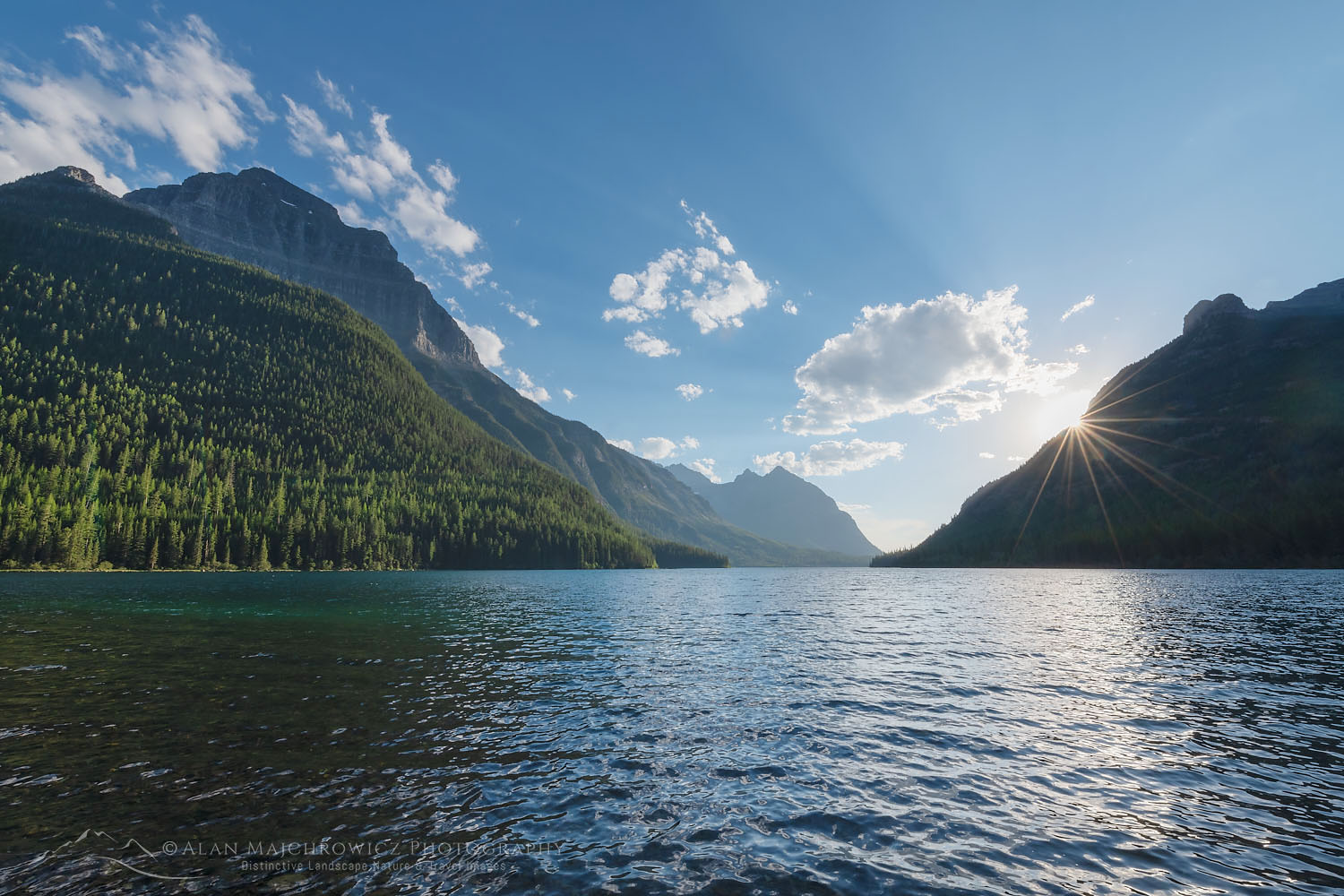 Upper Kintla Lake  #70062  Purchase
If You Go to Boulder Pass Glacier National Park
Distance from Kintla Lake Trailhead to Boulder Pass:  17.5 miles
Elevation Gain:  ~3200
Difficulty:  Moderate
Red Tape:  National Park Entrance Fee, Backcountry Wilderness Permits
The Kintla Lake Trailhead is located about 40 miles north of the West Entrance on the North Fork Road. The last 10 or so miles are on a gravel road which can be very dusty and bumpy. There is a hiker's parking area 1/4 from the lake. There is also a small campground at the lake.
The  West Entrance and Apgar area has many services including gas, groceries, dining, and a very large campground. If you have the time it's a great place to stay for a day or two before or after your hike.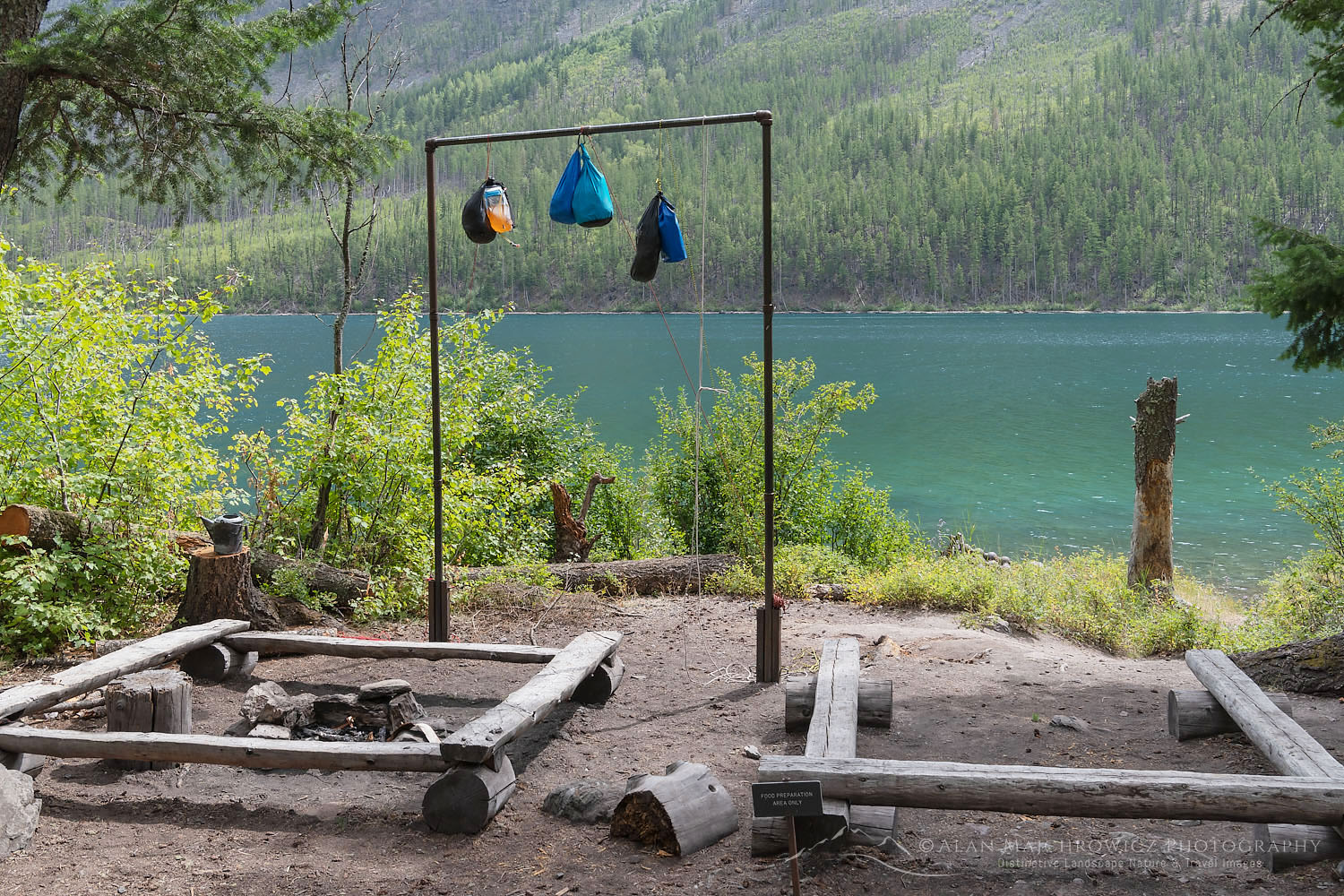 Kintla Head camp food prep area #69827
Bear Safety in Glacier National Park
All backpackers are required to carry bear spray. Bear canisters are not required as of this writing, as all backcountry camp areas have food prep areas with poles for hanging food. Make sure to bring about 50′ of parachute cord or similar to hang your food. When getting your permit you'll also need to watch a short video on bear safety. Don't take this lightly, as you've seen in this post there is a good chance of seeing bears on the trail or near campsites.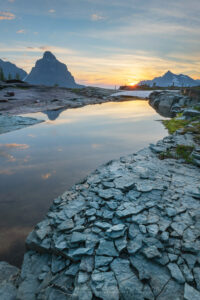 Sunset Boulder Pass Glacier National Park  #70041  Purchase
Leave No Trace
Please Please Please!  Don't plan a trip to this or any other wilderness area unless you are prepared to strictly follow the guidelines of Leave No Trace (LNT). Glacier Park and all other wilderness areas throughout the world are under incredible pressure from growing amounts of visitors. Please do your part to help preserve these precious areas for future generations!
To learn more about the principles and practicing LNT please take a few minutes to visit the Leave No Trace Center for Outdoor Ethics. Your children and grandchildren will thank you!
Seven Leave No Trace Principles
Plan ahead and prepare.                                       

Travel and camp on durable surfaces.                 

Dispose of waste properly.                                                                         

Leave what you find.                                            

Minimize campfire impacts (be careful with fire).

Respect wildlife.  

Be considerate of other visitors.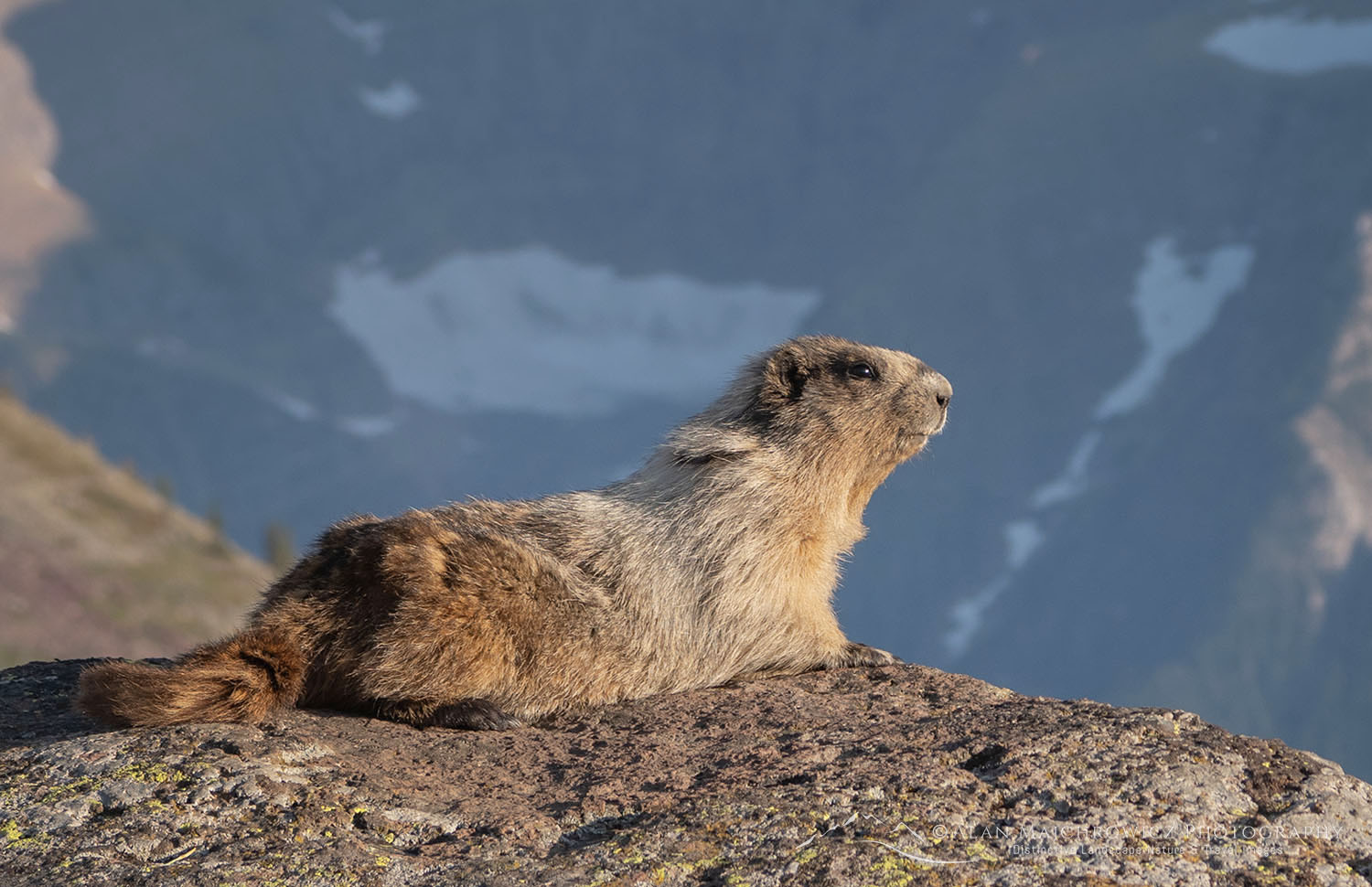 Marmot at Boulder Pass Glacier National Park  #69980  Purchase
Photo Gear Used On This Trip
Nikon D850
Nikkor Lens:
14-24mm 2.8G ED
24-70mm 2.8E ED
70-200mm 2.8E FL ED
Gitzo 1532 Tripod
Really Right Stuff B-55 Ball Head
Assorted Lee Graduated Neutral Density Filters
B+H Polarizing Filter
Vello FWM-N2 Remote Shutter Release
If you enjoyed reading Boulder pass Glacier National Park please share it with your friends and family. And make sure you check out Boulder Pass Glacier National Park Part 1
Photos appearing in Boulder Pass Glacier National Park  are available for Commercial Licensing and Fine Art Prints. Click on any image to purchase, or contact me for more info!
Boulder Pass Glacier National Park