North Cascades Larch Madness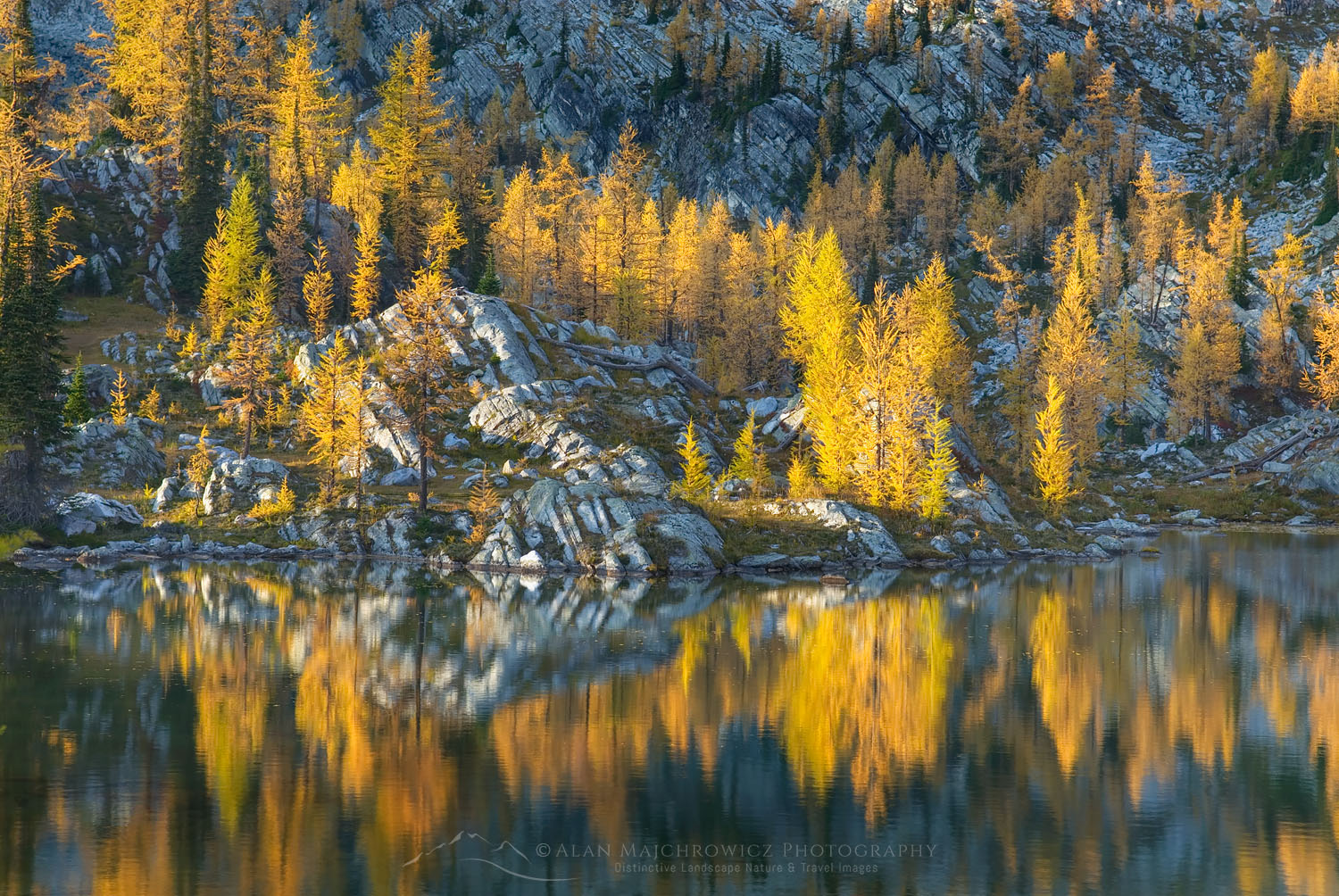 Western Larch (Larix occidentalis) #25781  Purchase
Just about everybody knows that some of the best fall colors can be found in New England, or for that matter just about anywhere east of the Mississippi. The Colorado Rockies and California Sierra have their own spectacular displays of aspens, And even the Southwest can put on a good show with their cottonwoods. But in comparison, the Pacific Northwest isn't exactly known for dazzling fall color.
Those not familiar with the Northwest may not know about the magical displays of yellow and gold put on by two kinds of trees. I'm referring to the Lyall's or Subalpine Larch and the Western Larch. The needles of these two unusual coniferous trees turn a brilliant gold every fall before they are shed. Both varieties grow in very specific areas. And with the right lighting, they can put just about any Vermont forest to shame. But you'll have to do your homework and legwork to find the best displays. In this post, I'll be concentrating on the subalpine larch variety.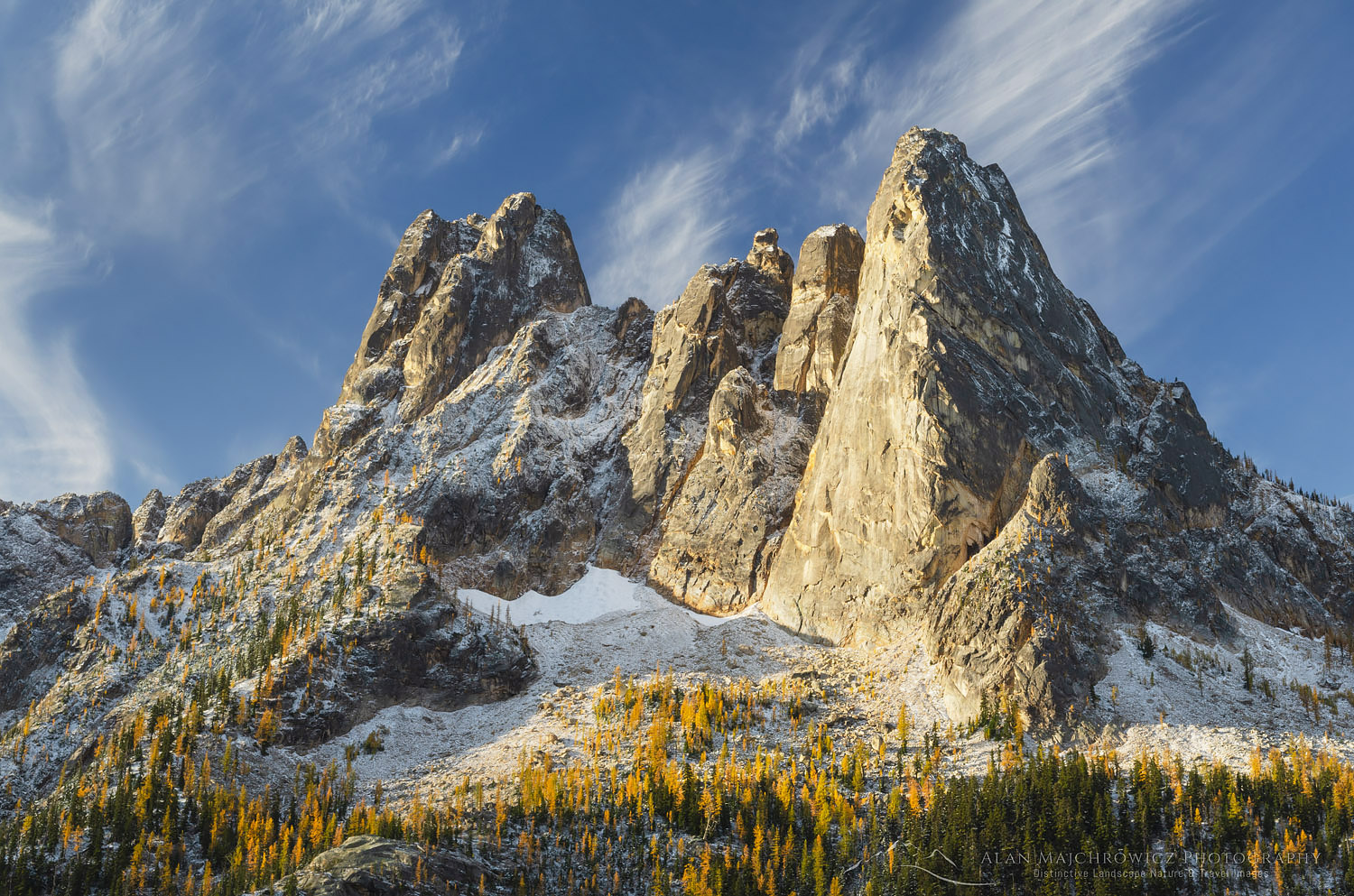 Liberty Bell Mountain North Cascades  #64568  Purchase
Locating the Subalpine Larch
The Lyall's Larch resides in subalpine and alpine areas, generally above 5500′ on colder northeast-facing slopes, in a narrow band from the eastern slopes of the North Cascades to the Purcell and Selkirk Mountains of British Columbia. They can also be seen in the Canadian Rockies, with Lake Louise roughly being their northern limits.
In the North Cascades, you'll have to do some hiking to get to see the best displays. Some spots, like the Enchantments of the Alpine Lakes Wilderness, demand a strenuous multi-day trek gaining over 5000′ feet of elevation along the way. Although there are some more accessible areas, such as hikes around Rainy Pass and Washington Pass on North Cascades Highway.
Hiking and photographing during the peak larch season on a calm sunny day is an experience you won't soon forget. The sky at this altitude can be an intense blue contrasting beautifully against the vibrant gold of the trees. Tolkien fans will easily associate this experience with the Lord Of The Rings chapter on Lothlorien.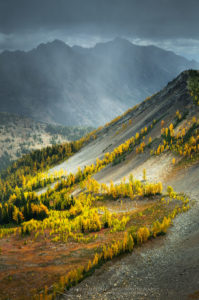 Pasayten Wilderness North Cascades  #56448  Purchase
Timing Is Everything
Aside from finding and hiking to the desired location timing and weather is crucial. The Lyall's Larch generally starts turning color in the last week of September. The colors peak in the first week of October and are gone by the middle of the month. The peak of the season can last anywhere from two days to a week, depending on the weather.
Since the needles of this tree are very soft and delicate, once they start changing color they can easily fall off in a wind rain, or snowstorm. Of course, this is also the time of year when the weather can be very unpredictable. However, seeing the larches on a clear day just after fresh snow can be a very rewarding experience.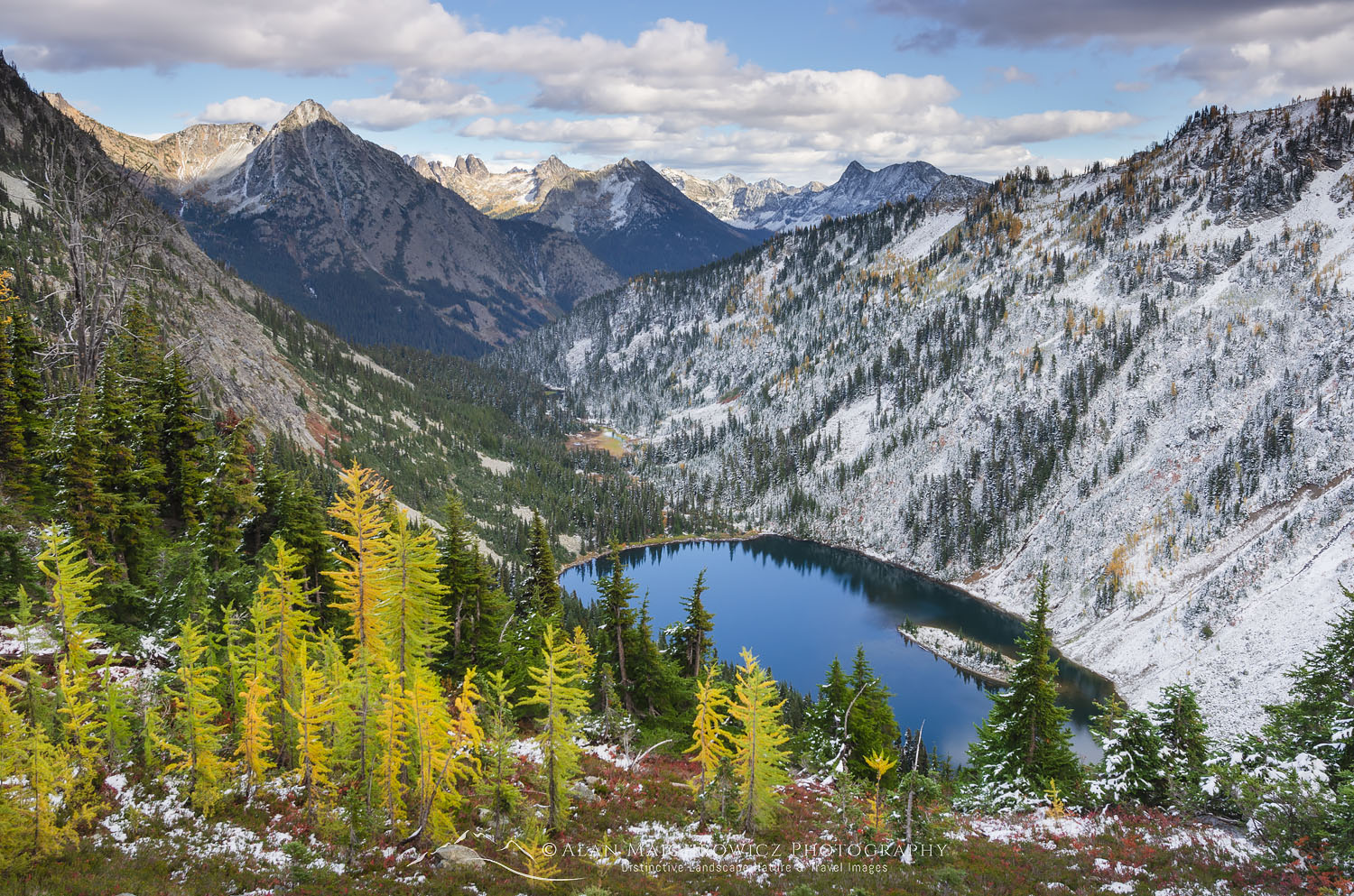 Lake Ann North Cascades  #64599  Purchase
A good plan would be to stay in a prime location for several days near some lakes. Clear sunny weather followed by cloudy weather and then a light dusting of snow is optimal. This happened to me one year when visiting the Purcell Mountains of B.C. After six days I came away with a wide variety of alpine landscape images. I was a bit nervous on the last day since it was snowing heavily. I wasn't sure if my vehicle at the trailhead would be snowed in! It turned out to be a close call, several more inches could have prevented my escape.
Leave No Trace
And now for a short lecture. Larches grow in sensitive easily damaged alpine environments.  With an ever-growing crush of people seeking them out, these areas can soon show signs of overuse. As I've been saying in previous posts, don't even think about visiting a wilderness area unless you are prepared to follow the guidelines of Leave No Trace (LNT). All wilderness areas throughout the world are under incredible pressure from growing amounts of visitors. So please do your part to tread lightly and help preserve these precious areas for future generations!
To learn more about the principles and practicing LNT please take a few minutes to visit the Leave No Trace Center for Outdoor Ethics. Your children and grandchildren will thank you!
Seven Leave No Trace Principles
Plan ahead and prepare.                                       
Travel and camp on durable surfaces.                 
Dispose of waste properly.                                                                         
Leave what you find.                                            
Minimize campfire impacts (be careful with fire).
Respect wildlife.  
Be considerate of other visitors.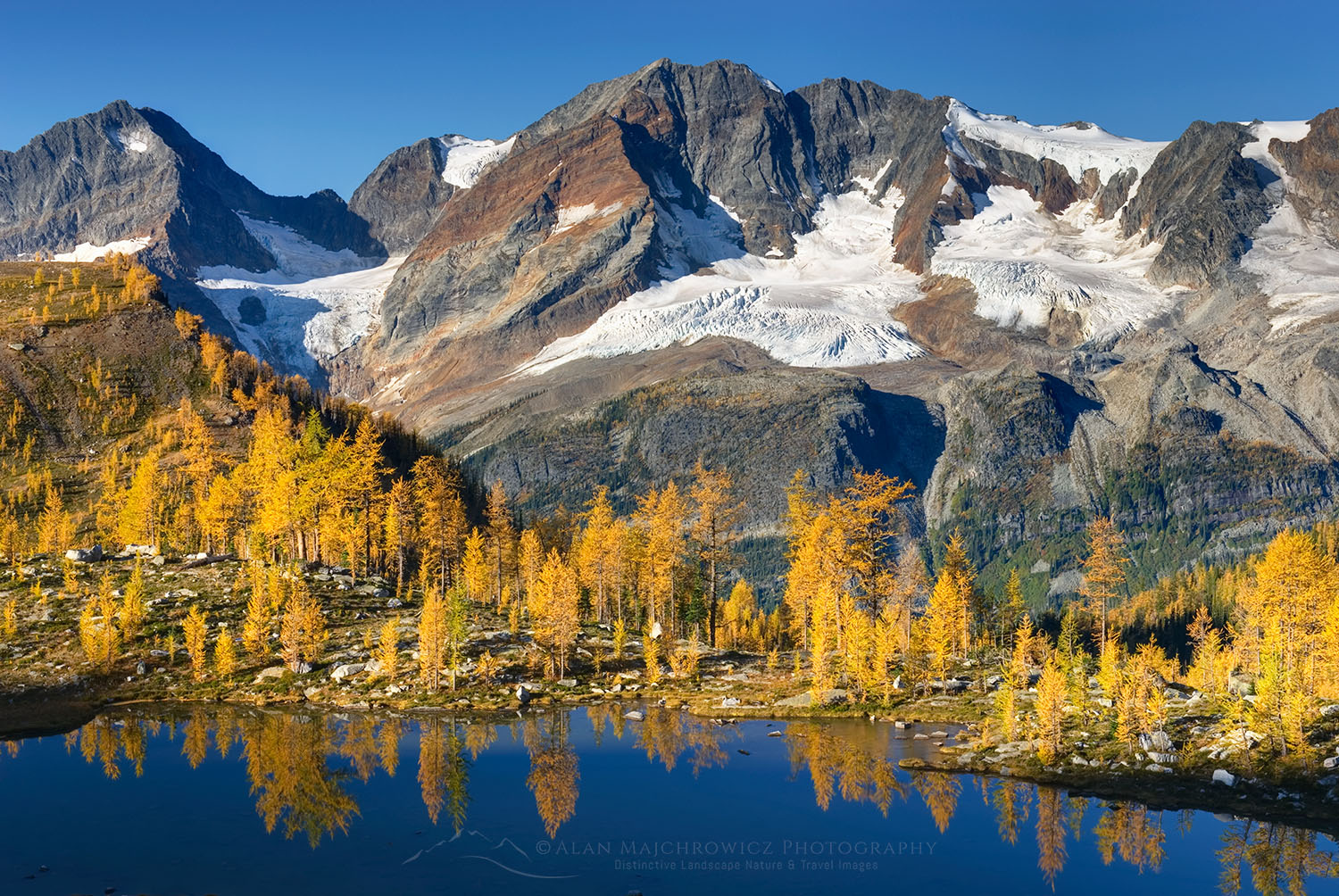 Purcell Mountains Larches British Columbia  #25762  Purchase
If you enjoyed reading North Cascades Larch Madness please share it with your friends and family.
Also, check out Methow Valley Fall Foliage for more fall photography locations!
All photos appearing in North Cascades Larch Madness are available for Commercial Licensing and Fine Art Prints. Click on any image to purchase, or contact me for more info!