Methow Valley Fall Foliage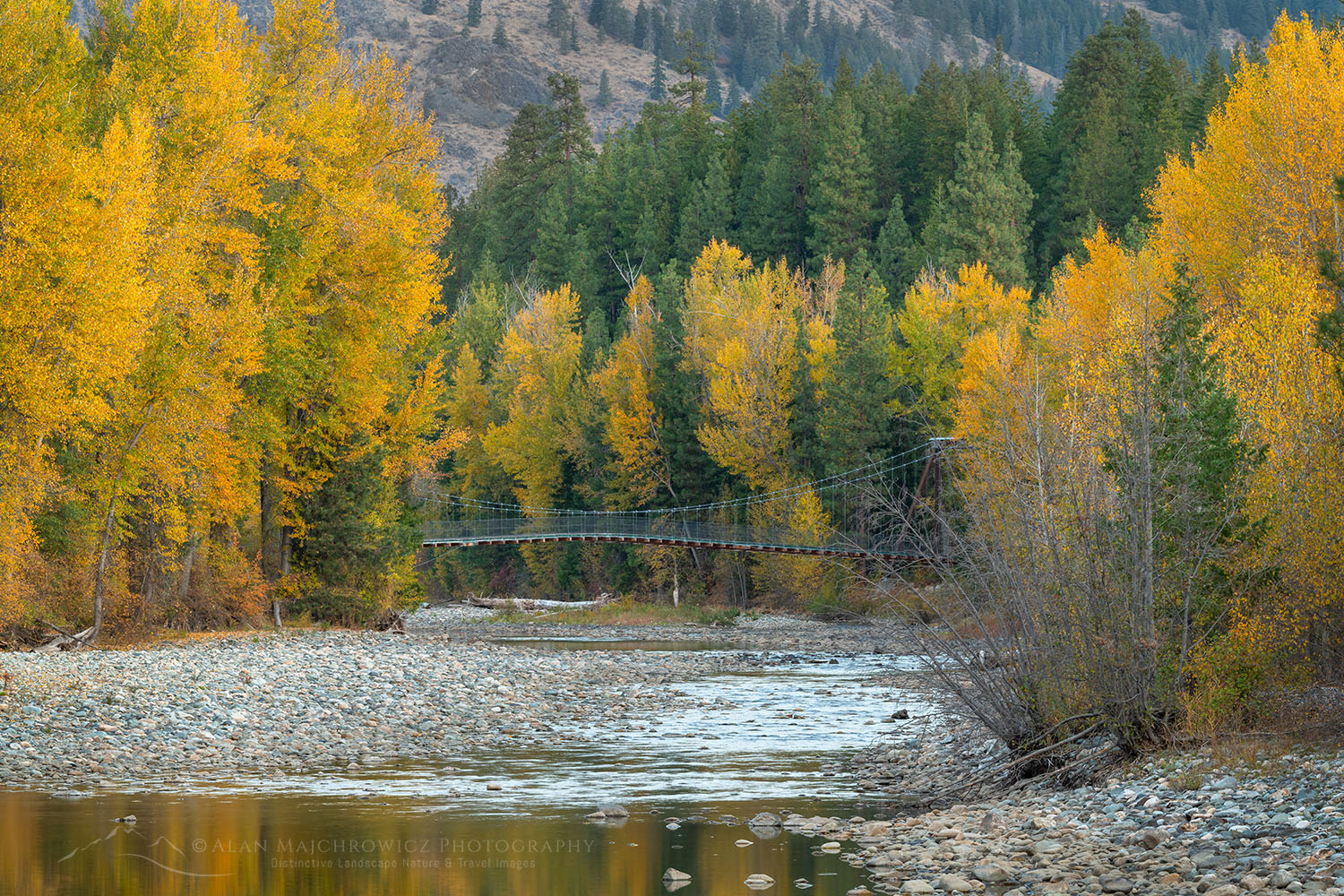 Fall Foliage along the Methow River #78824  
One of the premier destinations of the North Cascades is the Methow Valley. This beautiful mountain valley is a paradise for outdoor enthusiasts in all four seasons. There are great trails for hiking and biking in spring, summer, and fall. And in winter Methow Trails boasts the largest cross-country ski trail system in North America. In support of all these activities, there are numerous options for lodging, great dining, and plenty of places to rent gear.
Just outside the Methow Valley in Okanogan National Forest are the Pasayten Wilderness, the Chelan-Sawtooth Wilderness, North Cascades Scenic Highway, and North Cascades National Park. All of this natural beauty is also a magnet for landscape, nature, and wildlife photographers like me. I've been coming to the Methow Valley and its surroundings for nearly 40 years and still find new places to hike and photograph!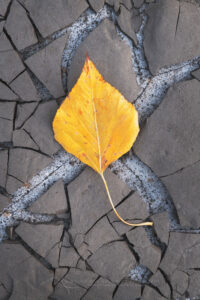 Cottonwood leaf #78721  
In this post, I aim to provide a short introductory guide for photographing fall colors in the Methow Valley. It focuses on only a small segment of a large area and certainly is not all-inclusive. This is one of those places you'll end up returning to over and over again in all seasons. So part of the fun is exploring and making your own discoveries!
This October I made a short excursion to the valley in search of fall color. Most of the excitement in the area during this time of the year is around the subalpine larches. However, these gorgeous trees are found at higher elevations, with their needles turning bright gold in early fall. Fall color in the Methow Valley itself comes a few weeks after the larch show has faded.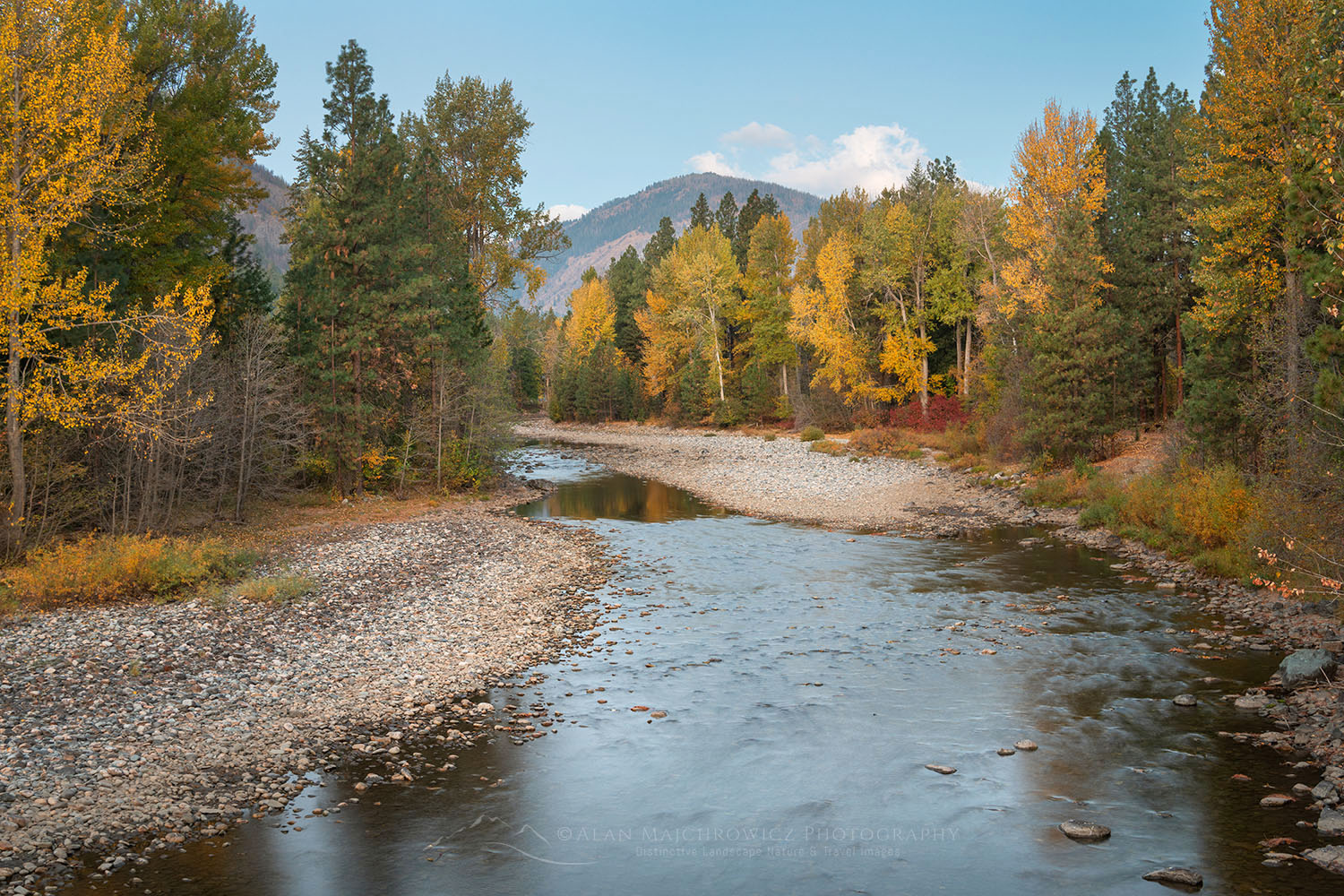 Methow River near Mazama #78724  
Methow River along Lost River Road
On this trip, my focus was mainly on the Methow River in the vicinity of the small hamlet of Mazama. And of course, the obligatory stop at Washington Pass was also part of the itinerary. For photographers, there are several good spots to photograph far color along the river.
The first spot is from the bridge on Lost River Road between Highway 20 and Mazama. From the bridge, there is a nice curve to the river to give a bit of movement in compositions. Although there are nice compositions along the riverbed one must be careful to observe private property in the area. It's really not too clear if property lines here include gravel bars along the river.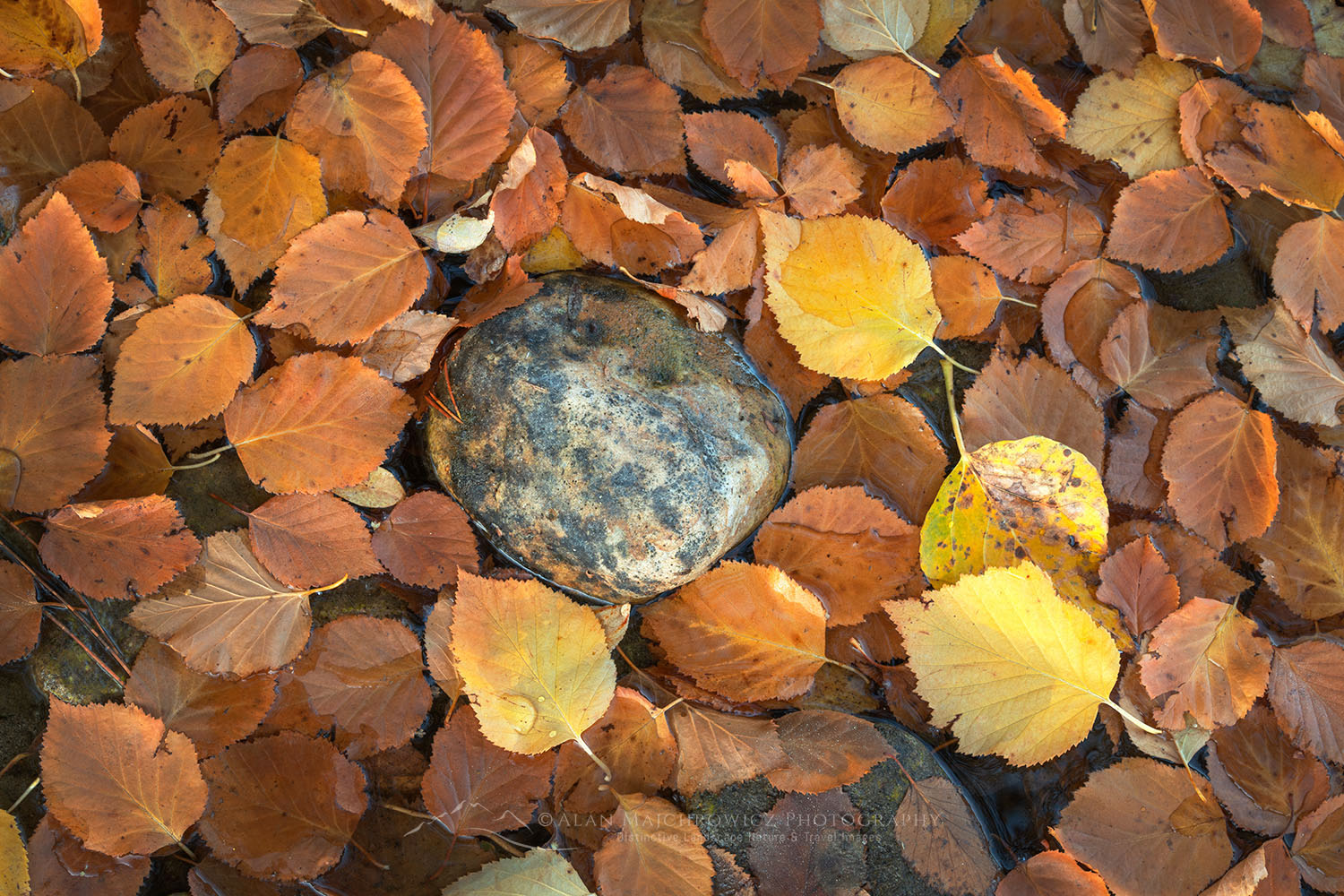 Fallen leaves along Methow River #78829  
Following Lost River Road northwest towards the upper Methow River and Hart's Pass, there are a few more photo opportunities. There are plenty of colorful aspens and cottonwoods along the river here. Although in a dry year in the fall the river can often disappear under gravel bars in this vicinity. Further on the road enters national forest land and gives access to a number of outstanding backcountry trails.
After the road becomes gravel the forest is mostly coniferous with only sparse color from deciduous trees. The forest understory here has a sprinkling of color, but for the most part, isn't great for foliage photography.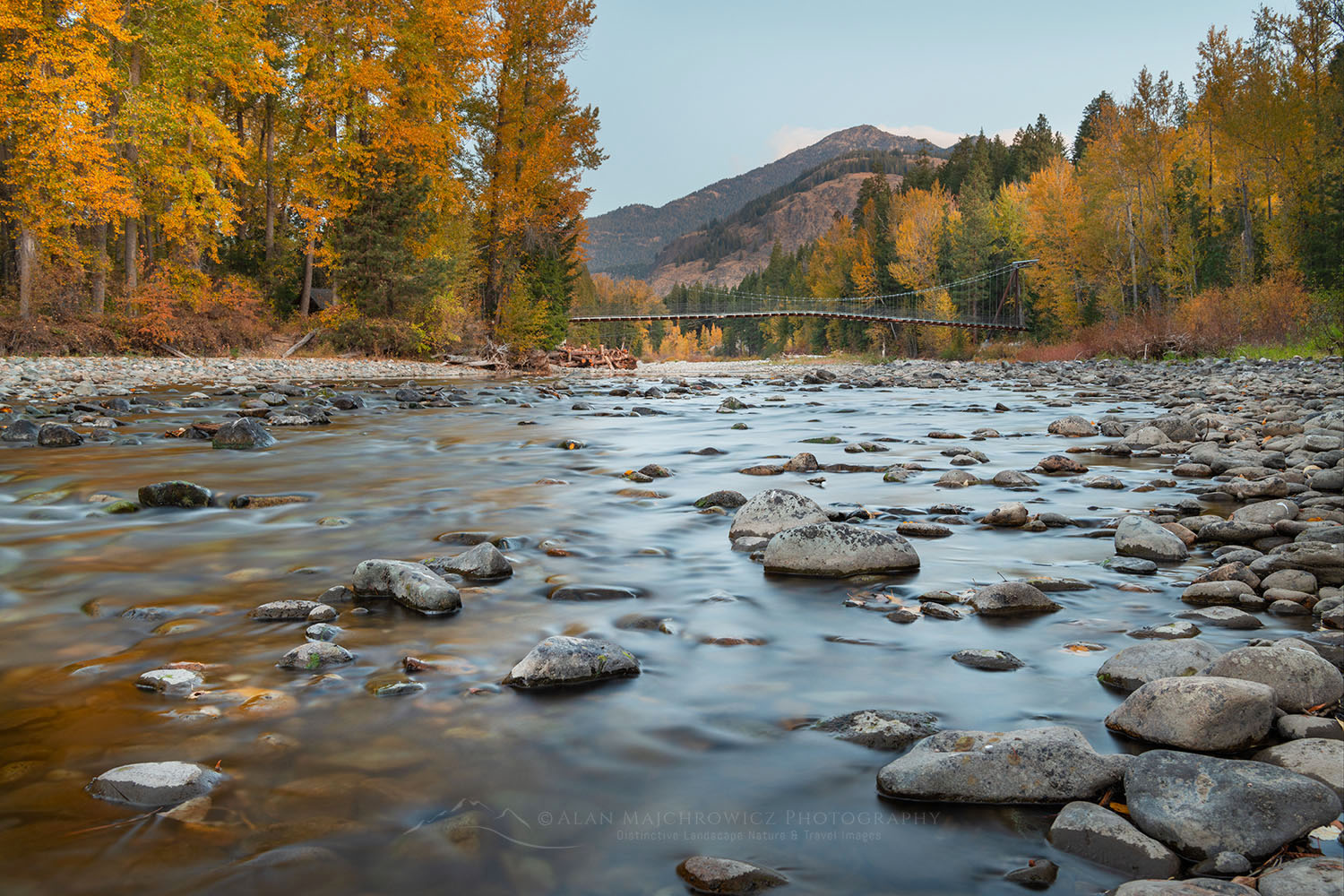 Methow River and Talks-Foster Bridge #78810  
Methow River along Goat Creek Road
In the opposite direction from Mazama, the route to follow is Goat Creek Road.  This short paved road heads southeast toward Winthrop and joins Highway 20 near the Goat Creek Bridge. Along the way are a few more good photo ops, including some nice open fields and a few roadside pullouts.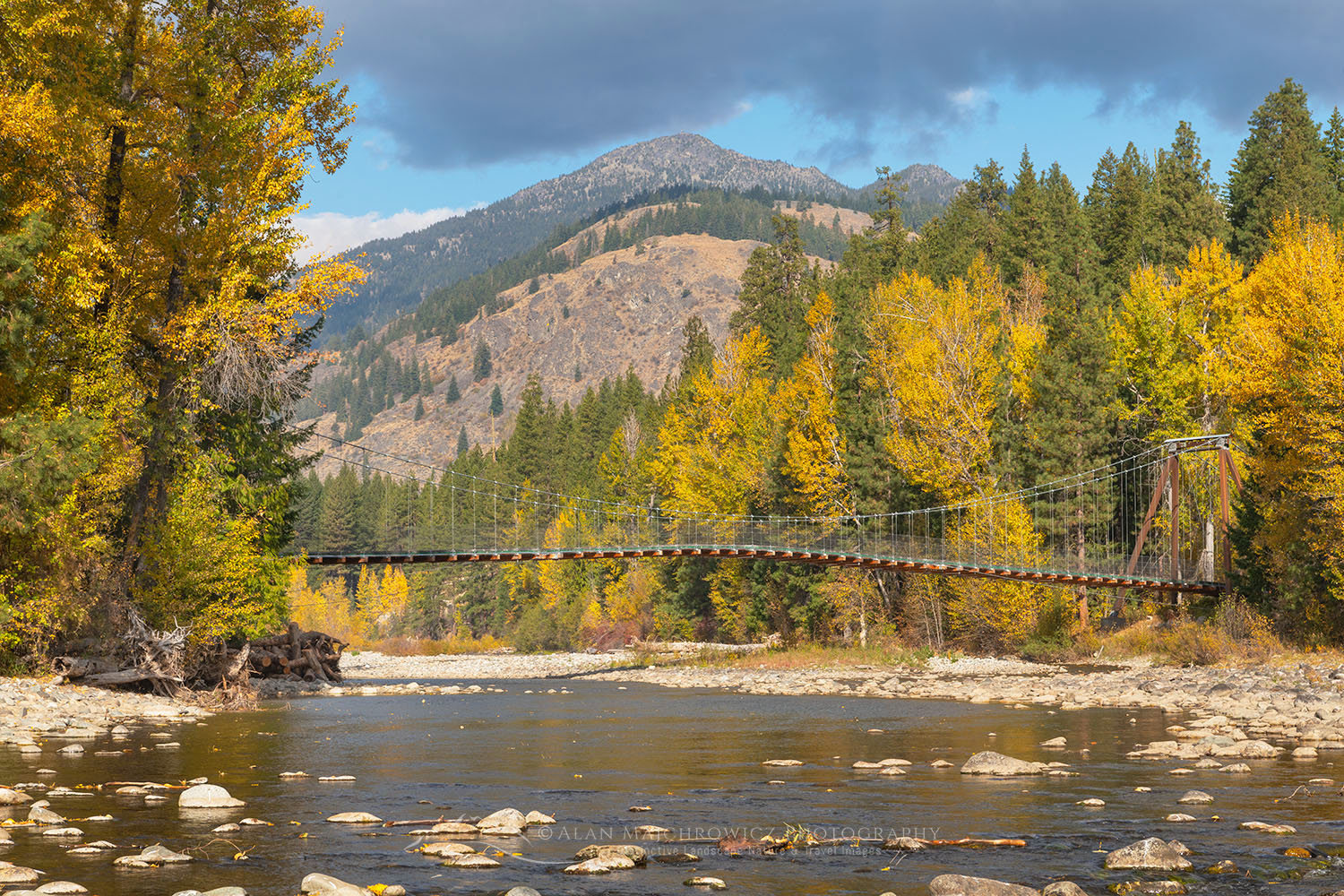 Talks-Foster Suspension Bridge #78784  
One of the nicest spots to check out is at the Tawlks-Foster Suspension Bridge over the Methow River. This lovely location is accessible by a short half-mile walk on the Methow Community Trail. This trail is also part of the greater winter-summer network of trails in the valley. Off Goat Creek Road there is a small trailhead parking area that you can easily miss if you blink an eye.
Further down Goat Creek Road near its end by Highway 20 is one especially nice pullout along the river. It's similar to the bridge view at Mazama but there is more color and the view is a bit wider.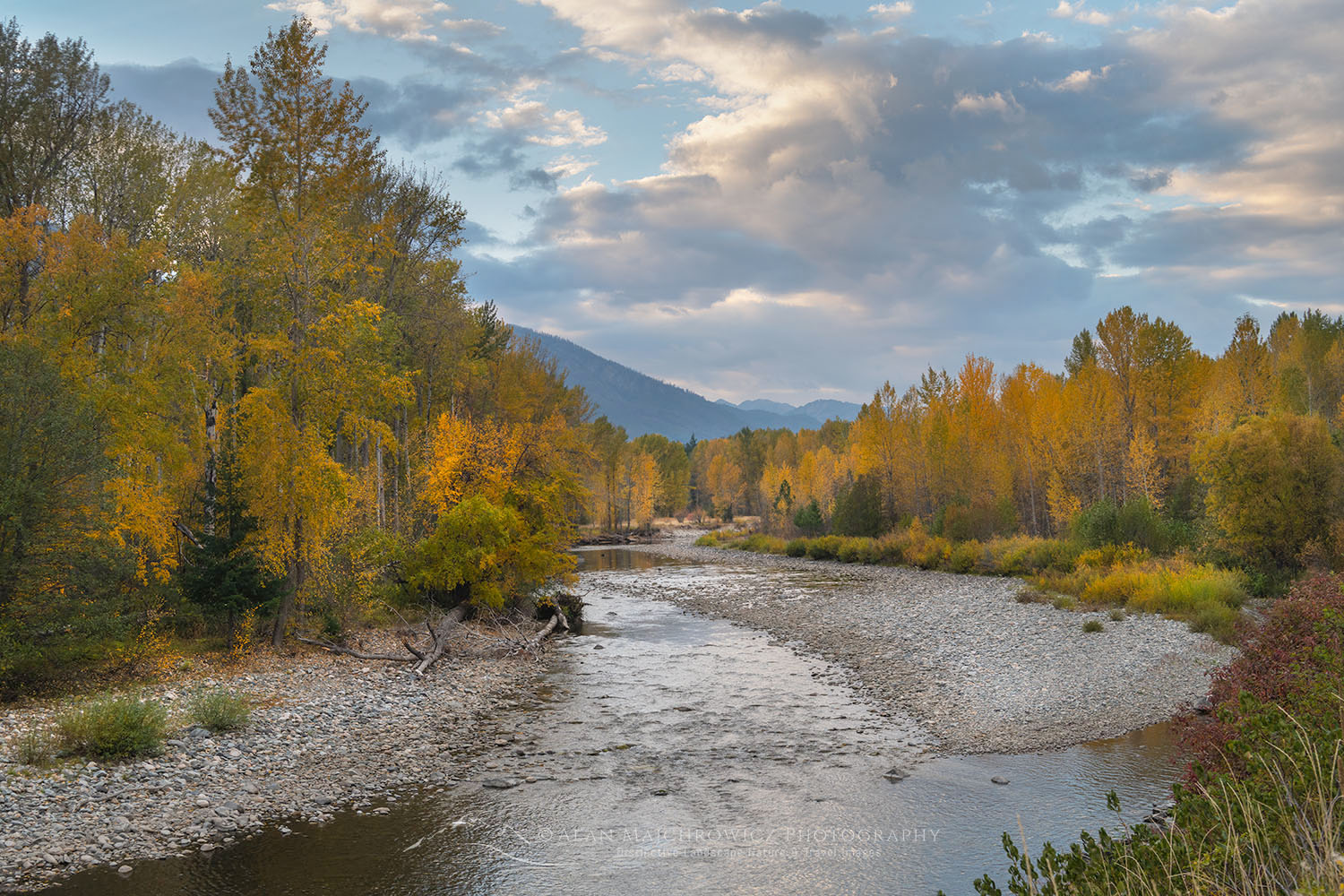 Fall Foliage along the Methow River #78789 
Methow Valley Along Highway 20 and Beyond
Along Highway 20 from Early Winters campsites to Winthrop are several good displays of fall color in various settings in forests and meadows. Unfortunately, fall color isn't uniform throughout the valley. There may be good color in the vicinity of Mazama and little color nearer the town of Winthrop.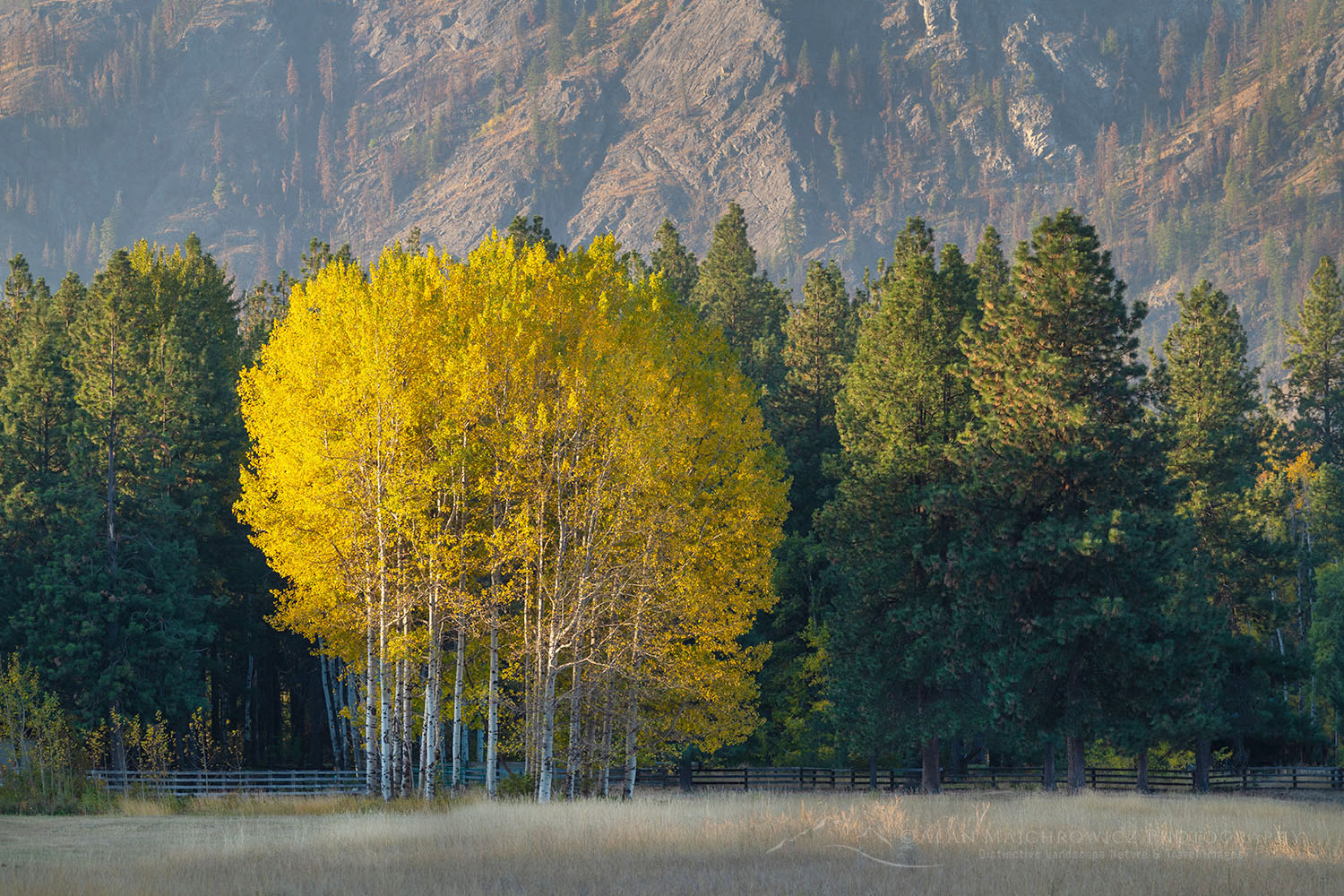 Aspens Methow Valley #78753 
Driving south from Winthrop to Twisp and further on to the Columbia River offers more possibilities. And of course, there is also good color up Highway 20 at Loup-Loup Pass. However, those areas will have to be part of a future post.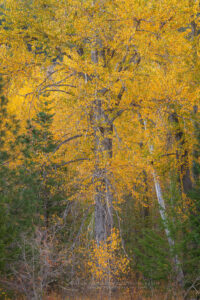 Cottonwood Tree Methow Valley #78830  
If you Go to the Methow Valley
Timing:  Good fall color depends of course on many factors and there are no set days for peak color. However, generally in the valley towards the end of October is best. If Larch season is your goal then the last week of September until around October 10 is usually best. See my post, North Cascades Larch Madness for more info.
Access:  Drive either from the west over North Cascades Highway 20, or from Wenatchee in the south take U.S. Highway 97 north to Pateros then Highway 153-Methow Valley Highway.
*Highway 20 is closed during winter. Depending on fall storms it can close as early as October or as late as December. When planning your trip it's worth keeping an eye on the weather forecast. It's a long drive back over the mountains via Stevens Pass if North Cascades Highway suddenly shuts down due to storms.
Lodging:  For those like me who prefer camping there are numerous options. Early Winters Campground on Highway 20 is the most accessible. There are also two National Forest campgrounds on Lost River Road, plus primitive random camping in Okanogan National Forest.
There are plenty of motel and resort options throughout the valley and Winthrop area. Arguably the premier lodging is at Sun Mountain Lodge and Freestone Inn. Part of the winter-summer trail system can also be accessed from your room door at both Sun Mountain Lodge and Freestone Inn.
Helpful Links:
Methow Trails
Okanogan National Forest
Winthrop Washington
Freestone Inn
Sun Mountain Lodge
North Cascades Highway/Cascade Loop Scenic Drive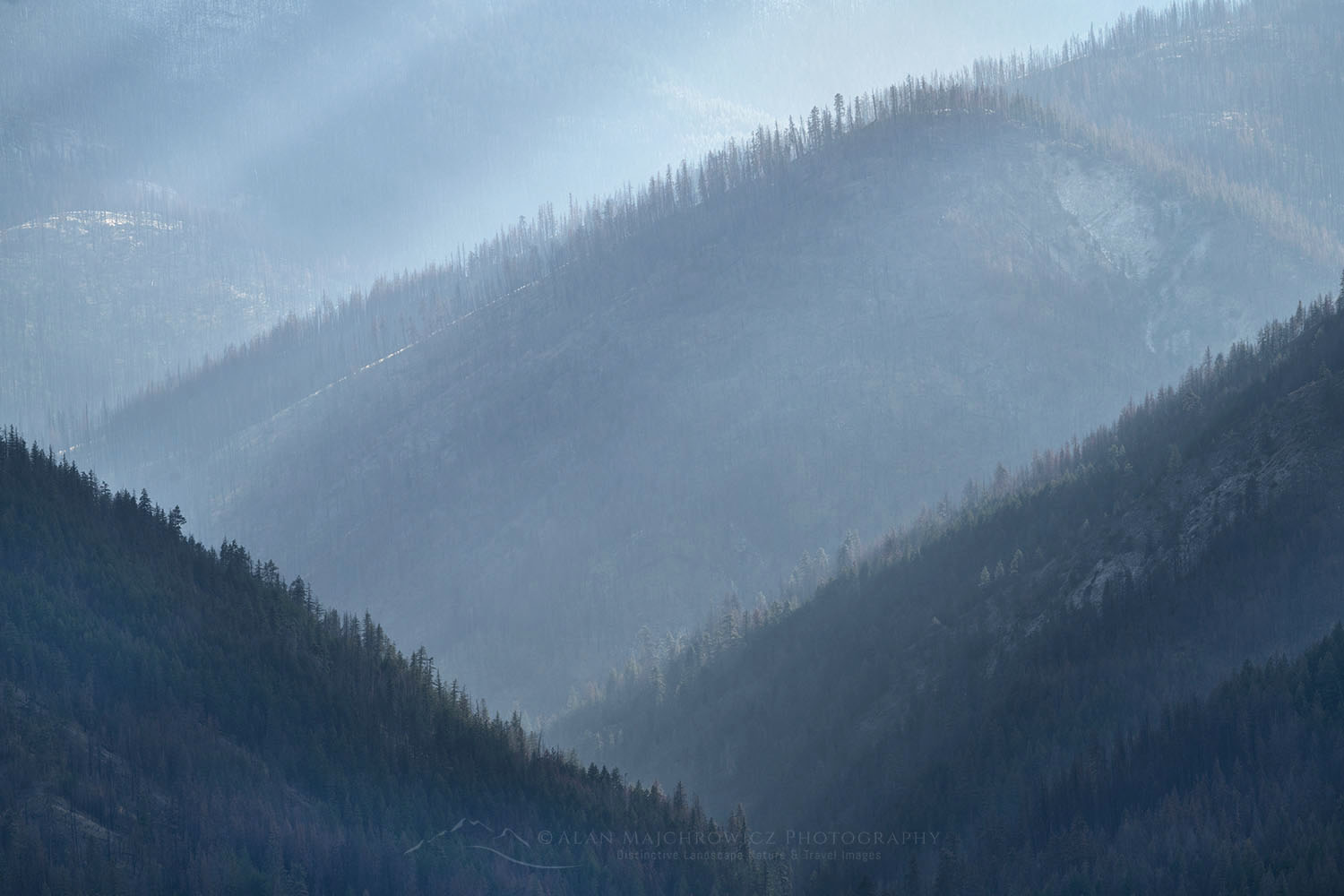 Hazy ridges North Cascades #78787  
Photography Gear Tips:
Since this area is mostly accessed by driving or short easy trails I would recommend bringing everything you have. My personal kit includes the following and covers most opportunities. Of course, wildlife photographers will want to bring longer telephoto lenses.
Nikon D850
Nikkor Lens:
14-24mm 2.8G ED
24-70mm 2.8E ED
70-200mm 2.8E FL ED
Gitzo 1532 Tripod
Really Right Stuff B-55 Ball Head
B+H Polarizing Filter
Vello FWM-N2 Remote Shutter Release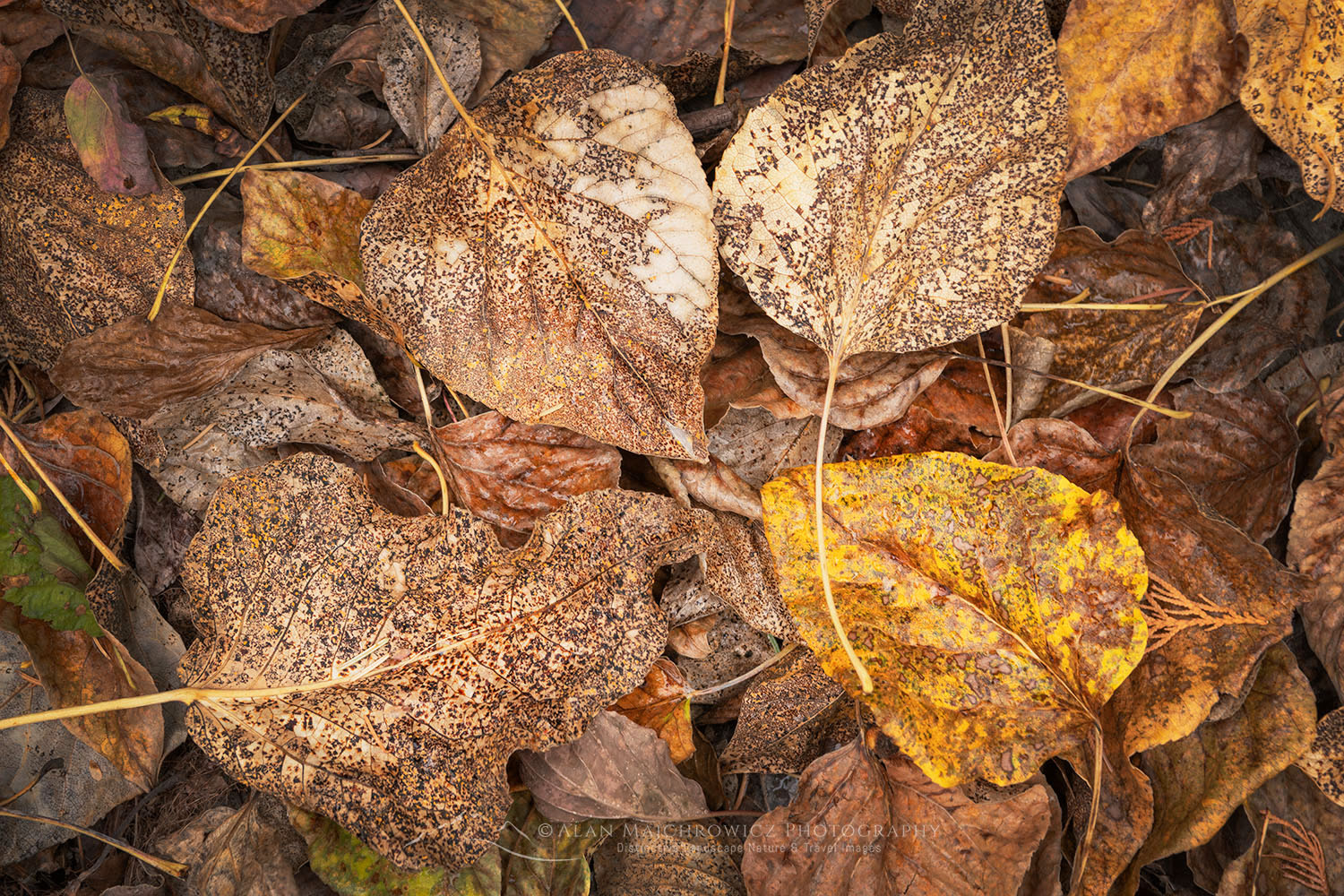 Fallen leaves Methow Valley #78718  
Leave No Trace
Please follow the guidelines of Leave No Trace (LNT). The Methow Valley and all other natural areas throughout the world are under incredible pressure from growing amounts of visitors. Please do your part to help preserve these precious areas for future generations!
To learn more about the principles and practicing LNT please take a few minutes to visit the Leave No Trace Center for Outdoor Ethics. Your children and grandchildren will thank you!
Seven Leave No Trace Principles
Plan ahead and prepare.                                       

Travel and camp on durable surfaces.                 

Dispose of waste properly.                                                                         

Leave what you find.                                            

Minimize campfire impacts (be careful with fire).

Respect wildlife.  

Be considerate of other visitors.
*Also, be respectful of private property. Many of the locations in this post are adjacent to private property. The Methow Valley Trail system often crosses private property boundaries and exists due to the blessing of local property owners.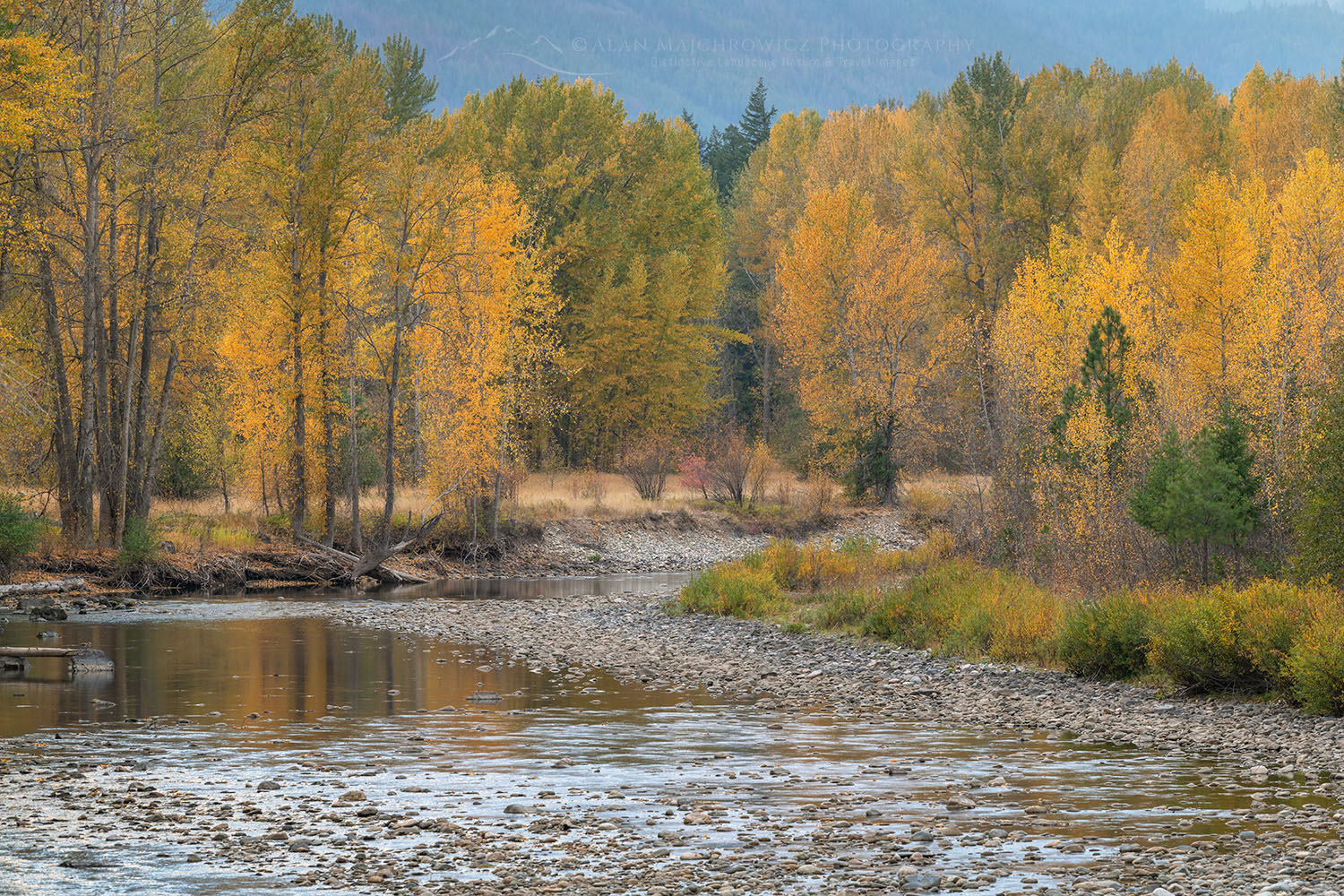 Fall foliage along the Methow River #78802 
If you enjoyed reading Methow Valley Fall Foliage please share it with your friends and family. 
Photos appearing in Methow Valley Fall Foliage are available for Commercial Licensing and Fine Art Prints. Click on any image to purchase, or contact me for more info!