Mount Baker Wilderness Heliotrope Ridge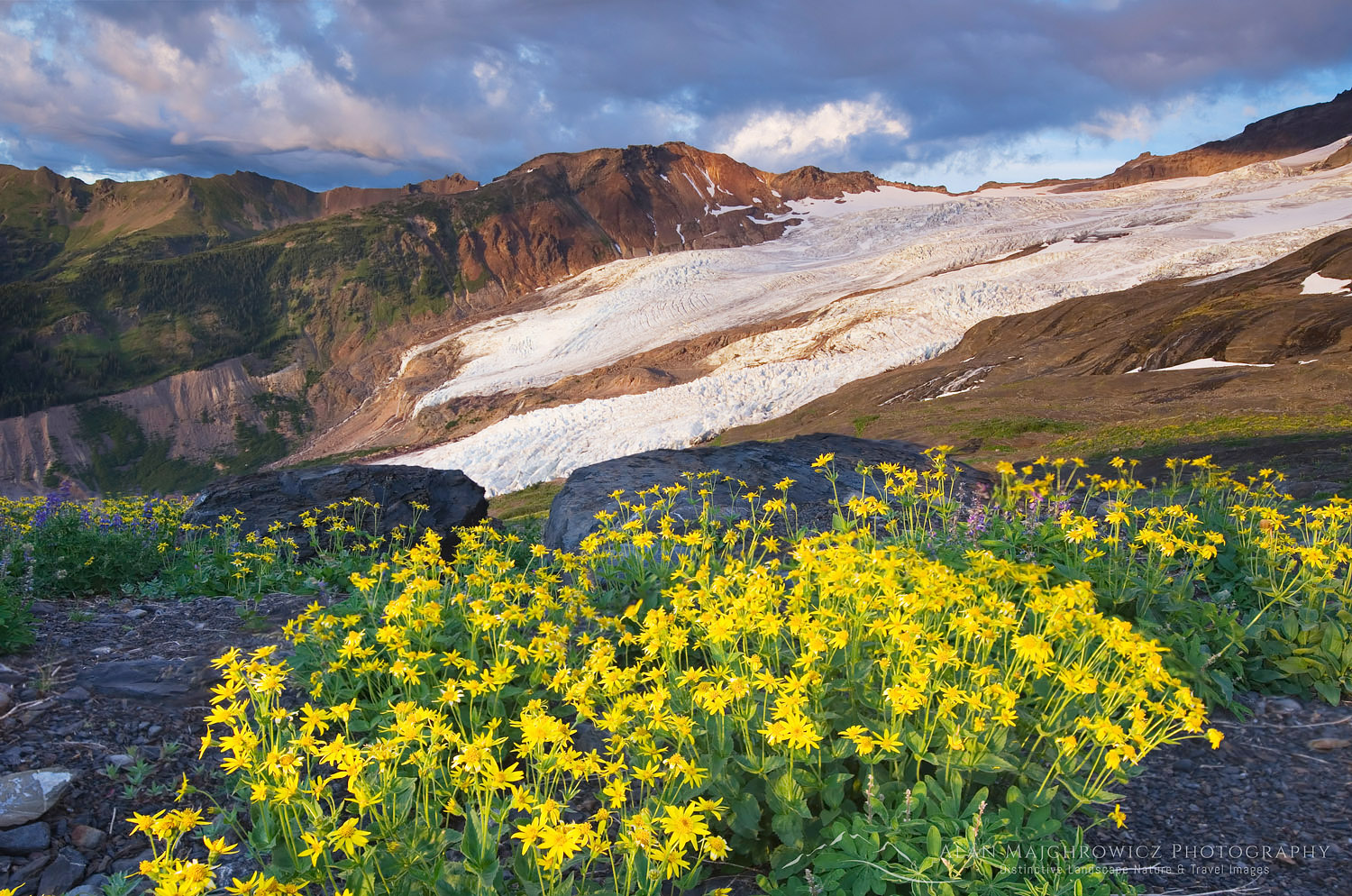 Coleman Glacier, Heliotrope Ridge Wildflowers #54421  Purchase
Summer is nearly over, and now that we're in that exciting pause before the coming fall season I have some time to catch up on a few posts I've been too busy to work on. If you've been following my updates you'll know that most of the height of  summer was spent close to home. Specifically the Mount Baker Wilderness of the North Cascades. Fortunately for me this wilderness is only an hour or two drive from my home. Practically in my backyard. During the month of August I photographed the following areas accessed via the Mount Baker Highway:
Church Mountain
Skyline Divide
Hannegan Peak
Heliotrope Ridge
Heather Meadows Recreation Area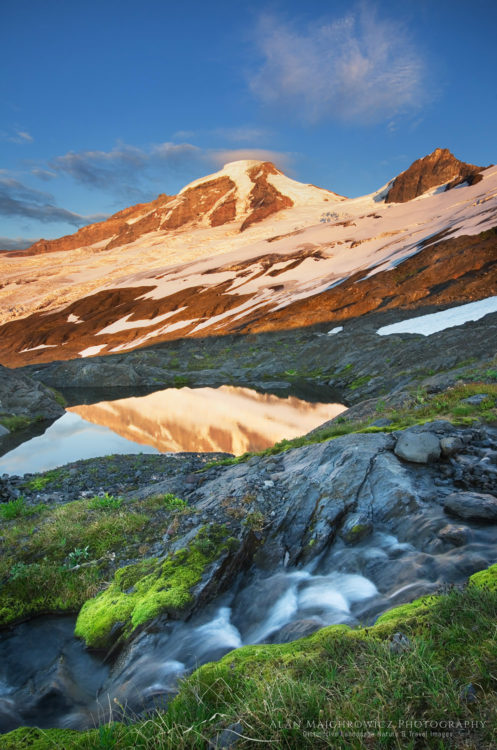 Mount Baker from Heliotrope Ridge #54423  Purchase
During the last week of August I was hoping to visit one more spot that might offer good displays of wildflowers. I almost forgot about Heliotrope Ridge. It has been around twelve years since my last visit. And it's been twenty since I taught a weekend photography workshop there through the North Cascades Institute.
Heliotrope Ridge trail is extremely popular due to the easy and close access to views of the sprawling Coleman Glacier. And also because it is the start to one of the main climbing routes to the summit of Baker. Since I've been there before I knew that the best wildflower meadows were up high near the edge of the glaciers and snowfields. I also knew that I would have the place to myself if I went during the week. Sure enough during my three nights on the ridge I saw only one other person wandering around. The few climbing parties that set up camp stuck to the glaciers with eyes on the summit.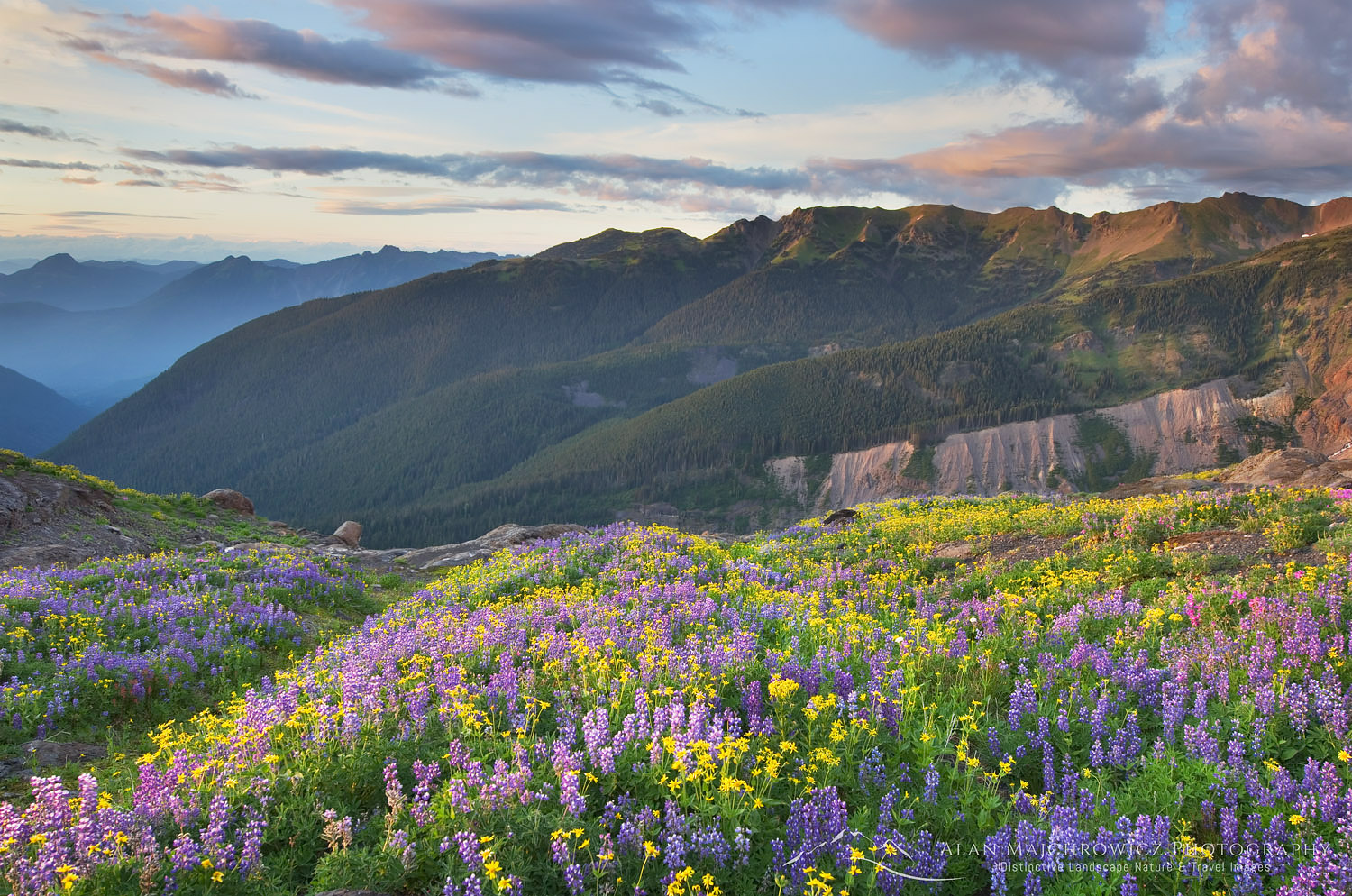 Heliotrope Ridge Wildflowers #54537  Purchase
The wildflowers of Heliotrope Ridge were markedly different from those on the hikes to Skyline Divide and Hannegan Peak. There I came across fields mainly of valerian, lupine, corn lilies, and heather, but on Heliotrope there was a greater variety of flowers with an emphasis on yellow arnicas. Also since this area is so close to Mount Baker it receives much more snow, therefore the plants had just escaped the confines of winter and began blooming in late August while other subalpine ridges in the area were already well past peak and had gone to seed.
Another thing to do aside from gawking at the views and wildflowers is to wander cross country, there are no trails at this point. Going west along increasingly barren slopes of mixed volcanic rock and crumbly slate there are numerous rushing snowmelt streams. If you are prepared for steep snowfield/glacier travel then continue higher up to the actual crest of Heliotrope Ridge. Here the ridge consists of a wild display volcanic cinders jagged blocks of andesite and lava bombs, looking like it just cooled yesterday. Even better though is the view from the ridge of seldom seen Thunder Glacier and basin below Colfax and Lincoln Peaks, this is truly a wild and lonesome area of Mount Baker!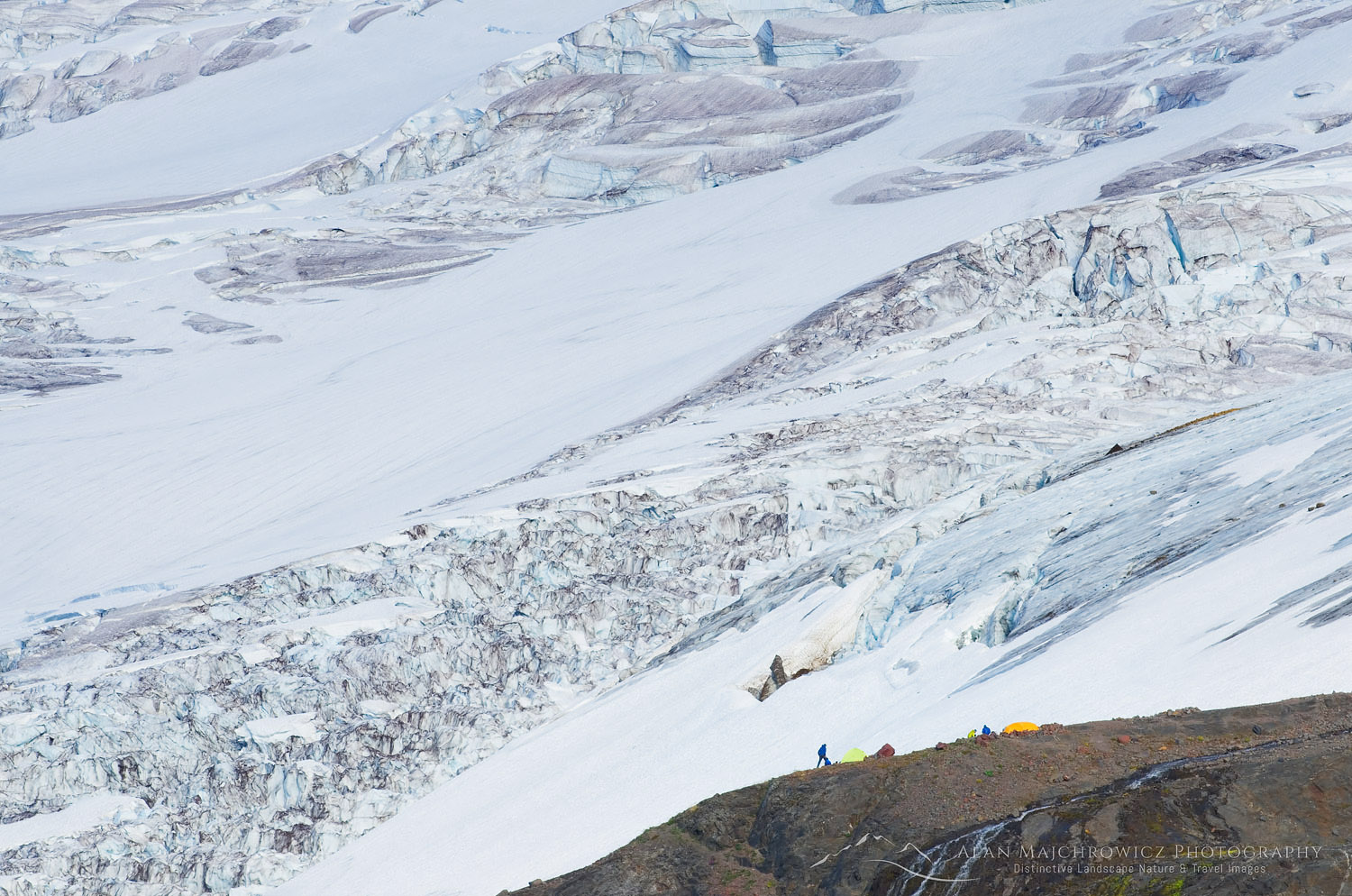 Mount Baker climber camp on Heliotrope Ridge #54432  Purchase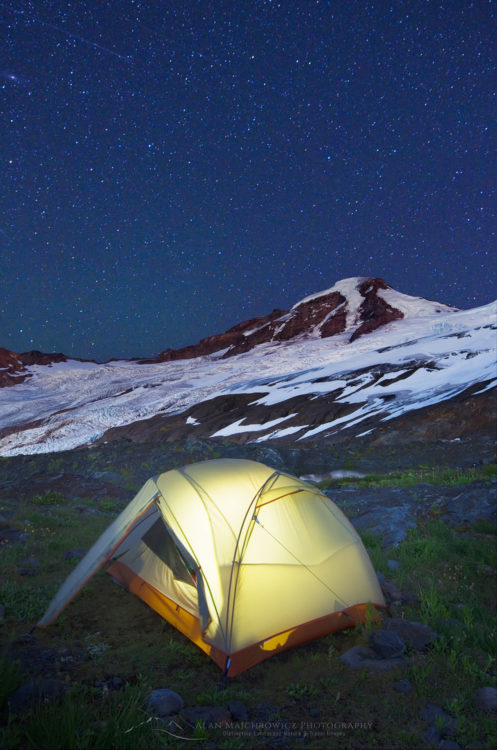 Heliotrope Ridge Camp Mount Baker #54518  Purchase