California's Sonoma Coast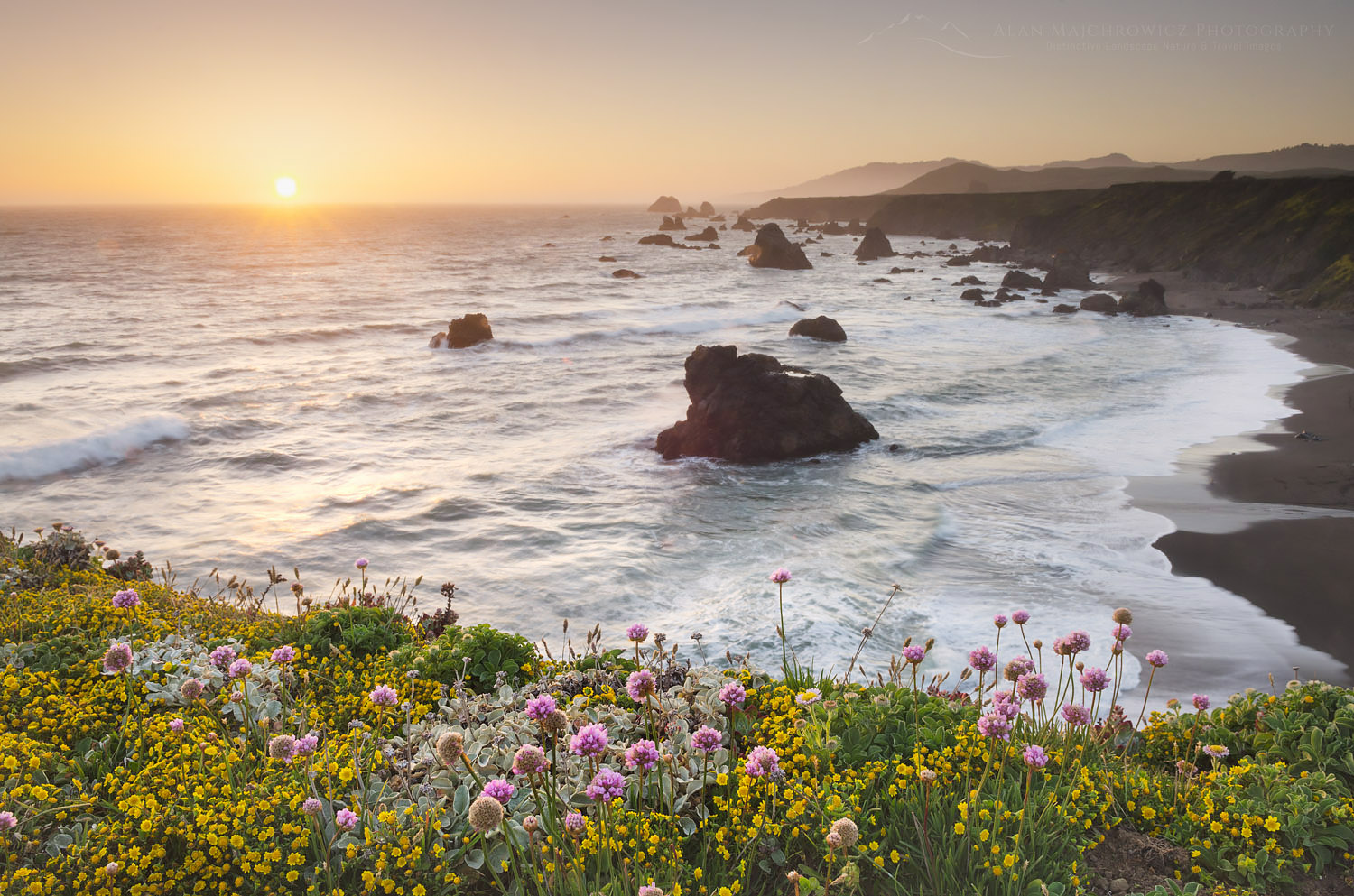 Sunset, Sonoma Coast California  #60392  Purchase
California's Sonoma Coast stretches roughly from Bodega Bay in the south to Mendocino County line in the north. In this post I will feature areas of Sonoma Coast State Park, a highly scenic and popular area to the north of Bodega bay. This was my second visit to the area, and the first in which I was able to take time to appreciate and photograph the scenery. Visiting in the spring I wanted to take advantage of plentiful wildflowers along the coastal bluffs, and the greenery of surrounding hills. Although visiting during spring I avoided persistent coastal fog there were constant winds instead.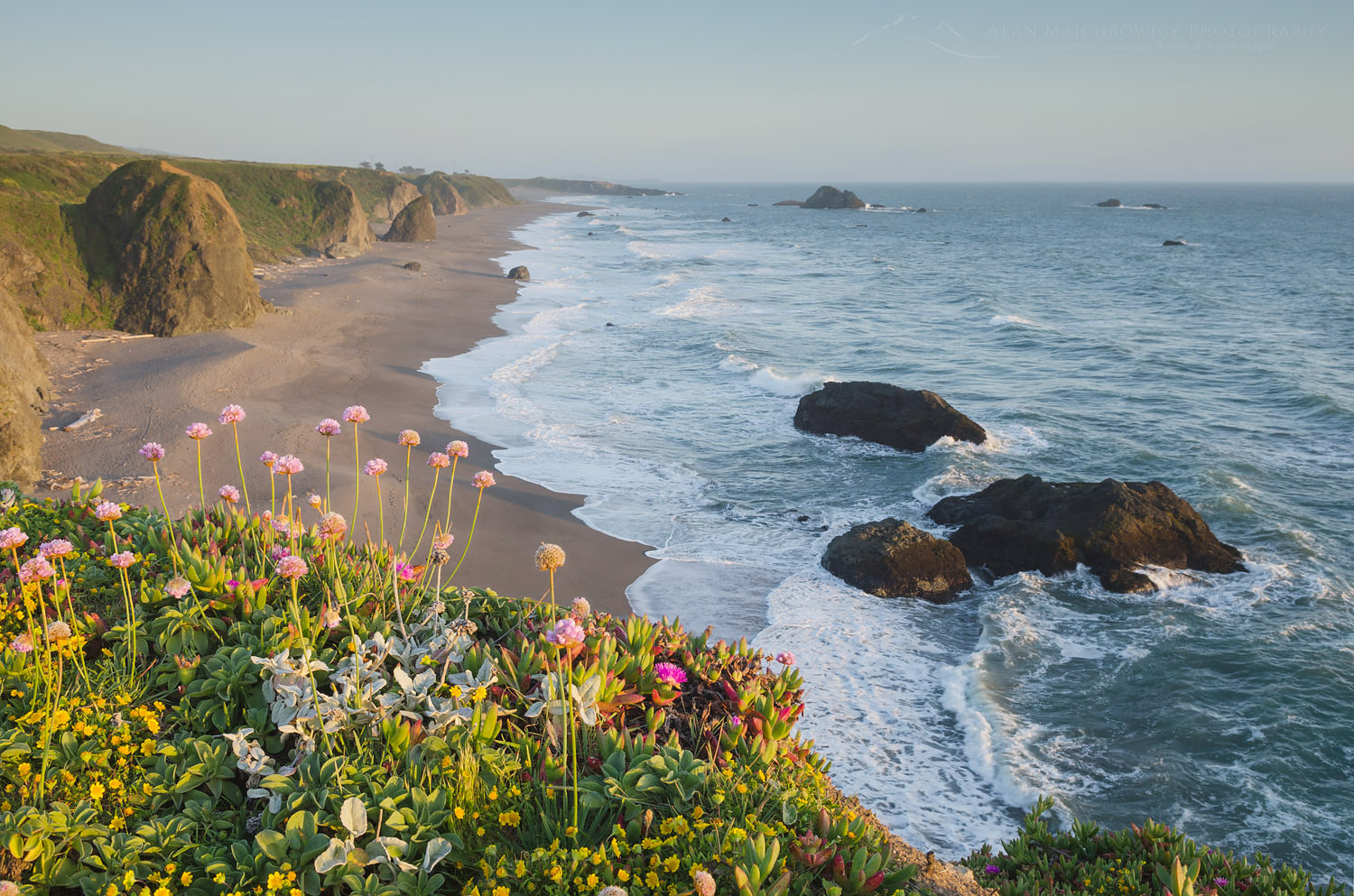 Sonoma Coast California  #60377  Purchase
Bodega Bay
Iconic California Highway 1 runs the entire length, with numerous places to pull off for enjoying the view. The most dramatic view can be had just north of the state park. Here the highway switchbacks high up a headland. The entire coast all the way to Point Reyes is visible from this point. Sonoma Coast State Park is comprised of several scenic sand beaches and rugged headlands. Being a close drive to San Francisco the park sees a large number of visitors from the metropolitan area. Bodega Bay, being the hub for all the activities, also has the claim to fame for having Alfred Hitchcock's The Birds filmed there. I couldn't identify any of the set locations on my visit though. I was too preoccupied with delicious Oyster Po Boy sandwiches from Fisherman's Cove a local seafood venue.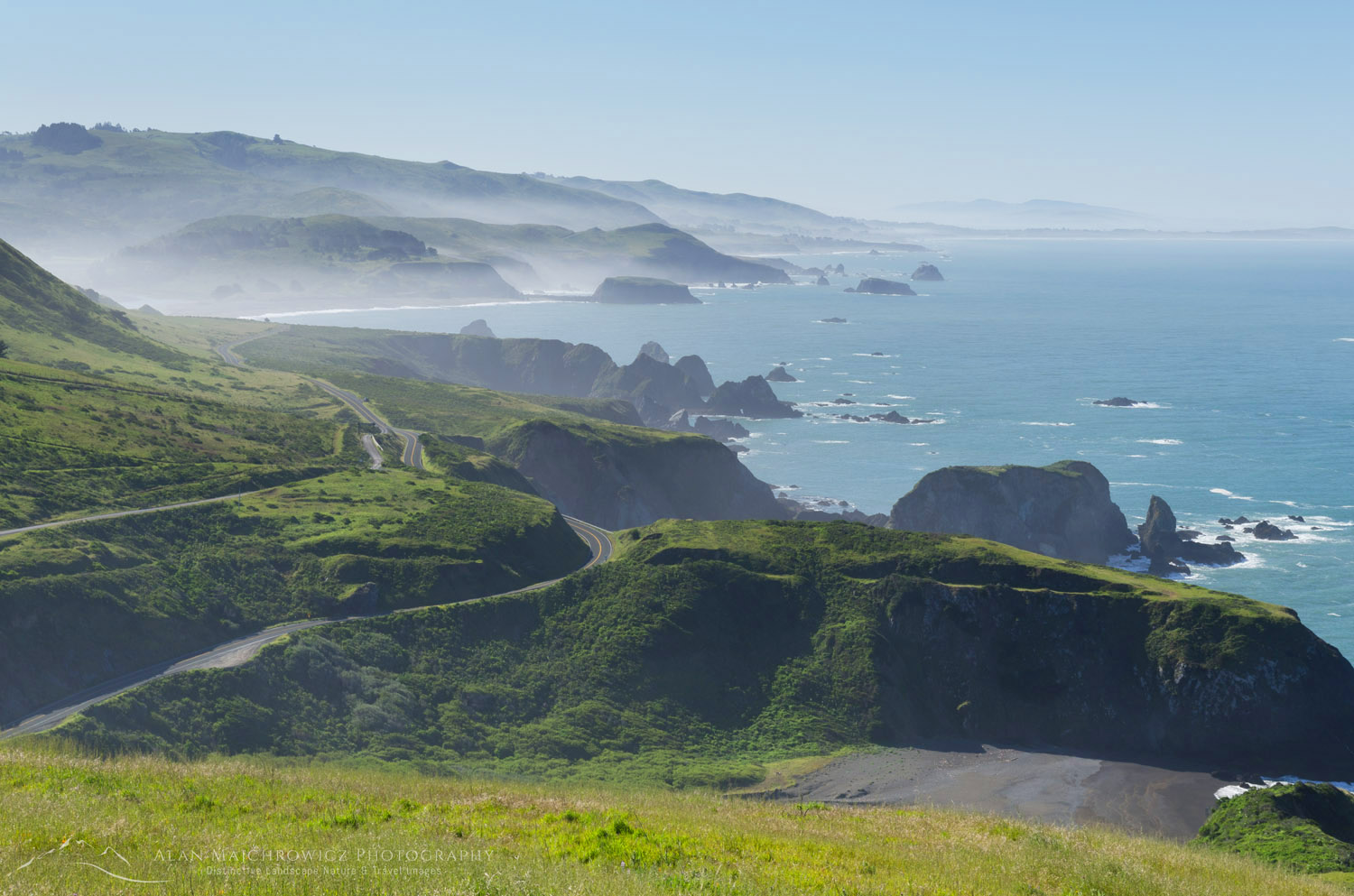 Highway 1 along the Sonoma Coast #60421  Purchase
Aside from the beaches and wonderful restaurants Sonoma Coast is a great location for watching migrating whales. While admiring the view from a bluff a local man pointed out to me a group making their way north. They were a fair distance off and hard to see even with binoculars. I had never seen whales, despite living many years in proximity to the coast, so this was pretty exciting. Goat Rock to the north has some of the most dramatic scenery, and is a bit of an oddity. This headland was quarried back in the 1920's to provide building material for burgeoning San Francisco. As a result Goat Rock in its present state looks more like a detached sea stack.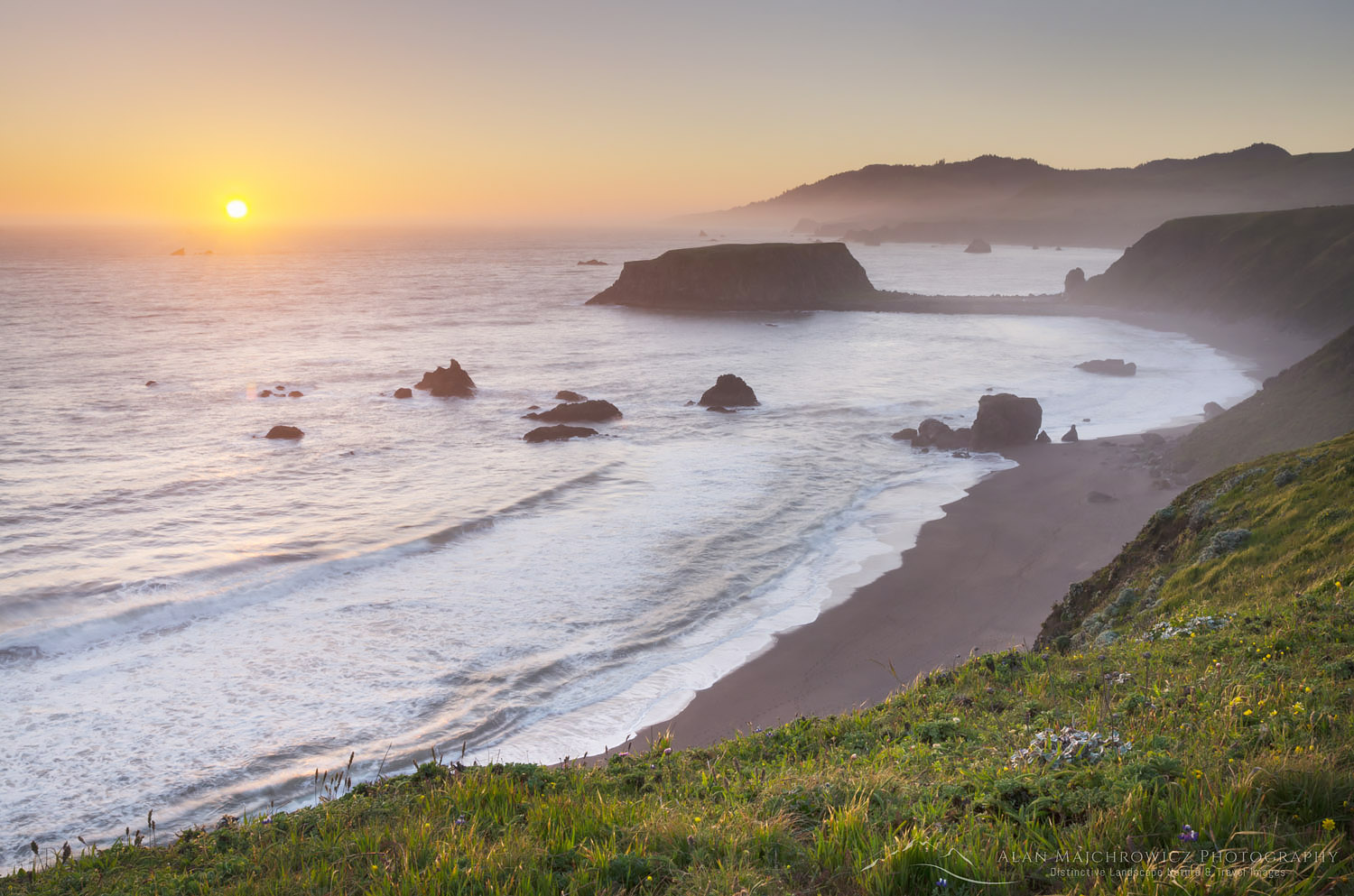 Sunset, Sonoma Coast California  #60303  Purchase
If you decide to visit this wonderful area I have a couple of essential tips. Make sure you book accommodations well in advance. I arrived on a weekday in the shoulder season and was only able to gain the last campsite by arriving early in the morning. Make sure you have enough time for leisurely exploring the area. At least three days, and preferably a week, would be best to see and photograph the sites. Lodging and food can be fairly pricey if, like me, your are from outside the area. State Park campsites all along the California coast start at $30 and can be as high as $50. For these prices there also is no guarantee of full facilities in good working order. Private campgrounds of course will cost more but may be better maintained.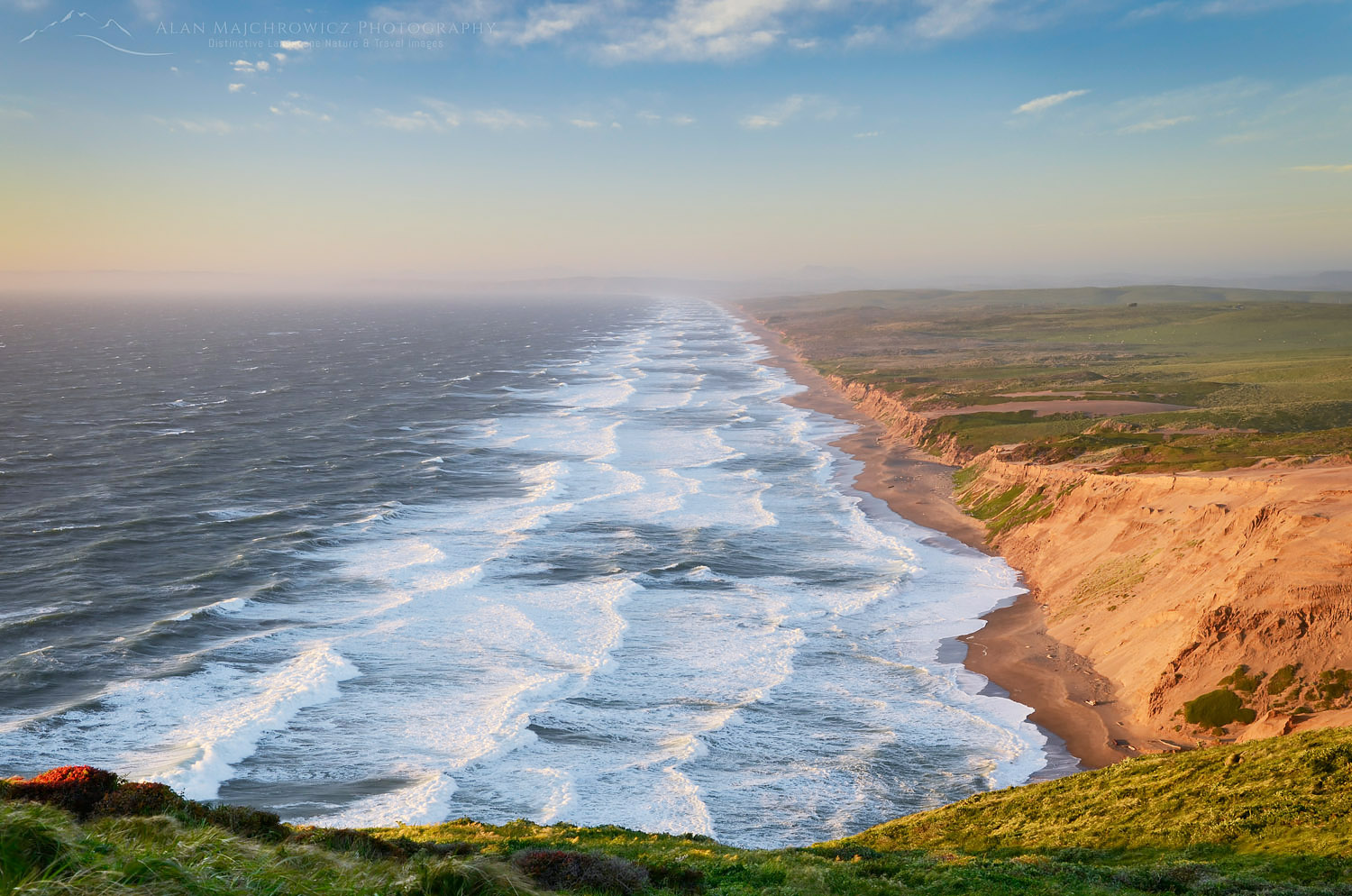 Point Reyes Beach, just south of Sonoma Coast #60262  Purchase