Fine Art BW Folios
This fall I'm thrilled to announce the addition of Fine Art Folios to my line of fine art photographic prints. They are a unique way of collecting and viewing fine art photography. And, best of all, they are affordable!
Instead of large prints for displaying on walls, folios comprise a selection of images representing a central theme. They are completely hand-made, contain anywhere from 5-15 original prints, and are small enough to view hand-held. Folios can also be a low-cost entry into the rewarding world of art collecting and can act as a springboard for obtaining larger display prints.
Over time I plan to regularly add and offer new folios based on different themes. These themes may range from minimalist landscapes, nature studies, seascapes, and various black-and-white projects.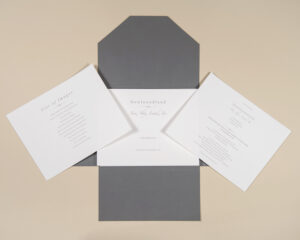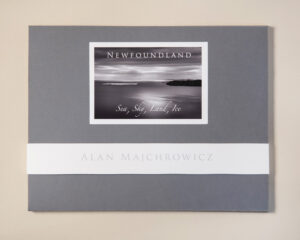 The

Fine Art BW Folio Details
Overall size:  8.5″x11″
Twelve images, actual image size: 9.5″x 6.25″
Signed title page, about page, image listing page, colophon page
Hand-made cover and belly-band
All elements of the portfolio are archival quality
Images printed on Hahnemühle Photo Rag Baryta 325gsm 100% cotton paper, which is very similar to traditional silver gelatin prints.
Text pages printed on Hahnemühle Photo Rag Smooth 188gsm cotton paper
Cover, Neenah Environment Papers, Wrought Iron, acid-free archival 100-weight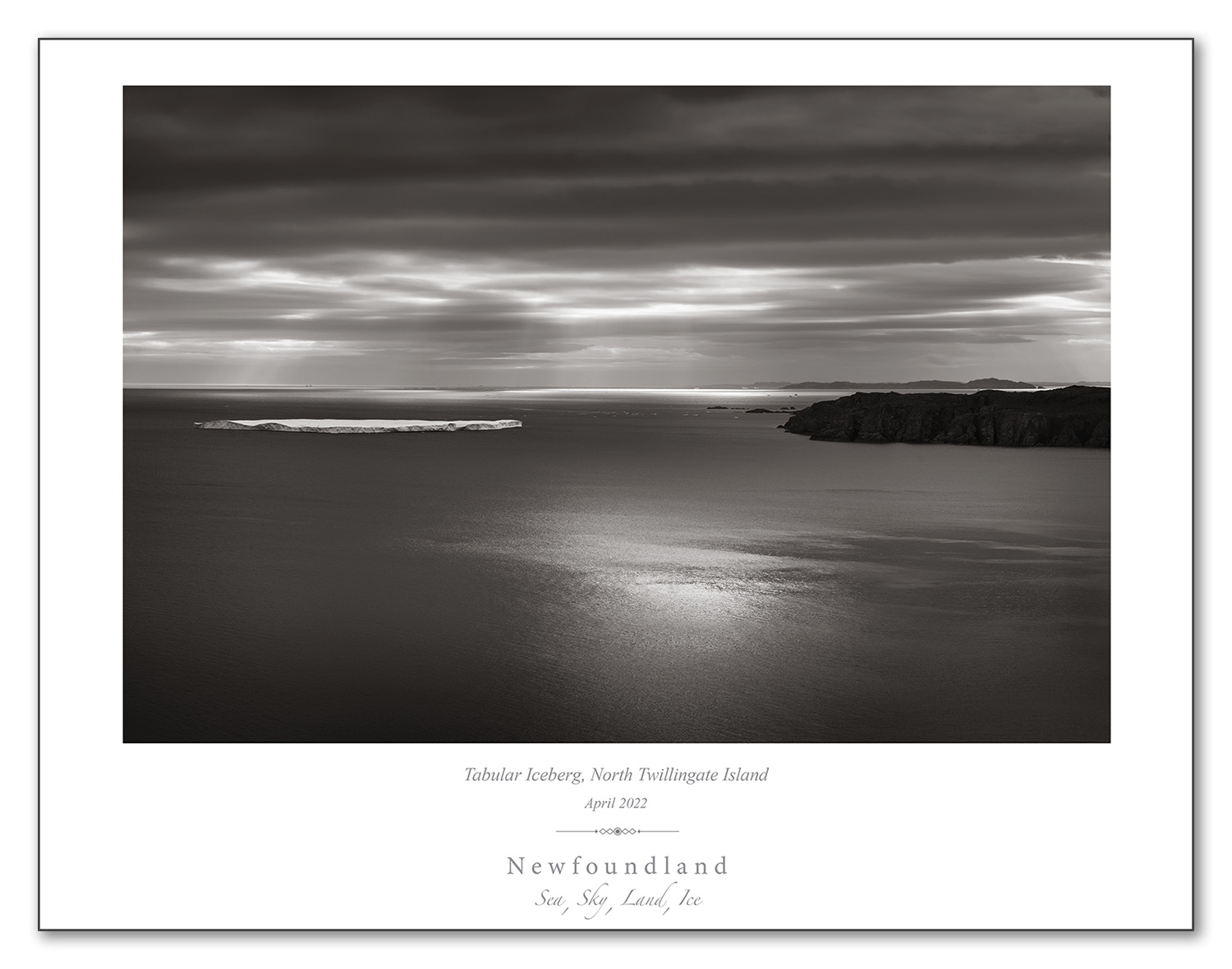 Sample page from Newfoundland, Sea, Sky, Land, and Ice Folio
Newfoundland, Sea, Sky, Land, and Ice Folio
My initial offering in the world of fine art folios is Newfoundland, Sea, Sky, Land, and Ice. This folio comprises twelve black and white images representing my first trip to Newfoundland and Labrador in April 2023.
All of the elements in the title of this folio comprise the essence of Newfoundland, affectionally known by locals as The Rock. Each image was carefully chosen to illustrate these elements and the raw and rugged nature of Newfoundland.
On my first trip to Newfoundland and Labrador, I drove over 2500 miles during 24 days. I chose to visit in May, expecting moderately seasonable weather for this part of the year. In reality, the weather was more like early March. Trees and shrubs were still bare, the wind was constant and chilling, and a few days even had snow. Pack ice and icebergs were present on most of the northern coasts, inlets, and bays. On the ferry from Newfoundland to Labrador there was so much pack ice a Coast Guard ice breaker was guiding the ferry to the landing. All of this gave a stark reminder that the cold harsh elements of the Arctic were not far away.
While my photographic archives are overwhelmingly color images, black-and-white photography retains a very special place in my heart. Moreover, given the circumstances and elements of my Newfoundland trip, black and white is the obvious choice to convey the raw and rugged mood of the province.
All images in this and future folios can be purchased individually as Fine Art Giclée Prints in various sizes
Read more about Fine Art Giclée Prints here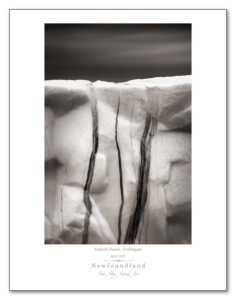 Sample page from Newfoundland, Sea, Sky, Land, and Ice Folio
Fine Art BW Folios