Photographing in Newfoundland and Labrador/Cape Spear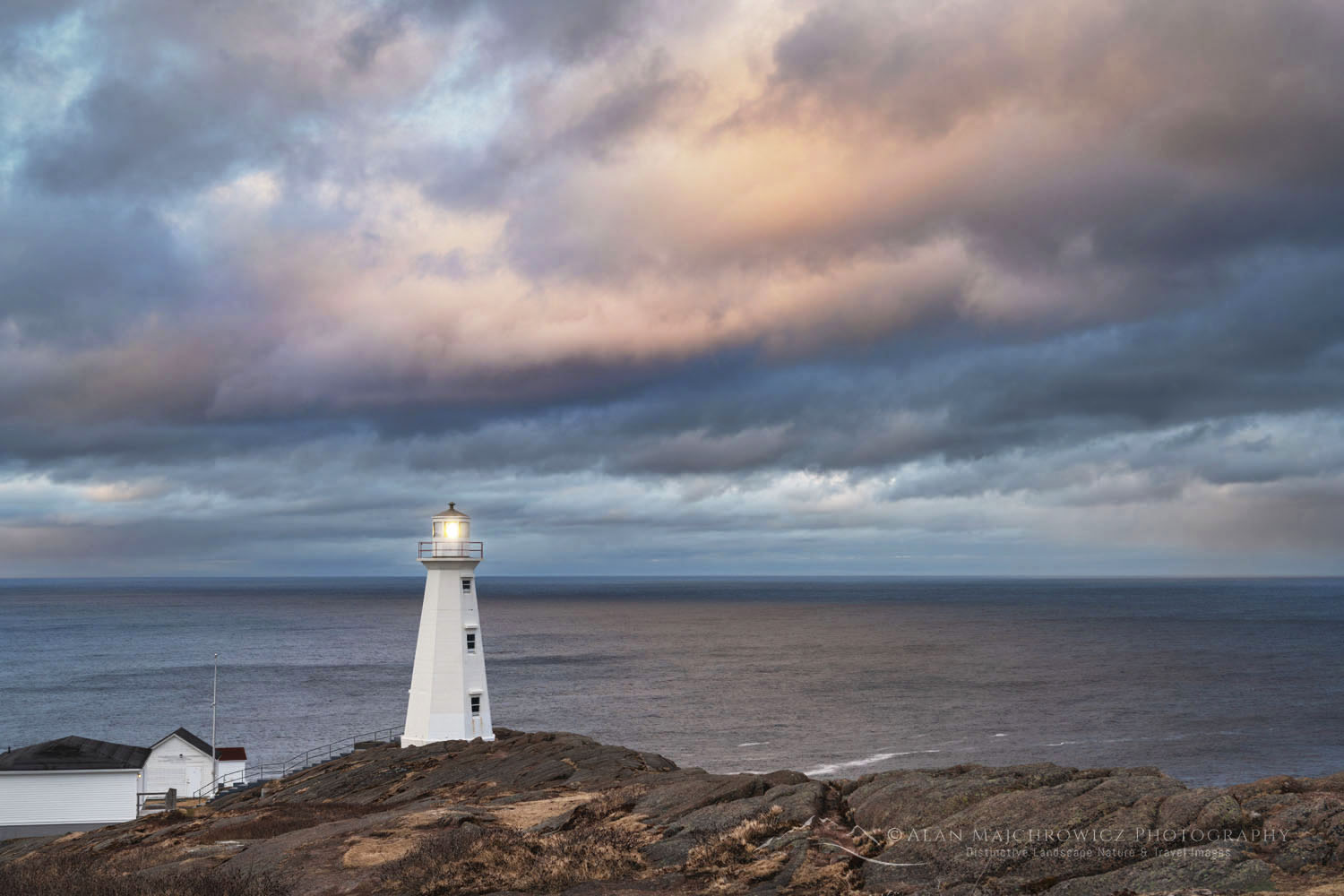 Cape Spear Newfoundland #79487  Purchase
This post is the first of several detailing and giving tips for photographing in Newfoundland and Labrador.
Canada's Atlantic Province of Newfoundland and Labrador is a destination that will thrill any photographer. It has many characteristics of more popular North Atlantic destinations, such as Scotland and Iceland, including miles of beautiful rugged coastline, colonies of seabirds, and quaint towns with a rich cultural history. It also has very friendly locals with delightfully unique accents. But unfortunately Newfoundland doesn't have active volcanoes or haggis.
Newfoundland and Labrador also have one other big attraction that the aforementioned destinations don't: Icebergs. Throughout the year, the Labrador Current reliably transports icebergs from Greenland and the Arctic down Iceberg Alley, to the coast of Newfoundland. The ever-changing shapes and sizes of the bergs provide an additional element of drama to photo compositions. And considering the exorbitant cost of travel to the high Arctic or Antarctica, photographing icebergs in Newfoundland is a hard-to-pass-up bargain!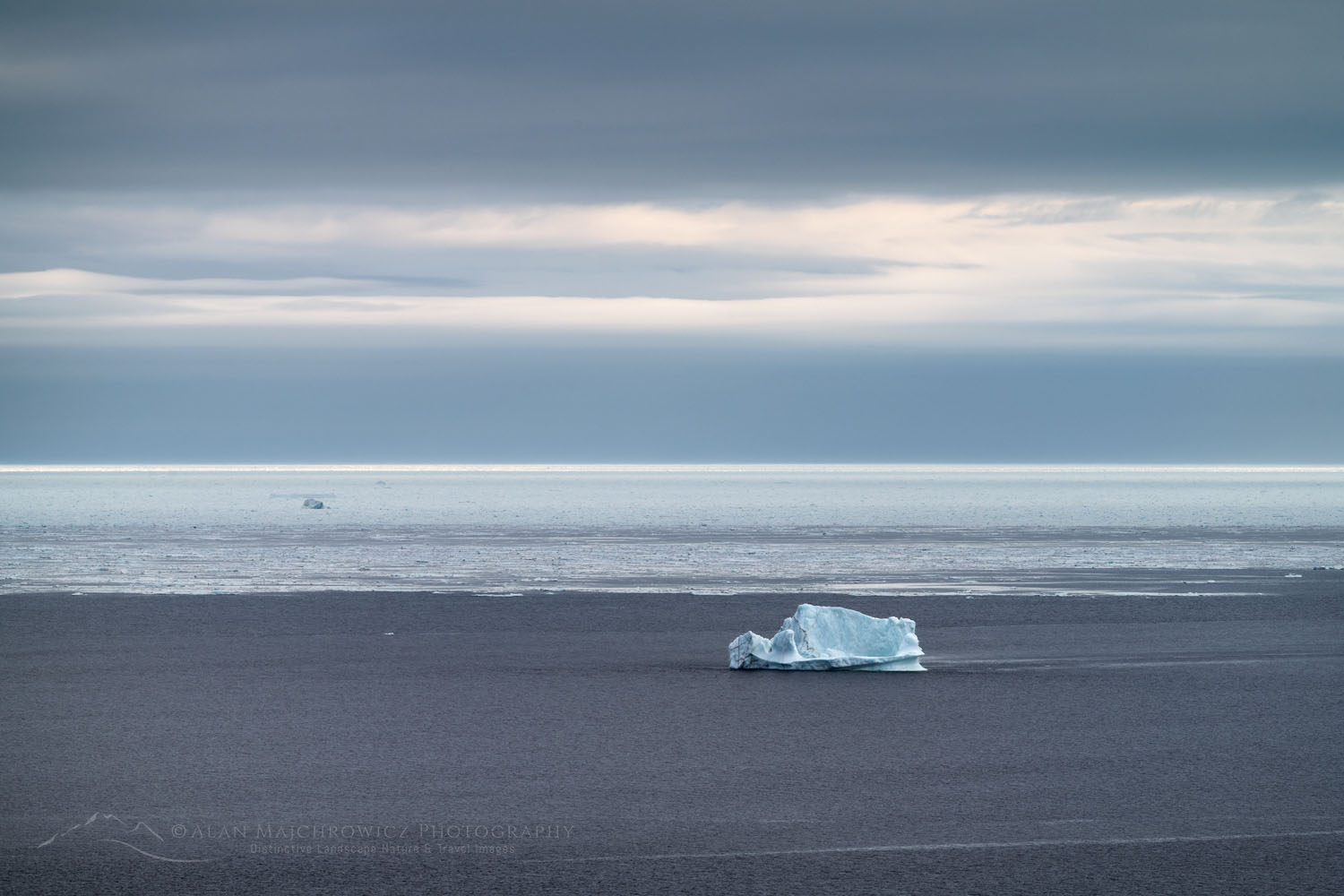 Iceberg and Pack Ice Newfoundland  #79746 Purchase
This spring, I was able to plan my first extended trip to Newfoundland and Labrador. I began by compiling a list of subject matter I wanted to photograph. Topping the list were icebergs, rugged coastlines, seabird colonies, lighthouses, and finally, fishing villages. After countless hours of poring over maps, tourism websites, and extensive Google searches, I came up with a rough itinerary. As always, I built in lots of flexibility to work around bad weather and other unforeseen circumstances.
I had 24 days allotted for photographing in Newfoundland, and the plan was to fly to St. John's and then drive to my main destinations of Bonavista Peninsula, Twillingate, and Fogo Island. If time allows, I would take a ferry to Labrador, then return to photograph L'anse Aux Meadows and surrounding areas. Lastly came several locations on the Avalon Peninsula south of St. John's. In the end, I photographed nearly every location and subject on my list.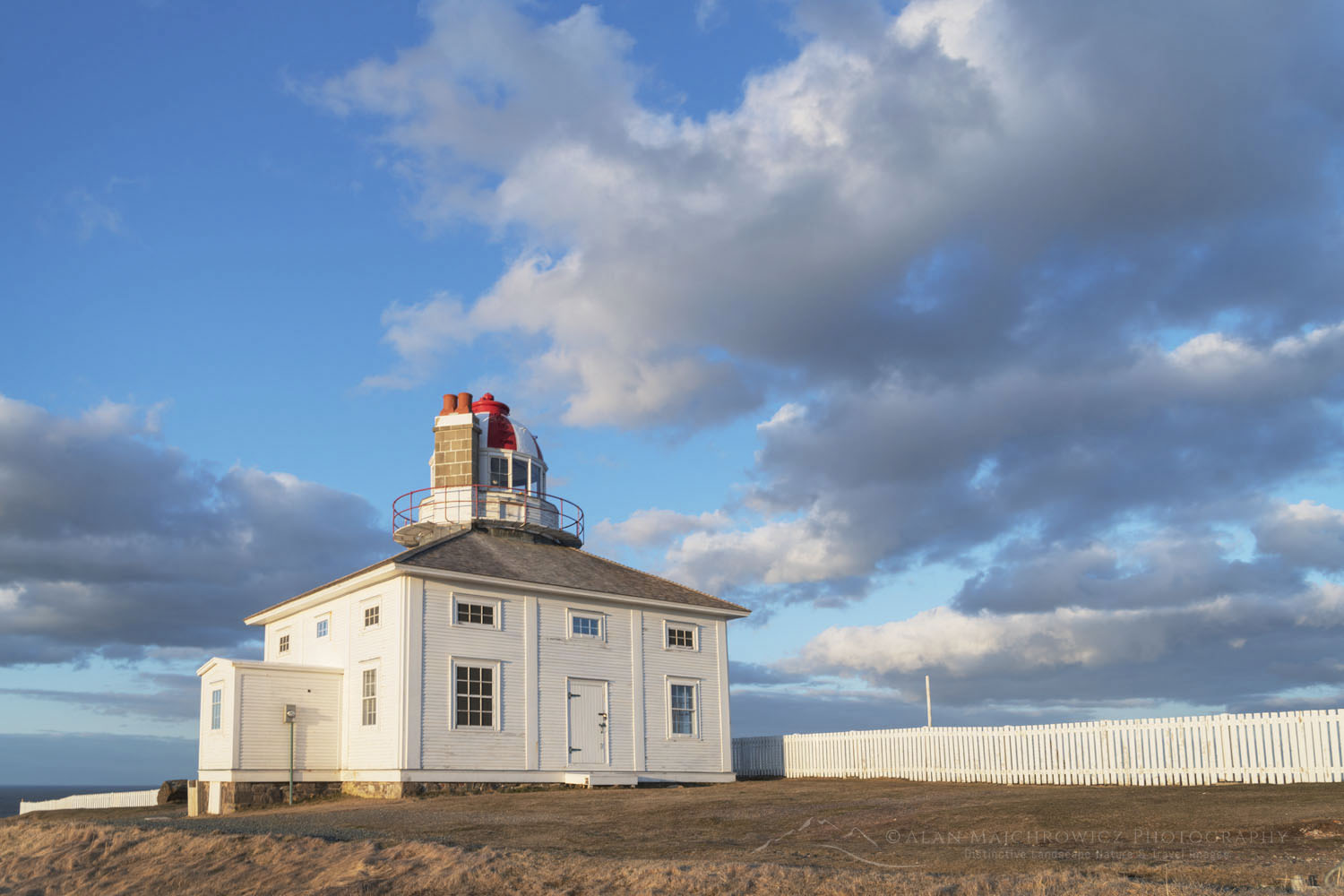 Cape Spear Lighthouse Newfoundland #79534  Purchase
Cape Spear Lighthouse National Historic Site
Since I was flying into St. John's I wanted my first destination to be nearby so I could get my bearings after a long travel day.  Cape Spear Lighthouse National Historic Site was the logical choice, as it was just outside of the city and very photogenic. It turned out to be a great choice and also a harsh introduction to Newfoundland weather.
My home in Bellingham, Washington, and St. John's are nearly the same latitude. But while at home, there was beautiful spring weather, Newfoundland was still gripped in late winter conditions. Temperatures were in the low 40s, vegetation was still winter brown, and the wind was nonstop and piercing cold. I was glad all my winter clothing came with me!
Cape Spear is a headland on the eastern edge of the Avalon Peninsula. It is also the easternmost point of land in Canada and the North American continent, excluding Greenland. It is so far east that you can almost imagine seeing Ireland on the horizon. There is a lot to see at Cape Spear Lighthouse National Historic Site. It sports two picturesque but distinctly different historic lighthouses. The site also has a WWII gun battery and radar station. You can also start for a hike on the East Coast Trail or just sit and watch for whales.
Cape Spear also has a visitor center with guided tours of the lighthouses. However, these amenities, and every other throughout Newfoundland and Labrador, as I was to find out, were still closed for the season.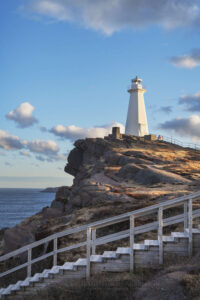 Cape Spear Lighthouse Newfoundland #79521  Purchase
Photographing at Cape Spear
Cape Spear Lighthouse National Historic Site and the immediate surrounding area can be explored in a few hours. The lighthouses, of course, are the main attractions for photographers. But hiking a mile or so north or south from the parking lot on the East Coast Trail is also rewarding with additional photo opportunities.
Essential Tip:  This is a location that is good for both morning/sunrise and evening/sunset light. If the weather is poor and you have time, like I did, it's worth trying to stick around an extra day or two for good light.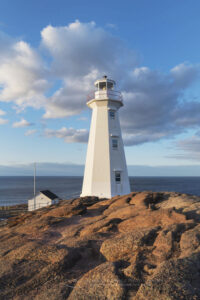 Cape Spear Lighthouse Newfoundland #79526  Purchase
Essential Tip: There are many elements here that you can utilize for excellent compositions. Most notably, the stairs on the trail to and below the lighthouses and the white picket fence along the original upper lighthouse. The bedrock along the bluff, which glows reddish brown in evening and morning light, is also worth including.
Essential Tip: You're nearly guaranteed to have windy conditions here, so make sure to bring a sturdy tripod. And don't forget to bring a warm, windproof jacket or coat. Leave your hat in the car because it'll easily be blown away. In fact, use utmost caution along the top of the bluffs as the winds can easily be strong enough to blow you and or your gear over the cliffs! There are a few compositions here that can tempt photographers to inch dangerously close to the edge.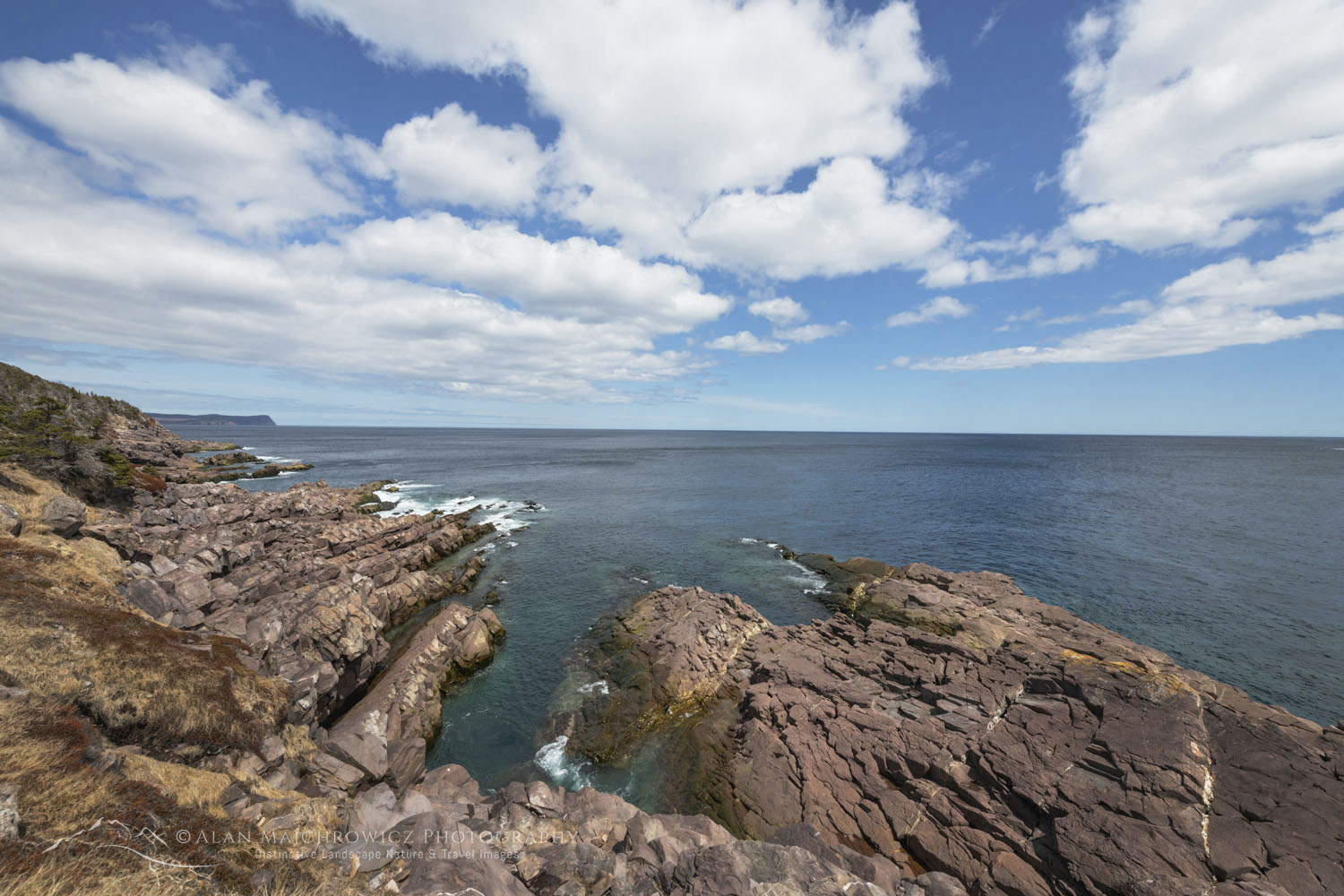 Cape Bay Newfoundland #79492 Purchase
Back down at Cape Bay, it's worth hiking a short way to Cantwells Cove. The slanted rock formations here and the finger-like inlets are great in the right light, especially for sunrise.
Aside from a steady tripod, lenses from ultra-wide to telephoto will come in handy. Seabirds aren't plentiful at Cape Spear, but if whales are present, a long telephoto could be useful.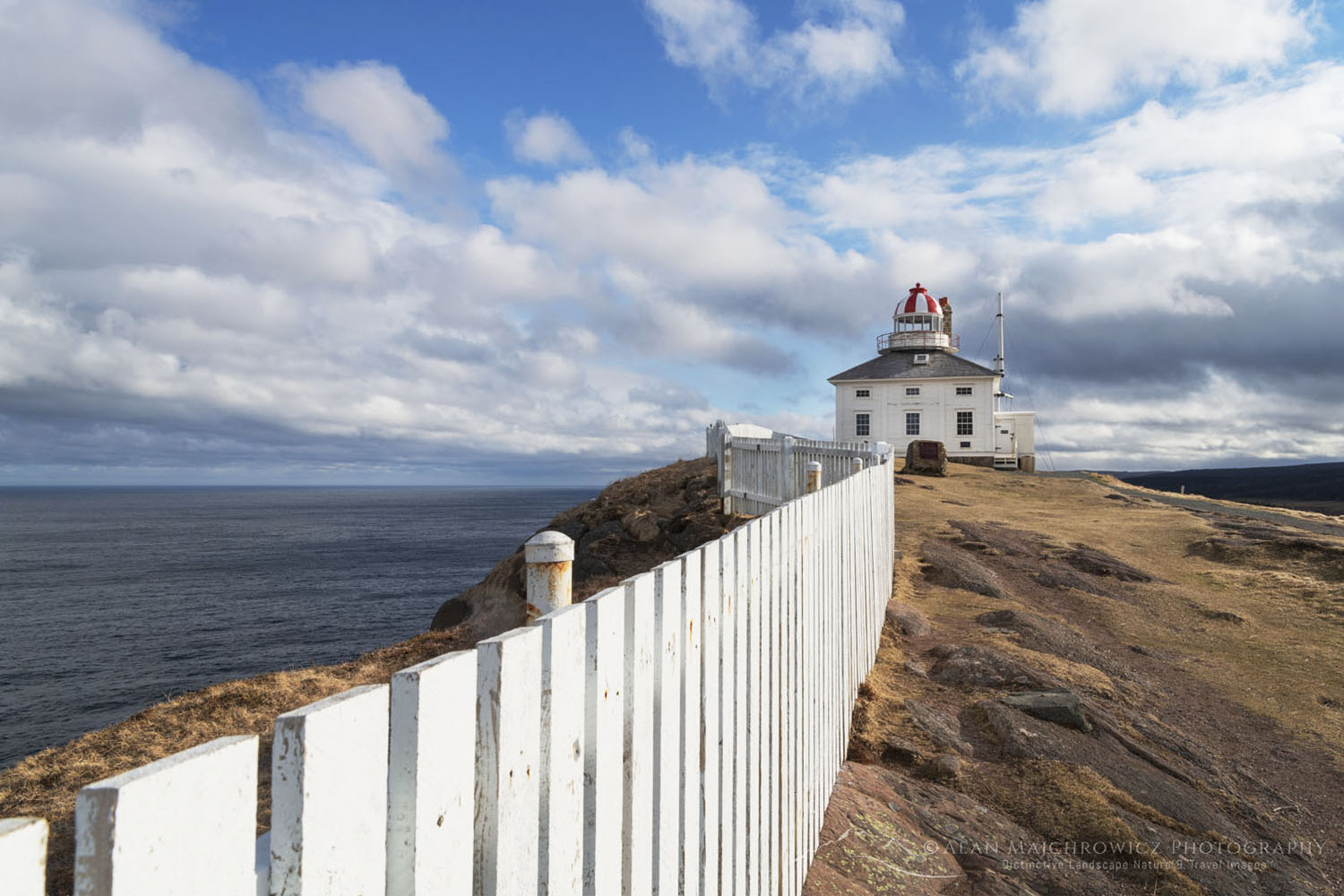 Cape Spear Lighthouse Newfoundland #79461  Purchase
Practicalities for Photographing in Newfoundland
Since this was my first photo tour of Newfoundland and Labrador, I don't profess to be an expert on the location. However, as you might expect, I did come away with some very useful information to pass on.
Weather:  Newfoundland and Labrador weather has a temperate marine climate. Summer temperatures are generally cooler and rarely hot and humid. During my trip in May, the wind, sometimes very strong and sustained, was a nearly constant companion. Temperatures reached into the low 60s on only a few rare days and were mostly in the 40s to low 50s. One morning in Twillingate I even woke up to an inch of snow!
Warm wind and rainproof clothing are essential. Boggy, marshy terrain is present nearly everywhere in the province, so good waterproof footwear is also a must.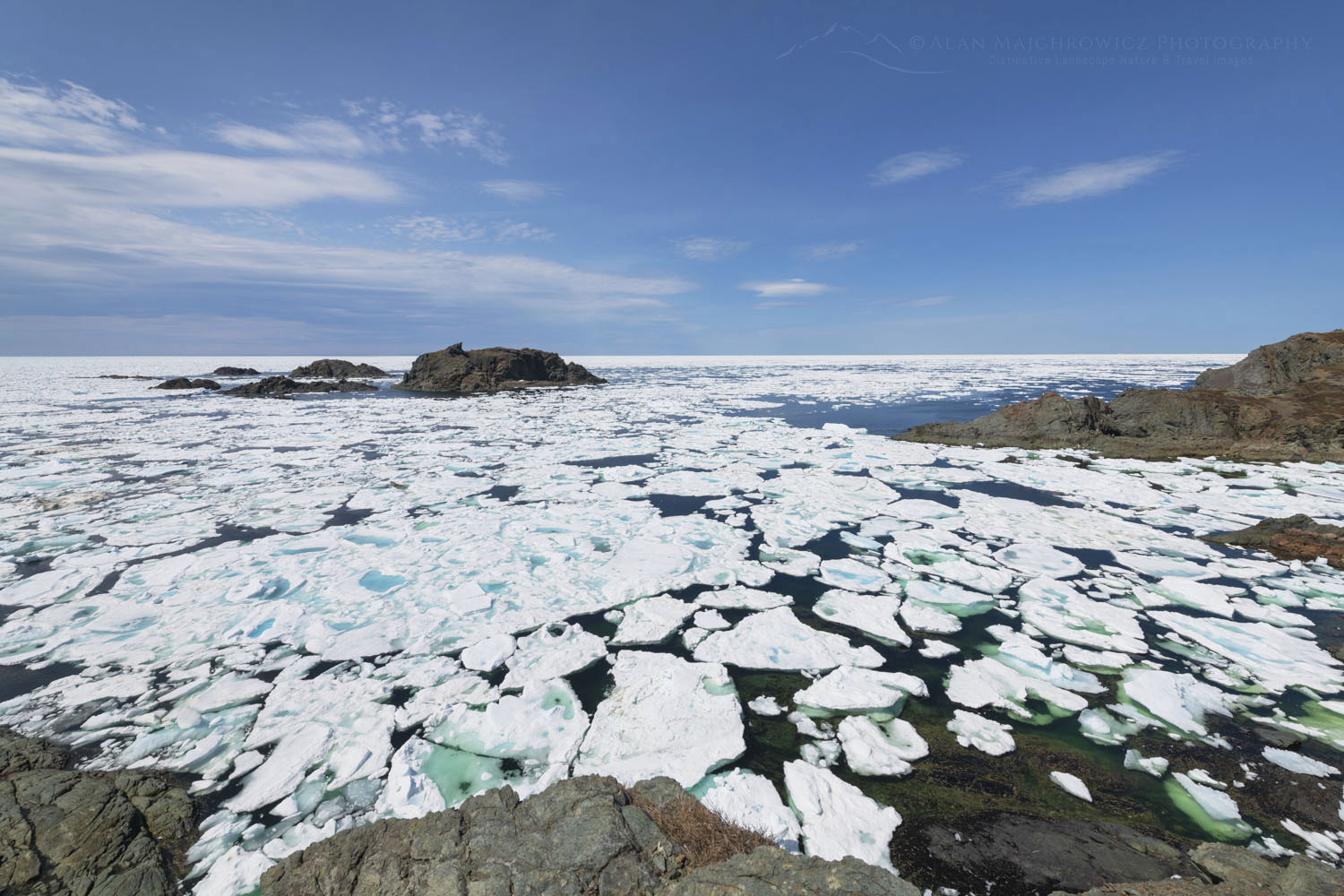 Pack Ice Twillingate Island Newfoundland #79988  Purchase
Icebergs: Research advised me that May through June was the best time for viewing icebergs. That appears to be true, but I could add a bit to that. In addition to icebergs, there was quite a lot of pack ice present in some locations, which added another dramatic element to my images. Pack ice is most likely an early-season phenomenon and not present during summer. It also moves around quite a bit, especially when the wind changes direction. One day a cove can be choked with ice, and the next day it can be completely free of it.
Coastal areas of central Newfoundland, such as Twillingate, appear to receive the lion's share of icebergs. There are many iceberg boat tour companies in the area, and I highly advise booking a tour on one. You'll safely get much closer to bergs this way, and it's fascinating to see one up close.
Iceberg Finder is an excellent source to keep track of where iceberg are located before, during, and after a Newfoundland visit.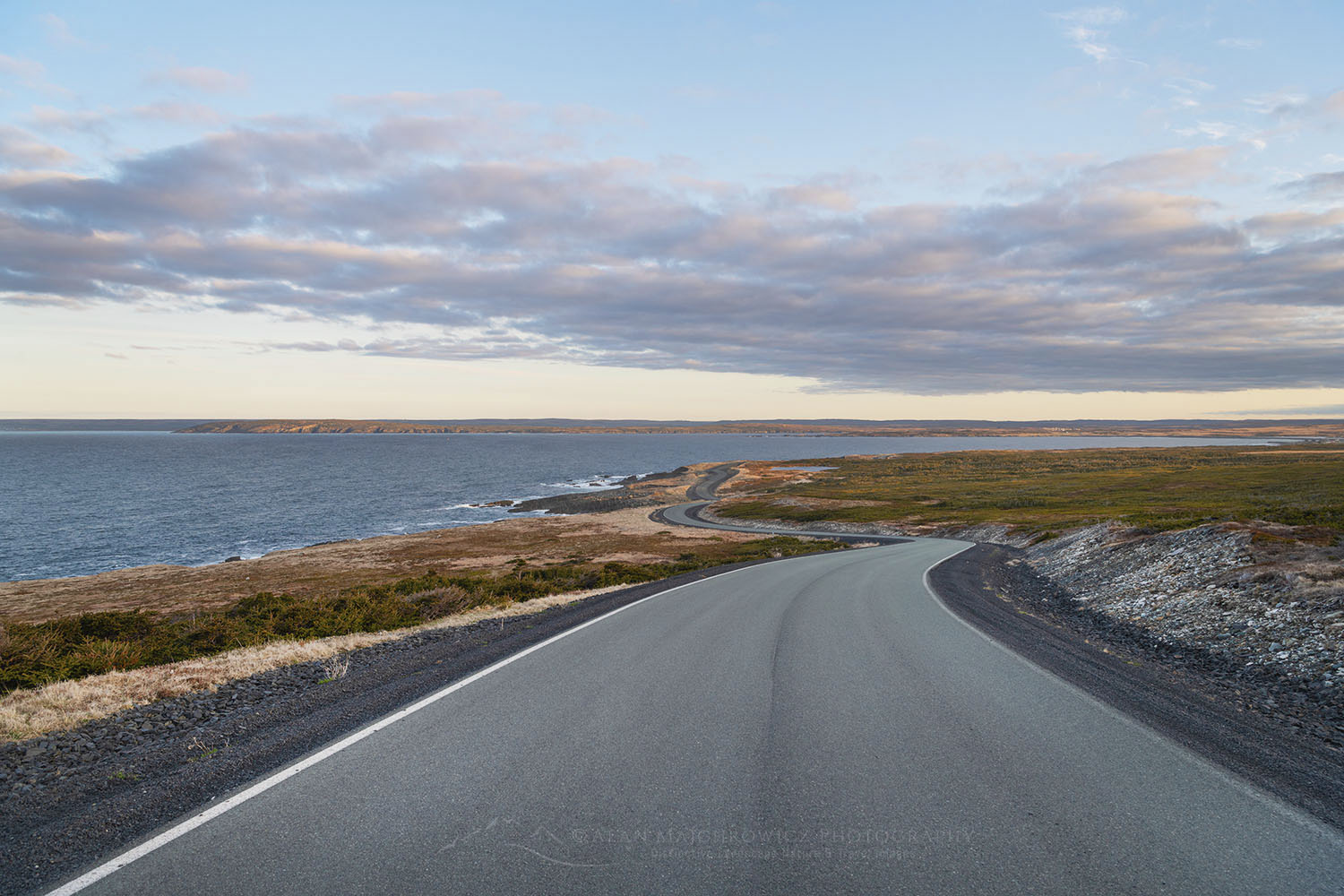 Cape Race Road Newfoundland #80608 Purchase
Traveling while Photographing in Newfoundland
Seasonal Closures: After the weather, seasonal closures were my next introduction to Newfoundland. The official summer/tourist season doesn't begin here until June 1.
Nearly every provincial park, historic site, visitor's center, campground, restroom, gift shop, etc., is shut tight until then. Of course, there are exceptions, but they are far and few between. On the other hand, all of this pretty much guarantees that you'll escape the summer crowds and have most places all to yourself!
Lodging: Since I nearly always car camp on my photo tours, I can't say much about lodging. However, there are only a few large towns/cities in the province, so you'll most likely be looking for lodging in very small towns with limited accommodations. Book very early!
Camping: I didn't find many campgrounds anywhere, aside from provincial and national parks, which were closed. However, free camping is available just about anywhere that isn't private property. This mainly consists of gravel roads on Crown Land and trailheads.
Rest Areas: There are none! I have to include this since it was such a shock to me. Even driving from St. John's on the Trans-Canada Highway to the other end of the province there was not one rest area or port-a-potty. Secondary and backroads? Forget about it! Keep that in mind when starting out in the morning after drinking a big mug of coffee, or that breakfast burrito!
To see more images check out these galleries:
Newfoundland and Labrador 1
Newfoundland and Labrador 2
Also, check out the next post in this series:
Photographing Bonavista Peninsula Newfoundland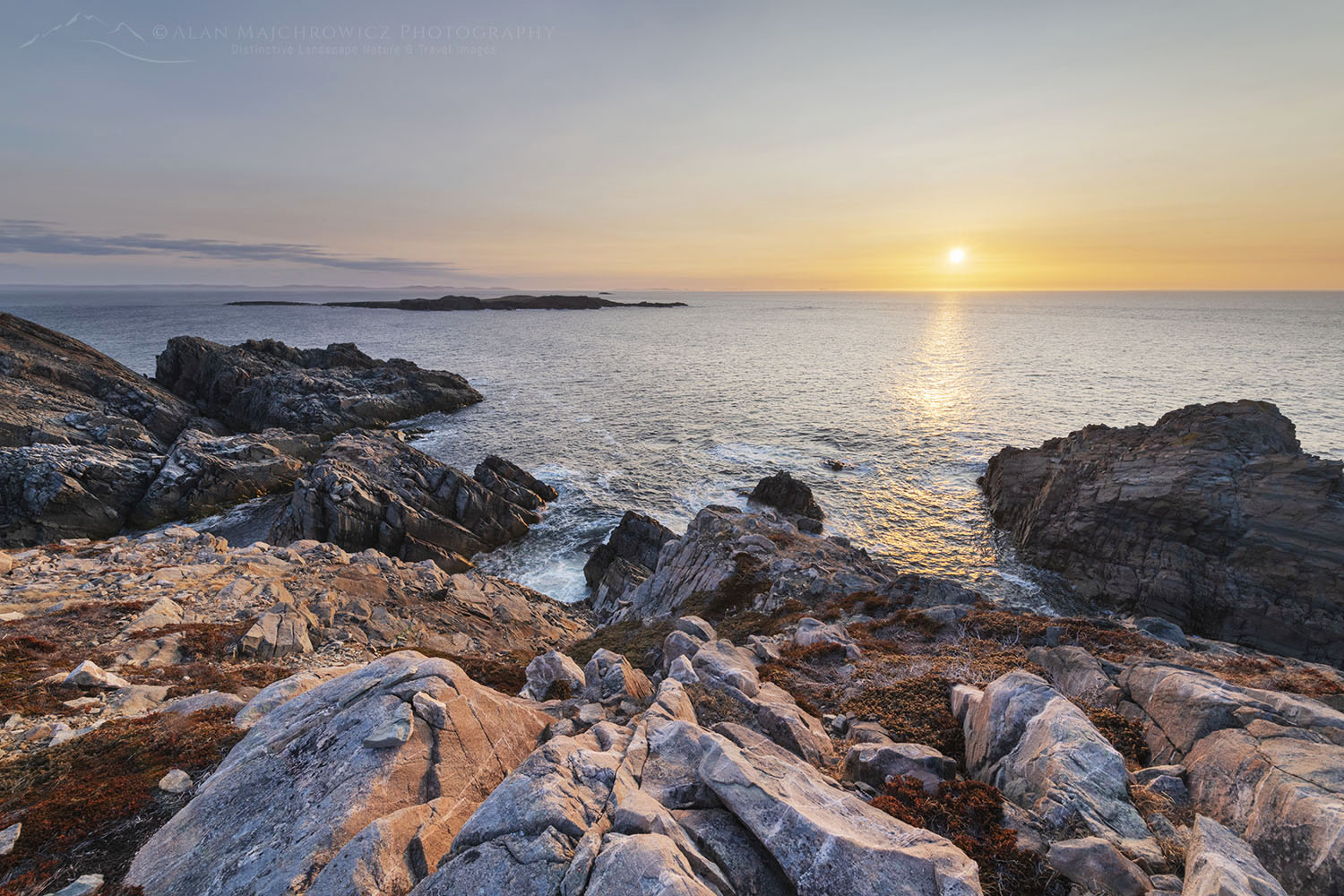 Cape Bonavista Sunset Newfoundland #79565 Purchase
All photos appearing in Photographing in Newfoundland and Labrador/ Cape Spear are available for Commercial Licensing and Fine Art Prints. Click on any image to purchase, or contact me for more info!
Photographing in Newfoundland