Bisti Badlands New Mexico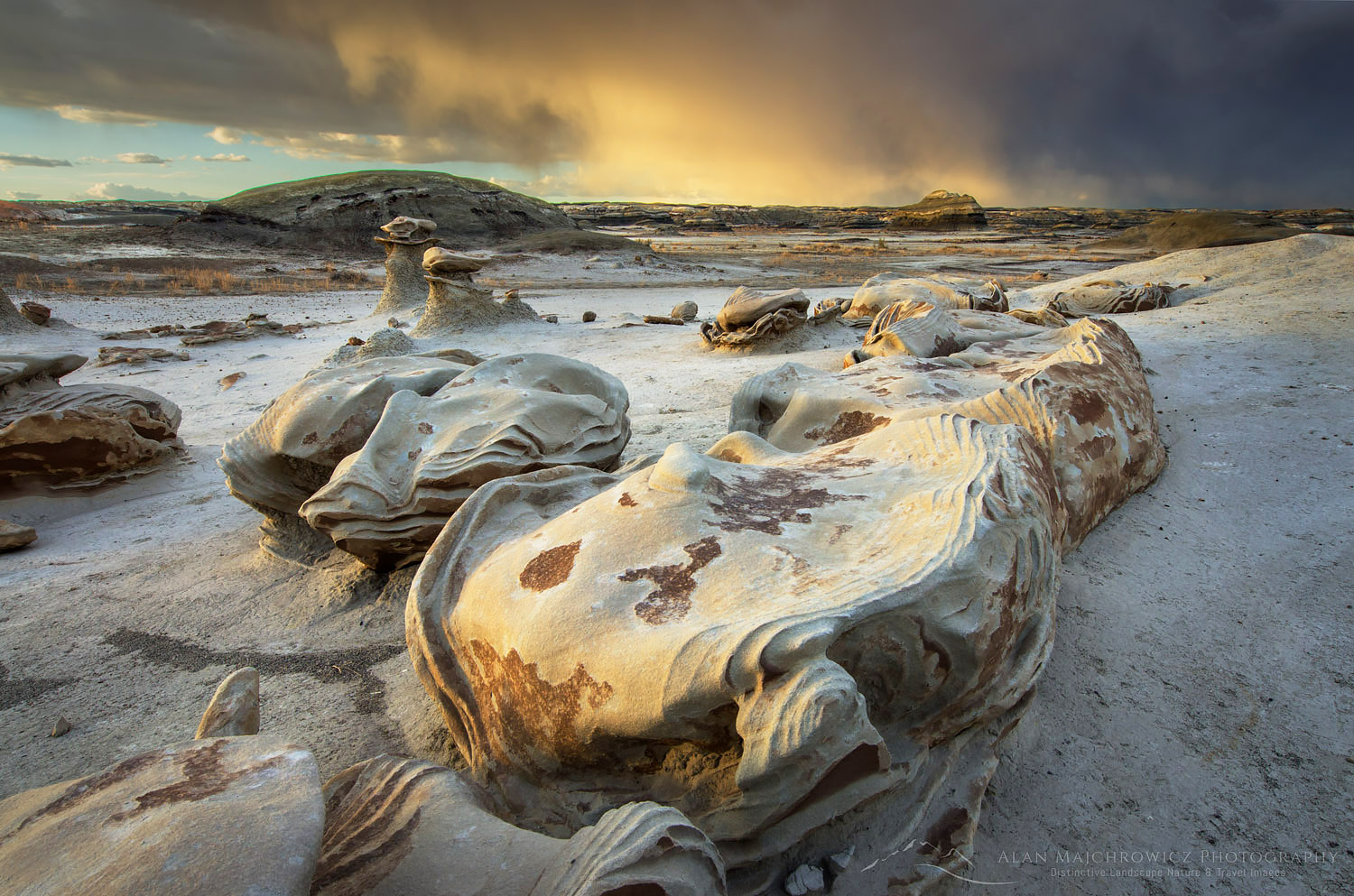 The Egg Factory, Bisti Badlands New Mexico  #57385  Purchase
Bisti Badlands New Mexico is one of those places that has an otherworldly beauty and mystique to it. Situated in the Four Corners area of Northwestern New Mexico, the Bisti/De-Na-Zin Wilderness is a land of layered sandstone, silt, shale, mudstone, and coal. Years of erosion by water and wind  have turned these layers into strange and whimsical rock formations, hoodoos, wings, fins, and mushroom shaped spires, seemingly straight out of a fantasy or science fiction story.
Desert Beauty
Always on the search for new locations offering dramatic landscapes, and being a big fan of geologic oddities, I was drawn to Bisti's beauty many years ago after seeing some photos of it in a magazine. However, it wasn't until this spring that I had my first opportunity to visit and photograph this wonderful wilderness. I had put off visiting this and other sites in New Mexico to photograph other more famous Southwest icons, such as Zion, Arches, Joshua Tree, and the beautiful Sonoran Desert, to name a few. So it was with great excitement that on this trip I was finally going to see one of the greatest concentrations of badlands in the Southwest.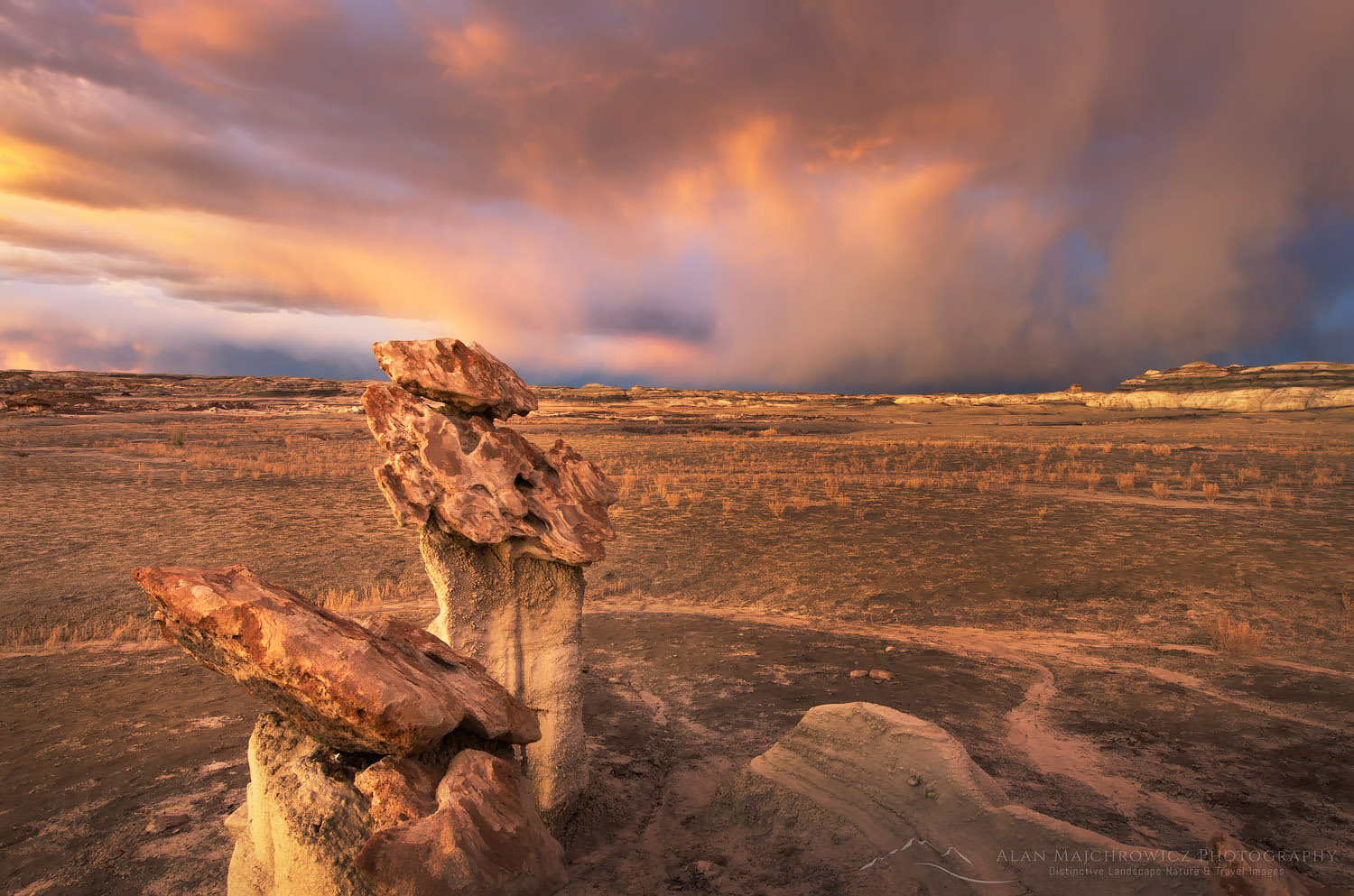 Evening storm over Bisti Badlands #57421  Purchase
Bisti Badlands doesn't flaunt it's beauty like many of the well known and sought after locations in the SW. It's one of those places where you'll drive for miles on empty roads in a seemingly desolate landscape. Only to arrive and wonder what the big deal is and where is all the scenery? It's true that the Bisti Wilderness is in an arid, dusty, nearly flat and featureless high plain. Arriving at the main parking area you are greeted by not much more than a wide dry wash framed by a few interesting hillsides. But there is much more to see.
Like many hidden wilderness gems you have to get out and do some legwork. It's easy to spend the day exploring hidden canyons buttes and washes. This is where doing your homework and researching literature maps and photos comes into play. There are several key areas of interest to discover. However, without some clues as to where they are you can spend many hours wandering about. These days many people rely on GPS technology to guide them quickly to the best spots. However, I feel this really takes away from that satisfying experience of discovering something on your own.
Desert Light
Another way in which Bisti Badlands keeps it secrets is the light. You can wander about for days checking out all the best the Bisti has to see. Although if all your time is spent during the middle of the day, you'll miss out on the real magic. I was incredibly fortunate on my first trip to encounter some truly spectacular lighting conditions which made the badlands come alive with just about every adjective in the book. On my second day the weather was very cold and windy, with a solid grey sky that made even the most interesting hoodoos look dull and lifeless. Like a good photographer, I stuck it out and spent the time exploring and lining up compositions for when and if conditions were more favorable.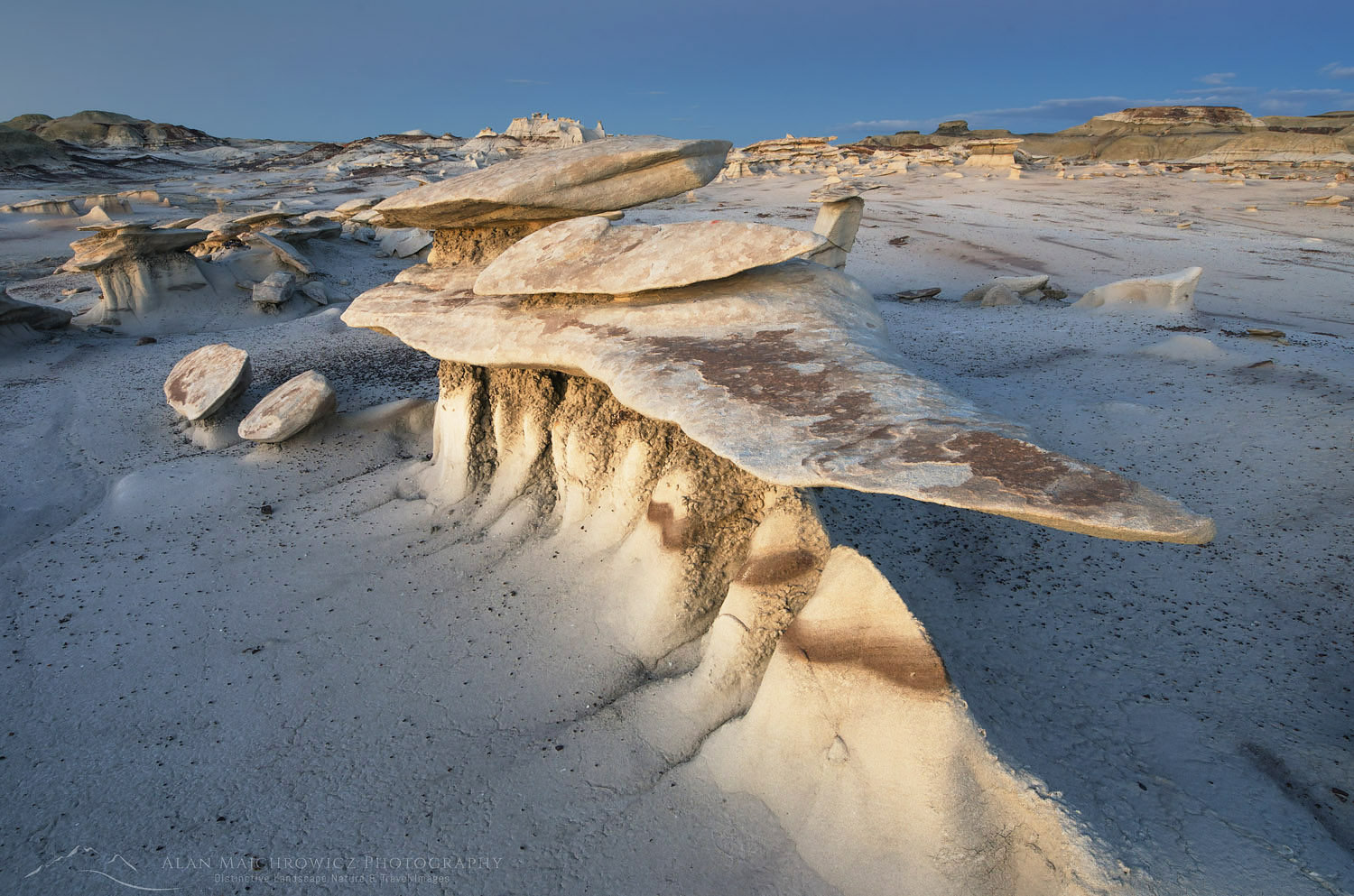 Sandstone Wing, Bisti Badlands #57500  Purchase
To my surprise, the clouds began to break up in the west about an hour before sunset. The time many photographers refer to as the "magic hour".  In the eastern sky was the remnants of a passing storm. Sheets of rain and snow flurries stood out against a dark grey background. As the setting sun broke through the clouds the eastern sky lit up like on fire. Truly an experience that I will always remember. Of course in the midst of all this drama I was working in high gear to find and compose as many photographs as I could reach before it all ended. The next evening was more tame. Waiting around until dusk brought some interesting light on the badlands as alpenglow softly illuminated the formations.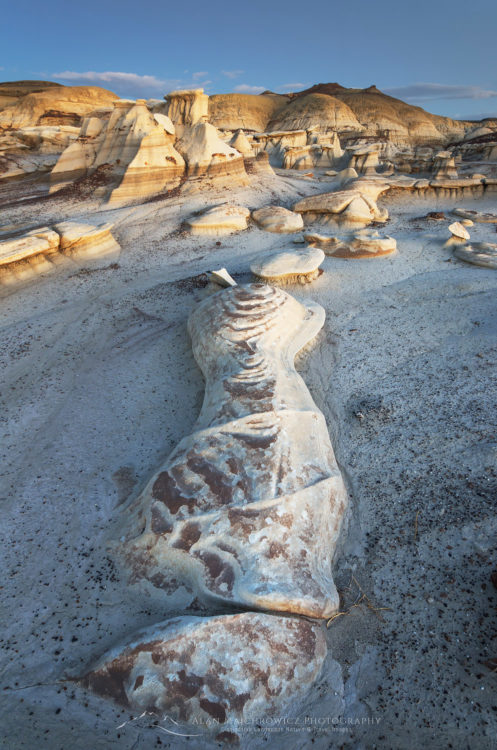 Bisti Badlands #57505  Purchase