North Cascades Washington
As I've mentioned in many posts, North Cascades Washington is one of my favorite places to get out and enjoy a rugged wilderness setting, and since I live in Bellingham Washington it is also practically in my backyard. Over the past several weeks I've made a few leisurely hikes and backpacks to some of my regular spots. Below are some photos from these trips that help illustrate the wild and rugged nature of this magnificent range. Enjoy!
Nooksack Tower is, in my opinion, one of the coolest and most dramatic looking peaks in the North Cascades. Topping out at a modest 8268′ / 2520m it is an outlier of the Mount Shuksan massif. Nooksack Tower has also been famously  labeled by legendary climber Fred Beckey as one of the most difficult climb in the North Cascades, equaled possibly only by nearby Slesse Mountain (the "Fang") in British Columbia. In this view from above Hannegan Pass a layer of fresh spring snow adds to the formidable appearance of the tower.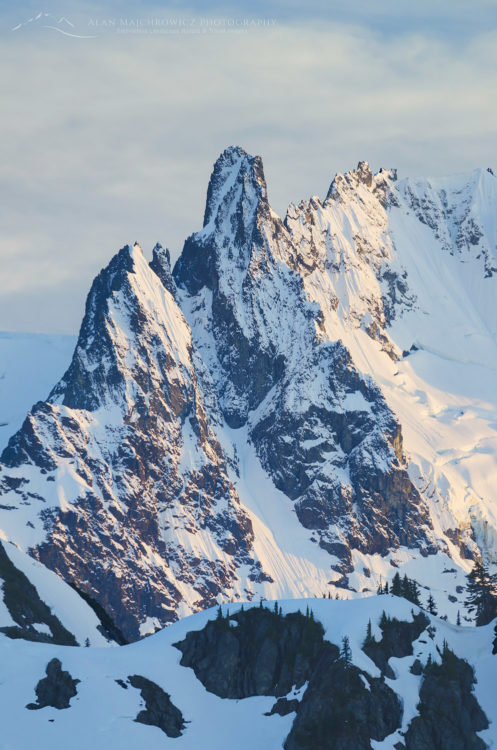 Nooksack Tower #58069  Purchase
Ruth Creek Valley and Nooksack Ridge
Also one of my favorite areas in the North Cascades, Ruth Creek Valley via the Hannegan Pass Trail has some of the greatest views of any low to mid elevation trail in the Northwest. Most other trails at this elevation are deep in dense old growth forest. However, the slopes in this valley are regularly swept clean by avalanches fueled by massive winter snows. This heavily traveled route is also one of the few trails that provide access to the heart of North Cascades National Park. Aside from the great views, Ruth Creek Valley is also notorious for plagues of black flies that swarm around hikers in the heat of summer, be prepared with lots of Deet if you hike here in July or August!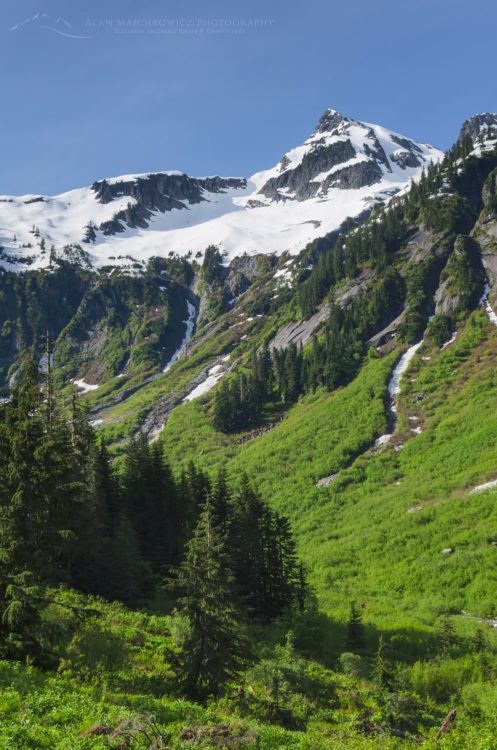 Ruth Creek Valley, North Cascades #58068  Purchase
Backcountry Camping in the Mount Baker Wilderness. This photo is from on the same trip as the two photos above. While it has the looks of a winter setting the amount of snow seen here is typical for late spring in the North Cascades. Most of the higher elevations are not snow free until mid-July, with wildflowers blooming in sub-alpine meadows soon after that. In the distance you can see Nooksack Tower and its relation to the rest of Mount Shuksan.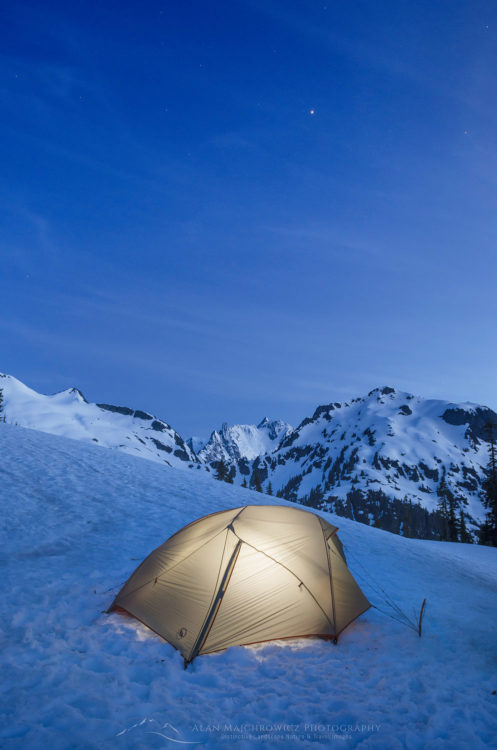 North Cascades Backcountry Camp#58078  Purchase
North Cascades waterfall. This is a typical view just about anywhere in the lower elevations in spring. Lots of snow melt streams and creeks rushing down the slopes into lush green forests. This nameless, as far as I know, waterfall is midway up the trail to Excelsior Peak.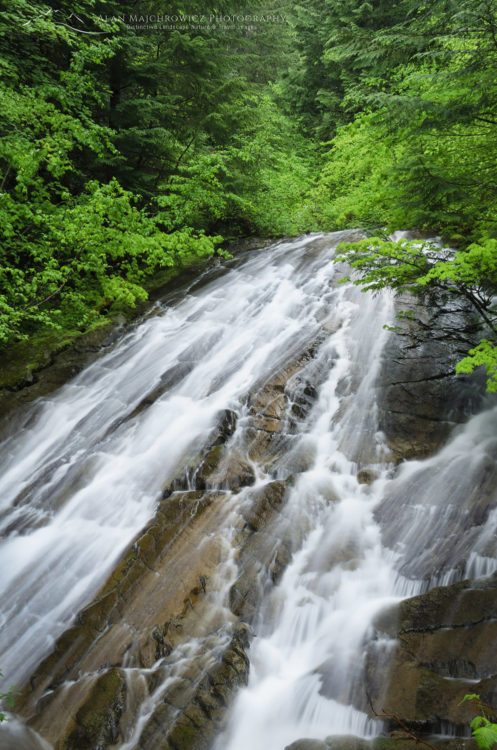 North Cascades Waterfall #58066  Purchase
Fine Art Prints & Commercial Licensing are available by clicking on the image!
North Cascades Washington