Photographing Heather Meadows Winter Landscapes
Mount Shuksan From Austin Pass #64716  Purchase
Heather Meadows Recreation Area is located adjacent to the Mount Baker Wilderness in the North Cascades. Magnificent scenery and numerous hiking trails are the highlights of this special place. In summer visitors can drive to Artist Point on Kulshan Ridge for incredible views of Mount Baker in one direction, and Mount Shuksan in the other. Further down is one of the most iconic mountain scenes in the world, Mount Shuksan reflected in Picture Lake.
In winter Heather Meadows is just as popular a place to visit. The adjacent Mount Baker Ski Area is open, and throngs of backcountry skiers and snowboarders search for untouched powder. January usually provides some breaks in the winter storms, so it's a good time to make the trip up.
I've been visiting Heather Meadows in winter for over twenty years. Mostly for photography but also for the pure exhilaration of the views and crisp cold air. Even though I've skied up to Artist Point on Kulshan ridge numerous times I always find something new to photograph. Different lighting conditions and reshaping snow pack will always dress up the scene in a new way. All the photos in this post were made a few weeks ago on a crisp day in late January.
Mount Shuksan and snowdrift Kulshan Ridge #64337  Purchase
Up near the ridge you can find wonderful shapes and patterns in the ever changing snowdrifts. If you are lucky enough to visit just after a heavy storm you'll also see old growth mountain hemlock trees encased in snow and ice. Also, if you are extraordinarily lucky you may get a glimpse of a steam plume from Mount Baker's volcanic crater glowing in the evening light!
Swift Creek Valley from Kulshan Ridge #64728  Purchase
Winter Travel Gear Tips
If you go there are a few things to keep in mind. Snowshoes, backcountry skis, or split-board snowboards are the most efficient means of getting around. Skinny cross country skis, or booting it in for even a short distance from the parking lot is exhausting in the deep snow, you'll be drenched in sweat within minutes. Artist Point is less than two miles and 900′ elevation gain from the parking lot. However, with all your extra winter travel gear that distance can seem much longer.
Don't even think of going  during poor weather! Whiteout conditions, heavy wet snow, and increased avalanche danger does not make for an enjoyable outing. It seems every year there a couple of fatalities directly attributed to those types of conditions. The main route up to Artist Point and Kulshan Ridge is usually safe from avalanches. However, under certain conditions a few areas can  be dangerous.
I won't get into too much detail regarding essentials, but make sure you take the following:
Extra warm clothes, it can be windy and much colder on the ridge.
Plenty of liquids to stay hydrated
High energy snacks
Insulated pad to sit on
Avalanche beacon, probe, shovel, and knowledge of how to use them.
Knowledge of current weather and avalanche forecasts
A partner, especially important if you're new to the area in winter, or venture beyond Artist Point
Common Sense!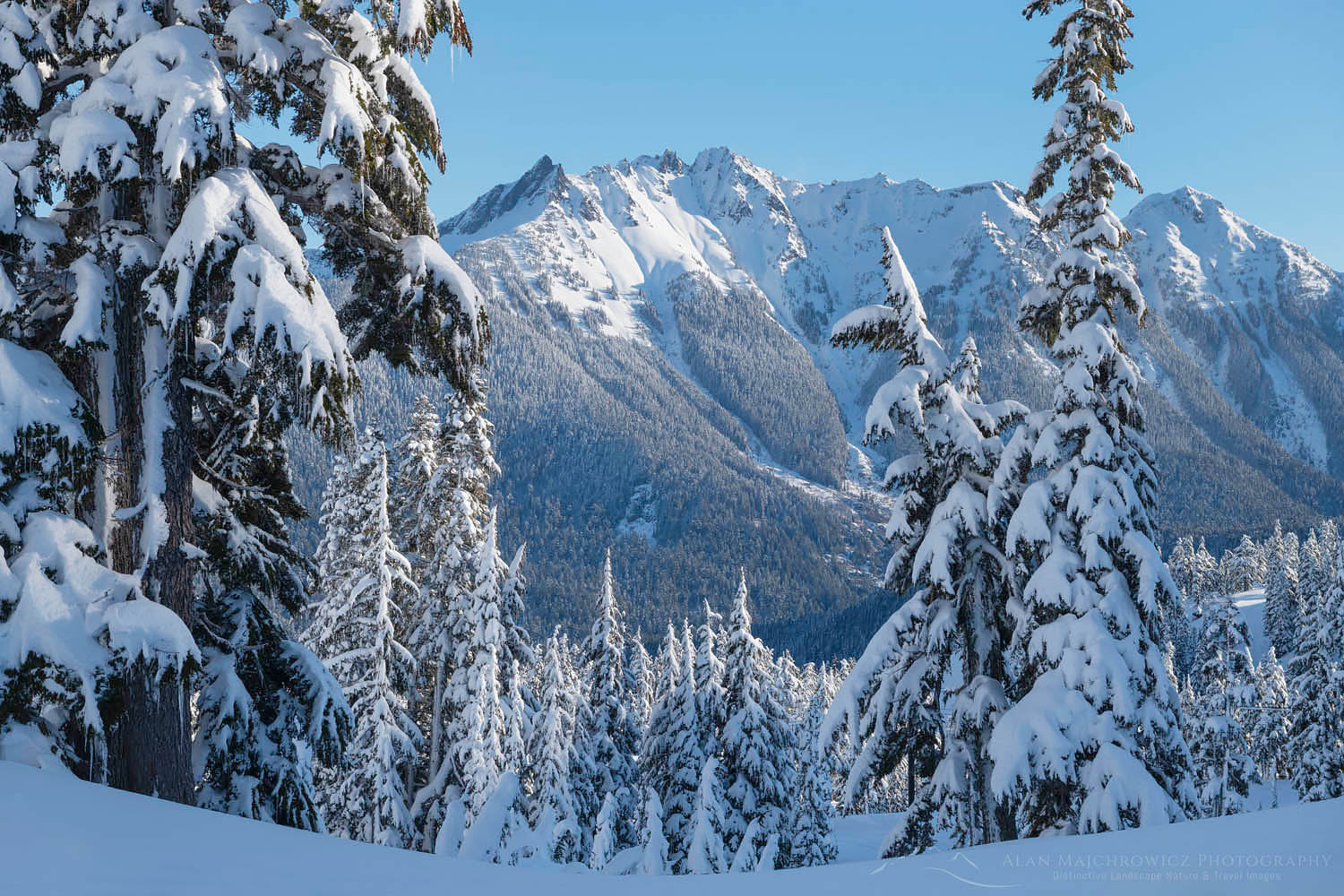 Nooksack Ridge from Heather Meadows #64748  Purchase
Photo Gear and Tips
Just like photographing wildflowers in spring or colorful fall foliage, winter photography is all about timing. Maybe even more so. I'm always on the lookout for good conditions. Such as after a good storm covers the trees and peaks in a fresh blanket of snow. Of course it must not be too warm or the snow will quickly melt off the trees and leave them black silhouettes against the white snow.
Photographing from Artist Point, Mount Baker is best photographed in the early morning. Mount Shuksan is best photographed in late afternoon to evening. For Shuksan late winter or early spring is preferred, since the angle of the sun won't be as low. You'll get more light on the glaciers then.
For lower down in Heather Meadows morning light can be optimal. Some of the best conditions I've seen here are when low clouds or fog are just beginning to lift.
Backcountry skier and tracks North Cascades #64732  Purchase
If you are envisioning untouched pristine snow in your photos you'll have to get there very early, and immediately after a good snowfall. Backcountry skiing and riding has exploded over the years. Therefore, even the most remote and steepest backcountry terrain is tracked out by midmorning. It's now nearly impossible to make a photo anywhere in the Heather Meadows area without numerous tracks everywhere.
Before digital I often trekked the meadows and up to the ridge with a 4×5 large format camera, and all its the weighty accessories. Several times I even did it with a full overnight winter pack! Digital has simplified and lightened the load somewhat. Here are a few basic items I always bring along.
Tripod
Polarizing filter
Some form of remote release
Plenty of microfiber lens cleaning clothes, you will drop things in the snow!
Extra batteries
Want to Learn More?
Would you like to learn more about winter photography? I offer full day, half day, and multi-day photo tours and instruction. Check out my Private Instruction/Tours page for more info, or contact me directly. I would love to help you take your photography to the next level and shoot like a pro!
Canadian Border peak and Larrabee Peak #64754  Purchase