Hannegan Peak Ruth Mountain Mt Baker Wilderness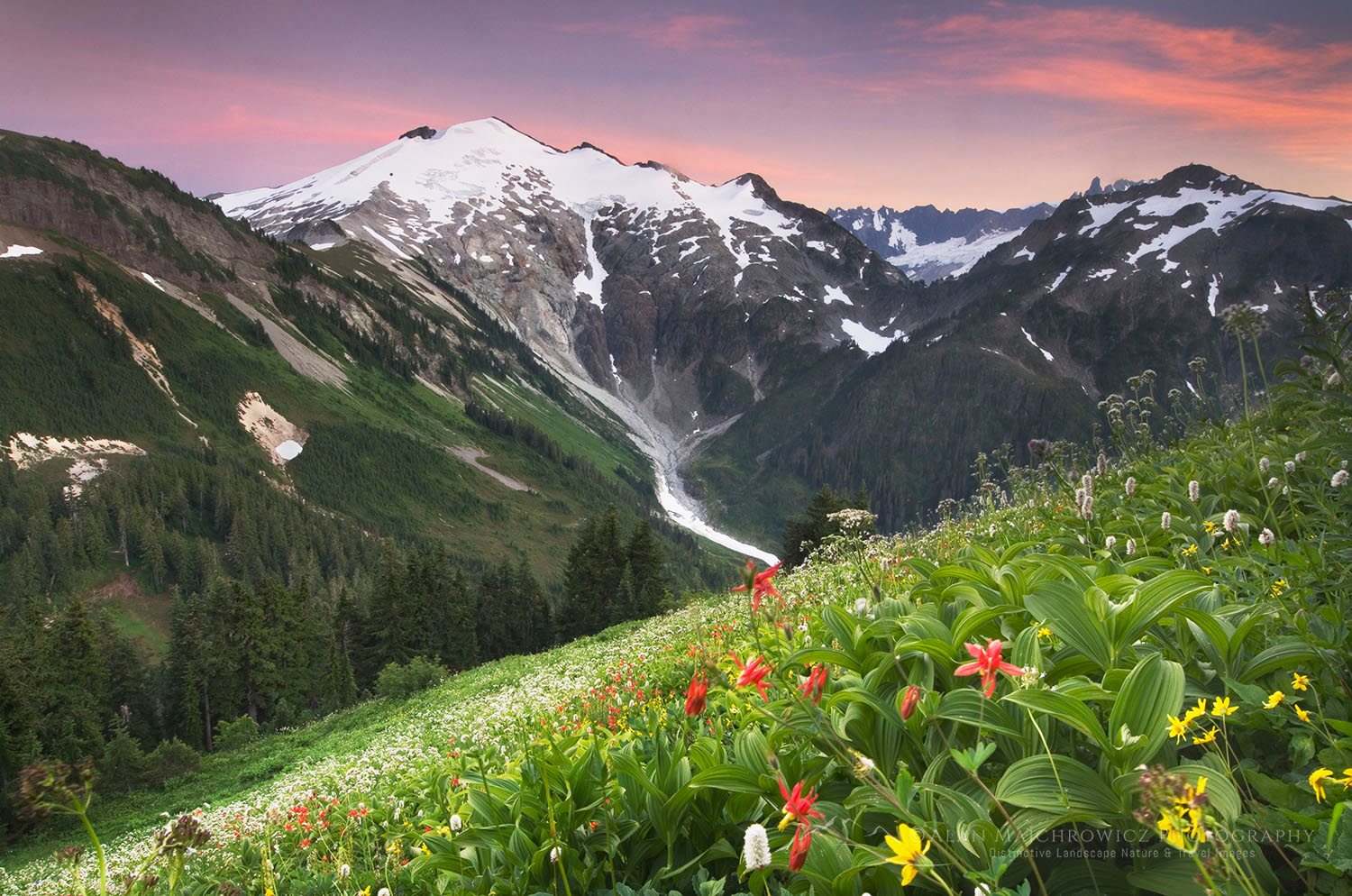 Ruth Mountain seen from Hannegan Peak #54364  Purchase
The North Cascades is a mountain range with some of the most rugged and dramatic scenery in the lower 48 states. In its northwest corner is the Mount Baker Wilderness. And within this wilderness are two destinations that represent the best of the North Cascades, Hannegan Peak, and Ruth Mountain. Both routes pass among old-growth forests, wildflower meadows, and rushing streams and waterfalls. Both peaks have tremendous open views of rugged mountains and glaciers. And while Hannegan Peak is a moderate hike, Ruth Mountain is more difficult, adding some mountaineering adventure to the mix.
Both destinations utilize the scenic Hannegan Pass trail for access, the starting point for many wilderness adventures. Among them include ascending Hannegan Peak, Ruth Mountain, or continuing on into North Cascades National Park. The latter option leads into some of the wildest parts in the North Cascades. In this post we'll explore the first two options.
Essential Tip: In summer the Hannegan Pass Trail can be one of the buggiest in all of the North Cascades. I've been on this trail several times when the black flies are so thick it's like something out of an Arctic horror story. While other times there were very few flies. It's usually best to start out very early in the morning to beat the heat and flies.
Essential Tip: The area around Hannegan Pass has a long history of encounters with black bears. Hang your food or better yet use bear-proof canisters.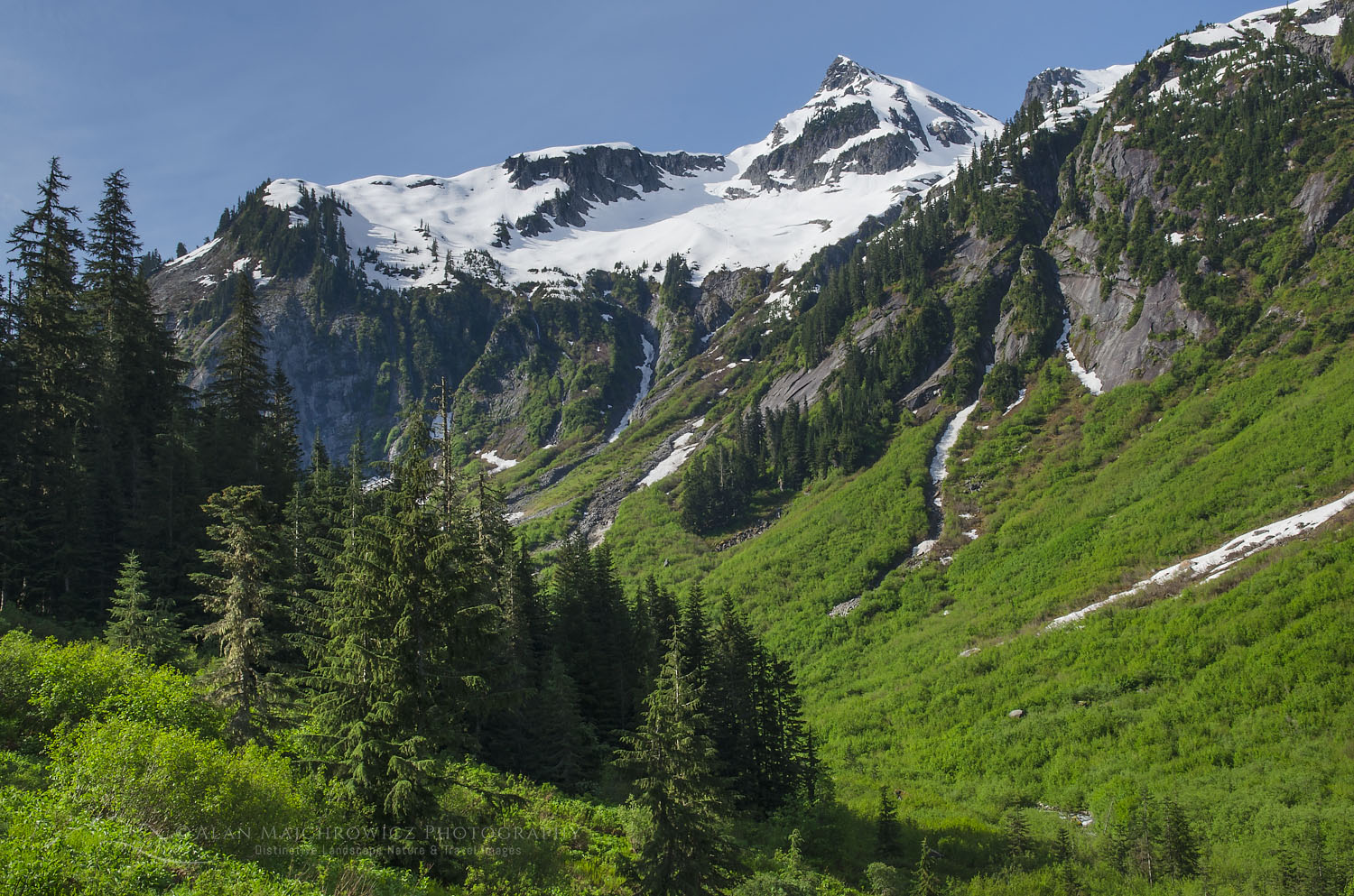 Ruth Creek Valley from Hannegan Pass Trail #58067  Purchase
Hiking the Hannegan Pass Trail
Access to the trailhead is via Hannegan Pass Road, Forest Service Road 32. Towards the end of the road you get a real sense that the Ruth Creek Valley is something special. In the last mile the road passes avalanche gullies with glimpses up to rugged Nooksack Ridge. Early in the season the road here is often blocked with piles of snow and huge trees brought down avalanches. Check with the Forest Service in advance for road conditions.
The large trailhead parking area is usually filled with cars and is often a bustle of activity. Even before daybreak there are often parties sorting through gear for the long climb up to Ruth Mountain and other destinations. You'll also see groups with large packs giddy with excitement ready to start long trips into the National Park.
Backpackers on Hannegan Pass Trail #61790  Purchase
It's a little less than a five-mile hike to Hannegan Pass on a well-maintained trail. Along the way, there are plenty of opportunities to pause and take in the scenery. Most notably is a spot about two miles in which traverses through an open rocky area with cascading streams. This is where the snowy bulk of Ruth Mountain first comes into view. Somehow the view up and down the wild valley has a primordial feel to it. Unless you are in a hurry, and you definitely shouldn't be, this is a prime spot to take a short rest.
The last mile or so the trail re-enters the forest and begins climbing to the Hannegan Pass. About a half-mile below the pass is a small camp area among streams and small meadows. The trail then switchbacks up through a few open meadows thick with wildflowers. The pass itself can be a bit of a let down though since it has a limited view. However, this is where the real adventure begins!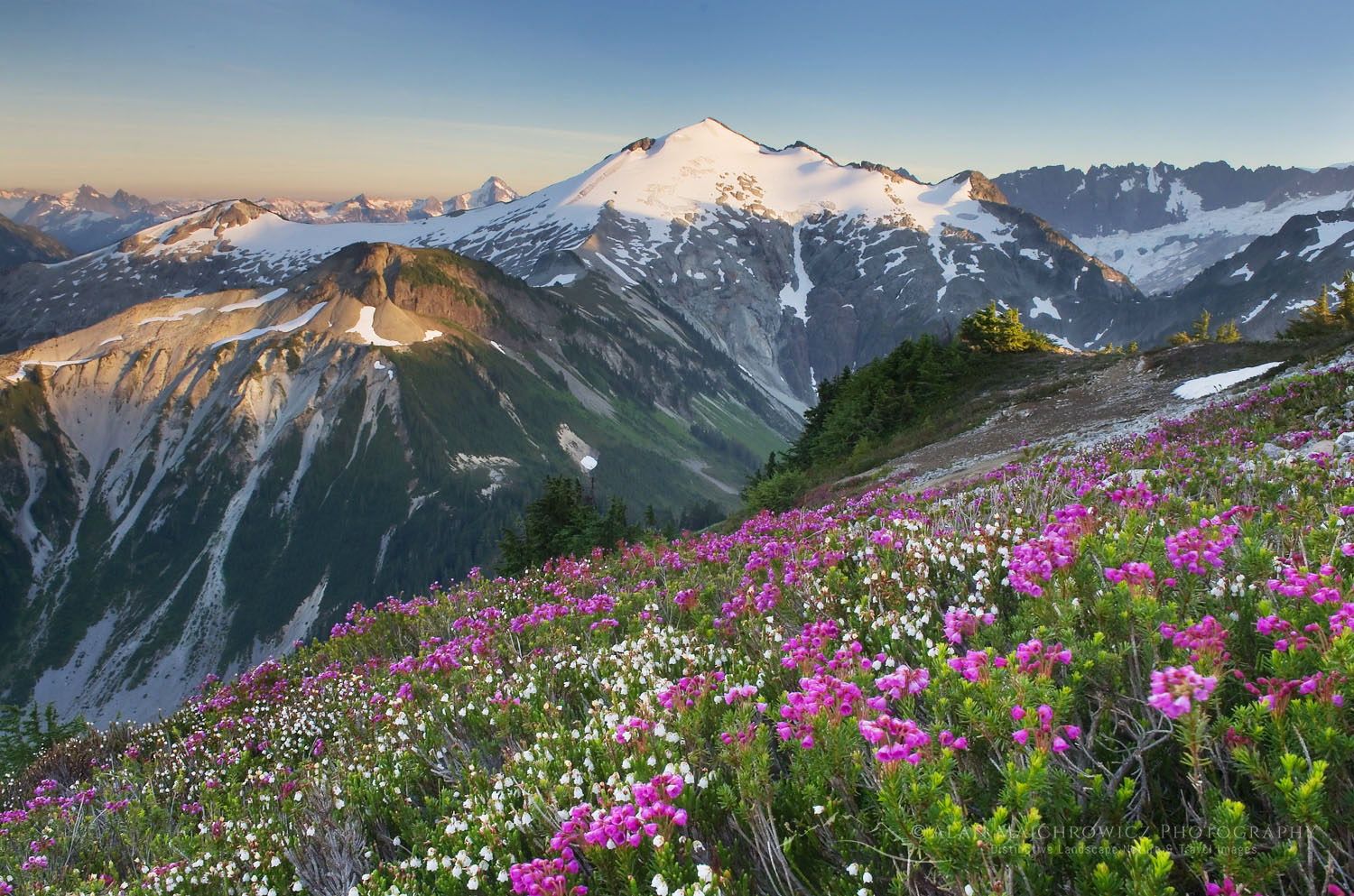 Wildflowers on summit of Hannegan Peak #54332  Purchase
Hannegan Peak
Continuing on the trail beyond the pass will take you to the Copper Ridge trail, or down the Chilliwack River trail, and on to Whatcom Pass. Both of these destinations are in the North Cascades National Park and will require permits for overnight trips.
For Hannegan Peak take the path which branches off to the left at Hannegan Pass. This steep but easy trail climbs 1000′ in a little over a mile to the summit of Hannegan Peak.  Soon after leaving the pass the trail opens up into beautiful meadows thick with wildflowers. Also along the way are those stupendous views you were expecting below at the pass.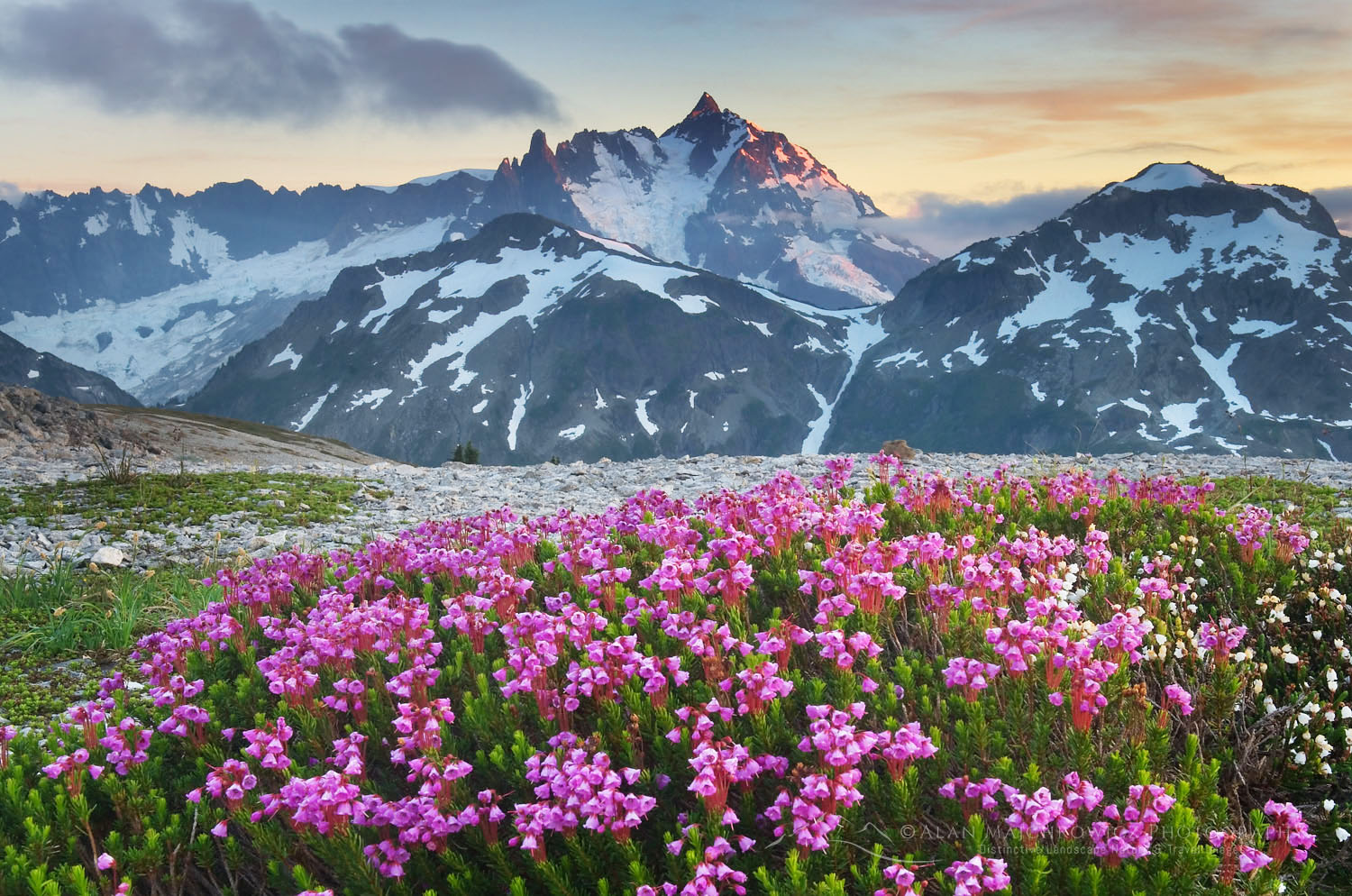 Pink Heather on Hannegan Peak #54307  Purchase
Upon arriving at the summit of Hannegan Peak you are greeted by amazing views in every direction. Looking south is the snowy pyramid of Ruth Mountain. To the right of Ruth is Mountain Shuksan and sprawling Jagged Ridge above Nooksack Cirque. Following the crest of Nooksack Ridge to the southwest is Mount Baker and its cloak of glaciers.
Copper Ridge and Copper Mountain are north of the summit in the National Park. Beyond them, across the border in British Columbia is the fantastic fang-like Slesse Mountain, Mount Rexford, and the Illusion Peaks. They are part of the northern limit to the North Cascades. Finally to the east is Mount Redoubt, then Mount Challenger, and the northern part of the Picket Range.
One can sit here all day with a map attempting to identify all the mountains in these views. Another fun pastime is to watch climbers slowly ascend the snowy slopes of Ruth Mountain. It's also common to watch some of them ski back down in summer.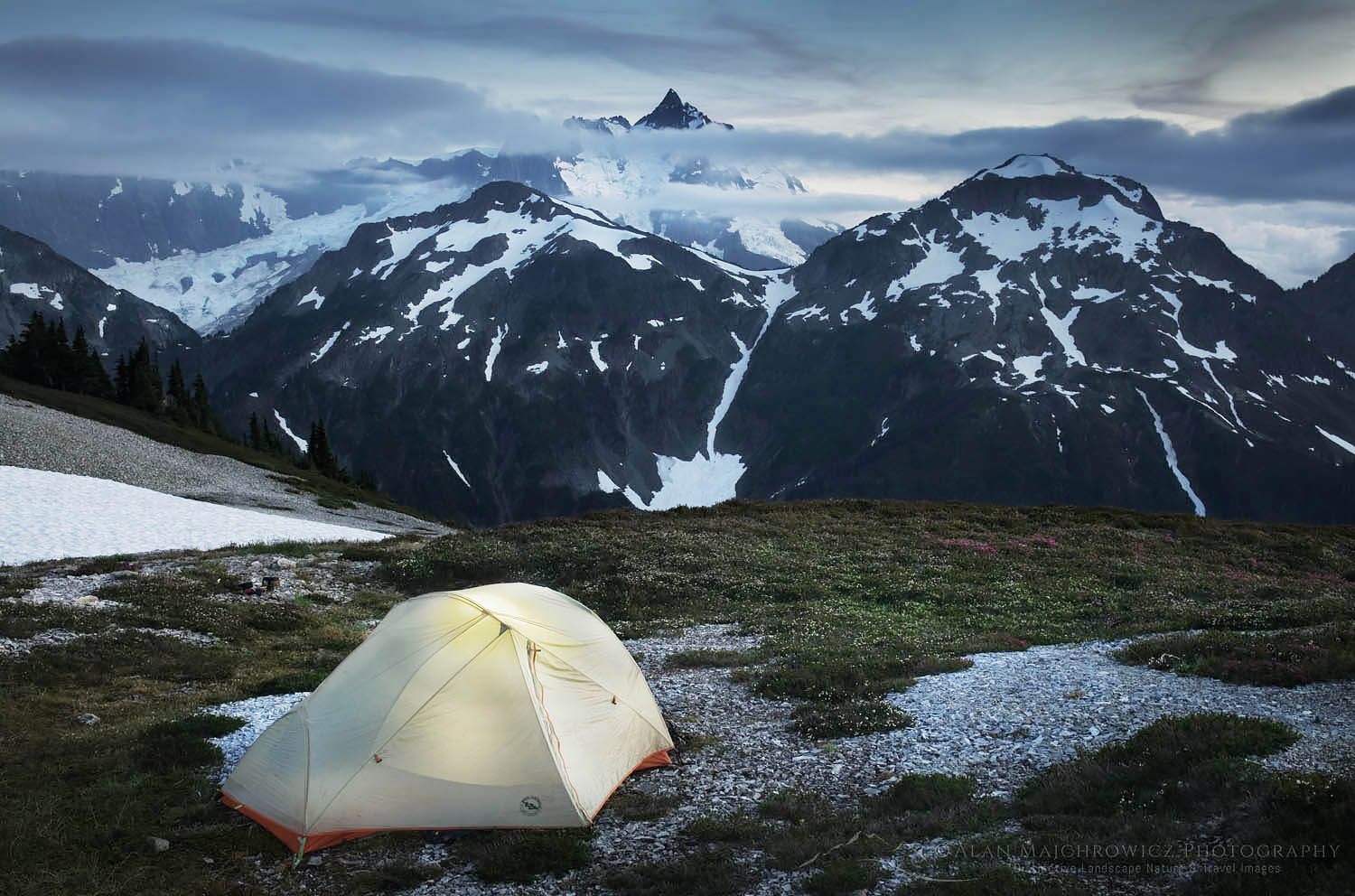 Camping on Hannegan Peak #54316  Purchase
Camping on Hannegan Peak
While most people day-hike to the summit of Hannegan Peak, overnight trips are extremely rewarding. Although the summit and adjacent ridge are fairly broad, established campsites are sparse. The best site is within a circle of stunted trees on the summit. However, this site is almost always taken. It can also be busy since this is where most day-hikers stop to have lunch.
Follow the ridge west below the summit for several more established sites. If you can't find any open sites then your best option is to set up camp on snow or scree. There are also one or two spots halfway down the trail to Hannegan Pass. Snowfields are the only source of water anywhere above Hannegan Pass.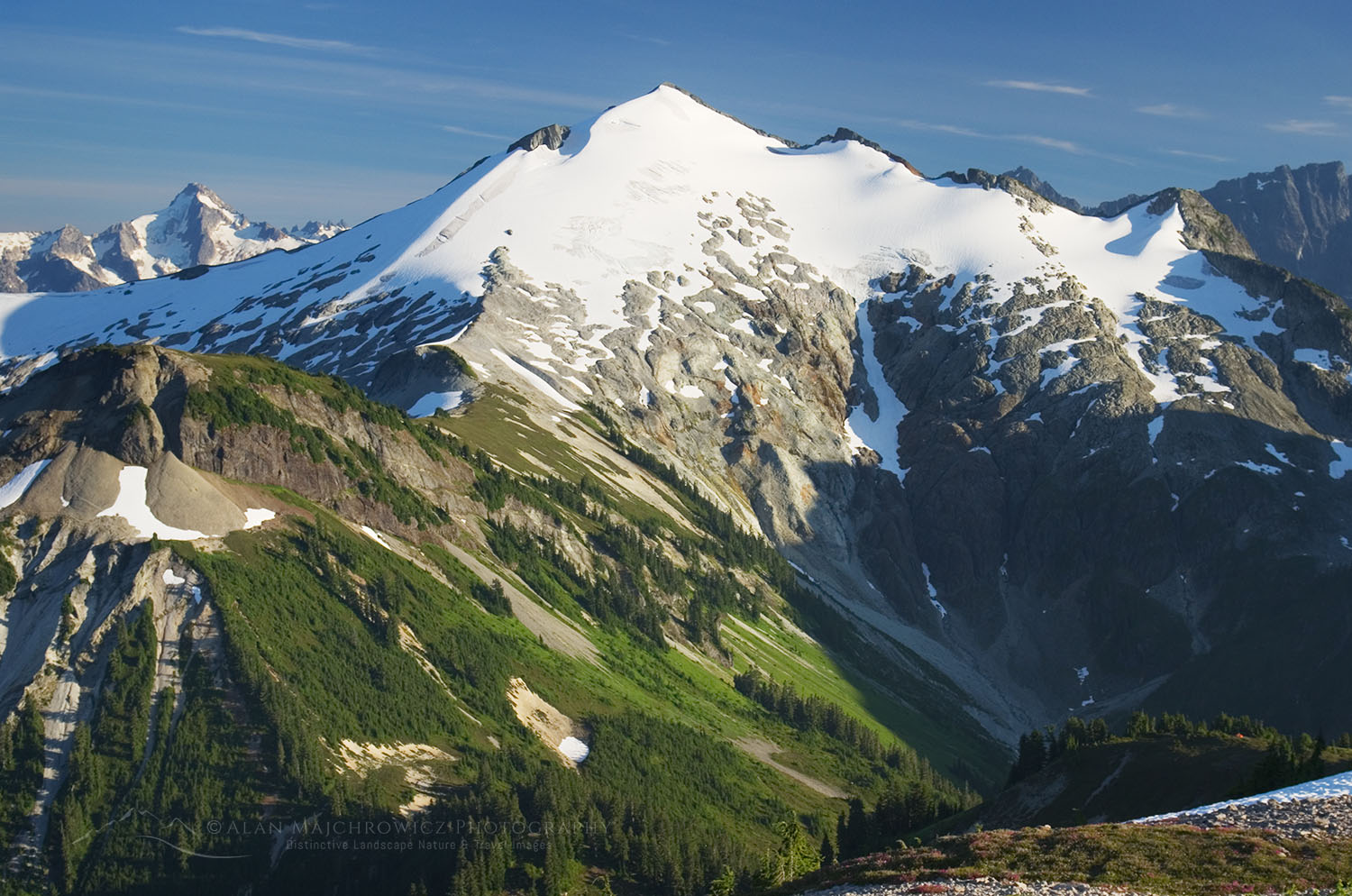 Ruth Mountain, Point 5930′ bottom left  #54325 Purchase
Ruth Mountain
Looking out to Ruth Mountain from Hannegan Peak, it is easy to dream of a visit to its summit. And standing on top of Ruth Mountain is an experience you'll remember your entire lifetime. Ruth is also one of the few peaks in the area that is within the reach of the average hiker with the proper gear.
Essential Tip:  Hiking to the summit of Ruth, or even only to the ridge below the glacier, traverses some difficult sections. Turn around when the terrain goes beyond your comfort level.
If you have time and energy after Hannegan Peak you can also include a climb up Ruth Mountain as part of your trip. Some people summit both Hannegan and Ruth as part of a day trip but that's a lot to take in for one day. I would recommend an overnight camp on one and do the other the next day. Or you can always come back on a separate trip.
This trip starts at Hannegan Pass. But some parties opt to begin from the small camp area just before reaching Hannegan Pass. Route-finding and complex terrain make this approach more difficult.
From Hannegan Pass travel south about a 1/4 mile on a path to the first obstacle, a wickedly steep climb below Point 5930′. This short section will test your mettle as it ascends straight up a muddy rocky slope. Branches and roots are often needed to pull yourself up. At the top you'll traverse east across and over the north side of Point 5930′. There is some mild exposure on this stretch and is usually covered in snow late into the season. This is a good place to use your crampons and ice axe. As you cross over to the south side of Point 5930′ a good trail appears which you can follow all the way to the base of Ruth's snowfields.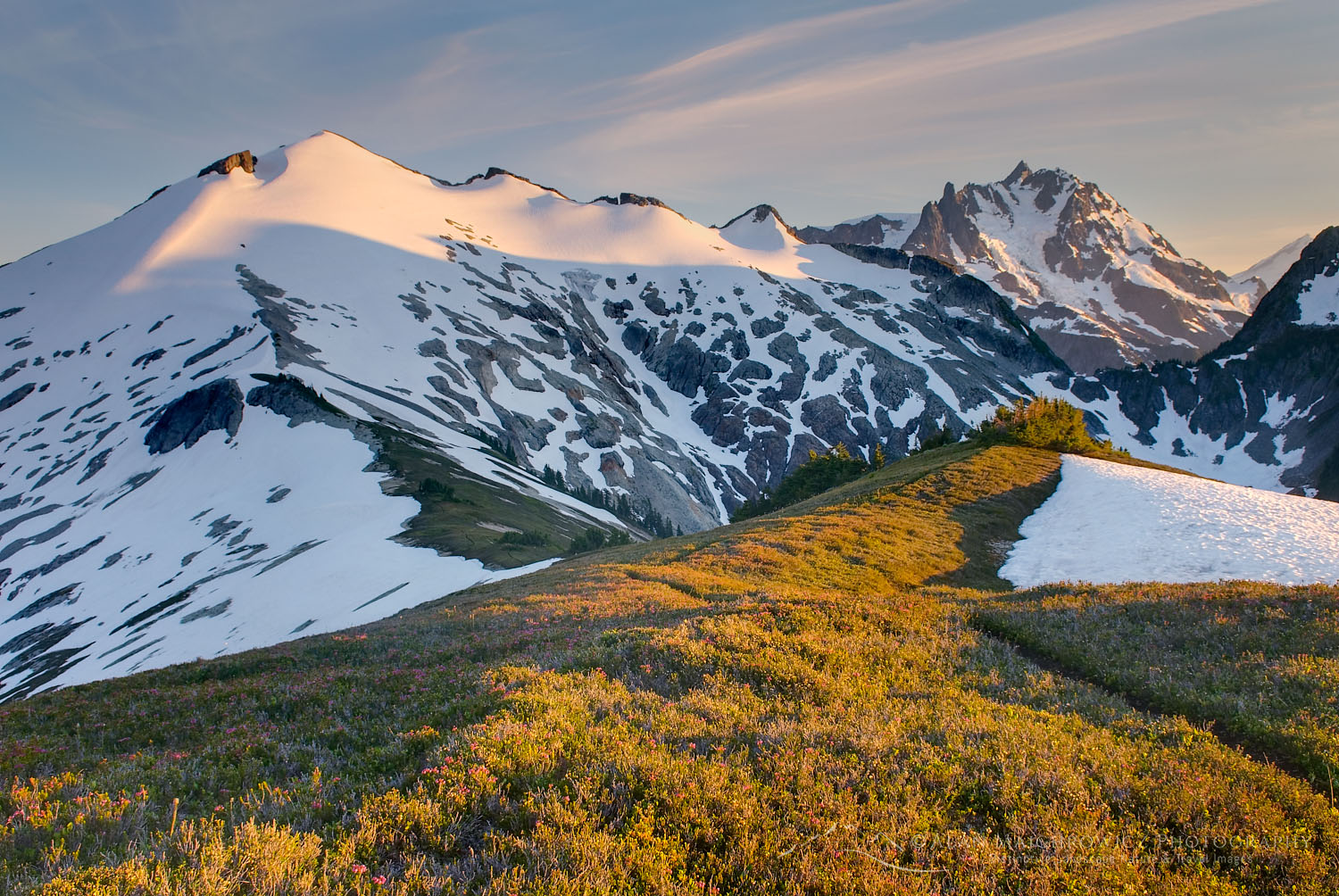 Ruth Mountain and Mount Shuksan from Point 5930′   #17110  Purchase
Camping and Climbing Ruth Mountain
There are good campsites along the open ridge extending between Ruth and Point 5930′. But perhaps the best site is at the summit of the Point itself. From there you're close to Ruth and can also take in a better view of Mount Shuksan than from Hannegan Peak.
The climb/hike up Ruth is fairly straightforward. There is about 1400′ of ascent from the base ridge to the summit. Basically, you follow the pick the easiest way straight up to the summit pyramid, on a sort of spine on the snow. Traveling too far to the right or left crosses more dangerous areas on the glacier. Stay clear of a large wedge-like rock which usually has some hidden crevasses and bergschrunds nearby.
Most descriptions of climbing Ruth advise crampons, ice axe, and ropes due to hidden crevasses. On my solo trip, I wore crampons and carried an ice axe. However, I saw people ascending without either, and none were roped together. And at least one person was wearing just running shoes.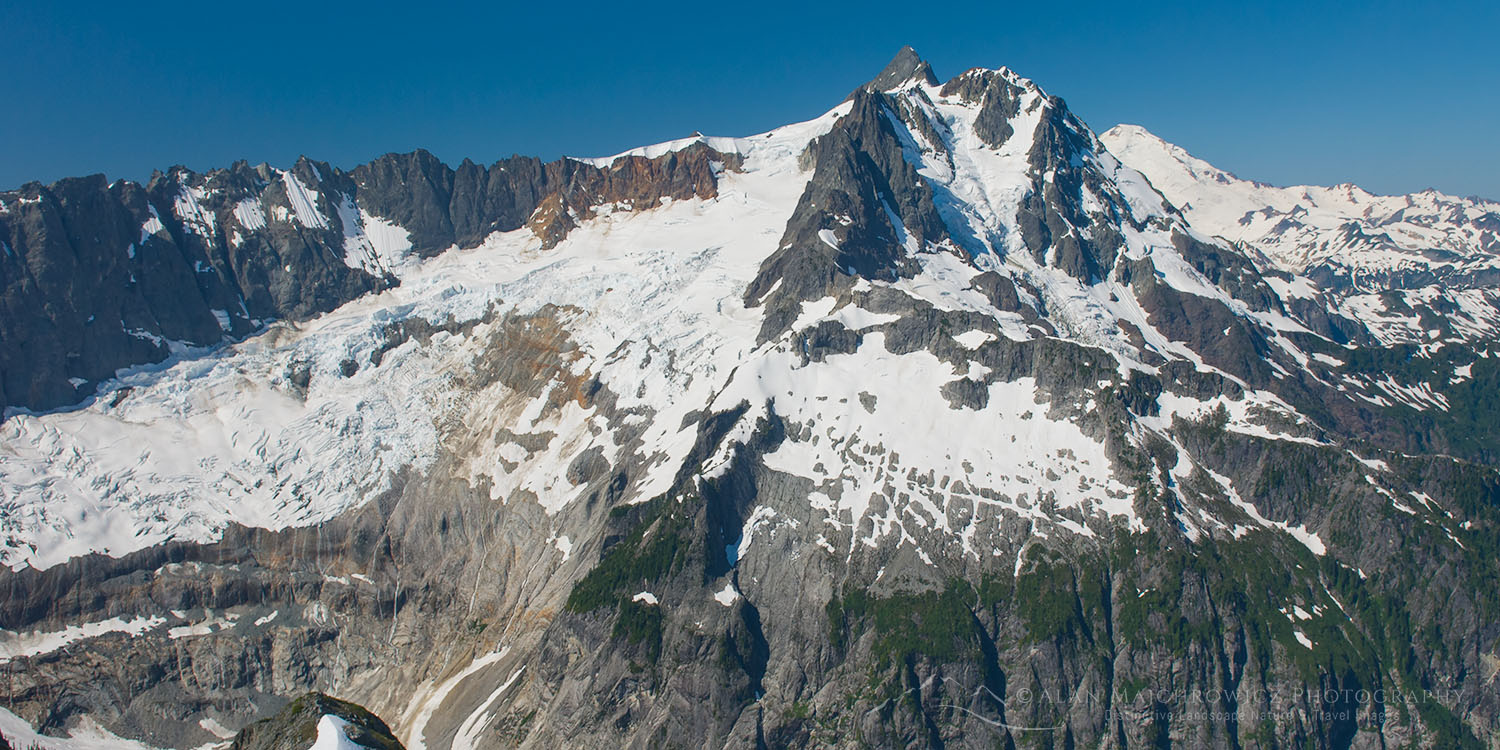 Mount Shuksan and Nooksack Cirque #17151  Purchase
The summit offers some of the most eye-popping jaw-dropping views in the North Cascades. Dominating the view is the incredible Nooksack Glacier below Jagged Ridge, tumbling into the wilds of Nooksack Cirque. From here Mount Shuksan with its hanging glaciers and Nooksack Tower is even more awe-inspiring than the classic view from Heather Meadows. Closer up is Icy Peak, a kind of compact version of the bigger peaks of the range. West is the fantastic Picket Range and Mount Challenger. Looking north is Hannegan Peak and Slesse Mountain in the distance.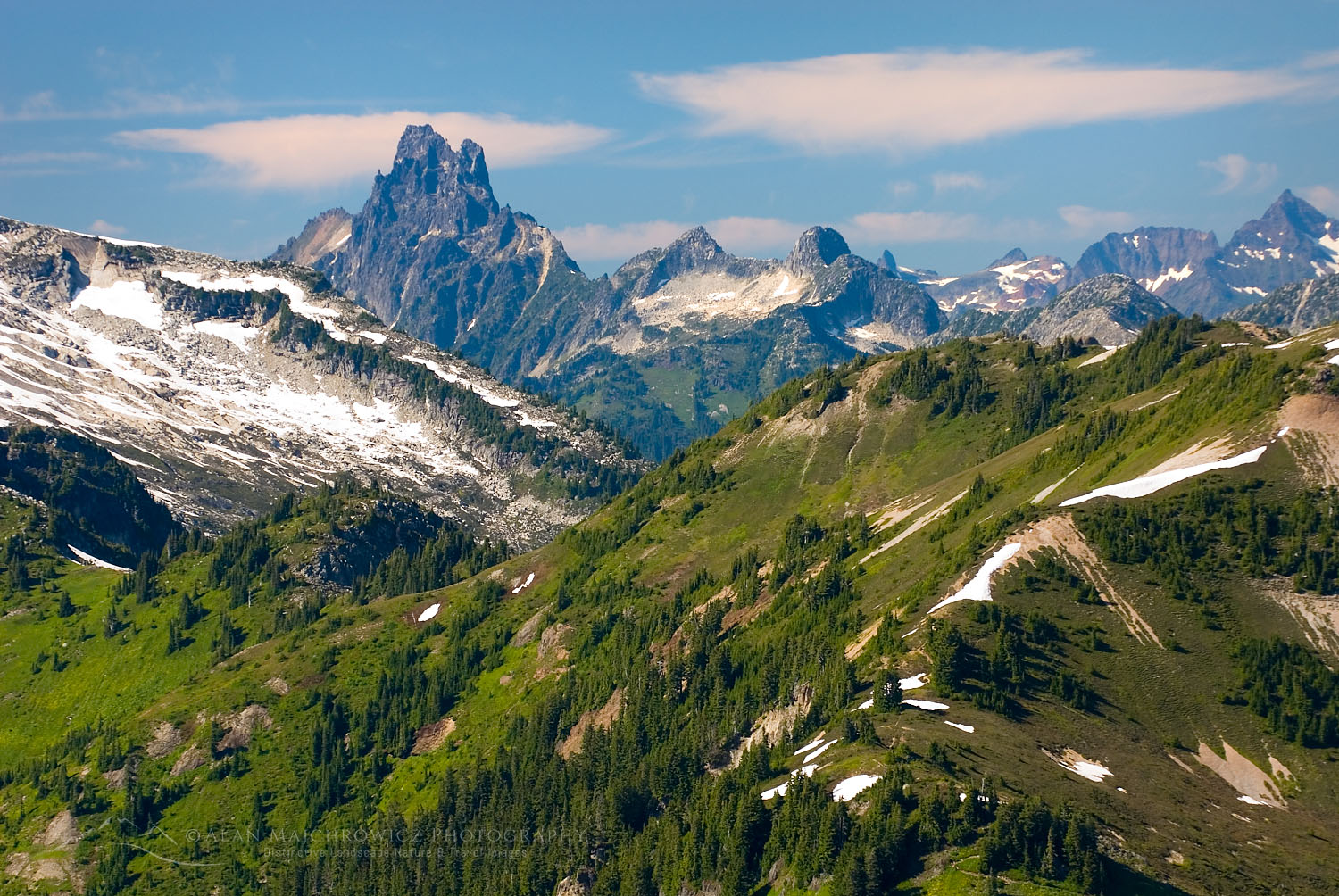 Slesse Mountain (L) and Hannegan Peak (R, foreground) #17196  Purchase
If you enjoy a threadbare bivouac there is just enough room on the summit to spend the night. But make sure the weather is in your favor. On your way down make sure to follow the same route and don't stray left onto the broad glacier face.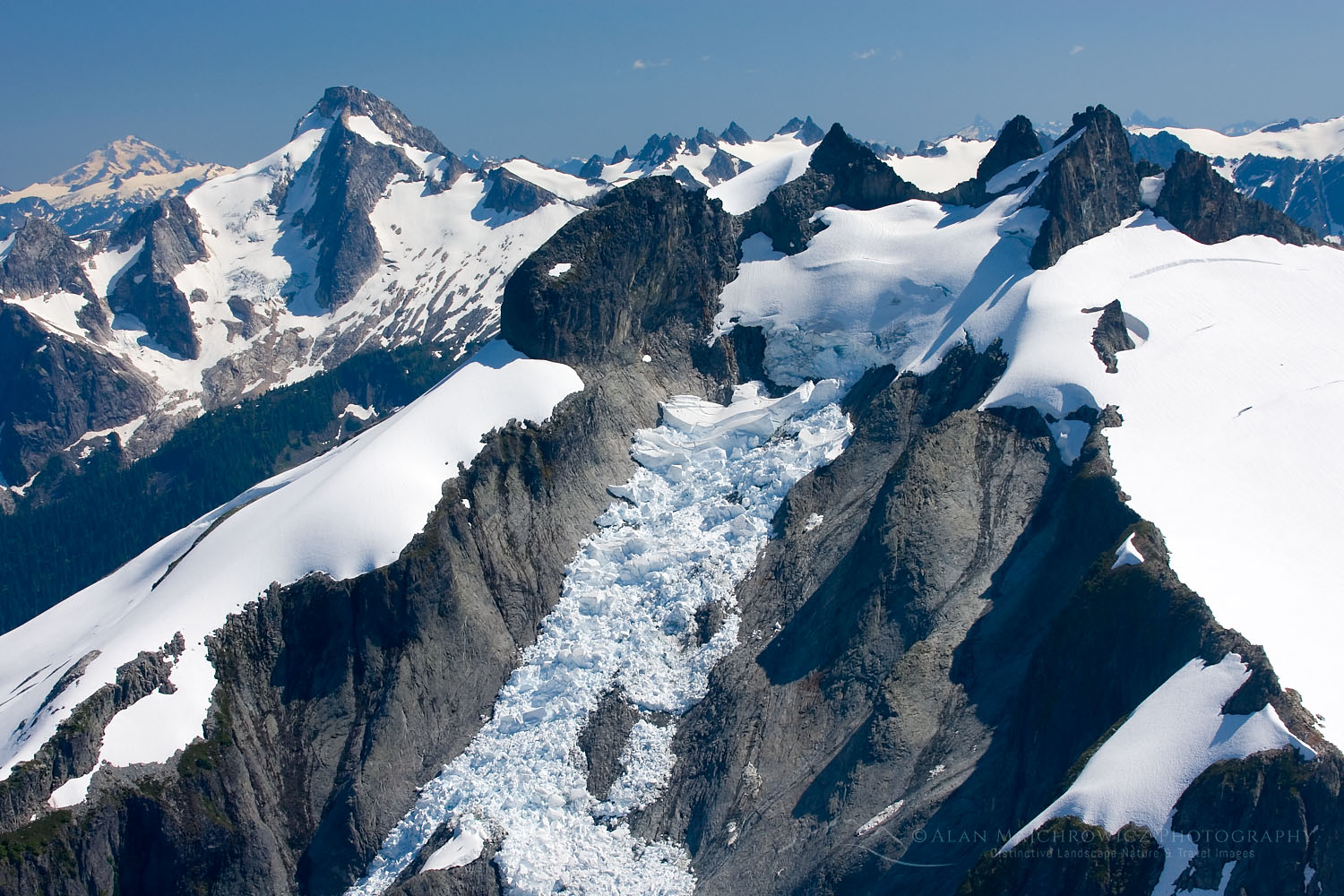 Icy Peak, Mount Blum (L), and Glacier Peak (L, in distance) #17168
If You Go
Hannegan Peak
Length:  From trailhead parking,  10.5 miles roundtrip to summit
Elevation Gain:  3100′ to summit
Ruth Mountain
Length:  From trailhead parking,  12 miles roundtrip to summit
Elevation Gain: 4000′ to summit
Essential Tip:  This trip is best made in late spring or summer. After the winter snowpack has melted the bare ice of the glacier makes travel more dangerous. Also, on cold nights the snow can harden up and become very icy.

Getting there:  From Bellingham drive Mount Baker Highway (SR 542) 46 miles to Hannegan Pass Road (FR 32),  just before the Nooksack River bridge.  At 1.3 miles take a left and follow the road 5.4 miles to the Hannegan Pass trailhead parking lot. There are some primitive campsites and a shelter at the trailhead.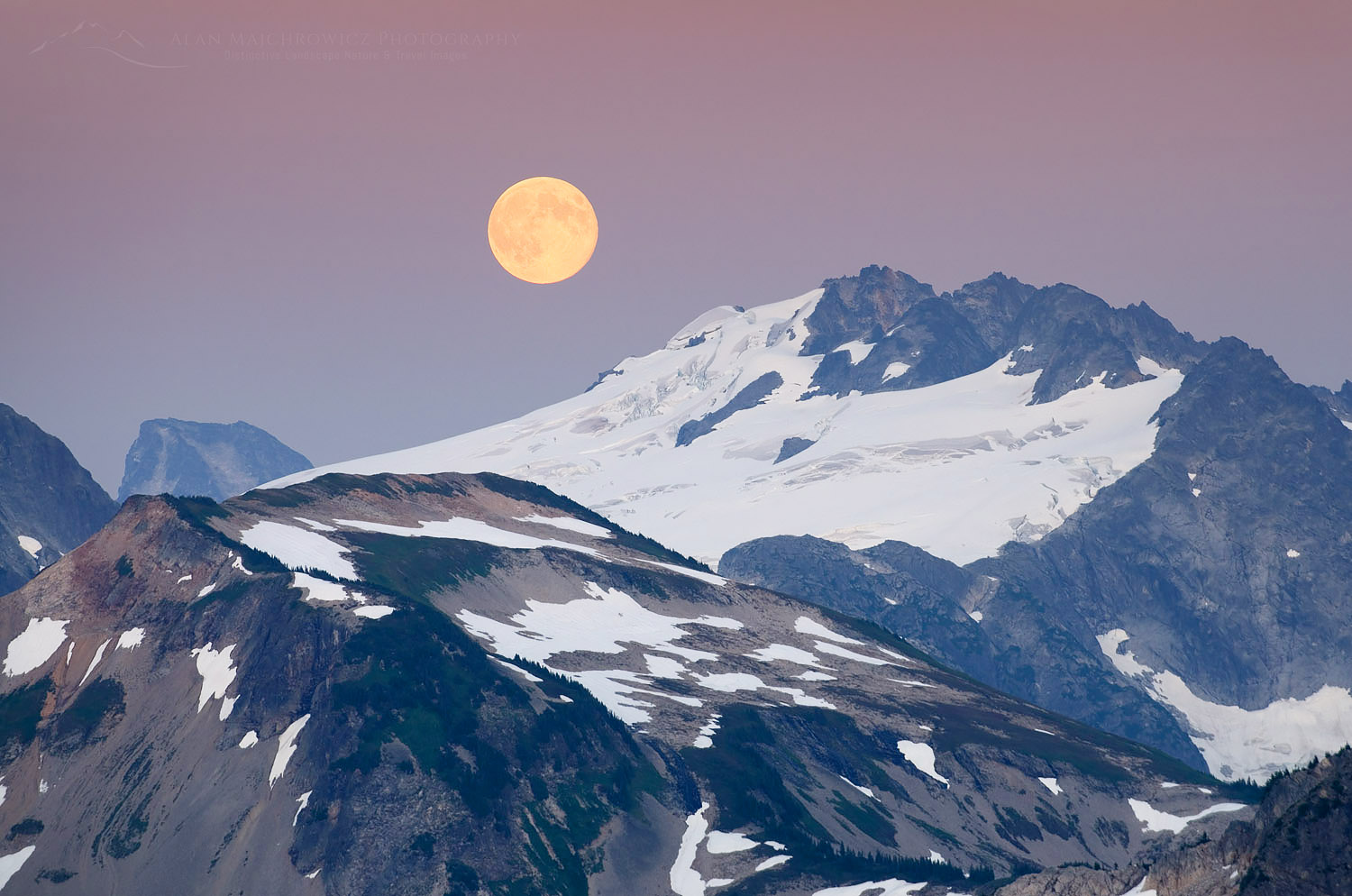 Full moon over Mount Challenger #54366  Purchase
Hiking and Photography Info for Hannegan Peak and Ruth Mountain
When to go:  Both of these hikes and the North Cascades generally receive more snow than just about anywhere else in the lower 48 states. Most higher elevation trails are under the snowpack until early to mid-July. Of course, you can go sooner but be prepared for some route-finding. Some steeper slopes higher on the ridge may need crampons and an ice axe to negotiate safely.
Most wildflowers don't appear until late July or early August. The exception would be avalanche lilies that begin to shoot up while still under snow.  By mid-August, most of the snow will be gone and water sources may be an issue for overnight trips. Late July through August is also the buggiest time of the year.
The Hannegan Pass Trail is very popular and receives heavy use due to the multiple destinations it accesses. It's always a good idea to get an early sunrise start if possible. That way, you'll have the trail to yourself and avoid the day's heat and bugs.
Permits:  A Northwest Forest Pass or America the Beautiful Pass is required for parking at the trailhead. However, Washington State Discover Passes are not valid. There are currently no additional permits needed for day-hiking or overnight trips.
Gear:  Check my post Backpacking Photography Gear Tips for suggestions and tips on hiking, backpacking, and photography gear.
Photography tips:  Check my post Backpacking Photography Tips for suggestions and tips on what camera gear to bring and for tips on making better photos during your trip.
More information about these hikes can be found on the Mount Baker-Snoqualmie National Forest website.
Information on climbing Ruth Mountain can be found at Summitpost.org
For more hikes in the Mount Baker Wilderness and North Cascades National Park check out my posts:
Mount Baker Wilderness Destinations
Lake Ann Ptarmigan Ridge Mount Baker Wilderness
Whatcom Pass Tapto Lakes North Cascades National Park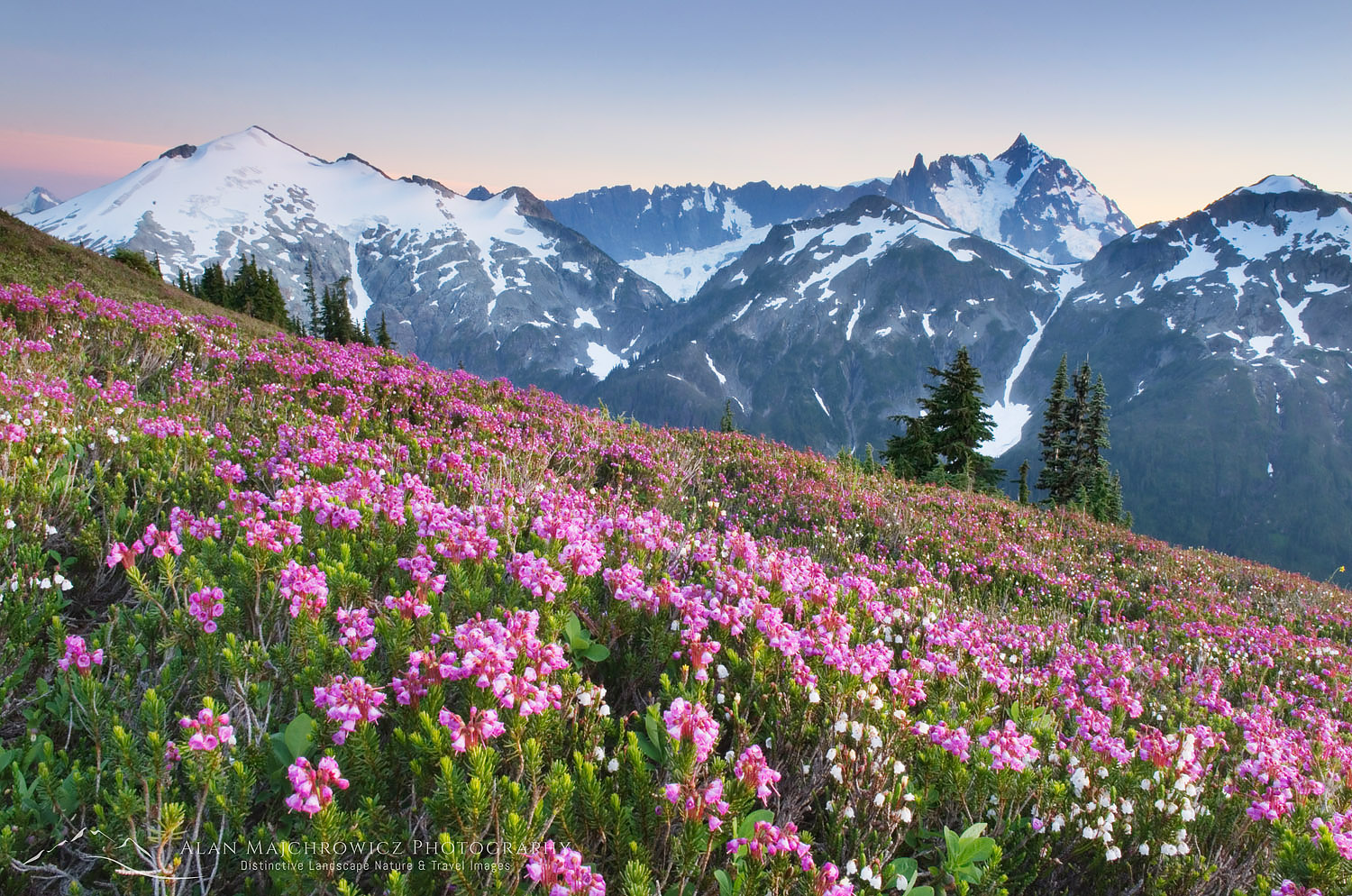 Pink Heather on Hannegan Peak #54339 Purchase
Leave No Trace in the Mount Baker Wilderness
Please Please Please!  Don't plan a trip to this or any other wilderness area unless you are willing to follow the guidelines of Leave No Trace (LNT). Mount Baker Wilderness and all other wilderness areas throughout the world are under incredible pressure from growing amounts of visitors. Please do your part to help preserve these precious areas for future generations!
To learn more about the principles and practicing LNT please take a few minutes to visit the Leave No Trace Center for Outdoor Ethics. Your children, grandchildren, and the Earth will thank you!
Seven Leave No Trace Principles
Plan ahead and prepare.                                       

Travel and camp on durable surfaces.                 

Dispose of waste properly.                                                                         

Leave what you find.                                            

Minimize campfire impacts (be careful with fire).

Respect wildlife.  

Be considerate of other visitors
Thanks for reading, feel free to share this post with your friends and colleagues!
Want to learn more, or have a professional photographer guide you in the field? Then take your Creative Photography to the next level with  Private Instruction and Guided Photo Tours.
Photos appearing in Hannegan Peak Ruth Mountain are available for Commercial Licensing and Fine Art Prints. Click on any image to purchase, or contact me for more info!
Hannegan Peak Ruth Mountain Mt Baker Wilderness