Mount Baker Wilderness Destinations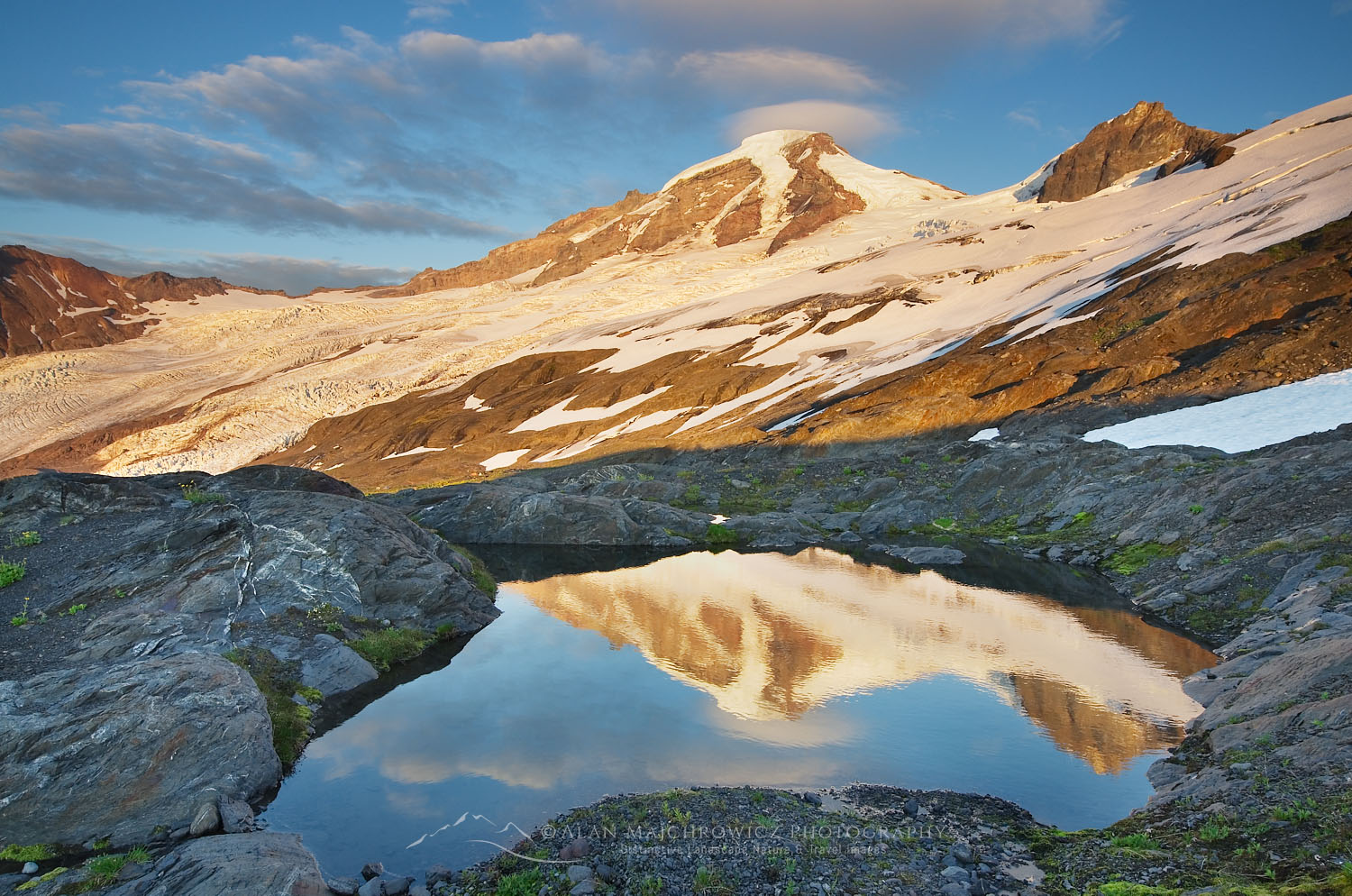 Mount Baker seen from Heliotrope Ridge  #54421  Purchase
With winter waning and spring just around the corner, a hiker's thoughts turn to hatching trip ideas for the summer. Lately, I've been busy working on updating my website where I constantly come across memorable photos from past trips. Almost instantly I start making plans to revisit that place. One of my favorite destinations is the Mount Baker Wilderness, which just happens to be almost in my backyard.  And because of this over the years I've explored nearly all of its trails on day hikes and overnight backpacking trips.
The North Cascades contains one national park and several wilderness areas, all of which have their unique elements.  Among them, the Mount Baker Wilderness is the most northwestern. Because the Mount Baker Wilderness receives a huge amount of rain and snow its main features are cool dense old-growth forests and active glaciers. In the center of it all is Mount Baker, a 10,786′ dormant volcano covered in massive glaciers.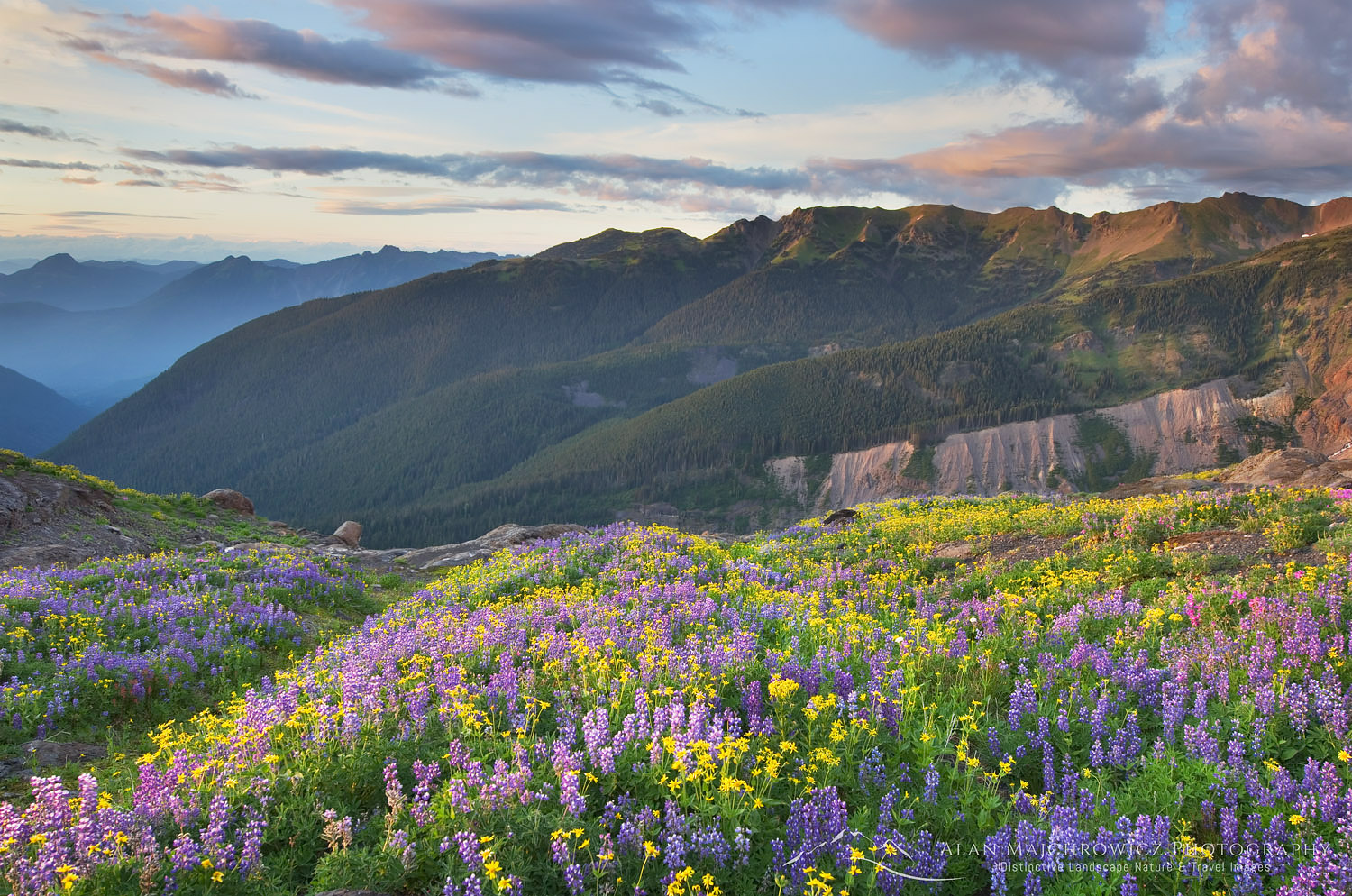 Heliotrope Ridge Wildflowers #54537  Purchase
Hiking in the Mount Baker Wilderness
If there is one thing that can characterize the North Cascades it would be rugged terrain. Its valleys are steep and deep, with junglelike forest undergrowth. The alpine is steep and rocky with large snowfields and glaciers barring the way for most casual hikers. Without trails hiking into these mountains would be a grueling ordeal.
Fortunately, the Mount Baker Wilderness has many trails leading to some of the most breathtaking scenery in North America. However, all but a few start low and involve large amounts of elevation gain to reach those views. In this post, I'll discuss two of the more scenic destinations, along with tips to make your hike more enjoyable.
Both of the trails in this post receive a LOT of traffic. If you are looking for solitude it would be hard to find it on these trails. There are plenty of other trails and little-known routes which are less crowded, and some trails where you'll be mostly on your own. However, these are generally more difficult in nature, and some may require route-finding skills.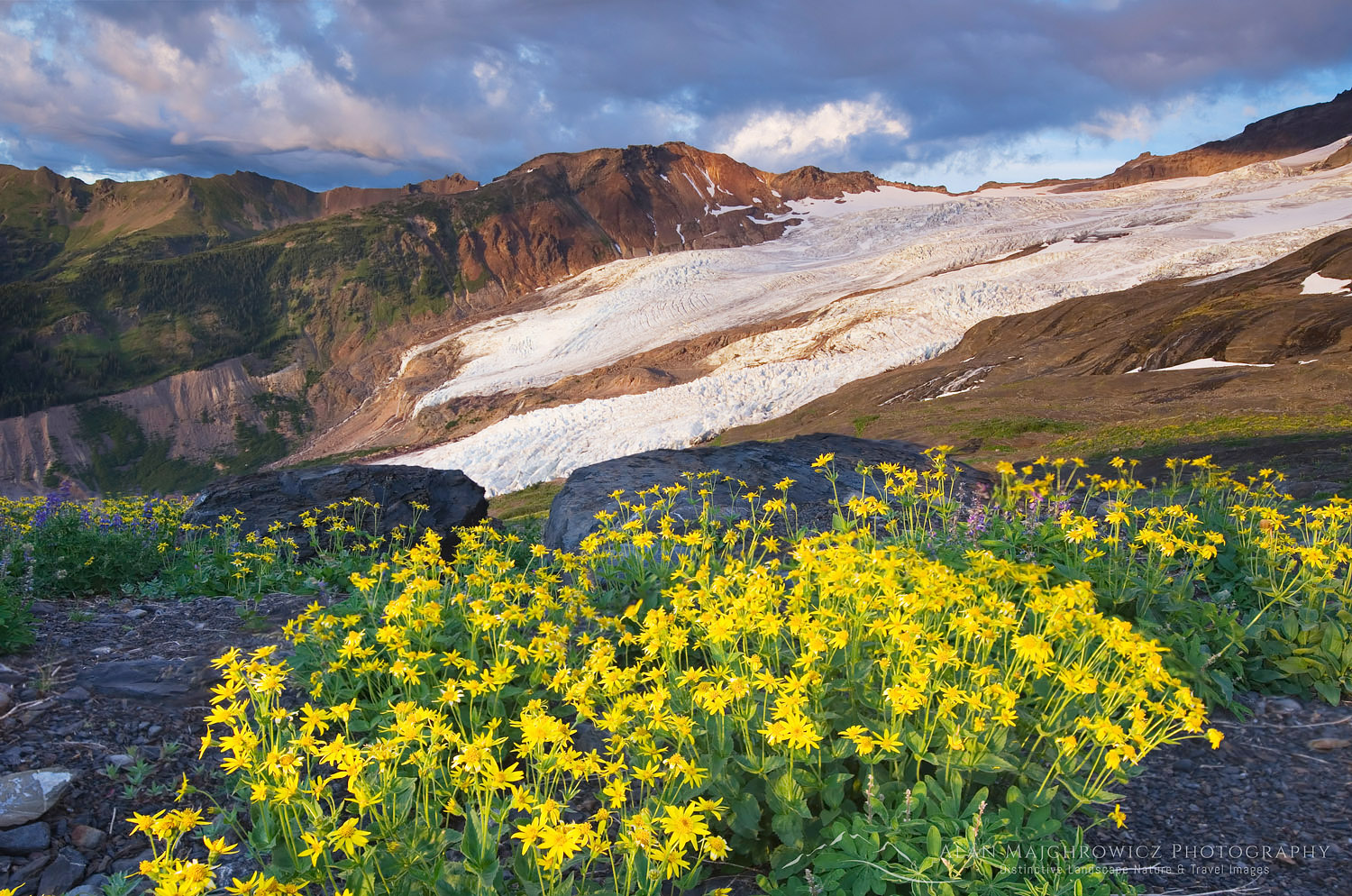 Coleman Glacier and Heliotrope Ridge Wildflowers #54533  Purchase
Mount Baker Wilderness Heliotrope Ridge Trail
Length: 5.5 miles roundtrip to glacier overlook
Elevation Gain: 1400′  to overlook and about 2300′ to climber's camps
Getting there:  From Bellingham drive Mount Baker Highway 34 miles to Forest Service Road 39, Glacier Creek Road, then another eight miles to a large parking area.
Heliotrope Ridge trail is one of the main approach routes for climbing Mount Baker. And for that reason, you'll be sharing the trail with plenty of climbers and skiers. It's also very popular with day-hikers whose destination is the close-up view of Coleman Glacier. This is one of the few places outside of Mount Rainier National Park where you can easily hike to the edge of a massive glacier.
The well-built trail initially travels through a forest of beautiful old-growth trees and crosses several rushing streams. Around two miles in is the site of Mount Baker Clubs' long gone Kulshan Cabin. Only one or two rotting timbers and a conspicuous opening in the forest remain.  From here the forest begins to open up and soon you come to a junction with the Hogsback climbing route and the Heliotrope Ridge /Glacier Overlook trail.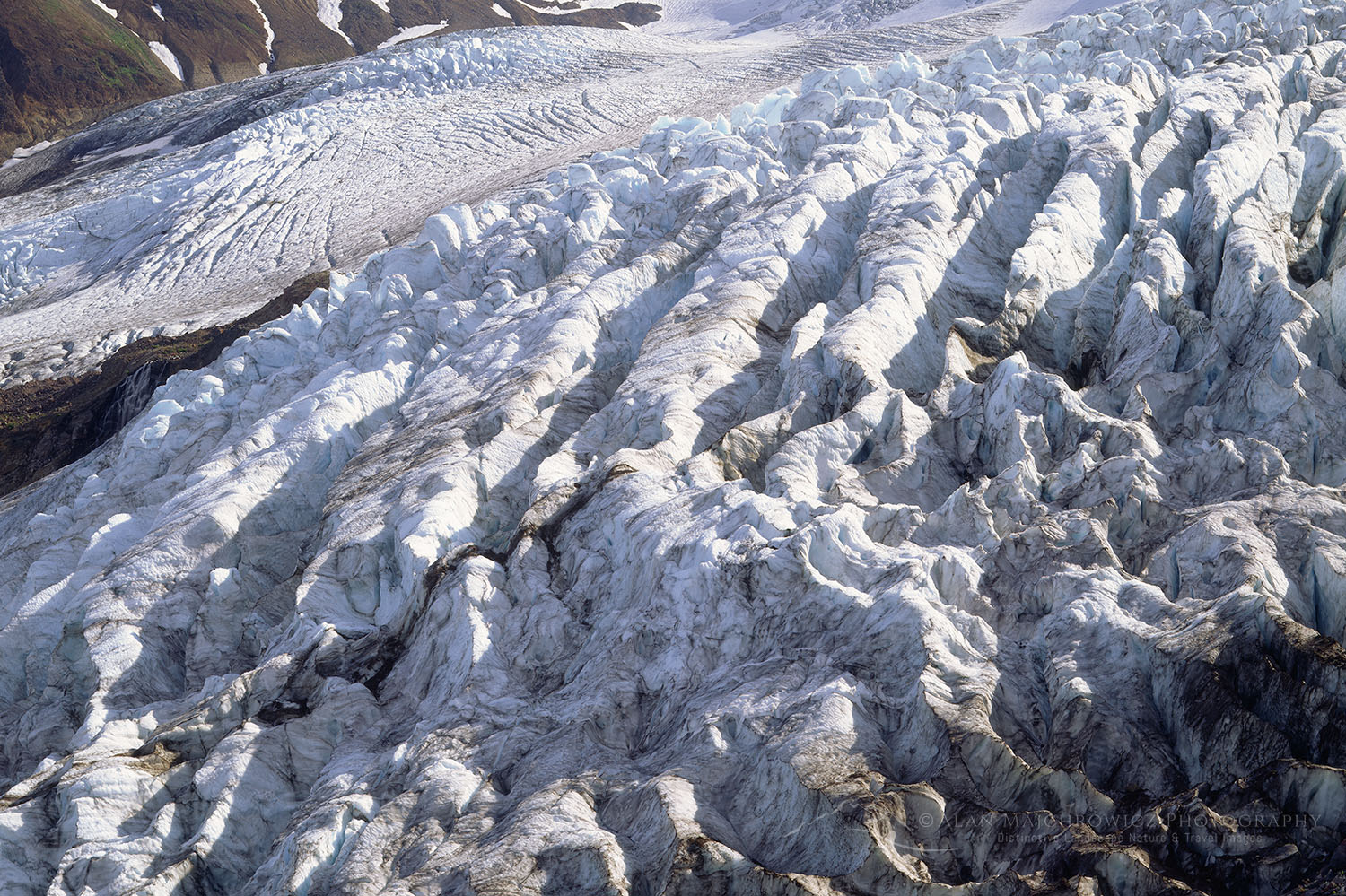 Coleman Glacier on Mount Baker  #565  Purchase
Coleman Glacier Overlook
Taking the left fork brings you to the Coleman Glacier overlook. You'll first need to cross Heliotrope Creek, which except for late in the season is always a rushing torrent.
Essential Tip: During the early part of the hiking season the creek is covered in snow. As the season progresses this snow bridge becomes thinner, and it is easy to break through and get caught in the stream underneath. Use utmost caution during, especially on warm days.
From the crossing, it is a short walk to the edge of the moraine overlooking Coleman Glacier. At first, your eyes will be glued to the massive crevasses in front of you. Then slowly you'll follow the ice higher and higher to the bulky summit of Mount Baker. It's an amazing view you won't soon forget. It's easy to just sit here all day taking it in, and there's nothing wrong with that at all!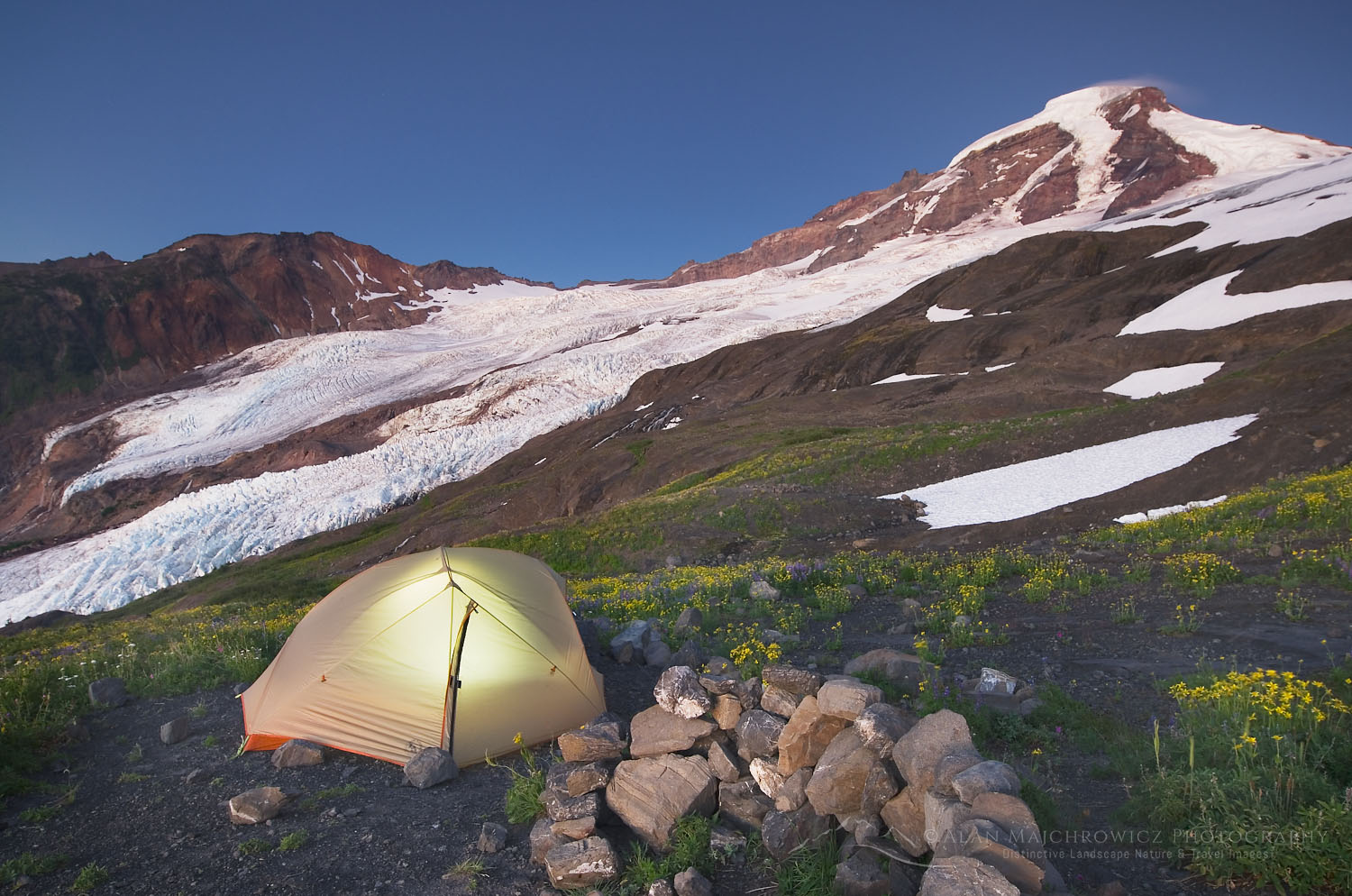 Heliotrope Ridge Camp #54432  Purchase
Above the Hogsback
After taking in the glacier view, or if you're doing an overnighter, head back down the trail to the junction with the Hogsback Ridge trail. This super steep trail takes you to climber's camps adjacent to more snowfields and glaciers. The campsites here have outstanding views of Mount Baker. This is also a great place to view wildflowers and mossy meltwater streams.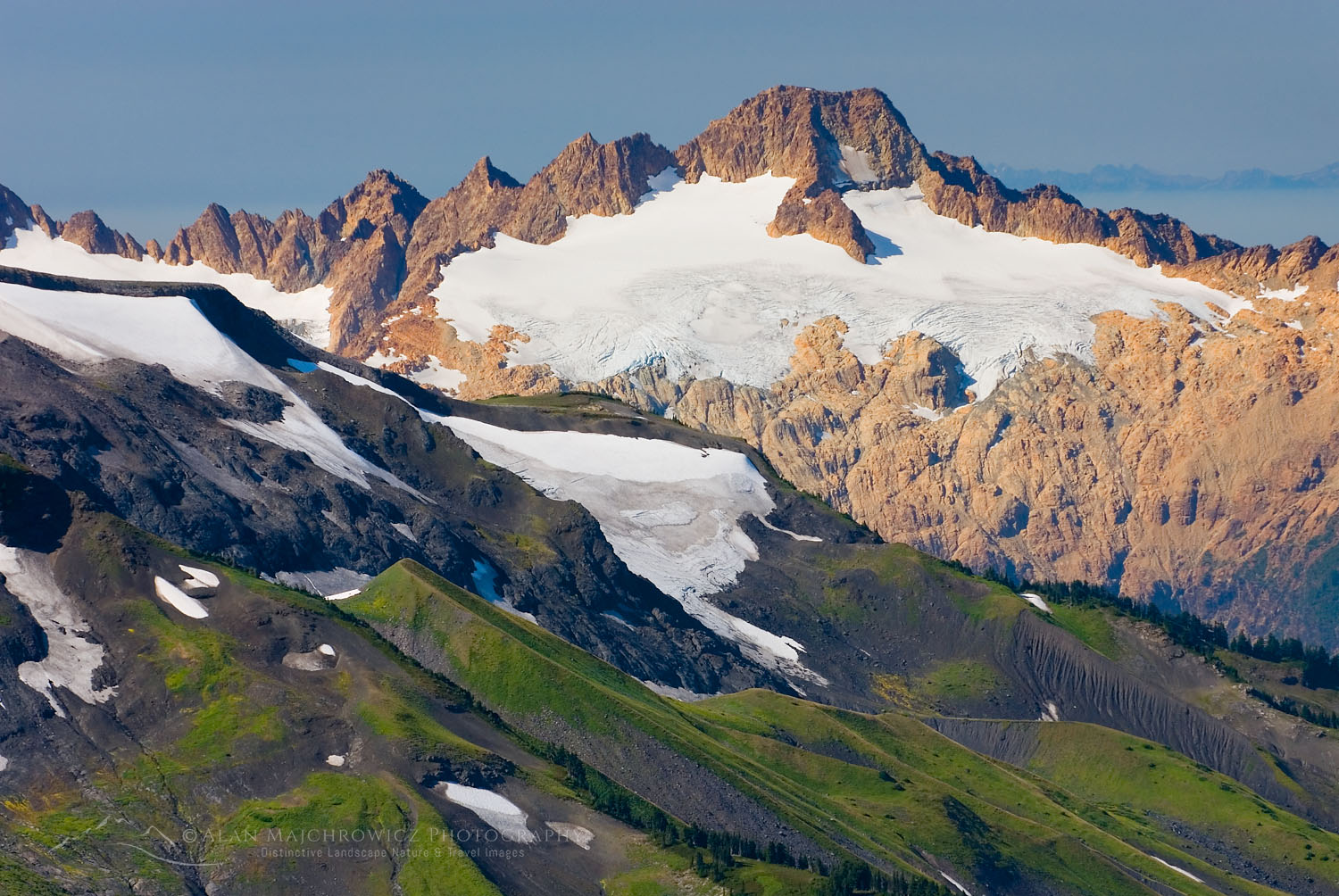 Twin Sisters Range North Cascades #24451  Purchase
Wandering west and up from here the terrain is mostly over barren rock and boulders. But it is also the way to a relatively easy route up to a ridge with views down into the Thunder Glacier basin. The crest of this ridge is shattered volcanic rock resembling something from Mordor. There are one or two small spots here to set up a tent for the ultimate overnight stay. From here you can also take in outstanding views of the Twin Sisters Range. This route is over permanent snowfields which may harbor hidden crevasses. Because of this, it's a good idea to bring crampons, an ice axe, and a partner for this section.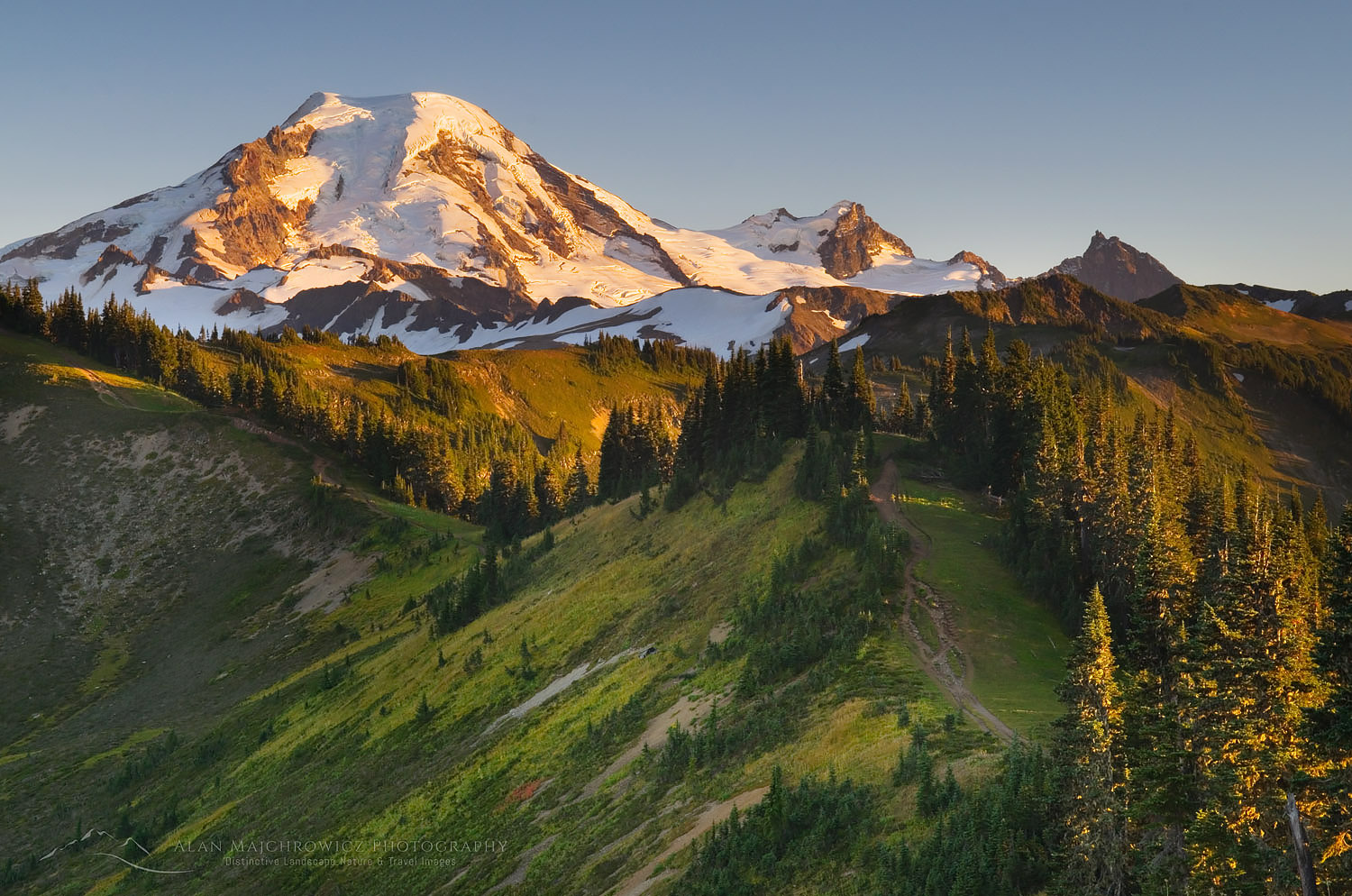 Skyline Divide Mount Baker Wilderness  #49891  Purchase
Mount Baker Wilderness Skyline Divide Trail
Length:  9 miles roundtrip to end of the ridge
Elevation Gain:  2500′ to end of the trail
Getting there:  From Bellingham drive Mount Baker Highway 34 miles to Forest Service Road 39, then 12 miles on FR 37
Another extremely popular trail and destination is the ridge of Skyline Divide. Like the Heliotrope Ridge, the star attraction of this trail is Mount Baker. However, once above the treeline, the Skyline Divide trail travels for a greater distance along a pleasant ridge with wide-open views in every direction.
Part of the adventure on this hike is the access road. The road branches off almost immediately after turning onto Glacier Creek Road (FR 39). It then travels about 12 miles from the intersection to the trailhead over some of the worst potholes you'll ever see. The worst section is on the first flat miles along the Nooksack River. There are plenty of narrow sections along the climb so be alert for oncoming vehicles. There is almost always at least one car speeding recklessly down the road.
Essential Tip: This is a very heavily used trail and trailhead parking is usually at a premium, every day of the week. To avoid oncoming cars and obtain a parking spot leave very early in the morning.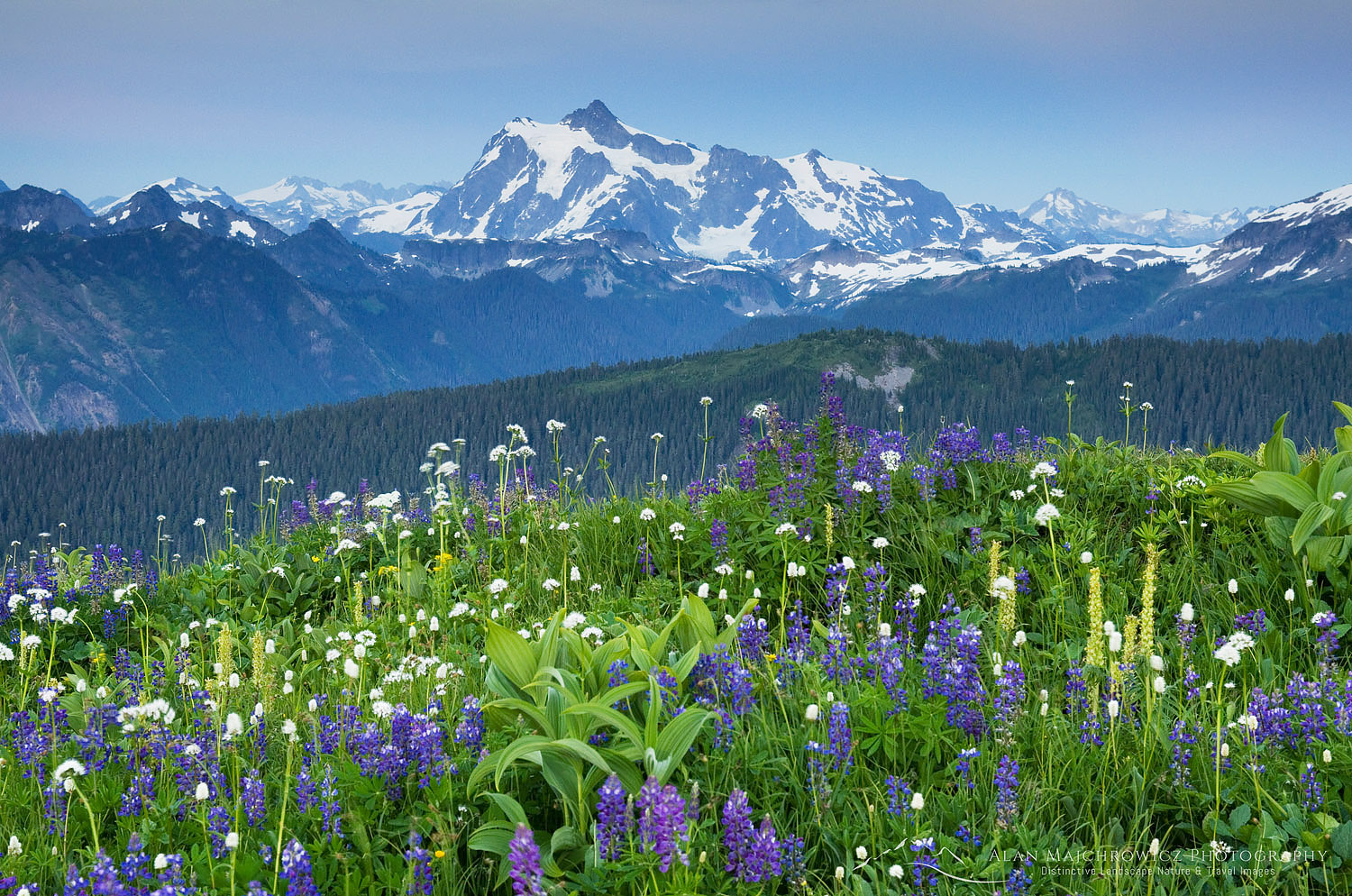 Mount Shuksan from Skyline Divide #53322  Purchase
During the first two miles, the trail is moderately steep as it gains 1500′ through fragrant old-growth forest to the open ridge. The last half mile or so switchbacks through pretty meadows dense with False Hellebore (Corn Lily) and Valerian. Suddenly breaking through the woods onto the ridge crest can be a shock. The views in every direction are some of the most spectacular in the entire Pacific Northwest.
To the south is the massive white bulk of Mount Baker, east is Mount Shuksan, and the heart of the North Cascades. North is Church Mountain and Excelsior Ridge, and beyond are the Coast Mountains of British Columbia. West is the Salish Sea, SanJuan Islands, Vancouver Island, and the city of Vancouver.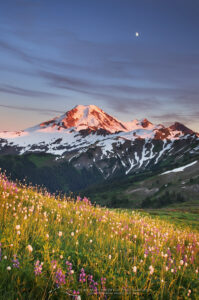 Moon over Mount Baker from Skyline Divide #54255  Purchase
Hiking on Skyline Divide
Aside from the great views and enjoyable ridge hiking wildflowers are a big attraction. Early in the season just after the snow melts clear the first meadow is a carpet of yellow avalanche lilies. Time your trip well because these pretty flowers don't last long.
After reaching the first ridge meadow the trail is a bit of a roller coaster. Passing the second of several knolls along the ridge it smooths out a bit and the views continue to improve. For the next two miles, every step takes you closer to Mount Baker. Along the way are more patches of wildflowers and a trail junction that drops to meadows of Deadhorse Creek, below Chowder Ridge. Take this trail if you want some solitude, however, the views of Mount Baker soon become obscured.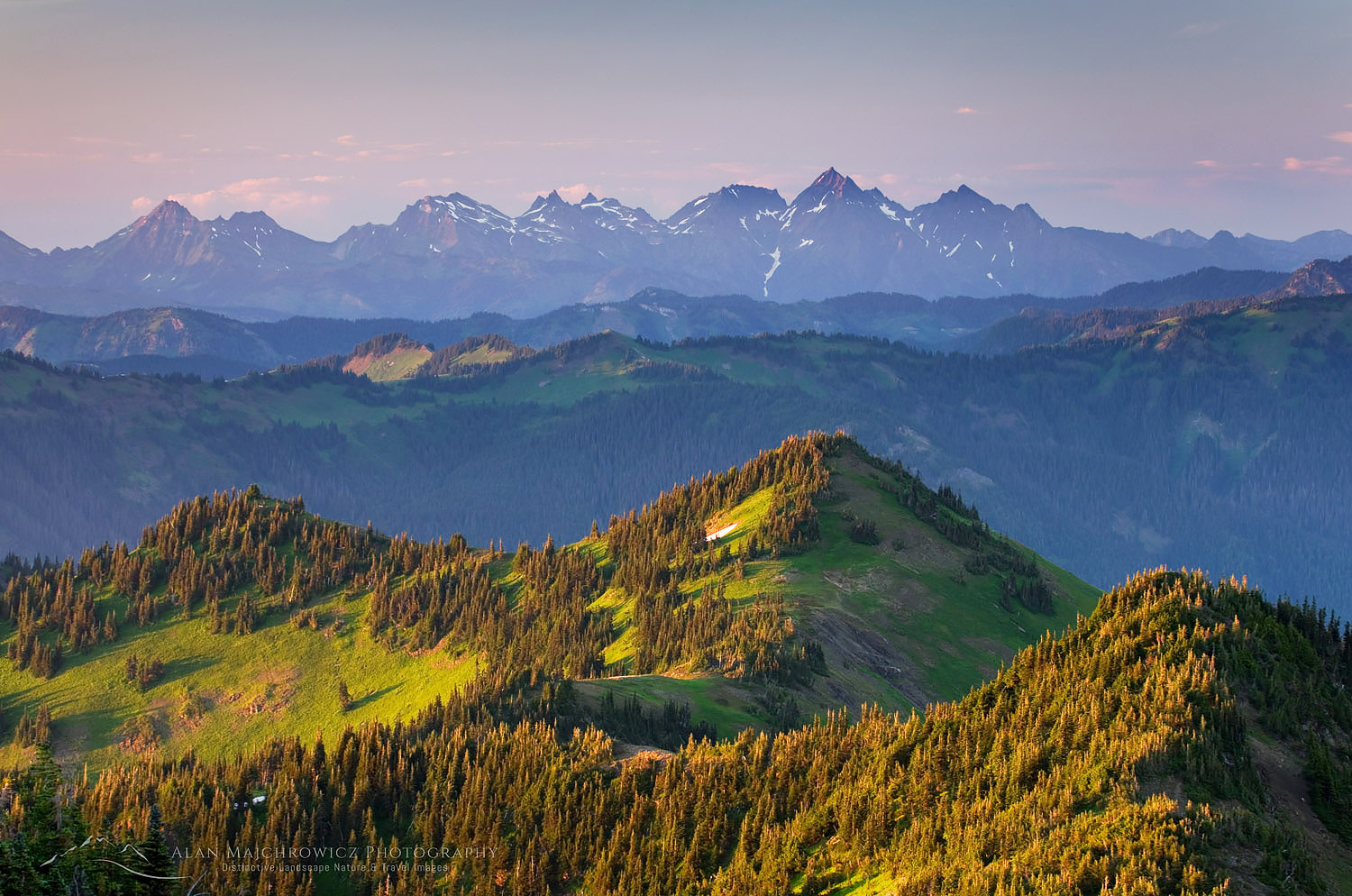 Skyline Divide in the foreground, Mount Baker Wilderness #53264  Purchase
The last section of the trail climbs higher and higher to a small flat ridge immediately adjacent to Chowder Ridge. Just when you thought the views couldn't get any better, they do! In front of you is a wild subalpine valley below Bastille Ridge with the Glaciers of Mount Baker seemingly close enough to touch. This is about as far as a hiker can travel, continuing on to Chowder Ridge requires some scrambling skills.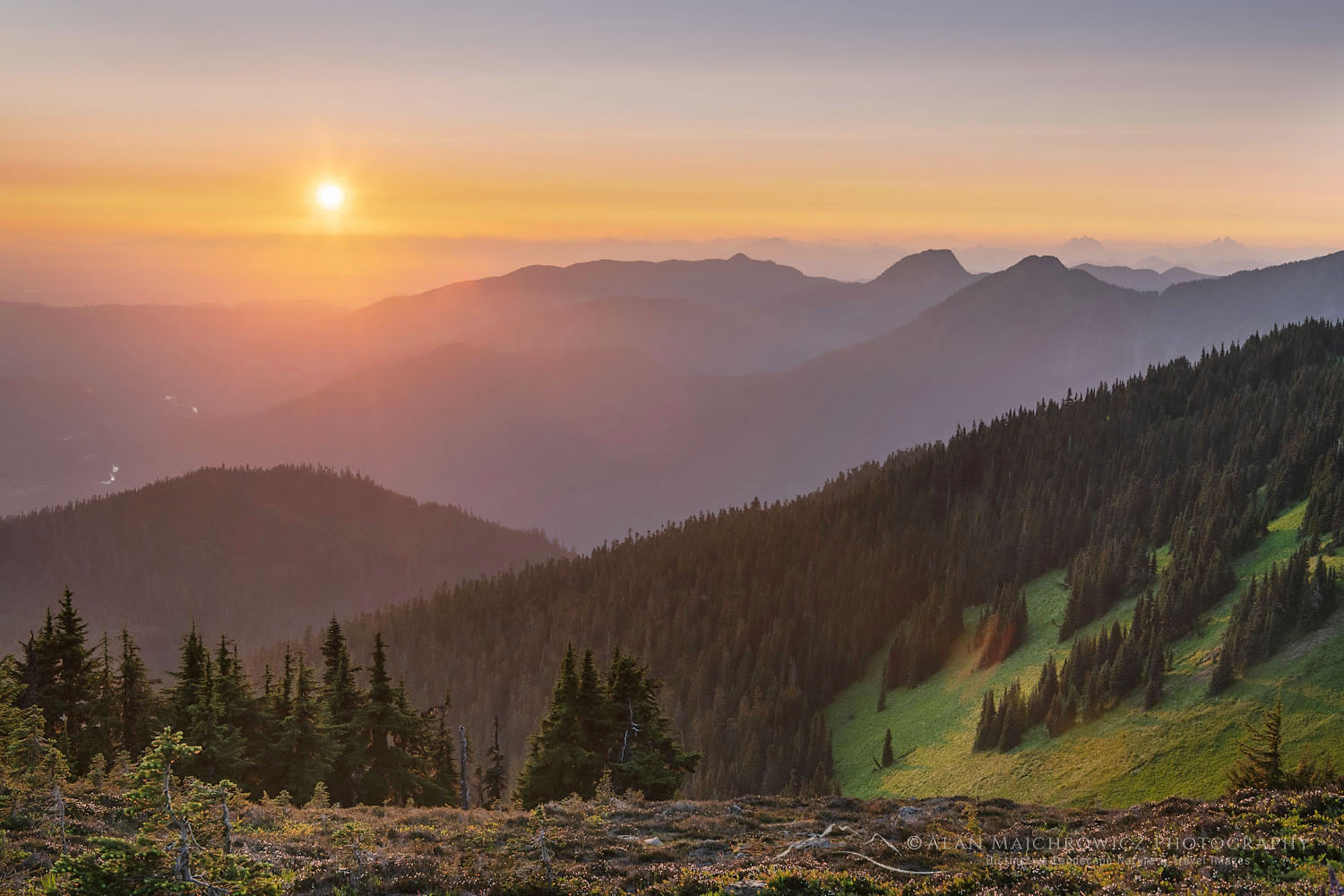 Sunset from Skyline Divide #71746  Purchase
Spending the Night on Skyline Divide
There are several great spots for camping along the ridge, but water can be a limiting factor. After the snow melts there are no dependable water sources. Although if you camp higher up near the end there are usually some permanent patches of snow.
It is absolutely essential that you choose a well-established site on bare ground. Do not under any circumstances camp on vegetation. Over the years I've seen the fragile vegetation and wildflowers slowly disappear under the boots and tents of thoughtless hikers.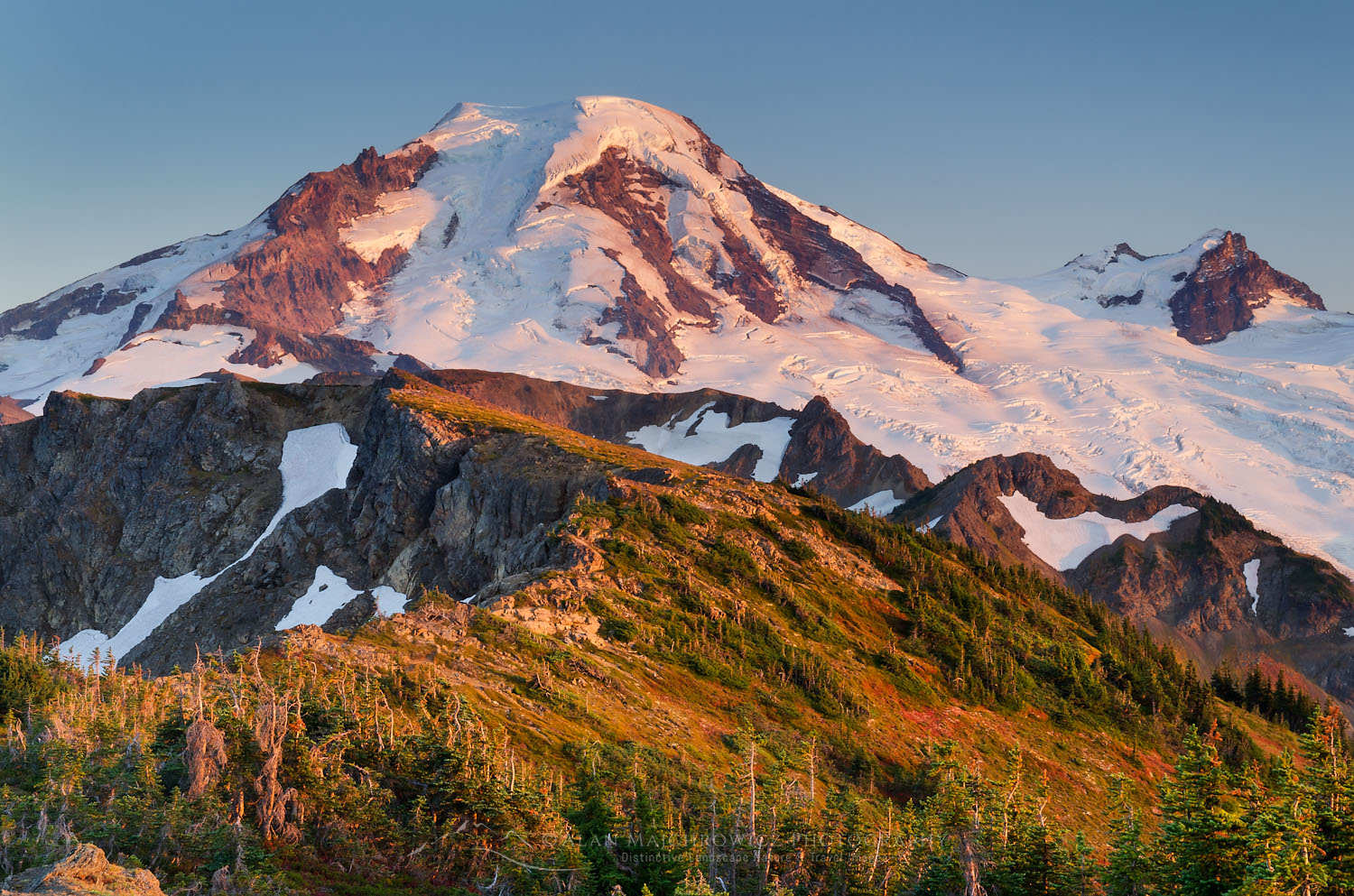 Mount Baker at sunset from upper Skyline Divide #49922  Purchase
Wherever you choose to set up camp you'll be in for a visual treat. As the sun goes down the colors of glaciers on Mount Baker progress from white to yellow, to orange, and finally to pinks and purples. In the eastern sky after sunset look for the beautiful glow of the Belt of Venus over Mount Shuksan. This is the shadow of the Earth moving across the sky.
Look to the west and watch the sunset over the Salish Sea, turning the water to brilliant gold. And although you probably came to escape civilization you'll be mesmerized watching the lights of Vancouver turn on and glitter in the twilight.
Of course, you'll need a clear sky for all this, but it's just as captivating watching clouds and fog swirl among the peaks.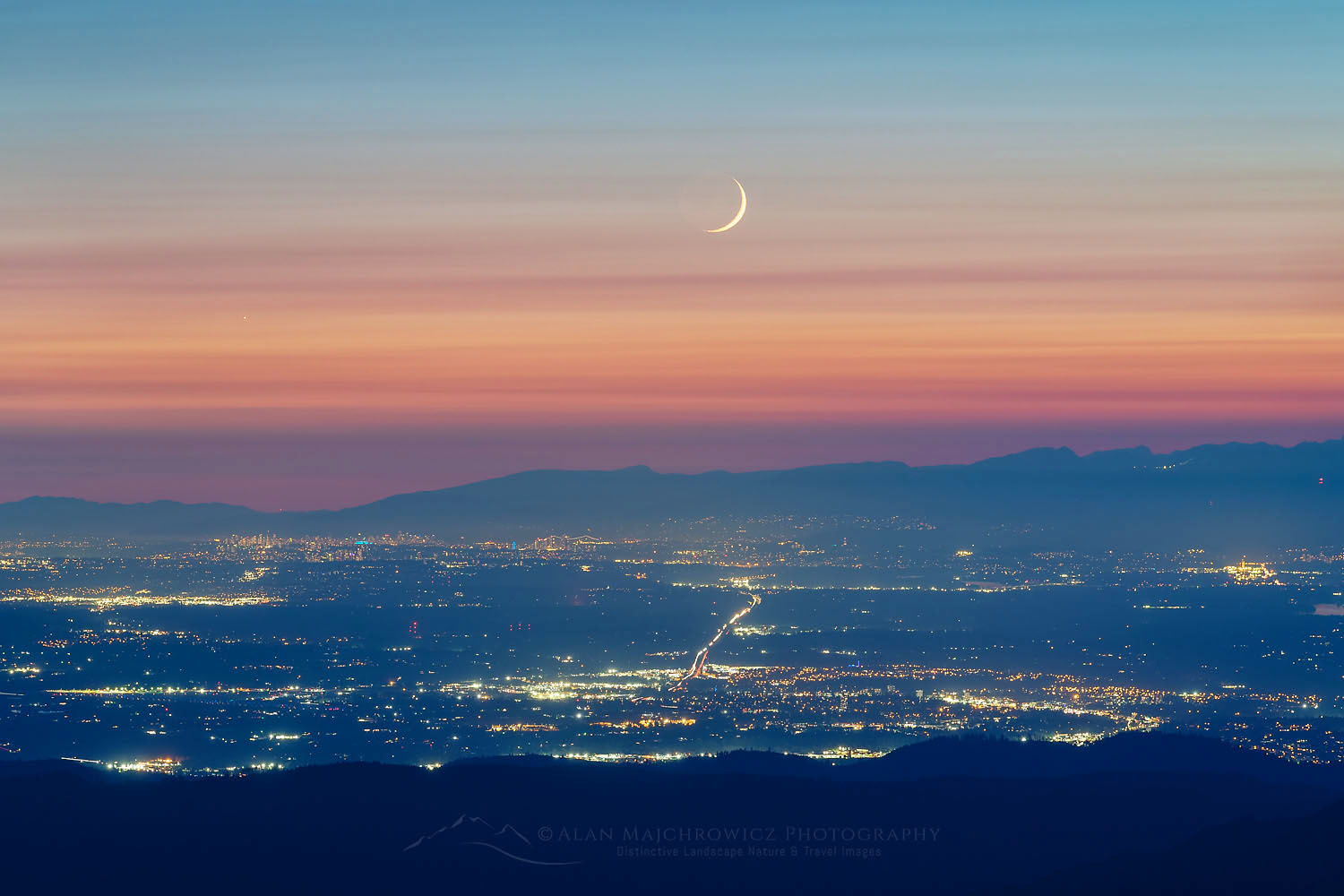 New Moon and Venus over Vancouver #71787  Purchase
Tips for Hiking in the Mount Baker Wilderness
When to go: Both of these hikes and the North Cascades generally receive more snow than just about anywhere else in the lower 48 states. Most higher elevation trails are under the snowpack until early to mid-July. Of course, you can go sooner but be prepared for some route-finding. Some steeper slopes higher on the ridge may need crampons and an ice axe to negotiate safely.
Most wildflowers don't appear until late July or early August. The exception would be avalanche lilies that begin to shoot up while still under snow.  By mid-August, most of the snow will be gone and you may need to pack in your own water for an overnight trip.
Skyline Divide is a particularly nice destination in early fall. The crowds are smaller and the meadows begin to take on some lovely fall color. A light early snowfall can also provide a dramatic effect on the surrounding mountains.
Permits:  A Northwest Forest Pass or America the Beautiful Pass is required for parking at the trailhead. However, Washington State Discover Passes are not valid. There are currently no additional permits needed for day-hiking or overnight trips.
Gear:  Check my post Backpacking Photography Gear Tips for suggestions and tips on hiking, backpacking, and photography gear.
Photography tips:  Check my post Backpacking Photography Tips for suggestions and tips on making better photos on your trip.
More information about these hikes can be found on the Mount Baker-Snoqualmie National Forest website.
For more hikes in the Mount Baker Wilderness and North Cascades National Park check out these posts:
Hannegan Peak Ruth Mountain
Lake Ann Ptarmigan Ridge Mount Baker Wilderness
Whatcom Pass Tapto Lakes North Cascades National Park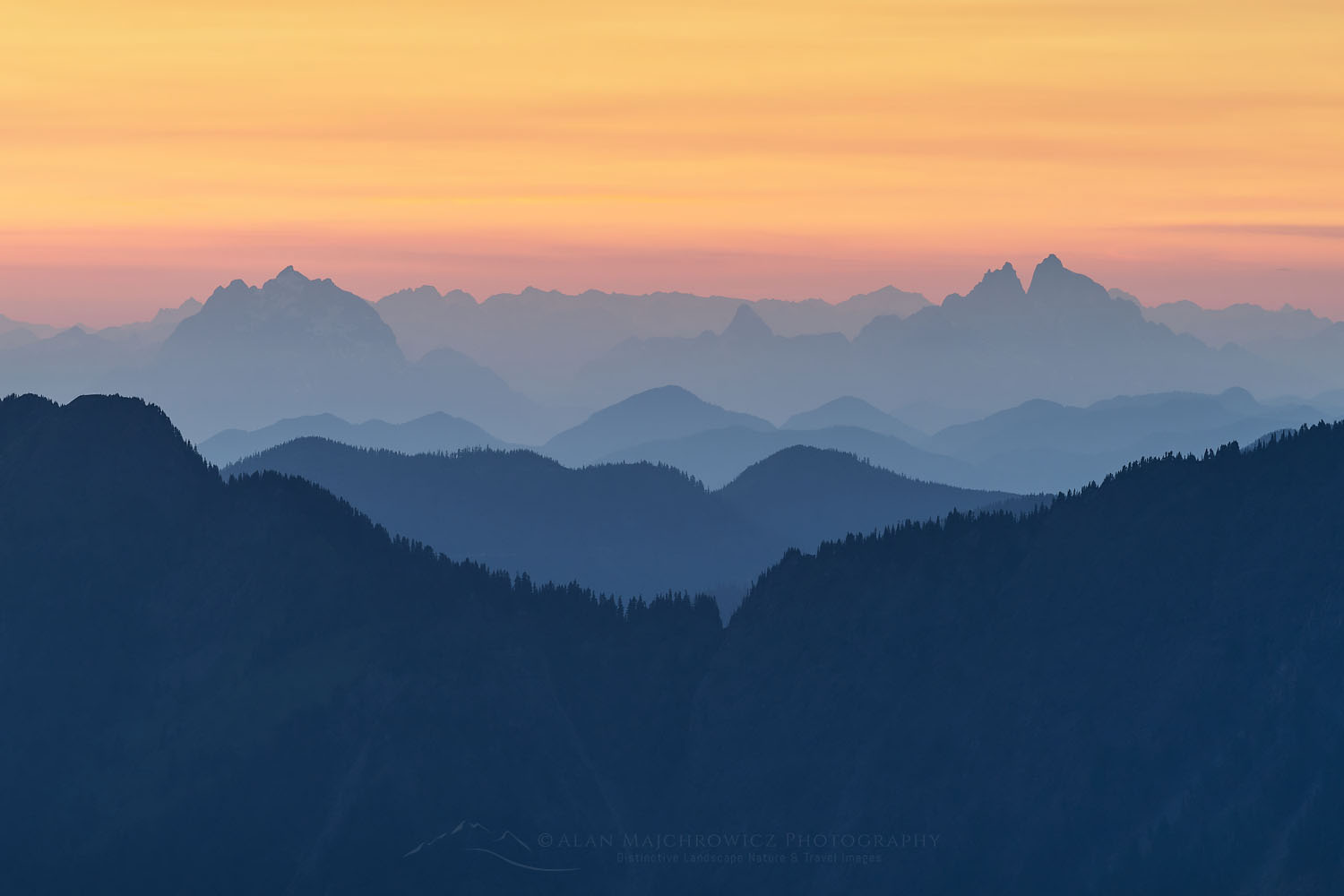 Coast Range of British Columbia from Skyline Divide #71773  Purchase
Leave No Trace in the Mount Baker Wilderness
Please Please Please!  Don't plan a trip to this or any other wilderness area unless you are willing to strictly follow the guidelines of Leave No Trace (LNT). Mount Baker Wilderness and all other wilderness areas throughout the world are under incredible pressure from growing amounts of visitors. Please do your part to help preserve these precious areas for future generations!
To learn more about the principles and practicing LNT please take a few minutes to visit the Leave No Trace Center for Outdoor Ethics. Your children, grandchildren, and the Earth will thank you!
Seven Leave No Trace Principles
Plan ahead and prepare.                                       

Travel and camp on durable surfaces.                 

Dispose of waste properly.                                                                         

Leave what you find.                                            

Minimize campfire impacts (be careful with fire).

Respect wildlife.  

Be considerate of other visitors
Thanks for reading, feel free to share this post with your friends and colleagues!
Want to learn more, or have a professional photographer guide you in the field? Then take your Creative Photography to the next level with  Private Instruction and Guided Photo Tours.
All photos appearing in Mount Baker Wilderness Part 1 are available for Commercial Licensing and Fine Art Prints. Click on any image to purchase, or contact me for more info!