Whatcom Pass Tapto Lakes North Cascades National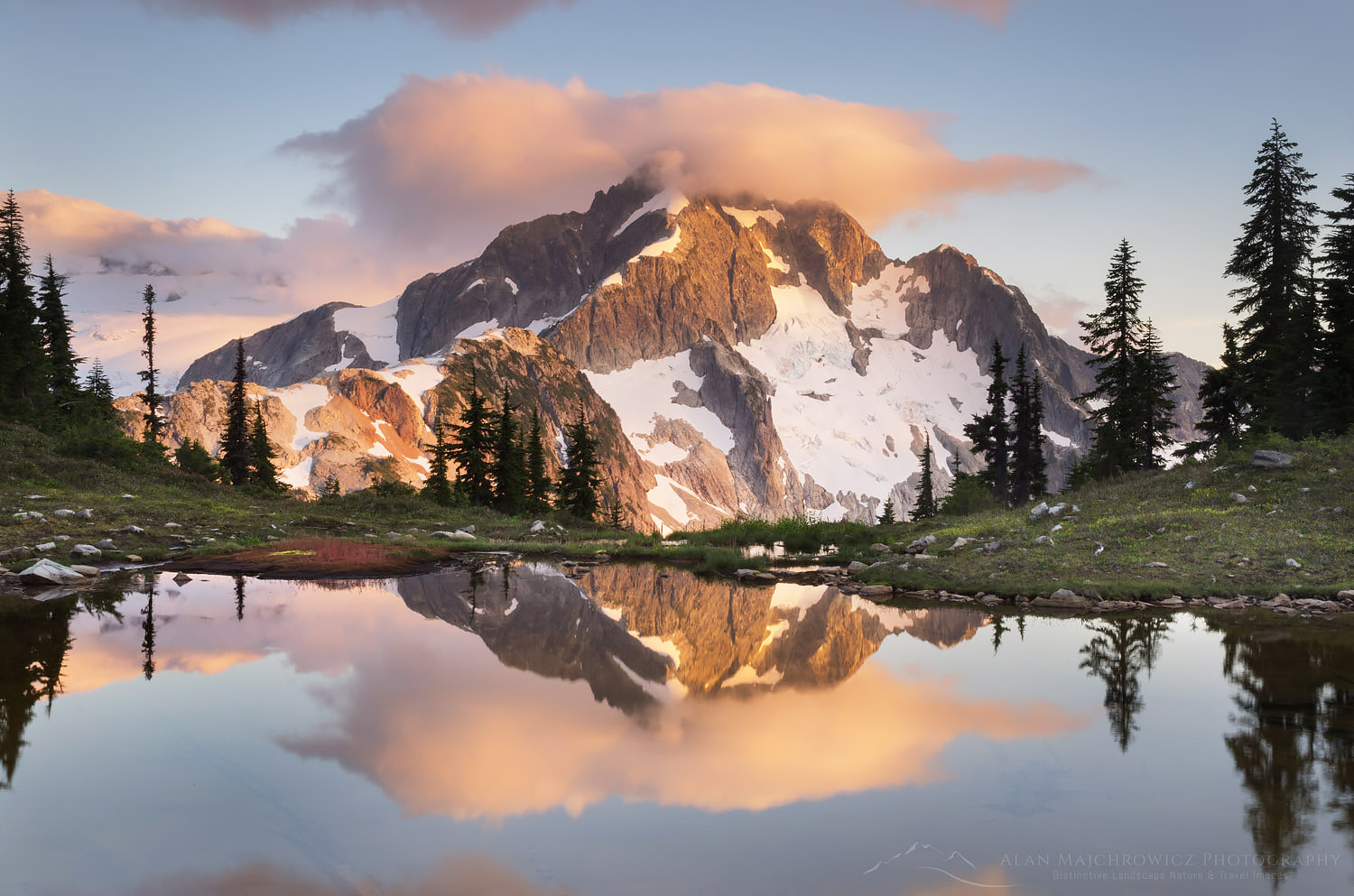 Whatcom Peak reflected in Tapto Lake # 61497    Purchase
A Long Awaited Journey
Everyone has a place they dream of, somewhere that holds a special spot in their heart. At some point in their lives, usually at a young age, they see a picture or read a story about a place that for various reasons grabs their imagination. They carry it with them over the years and hope someday for the chance to visit it in person. For me, it has always been mountain wilderness. And not just any run-of-the-mill mountain wilderness. It had to have a primordial feel. Dark mysterious forests, raging rivers, and rugged peaks with jagged rock summits jutting out from expansive glaciers. For me, the North Cascades fit the bill perfectly. It was this vision that drew me to Whatcom Pass many years ago.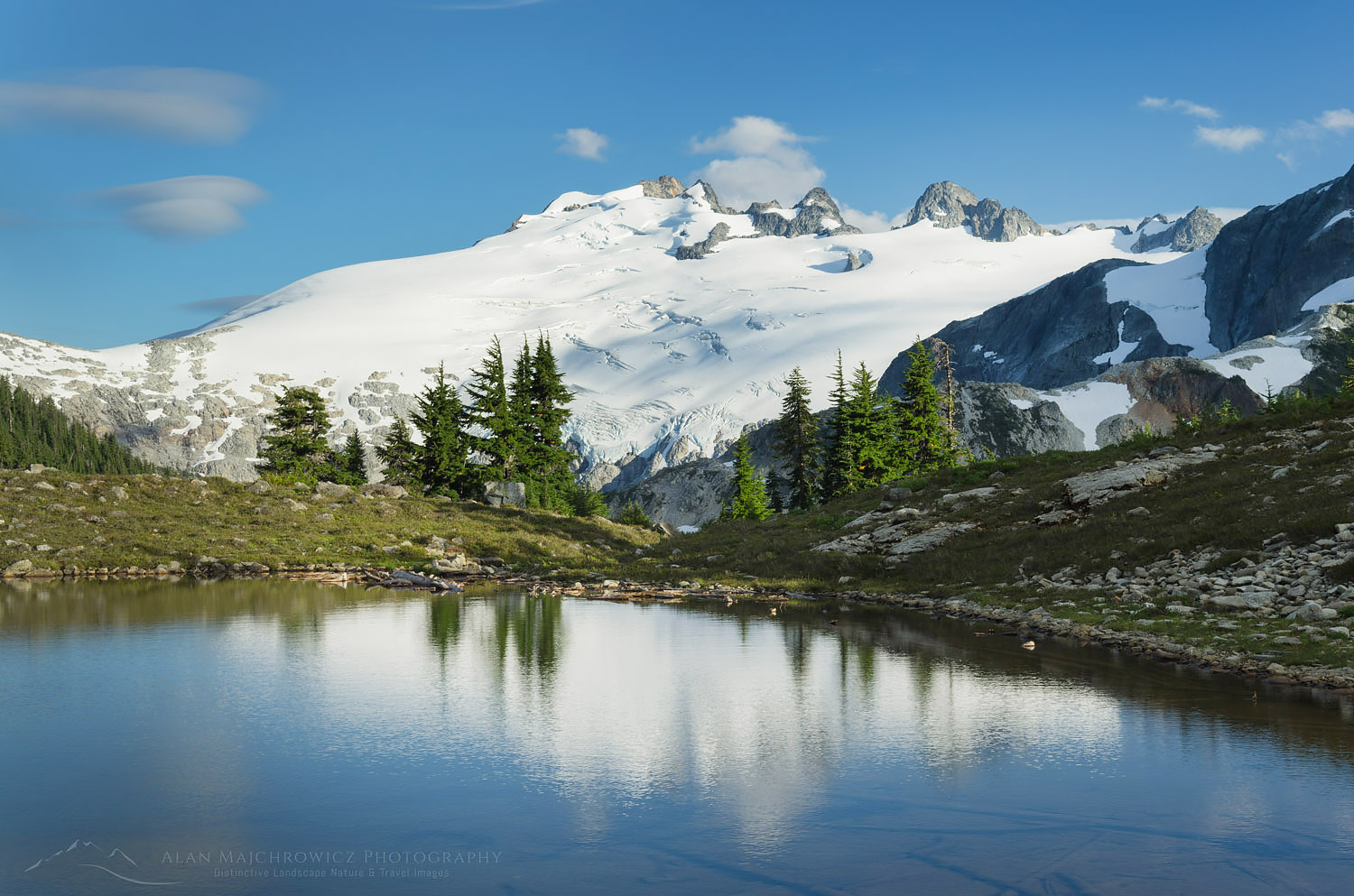 Challenger Mountain, North Cascades National Park  #61459    Purchase
Whatcom Pass Tapto Lakes North Cascades National Park Part 1
Several weeks ago I was finally able to make a return visit to Whatcom Pass and Tapto Lakes, in North Cascades National Park. In the heart of the park, Whatcom Pass is quintessential North Cascades wilderness. It rises out of deep untouched forest valleys to jaw-dropping views of rugged glacier-clad peaks. Far away from any road town or cell signal. My first visit was way back in the late eighties and I've been wanting to go back ever since. There have been many reasons for my delayed return, not least of which is the long tiring hike accompanied by swarms of flying insects.
Unlike most backpacking trips this one has a few major ups and downs in addition to covering lots of miles. On the first day climbs a pass and then descends deep into another valley. The next day you must climb up to another pass, then higher to the lakes basin. In all, you'll cover around 40+ miles and about 8500′ of elevation, including side trips, before returning to the trailhead. A very strong hiker could make it in two days, most people allow three to four days. My primary goal was for photography and relaxation so I gave myself six days to accomplish this trip. Aside from the photography thing I always feel that if you work so hard to get someplace why hurry to leave? Take your time to relax and enjoy the surroundings!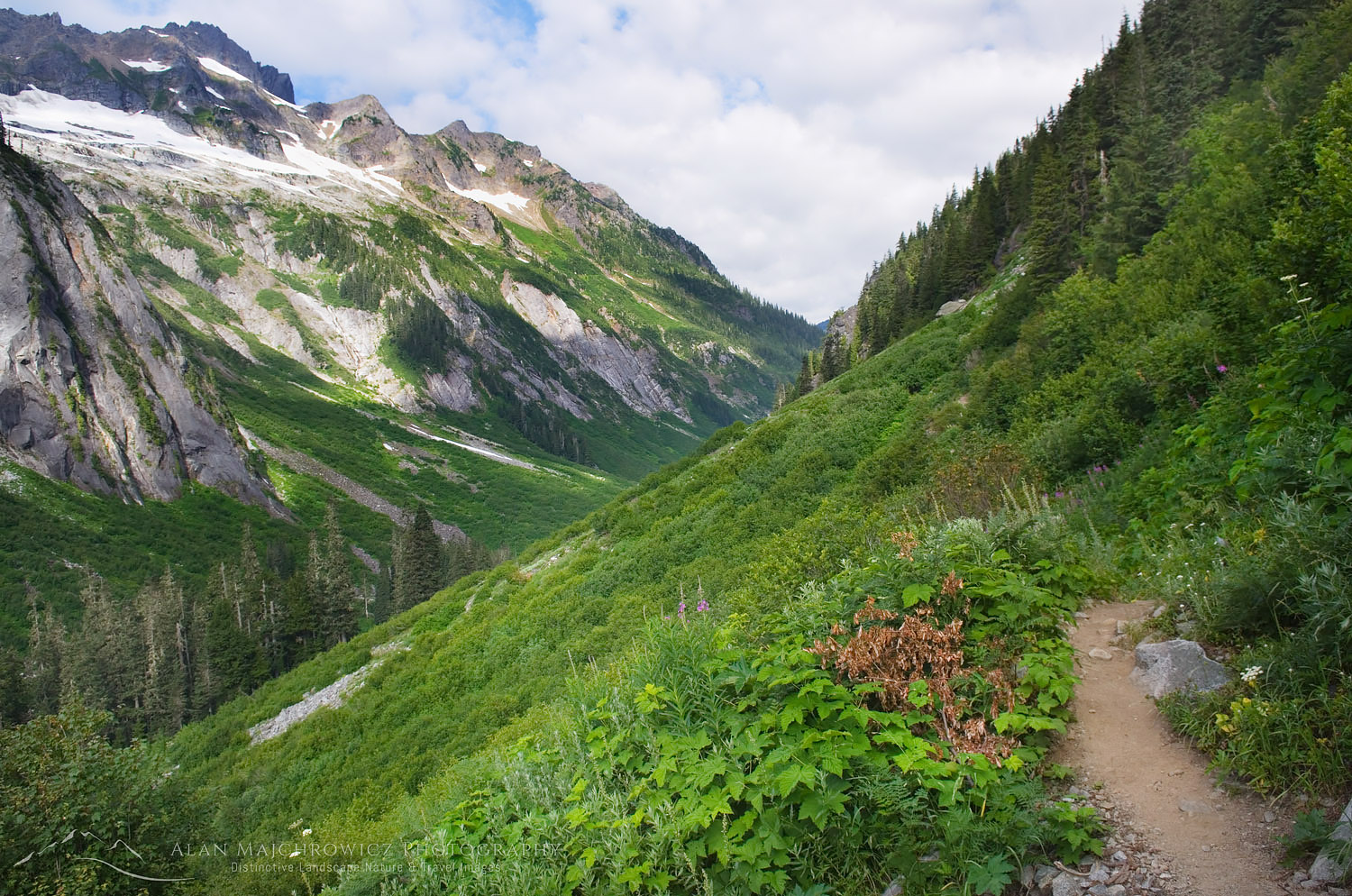 Hannegan Pass Trail through Ruth Creek Valley, Mount Baker Wilderness  #54291    Purchase
Hiking to Hannegan Pass
On the first day, I made an early start, hoping to make it through the brushy Ruth Creek Valley before the black flies awoke. It's about five miles and 2000′ up to Hannegan Pass, along a very scenic trail that sees very heavy foot traffic. I've been up this trail to the pass nearly a dozen times and never get tired of the open views of rugged Nooksack Ridge. About halfway up you begin to see snowcapped Ruth Mountain guarding the head of the valley. Ruth Mountain itself is a popular destination for hikers climbers and skiers in the early season. Although I'm not much of a mountaineer I managed to hike up the glacier to the summit several years back. From the top, you get an incredible view of Mount Shuksan and its glaciers spilling into Nooksack Cirque. Truly awe-inspiring!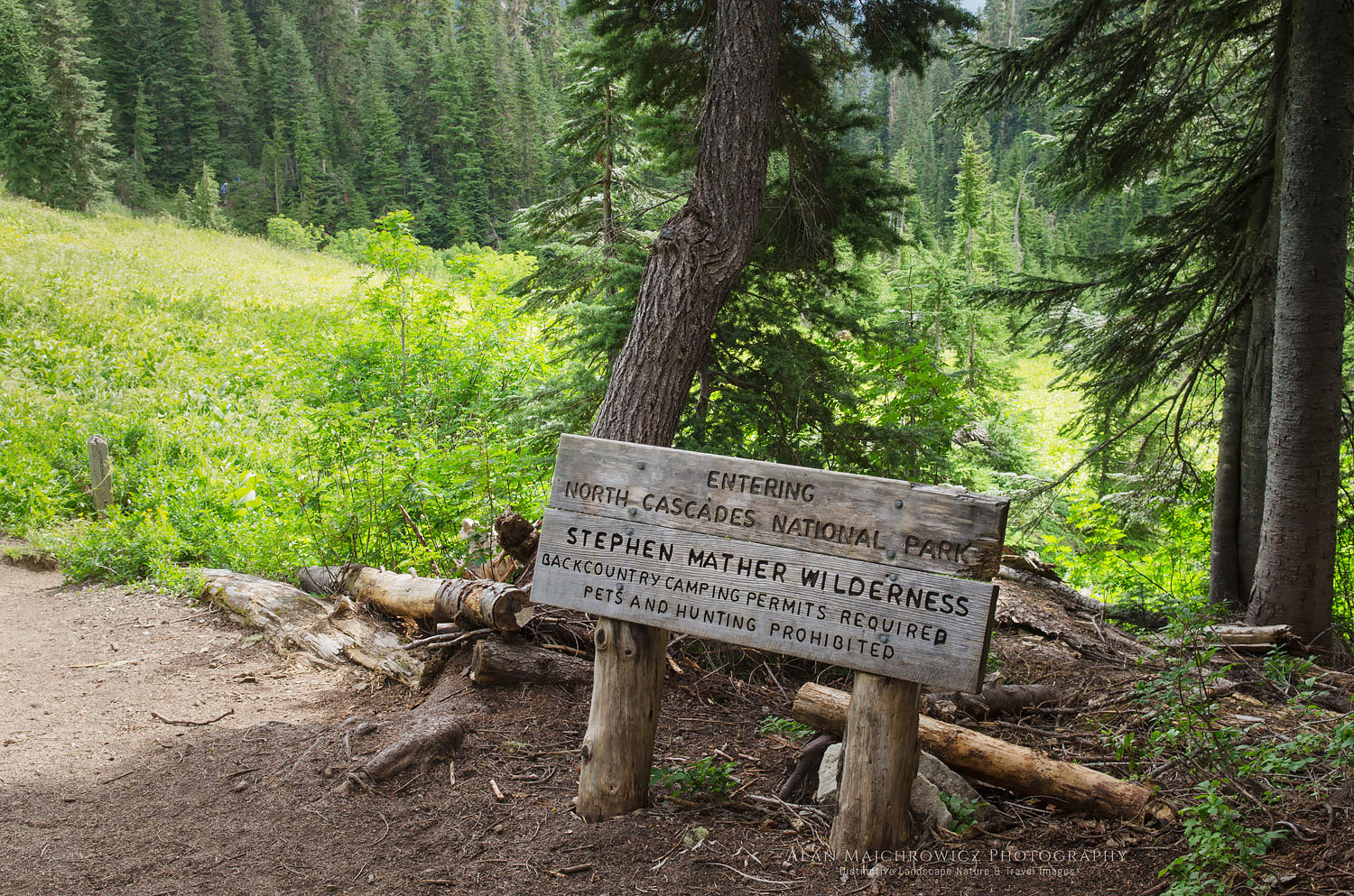 Entering the park #61415    Purchase
Down the Chilliwack Valley
On reaching Hannegan Pass I took a rest to have a snack and dry off my sweat-soaked shirt. I also chatted with a group of volunteers that were part of a trail maintenance crew. From here it's all downhill into the wild Chilliwack River Valley, losing all that hard-won elevation. Shortly after leaving the pass I finally entered North Cascades National Park, as indicated by a weather beaten-wooden sign. The hike down into the valley is through a beautiful untouched fragrant forest of silver fir, mountain hemlock, and grand fir. The feeling here of true wilderness is very tangible, even the trail seems wilder. From the pass, I needed to travel another five miles to the U.S. Cabin camp, my first night's destination.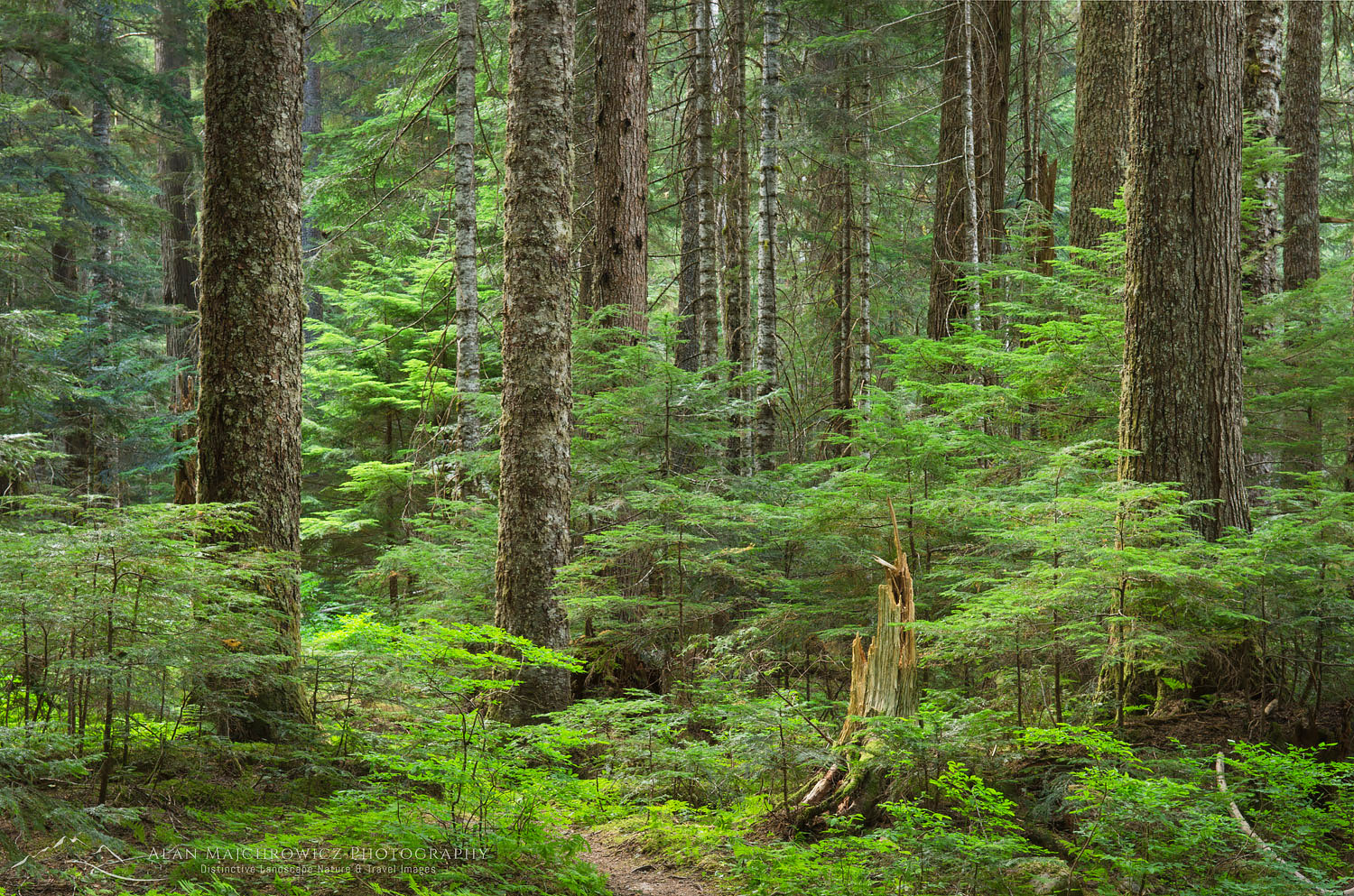 Old-growth forest Chilliwack River Valley, North Cascades National Park  #61421    Purchase
Ten miles is about my limit for hiking with a full multi-day pack, so I was glad to reach the camp and set up my tent. Amazingly there were very few bugs so far and I was able to relax and eat dinner along the river unmolested. I was even able to make a few photos of the impressive forest at this camp. That night I turned in early in anticipation of a grueling hike the next day. I had to hike another seven miles and over 3000′ up to my next and ultimate destination, Tapto Lakes above Whatcom Pass.
The next morning I again got up early to hit the trail. The first stop of the day was the unique crossing of the Chilliwack River via a hand-operated cable car. I don't know how common these contraptions are but for most hikers, it's a highlight of their trip. Later in the season crossing the river on foot wouldn't be very hard, but why pass up such an interesting experience? Two hikers and their packs can fit in the car which is operated by pulling on a rope. It's pretty easy getting across the first half since the cable sags down a bit.  After that, you begin to pull your weight up to the opposite side. By the time I got the car docked on the platform, my arms were pretty tired from pulling. Of course, I had to make sure I got a few photos before moving on.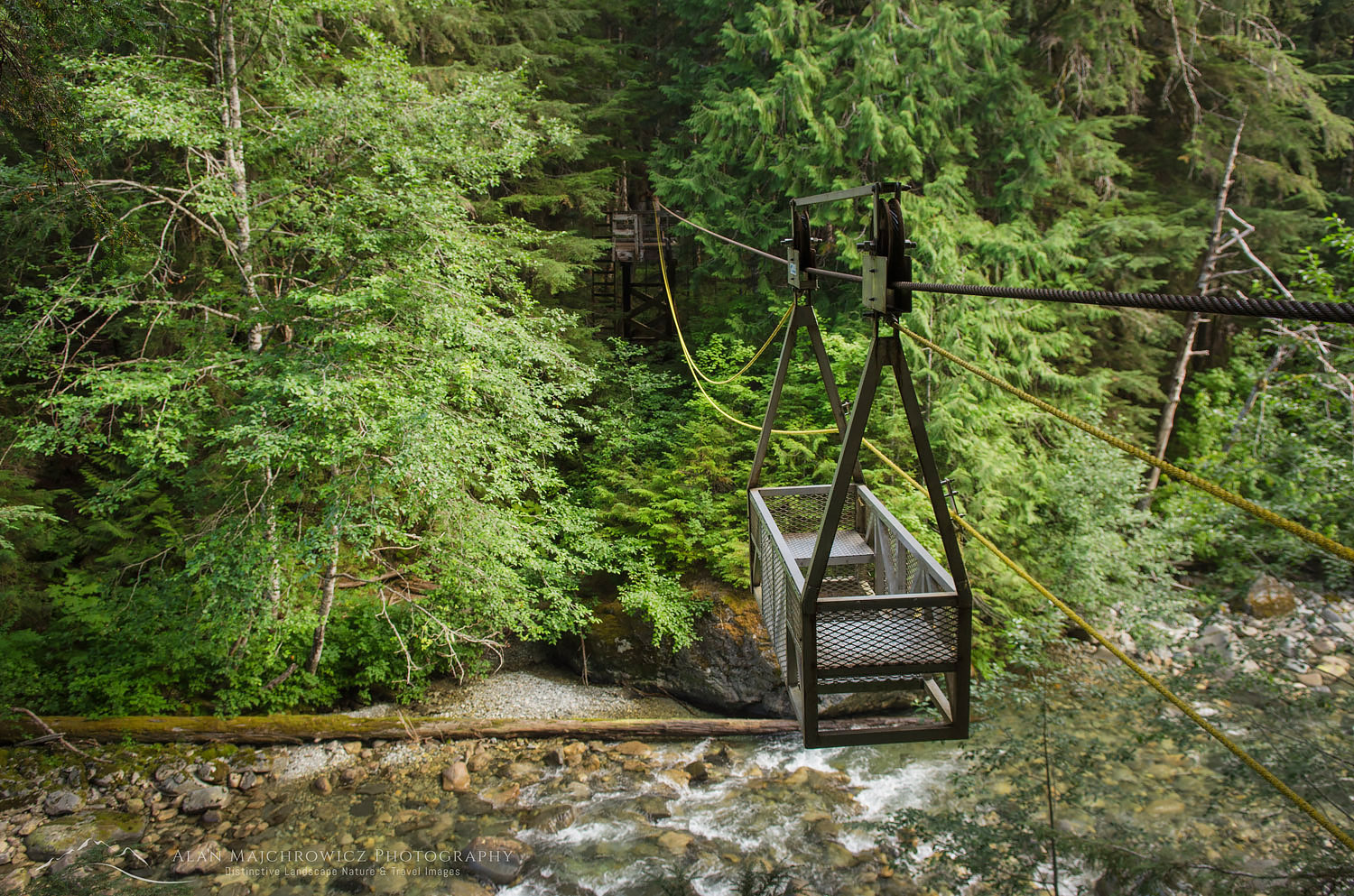 Chilliwack River cable car, North Cascades National Park  #61427    Purchase
Climbing to Whatcom Pass
After the river crossing, it's back to work again on the trail, which now goes through a very brushy section. Years ago, on my first visit, the chest-high brush was covered in morning dew. After half an hour of hiking, I was soaking from the waist down. A few miles later the climb to Whatcom Pass begins in earnest. The trail begins to rise from the valley bottom and gradually views open up to rugged Easy Ridge. After what seems like an eternity Whatcom Peak comes into view and the terrain begins to take on a subalpine look. I arrived at Whatcom Pass exhausted and again drenched in sweat from the climb.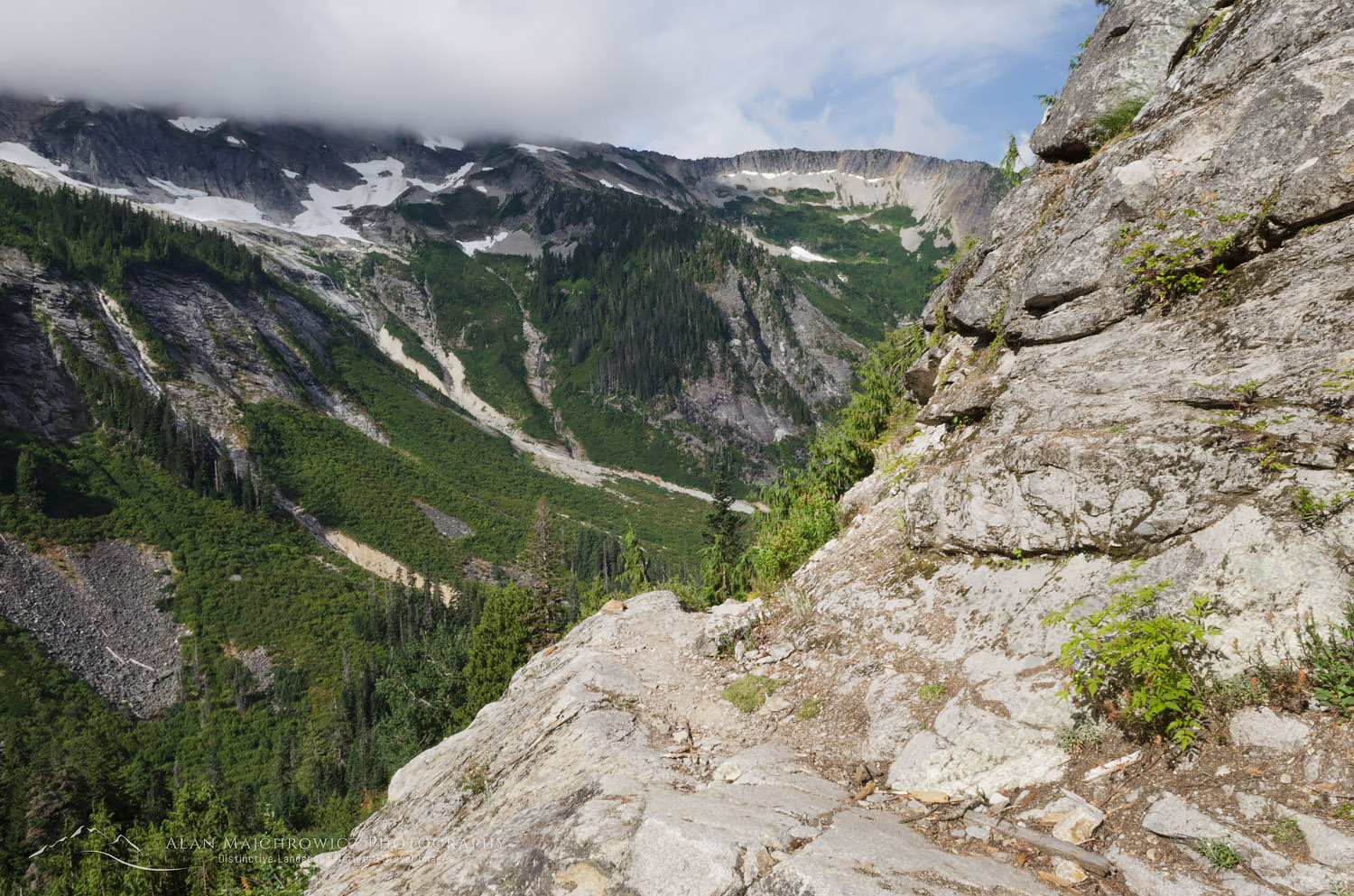 Whatcom Pass Trail, North Cascades National Park  #61764    Purchase
I still had another mile and 800′ feet of elevation to travel to my camp at Tapto Lakes. At this point, I was wiped out and wasn't sure if I could make it. The trail to the lakes is more like a climber's route, with sections so steep you need to pull yourself up by roots and branches. While deciding if I had the energy I spoke with a few other backpackers doing the cross-park hike to Ross Lake. Like me, they spent the whole morning climbing up to Whatcom Pass. However, they only paused briefly to take in the views before heading down again into the adjacent valley.
Again I thought to myself, what's the point in all the work if you hurry past the best parts? The previous day I met a woman doing the Pacific Northwest Trail. This 1200-mile-long trail starts at Glacier Park in Montana and ends at the Pacific Ocean. Like the Pacific Crest, Continental Divide, and Appalachian trails, you need to hike a set number of miles each day to complete it. During our brief conversation, I couldn't help admiring her determination and stamina. At the same time, I also felt a bit sorry for her that she needed to hurry through such beauty to stay on schedule.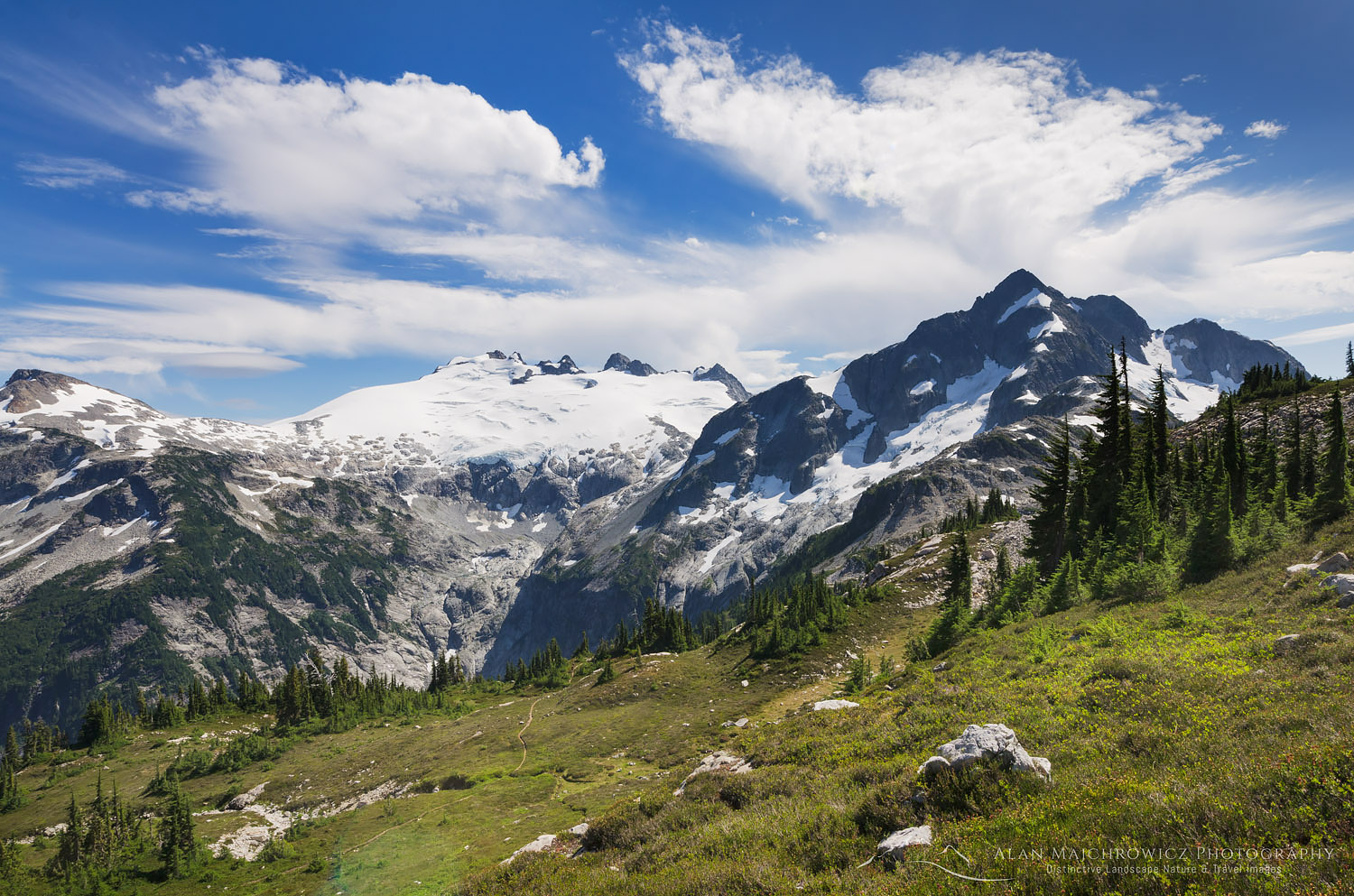 Challenger Mountain and Whatcom Peak, North Cascades National Park  #61443    Purchase
At Tapto Lakes
By this time I felt physically and mentally rested enough to slog up to reach my camp at Tapto Lakes. Taking it very slowly, the climb proved easier than I anticipated. Soon enough the views exploded to include Mount Challenger and the imposing rock buttresses of Whatcom Peak. A short 200′ descent into the basin brought me to beautiful Tapto Lakes. The day was still young so I took my time and leisurely explored the area to find the best campsite. The only other people there was a small group staying at the pass below. They had day hiked up to the lakes to take in the views and a quick dip in the frigid lake waters. When they left I had the entire place all to myself!
Time to rest and take it all in, and do nothing but marvel at the rugged beauty that spread before my eyes. At last, I returned to the place that held my imagination spellbound for nearly 28 years.
Coming up in part two: Exploring and photographing at Tapto Lakes.    Click here to read part two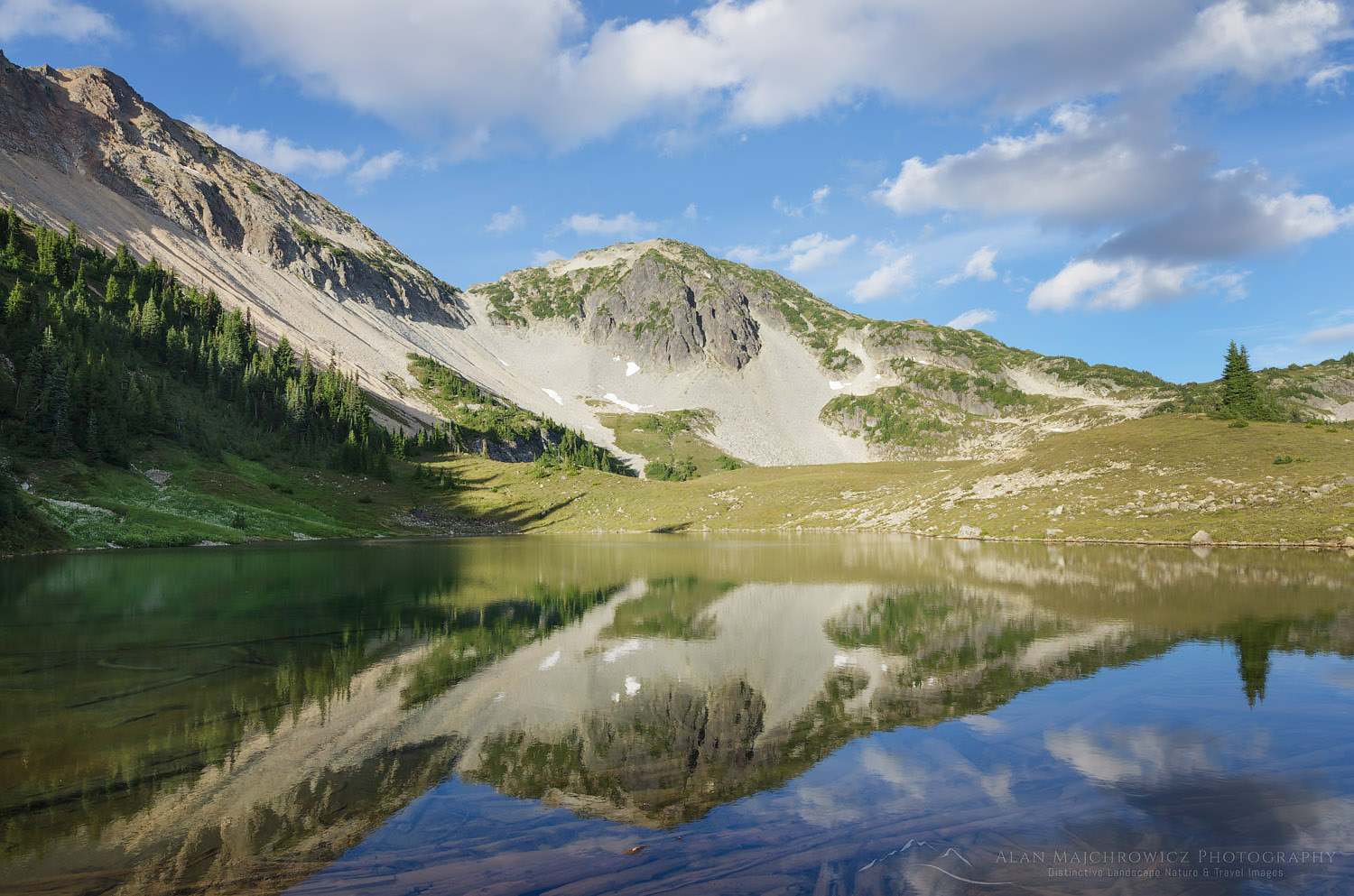 Tapto Lake, North Cascades National Park  #61455    Purchase
Whatcom Pass Tapto Lakes North Cascades National Park Part 1