Top Eleven Photos 2014
Once again it is time for all of us to look back on the past year and review our accomplishments and mistakes, in hopes that we will learn from them and experience personal growth in the coming year. 2014 was an exceptional year in which I was fortunate enough to visit some of my favorite truly outstanding locations. The top eleven images (yes other blokes best of lists may go to ten but mine goes one more, up to eleven)  below represent some of the best and most memorable experiences I had behind the camera while on the road and trail in 2014. Many of you that follow me here and on Social Media will recognize some of them, but there are a few that have not been posted anywhere before.
I would appreciate it if you could vote for your favorites in the comment box and share this post with your friends. Thanks to all my friends colleagues and loyal clients for making 2014 a successful year. Happy New Year with the best of health and prosperity for you and your families in 2015!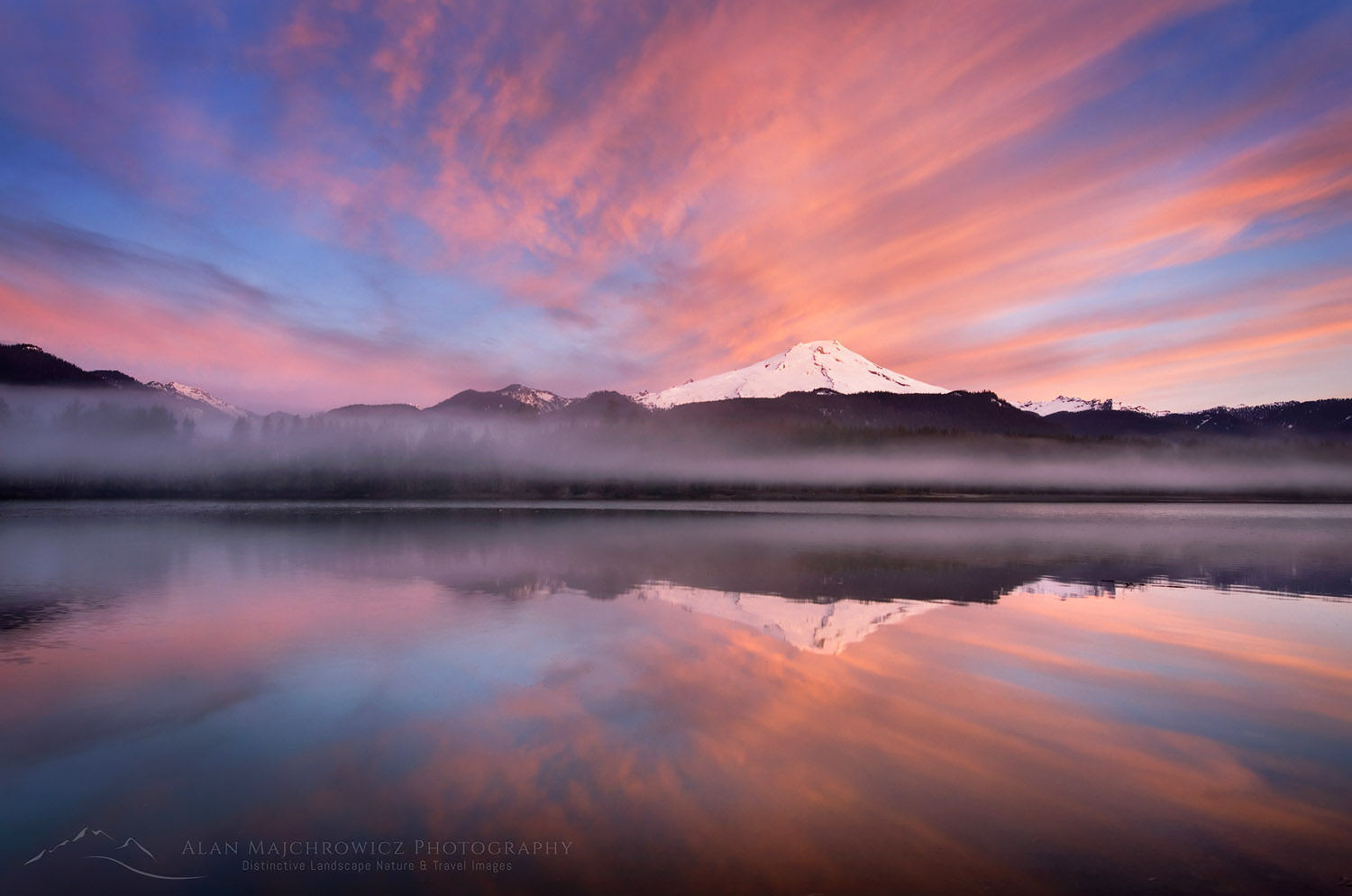 Mount Baker from Baker Lake #53563  Purchase
First in line is this late winter photo of Mount Baker, made on a short overnight backpacking trip along the shore of Baker Lake. One of those wonderful sunrise events where the light gets better every second.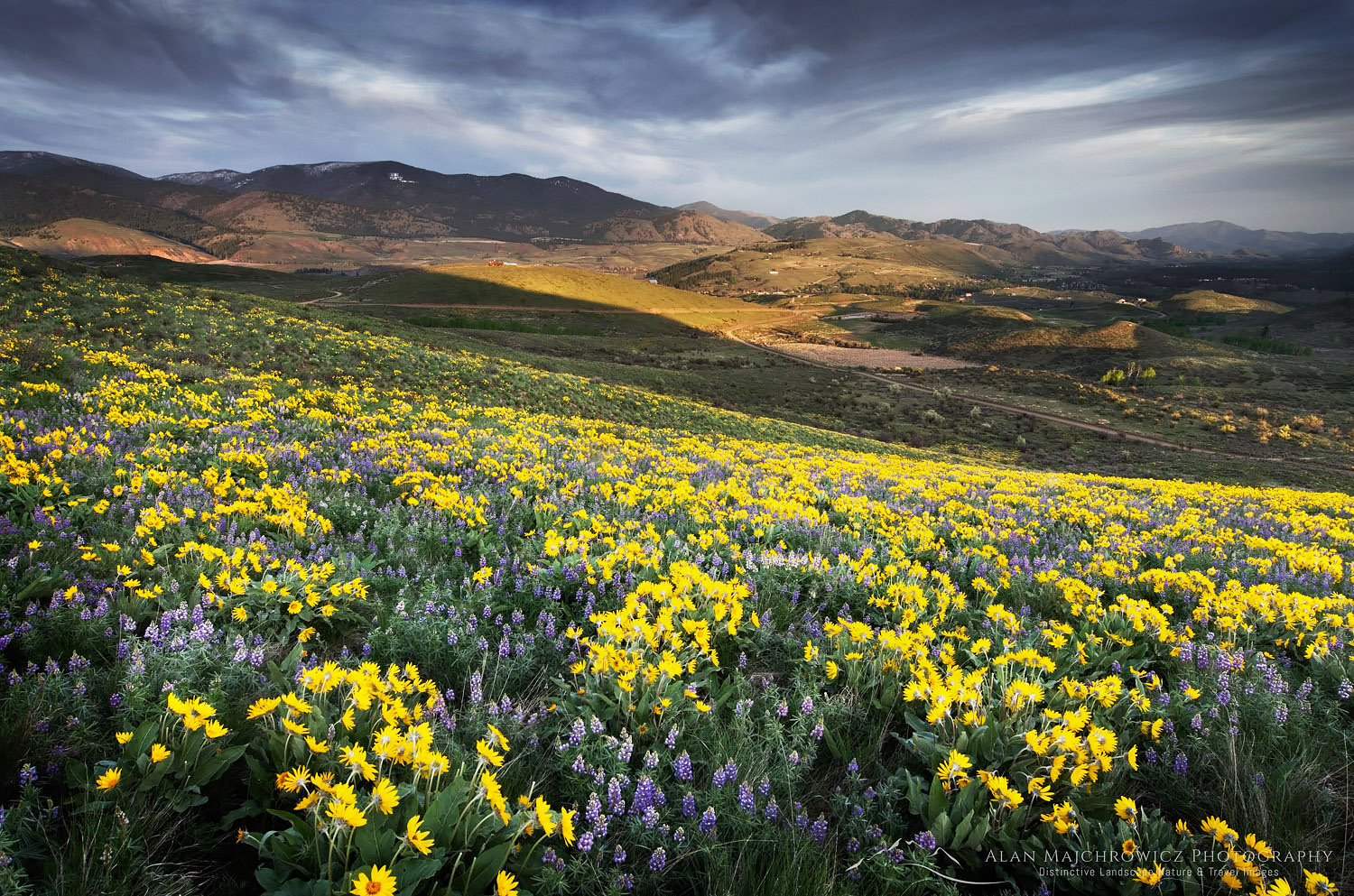 Methow Valley Wildflowers #53744   Purchase
On a trip to the Methow Valley to discover new locations for Spring wildflowers I came across this beautiful hillside. I spent several days hunting down wildflower compositions in a variety of lighting conditions.
Olympic National Park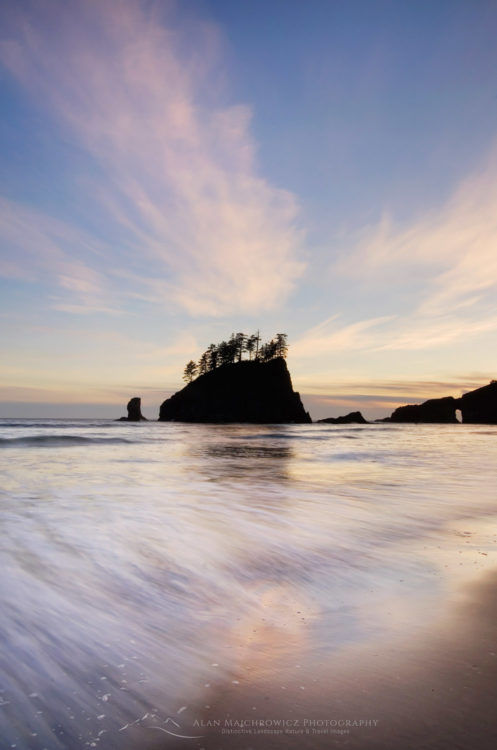 Olympic National Park #53979  Purchase
One of the most scenic beaches on the Washington Coast. This photo was made on the summer solstice. Behind me the beach was lined with dozens of tents from campers here to enjoy the event.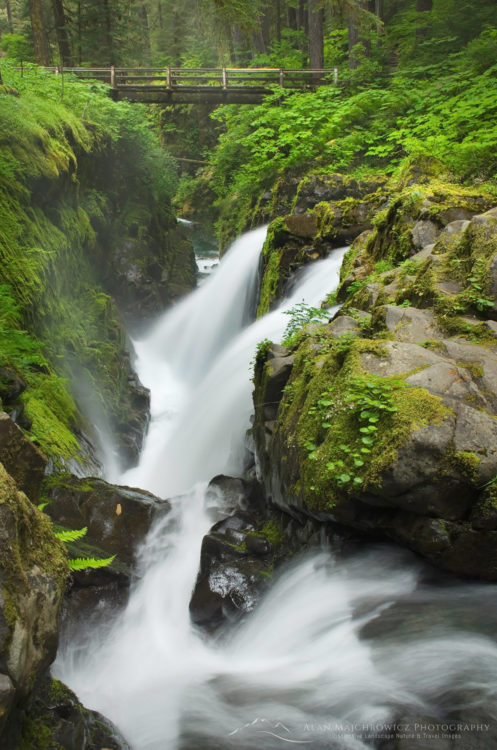 Sol Duc Falls Olympic National Park #53867
A visit to Olympic National Park wouldn't be complete without seeing some of the fantastic forests and streams. The short easy hike to Sol Duc Falls is one of the most popular attractions in the northern part of the park.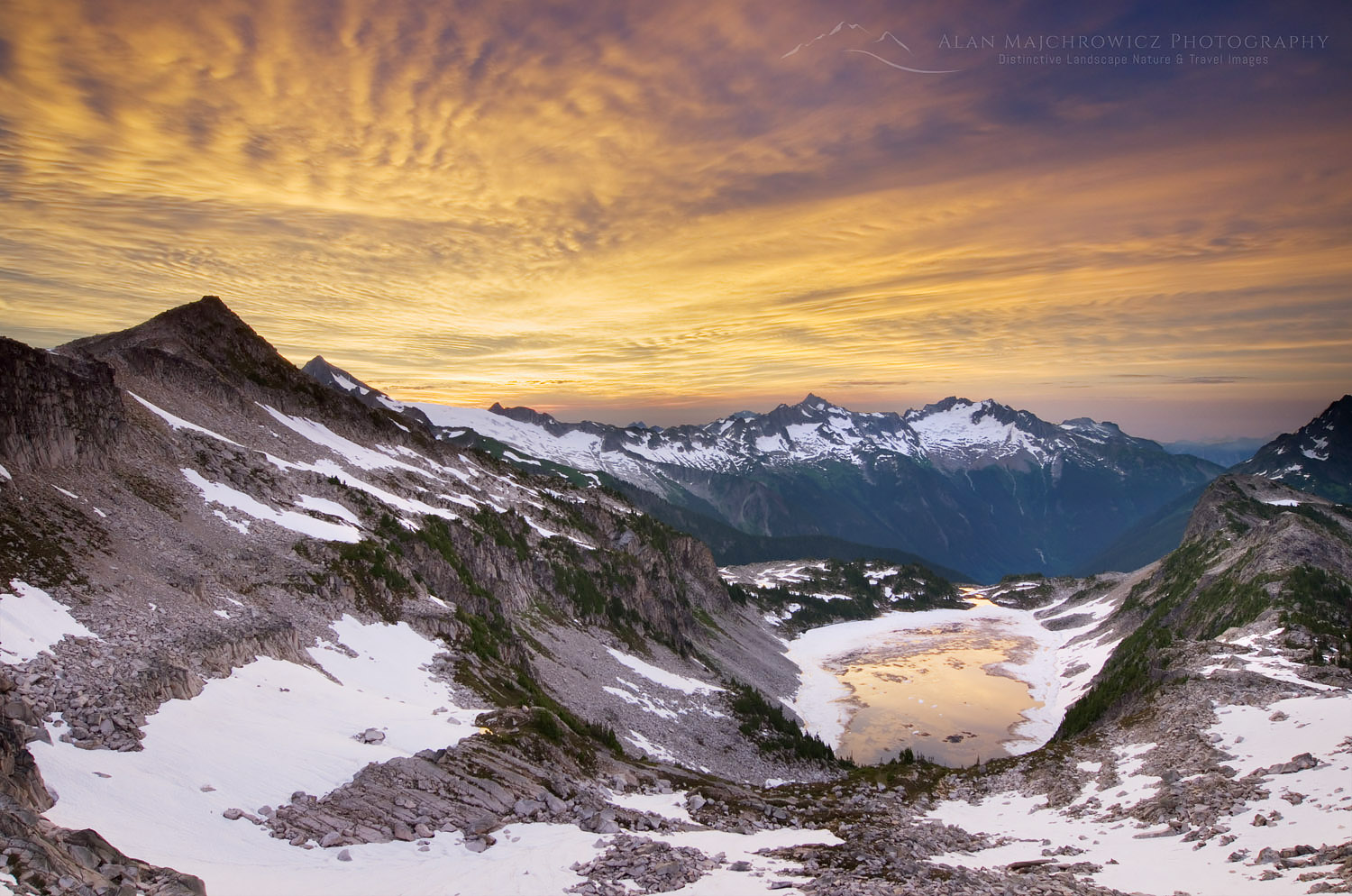 Hidden Lake Peak North Cascades #54196  Purchase
The first of several high season backpacking trips into the Rugged North Cascades yielded this awesome sunrise view from Hidden Lake Peak.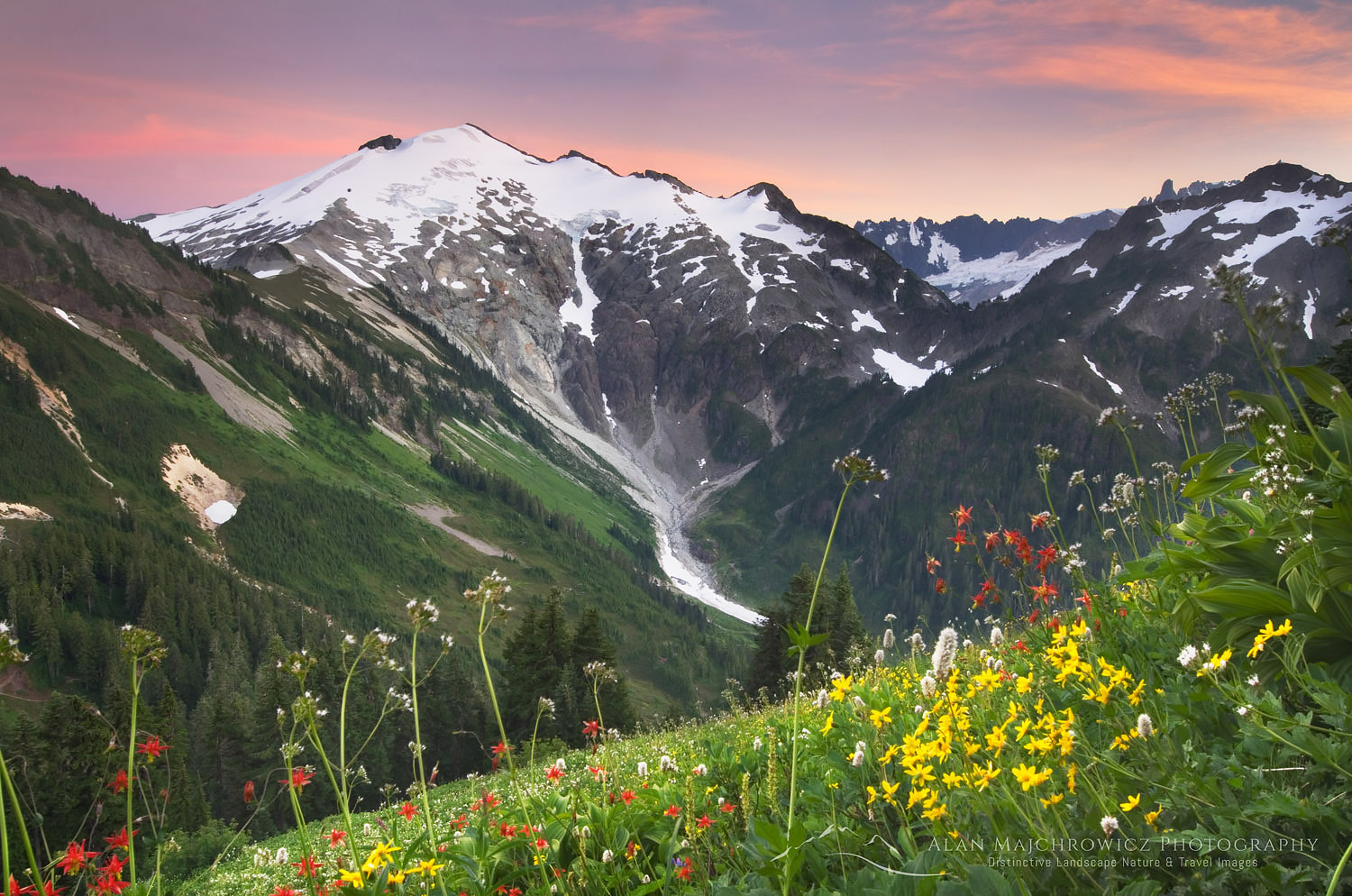 Ruth Mountain Mount Baker Wilderness #54363  Purchase
A week or so later further north in the Mount Baker Wilderness comes this view of Ruth Mountain made from wildflower meadows on Hannegan Peak. After spending a few days photographing on the summit I moved lower down to these meadows. Here the warm evening alpenglow cast a nice soft light across the scene.
On to the Canadian Rockies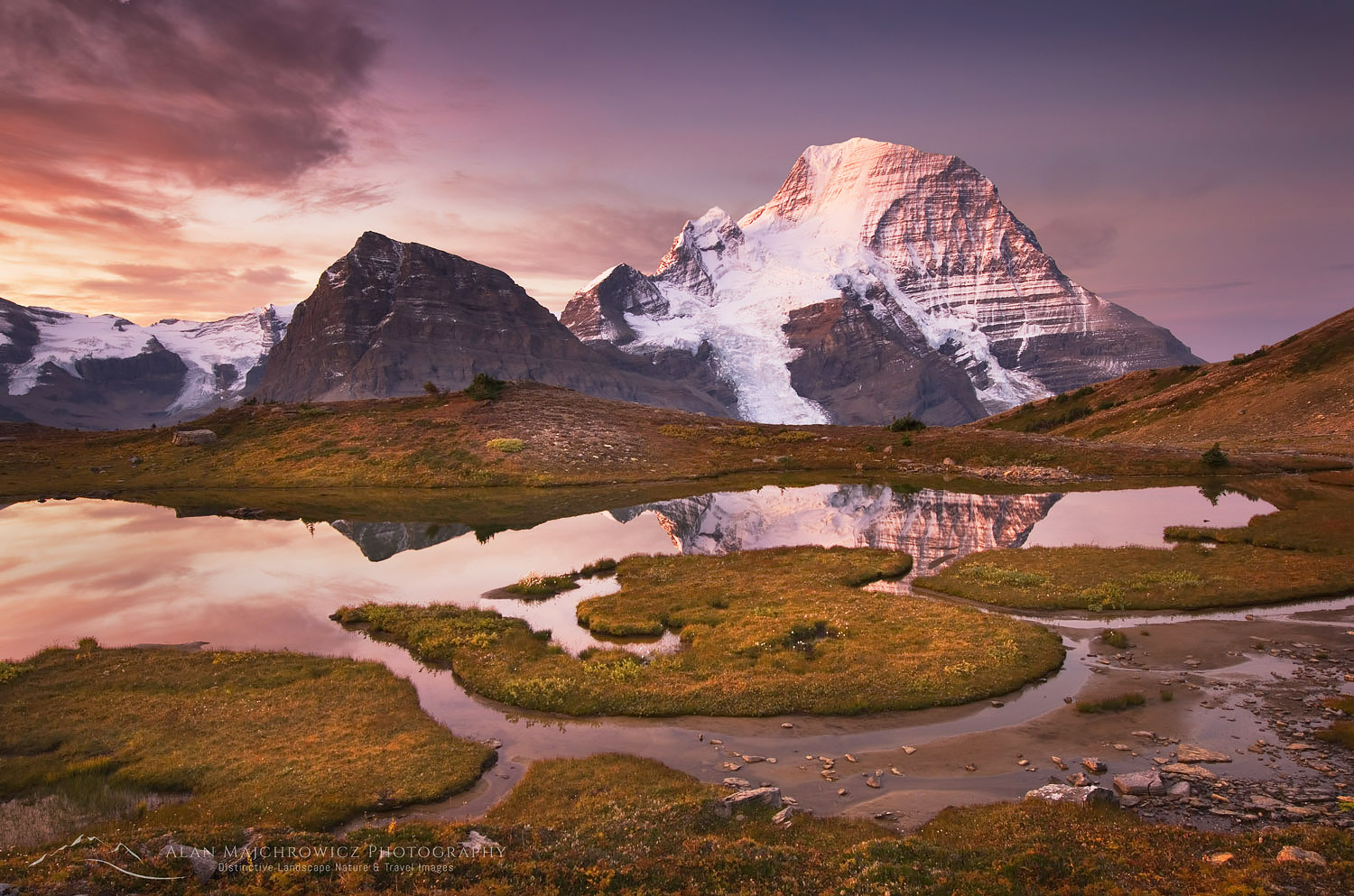 Mount Robson British Columbia #54613  Purchase
For me the pinnacle of the year came on this morning view of Mount Robson, King of the Canadian Rockies. This was my third trip to Mount Robson Provincial Park and I was hoping to come back with a great shot of the mountain. However, the first three of the five days I spent there offered only clear blank blue skies. Nice for hiking and camping but somewhat dull for photography. On the fourth morning the first clouds of a storm system arrived just at sunrise, casting an exceptional glow everywhere for about twenty minutes. That brief period was my reward. In the afternoon it began to rain and didn't stop until I reached my truck 15 miles and a day later.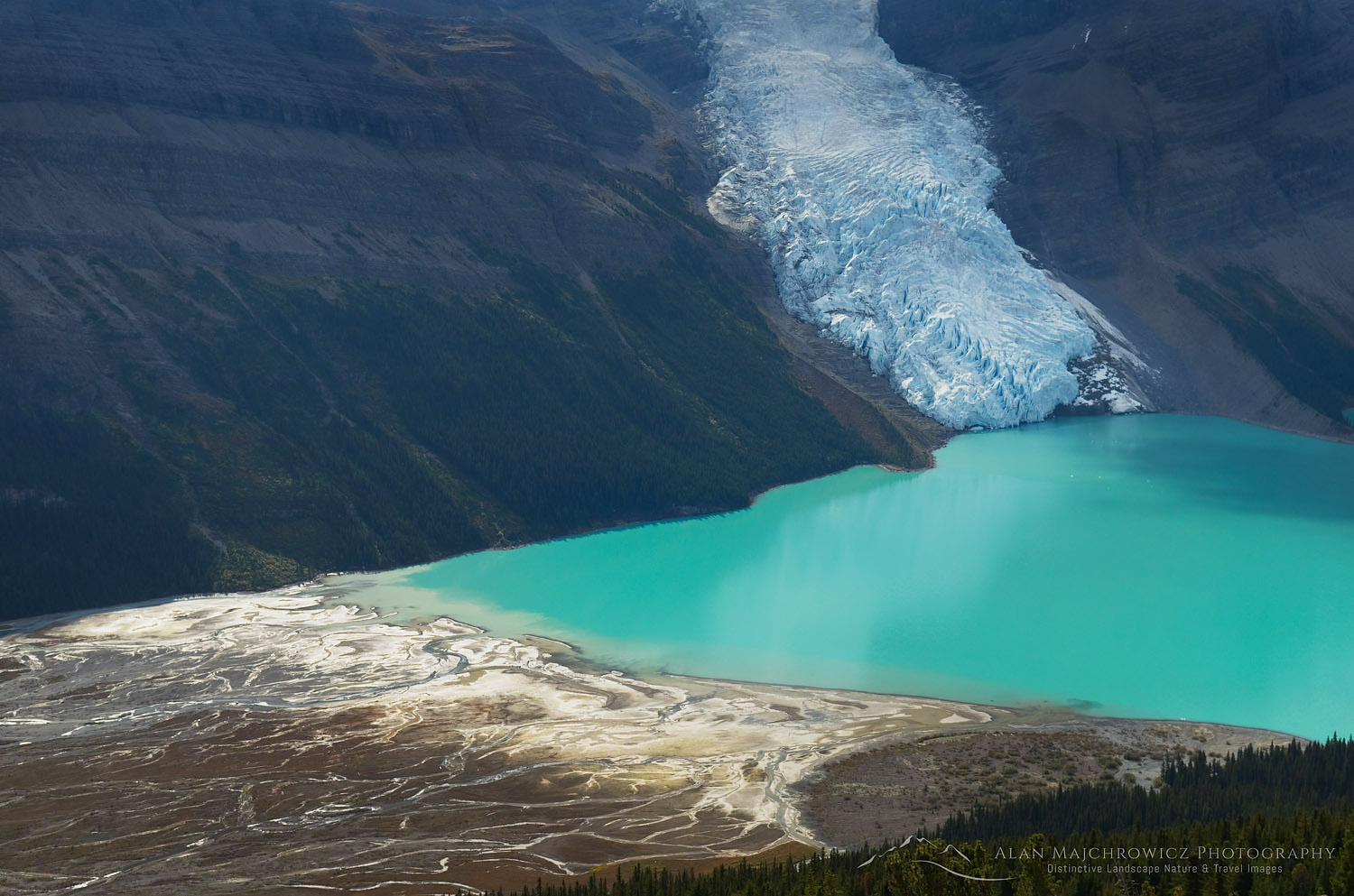 Berg Lake Mount Robson Provincial Park #54660
Another image from Mount Robson Provincial Park offers textbook examples of glaciation. The silty delta of the glacially fed Robson River on the left, and Berg Glacier on the right. Glacial flour suspended in the lake gives it it's turquoise color.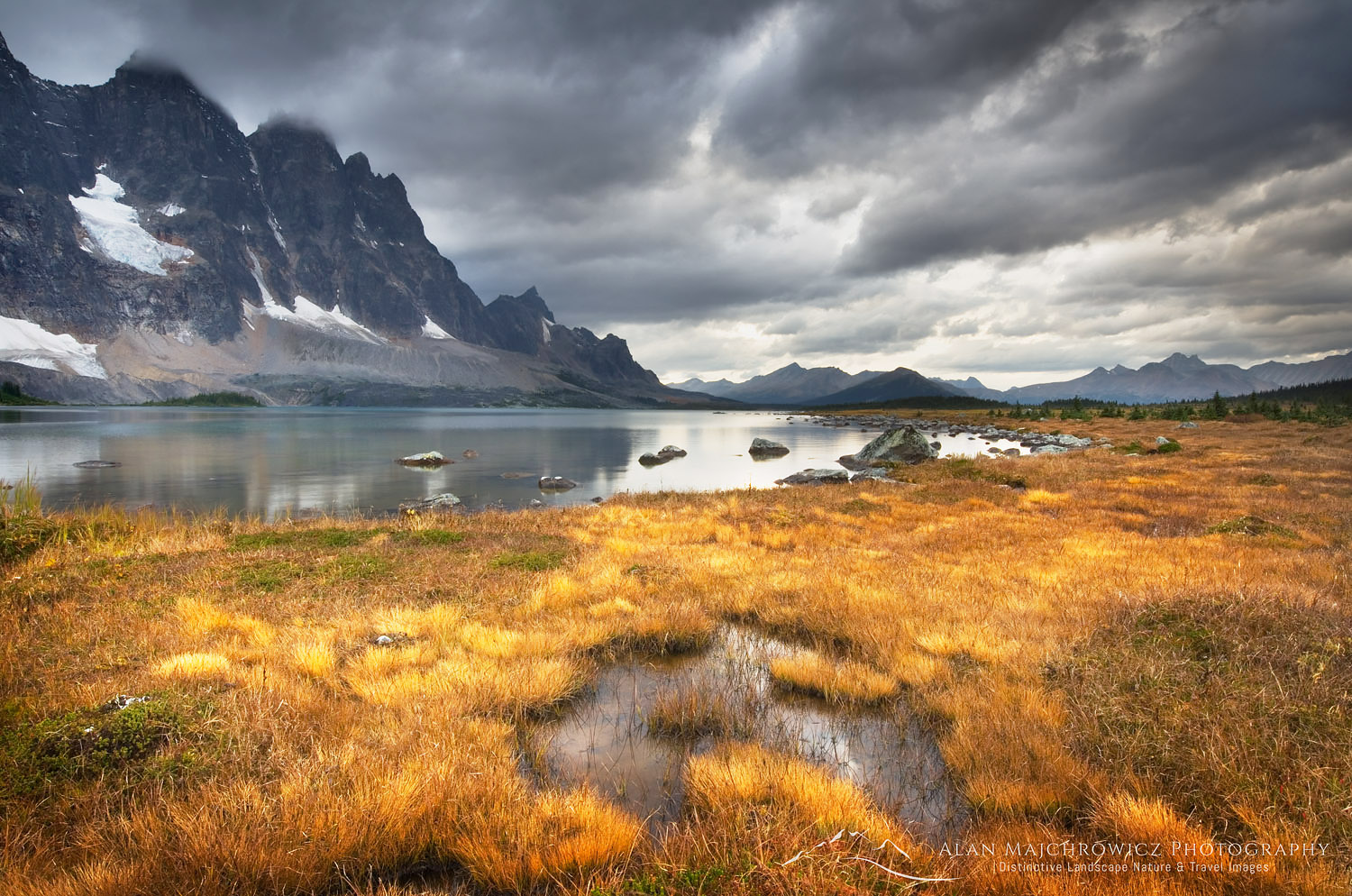 Tonquin Valley Jasper National Park #54753  Purchase
Another fantastic location in the Canadian Rockies, the Tonquin Valley of Jasper National Park. The light wasn't of the colorful dramatic type I had hoped for. However, the steel grey sky and cliffs of the Ramparts accentuated the copper colors of the autumn grasses. Creating a foreboding feel to the scene.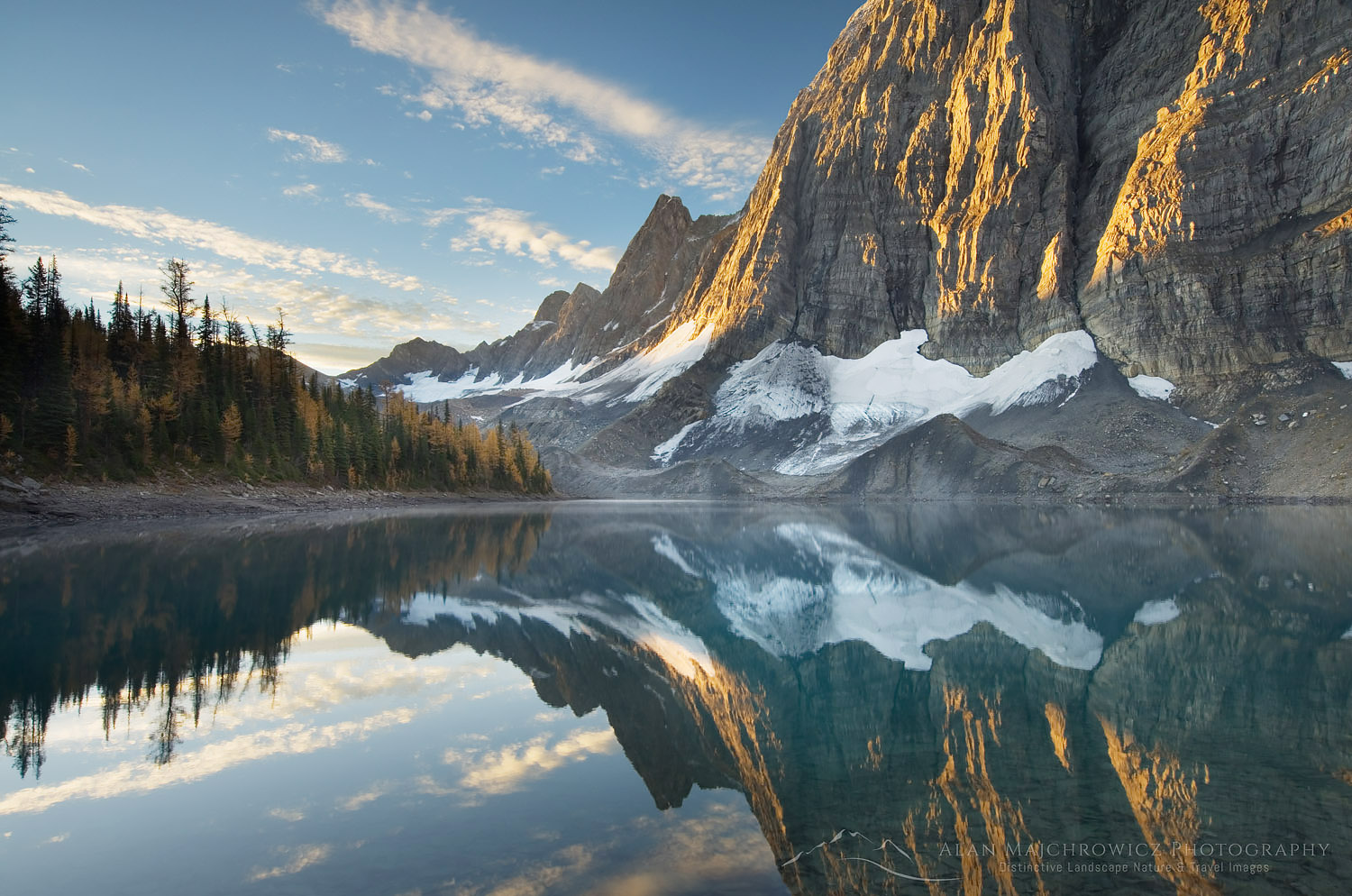 Floe Lake Kootenay National Park #54933  Purchase
Further south in Kootenay National Park is Floe Lake. Set at the base of the awesome limestone cliffs of the Rockwall. This is a stunning scene at dawn when the water is mirror still. This visit coincided with the needles of the Larch trees turning golden in late September.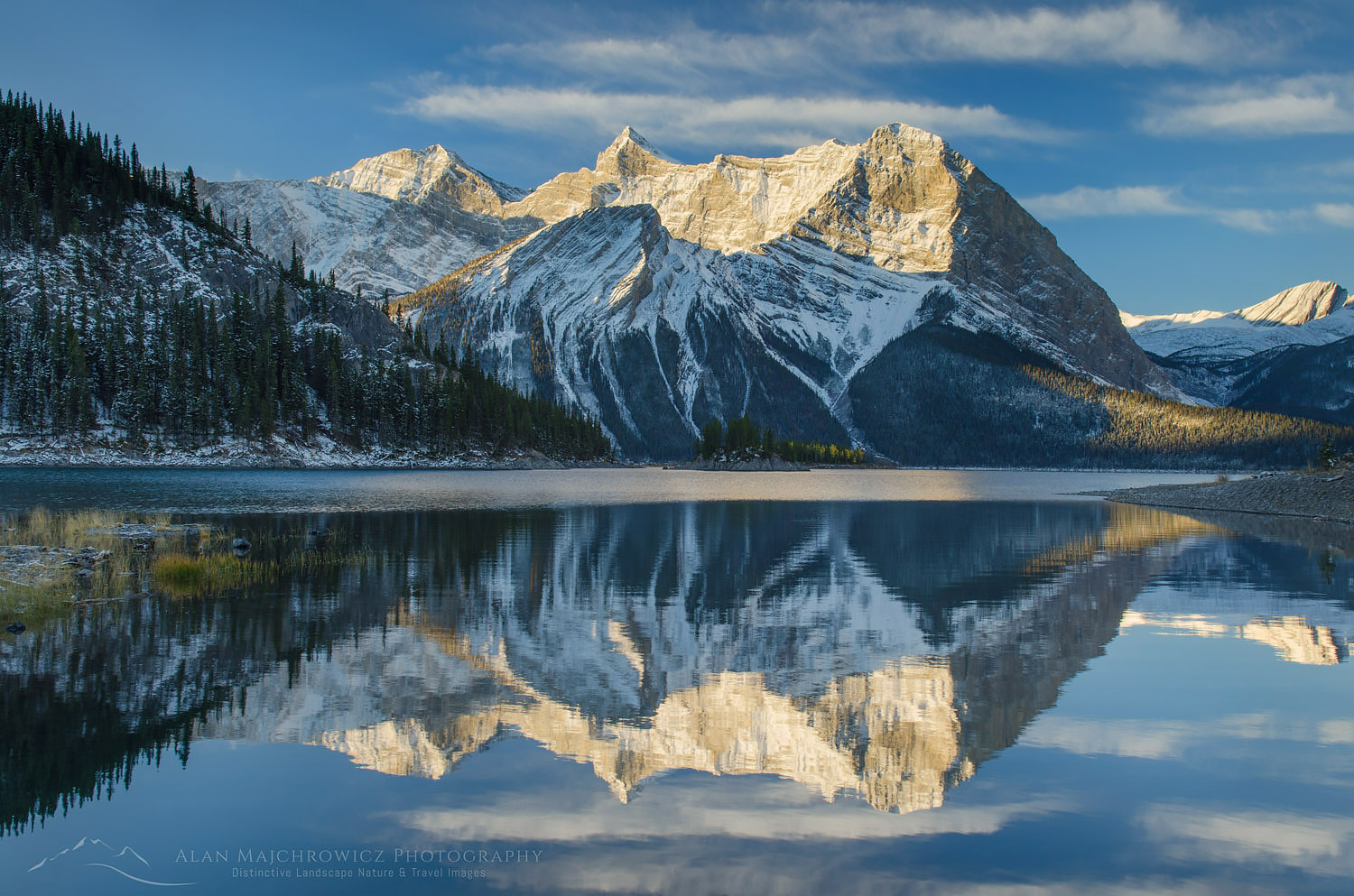 Kananaskis Lake Alberta #55057  Purchase
In Conclusion
Lastly in this years highlights is a view Mount Sarrail reflected in the still waters of Kananaskis Lake. At the end of a trip punctuated by unseasonably warm fall weather an Arctic front moved in. Depositing several inches of snow on the Canadian Rockies, giving this September scene a wintry look.
Although the above photos comprise my favorites of 2014 there are many more in my library that I wanted to include. Please feel free to browse the galleries and portfolios on this website to see more. And don't forget that all of my photos are available as fine art prints and for commercial licensing. Thanks for looking and I truly hope you have a happy and prosperous 2015!