Grand Teton Photography Trip Planning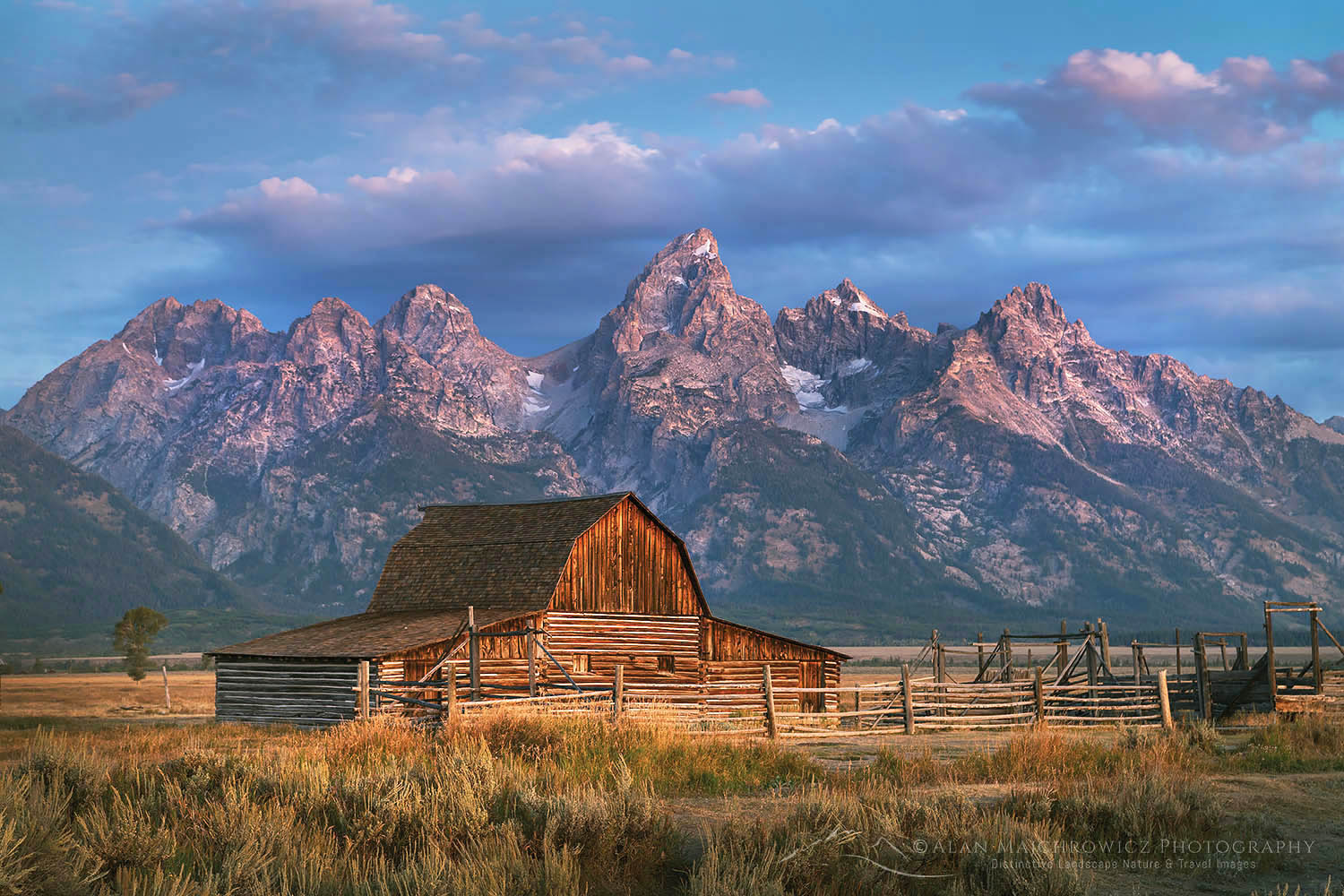 Moulton Barn Grand Teton National Park  #67219  Purchase
This post is the first in an ongoing series of articles intended to help landscape and nature photographers plan photography trips to big locations on a small budget.
Photography in Grand Teton, or any National Park, can be a very rewarding experience. It can also be a disappointing exercise in frustration. Even the most meticulous planning is not a guarantee of success. It all depends on what your goals are, and how much time you have available.
In this post, I'll be offering some planning tips and suggestions which can help increase your chances of success during a Grand Teton photography trip. Whether the results are better vacation photos or portfolio-quality images, they'll also help you obtain a more enjoyable and memorable experience.
Planning A Grand Teton Photography Trip
Theoretically, you can spend as little as a day in the park and come away with a few good photos. In reality that probably won't happen. So I would recommend at least three days to concentrate on one, or maybe two locations. A better time frame would be a week. For a comprehensive trip to include all of the park's highlights, at least two to three weeks would be ideal.
Make sure you have as much time available to meet your goals. And make those goals realistic, don't expect to create portfolio-grade images every morning and evening during your stay. It's incredibly unlikely that you will have excellent light to work with during every golden hour photo session. On my last trip, I spent two weeks in the park and had only one evening and two mornings of decent light.
Of course, it's also a silly notion to think that planning on just one trip to Grand Teton you'll come away with award-winning images from every corner of the park. Just like you can't go to the grocery store and expect to buy all the food you'll ever need if your lifetime. You'll need to return again and again.
Learn to go with the flow, relax, get to know, and interact with your subject matter. If you only come away with one or two good photos that's great, you can always return another time. Good photography is about much more than grabbing trophy images, it's a lifetime learning journey that should be savored, not rushed.
Guided Tour Or Solo
Once you determine how much time you'll have available the next thing you'll need to decide is whether to go with an established workshop/photo tour or do the trip on your own. There are many advantages and disadvantages to either option.
Photo Tour/Workshop Advantages:
-Led by a seasoned professional photographer with intimate knowledge of the park and the opportunity of learning new techniques from a pro.
-Meals, lodging, and transportation usually included
-Being part of a group dynamic
Photo Tour/Workshop Disadvantages:
-Limited freedom to photograph where and when you want
-Daily schedules can be very rigid
-Travel times and distances from lodging to locations can be great
-Cost can be prohibitive
Solo Photo Tour Advantages:
-Unlimited freedom, photograph where you want when you want
-Ability to lodge or camp where you choose, cutting down on travel time to         locations
-Huge cost savings
Solo Photo Tour Disadvantages:
-Extra research needed to find the best locations
-Finding lodging on the fly daily can be difficult
-Lack of assistance from a leader or group members
-No one to share ideas or experiences with
During my entire career as a professional photographer, I've traveled mostly solo. I love the freedom and flexibility associated with this mode of travel. And I know for certain that I've been able to get better photos because of it. So this is the mode I'll be giving tips on in this post.
Grand Teton Photography Trip Planning: Seasons
Many photographers consider autumn to be the best. However,  Grand Teton National Park offers spectacular photographic opportunities in all four seasons.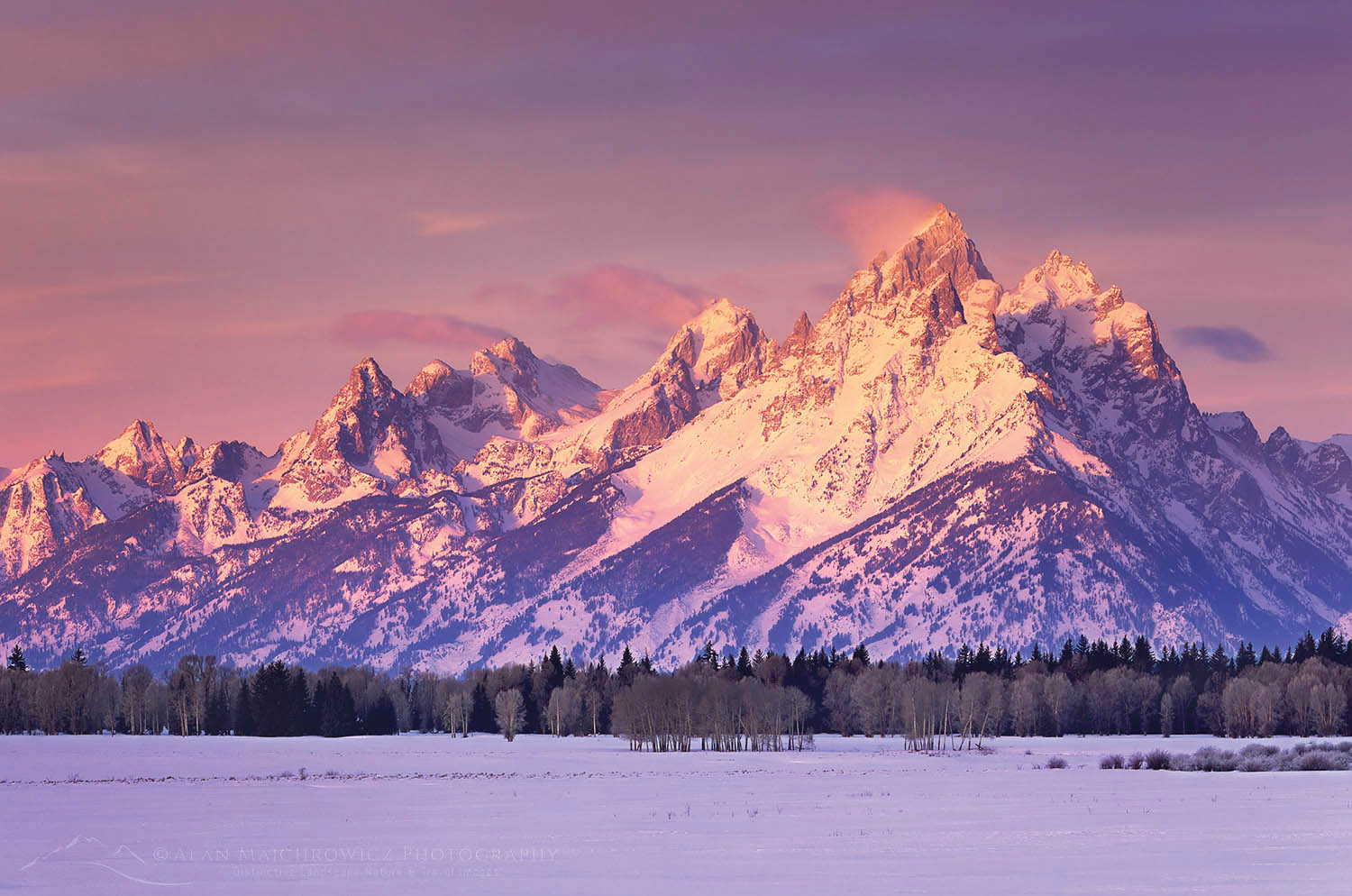 The Teton Range in Winter #4660  Purchase
Winter:  Planning a winter photography trip to Grand Teton requires more preparation and gear. In winter Teton Park Road is closed to vehicles, as is the popular Schwabacher's Landing. Antelope Flats and Mormon Row Roads are also inaccessible. However, all the viewpoints along Highway 191/89 from Jackson to the Flagg Ranch in the north are open, including the famous Oxbow Bend overlooks. Snowshoes and cross-country skis are an excellent option to access some of the easier areas of the park.
Most of the lodging and services in the park are also closed for the season. Lodging options are mostly in the Jackson area in winter, and camping is nearly nonexistent with just a few spots open in the Shadow Mountain area. With temperatures that can dip down to -30º you won't have much company. But with the right weather and lighting, you'll come back with some rare winter images of the park.
Spring:  Since the Teton Valley sits at an altitude of just over 6000′ winter conditions can last well into spring. May would be about the earliest I would consider visiting for spring photography. Late May through June is the best time to visit to see wildflowers. During this time many areas of the valley are blanked with brilliant yellow balsamroot and blue lupines, to name a few.
Antelope Flats and Gros Ventre (pronounced "Grow Vaunt") roads, along with Pilgrim Creek Road near Colter Bay are among the best areas for spring wildflowers. Most of these areas are also wide open for including the snowy Teton Range as a dramatic backdrop for compositions.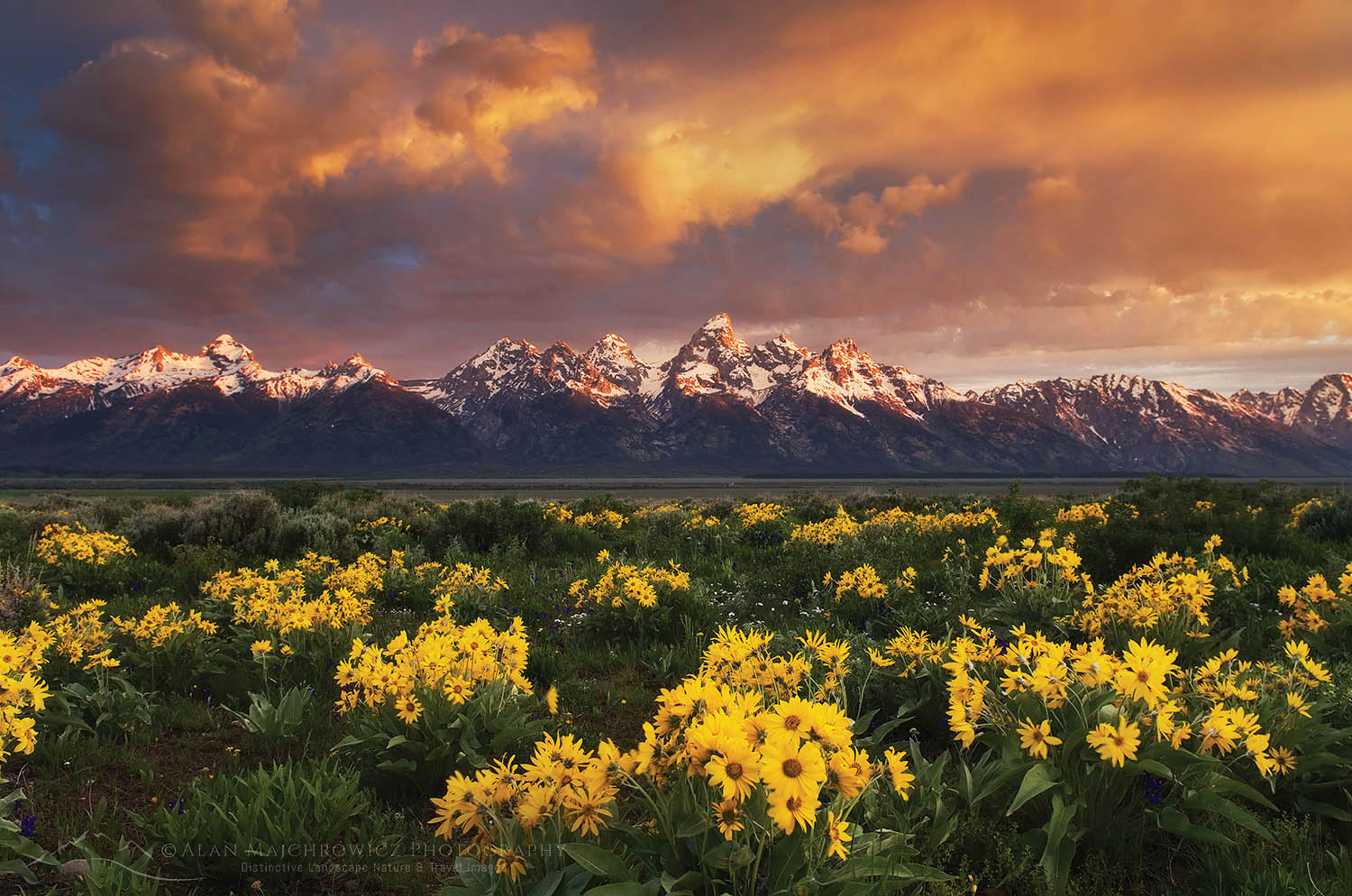 Wildflowers Grand Teton National Park #52086  Purchase
Summer: This is the high season for tourism in the park, and possibly one of the most challenging for photographers. This is not only because of having to deal with crowds but also because of weather conditions.
During the height of summer, high-pressure ridges can create beautiful warm sunny weather, which unfortunately keeps the sky free of clouds. Most photographers consider blank blue skies and gray rainy days as some of the worst conditions to work with. With global warming in full swing, these conditions can last well into September.
Along with those warm sunny days comes the yearly threat of wildfires. In recent years the park's blue skies are often hazy with thick blankets of smoke. Another consideration of summer photography is that as the season progresses the Teton Range gradually loses its white cloak of snow. I don't think I'm alone in feeling that snowy mountains look more attractive than bare rock.
Fall:  This is arguably the most popular season for photographers in Grand Teton National Park. Although the crowds of tourists and vacationers are mostly absent, there are now throngs of photographers to take their place. And for good reason. In a good year, the changing colors of aspens, cottonwoods, and willows can be as outstanding as autumn in New England.
In addition to the lively colors of foliage, the changing seasons bring back storms that not only clear the air but also dust the range with a fresh coat of snow. Quite possibly some of the most sought-after national park images in the country are those of the Teton Range in full autumn color after a snow storm.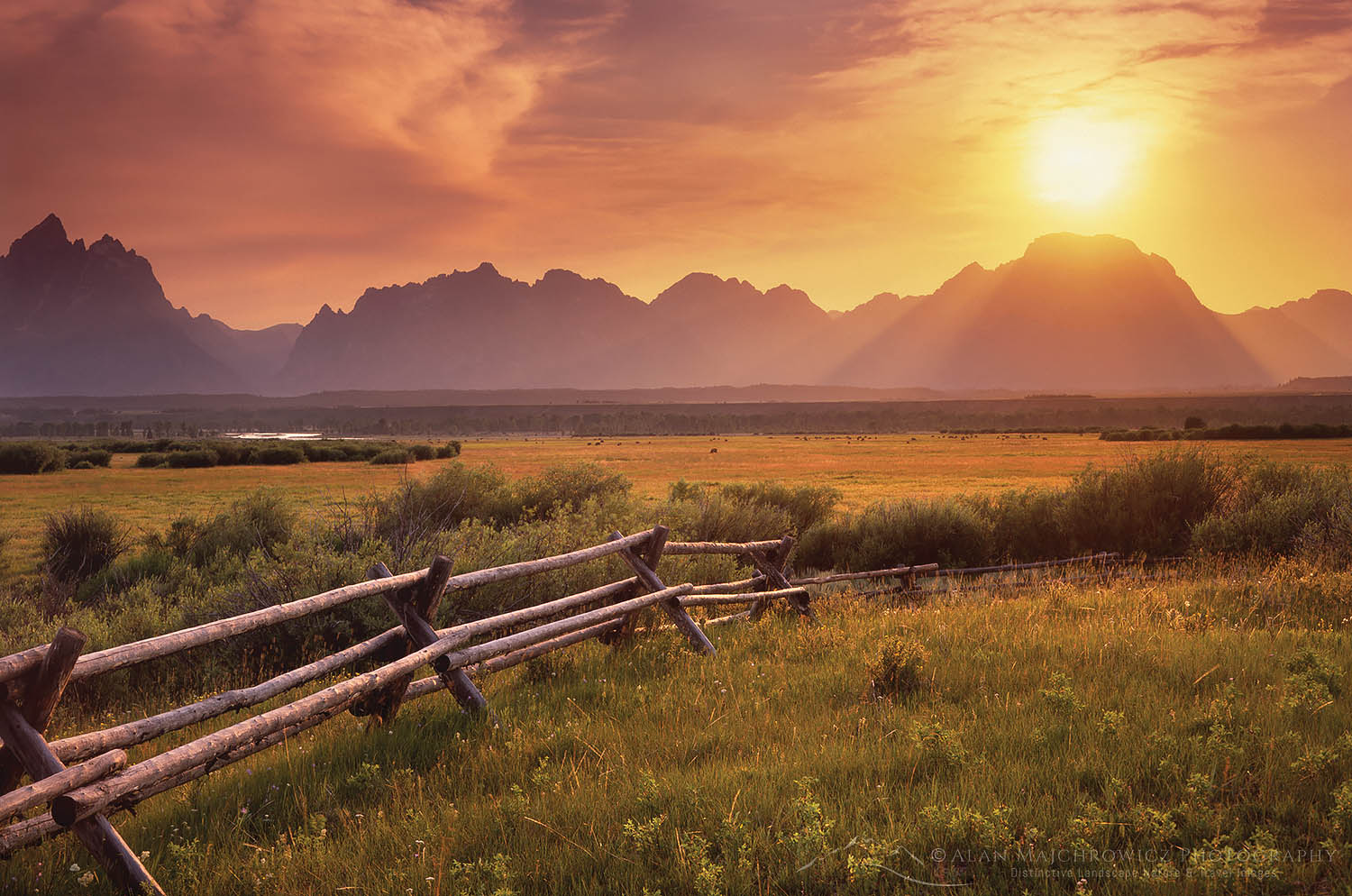 Sunset over the Teton Range #3966  Purchase
Grand Teton Photography Trip Planning: Lodging
Location, location, location. It's all about location. And Grand Teton is no exception, it's a big park with many great locations spread throughout it. Generally, you'll have time to photograph only one location during the morning or evening golden hour. By the time you can reach the next spot the light will most likely have faded. And remember this isn't a race or contest, slow down and appreciate where you are!
The closer you stay to your subject matter the better chance you have of being in right place at the right time. And you will be more relaxed and focused when you get there.
Absolutely nothing is worse than planning on being at a certain spot before sunrise than being late because of hitting the snooze alarm one last time and then having a long drive ahead. Stopped for speeding, or worse, hitting a moose in the dark during your haste? Ughh!
No matter where you stay, be it in a national park or forest service campground, or a motel or resort, be prepared to make reservations well in advance of your trip, if possible. Even in the shoulder seasons vacancies in lodging and campgrounds can be difficult to find. Popular campgrounds will fill by early morning. Research and plan ahead. It's no fun driving around in the dark after a long day trying to find a place to sleep.
In the Town of Jackson:  If you crave luxury and have deep pockets then look no further than the town of Jackson. Some of the most opulent hotels and resorts in the West are in this town, as are many chain and mom and pop motels. However, be aware that all of them will have a considerably higher price due to their location.
Also, keep in mind that distances from the town of Jackson to many of the most scenic park locations can be anywhere from 15-35 miles. Not a terribly long drive, but back and forth to a motel over several days can really add up. And don't forget that ideally, you'll need to be at your desired location before sunrise and until after sunset. So you won't be sleeping in that expensive bed for very long.
Shadow Mountain Dispersed Camping Area #67195  Purchase
In Grand Teton National Park:  There are seven lodging options within the park boundaries. These range from rustic cabins and ranches all the way up to the full-service luxury hotel of the Jackson Lake Lodge. Depending on where in the park you want to orient your photography efforts, these facilities can put you just a few minutes from some of the most dramatic vistas in the park.
There are five official front country campgrounds in the park with varying amenities. At the time of this writing, none of them are available for advance reservations. Most of them will fill to capacity before 10:00 a.m. Jenny Lake is one of the best and most sought-after campgrounds. If you choose Jenny Lake campground be prepared to line up for a site well before sunrise, it routinely fills by 6:00 a.m.!
Bridger-Teton National Forest: There are several national forest campgrounds outside the eastern boundaries of the park. These include a couple on Gros Ventre Road and U.S. Highway 26-287.
In my opinion, the most ideal national forest campsites are in the Shadow Mountain camping areas of Bridger-Teton National Forest. This area is in an ideal location just outside of the eastern middle edge of the park. These sites are always my first choice when visiting the park. I know of at least one site here which has an incredible elevated view of the entire Teton Range and valley.
Camping in the Shadow Mountain area is free on a first-come-first-served basis. Stays are limited to five consecutive nights. However, it is primitive camping with only vault toilets and no running water. In addition, parts of the roads can be very difficult to negotiate, high clearance is advised and some can be impassable to trailers. As with everywhere else in the park vicinity, these sites fill up early.
Highway 191 Grand Teton National Park #49386  Purchase
Fees, Passes, Provisions, Cell Signals
The entrance fee to Grand Teton National Park is currently $35 for a private vehicle and is good for seven days. An annual pass exclusive to Grand Teton National Park is $70. Note that both of these passes are good only for Grand Teton, they do not carry over to neighboring Yellowstone National Park.
Consider an America The Beautiful annual pass if you photograph in many national parks and federal recreations areas throughout the year. This pass costs $80 and is good for National Parks, BLM lands, National Forests, and more.
Various amenities like gas, groceries, showers and laundry services are available in several areas of the park. However, if you are on a budget plan to make a trip to Jackson to stock up on supplies. Park concessioners charge a premium for their goods. Although sometimes the cost of driving back to Jackson is more than an inflated price for goods in the park.
Grand Teton is one of the few national parks where you can get a decent cell signal in most areas. In the vicinity of visitor's centers and lodges, you should be able to receive a signal strong enough to surf the web and transfer small files. Further out it will probably be only one or two bars strong.
In the next post, Grand Teton Photography Locations we'll go into detail about how and when to photograph specific locations in the park.
Thanks for reading, feel free to share this post with your friends and colleagues!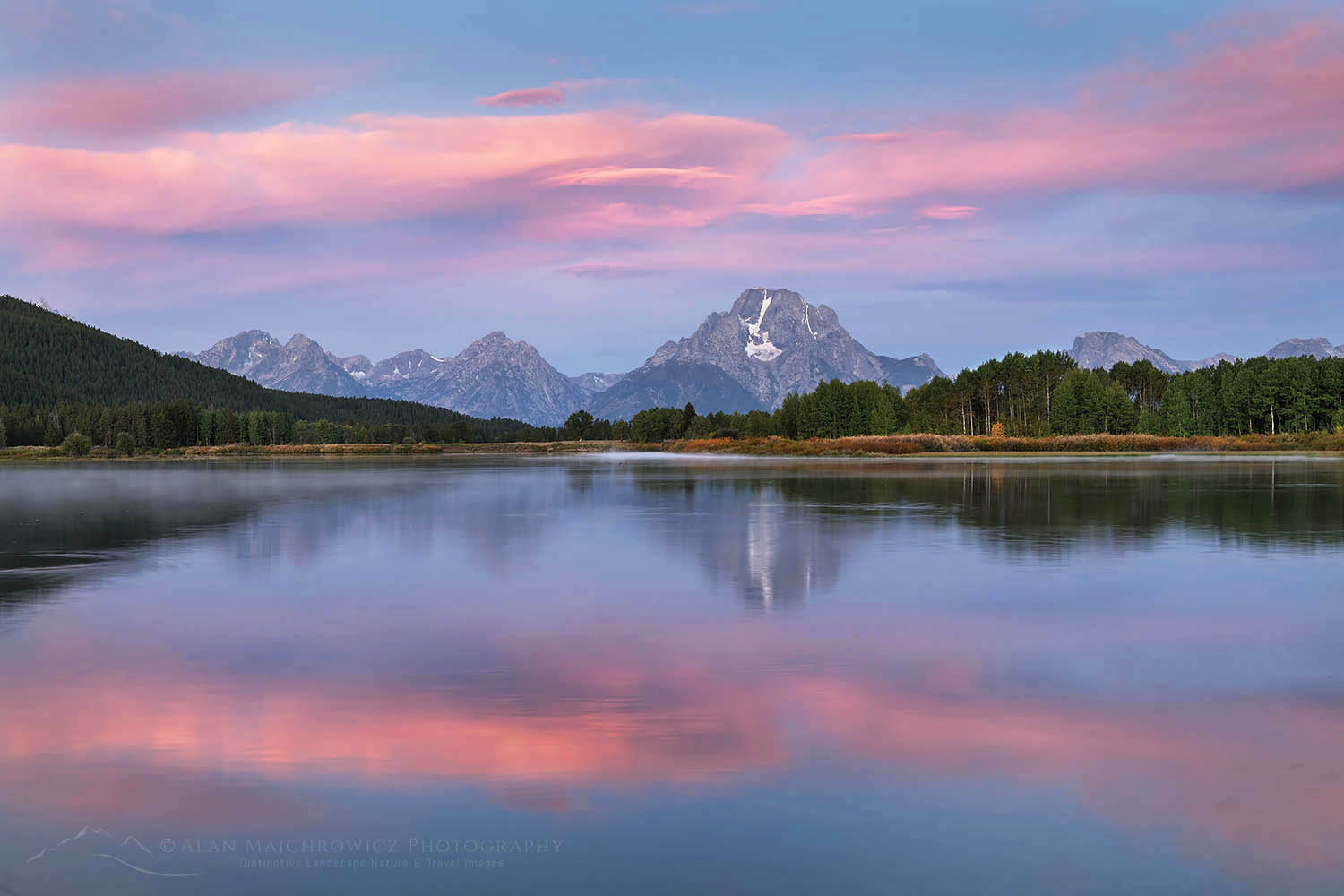 Oxbow Bend Sunrise Grand Teton National Park #67686  Purchase
All photos appearing in Grand Teton Photography Trip Planning are available for Commercial Licensing and Fine Art Prints. Click on any image to purchase, or contact me for more info!
Want to learn more? Take your Creative Photography to the next level with  Private Instruction and Guided Photo Tours.
Planning a Grand Teton Photography Trip