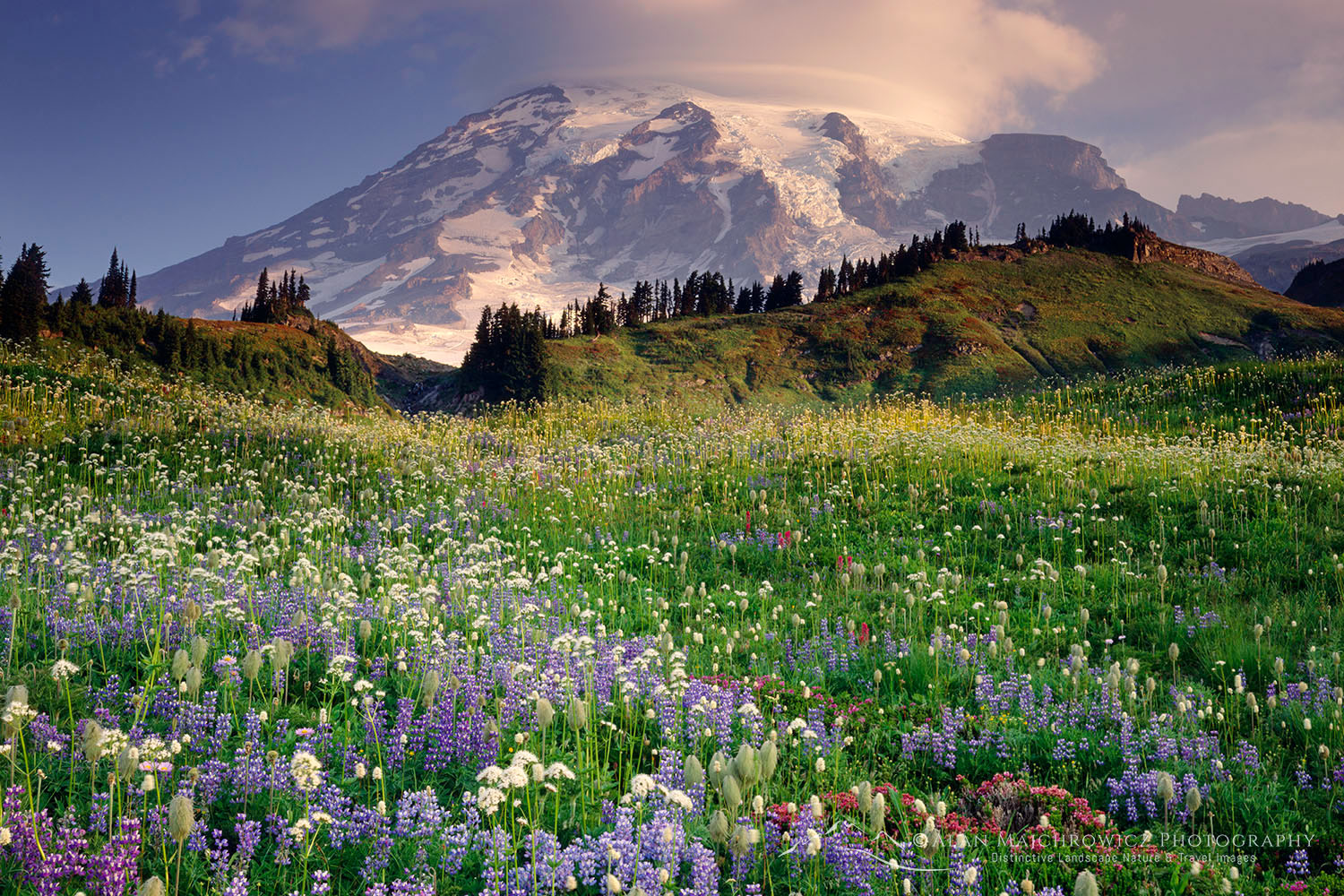 Paradise Meadows Mount Rainier #3485  Purchase
This post is part one of a two-part article about planning and photographing in Mount Rainier National Park Paradise Meadows. Jump to part two here.
One of the most popular locations for photographing wildflowers in the Pacific Northwest is Paradise Meadows Mount Rainier National Park. There are few mountain locations that have such an abundant display of wildflowers along with easy access to them. But at Mount Rainer, there are more than just subalpine meadows bursting with color. The views of the meadows include the hulking mass of a 14,411′ volcano and some of the largest active glaciers in the lower 48 states.
What is even more impressive is that there are numerous meadows of wildflowers around the entire circumference of the mountain. Some of them, like those at Paradise and Sunrise, are just a short walk on paved trails from the parking lot. While other locations like Spray Park are only accessible as longer day hikes or overnight backpacking excursions.
The most extensive and luxurious wildflower displays by far are found in the Paradise Meadows area. It is at this and adjacent locations I'll be talking about in this post.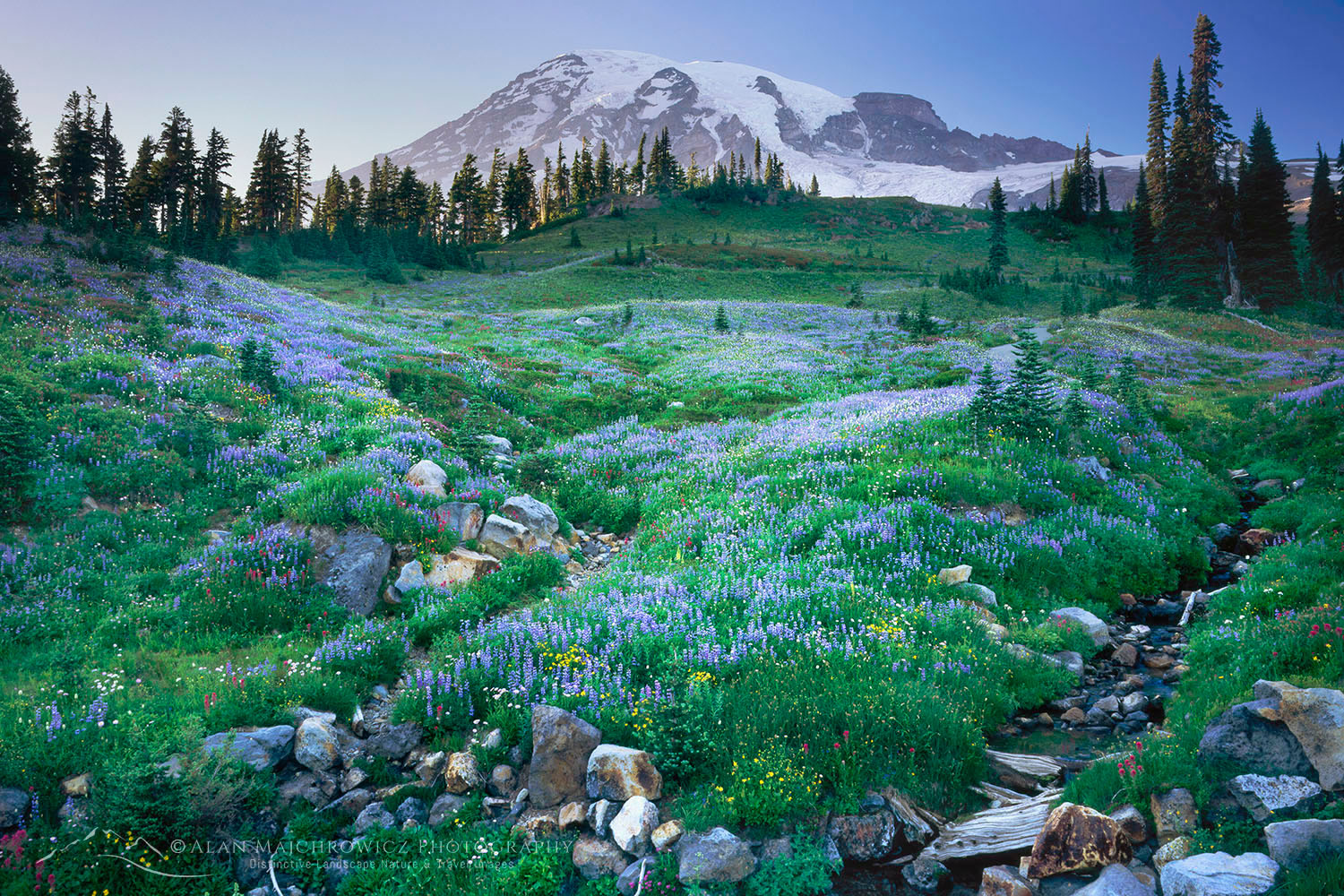 Paradise Meadows Mount Rainier #3499  Purchase
But First a Lecture
Mount Rainier National Park receives over 2,000,000 visitors every year, and that number will continue to grow every year. The park service has gone to great lengths and expense (your tax dollars!) to make the meadows accessible for everyone, while also trying to keep them from getting trampled into oblivion.
Please take a minute to read the park's Meadow Preservation page.
Many trails are paved and roped off, and all have numerous signs requesting people to stay on the trails. Please be thoughtful and considerate to the plants and future visitors, stay on the trails!
Skyline Trail Mount Rainier #72982
It is absolutely 100% possible to get great images while staying on the trails. But every time I photograph here I see other photographers going off the trail and trampling the flowers just to get that seemingly better photo. If everyone did that then Paradise Meadows would be nothing more than Paradise Dust Pit.
I wish I didn't need to say this but here it goes. Do not even think of visiting Paradise Meadows unless you plan on strictly photographing only from established trails and keeping off the meadows. If you can't do that then you should probably stay home!!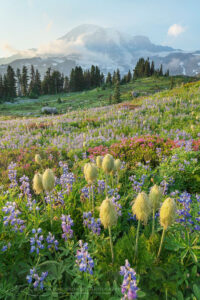 Paradise Meadows Mount Rainier #73244  Purchase
Planning A Paradise Meadows Photography Trip
You can spend as little as a day in the park and come away with a few good photos. But if your goal is portfolio quality images you'll need to schedule more time. So I would recommend at least three days. That way you can explore all the trails and photo opportunities in the area.
Ideally a better trip length might be 5-7 days. With a week available you'll be able to scout out all the best locations and be able to photograph them in multiple lighting events. On my last trip to Mount Rainier, I photographed every day for a week but had only one morning and one evening of outstanding light. Because of this, I stayed in the Paradise area the entire trip to make sure I got the images I wanted.
Essential Tip #1: Always give yourself enough time and be flexible with your itinerary.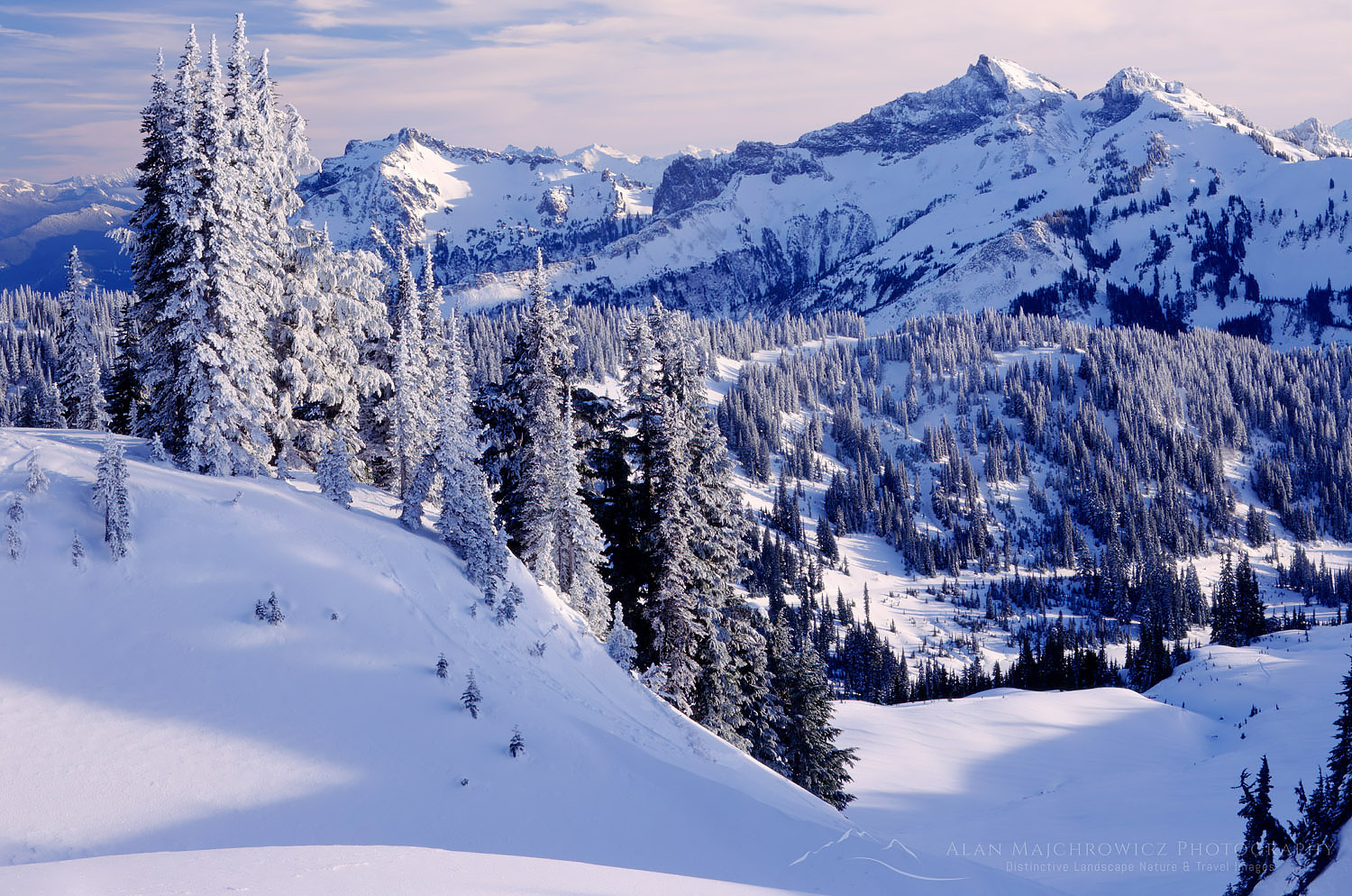 Tatoosh Range in Winter #5019  
Seasons in Paradise Meadows Mount Rainier
The road to Paradise Meadows and the parking area are open year-round. Although summer sees the most visitors, the winter season which stretches from November until May is also very popular. During those months Paradise is a magnet for backcountry skiers and climbers training for Alaskan or Himalayan expeditions.
For landscape and nature photographers late July to mid-August is the best time to plan a trip. However, timing varies every year due to the amount of snowpack.  But generally you can usually be sure of hitting the peak wildflower bloom in the first weeks of August.
Keep in mind that all species of flowers don't bloom at the same time. Glacier and Avalanche Lilies are the first to bloom as soon as the snow melts away. Shortly after Lupines, Sitka Valerian, Paintbrush, Pink  Mountain Heather, and Western Anemone dominate the scene. After the Lupines begin to fade Asters and Arnica take over the show.
Essential Tip #2: Check out the Park Service's Wildflower Status page to see what is currently in bloom.
One of my favorite wildflowers is Lewis's Monkeyflower. These brilliant purple flowers grow in dense clusters along streams and marshy areas in the subalpine. You can often see them among mats of vibrant green moss. Note that Lewis's Monkeyflower is often in full bloom later in the season.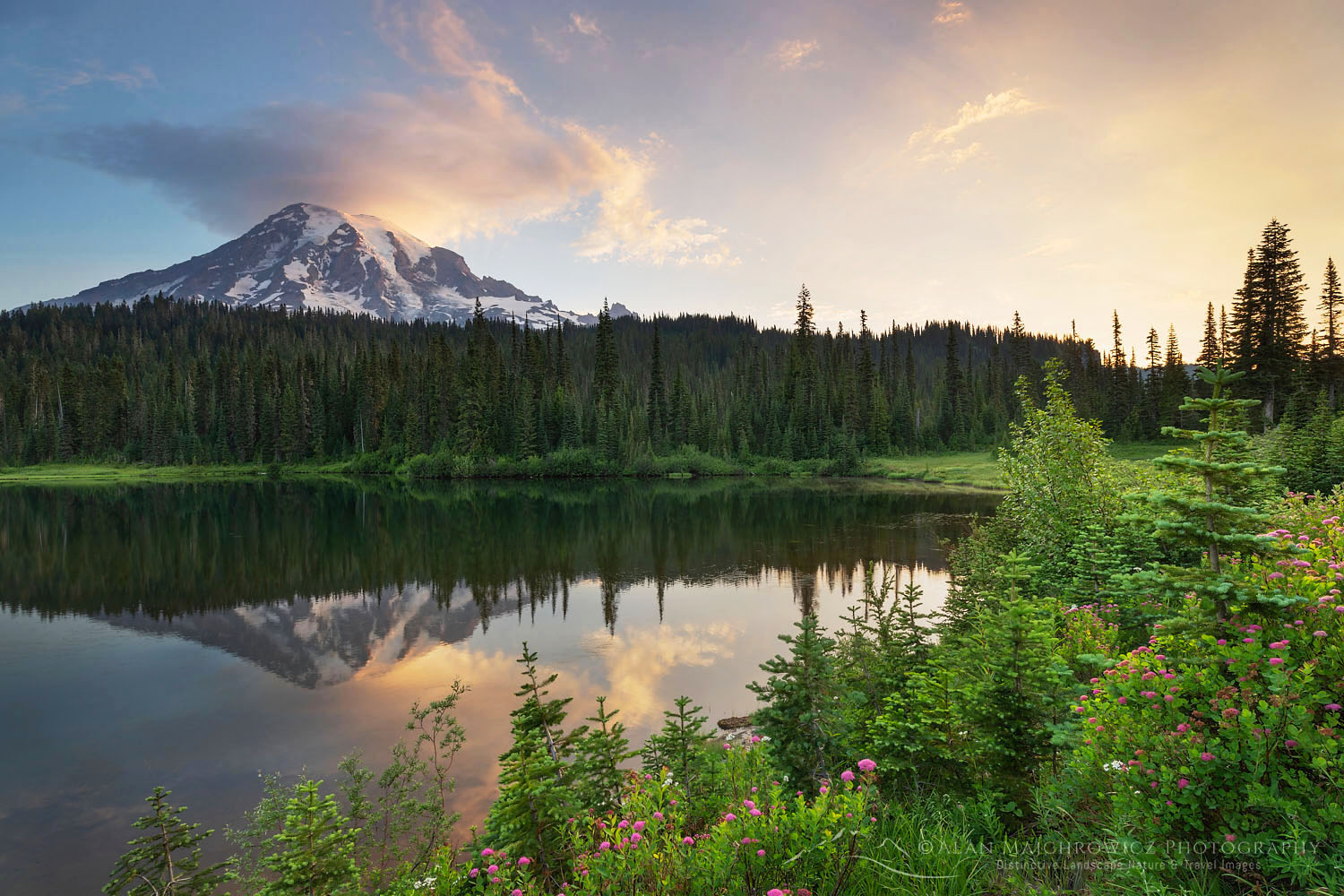 Reflection Lakes Sunrise #73114  Purchase
Guided Workshop Or Solo Trip
At some point, you'll need to decide whether to go with an established workshop/photo tour or do the trip on your own. There are many advantages and disadvantages for either option.
Photo Tour/Workshop Advantages:
-Led by a seasoned professional photographer with intimate knowledge of the park and the opportunity of learning new techniques from a pro.
-Meals, lodging, and transportation are usually included, someone else does the driving for you.
-Being part of a group dynamic can be creatively beneficial.
Photo Tour/Workshop Disadvantages:
-Limited freedom to photograph where and when you want.
-Inability to postpone trip or change schedules due to weather considerations.
-Daily schedules can be very rigid, there may not be any flexibility to stay longer in one location.
-Travel times and distances from lodging to locations can be great, making for very long days.
-Cost can be prohibitive
Solo Photo Tour Advantages:
-Unlimited freedom, photograph where you want when you want.
-Ability to postpone trips or change schedules due to weather considerations.
-Ability to lodge or camp where you choose, cutting down on travel time to locations.
-Huge cost savings.
Solo Photo Tour Disadvantages:
-Extra research is needed to find the best locations.
-Finding lodging on the fly on a daily basis can be difficult.
-Lack of assistance and input from a leader or group members.
-No one to share ideas or experiences with.
During my entire career as a professional photographer, I've traveled mostly solo. I love the freedom and flexibility associated with this mode of travel. And I know for a fact that I've been able to get better photos because of it. But of course, this is just my preference and it certainly won't work for everyone. It's up to you to decide.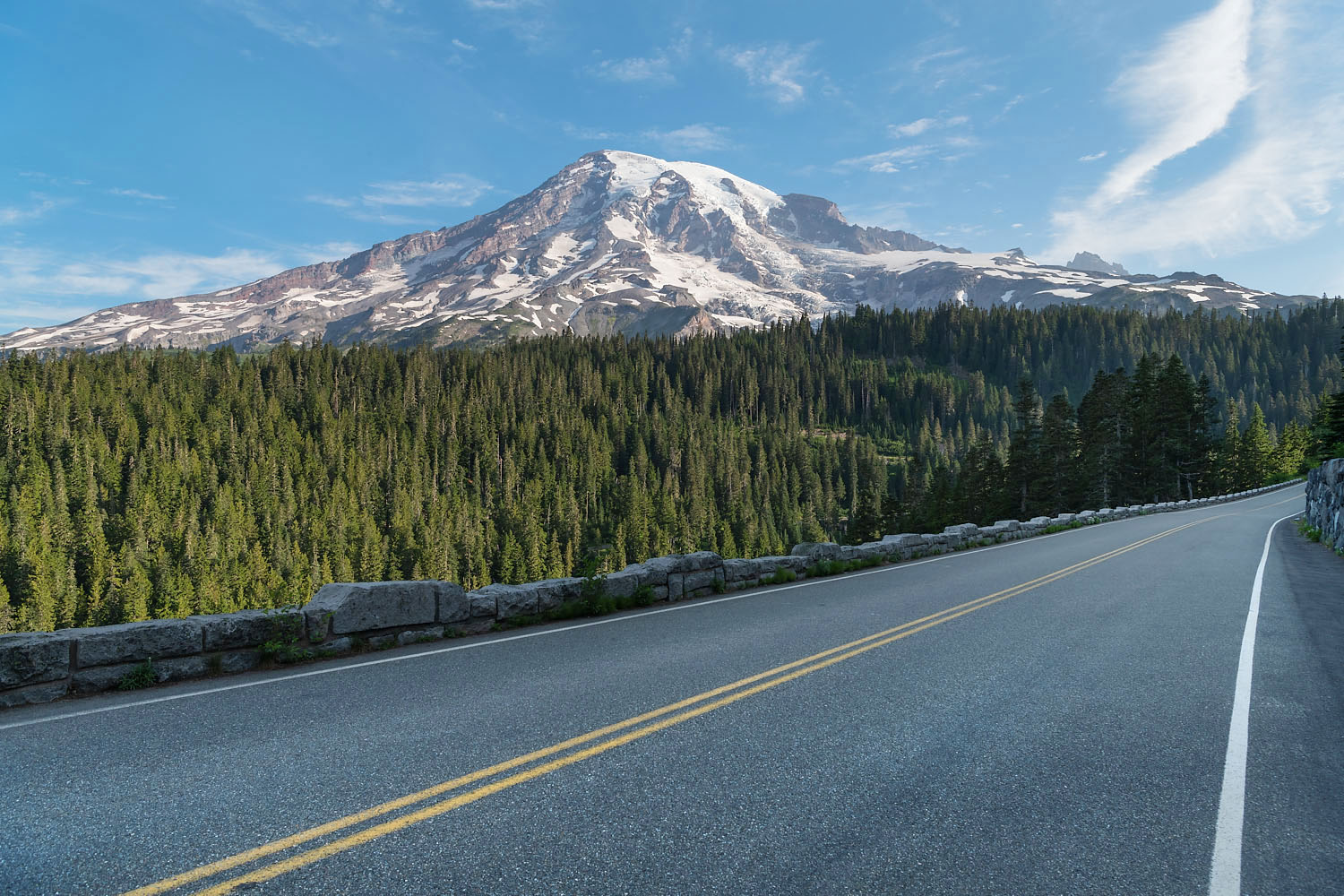 Road to Paradise Mount Rainier #72878  
Trip Logistics Paradise Meadows Mount Rainier
Location, location, location. It's all about location, and Mount Rainier National park is no different. Generally, you'll have time to photograph only one location during the morning or evening golden hour. By the time you can reach the next spot the light will most likely have faded until the evening or next morning. And remember this isn't a race or contest, slow down and appreciate where you are!
Keep in mind that it is about an 18-mile drive from the Nisqually entrance to Paradise Meadows. Since it is a slow winding mountain road allows about an hour for the drive. The closer you stay to your subject matter the better chance you have of being in right place at the right time. And you will be more relaxed and focused when you get there.
Essential Tip #3:  Set your alarm and get used to rising very early. Absolutely nothing is worse than planning on being at a certain spot before sunrise than being late because of hitting the snooze alarm one last time and then having a long drive ahead. Stopped for speeding, or worse, hitting a moose in the dark during your haste? Ughh!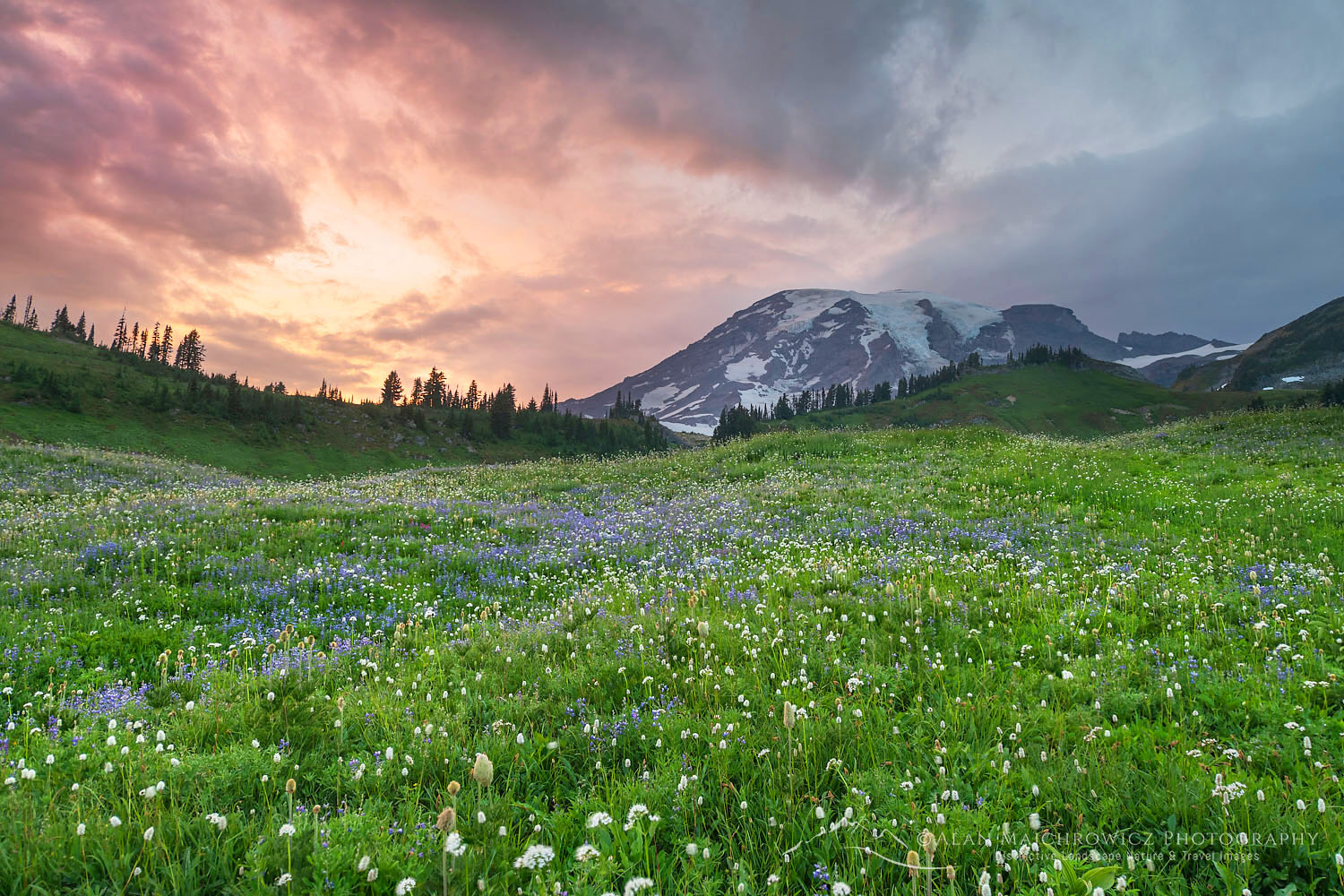 Paradise Sunset Mount Rainier #73203  Purchase
Lodging and Services
No matter where you stay, be it in a national park, a forest service campground, or a motel or resort, be prepared to make reservations well in advance of your trip, if possible. Even in the shoulder seasons vacancies in lodging and campgrounds can be difficult to find. Popular campgrounds will fill by early morning. Research and plan ahead. It's no fun driving around in the dark after a long day trying to find a place to sleep.
Essential Tip #4: Plan and reserve accommodations far in advance.
Lodging: There are several options for lodging when photographing in the Paradise Meadows area. If you can afford it the most convenient option would be to stay at the historic Paradise Inn. Situated right at Paradise all the best locations are literally right outside your door! For this option, you'll need to book well in advance. There is also the National Park Inn located lower down the mountain in Longmire.
Between the town of Ashford and the Nisqually entrance, there are several options for cabins and motels. For camping, the best and closest option is Cougar Rock, about a half-hour drive from Paradise Meadows. Reservations are recommended but you can usually get a site if you arrive before 9:00 am.  
Services: Gas and groceries are basically limited to Ashford which has one gas station and a couple of small convenience-type stores, and a small laundromat. In the park, Longmire has a small general store with limited supplies. So it is best to plan in advance and arrive with all the food you need for your stay.
Cell Signal:  While in the park cell service is limited to the Paradise area, where there is a pretty strong signal. Otherwise, you'll have to travel all the way back down to Ashford.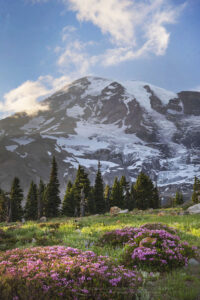 Pink Heather Mount Rainier #72905  
Fees Passes
The entrance fee to Mount Rainier National Park as of this date is $30 for a private vehicle and passengers and is good for seven days. An annual pass exclusive to Mount Rainier National Park is $55.
Consider purchasing an America The Beautiful annual pass if you photograph in many national parks and federal recreations areas throughout the year. This pass costs $80 and is good for National Parks, BLM lands, National Forests, and more.
Thanks for reading, please feel free to share this post with your friends and colleagues!
Next up, is part two of this article, Photographing in Paradise Meadows Mount Rainier.
Want to learn more, or have a professional photographer guide you in the field? Then take your Creative Photography to the next level with  Private Instruction and Guided Photo Tours.
All photos appearing in Photographing Paradise Meadows Mount Rainier are available for Commercial Licensing and Fine Art Prints. Click on any image to purchase, or contact me for more info!
Paradise Meadows Mount Rainier Photography Trip Planning