Photo Highlights 2015
Yes, it's time once again to look back and reflect on the highs and lows of the past year, and hopefully, see how much we have accomplished and learned.  This past year included several great locations that turned out to be very productive and memorable. Most notably my spring trip to the Southwest, where my wife Coleen was able to join in the fun.
So let's check out some of the photo highlights of 2015. Please feel free to vote for your favorite photos in the comment box and share this post with your friends. Also, don't forget that all of these photos are available for purchase as Fine Art Prints and Commercial Licensing!
Many sincere thanks to all my friends, colleagues, and loyal clients for making 2015 another successful year. I wish you all a Happy New Year with the best of health and prosperity for you and your families in the coming year!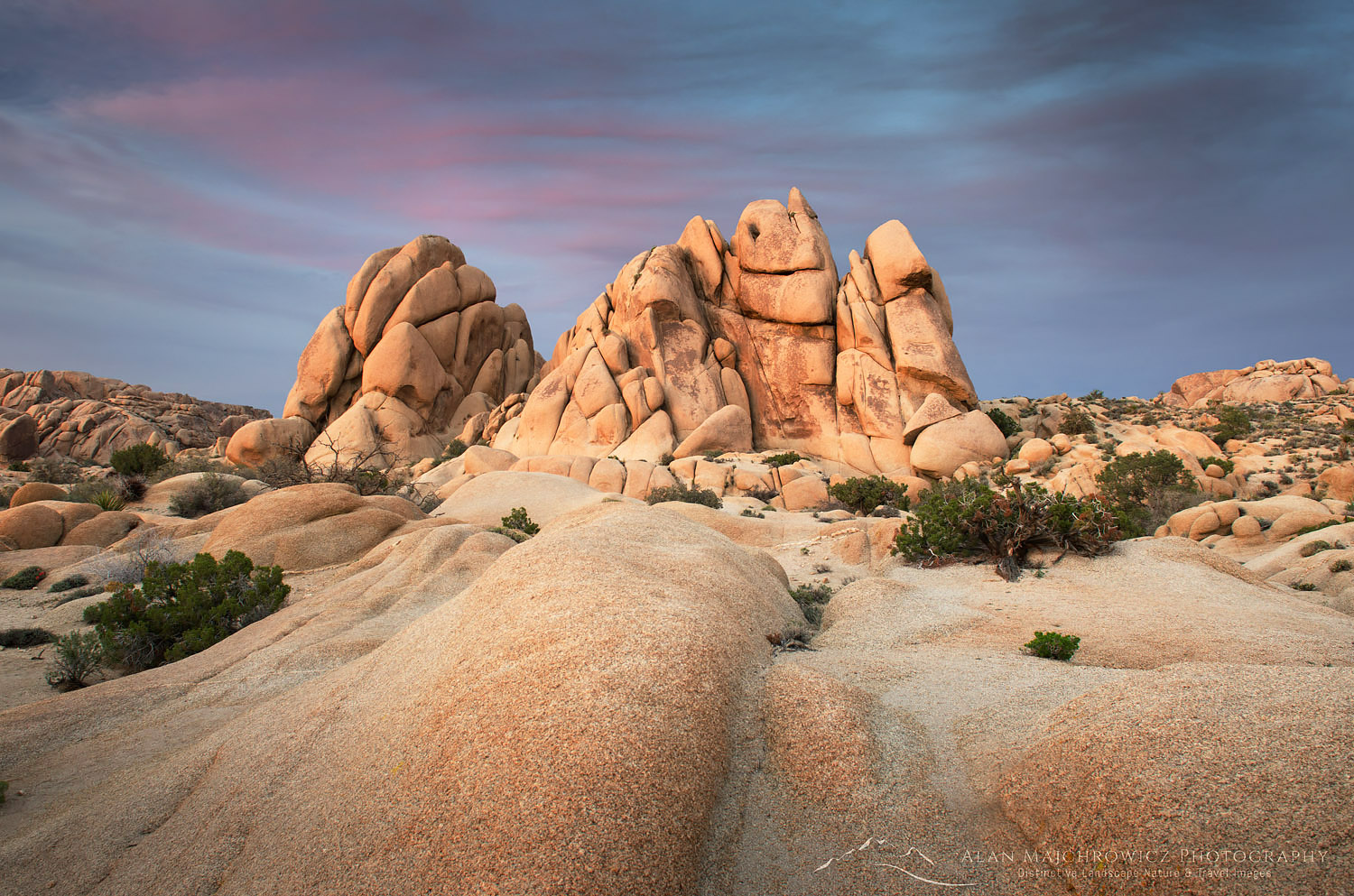 Jumbo Rocks Joshua Tree National Park California #55199  Purchase
This photo was made at the beginning of my spring southwest trip, with the first stop being Joshua Tree National Park. There is a lot to see and photograph in this park but the Jumbo Rocks have to be among the most interesting. Surrounding a great campsite Jumbo Rocks is a wonderland of whimsical granite rock formations. During our visit, I had a couple of instances of good light. This really kept me on my toes running around for interesting compositions. It definitely paid off to scout the area earlier in the day!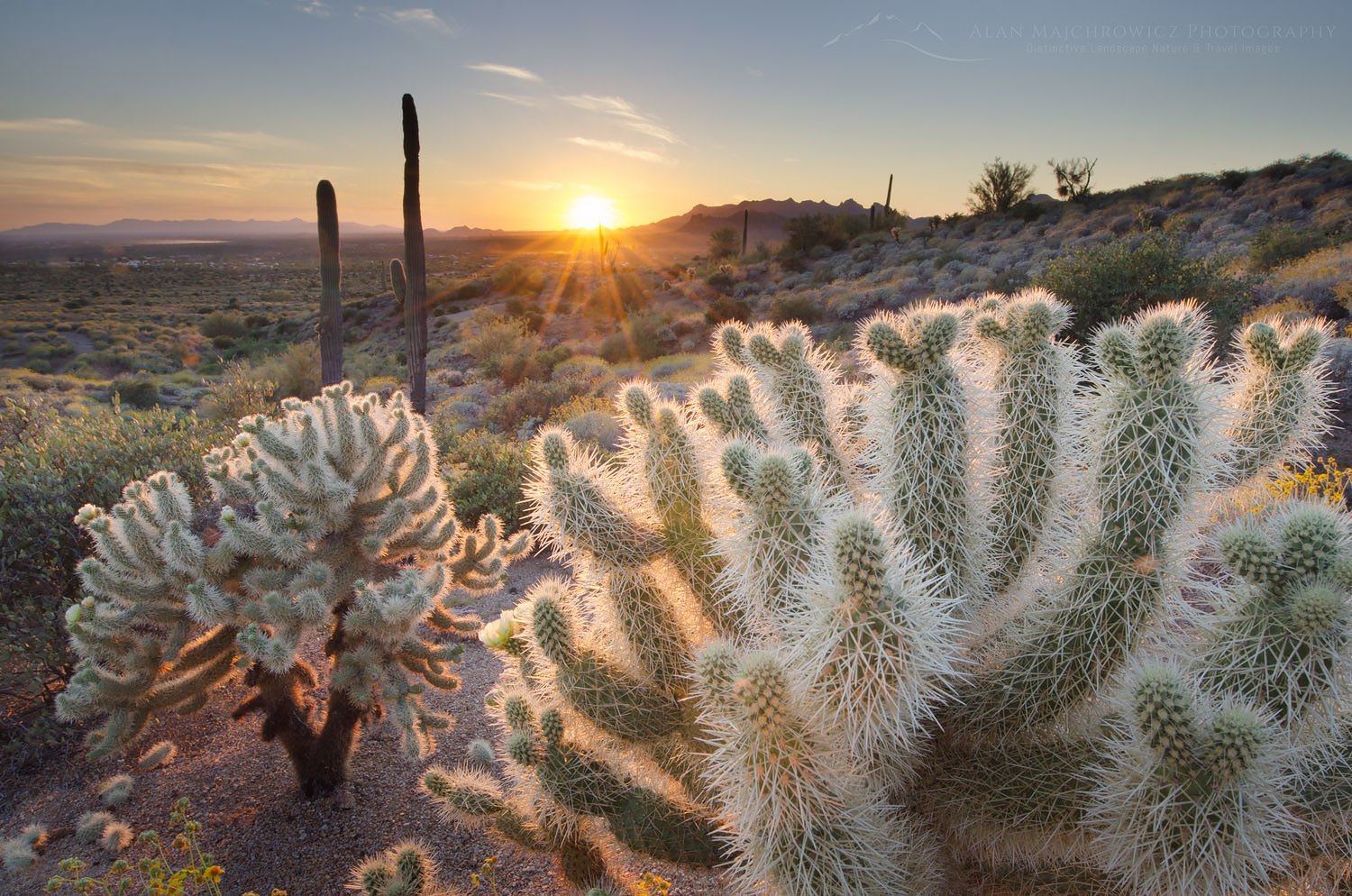 Cholla Cactus, Superstition Mountains Arizona #55462  Purchase
Later on the same trip, we stopped for a few days at Lost Dutchman State Park in Arizona's Superstition Mountains. I was hoping for some dramatic photos of iconic Flatiron Peak and wildflowers. However the area was in the middle of an early season heat wave. With clear blue skies, conditions were not the best for landscape photography.  The annual bloom of wildflowers was just past peak with the heat withering them fast.
However, I did get some nice photos of one of my favorite desert subjects, the Teddy Bear Cholla Cactus. Illuminated from behind like in this photo they take on a beautiful glow. From a distance and to the uninitiated they look soft and cuddly. But if you even so much as brush lightly against the one you will experience excruciating pain. The barbs are very sharp and can penetrate thick clothing and still keep going into your flesh. I was picking barbs from the inside of my shoes for weeks after!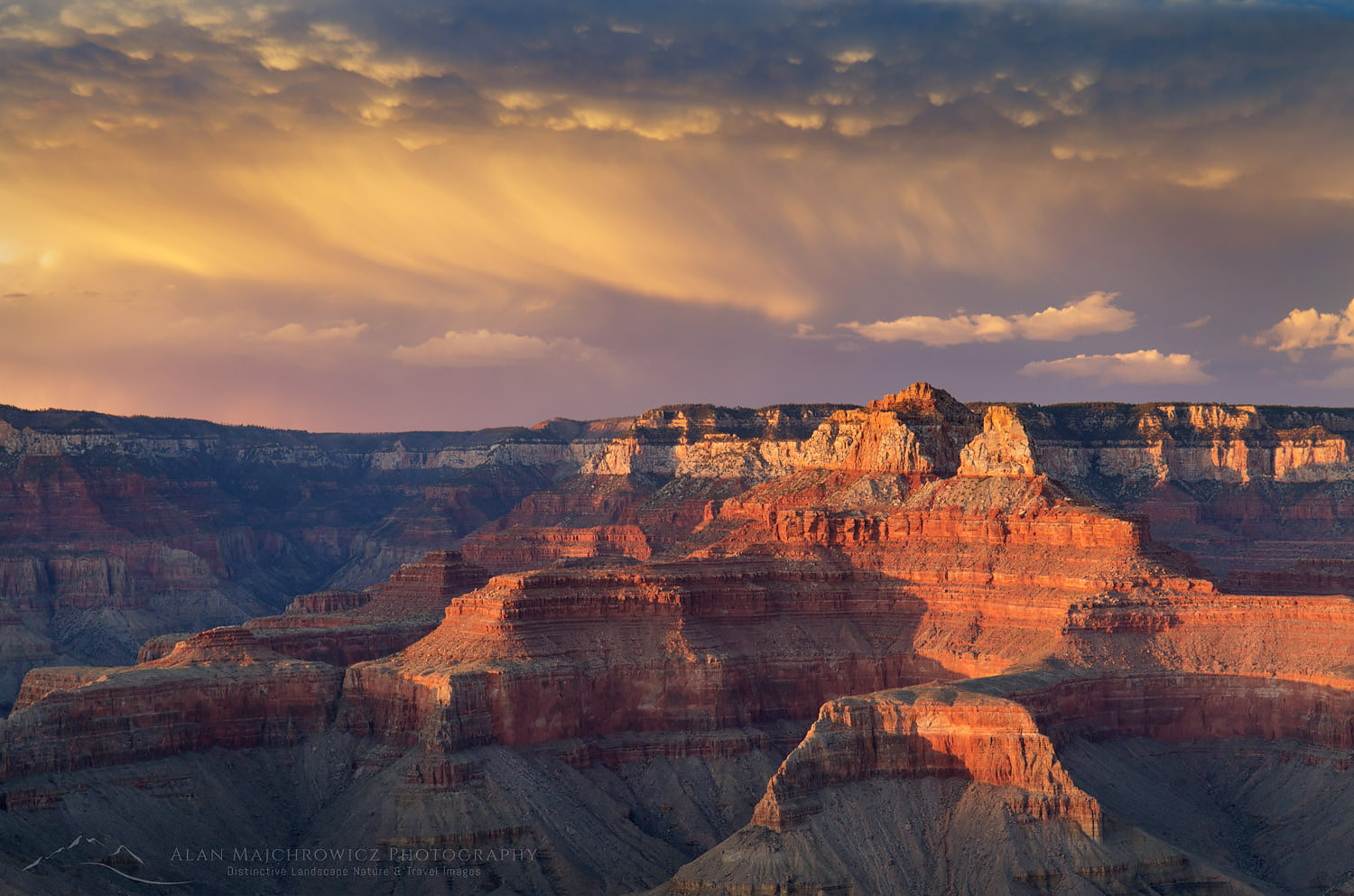 An evening storm over North Rim of the Grand Canyon #55558  Purchase
The last stop major on the Southwest trip was Grand Canyon, National Park. A classic location filled with endless photographic possibilities. One can spend a lifetime exploring and photographing in the park. The canyon, however, can be very frustrating since everything depends on the right light. Anytime between sunrise and sunset can offer nothing but flat washed out hazy light unless of course there are some storms moving through. Most visitors see the canyon during midday and come home with disappointing images that do not depict the grandeur and immensity of the canyon. During our stay, I was lucky to have three evenings and one morning with good light. The image above was made at sunset as a storm was beginning to clear over the North Rim.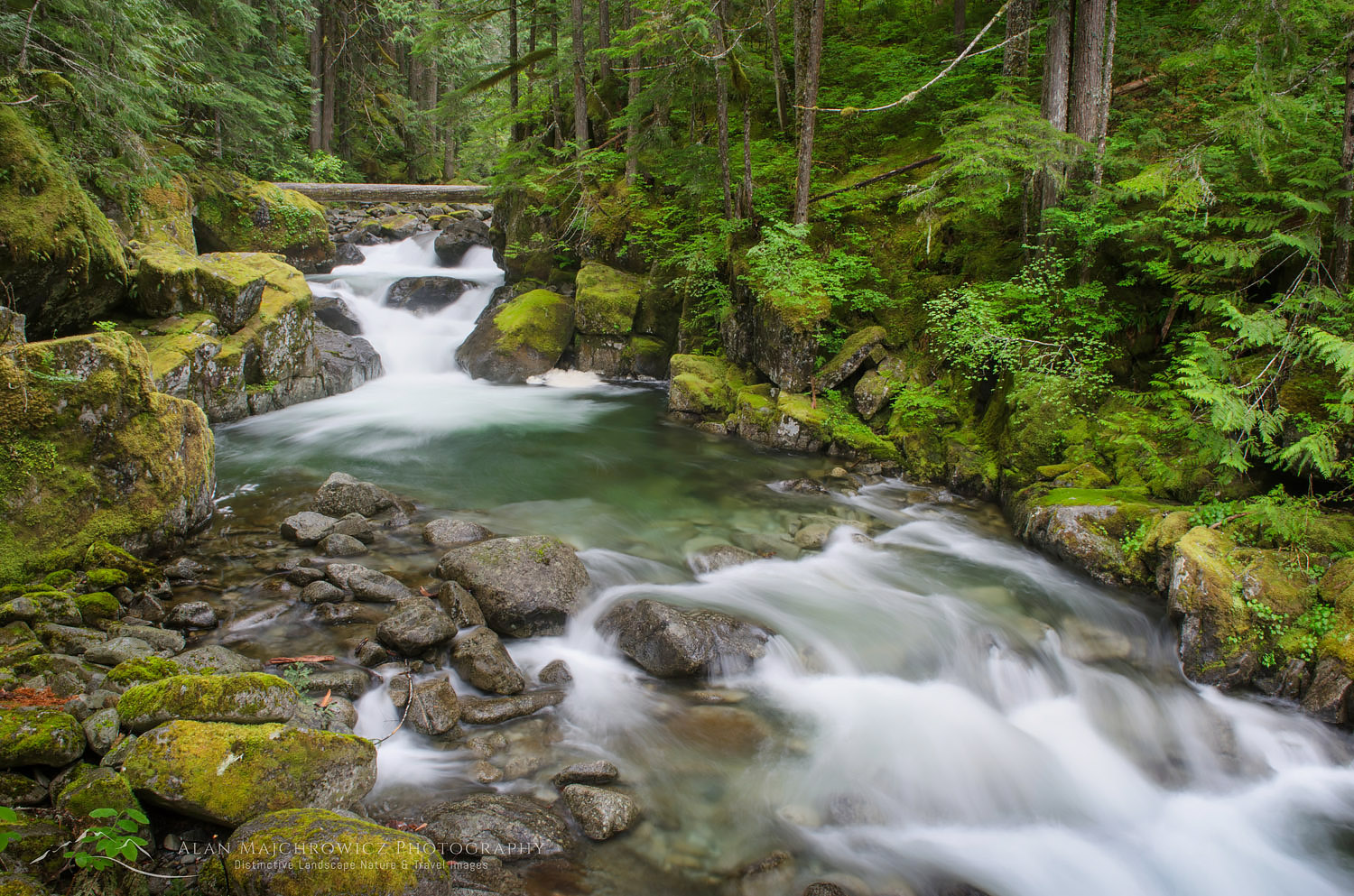 Deception Creek North Cascades Washington #55663
May is a wonderful time in the Northwest. Everywhere there are vivid shades of greens and rushing creeks filled with snowmelt from the mountains. Deception Creek on the north border of the Alpine Lakes Wilderness Area is a classic example of a lush cool old-growth forest. It has been many years since I hiked this short trail, and it was a pleasure just to sit and breathe in the cool scented air!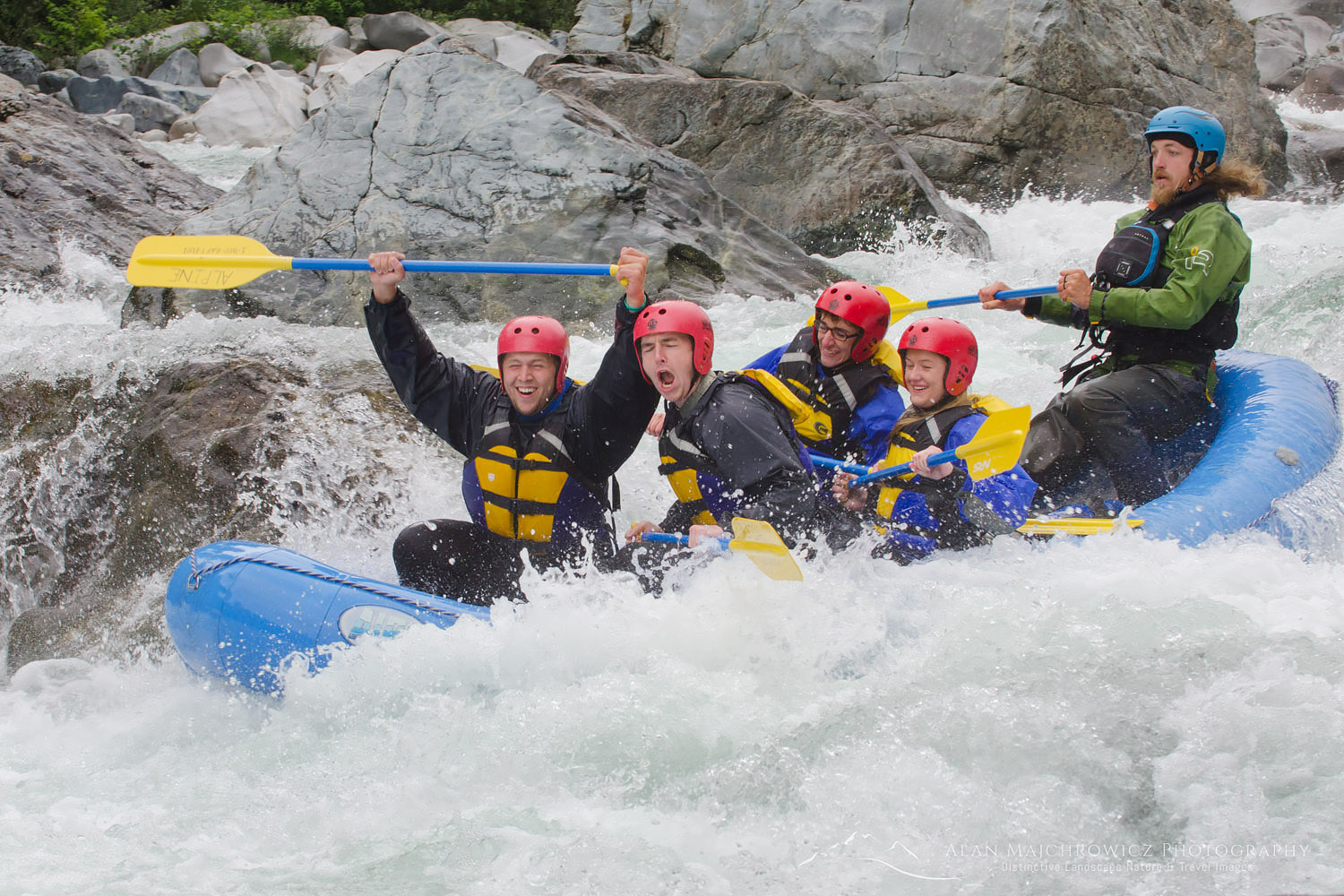 Whitewater rafting on the Skykomish River Washington #55728  Purchase
Later on the same trip, I decided to spend the afternoon sitting along the banks of the Skykomish River.  Here I photographed rafters negotiating the rapids of Boulder Drop. The Northwest was already experiencing the initial stages of drought with little winter snowpack to feed the rivers. Although the Skykomish had enough to keep these folks hooting and hollering all the way down. I had almost as much fun watching and photographing them as they did running the rapids!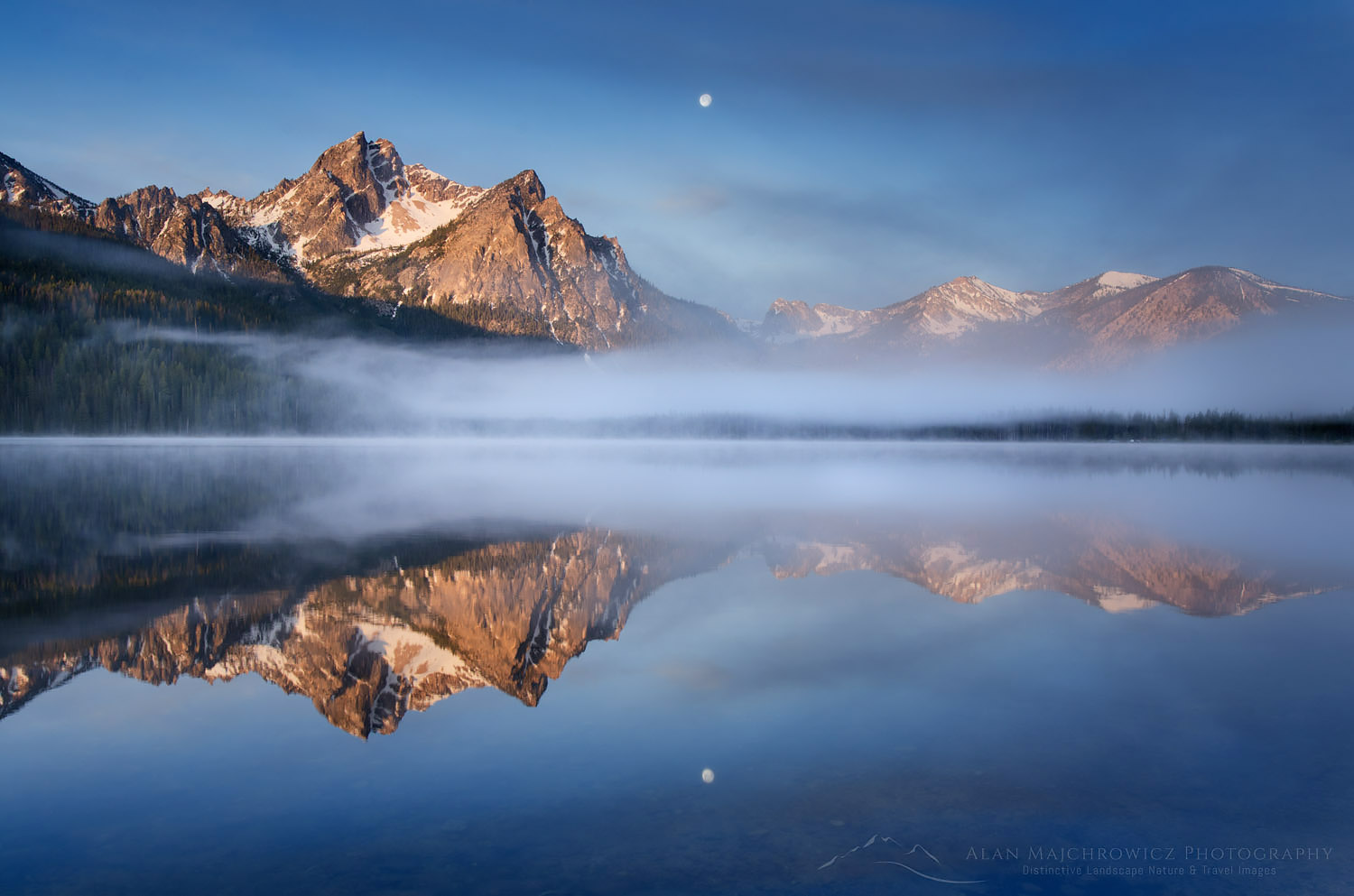 Moon over Stanley Lake, Sawtooth Mountains, Idaho #55933  Purchase
My next trip in June to the Sawtooth Mountains of Idaho was perhaps the most successful of the year. During my stay, several rainstorms passed through and began clearing just at the right time. These provided some beautiful light for photographing the scenes. One morning I woke up disappointed to be socked in by fog. Fortunately, it began clearing over Stanley Lake just as the sun was coming up. As I finished my work the fog closed in to shut off the view, talk about timing!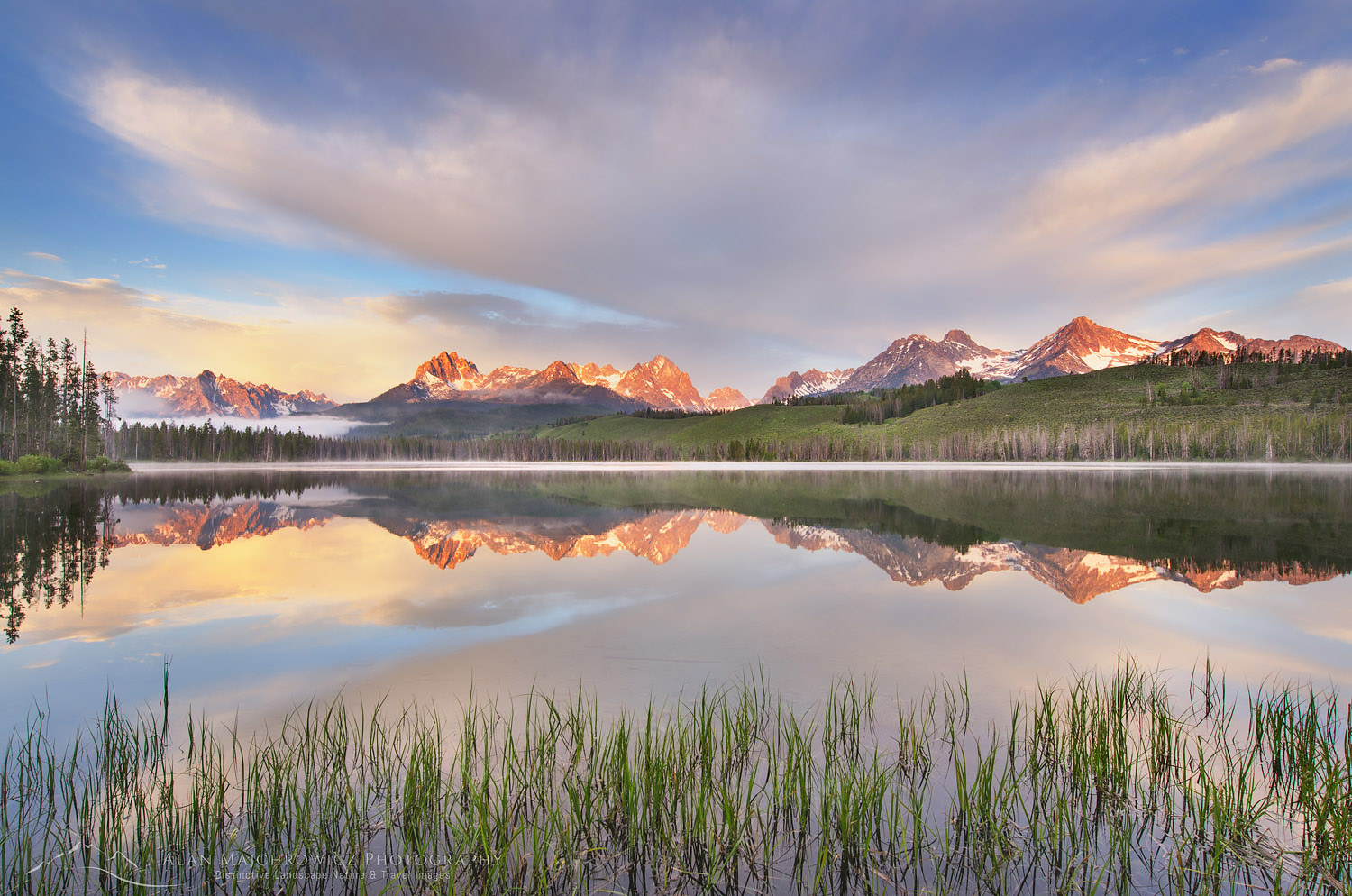 Dawn over Little Red Fish Lake, Sawtooth Mountains, Idaho #56197  Purchase
Above is one of many variations of sunrise over Little Redfish Lake in the Sawtooth Mountains. This was another morning that started out looking like a dud and then really came to life as the sun rose and illuminated the clouds of a passing storm.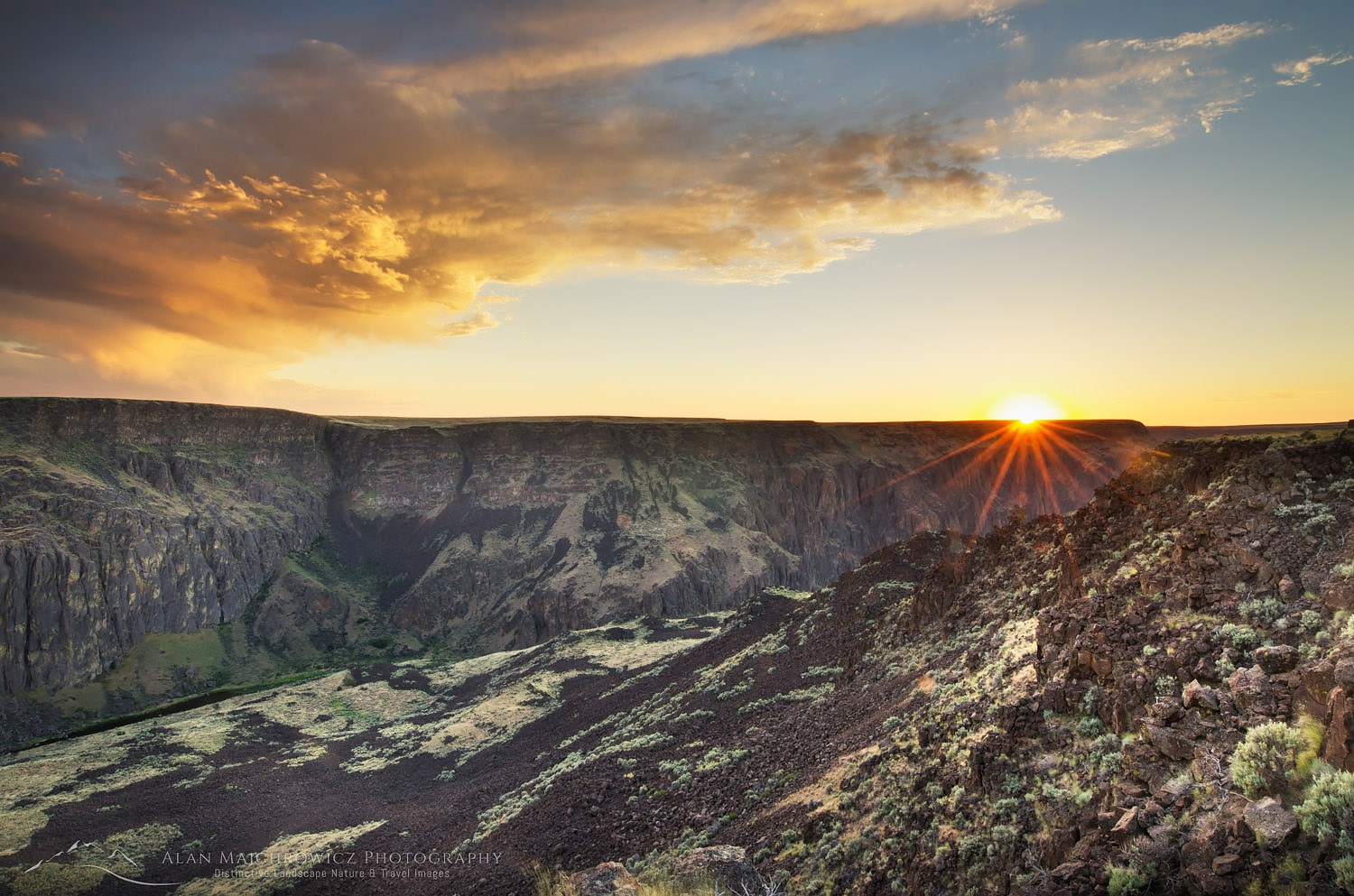 Owyhee Canyon sunset, Oregon #56352  Purchase
The final stop on this trip was Owyhee Canyon and the Uplands of both southwest Idaho and southeast Oregon. One of the most remote areas in the west I've ever visited,  you can be assured of solitude just about everywhere. The geology is fascinating, ancient basalt lava flows and ash deposits carved by rivers into dramatic cliffs and spires along with natural hot springs sprinkled throughout. The highlight of this area was an overlook of the canyon at sunset, again a clearing storm provided drama to the scene. I'm definitely coming back again to spend more time exploring and photographing, hopefully, my aging truck will survive the beating!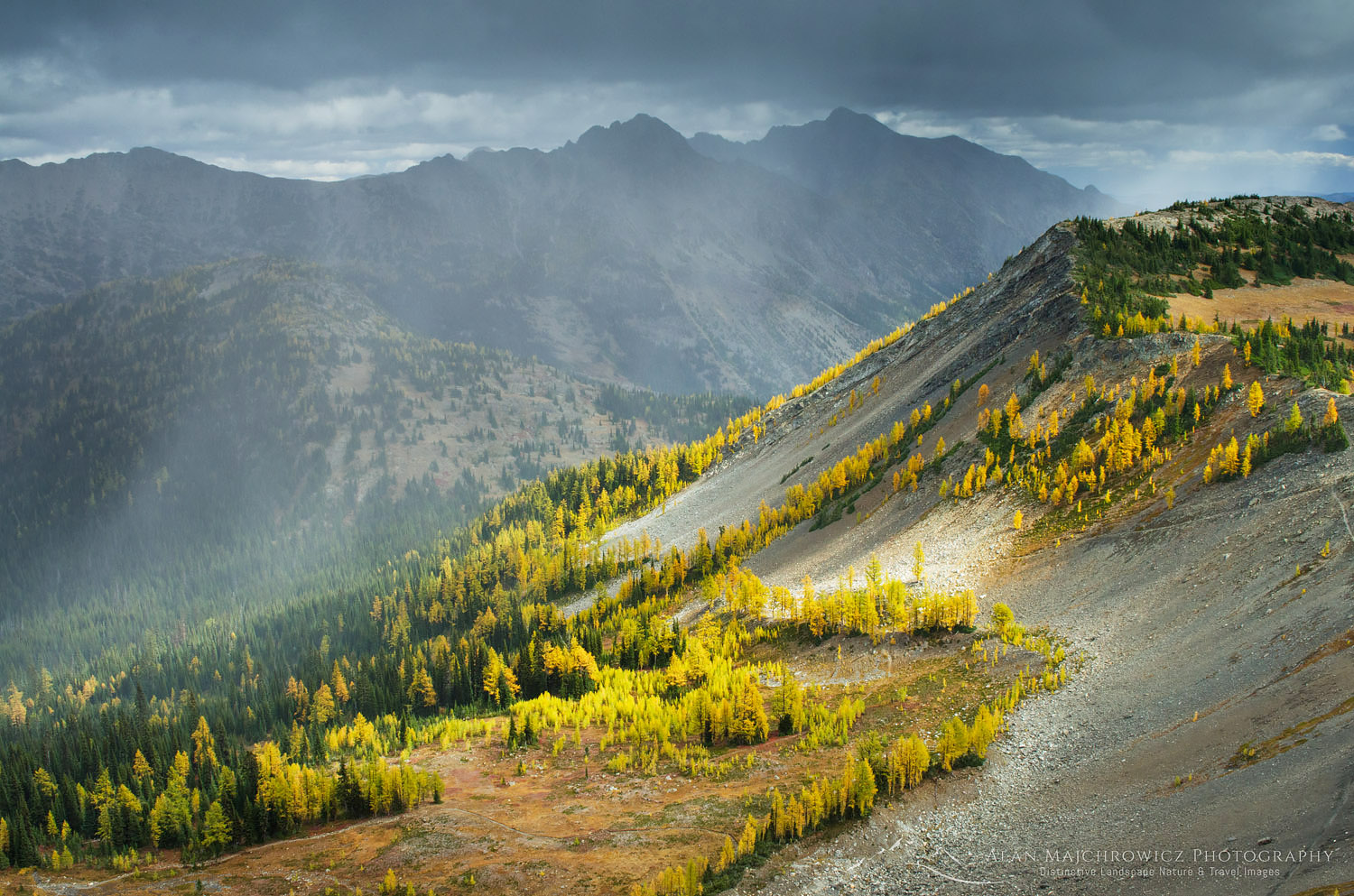 Pasayten Wilderness North Cascades, Washington #56447  Purchase
In the fall I made a trip to Hart's Pass and Slate Peak in the North Cascades in search of new images of my beloved Subalpine Larch (Larix lyalli). This is another location I used to frequent often in the 90s.  I haven't been there for many years and it felt good to be back in my old haunts. The road to Slate Peak and Hart's Pass is the highest drivable in the state and provides an exceptional view of the eastern peaks of the North Cascades along with trailheads to numerous destinations including the Pacific Crest Trail. The above photo shows a grove of larches in full color just before an autumn snowstorm closed in.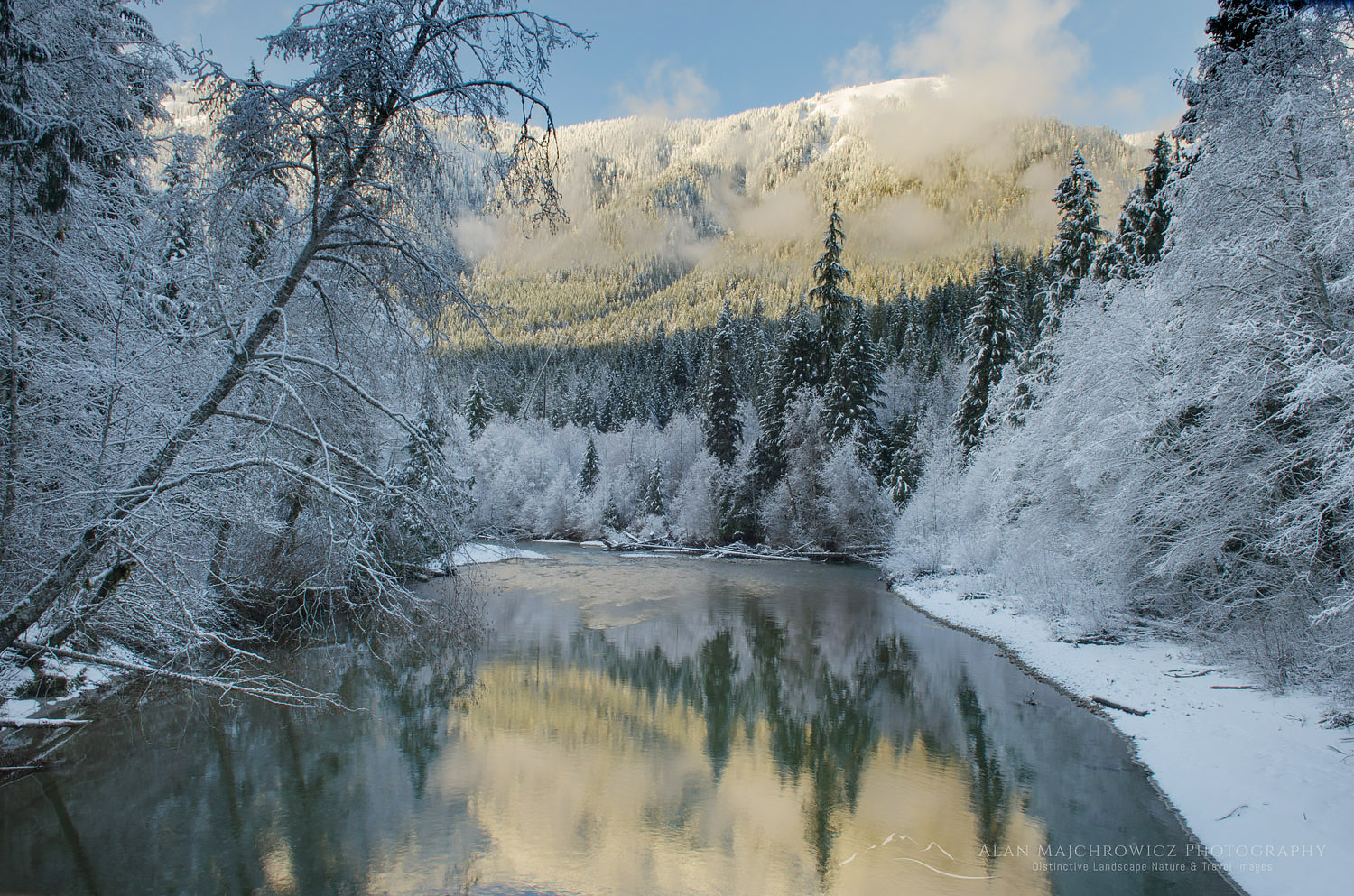 Nooksack River, North Cascades, Washington #56544  Purchase
Finally, just a few days ago I made my first winter trip of the season to test out some new ski bindings in the Mount Baker area in preparation for winter photography. What a change from last year, the snow has been piling up for weeks and if it continues we may have a record year. I know it's too early to say that but I feel optimistic! On the way down the Mount Baker Highway in the late afternoon, I was treated to this view of snow-covered trees along the Nooksack River.