Photo Highlights 2017
We say it every December, yet another year has flown by! It seems it was only yesterday I was writing on this blog about my favorite images of 2016. As with every passing year, we can look back and revel in our accomplishments, and learn valuable lessons from our disappointments. Hopefully, we all had more of the former!
This year I was once again very fortunate to be able to travel to and photograph some great new locations. I was also thrilled to make a long-awaited backpacking pilgrimage to one of my favorite spots in the North Cascades. Throughout my journeys, I met some great people who shared my love for the natural world.  This past year also brought with it some valuable new clients and business opportunities. Building on these successes I hope to make 2018 an even better year!
So without further ado let's see some of the photo highlights of 2017.
John Day River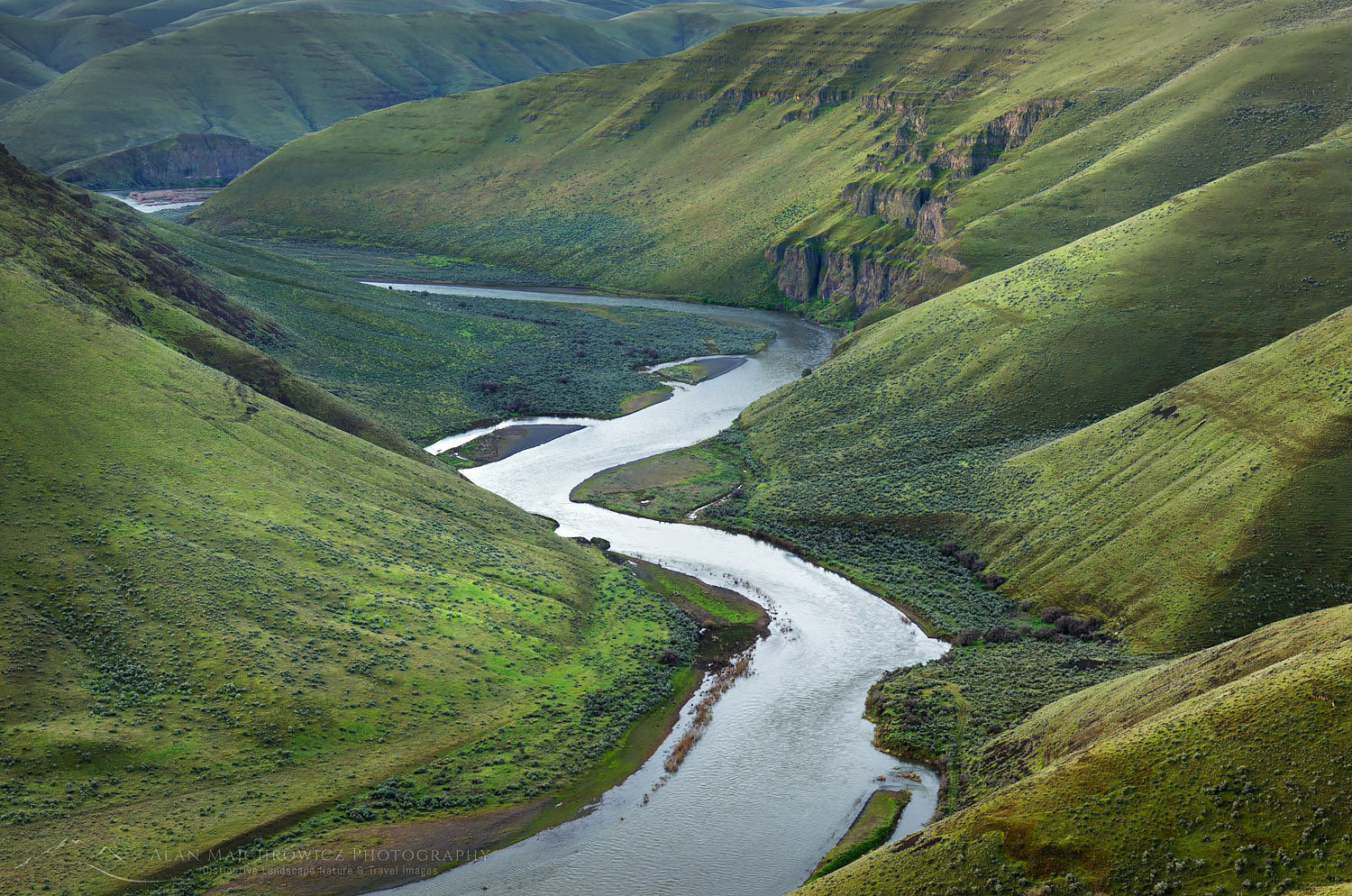 John Day River, Oregon  #59904   Purchase
This image of the John Day River was made during an extended spring photo tour. One of the first stops on this trip was Cottonwood Canyon State Park in north central Oregon. Designated as a wild and scenic river, the John Day snakes its way through steep-walled valleys of the Columbia Plateau. One of the few viewpoints down to the river is above Cottonwood Canyon. I  made this photo shortly before sunrise after car-camping on a muddy backroad near the rim. The green slopes can be misleading. This is a very dry region, with brown as the dominant color for most of the year.
Lichens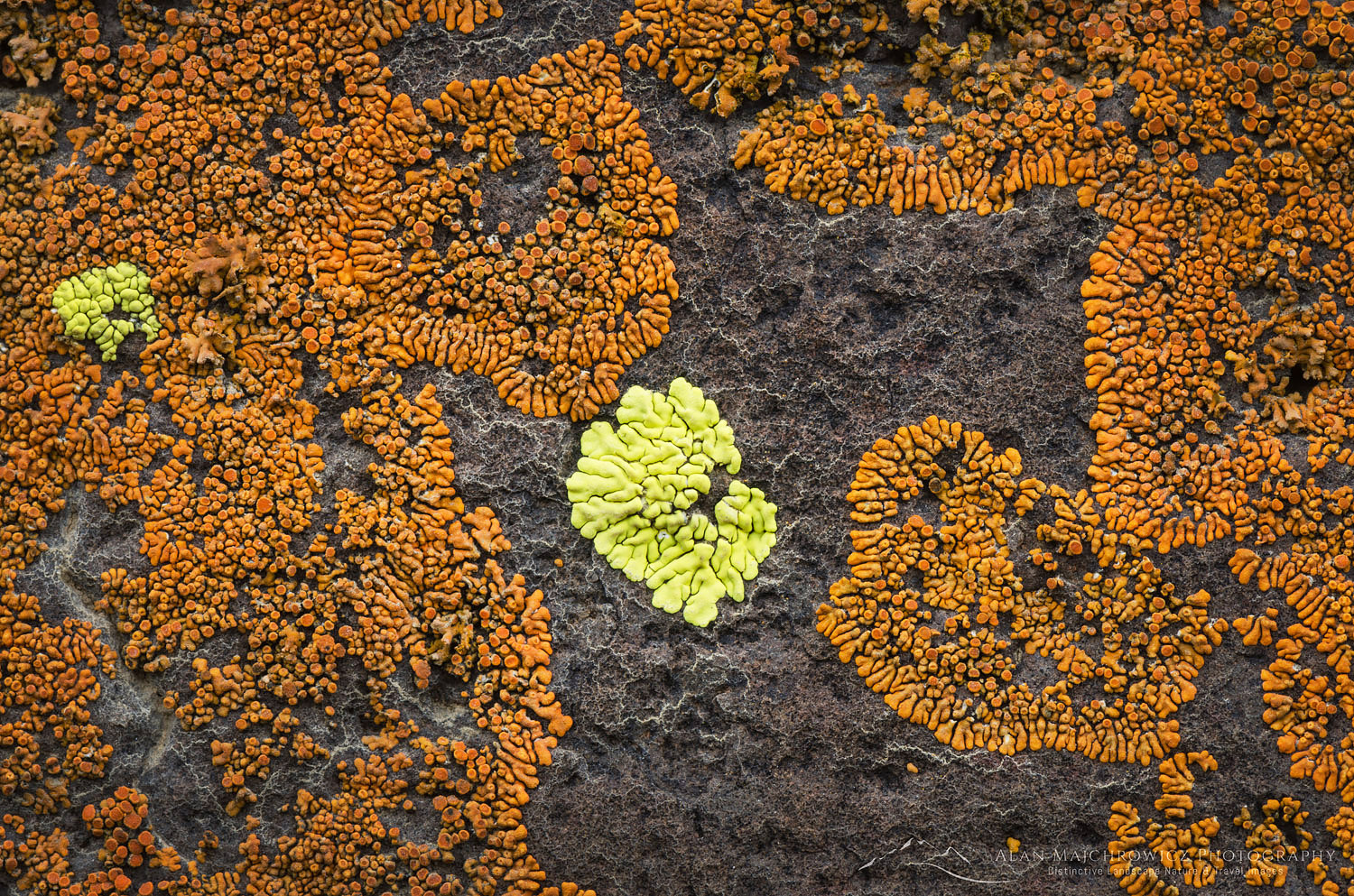 Colorful Lichens on Basalt  #59871  Purchase
Down in Cottonwood Canyon, colorful lichens paint exposed cliffs of Columbia Plateau basalt. Seen across the river at the campground I made it a point to check out this display. The lichen colonies are impressive enough from a distance, but a close inspection reveals another world. I spent a good part of the morning exploring the cliffs with my macro lens. Getting in close you can find an infinite range of details and abstract patterns. Some are reminiscent of fractal patterns.
Hood River Valley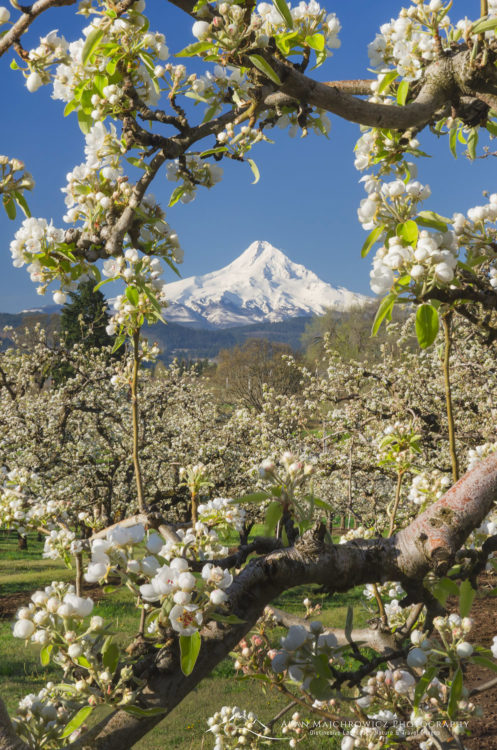 Hood River Valley Orchards, Oregon  #60108  Purchase
After photographing in Cottonwood Canyon I returned to the Hood River Valley. I was hoping to photograph the orchards in bloom. However, a cold lingering winter delayed the bloom by a few weeks. On my return, only a few of the orchards offered a good display. Arriving at sunrise throngs of other photographers were already setting up. When it became apparent there would be no dramatic clouds or light, they all left. I lingered on for a few hours, slowly scouting out some compositions. The above composition, and a few others, helped make the most of a blue sky.
Mount Shasta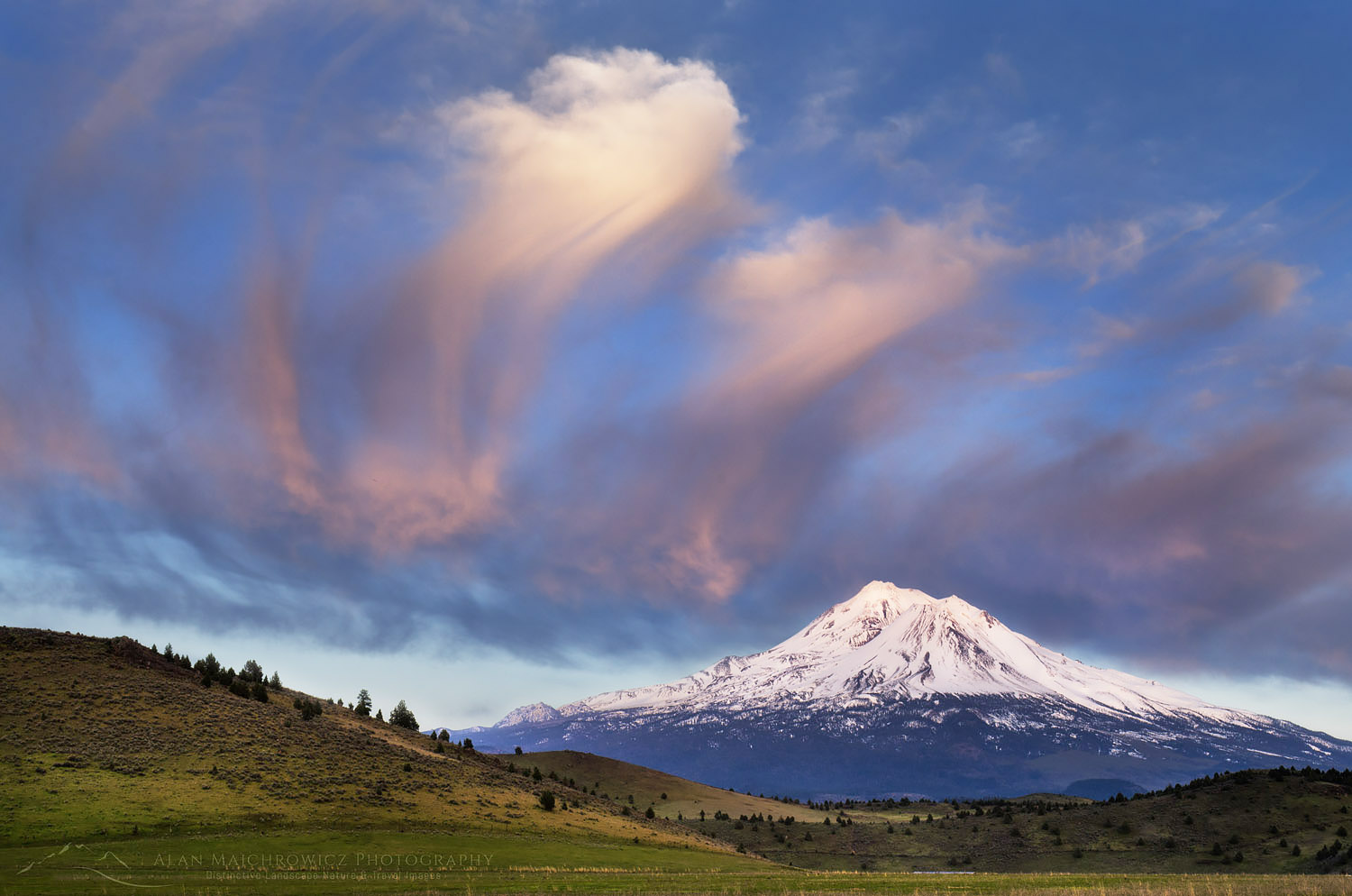 Mount Shasta  #60134  Purchase
Further south the same trip I was able to make this image of Mount Shasta just as I arrived in the area. Driving madly down a gravel road I was able to find this composition only minutes before the light faded. I spent several days exploring this area, however, this was the best light I encountered.
Point Reyes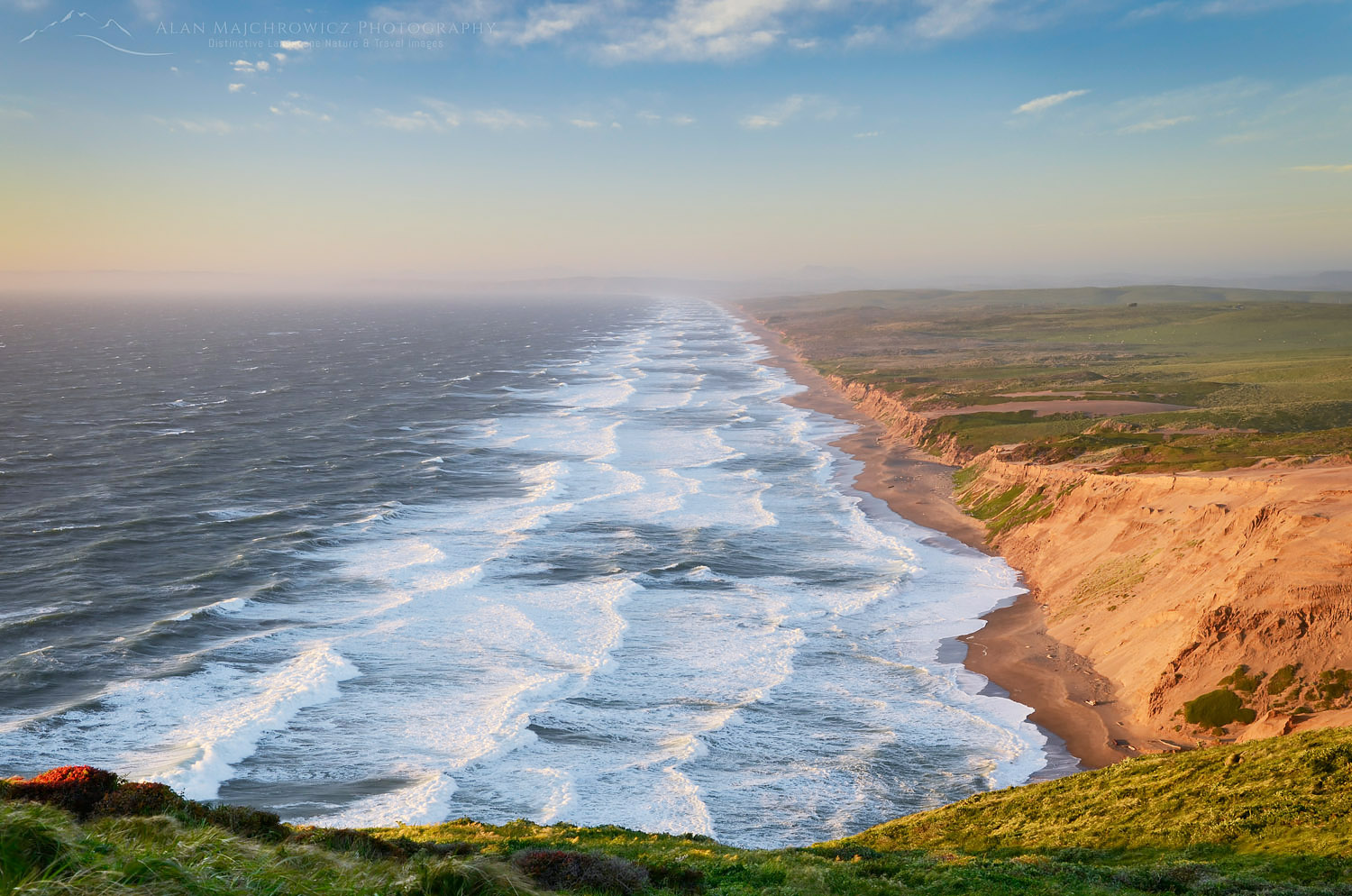 Point Reyes National Seashore, California  #60262  #Purchase
Point Reyes National Seashore in California is arguably the windiest place on the North American coast. On this and a previous trip, it would've been hard to convince me otherwise. To make this photo I crouched down behind a small boulder to shield myself from the incessant wind. Even with the tripod inches off the ground with the legs spread wide I still had to hold on to the camera to reduce shaking.
Redwoods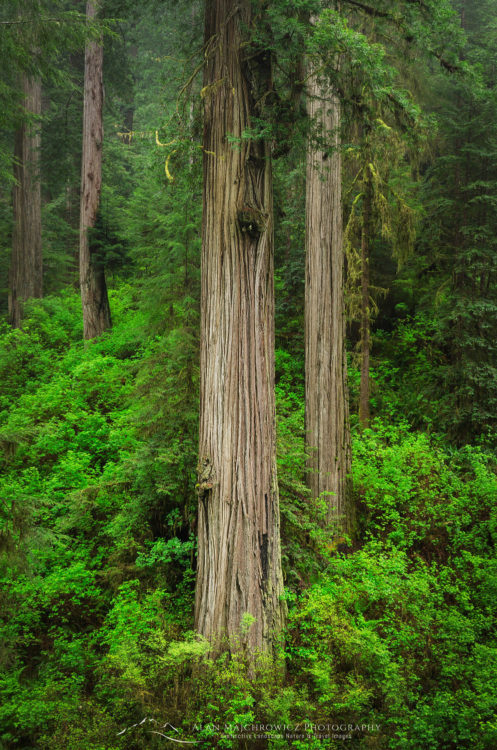 Coast Redwoods  #60743  #Purchase
The Redwood forests of Northern California are among some of the most beautiful and humbling places to visit. Pictures cannot convey the scale of these massive trees. They are also one of the most difficult subjects to photograph. Generally, the best opportunities are from the edge of a clearing. In this case, my photo was made from alongside a road. While most photos of Redwood forests utilize a wide to super wide angle lens, I used a short telephoto for this one. Of course the nearly constant fog and overcast work in your favor to accentuate colors and keep contrast manageable.
Gold Bluffs Beach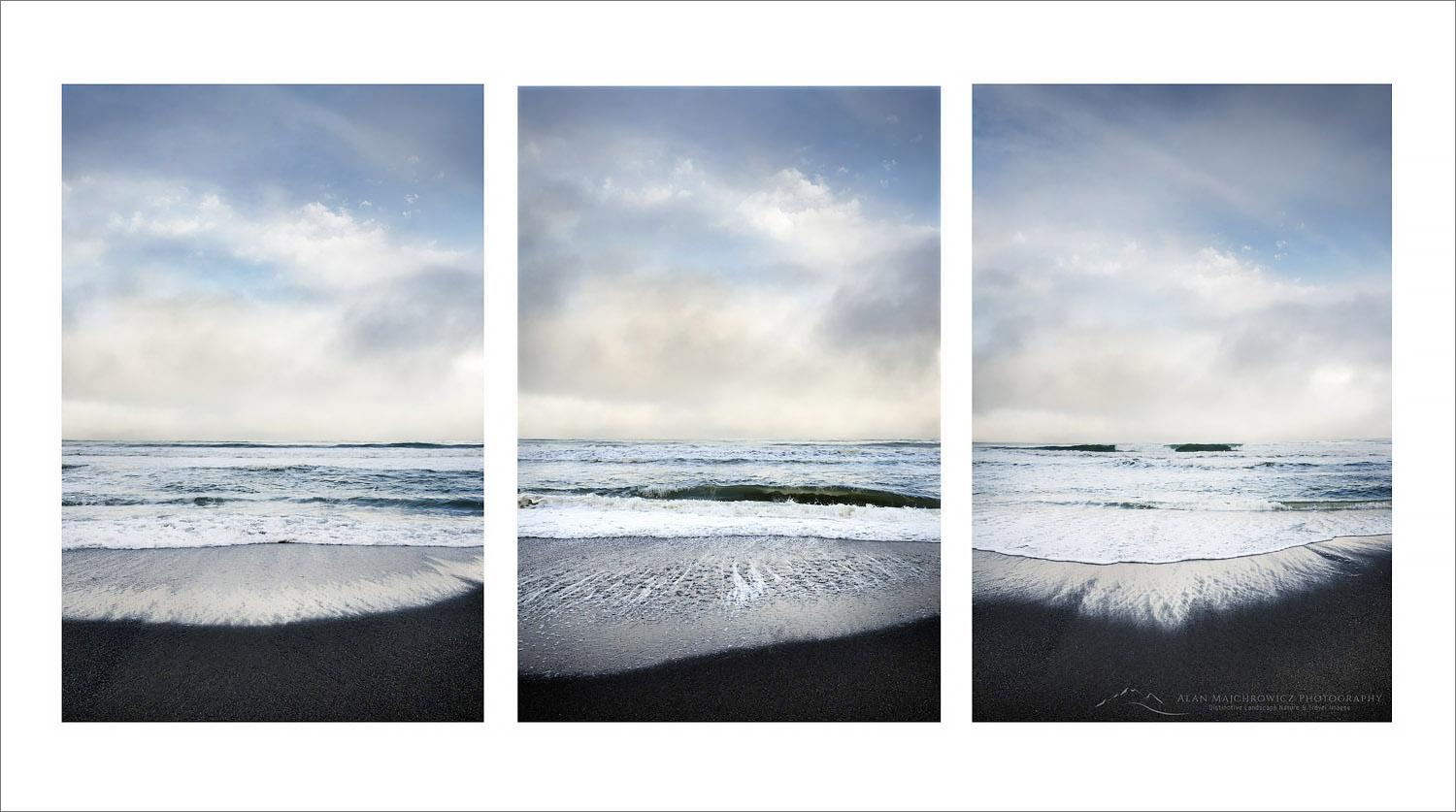 Triptych, Gold Bluffs Beach, California   Purchase
On Gold Bluffs Beach in Redwoods National Park, I enjoyed making a series of images of surf action as the fog cleared. The simple elements of dark sand, water, and sky were constantly shifting into new shapes and patterns. While several images from this session stand well alone, I feel this triptych helps further project the abstract nature of the experience.
Harris Beach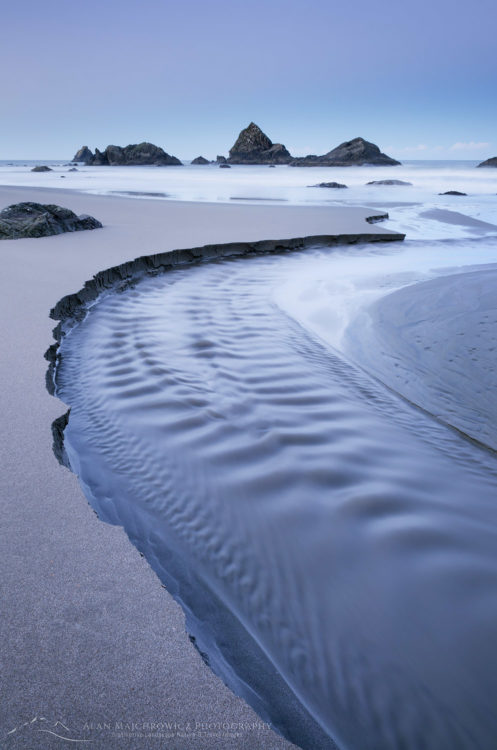 Harris Beach, Brookings, Oregon  #60783  Purchase
The southern Oregon coast has some of the best locations for photographers. Harris Beach State Park, in Brookings, makes a great base for days or weeks of location work. This photo was made in the twilight before dawn. A long exposure gave the creek a silky feel, which adds another dimension to the curves and textures of the composition.
Liberty Bell Mountain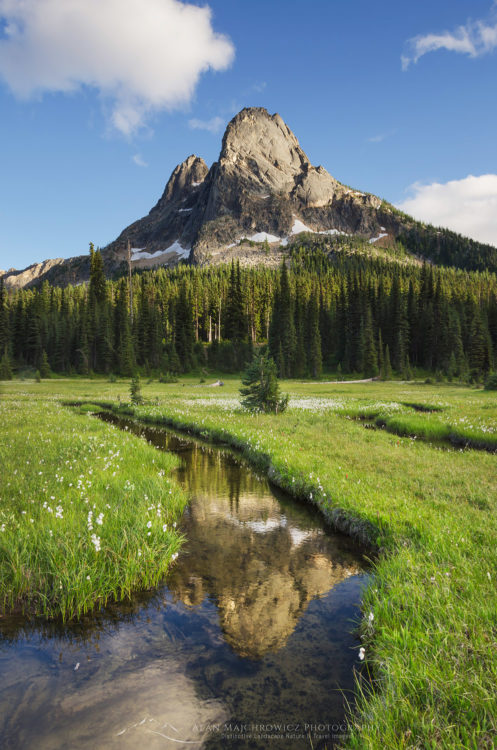 Liberty Bell Mountain, North Cascades, Washington  #61324  Purchase
Back on my own home turf in the North Cascades, I made this photo as part of a fun weekend of hiking in the Rainy and Washington Pass vicinities. For over 30 years I've visited Washington Pass and marveled at the beauty of Liberty Bell Mountain. Although I've photographed this scene many times in the fall, or snow-covered in early spring, this was my first attempt during the height of summer. Photographic compositions here come fairly easily, with help from leading lines and curves of the meandering creek. If you decide to visit this area please tread very lightly, as the meadows are fragile and are showing signs of wear and abuse.
North Cascades National Park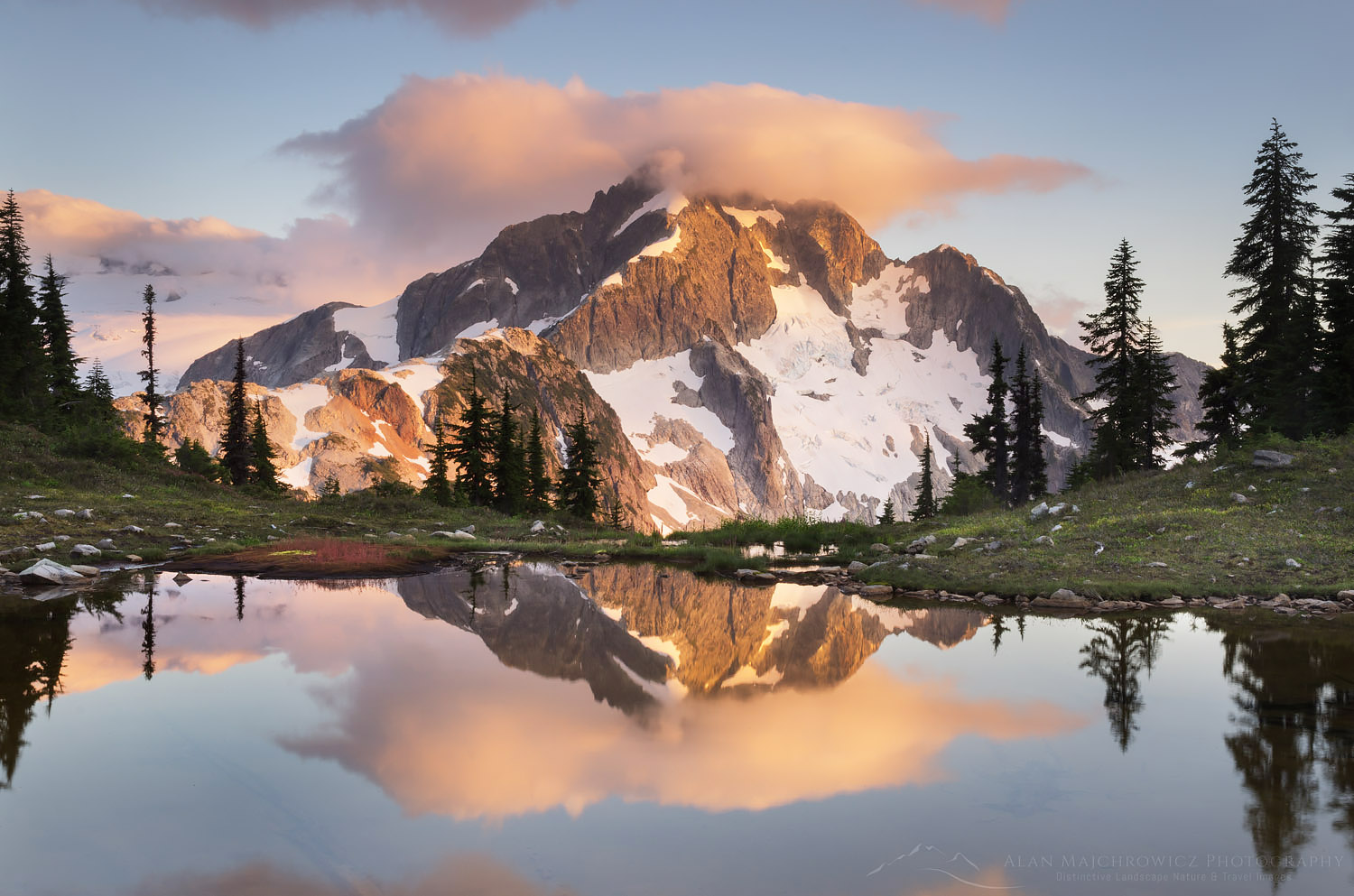 Whatcom Peak reflected in Tapto Lake, North Cascades National Park  #61497  Purchase
I made this photo last August during a six day backpacking trip to Whatcom Pass and Tapto Lakes. It's a magical place that for various reasons took me over 20 years to return to. North Cascades National Park is a rarity in the National Park System. Over 90 % of the park is designated wilderness, with only one short gravel road intruding on its borders. Most of its magnificent rugged beauty can be seen only by hiking its many trails. Even then, some of the best views are off-trail, requiring mountaineering experience.
Whatcom Pass is an exception. You can visit this scene after trail hiking around 18 miles, over one pass, down into a deep valley, up another pass, and then straight up a rough climbers route. This trip can be made in three days by strong hikers with light packs, but I recommend a more leisurely 5-6 days. Plan a day or two of just sitting around taking in the views. You never know when you'll get a chance to come back!
Heather Meadows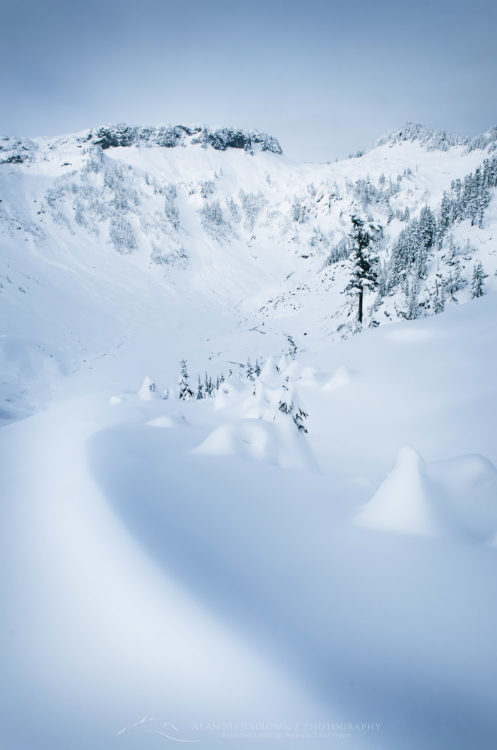 Heather Meadows, North Cascades, Washington  #61935  Purchase
Adjacent to the Mount Baker Ski Area, Heather Meadows is just a short drive up the road from my home. It's one of the gateways into the rugged backcountry of the North Cascades, in addition to being one of my longtime go-to places for winter photography. I made this photo after the first major snowfall of the season. Slowing making my way around on skis I came across this composition in soft diffused light. I liked how the soft delicate shapes in the foreground contrasted with the harder rugged shapes in the distance.
I hope you enjoyed my Photo Highlights 2017 please feel free to vote and comment on your favorite images! And don't forget, all of these images are ready to purchase as fine art prints or commercial licensing. Just click on any image!
Thanks for viewing this post, I wish you and your families, peace, joy, and prosperity in 2018.  I hope to see you on the road and trail in soon!
Photo Highlights 2017