White Clouds Wilderness Idaho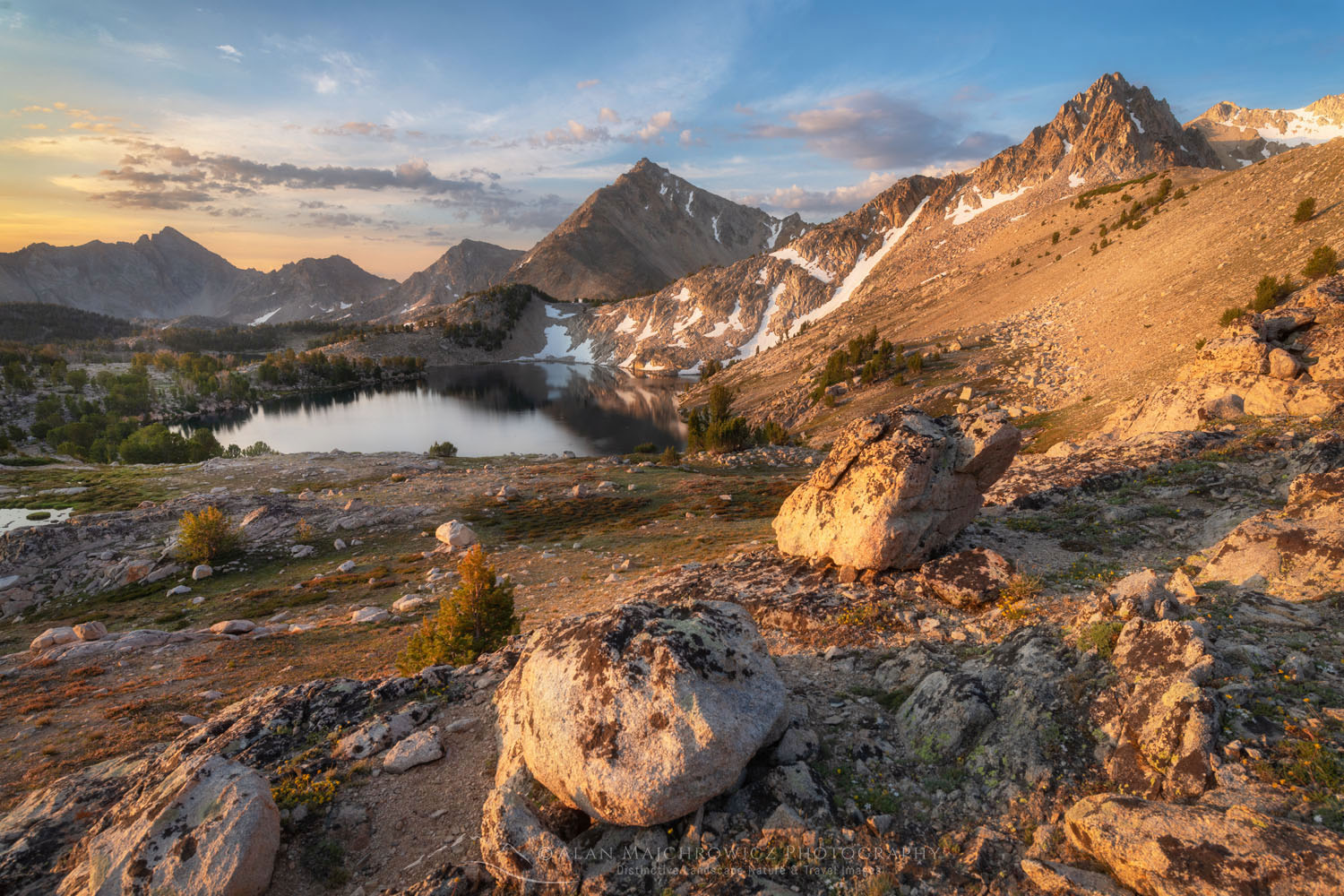 Big Boulder Lakes White Clouds Wilderness #68936  Purchase
In central Idaho there lies a wilderness area that is seemingly hidden in plain sight. Established by Congress in 2015 the Cecil D. Andrus-White Clouds Wilderness is one of the youngest in the nation. The reason I say that it is hiding in plain sight is the fact the nearby Sawtooth Wilderness grabs all the attention. Visitors flock to the Sawtooths to hike, climb, and fish among their jagged spires. And for good reason, the Sawtooths are visually akin to the Grand Teton Range, albeit on a smaller scale.
But most visitors are unaware of the quiet yet spectacular wilderness just a stone's throw away. To the east across the valley cut by the Salmon River are the White Clouds. If you climb high in the Sawtooths and look east you'll get a distant glimpse of them. A small range of high peaks consisting of light-colored rock looking like clouds on the horizon.
There are 63 named lakes in the range and several peaks over 11,000′ in elevation. Additionally, bordering the Cecil D. Andrus-White Clouds Wilderness is the Hemingway-Boulder Wilderness, and the Jim McClure-Jerry Peak Wilderness areas. But for our purposes, we'll concentrate on the White Clouds.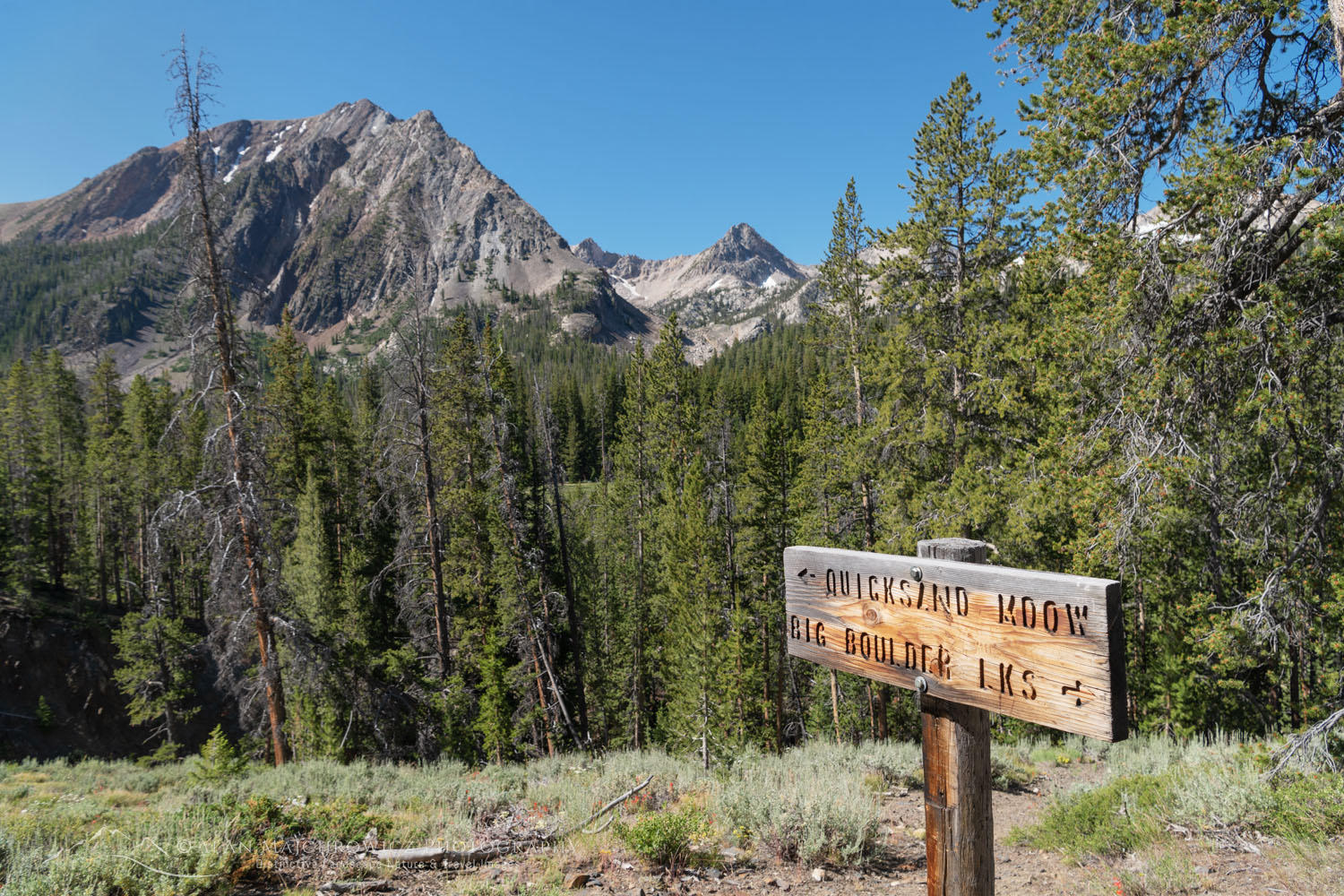 Big Boulder Lakes Trail Sign  #68891 
Backpacking to Walker Lake
Last summer I made my first trip to the White Clouds. The core area of the range most popular with hikers has two sections. In the south is the Boulder Chain Lakes area, which sees more visitors. In the north is the Big Boulder Lakes Basin, my destination for this trip. Both areas can be combined into one long multi-day trip. However, there are a few difficult cross-country sections with steep climbs, exposure, and difficult route finding. This makes a loop route more than the average backpacker is willing to attempt.
One reason Big Boulder Basin sees fewer visitors is the access to the trailhead at the Livingston Mill. From Stanley, this entails a long drive along the Salmon River and then up a narrow and dusty gravel road. There is at least one nice perk to accessing the White Clouds from here, read on to the end to find out what it is.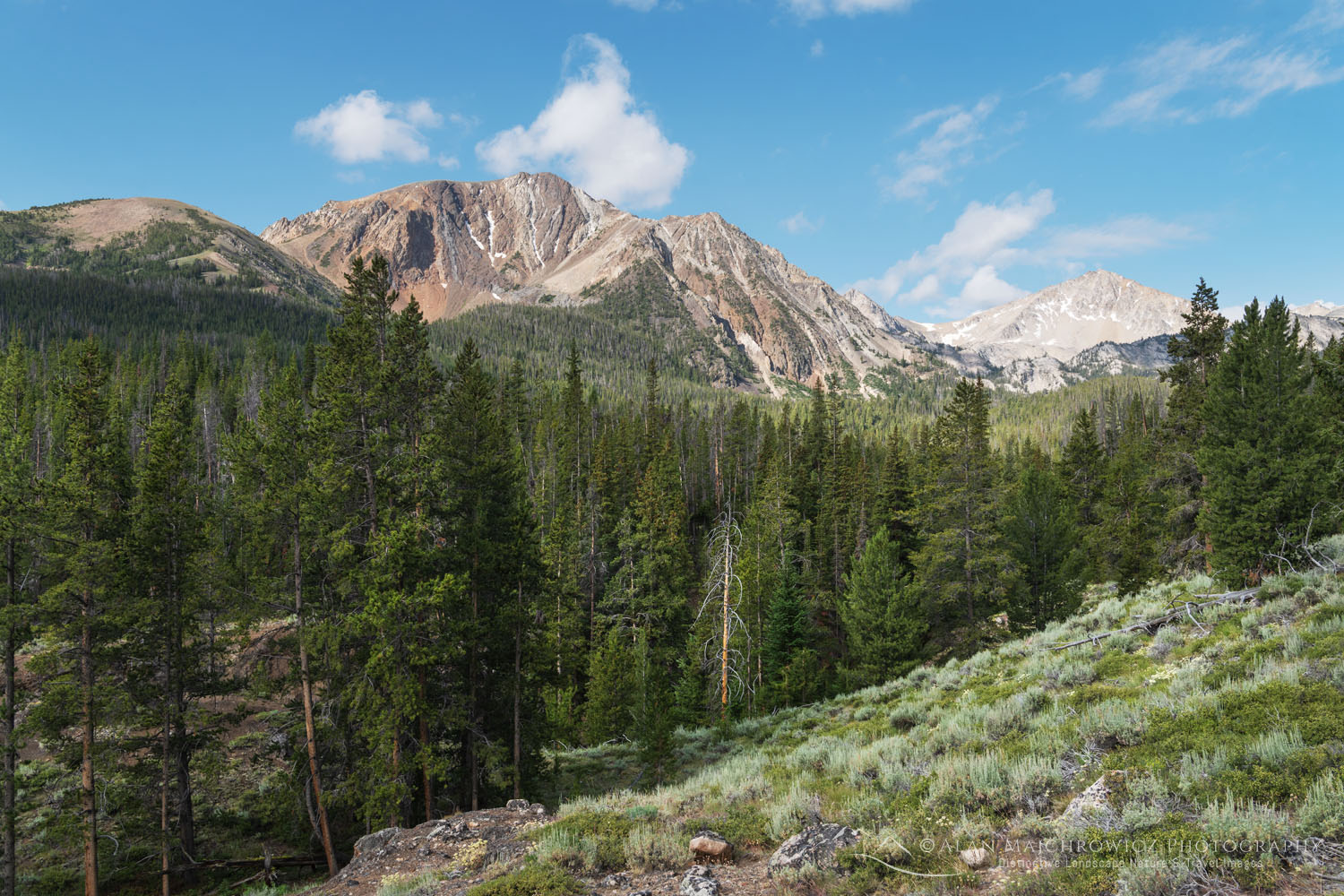 White Clouds Wilderness #68980
The last mile or two is pretty narrow with a steep drop-off. Keep a sharp eye out for oncoming vehicles since backing up to the nearest pullout would not be pleasant. There is a large parking area at the road end near Livingston Mill, elevation 7200′.
My destination on the first day was Walker Lake. It's about 7 miles with 2200′ of elevation gain on a good trail. After the first two multi-use miles the trail splits, the left continues to Boulder Chain Lakes and the right climbs to Walker and Big Boulder Lakes. It is possible to continue in one day to the scenic subalpine basin above Walker Lake, however, the remaining two miles is just a faint route over and through swamps and boulders. Walker Lake was good enough for me, even though it had limited views and camping spots.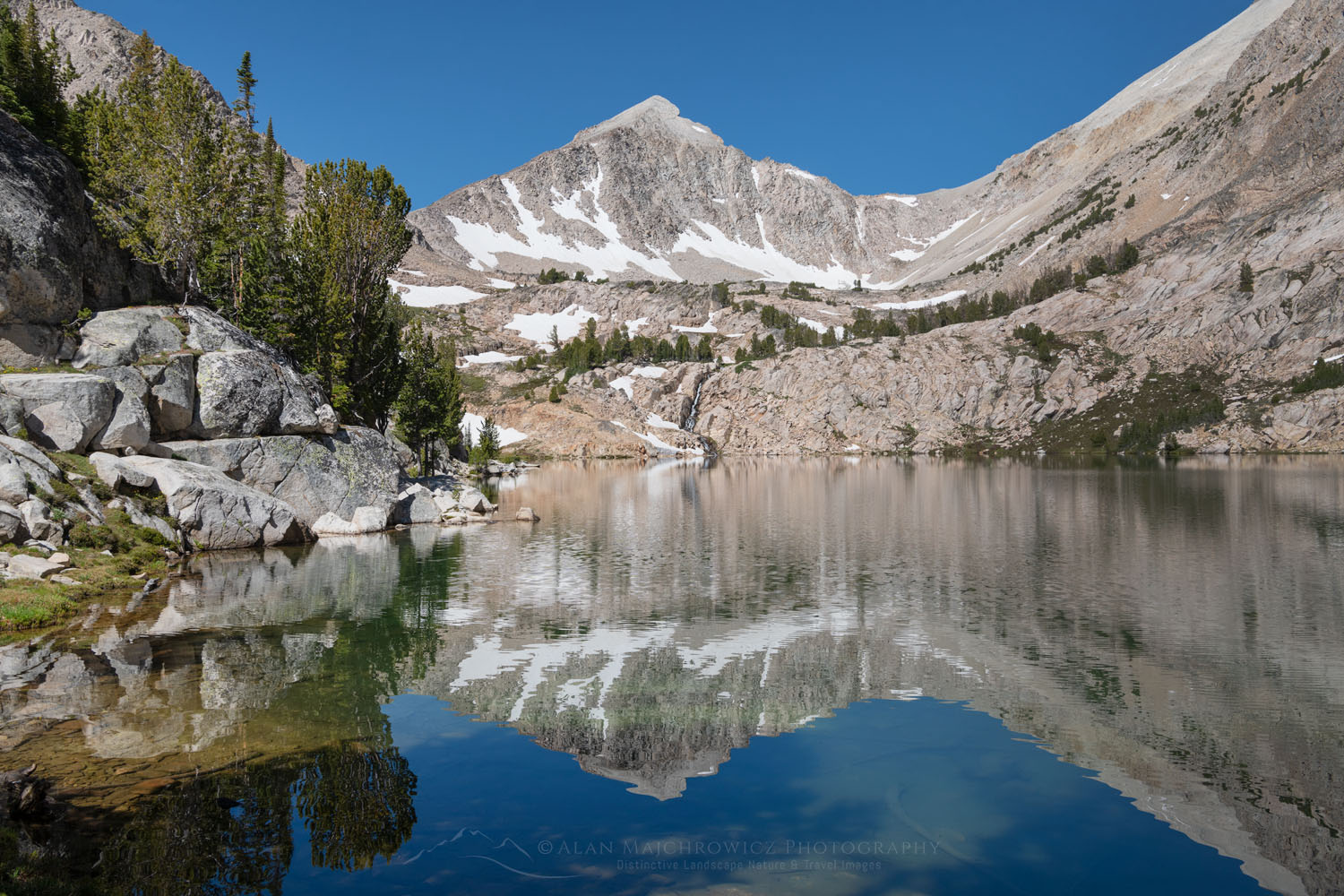 Sheep Lake #68893
Wrong turn to Sheep Lake
The next day I started up to what I thought would be my destination at Sapphire Lake. At first, there was no trail to follow over the rocky terrain. I finally picked up a faint trail, but unknowingly the very steep path was leading me to Sheep Lake in the adjacent basin.  After finally arriving at walled in Sheep Lake it was apparent I made a route-finding mistake. But that was ok since it was a picturesque location with a decent campsite, and I had plenty of time.
Later a short scramble brought me to a ridge top with a commanding view of the surrounding peaks and Walker Lake far below. I was also able to discern from this view the correct route to Sapphire Lake and where I went wrong earlier in the day. From Sheep Lake there was a cross country route around the lake, over an easy pass, and down to Sapphire and the other upper basin lakes. But although I was carrying a good map that route wasn't obvious from my camp.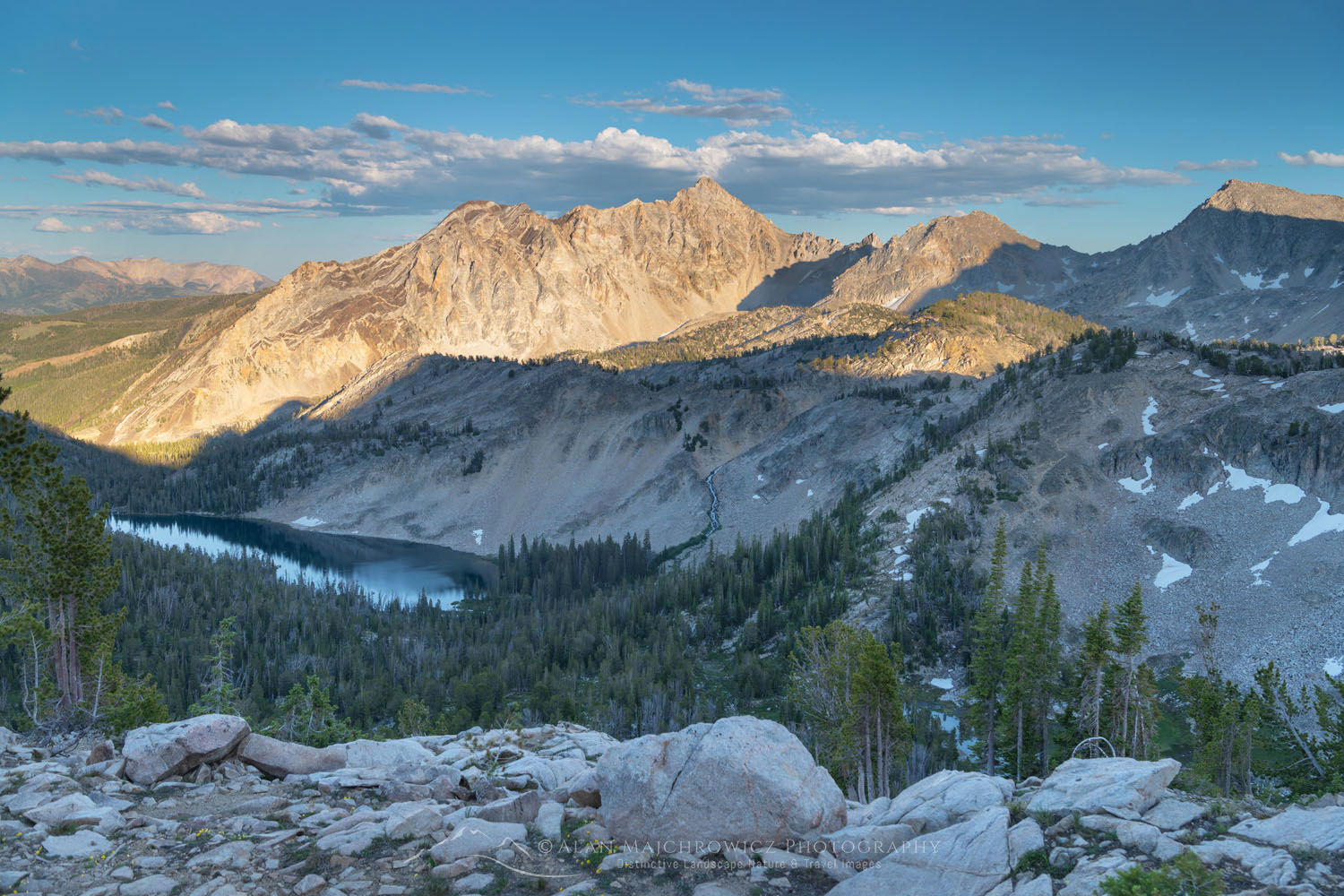 View of Walker Lake  #68901  Purchase
The next day I retraced my steps down the same path to where I made my mistake. Since the correct route split off in a swampy meadow it was certainly easy to get off track. I finally came across a faint path leading in the right direction, but quickly lost it again. By this time my thought was to just plow straight up, with the assumption I would inevitably get to the top or intersect with the trail again. I did come across the trail again, by now a well-worn path, just two short switchbacks from the top.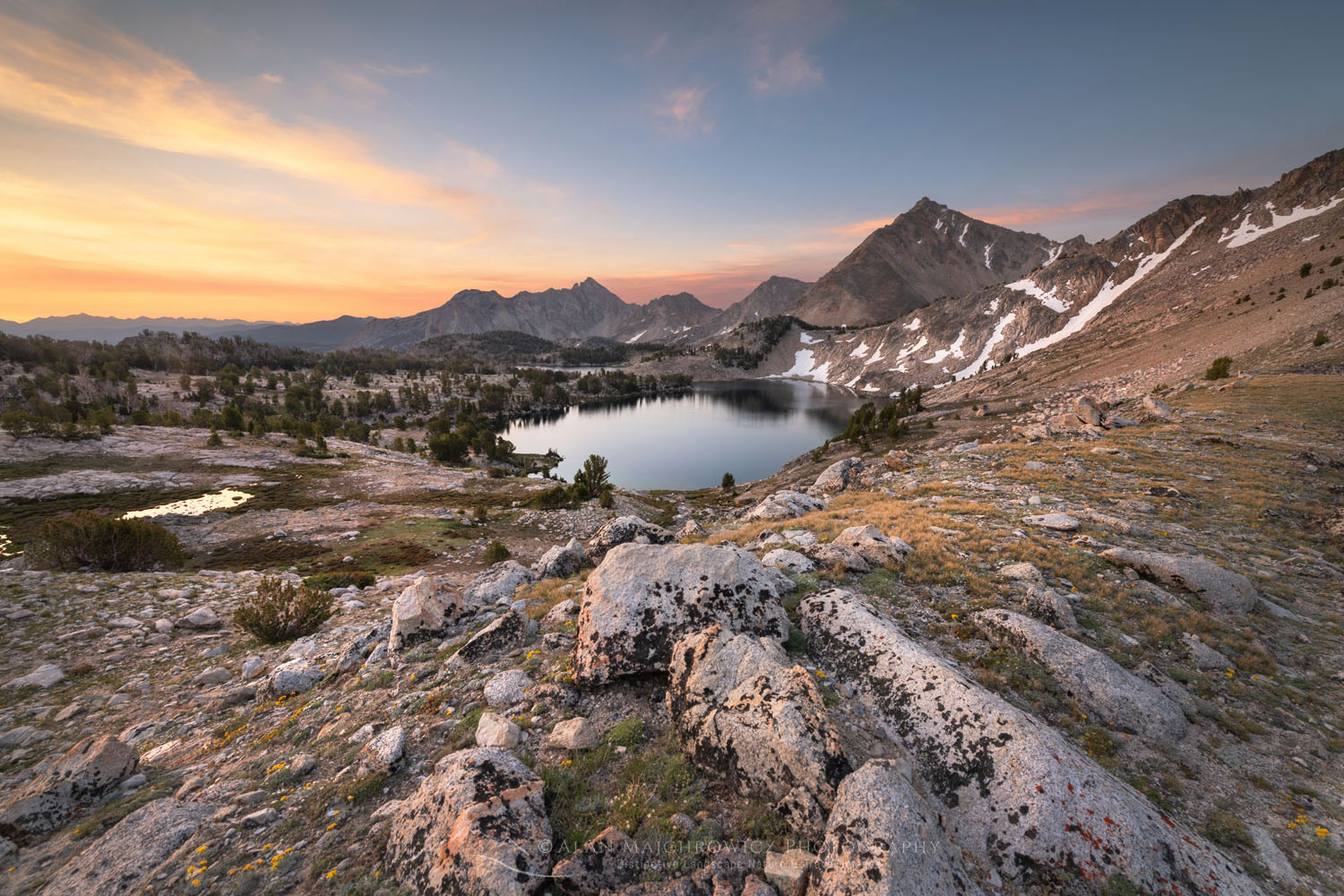 Big Boulder Lakes #68917  Purchase
Sapphire Lake and the Upper Basin
Finally, in the right basin, all traces of paths vanished. However, by now I was in the subalpine and the terrain was open with easy route finding. After a leisurely walk over granite slabs and past several lakes, Sapphire Lake finally spread in front of me. Locating a prime spot with a view I set up camp and took it all in.
There are six lakes in the basin and multiple ponds and tarns, all with their own special character. Cirque, Sapphire, and Cove Lake are the biggest, and in my opinion, Sapphire is the most scenic. Of course, since I was here for photography so scouting out all of them was essential.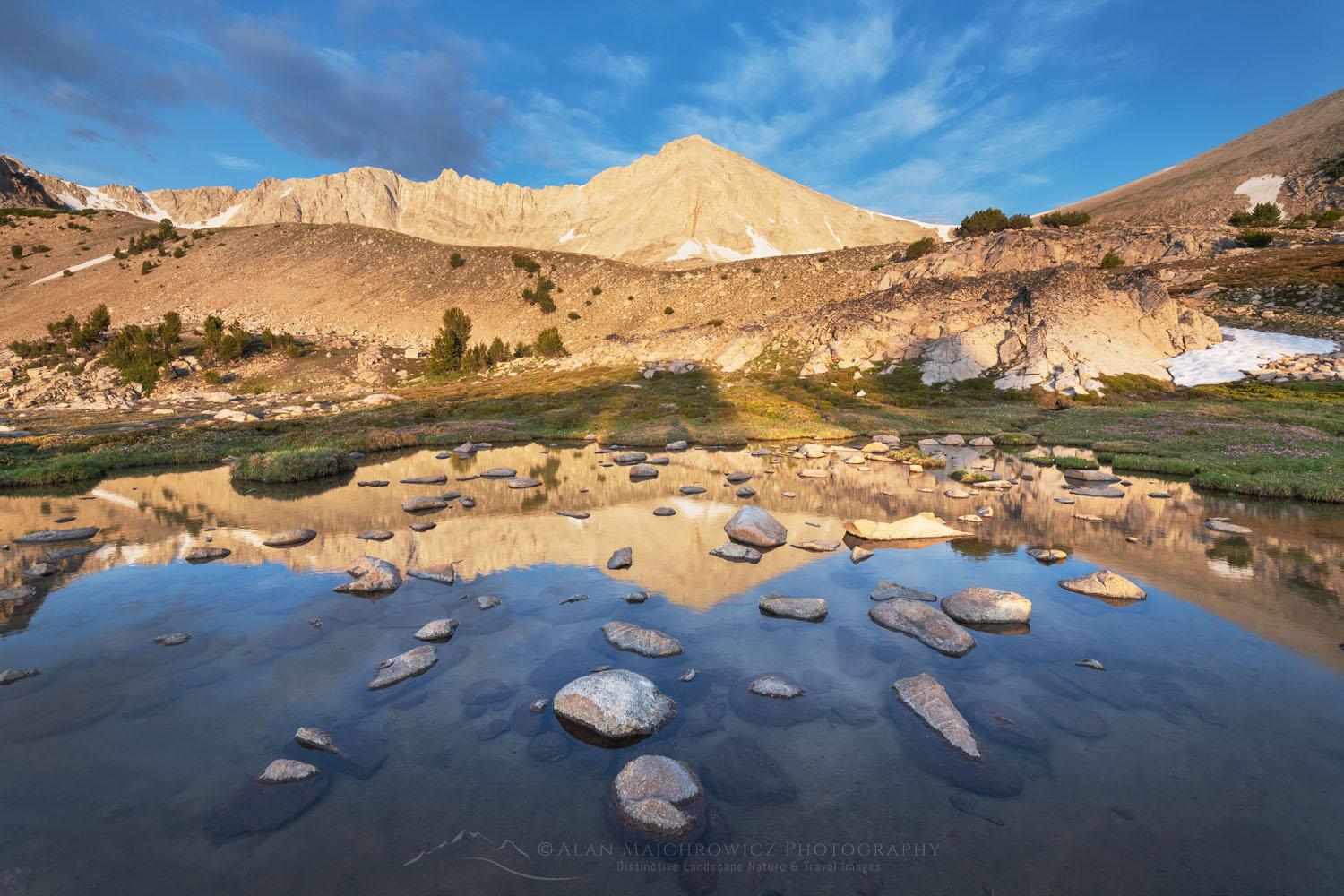 David o' Lee Peak White Clouds Wilderness  #68945  Purchase
After Sapphire, Cirque Lake appeared to offer great photographic potential. At about 10,500′ Cirque Lake was a gem sitting at the feet of 11,342′ David O. Lee Peak. In contrast to the surrounding granite, David O. Lee is composed of limestone, the rock that gives the White Clouds their name.
Indeed, although Cirque Lake was a grand scene it was set in a stark rocky alpine basin. Only on one section of the shoreline, there were some nice mosses and carpets of wildflowers. The landscape did have photographic potential, but only in the right light. There are a couple of great other options for exploring Cirque Lake.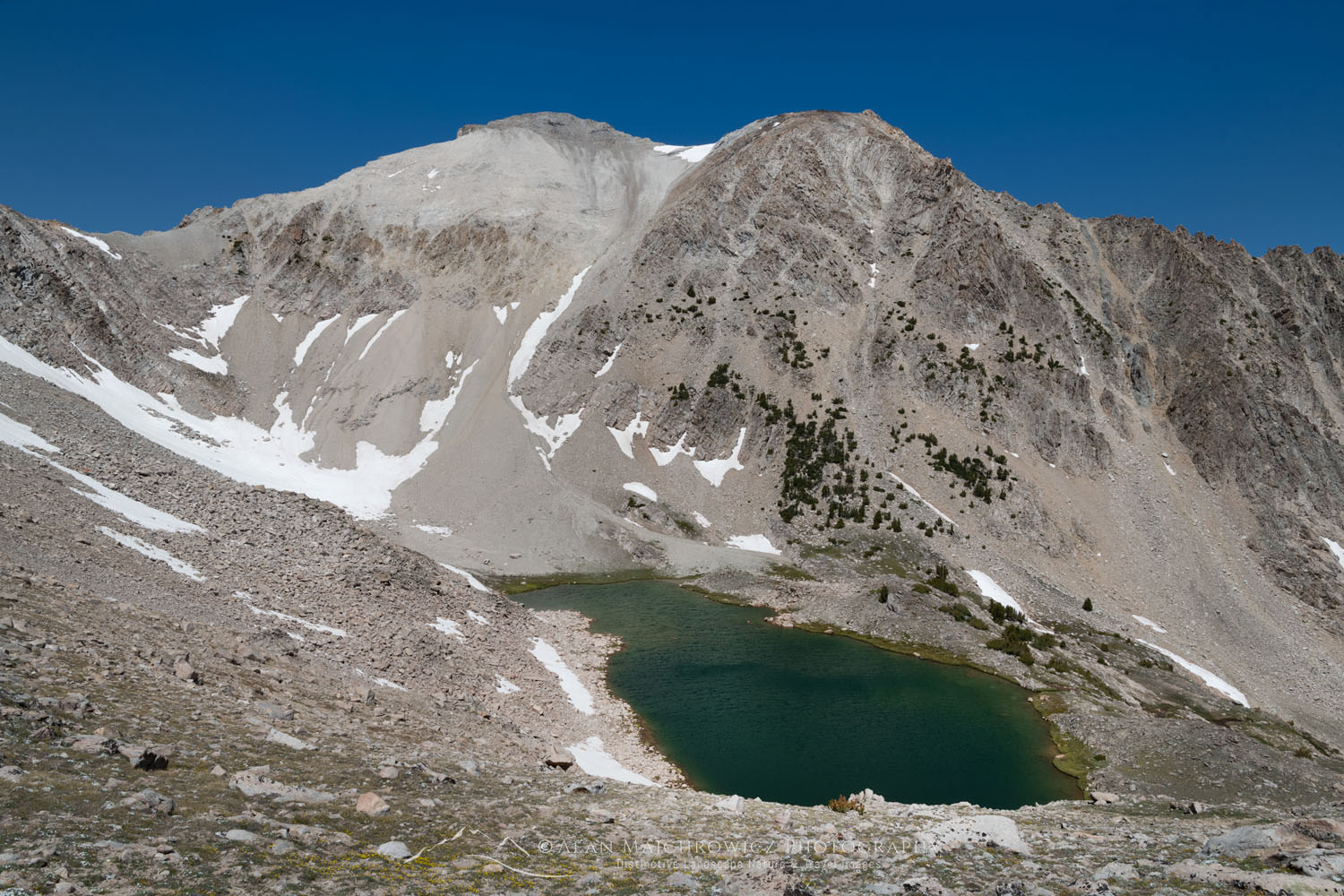 Neck Lake O'Caulkens Peak #68904 
One would be to hike up the easy moraine on the southeast side of the lake. At the top, you'll be in a truly alpine environment of rock and snow. Tucked away below the wall of the cirque are The Kettles, a small group of tarns, and classic examples of past glacial activity. Along the way up the moraine, you'll also get great views down to the basin and other lakes.
Another option would be to ascend the slope on the north side of the lake to a small pass. From the pass, you could look across to O'Caulkens peak at 11,487′ and down to Neck Lake in the upper valley I accidentally ended up on the second day. Or you could keep going higher to another pass looking down the west side of the White Clouds. For the truly ambitious a climb to the summit of David O. Lee Peak is possible.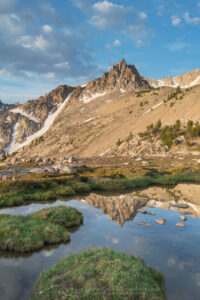 Big Boulder Lakes #68955 Purchase
A White Clouds Wilderness Post Trip Treat
After exploring and photographing Big Boulder Lakes Basin it was time to head out. Indications of changing weather and approaching storms put an end to my first visit to the White Clouds Wilderness. I was toying with the idea of moving south to check out Boulder Chain Lakes Basin, but the change in weather ruled it out. Hopefully next summer I'll be able to return and explore and photograph that section.
I should note here since my main goal on backpacking trips is photography my trips are a bit different than that of other backpackers. Others may enjoy covering many miles, being on the move from sun up to sundown. On the other hand, I usually have a goal of allotting a generous amount of time in one area for photography. So in this instance moving to the Boulder Chain Lakes would allow only one brief day for photography. From all indications at least two to four days would be needed.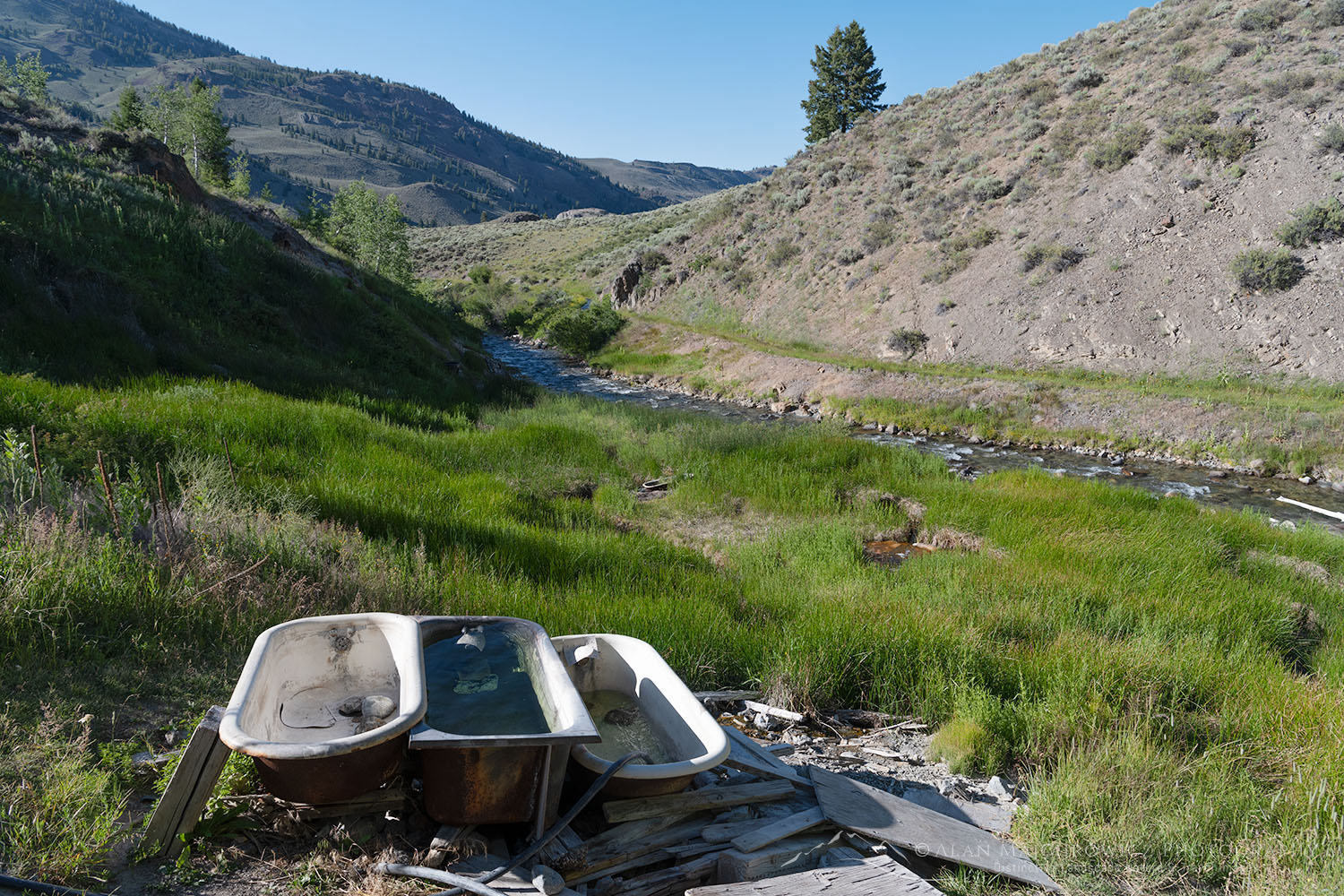 West Pass Hot Springs  #68887
One of the great perks of hiking in central Idaho is the abundance of natural hot springs. There is a huge variety available for the avid soaker, from roadside pools to remote backcountry springs. In this instance, my trusty guidebook, Hot Springs in the Pacific Northwest, pointed to West Pass Hot Springs, not far away on the same access road.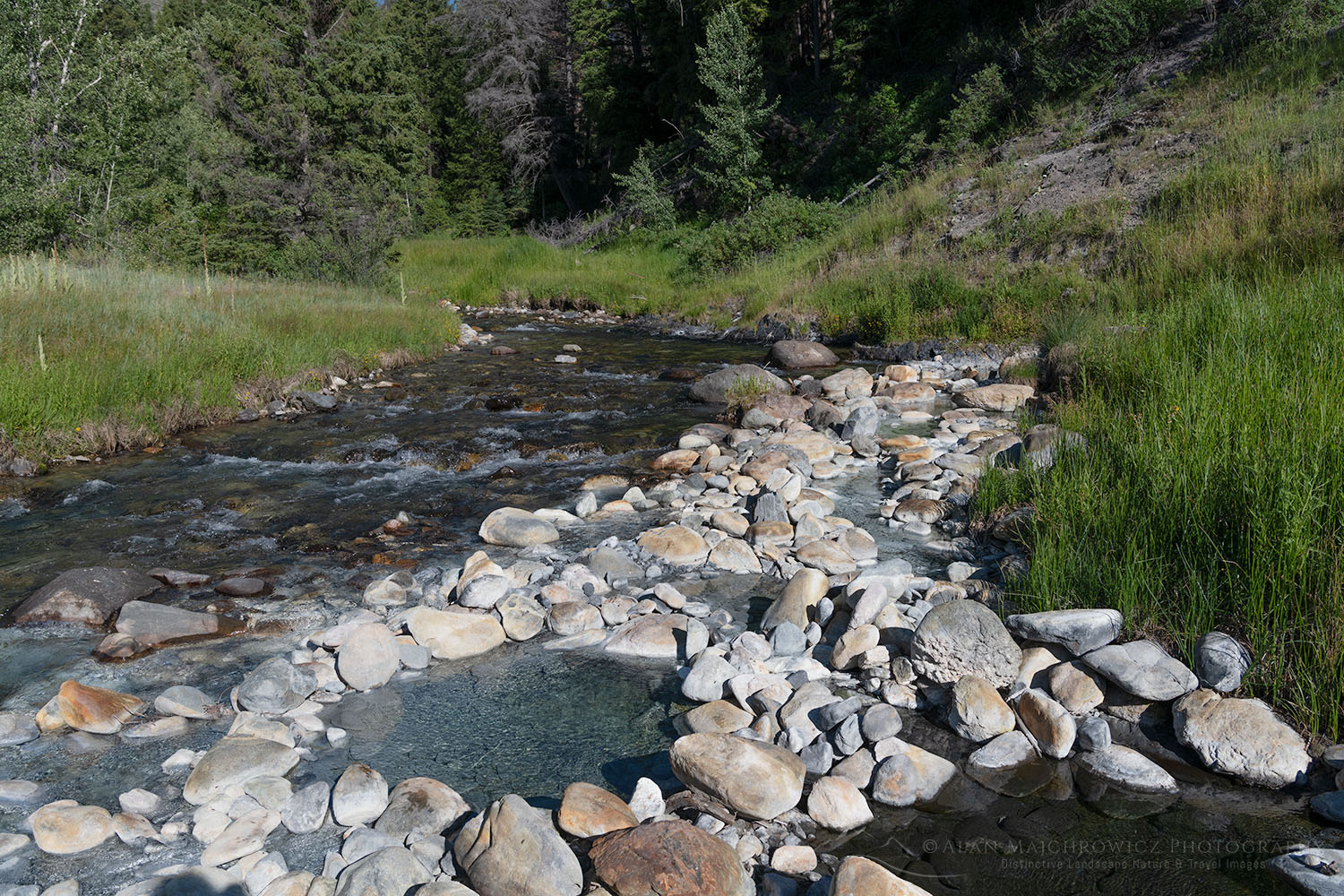 West Pass Hot Springs  #68886 
West Pass is about as remote as you can get by vehicle, about 25 miles down a forest service road. The springs flow from a hillside just above the East Fork Salmon River. Hot water is diverted into three strategically placed bathtubs. You can also try soaking in a few riverside pools. At any rate, having a good hot soak at the end of a multi-day backpack is a treat that can't be passed up!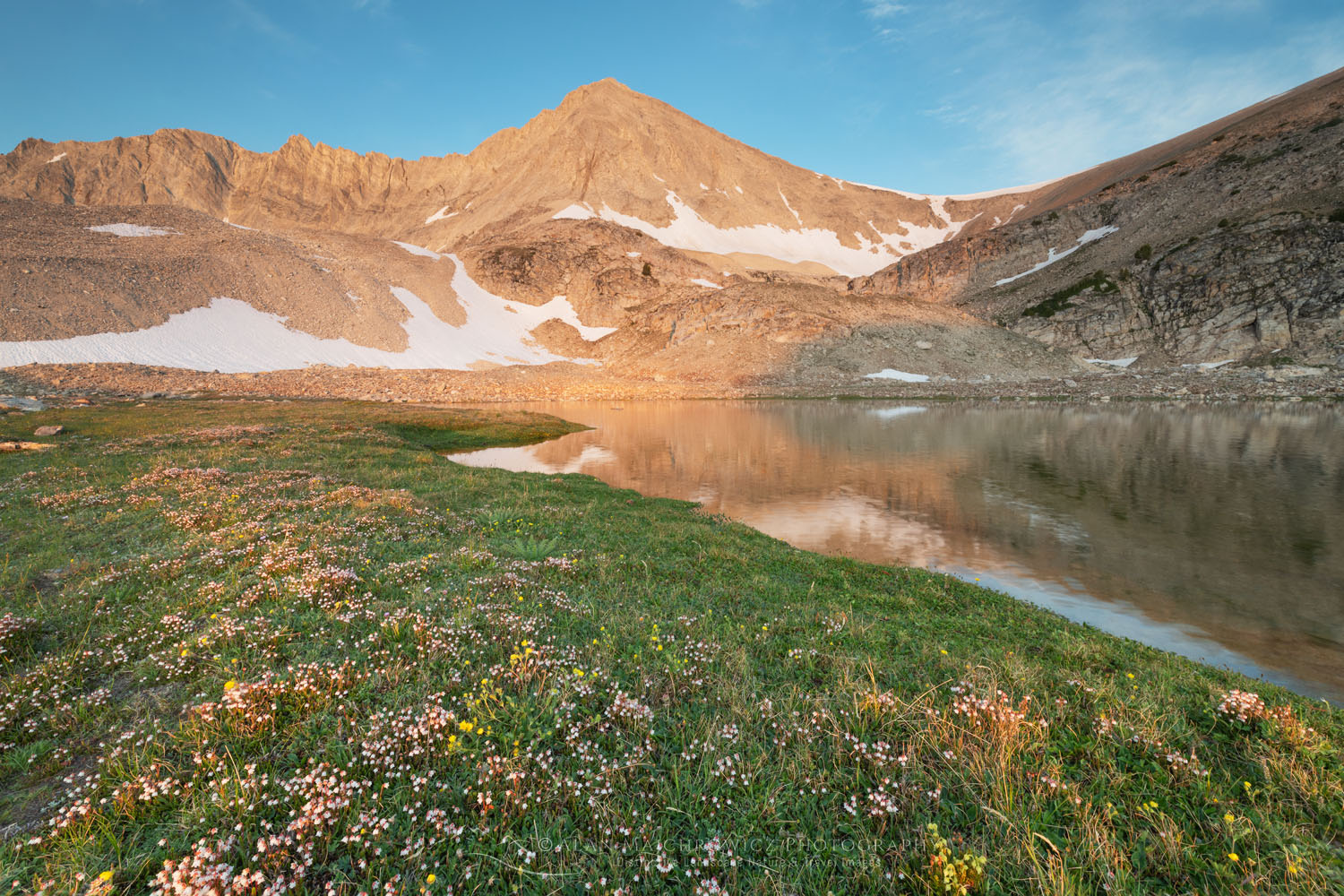 David o' Lee Peak White Clouds Wilderness  #68929   Purchase
If You Visit Big Boulder Lakes, White Clouds Wilderness
Distance from trailhead to Sapphire Lake:  about 9 miles
Elevation Gain:  about 3600′
Difficulty:  Moderate-Difficult
Red Tape:  No permits are needed
The Livingston Mill Trailhead is located about 58 miles from Stanley Idaho. Take U.S. 75 37 miles northeast from Stanley to East Fork Road. Go another 17 miles to Big Boulder Creek Road, and finally another 4.3 miles to Livingston Mill. West Pass Hot Springs is another 18 miles further on East Fork Road. Check out Hot Springs in the Pacific Northwest for a detailed description.
The small scenic town of Stanley Idaho makes a great base for trips into the Sawtooths. Lodging, groceries, restaurants, outdoor gear stores, and a great bakery are in town. There are also many campgrounds in the vicinity.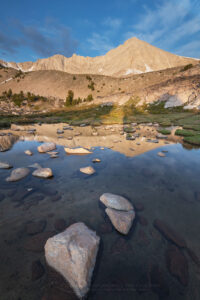 David o' Lee Peak White Clouds Wilderness  #68943  Purchase
Leave No Trace
And now for a short lecture. As I've been saying in previous posts, don't even think about visiting this or any other wilderness area unless you are prepared to strictly follow the guidelines of Leave No Trace (LNT). The Wind River Range and all other wilderness areas throughout the world are under incredible pressure from growing amounts of visitors. Please do your part to help preserve these precious areas for future generations!
To learn more about the principles and practicing LNT please take a few minutes to visit the Leave No Trace Center for Outdoor Ethics. Your children and grandchildren will thank you!
Seven Leave No Trace Principles
Plan ahead and prepare.                                       
Travel and camp on durable surfaces.                 
Dispose of waste properly.                                                                         
Leave what you find.                                            
Minimize campfire impacts (be careful with fire).
Respect wildlife.  
Be considerate of other visitors.
Photo Gear Used On This Trip
Nikon D850
Nikkor Lens:
14-24mm 2.8G ED
24-70mm 2.8E ED
70-200mm 2.8E FL ED
Gitzo 1532 Tripod
Really Right Stuff B-55 Ball Head
Assorted Lee Graduated Neutral Density Filters
B+H Polarizing Filter
Vello FWM-N2 Remote Shutter Release
If you enjoyed reading White Clouds Wilderness please share it with your friends and family. And make sure you check out my previous post on the Eagle Cap Wilderness Oregon
Some photos appearing in White Clouds Wilderness Idaho are available for Commercial Licensing and Fine Art Prints. Click on the image to purchase, or contact me for more info!