Central Wind River Range Backpacking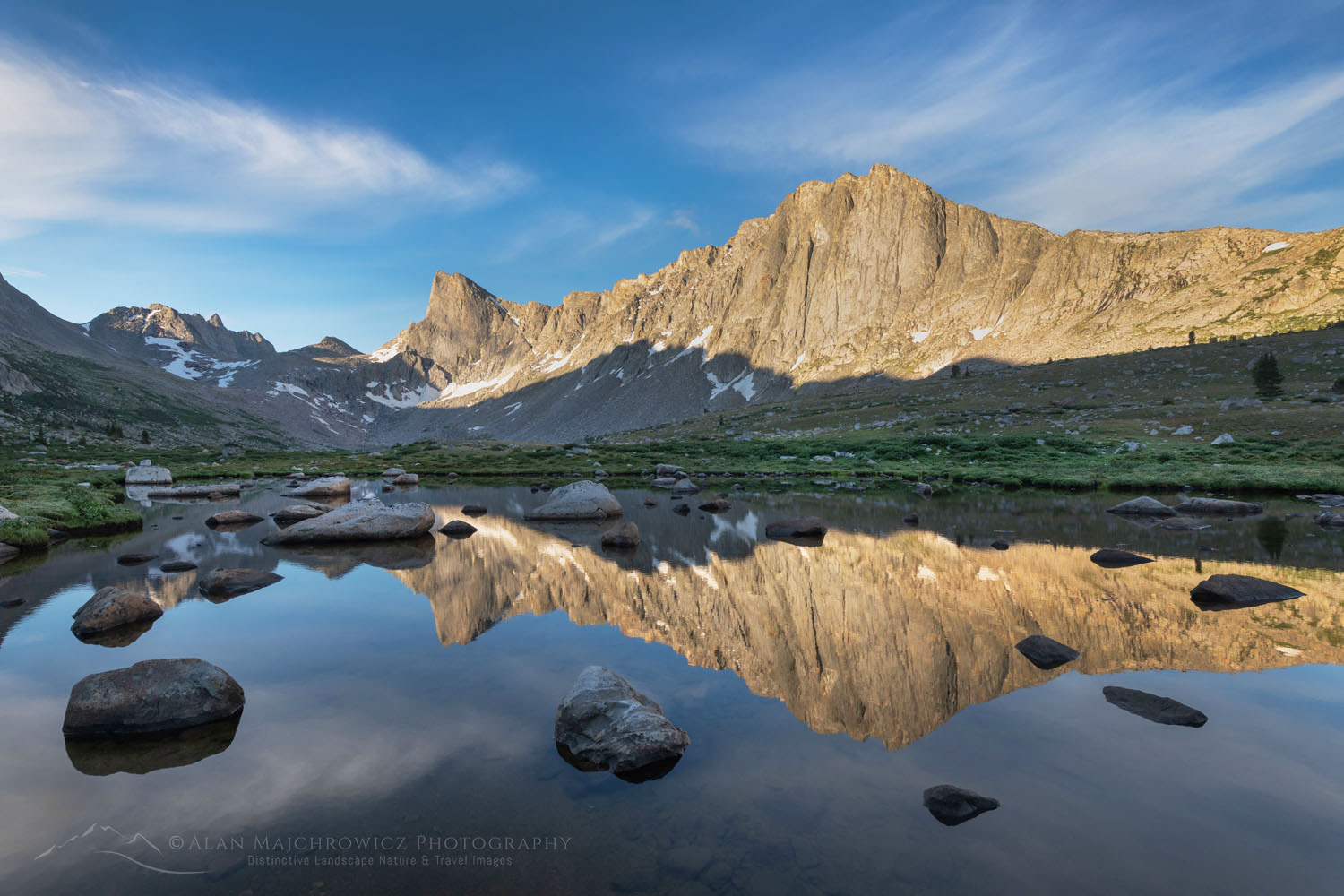 Pronghorn and Dragon Head Peaks Central Wind River Range  #69141  Purchase
The Wind River Range of Wyoming is a spectacular section of the Rocky Mountains. It contains 40 peaks over 13,000 feet, the largest glacier in the American Rockies, and over 1300 named lakes. All are spread over three wilderness areas.  While not as well known as other destinations such as Grand Teton and Glacier National Parks, the range nonetheless attracts an increasing amount of backpackers, climbers, hunters, and fishermen.
While popular destinations in the Winds like Cirque of the Towers, Island Lake,  and Titcomb Basin see the bulk of the crowds, much of the Winds remain nearly deserted. An extensive network of trails gives access to nearly every corner of the range, and off-trail travel is relatively straightforward. All of this offers outdoor enthusiasts a lifetime of wilderness adventures.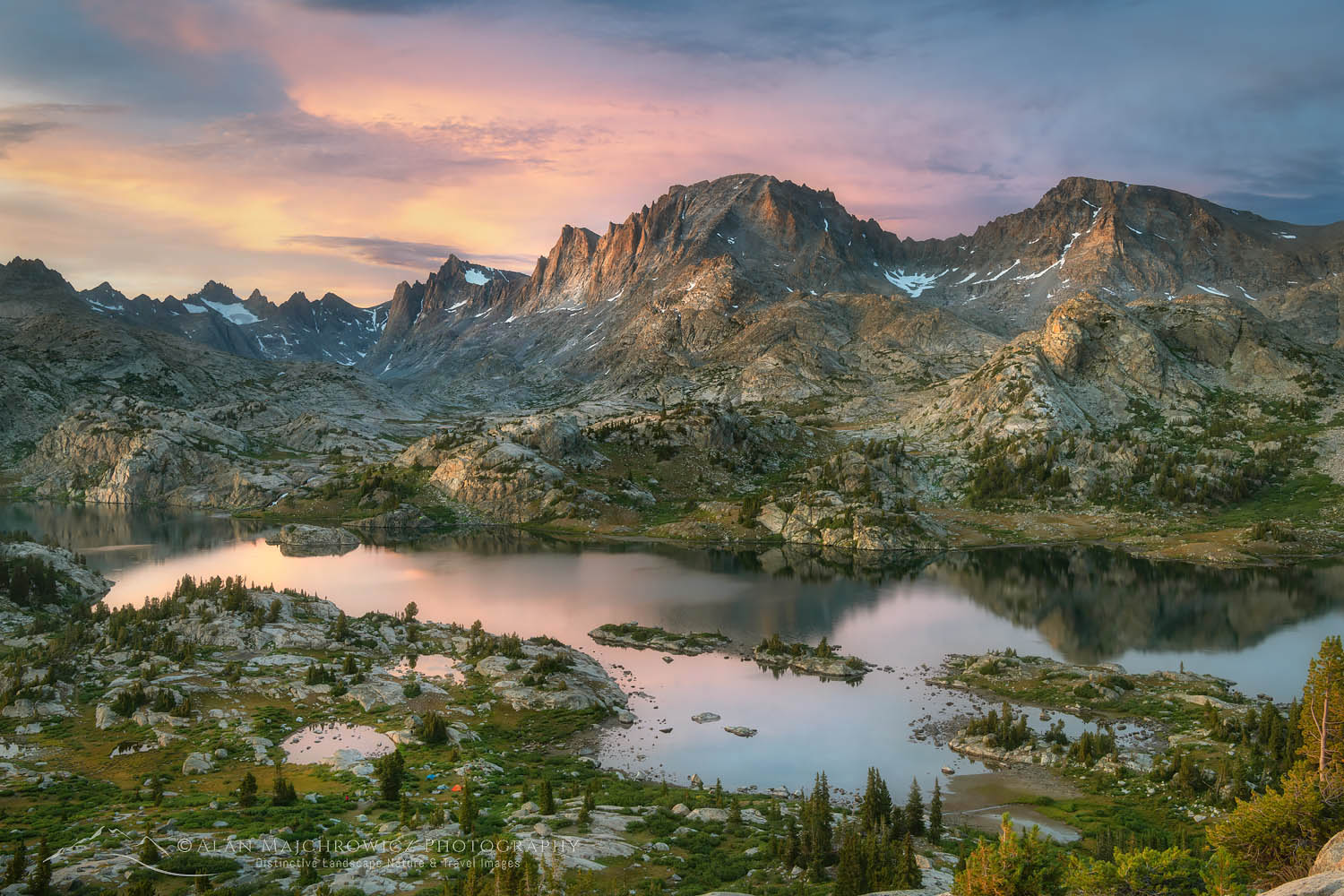 Island Lake Wind River Range #66386  Purchase
My first visit to the Winds was in 2002, and I've been coming back for more ever since. Being a landscape photographer I was naturally drawn to Titcomb Basin and Cirque of the Towers on initial trips. But over time I became aware of other hidden gems in the range. Soon my list of destinations grew long with several spots rising to the top.
Last summer I returned to the Winds to check out a new area, Lee Lake and Pronghorn Peak. Both are located in the upper valley of the Middle Fork of Boulder Creek. This location, in the Central Wind Rivers, was on my list the previous summer but was nixed in favor of another location. When doing location research over the years one peak's stunning profile stood out. This was Pronghorn Peak. Rising to 12,388′ it and the surrounding terrain has a look similar to mountains in Patagonia, or Canada's Baffin Island.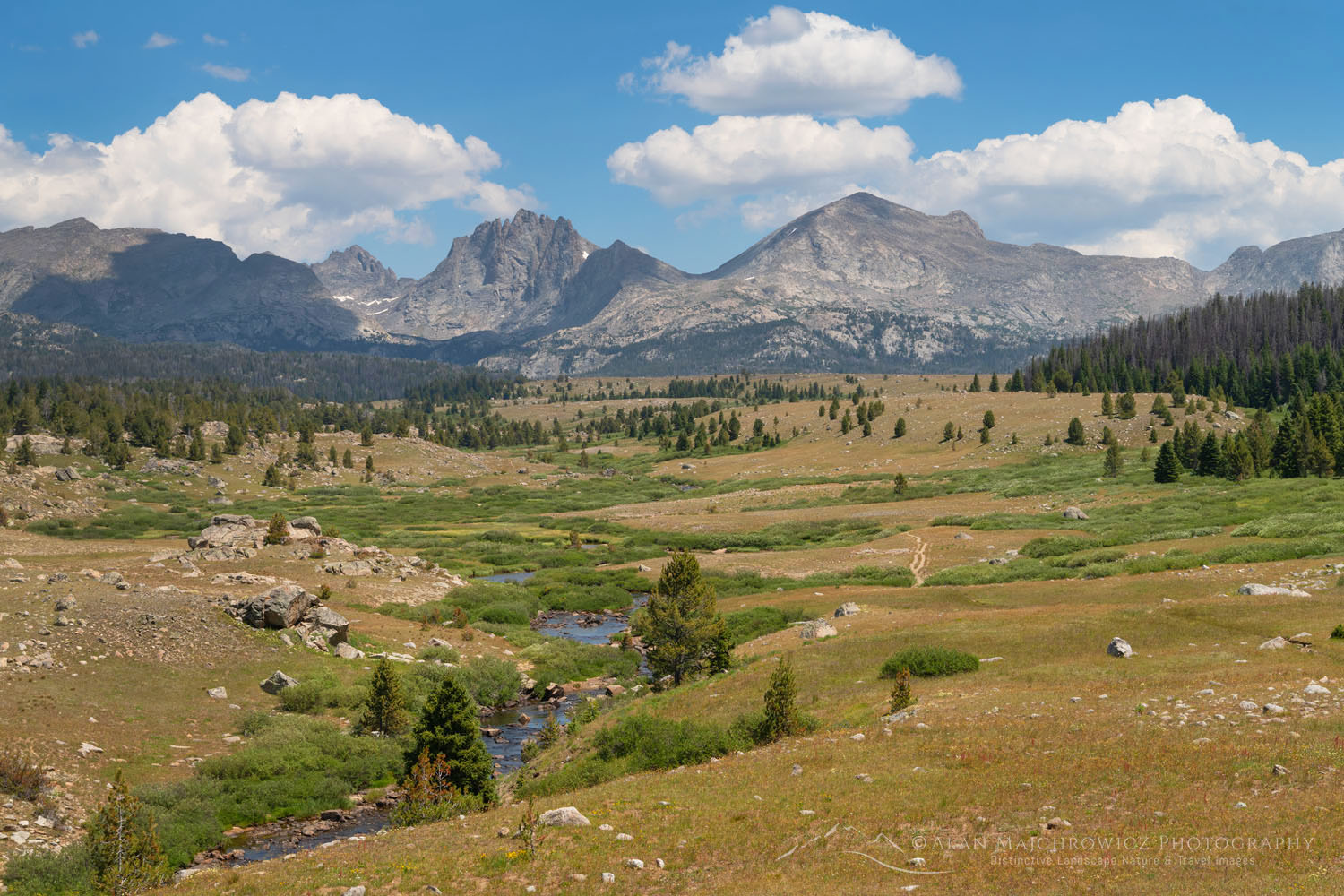 Central Wind River Range  #69072  Purchase
Backpacking into the Central Wind River Range
The Middle Fork Lake Valley is about 20 miles from the nearest trailhead at Scab Creek. This together with the variety of photographic subject matter necessitated a longer multi-day trip. To allow enough time at key locations I had a budget of 9 nine days. This would give enough flexibility to stay longer in promising spots.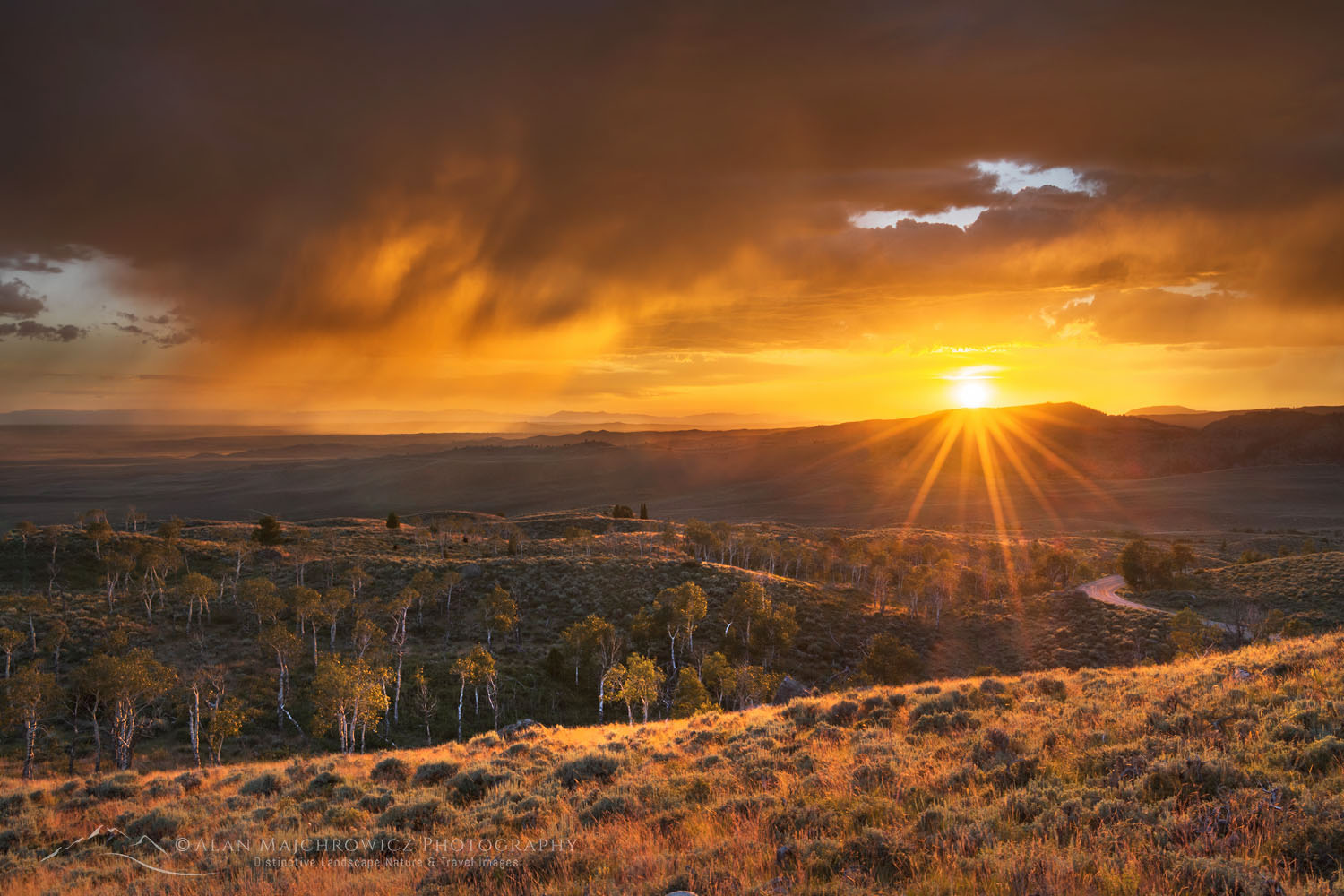 Stormy Sunset Wind River Range  #69049  Purchase
Arriving at the Scab Creek Trailhead the afternoon before starting I sorted through and packed all my gear. Towards evening some brief showers passed through making me think there may be some great evening light in the making. So I drove a short way back down the road to a viewpoint to scout a good spot. It didn't take long to see my instincts were right. Several storm cells were in the area with plenty of room in between them for the setting sun to break through. The resulting light show kept me on my toes for quite some time.
The next morning my trip began early with the destination for the day 10 miles away at Dream Lake. Accessing the high peaks along the Continental Divide in Central Wind generally requires a long approach. A high-rolling landscape with numerous lakes characterizes this area, and it's usually on the second day before the high peaks are reached. So the first day was a long uneventful march with a cool dip in Dream Lake awaiting at the end.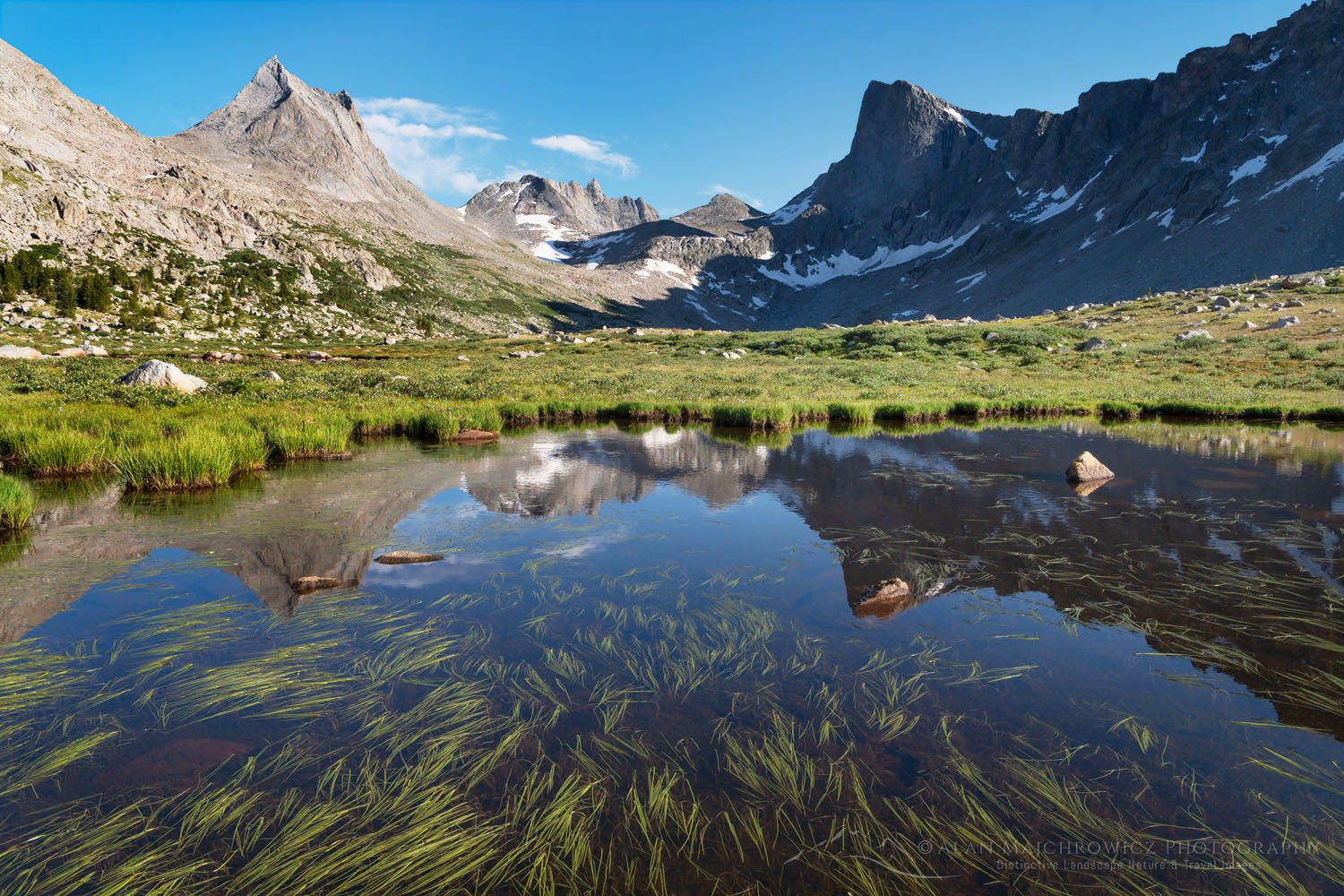 Nylon and Pronghorn Peaks Wind River Range  #69083  Purchase
Middle Fork Lake/ Lee Lake Central Wind River Range
On day two the trail begins to approach the real mountains. After a gradual climb and skirting a few more lakes, the trail ends at a small pass overlooking the Middle Fork Valley. This is where I finally had my first tantalizing view of Lee Lake and the surrounding granite spires. From here on it was all trail-less cross-country travel over wide-open terrain. This is the kind of travel most backpackers dream of.
After making my way down from the pass I began to look for a good campsite close to good photo compositions. Just short of Lee Lake were some small photogenic ponds, with a decent campsite close by. With these in the foreground, the imposing summits of Nylon Peak, Pronghorn Peak, and Dragons Head made for a dramatic scene. All I needed was some good light.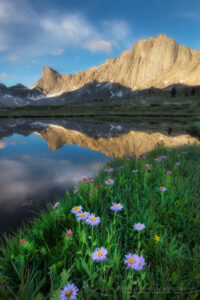 Pronghorn and Dragon Head Peaks Central Wind River Range  #691371  Purchase
The Winds are notorious for afternoon thunderstorms followed by evening clearing, which I experienced firsthand. There were rain showers that afternoon and several hours of constant hail and thunder the next day. During the three days I spent at that camp there was a few instances of decent light, but not as dramatic as I was hoping for.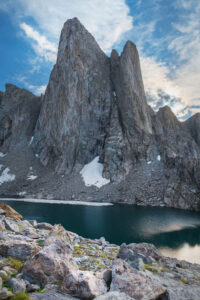 Pronghorn Peak and Lake Donna #69194  Purchase
Pronghorn Peak Central Wind River Range
Moving up to a higher camp directly across from Pronghorn entailed some tiring bushwhacking through thick brush. From a campsite at 11,000′ directly below Nylon Peak, I was able to spend a day exploring and scouting out photo compositions. From one pass I was able to gaze out to Bonneville Peak and down into Bonneville Lakes, which was one of my destinations from the previous summer.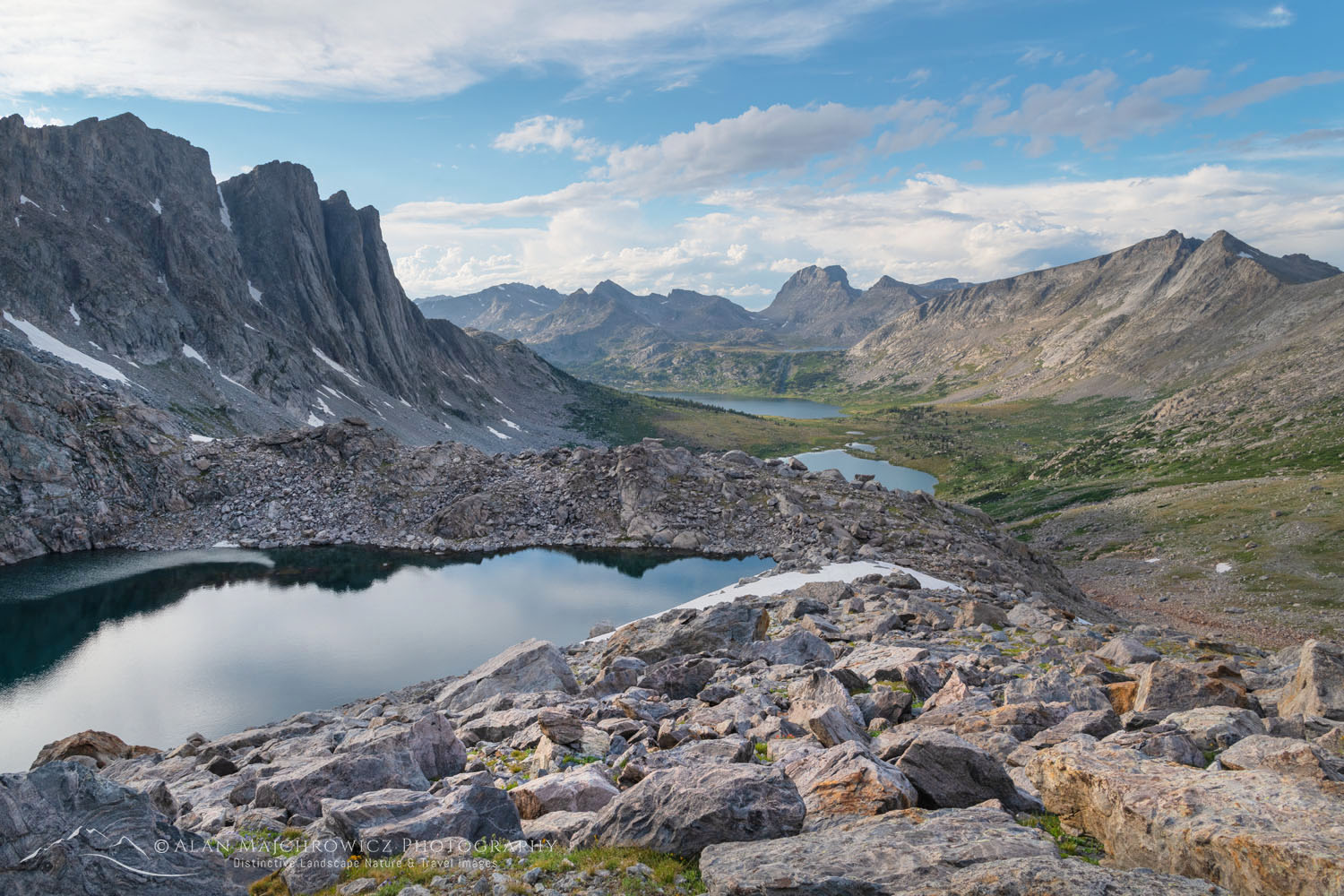 Lake Donna Wind River Range  #69193  Purchase
Following a moraine down from the pass to Lake Donna I found the compositions I was looking for. The dramatic vertical split spires of Pronghorn Peak began right at the shore of the lake. A large boulder field at the outlet framed the scene perfectly. Again, good light would be the key to great photos. And since you never know if you'll get another chance I made several photos on the spot.
My plan was to return before dawn the next morning but the sky was empty of the dawn clouds I was hoping for. Although I was ready and waiting the light never came. Nylon Peak cast a predictable harsh shadow across Pronghorn instead. All I could do was watch that shadow slowly move down as the sun rose higher against an empty blue sky.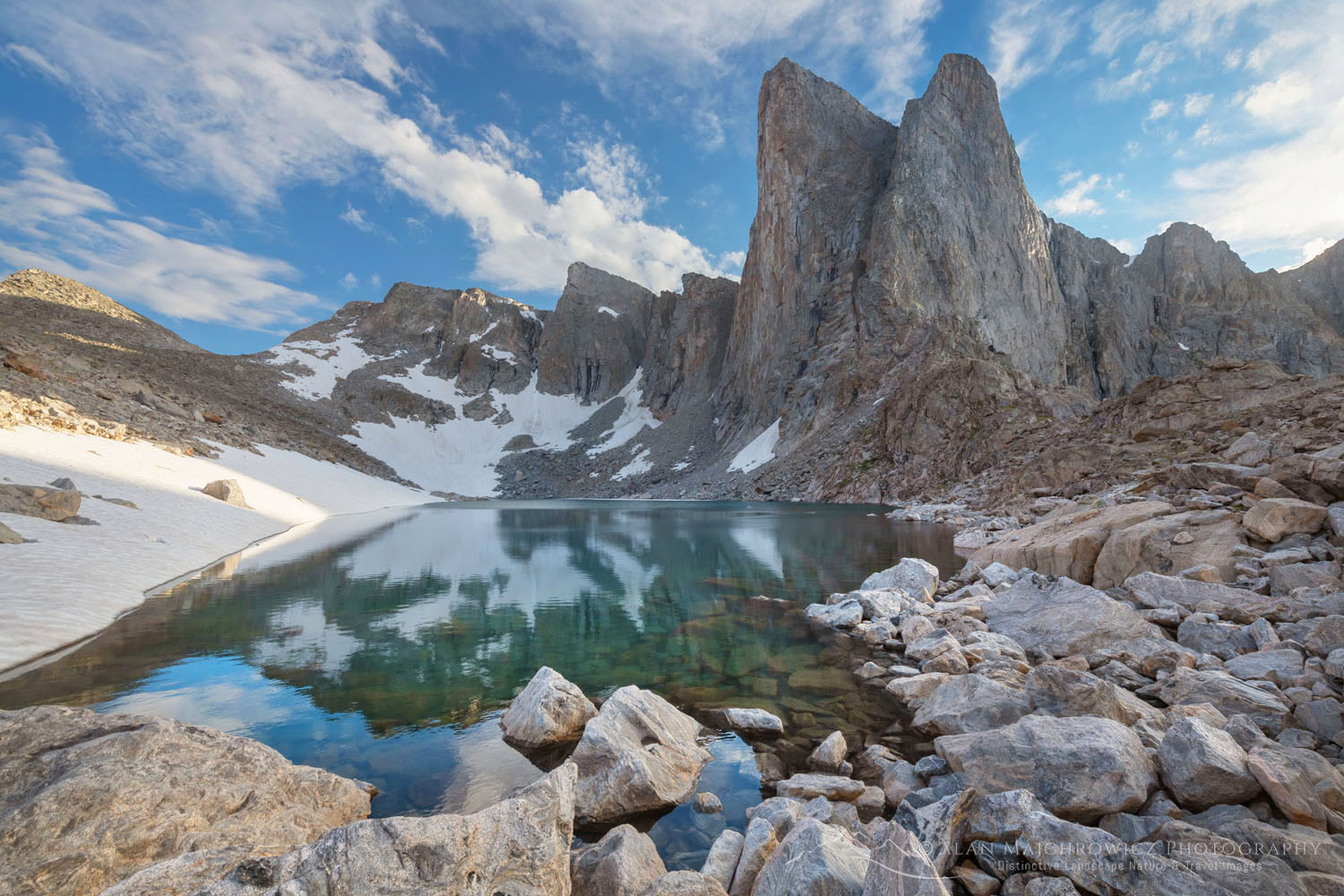 Pronghorn Peak and Lake Donna #69198  Purchase
My few photos from the evening before were the best opportunities for that particular composition. It was disappointing, but thinking positively there was another future excuse to return to this stunning location.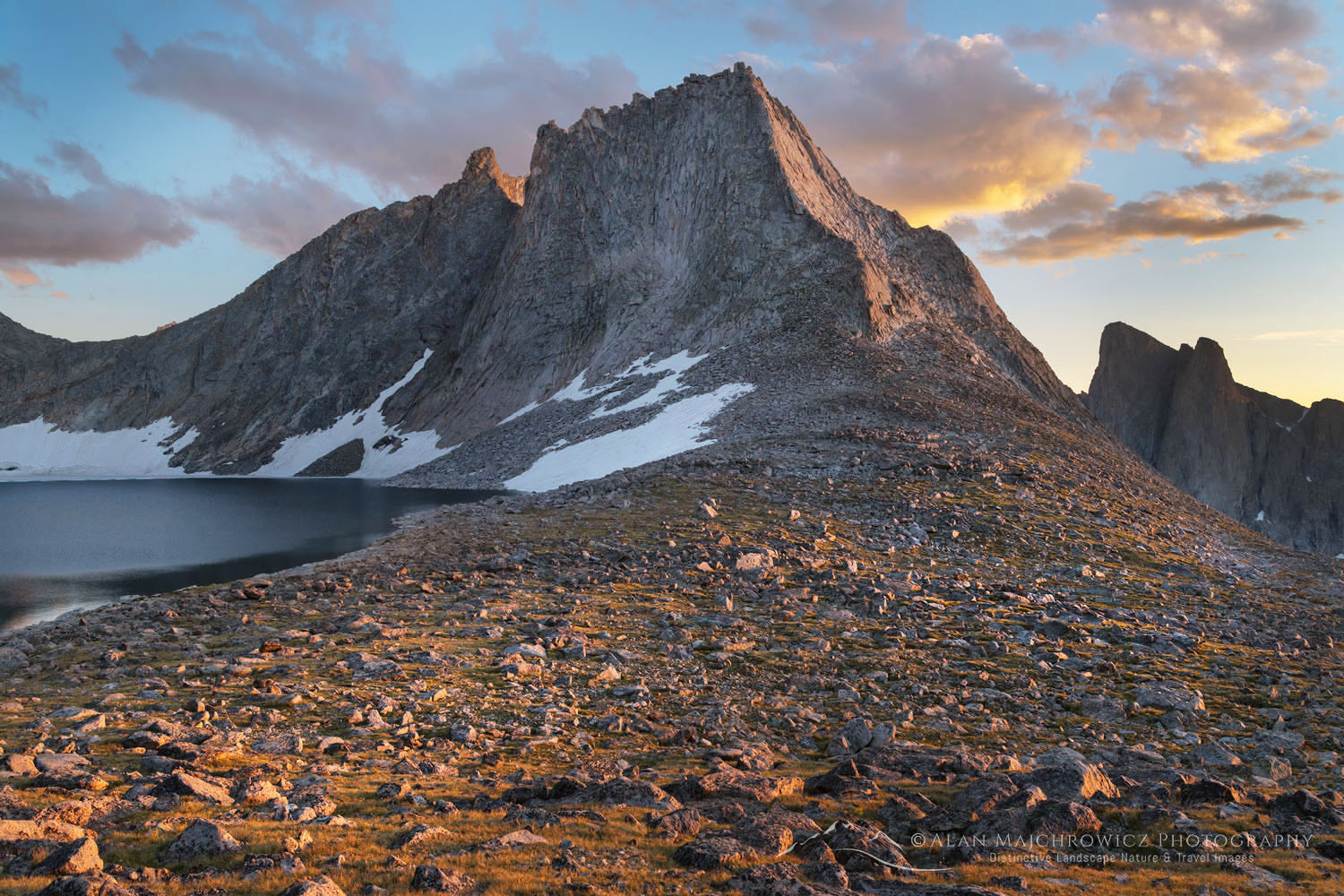 Nylon Peak Wind River Range  #69254  Purchase
Noel Lake and the Continental Divide
By now I've already been in the area for four days with only one more day left before needing to head out. The last destination to visit was Noel Lake, a lonely body of water sitting right on the Continental Divide below the eastern face of Nylon Peak.
If you are in the area or passing through on the Wind River High Route it would be a shame to not check it out. For me, it was a short hike, only about one mile further and 500′ higher. Despite the close proximity, it was slow going. Most of the route is across a seemingly endless boulder field. Once at the lake, which is 11'500′ up on the Divide, the goal is to find a campsite. The entire vicinity around the lake is more boulders. The few places big enough for a tent are on an inconvenient slope. However, a bit of scouting came up with possibly the only suitable open and level spot.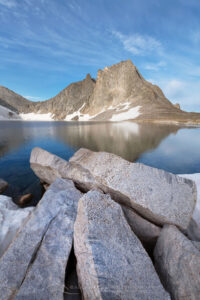 Nylon Peak and Noel Lake Wind River Range  #69254  Purchase
Several yards from camp is the actual Divide, with a tiny pass bearing the name Col De St. Michaels. The view southeast to Lander Peak and its glaciers is spectacular, as is the view northeast to Roberts Mountain and moraine lake far below. Rock cliffs and water in every direction.
At Noel Lake I was facing the usual prospect of having some great photos lined up, only to wait and hope for good light. Unfortunately, except for some mid-day clouds, my envisioned photos of Noel Lake and Nylon Peak didn't appear. However, there was some very nice light at sunset looking down and over the Middle Fork Valley.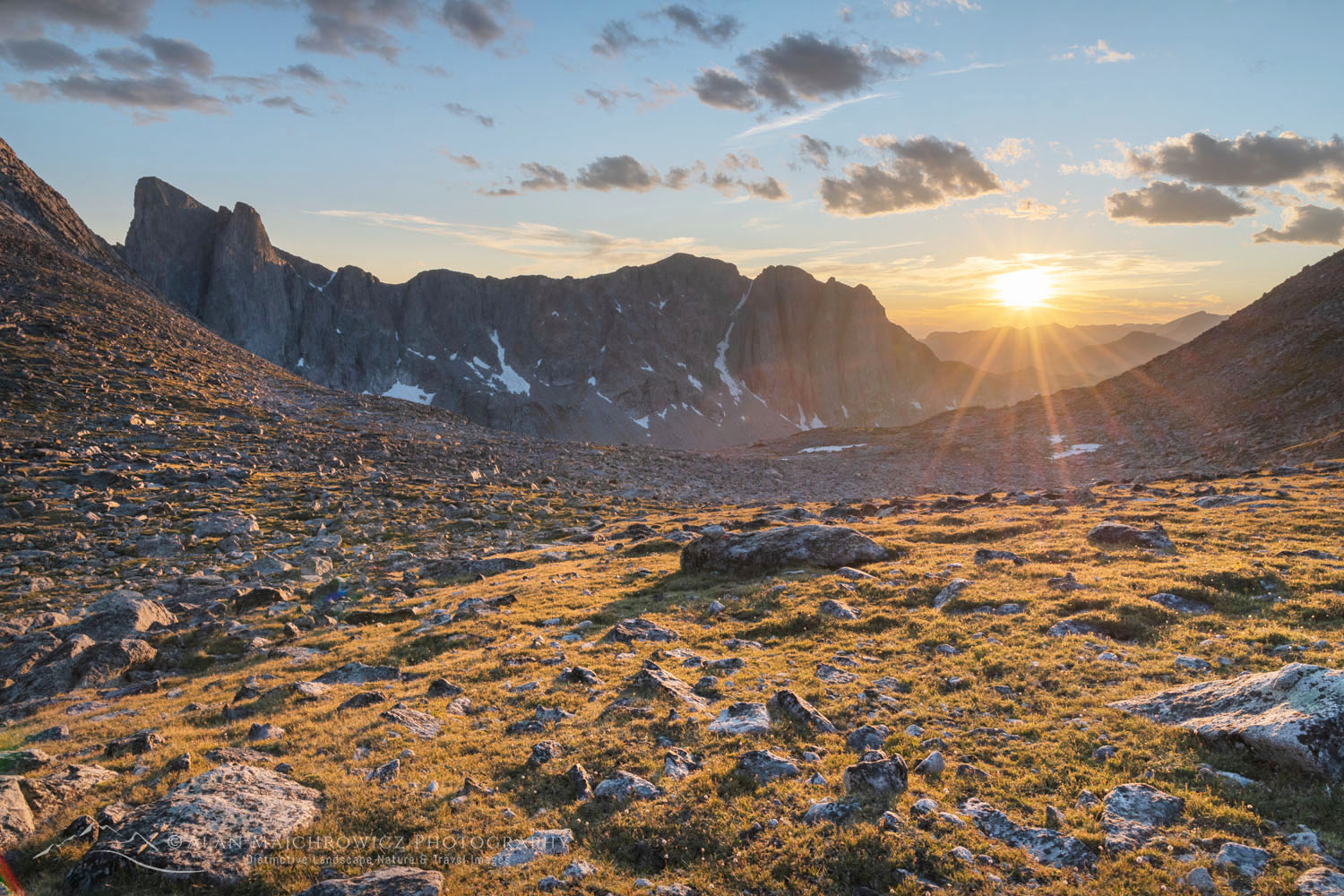 Sunset from Noel Lake Wind River Range #69259  Purchase
Hiking out of the Central Wind River Range
From the Middle Fork Valley, there are some outstanding alternative return routes. Some of them involve negotiating passes in other valleys, while others take little-used trails across the benchland. I chose to return on the same trails I came in on, with one last camp again at Dream Lake.
Aside from the first few miles on the first day I came across very few other parties. So if you're looking for backcountry solitude this is a good place to find it. I came across quite a few parties starting out in the last five miles, about half of them were horse-packing. The easy way to explore in the Winds.
I should also mention that of all the people I encountered I was probably the only one without a fishing pole. Most of those 1300 lakes have fish in them, and many rarely see a line dropped in. I'm not a fisherman but I can imagine there are some trophy fish out there just waiting to give an angler a thrill.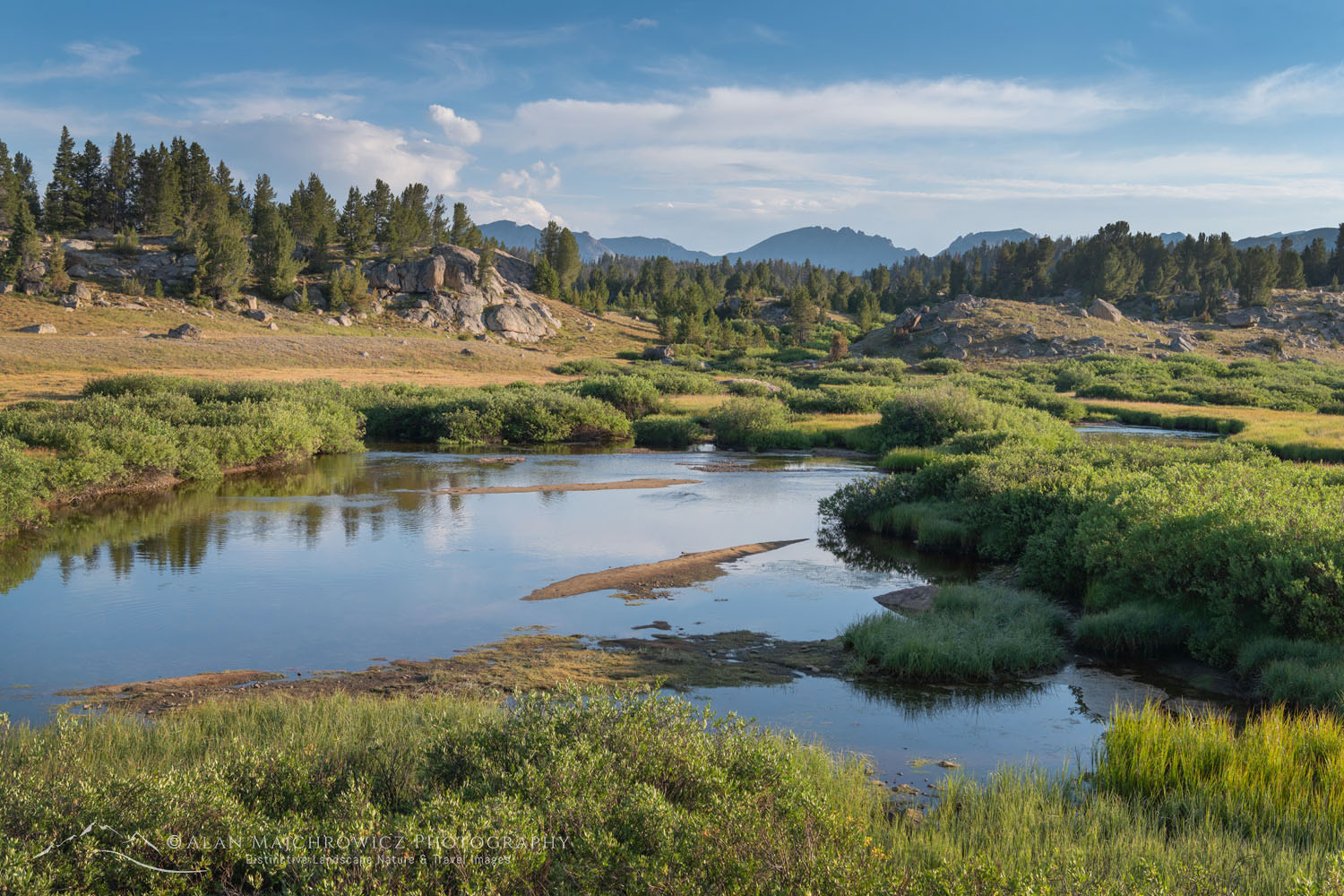 Boulder River Central Wind River Range #69349  Purchase
If You Go to Middle Fork and Lee Lake
Distance from Scab Creek Trailhead to Lee Lake:  15 miles
Elevation:  ~3200 gain from trailhead to Lee Lake
add another 1000′ and 3 miles for Lake Donna and Noel Lake
Difficulty:  Moderate-Difficult
Red Tape:  As of 2020, no permits are needed
Totals for my nine-day trip including side trips and photo scouting
Distance: ~38 miles
Elevation: ~4200″ not including numerous elevation gains and losses
The Scab Creek Trailhead is located 28 miles south of Pinedale. The last six miles are on a good gravel road. Adjacent to the trailhead there is a small campground. Like most trailheads in the Winds, parking can be at a premium, get an early start.
Make sure you take along plenty of insect repellant. The Winds are notorious for their ravenous hordes of mosquitoes and flies. Although they weren't too bad during my trip in early August. Also, be prepared for dramatic weather changes. Summer thunder and lightning storms are very common along the Continental Divide. Because of this stay off high ridges and summits during this time of day.
The town of Pinedale makes a great base for multiple trips into the Winds. It has everything you'll need, from good food and lodging to one of my favorite outdoor recreation stores, the Great Outdoor Shop. It's stocked with everything needed for a successful trip, including a very knowledgeable and friendly staff. Don't visit Pinedale without dropping in! Right next door to the great Outdoor Shop is the best place to go for a post-trip meal, the Wind River Brewing Company. They have excellent burgers and great brews!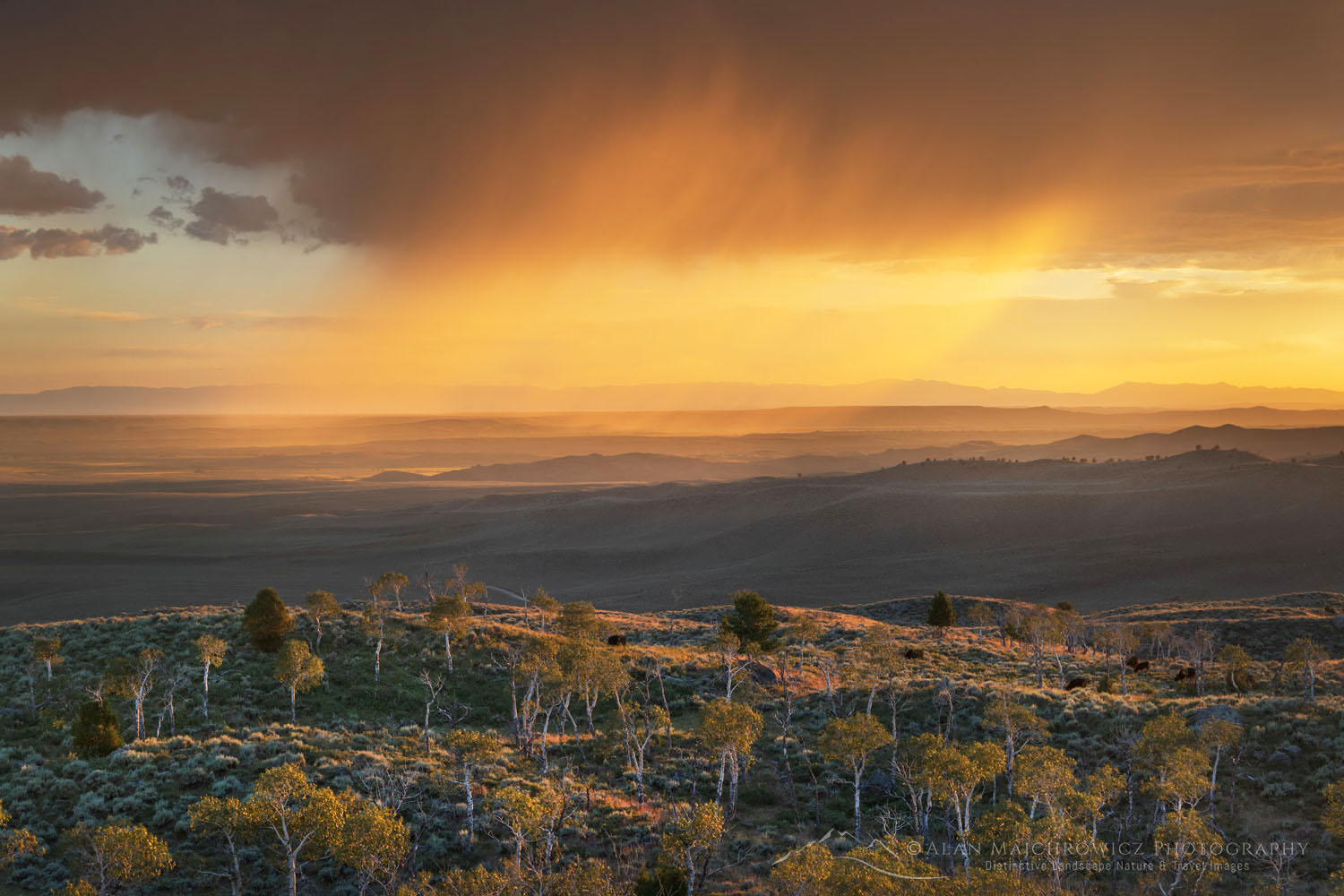 Stormy Sunset Wind River Range  #69042  Purchase
Leave No Trace
Please Please Please!  Don't plan a trip to this or any other wilderness area unless you are prepared to strictly follow the guidelines of Leave No Trace (LNT). The Wind River Range and all other wilderness areas throughout the world are under incredible pressure from growing amounts of visitors. Please do your part to help preserve these precious areas for future generations!
To learn more about the principles and practicing LNT please take a few minutes to visit the Leave No Trace Center for Outdoor Ethics. Your children and grandchildren will thank you!
Seven Leave No Trace Principles
Plan ahead and prepare.                                       

Travel and camp on durable surfaces.                 

Dispose of waste properly.                                                                         

Leave what you find.                                            

Minimize campfire impacts (be careful with fire).

Respect wildlife.  

Be considerate of other visitors.
Photo Gear Used On This Trip
Nikon D850
Nikkor Lens:
14-24mm 2.8G ED
24-70mm 2.8E ED
70-200mm 2.8E FL ED
Gitzo 1532 Tripod
Really Right Stuff B-55 Ball Head
Assorted Lee Graduated Neutral Density Filters
B+H Polarizing Filter
Vello FWM-N2 Remote Shutter Release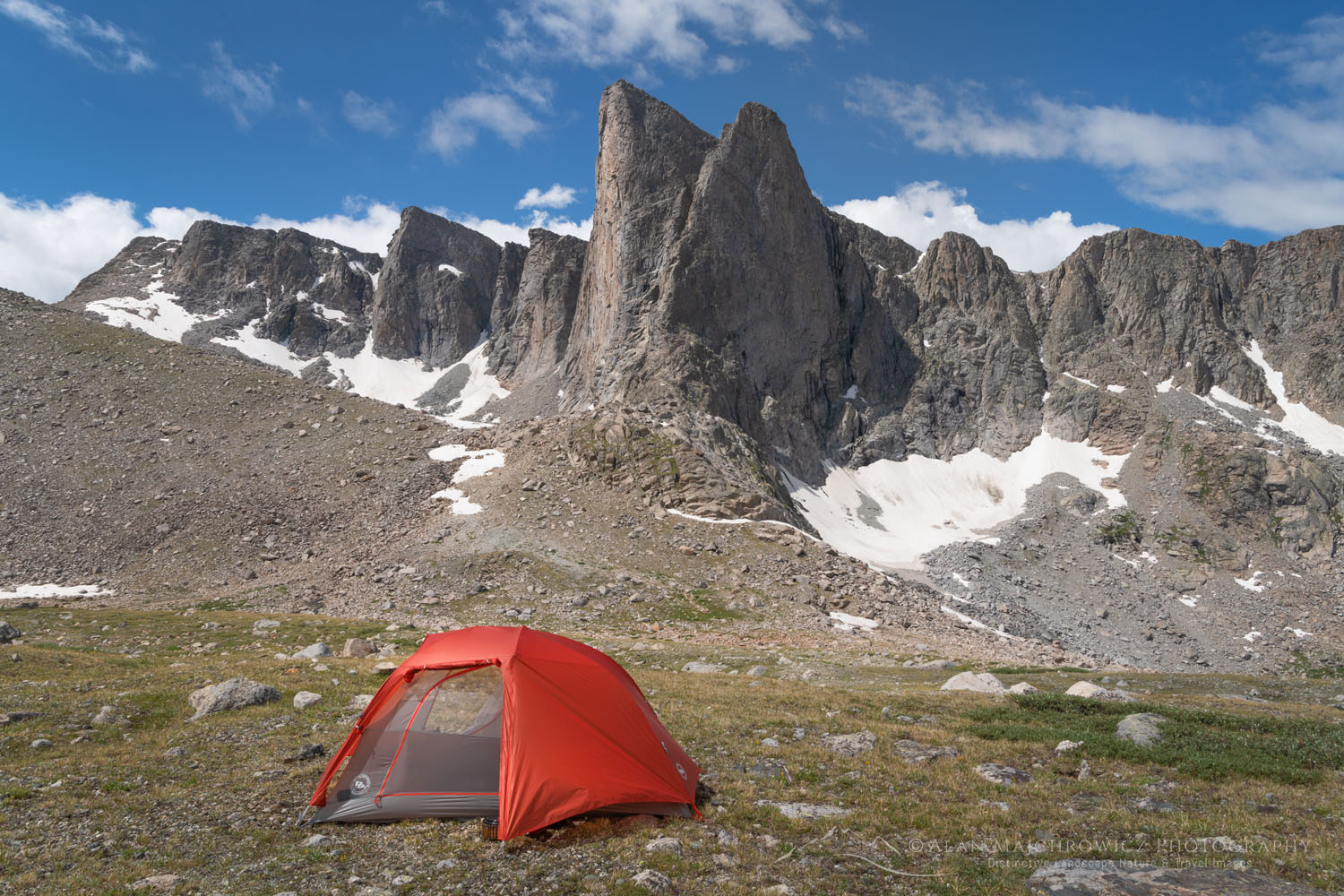 Pronghorn Peak Camp Wind River Range  #69170  Purchase
If you enjoyed reading Central Wind River Range Backpacking please share it with your friends and family.
And check out these other Wind River posts!
Cirque of the Towers Wind River Range
Bonneville Lakes Wind River Range
Island Lake Wind River Range
Titcomb Basin Wind River Range
Indian Basin Wind River Range
Green River Lakes Wind River Range
Pyramid and Shadow Lakes Wind River Range
All photos appearing in Central Wind River Range Backpacking are available for Commercial Licensing and Fine Art Prints. Click on any image to purchase, or contact me for more info!
Central Wind River Range Backpacking