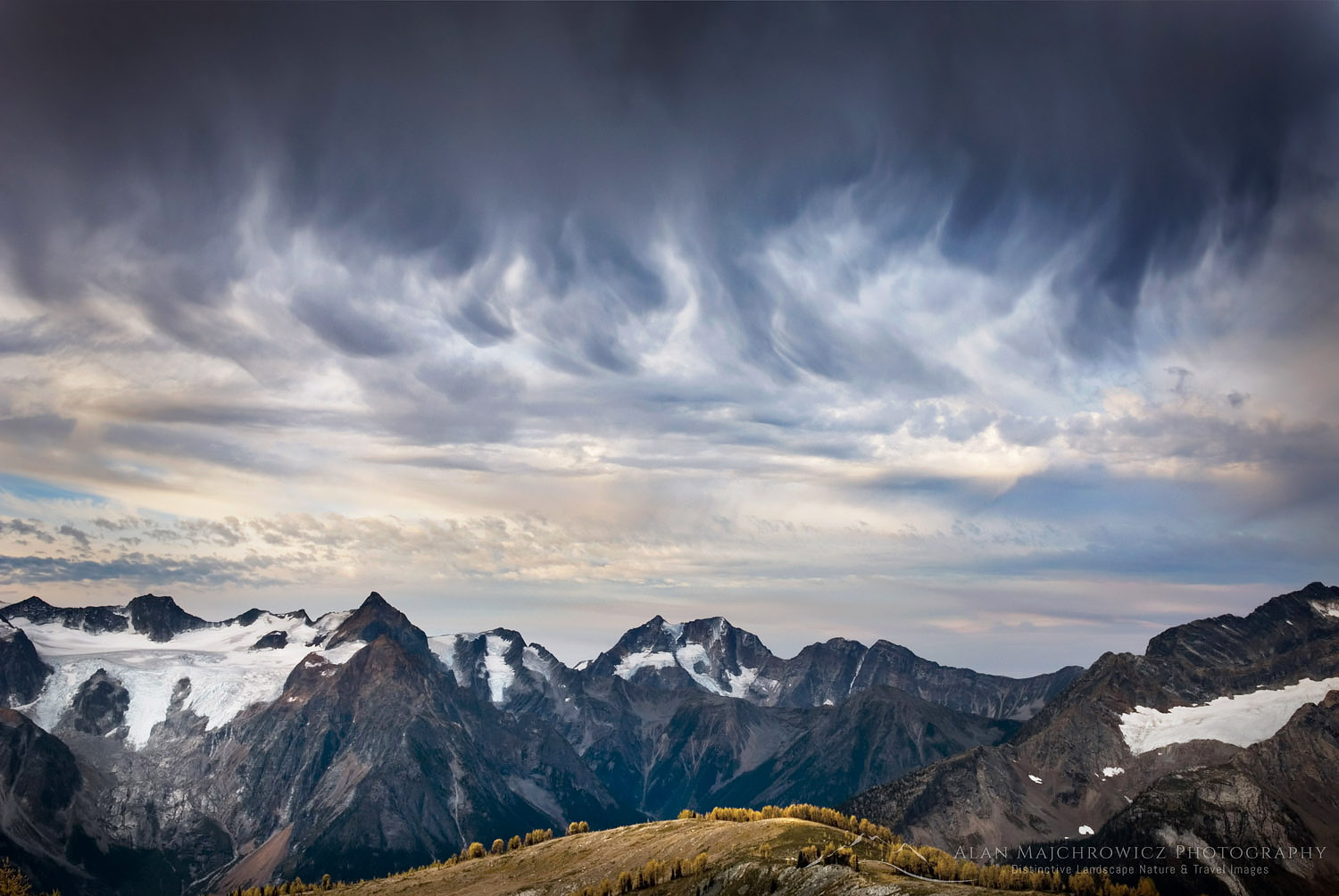 Purcell Mountain Storm Clouds, British Columbia  #25556r  Purchase
How to Boost Your Creativity  Back to the Basics :  You hear it all the time in every field, from sports to science and everything in between. When you're having difficulty being creative it always helps to start fresh and get back to the basics.
One of the first assignments I had way back in my days of art school was to go out and create images with only one lens. A 50mm focal length often called a normal lens. In addition the camera was to be set only on manual. Back then it wasn't difficult to do since I only had one lens and my Nikkormat 35mm camera was manual only.
The point of this assignment was to learn the basics of exposure. By adjusting shutter speeds and f-stops, and not relying on technology to do the thinking for you. Limiting your choice of lens to only a 50mm also forced you to visualize your subject matter and compose more carefully.
Try this, find a small object, a flower, trinket, door knob, whatever. Set it up on a table and try photographing it with a normal lens. No filters or special lighting techniques allowed, just room or daylight. See if you can photograph it in a way that brings out an interesting aspect of the object. I  once worked with a woman who photographed through the bottom of drink glasses. A pretty dull subject matter, but she brought to life in a very creative way. I'll always remember those beautiful colors and patterns.
In my art school drawing class we once had a pile of randomly arranged chairs which we had to draw over and over again for what seemed like forever. The point was to see shapes and patterns of interest in a seemingly mundane object. Not a lesson we enjoyed but effective nonetheless.
During my years working with large format view cameras these lessons paid off and further honed my skills. View cameras are basically just large boxes with a lens on one end. They have no form of auto exposure or auto focusing. In addition each sheet of film can be very costly both in itself and with processing. The result being a forced slowdown in methodology which sharpened my way of seeing more carefully.
Today with digital cameras it's hard not to just jump in and let the camera do all the creative work for you. However if you want to be more creative turn off all those whistles and bells and put yourself in the driver's seat for a change.
Another basic way to learn to see more creatively is to work in black and white. Monochrome photography strips the image down to the most basic of elements. It forces the viewer to see the subject in a more pure state. Take a look at your photos and do a quick conversion to black and white. You may notice that some images are pretty dull and lifeless when you strip out the color. You may also see flaws in the composition that aren't as apparent with color distracting them.
Now this isn't to say that monochrome is superior to color photography or vise versa. It's just another way of seeing and a powerful tool creative every photographer can benefit from.
Of course boosting your creativity by getting back to the basics can be extended to post processing the film or digital files. But that's a big topic for another post.