Island Lake Wind River Range
Island Lake, Wind River Range #66377  Purchase
In the north-central portion of Wyoming's Wind River Range lies one of the most popular backpacking destinations in the lower 48, Island Lake and Titcomb Basin These areas represent the essence of the Winds, and for good reason. A well-maintained trail leads to breathtaking scenery, filled with beautiful lakes, meadows, and some of the highest peaks in the state of Wyoming. Whether you're here for fishing, climbing, cross country exploring, or photography it has it all. In addition, the trailhead is one of the most easily accessed in the range. Elkhart Park Trailhead, at about 9300′, is only 15 miles on a paved road from the basecamp town of Pinedale.
Upon completing my trip to Bonneville Basin, this was to be my next and most important destination of the Rocky Mountains Photo Tour. The three backpacking trips in Idaho's Sawtooth Mountains and Bonneville Basin were all warm-ups leading to the main event. My previous, and only, trip to Island Lake and Titcomb Basin was back in 2002. Since then a return trip has always been on my mind. This time I planned to go all out, allotting 10 days total,  ample time for photographing the area.
Pole Creek Trail Bridger Wilderness #66973  Purchase
After spending a few days resting up and restocking on supplies in Pinedale,  I drove to the Elkhart Park Trailhead and settled in for the night. I wanted to leisurely sort through all my gear and have it organized and ready for an early morning start. Like the Big Sandy Trailhead in the southern Winds, the Elkhart trailhead was overflowing with vehicles. However, parking wasn't much of a problem since cars were coming and going throughout the day.
Horse packers Wind River Range #66965  Purchase
Hiking the Pole Creek Trail to Island Lake
Getting a start just after sunrise I hoisted my pack and hit the Pole Creek Trail. There are numerous trails and intersections on this trip, with the Pole Creek Trail occupying the first 6 miles. This first segment is a long very gradual climb through the pine forest. The monotony here is broken by the constant dodging of endless piles of horse manure. Aside from hikers, you'll be sharing the next 12 or so miles with horse packers.
View from Photographer's Point #66345  Purchase
After the first four miles in the forest, the trail begins to enter several meadows. At about five miles you reach the first milestone, Photographer's Point. For most, Photographer's Point at 10,400′,  is a mandatory resting place at the beginning or end of a trip. It's also a turnaround destination for day-hikers. Going in, this is the first real wide-open view of the rugged terrain which you're hiking into. From a deep yawning canyon to the great peaks on the Continental Divide, it's an awesome unforgettable scene. Gazing upon this chaotic landscape you'll wonder how in the world your trail will navigate through it.
The next five miles will rudely answer that question. You're probably thinking that since Photographer's Point is so high the rest of the trail will be in open subalpine terrain. Wrong. The trail soon gradually descends to Eklund Lake and begins a constant roller coaster of a hike. Fortunately, you'll be passing numerous pretty lakes and small meadows along the way, which will help alleviate all the ups and downs.
Seneca Lake, Wind River Range #66350  Purchase
Seneca Lake
The next major milestone and my first night's destination is Seneca Lake.  However, before you reach this large scenic lake the trail quickly dips to its lowest point, around 9800′. Then it mercilessly climbs back up to around 10,300′ in half a mile. Towards the end of the first day with a fully loaded multi-day pack, this stretch is no fun!
At the end of the switchbacks on a low ridge is the reward for all your hard work.  Spread out before you is a shimmering blue lake set in a cliff-bound bowl. Beyond which are the peaks first seen at Photographer's Point, although now they are much closer. From here to the far end of Seneca Lake the trail scenically winds its way just above the water.
The trail to Island Lake, Wind River Range #66351  Purchase
Although Island Lake is only a little more than two miles further, Seneca Lake makes a good end to the first day for a couple of reasons. For one, the first day of a long trip is often the most difficult, due to a fully loaded pack. Secondly, and perhaps more importantly, is the availability of campsites at Island Lake. For the average hiker getting to Island Lake in one day will mean arriving in mid to late afternoon. Since this is the number one destination for nearly every party, most campsites will be occupied long before you get there.
Camping at Seneca Lake on the first night will allow for an early arrival at Island Lake, when some of the best sites may soon be vacated. At the far north end of Seneca, there are several campsites tucked away among the rocks. With a bit of difficulty, I was able to find a marginal site, although with little shade from the hot sun. But it fit the bill for my needs.
Island Lake Wind River Range #66366  Purchase
Above Island Lake
The next morning I broke camp to hike the final miles to Island Lake and encountered another reason to save this segment for the second day. The final two miles have a couple more fatiguing elevation gains and losses to overcome. Finally, at the summit of the last small pass comes the long-awaited view. Only a few hundred feet below lies a sprawling lake dotted with small islands and coves. Beyond are the towering ramparts of the Continental Divide, dominated by Fremont and Jackson Peaks, both reaching heights of over 13,000′.
On my first trip to Island Lake, I went on to find a site below the pass near the lake. This time I took a left at the pass to look for a site higher up with a panoramic view of the scene. It was a relief to find the small granite summit free of other campers. There is really only one decent level spot here for a tent, which meant I had the whole place to myself. The only drawback was the lack of water, so I had to settle for a small snowfield near the pass.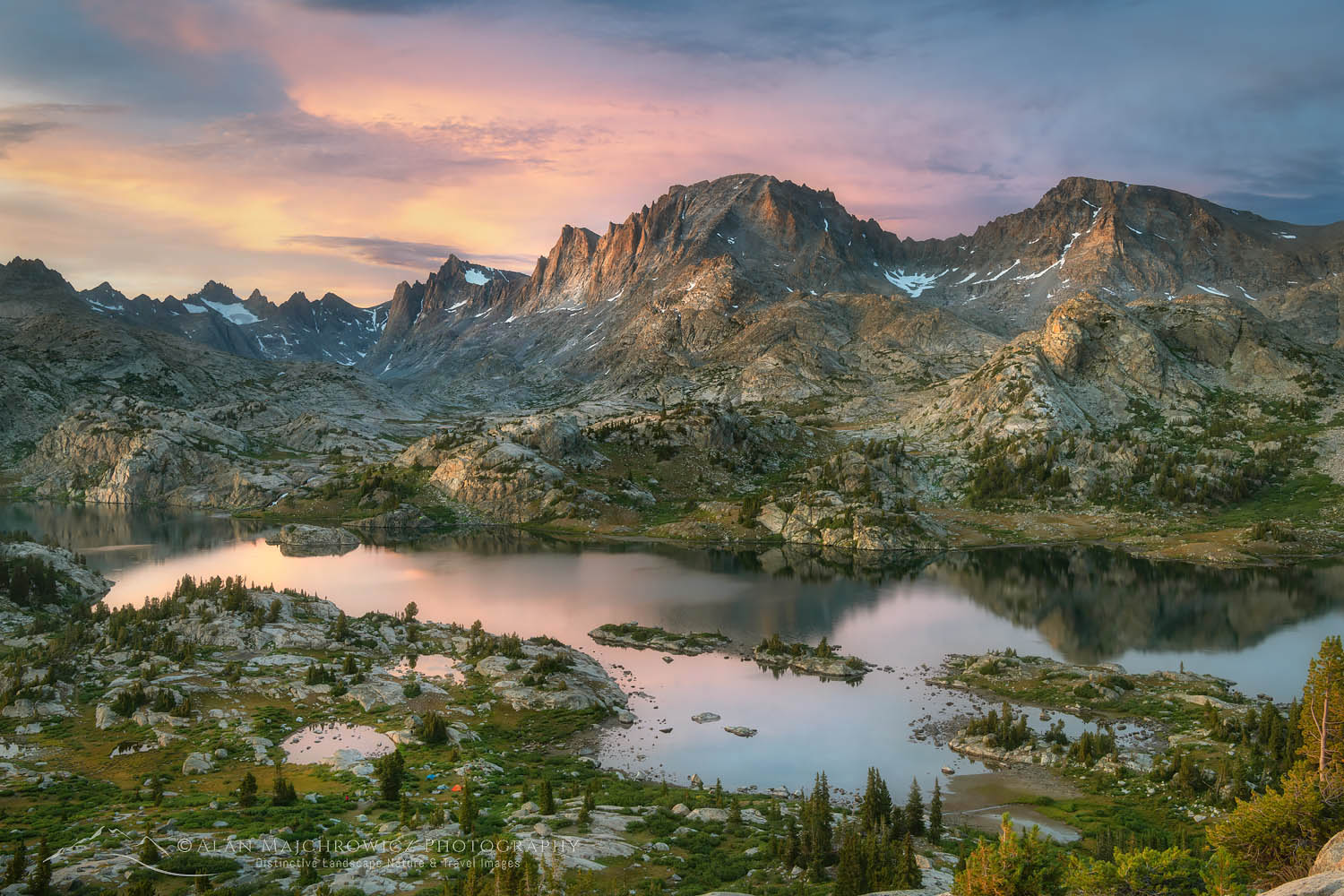 Island Lake Wind River Range #66386  Purchase
Several yards further from my tent was a great spot with unobstructed views of the entire basin. It was still only around nine in the morning so all I had to do was enjoy the view and wait for some good light. I spent most of the day observing activities below at the lake. Since I would be moving down there the next day I was able to clearly see where the best sites were.
Later, in the evening, the clouds and light I had hoped and prayed for arrived. I was kept busy photographing the scene as the light changed light until it finally faded just after sunset.
Island Lake Sunrise Wind River Range #66404  Purchase
Moving Down to Island Lake 
The next morning I woke early to set up my gear again. At first, it was looking like a gray dawn, but then the rising sun lit up the clouds in warm hues of red, orange, and yellow. A real treat, and a good start to the trip. After photographing I planned to move camp down to one of the sites near the lake.
At this point, I should mention that there are strict camping regulations in place throughout the Bridger Wilderness. Starting at the trailhead there are numerous signs stating that camping is prohibited within 200′ of any lake or trail. Also, fires are prohibited at or above the timberline.
As I previously mentioned, Island Lake is one of the most heavily used areas in the Winds. So besides observing all regulations it should only be common sense to tread lightly here and respect the privacy of other campers. Most parties I observed were following those rules. However, as always, there were a couple of parties that just had to camp on the meadows and build a campfire. Overall I found the lake area to be in good condition despite the amount of use it gets. I didn't see any litter or trash, or worse, used toilet paper. I'm guessing the Forest Service and volunteers are stepping up on maintenance activities.
Fremont Peak reflected in Island Lake #66413  Purchase
Photographing at Island Lake
The plan was to spend the day scouting around the lake for photo ops. This is certainly one area where just about every footstep will yield another great composition. The numerous bays, rocks, and islands make for great photographic potential. And with good light and a mirror-calm lake, everything is in place for portfolio-quality images.
Unfortunately, there was only a short time in mid-morning to create any decent images. Clouds were moving in and the rest of the day and the next morning were gray and overcast. However, I was able to make some nice photos while the lake was calm with a few wispy clouds in the sky. I was imagining how wonderful they would look in golden hour light. At least now I have another reason to return in the future!
Fremont Peak reflected in Island Lake #66408  Purchase
Moving on to Titcomb Basin
Unfortunately for me, there was only a short time in mid-morning to create any decent images. Clouds were moving in and the rest of the day and the next morning were gray and overcast. So a decision was in order, stay an extra day at Island Lake, or move on to Titcomb Basin? Rolling the dice and staying an extra day would mean one less day available to photograph in Titcomb Basin and Indian Basin. Both of these areas offered lots of new photographic potential, and I was planning to spend as much time there as possible.
Since I already had good photo success the previous evening and morning, I decided to move on to Titcomb basin the next day. There was always the possibility of spending another night at Island Lake on the way out. But that story will have to wait for Titcomb Basin Island Lake Part 2.
Peaks of Titcomb Basin and Island Lake #66379  Purchase
If You Go to Island Lake
Distance to Island Lake:  12 miles
Elevation:  Trailhead 9300′, Island Lake 10,400′, trail high point 10,600′
About 2600′ gain and 1600′ loss along the length of the trail.
Difficulty:  Easy hiking but strenuous due to length and elevation changes
Red Tape:  As of 2019, no permits are needed
Totals for my nine-day trip including side trips and photo scouting
Distance: 44 miles
Elevation: 5800″
The Elkhart Park Trailhead is located at the end of Skyline Drive, an excellent paved road 15 miles east of Pinedale. About a mile before the road ends there is a viewpoint with dramatic views of the range and the gorge below. Adjacent to the trailhead there is a small campground. The few good sites here are almost always taken.
Make sure you take along plenty of insect repellant. The Winds are notorious for its ravenous hordes of mosquitoes and flies. Although they weren't too bad during my trip in mid-August. Also, be prepared for dramatic weather changes. I had great weather on my trip but the wind was brutal for several days.
The town of Pinedale makes a great base for multiple trips into the Winds. It has everything you'll need, from good food and lodging to one of my favorite outdoor recreation stores, the Great Outdoor Shop. It's stocked with everything needed for a successful trip, including a very knowledgeable and friendly staff. Don't visit Pinedale without dropping in! Right next door to the great Outdoor Shop is the best place to go for a post-trip meal, the Wind River Brewing Company. They have excellent burgers and great brews!
Island Lake Wind River Range #66368  Purchase
Leave No Trace
And now for a short lecture. As I've been saying in previous posts, don't even think about visiting this or any other wilderness area unless you are prepared to strictly follow the guidelines of Leave No Trace (LNT). The Wind River Range and all other wilderness areas throughout the world are under incredible pressure from growing amounts of visitors. Please do your part to help preserve these precious areas for future generations!
To learn more about the principles and practicing LNT please take a few minutes to visit the Leave No Trace Center for Outdoor Ethics. Your children and grandchildren will thank you!
Seven Leave No Trace Principles
Plan ahead and prepare.                                       

Travel and camp on durable surfaces.                 

Dispose of waste properly.                                                                         

Leave what you find.                                            

Minimize campfire impacts (be careful with fire).

Respect wildlife.  

Be considerate of other visitors.
Photo Gear Used On This Trip
Nikon D850
Nikkor Lens:
14-24mm 2.8G ED
24-70mm 2.8E ED
70-200mm 2.8E FL ED
Gitzo 1532 Tripod
Really Right Stuff B-55 Ball Head
Assorted Lee Graduated Neutral Density Filters
B+H Polarizing Filter
Vello FWM-N2 Remote Shutter Release
View of Titcomb Basin and Island Lake #66356  Purchase
If you enjoyed reading Island Lake Wind River Range please share it with your friends and family.
And check out these other Wind River posts!
Cirque of the Towers Wind River Range
Bonneville Lakes Wind River Range
Titcomb Basin Wind River Range
Indian Basin Wind River Range
Green River Lakes Wind River Range
Central Wind River Range Backpacking
Pyramid and Shadow Lakes Wind River Range

All photos appearing in Island Lake Wind River Range are available for Commercial Licensing and Fine Art Prints. Click on any image to purchase, or contact me for more info!
Island Lake Wind River Range