Titcomb Basin Wind River Range
Titcomb Basin, Wind River Range #66582  Purchase
The Wind River Range of Wyoming is a place that nearly every backcountry enthusiast dreams of visiting. Few places in North America are as staggeringly beautiful as Titcomb Basin and Island Lake. Both areas, located just west of the Continental Divide, are rich in outstanding scenery and recreation opportunities. Whether you're here for backpacking, mountaineering, climbing, fishing, or photography, this is the place to experience it all.
In the previous post, I detailed the first section of my nine-day trip, from the trailhead to Island Lake. Now it's time to move on to the next destination, Titcomb Basin. First I should explain the odd name. Titcomb Basin, Titcomb Lakes, and the Titcomb Needles bear the names of Charles and Harold Titcomb. Although mountain men certainly were in the area in the early 19th century, these two brothers were among the first white men to officially visit the area. While there they made assents to some of the surrounding peaks.
Titcomb Basin Trail #66613  Purchase
Depending on which source you reference, Titcomb Basin begins at the narrow exit of the lower lake or is limited to the boulder-strewn alpine basin beyond the upper lake. For my part, I consider it the former. In either case, Titcomb Basin is a narrow treeless alpine valley about six-mile-long. On three sides granite peaks rise to 3000′ above its floor. Occupying most of the basin are two large lakes. A third lake, called Mistake Lake, sits in an unlikely spot, hidden several hundred feet higher on a rocky shelf below Fremont Peak. At the north end of the basin lie some of the most imposing peaks of the entire Wind River Range. Twin Peaks, Mount Woodrow Wilson, The Sphinx, Dinwoody Peak, and Mount Helen are all over 13,000′.
Backpacking into Titcomb Basin #66780 Purchase
Hiking Into Titcomb Basin 
In the morning along the shore of Island Lake, I began breaking camp and stuffing my pack, eagerly anticipating the day ahead. It was another beautiful August day and I was about to finally return to Titcomb Basin. Back in 2002 I spent a few days at Island Lake but was only able to make a day-hike visit to the basin. Since then I made sure that my next trip would have more time for exploration. On this trip, I would have at least two full days for wandering and photographing its beauty.
The hike begins with the trail navigating around the southeast end of Island Lake. In contrast to rocky shores on the rest of Island Lake, and all the previous lakes, this part has a wonderful broad golden sand beach. Soon after the trail leaves the lake and begins to climb past small waterfalls into wide meadows. Alongside a creek crossing is a junction with a trail heading up to Indian Basin and Indian Pass. This area is also on my itinerary, but I'll visit it on the way out of Titcomb Basin.
Titcomb Basin, Wind River Range #66582  Purchase
Shortly after the junction, the trail approaches Lower Titcomb Lake's rushing creek outlet. To get by it makes a tight squeeze along a rock wall. On the other side of the wall, the view opens wide onto a most unforgettable scene. Here the trail winds its way through grassy meadows into a rugged landscape of massive peaks and lakes. It's apparent that many hikers, in awe of the scene, have paused here to take it all in. To see it in pictures is one thing, but to stand there in person, feel the breeze on your face, and take in the sounds and smells is something that makes you feel incredibly alive!
Lower Titcomb Lake
I planned to find a campsite somewhere along the lower lake before moving into the basin beyond the upper lake. This was a bit easier said than done. Between the lake and the base of Fremont Peak is a narrow strip of land that doesn't offer many level spots to set up camp. I was also mindful of regulations requiring camps to be a certain distance from lakes, streams, and trails. Also, I certainly didn't want to be one of those that set up camp on a pristine meadow.
After about an hour of wandering around and checking out all the nooks and crannies. I found a spot out of sight of the trail on bare gravel, not ideal but sufficient. While scouting for a site I came across some photogenic groupings of wildflowers to work with later in the day.
Titcomb Basin Wildflowers #66559  Purchase
As the day wore on clouds closed in and the sky became gray. Nevertheless, I still had to thoroughly check out the immediate area for evening photo compositions. One place I was eager to see was the terrain on the opposite side of the lake. There was a narrow channel in the lake just a little too wide to hop over. In it were some deep spots with a swift current which gave me pause to consider. It wouldn't have been a big deal if I didn't have expensive camera gear. However, at the time it didn't look like it was worth taking the chance.
In addition to the aforementioned wildflowers, about a half-mile up the trail was an area of grassy wetlands along the lake. The winding channels and grassy hummocks made for perfect foreground elements to the backdrop of Fremont Peak. With several ideal spots lined up all I had to do was pray for good light. I found a suitable trailside boulder to relax on and kept a close watch on the sky.
Enjoying the view #66543  Purchase
Fremont Peak from Lower Titcomb Lake 66567  Purchase
Evening Light At Lower Titcomb Lake
For a while it was looking like the evening would be a bust, there were a few breaks in the clouds but they soon closed up. Just before sunset, I was about to throw up my hands in the air with exasperation when the sky began to open up. Only a few sun rays made it through at first as I rushed back to the patch of wildflowers. Earlier on I had previsualized this scene, so it was short order to set it up and photograph it.
Soon it became apparent that something special was happening. After photographing the wildflowers I rushed over to the lakeshore to look for compositions of rocks and lake reflections. The light was getting better and better, and by this time I was in overdrive. From years of experience, I knew that the light could continue to get better or shut off completely at any moment. So there was no time to lose.
Titcomb Basin Wind River Range 66567  Purchase
I didn't forget the area of grassy wetlands, so I began to run like a madman to get to them in time. As I arrived the summit of Fremont Peak was glowing red, a sure indication that there were only a few minutes left before sunset. This was a great spot and I wished I had more time to explore the possibilities for compositions. However, unless there were some exceptional sunrise conditions these wetlands would be best photographed in the evening.
Campsite in Titcomb Basin #66593  Purchase
Campsite in Titcomb Basin #66599  Purchase
Back at camp, I kept photographing, this time working with the night sky and an illuminated tent. In the morning there was a brief bit of nice light as the sun rose. Once again my campsite became the subject matter.
Upper Titcomb Basin
The next morning I broke camp and began the short hike into the upper basin. The entire length of Titcomb Basin is easy pleasant hiking, the trail is always along the lakes and has next to no ups and downs. Once the trail goes beyond the upper lake it begins to fade out, although route finding is very straightforward. From here you enter a vast basin filled with rocks, boulders of every size, large glacier polished slabs, and rushing streams. The vegetation is confined to small patches of flower-filled meadows. The further you go the more barren it becomes.
Camp in Upper Titcomb Basin #66635  Purchase
I found an ideal campsite about a half-mile beyond the upper lake. Set near a large stream it was clearly used many times in the past. It was also obvious that this is an area that routinely experiences high winds since there were stone walls built as windscreens. It was breezy most of the day, but later that night I had a real taste of those winds.
Bonney Peak (L) and Mount Helen Wind River Range #66641  Purchase
The Alpine Basins
In the afternoon I went out to explore the terrain further up in the basin. This is the area where many climbers and mountaineers set up a base camp. Bonney Pass in the east part of the upper basin is the preferred route for a climbing approach to Gannett Peak, the highest point in Wyoming. This is also an area that is traversed by hikers and mountaineers doing the 80+ mile long Wind River Range High Route.
Since I'm not a mountaineer and traveling solo I looked for an easy route to higher ground. I found a boulder-filled slope veering west which ultimately led me to the base of Twins Glacier. This was truly an alpine environment, only rock and ice made up the view in every direction.
Bighorn Sheep near Twin Glacier #66636 Purchase
As I navigated among the boulders I spotted a herd of Rocky Mountain Bighorn Sheep a short way off. They all had the appearance of being either females or yearlings. Their activity revolved around a big boulder and some muddy ground, which led me to believe some sort of mineral lick was present. Of course, they all saw me while I was still a long way off and easily moved higher up and out of harm's way. Aside from a few birds and ground squirrels, this was the most significant amount of wildlife I came across since leaving home. The day was wearing on so I reluctantly made my way back down to camp.
Titcomb Basin wildflowers Wind River Range #66700  Purchase
Wind and Stars in Upper Titcomb Basin
Back at camp, I began to line up photo compositions. My prime subject matter was several large groupings of purple asters, using Mount Helen as a backdrop. The meltwater creek was another source of compositions. But it was difficult to get the best angles without having to stand in the middle of the stream and not lose footing on the slippery slabs.
The golden hour light wasn't as dramatic as the previous evening. However, there were a few wispy clouds present to aid in composition. Part of the difficulties in photographing Titcomb Basin is its high walls and narrow width. Meaning that during both morning and evening the majority of the basin will be in shadow. Only the upper halves of the peaks will receive warm light during the golden hours.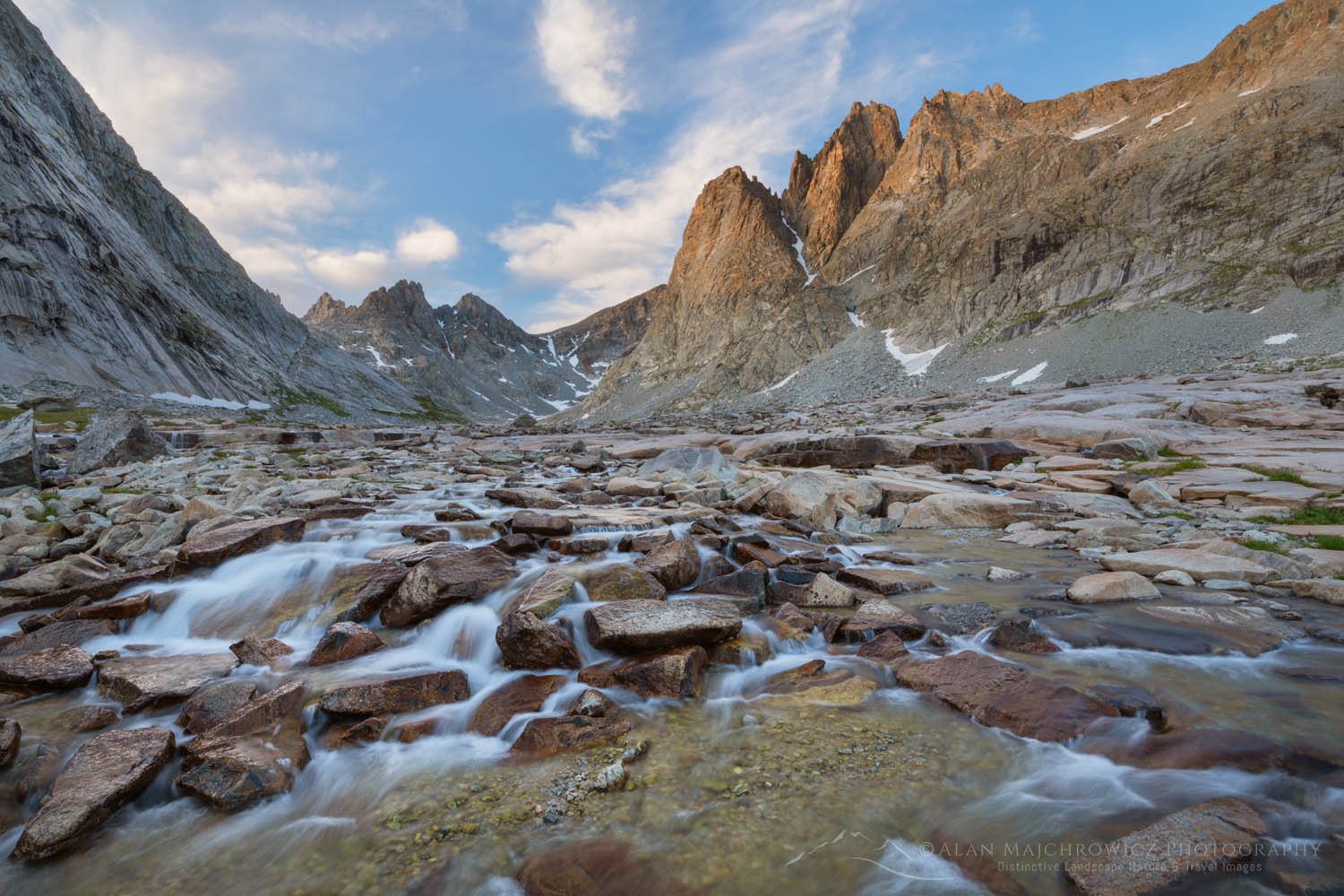 Upper Titcomb Basin Wind River Range #66695  Purchase
After sunset, I began work on some evening shots. First I made some long exposures of camp. But my main goal was to do some Milky Way photography. I set up my tripod looking south where the bulk of the Milky Way would cross diagonally across the sky. As I waited for the sky to become sufficiently dark the air was mostly calm with a few brief gusts of wind. Around 11:00 the Milky Way was out and I began to work. Towards the horizon, a few wispy clouds still had a bit of illumination to them which I brought out in post-processing.
Camp in Upper Titcomb Basin #66635  Purchase
I made several exposures and left the tripod set up for pre-dawn shots. That was a mistake since sometime during the night it was blown over by the wind. After midnight the wind picked up in earnest. Periods of dead calm were broken by severe gusts which made the tent fabric snap like gunshots. Needless to say, I didn't get much sleep!
Milky Way over Upper Titcomb Basin #66741  Purchase
Leaving Titcomb Basin for Indian Basin
In the morning it was still fairly windy, which made tearing down the tent a bit of a challenge. Again it was difficult to decide if I should stay an extra day, or move on. Food and fuel supplies were limited and I wanted to stay a couple of nights in Indian Basin, which was still new to me. Also, I planned to spend the last night at Island Lake before the final hike out.
Titcomb Basin Wildflowers #66766  Purchase
In the end, the empty blue sky decided for me, and I decided to move on to Indian Basin. The weather for the rest of the trip was mostly sunny with clear skies, so staying an extra day in Titcomb Basin would've been mostly fruitless from a photographic standpoint.
Making my way back down along the lakes I paused to photograph some yellow arnica flowers, which I made a note of on the way in. I also made an extended stop at the entrance to the basin. It would mark my last view of Titcomb Basin until I hopefully returned sometime in the future. It was also a good spot to take some selfie hiking shots. Both for posterity and to use as stock imagery.
Last view of Titcomb Basin #66804  Purchase
I sat a little while longer to take in the scene, then shouldered my pack and continued to Indian Basin. That final segment of this trip will be in my next post, Indian Basin Wind River Range.
If You Go to Titcomb Basin
Distance from Island Lake to Upper Titcomb Basin:  ~6 miles
Elevation:  ~300 gain from Island Lake to Upper Titcomb Lake
Highpoint 11,500′ at Twins Glacier area
Difficulty:  Easy
Red Tape:  As of 2019, no permits are needed
Totals for my nine-day trip including side trips and photo scouting
Distance: 44 miles
Elevation: 5800″
The Elkhart Park Trailhead is located at the end of Skyline Drive, an excellent paved road 15 miles east of Pinedale. About a mile before the road ends there is a viewpoint with dramatic views of the range and the gorge below. Adjacent to the trailhead there is a small campground. The few good sites here are almost always taken.
Make sure you take along plenty of insect repellant. The Winds are notorious for its ravenous hordes of mosquitoes and flies. Although they weren't too bad during my trip in mid-August. Also, be prepared for dramatic weather changes. I had great weather on my trip but the wind was brutal for several days.
The town of Pinedale makes a great base for multiple trips into the Winds. It has everything you'll need, from good food and lodging to one of my favorite outdoor recreation stores, the Great Outdoor Shop. It's stocked with everything needed for a successful trip, including a very knowledgeable and friendly staff. Don't visit Pinedale without dropping in! Right next door to the great Outdoor Shop is the best place to go for a post-trip meal, the Wind River Brewing Company. They have excellent burgers and great brews!
Titcomb Basin Wind River Range 66580  Purchase
Leave No Trace
Please Please Please!  Don't plan a trip to this or any other wilderness area unless you are prepared to strictly follow the guidelines of Leave No Trace (LNT). The Wind River Range and all other wilderness areas throughout the world are under incredible pressure from growing amounts of visitors. Please do your part to help preserve these precious areas for future generations!
To learn more about the principles and practicing LNT please take a few minutes to visit the Leave No Trace Center for Outdoor Ethics. Your children and grandchildren will thank you!
Seven Leave No Trace Principles
Plan ahead and prepare.                                       

Travel and camp on durable surfaces.                 

Dispose of waste properly.                                                                         

Leave what you find.                                            

Minimize campfire impacts (be careful with fire).

Respect wildlife.  

Be considerate of other visitors.
Photo Gear Used On This Trip
Nikon D850
Nikkor Lens:
14-24mm 2.8G ED
24-70mm 2.8E ED
70-200mm 2.8E FL ED
Gitzo 1532 Tripod
Really Right Stuff B-55 Ball Head
Assorted Lee Graduated Neutral Density Filters
B+H Polarizing Filter
Vello FWM-N2 Remote Shutter Release
If you enjoyed reading Titcomb Basin Wind River Range please share it with your friends and family. 
And check out these other Wind River posts!
Cirque of the Towers Wind River Range
Bonneville Lakes Wind River Range
Titcomb Basin Wind River Range
Indian Basin Wind River Range
Green River Lakes Wind River Range
Central Wind River Range Backpacking
Pyramid and Shadow Lakes Wind River Range

All photos appearing in Titcomb Basin Wind River Range are available for Commercial Licensing and Fine Art Prints. Click on any image to purchase, or contact me for more info!
Milky Way over Upper Titcomb Basin #66743  Purchase
Titcomb Basin Wind River Range