Wind River Range Pyramid and Shadow Lakes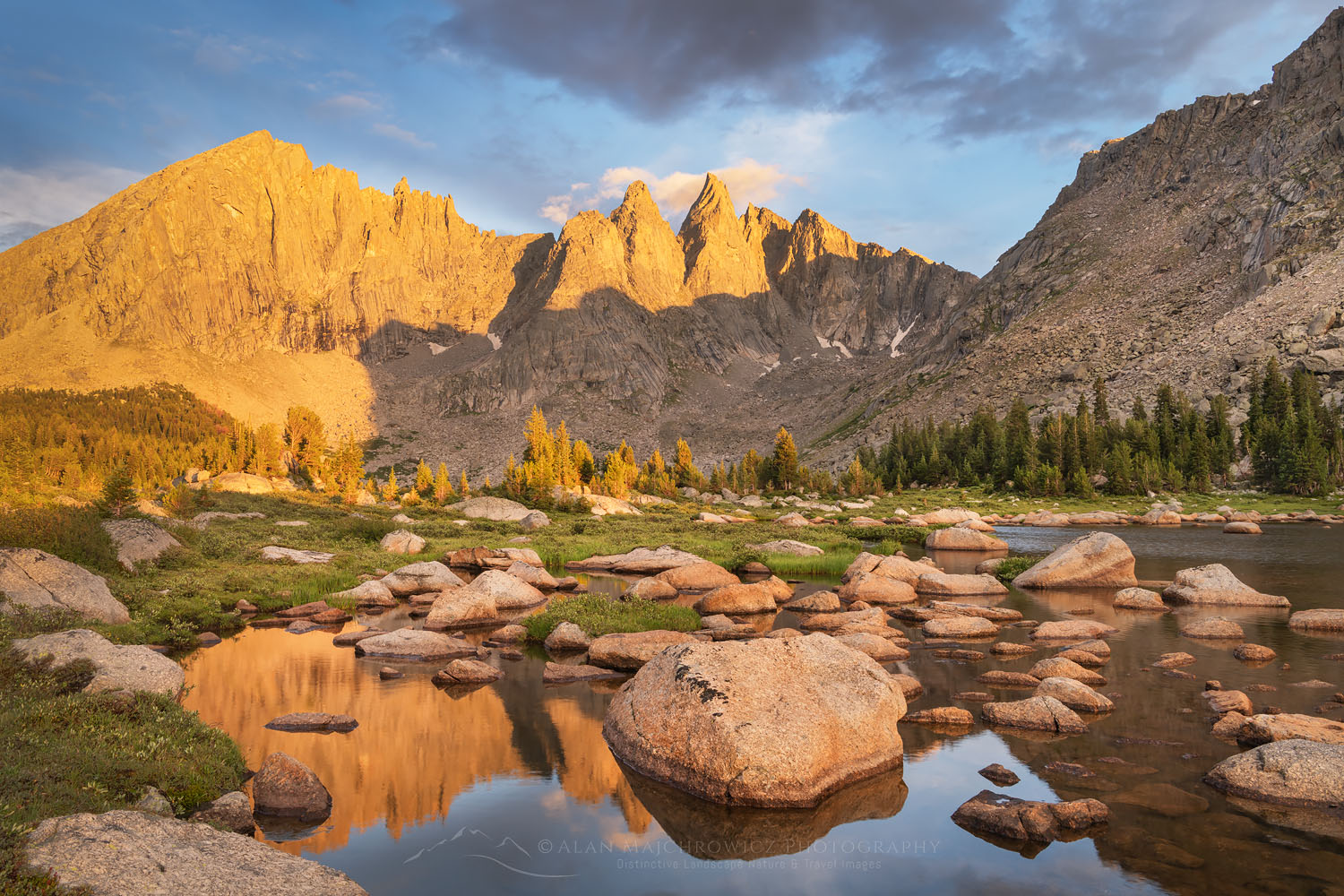 Shadow Lake Wind River Range #78151   Purchase
The Wind River Range is a mountain range in western Wyoming. It encompasses 40 peaks over 13,000′ in altitude, over 1300 named lakes, and is home to the largest glacier in the American Rockies. While not as well known as nearby Grand Teton National Park, the Winds nonetheless attracts an increasing amount of backpackers, climbers, photographers, hunters, and fishermen. An extensive network of trails, and easy cross-country travel, give access to nearly every corner of the range. All of this offers outdoor enthusiasts a lifetime of wilderness adventures.
My first visit to the Winds was in 2002, and I've been coming back for more adventure ever since. On this summer's return, I visited the Southern part of the range on two separate backpacking trips, each lasting from 6-9 days.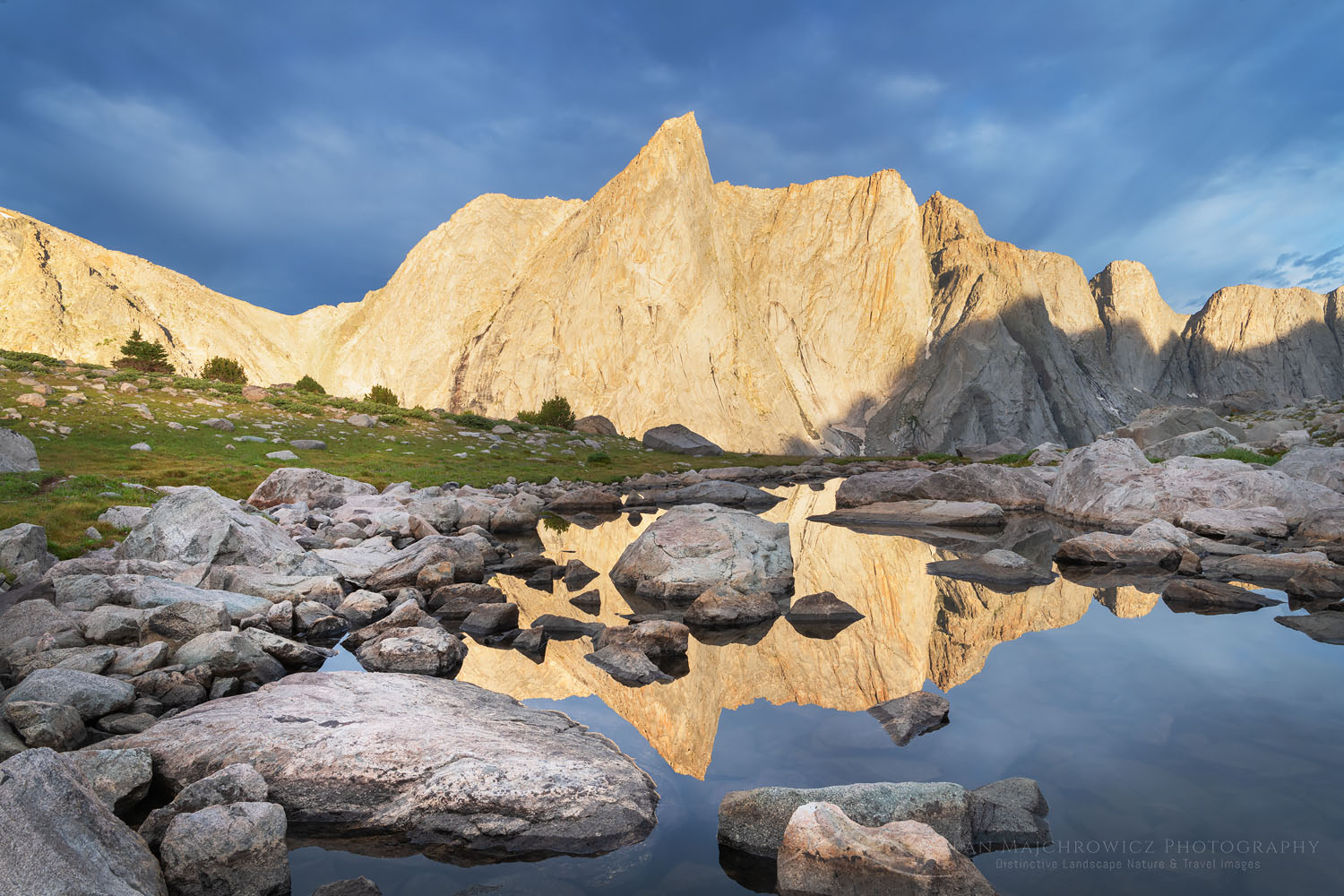 Ambush Peak Wind River Range #78047  Purchase
The first trip would take me to views of the awesome peaks of the East Fork Valley, also known as Desolation Valley. Then moving on to Shadow Lake for views of the backside of the Cirque of the Towers. The second trip, coming in my next post, would be to the Cirque of the Towers itself, and then to Deep Lake with views of East Temple and Temple peaks.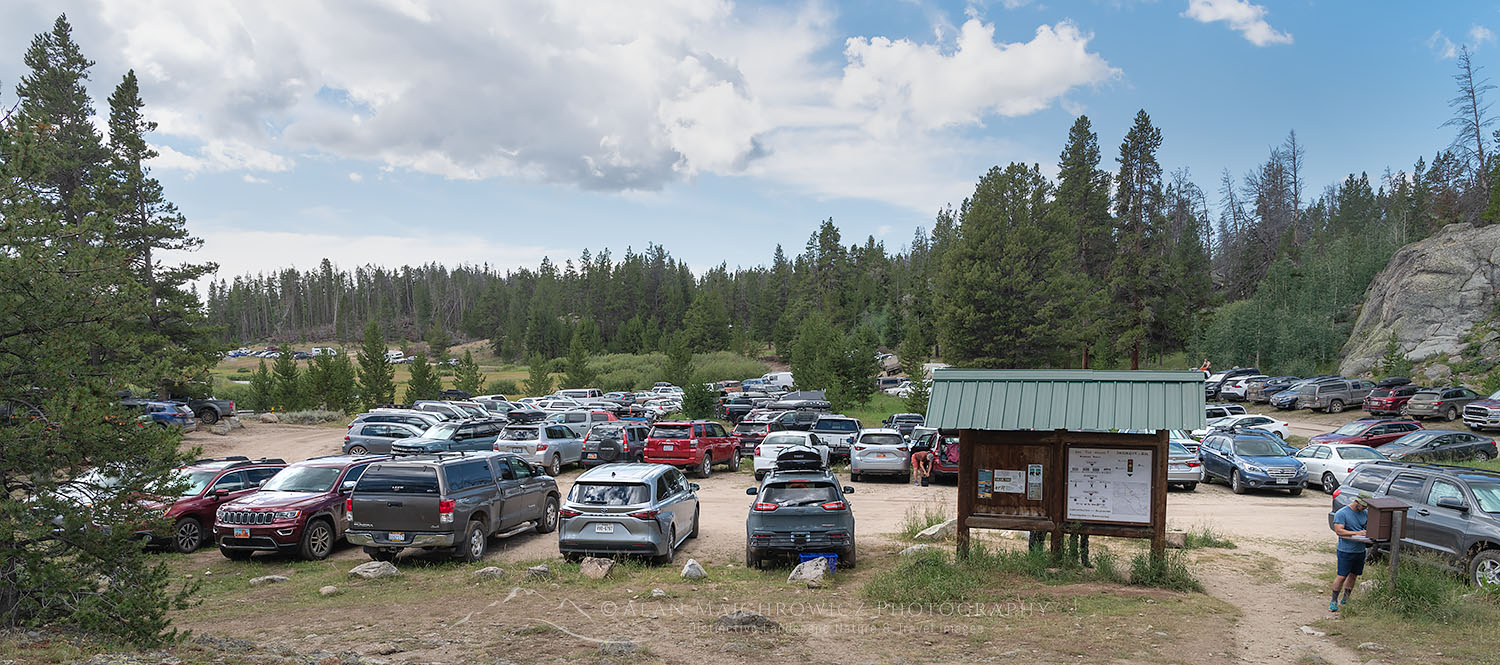 Big Sandy Trailhead #78182  Purchase
Big Sandy Trailhead Wind River Range
For both trips, the start would be from the Big Sandy Trailhead, one of the main access points for the southern part of the range. Getting to the trailhead is itself an adventure. It is about 56 miles from the nearest town of Pinedale with about half that distance on unpaved roads. The last 8 miles or so can be pretty rough and bumpy but is passable for regular passenger cars without four-wheel drive.
First-time visitors will be amazed, although possibly disheartened, by the huge amount of cars in the parking lot and overflowing nearly a mile down the road. However, it's worth noting that the Big Sandy trailhead gives access to many other trails and destinations. So rest assured, not all of those vehicles belong to people heading to the Cirque.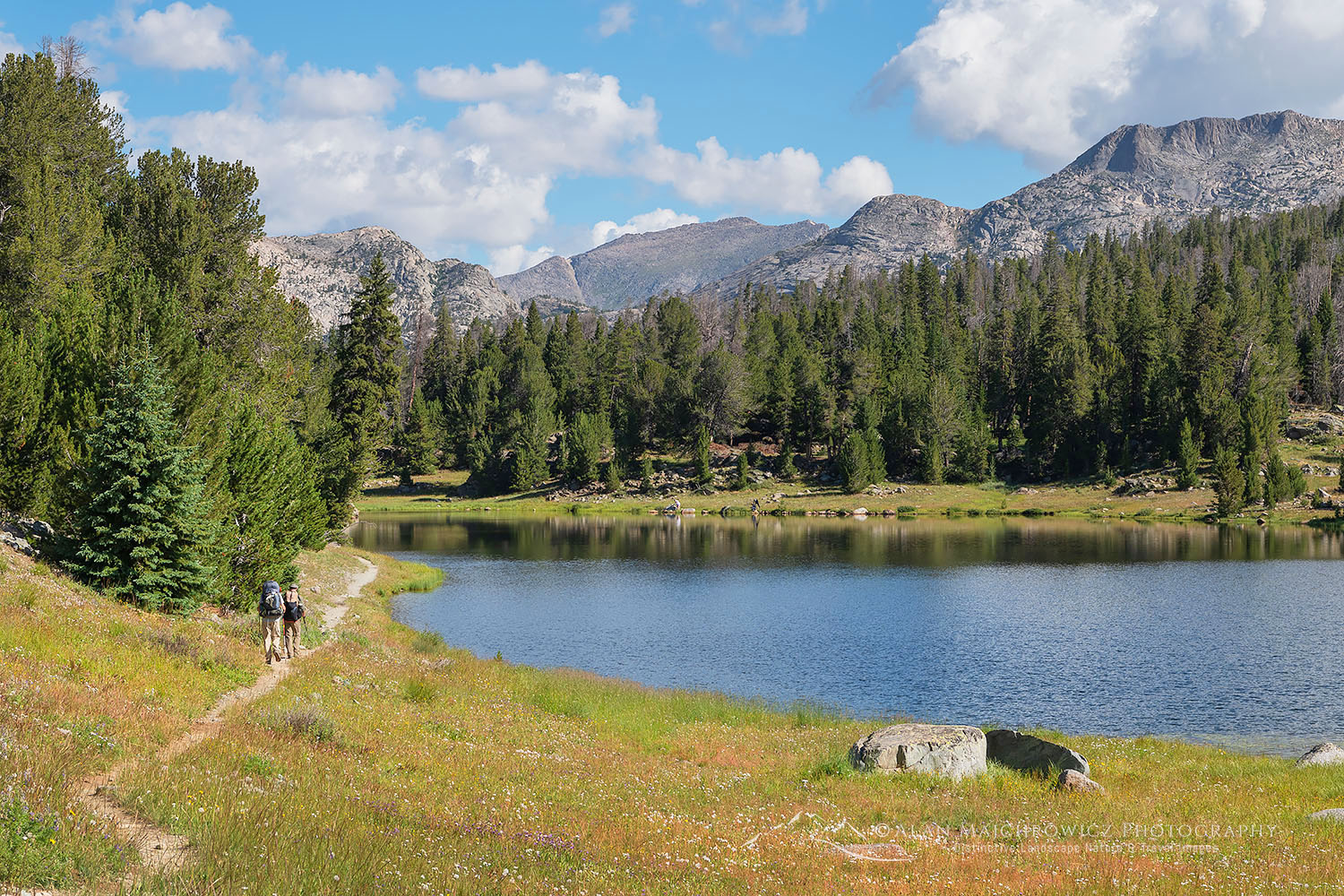 Marms Lake Wind River Range #78176  Purchase
Hiking to Pyramid Lake Wind River Range
My first destination was  Pyramid Lake and a small nearby pass with views of the East Fork or Desolation Valley. It's about a 12-mile hike from the trailhead to Pyramid Lake and is part of the popular Hailey Pass Washakie Pass Loop. After gradually ascending through the open forest for the first few miles, the trail enters wide open meadows. This is some of the most pleasant hiking imaginable. Soon the trail passes Mirror Lake, then Dads Lake, and finally Marms Lake.  All of these are very picturesque and inviting for fishing and camping.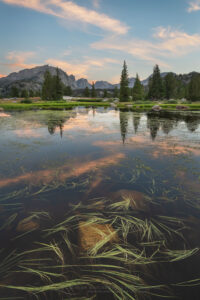 Subalpine Pond Wind River Range #77976  Purchase
Being the first day of an 8-day trip and loaded with camera gear my pack was pretty heavy. So upon reaching some lovely subalpine ponds just beyond and above Marms Lake I decided to set up camp. It was a very scenic area set amid meadows and polished rock outcroppings. All the other hikers on the trail passed up this spot so I had it all to myself! Plus I was able to make some nice photographs here during the golden hour light.
The next day's hike was a bit shorter, although with more elevation gain. Shortly after starting the trail began to climb and enter the actual mountains. Up to this point, travel was along a high benchland running parallel to the big peaks along the Continental Divide. And once again along the way, there was a string of picturesque lakes along the way.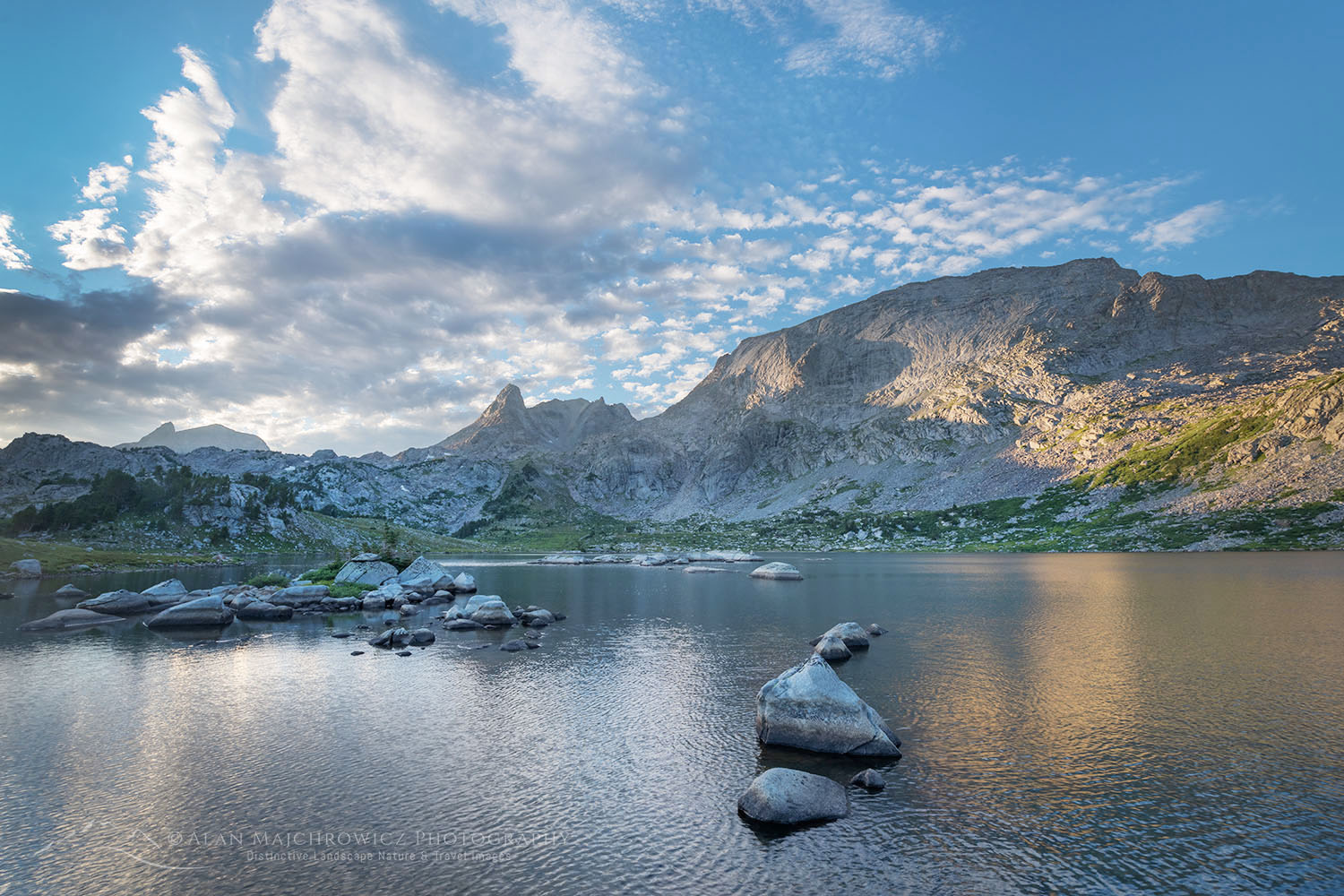 Pyramid Lake Wind River Range #77995 Purchase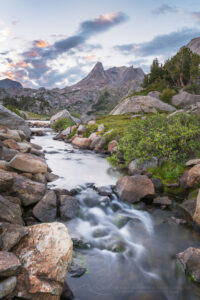 Creek flowing from Pyramid Lake Wind River Range #78011 Purchase
Pyramid Lake and Pass Wind River Range
After one last short but steep climb Pyramid Lake came into view. Sitting at 10,500′ and bordered on three sides by tall granite peaks it is a stunning scene. Although my main goal of a small pass was only a short hike further I decided Pyramid Lake was a worthy spot to spend the night and do some photography.
After setting up camp I did my usual location scouting in preparation for evening photography before making dinner.  Even though the middle of August was approaching, mosquitoes were still a nuisance and hindered the enjoyment of evening photography.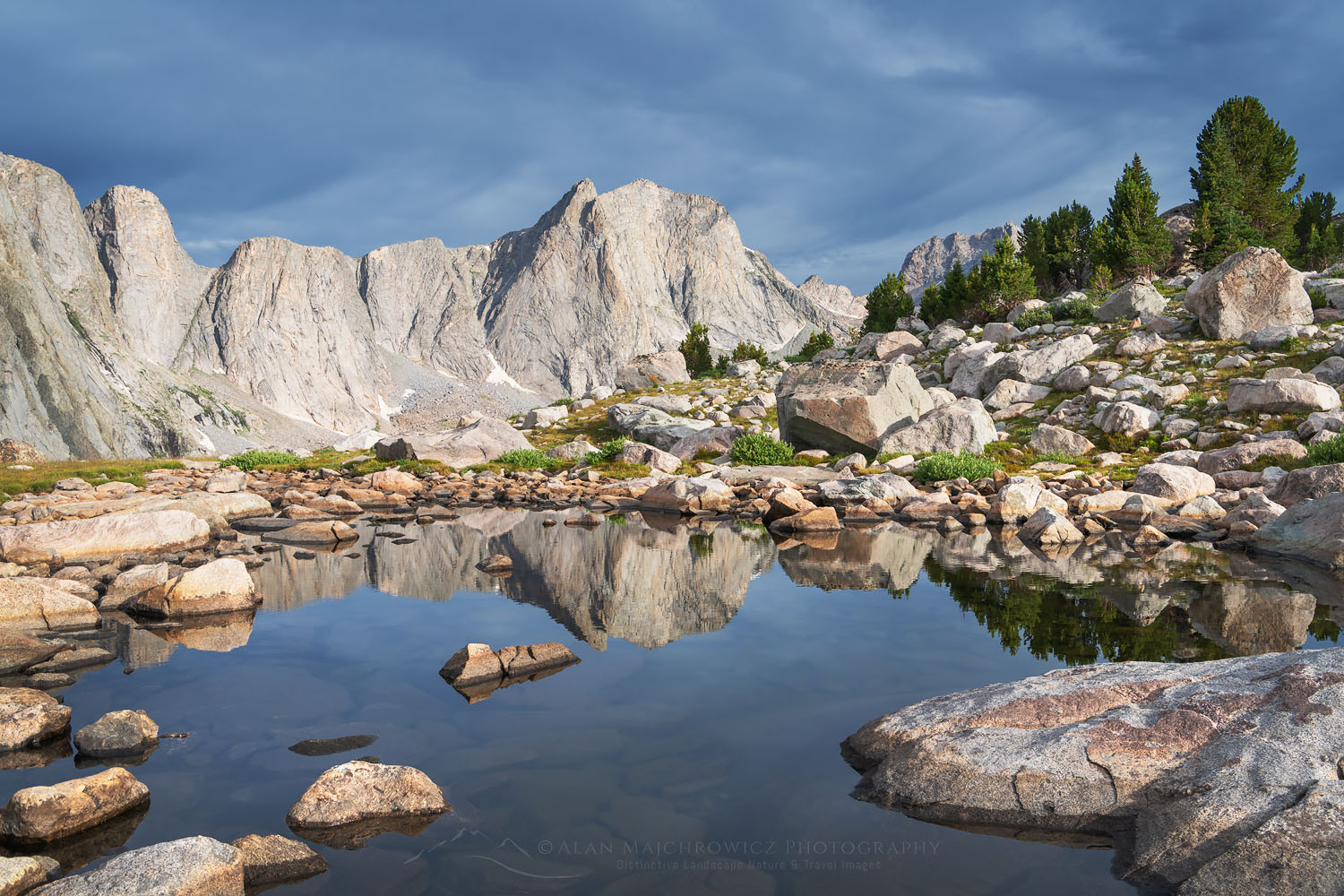 Raid Peak Wind River Range #78055 Purchase
The next day I moved camp the short distance higher up to the small pass overlooking the East Fork River valley. The views here were especially stunning. In addition, there was even a small tarn in a perfect location to aid in composing photographs. I only had to sit back, enjoy the surroundings, and wait for some good light for photography.
My original trip plan was to descend into the East Fork or Desolation Valley and photograph there for a few days before doing the entire Hailey Pass/Washakie Pass Loop. However, after consulting the map I felt that Shadow Lake needed to be a part of this trip. But allotting enough time at Shadow Lake for meaningful photography would mean a major altering of my itinerary.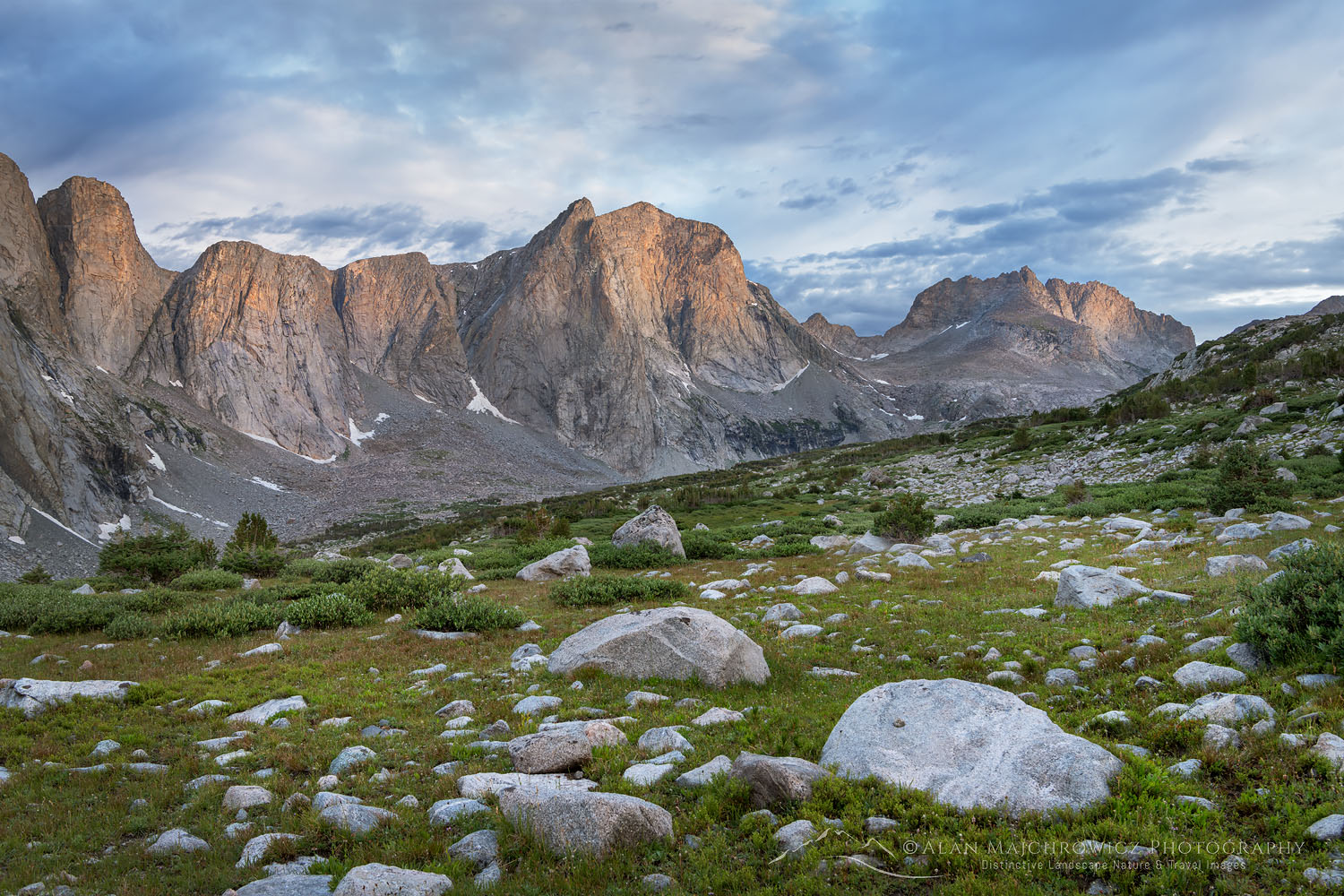 Raid and Bonneville Peaks Wind River Range #78043 Purchase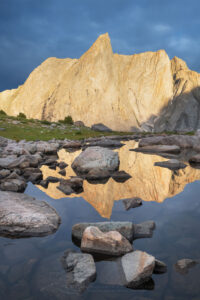 Ambush Peak Wind River Range #78046  Purchase
After a lengthy debate, I made the difficult decision to stay at the pass before moving directly to Shadow Lake. Unfortunately, Desolation Valley and the Hailey Pass/Washakie Pass Loop will need to be part of a future trip. I should note here that since my main goal on backpacking trips is photography, I often need to have the flexibility to be able to change plans, so I have enough time to wait at a location for optimum lighting conditions. And this soon proved essential.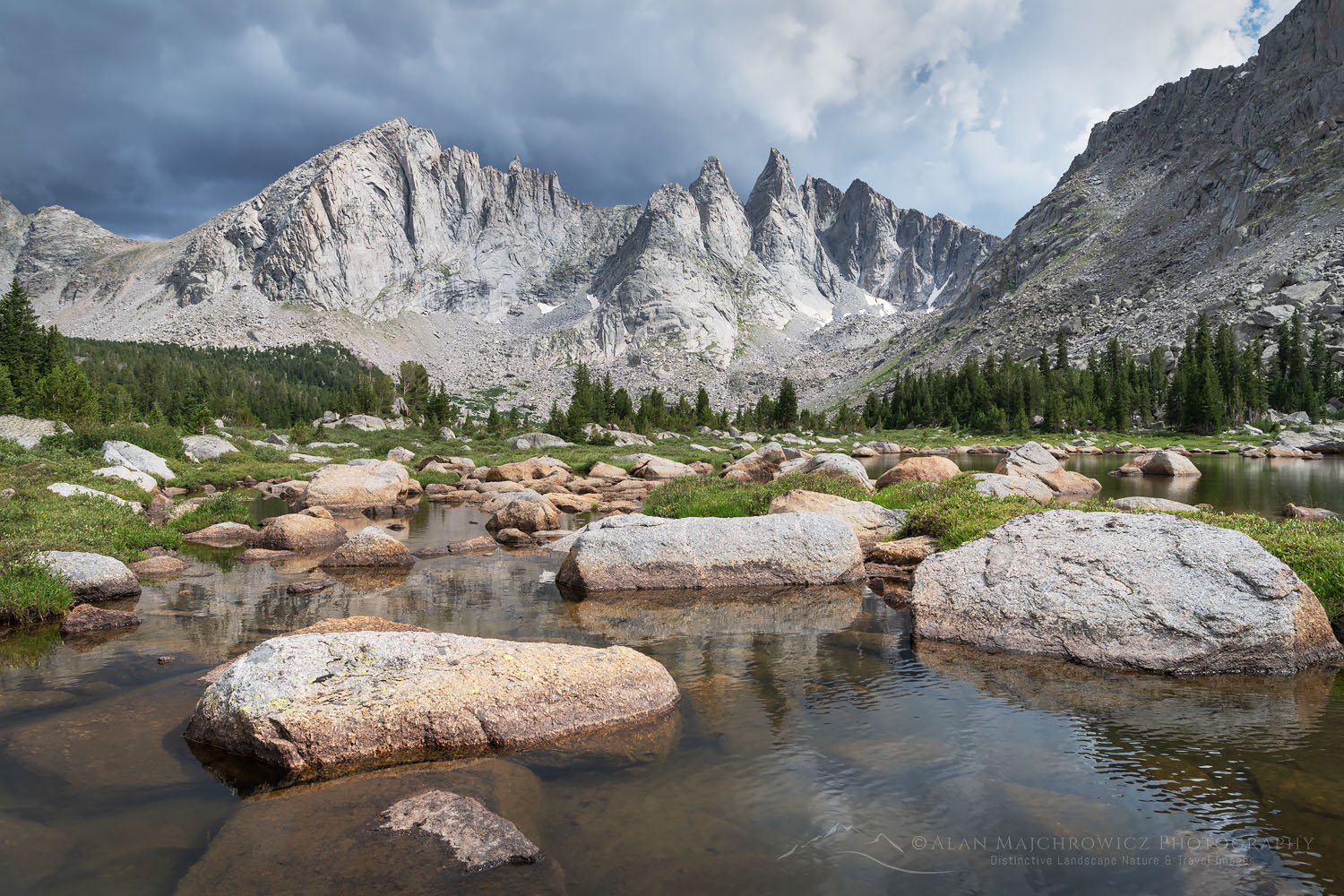 Clearing storm at Shadow Lake Wind River Range #78077   Purchase
Shadow Lake Wind River Range
Shadow Lake is a notable destination in that it sits on the backside of the Cirque of the Towers. It's a truly beautiful lake situated below impressive granite spires. For most backpackers, it is at the beginning or end of an exciting and scenic loop trip over Texas pass to the Cirque. For me, however, it was the actual destination.
The hike from Pyramid Lake to Shadow Lake was a breeze. It was mostly downhill for several miles to the Shadow Lake trail junction. From there it was less than 3 miles on a pleasant trail with minimal elevation gain. Once at the lake I scouted for a campsite located near the best photo opportunities. This turned out to be below the lake outlet. Nearby were some pretty pools set among boulders and grassy tussocks, perfect for creating photo compositions. Once again, all I had to do was wait for ideal lighting conditions.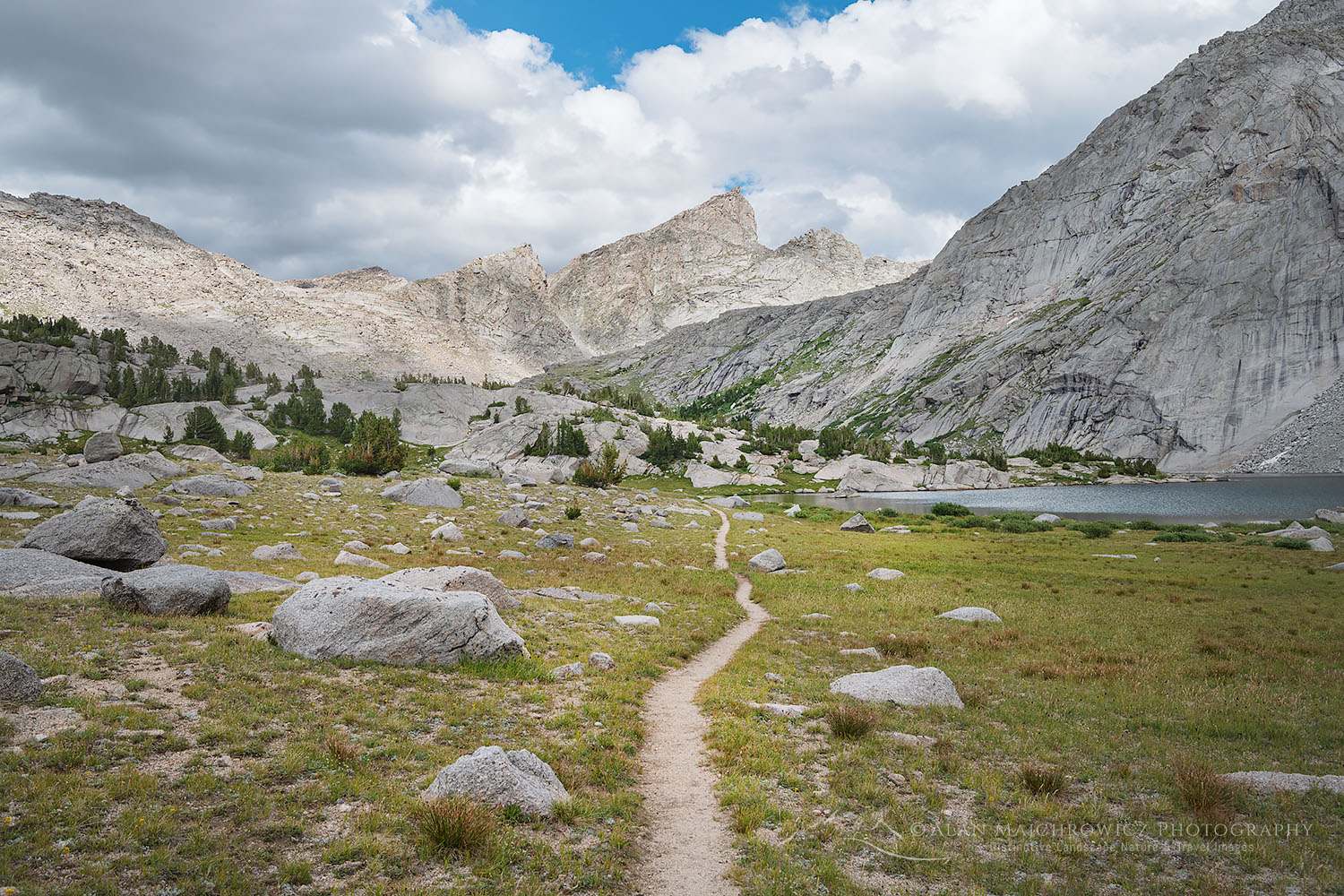 Trail along Billy Lake River Range #78104   Purchase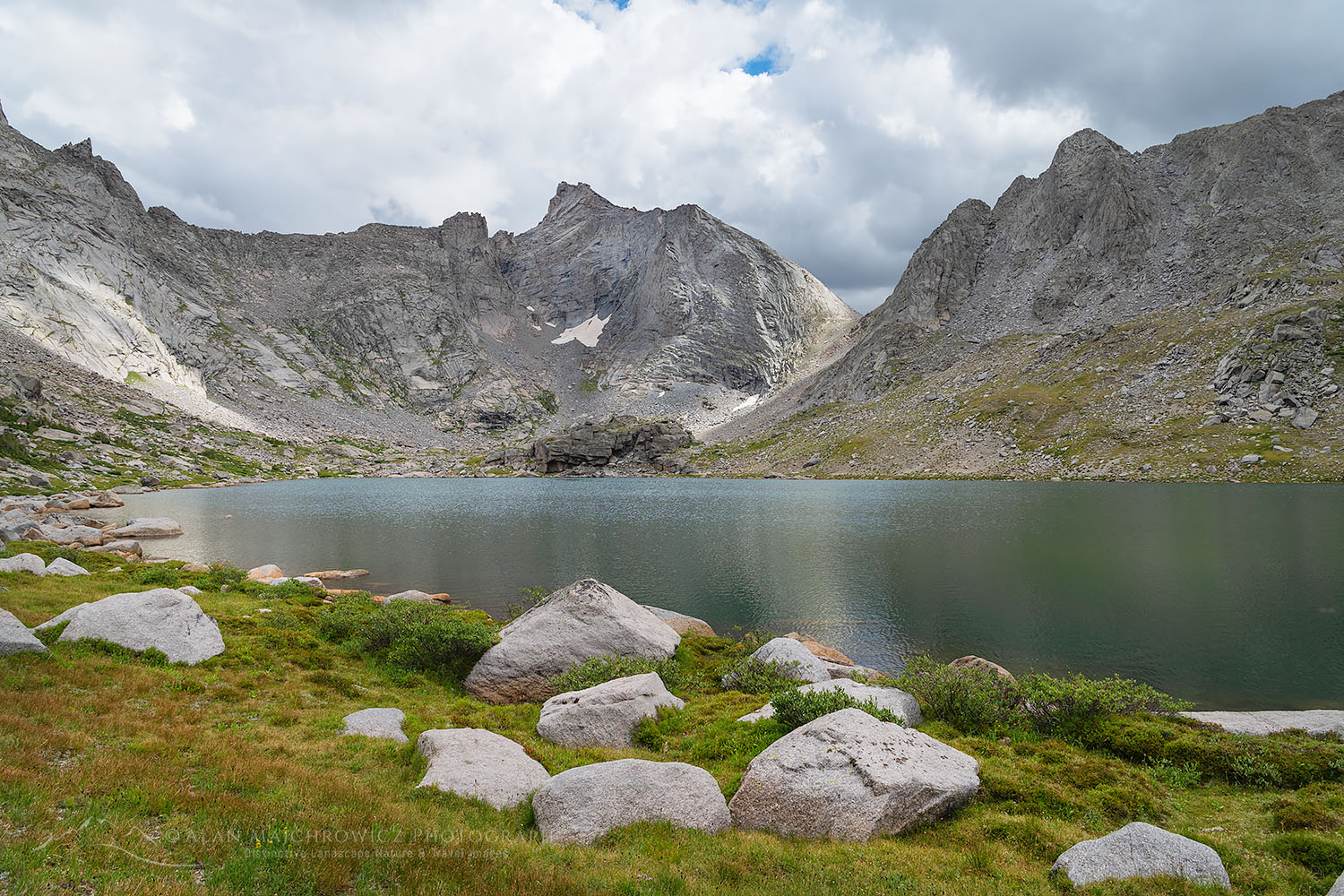 Barren Lake Wind River Range #78097  Purchase
I ended up spending three nights at Shadow Lake. At first, I once again debated if maybe I should alter my plans. It was entirely possible to continue over Texas pass and then photograph at Cirque of the Towers. This would make for an impressive trip. However, that would leave me only one day, two at the most for photography in the Cirque, and no time at all to visit nearby Deep Lake. But the photographer in me advised that it would be more prudent to sit tight at the lake, which I did.
Patience Pays Off
On the second day at Shadow Lake, I day hiked to the upper lakes and below Texas Pass. This area was a stark and dramatic alpine landscape among granite boulders and small grassy meadows. The next morning I was tempted to move my camp the short distance to the upper lakes. A cloudless morning soon gave way to an overcast sky which was soon followed by showers. It then rained for most of the day, eliminating all thoughts of moving camp and photographing in the upper valley.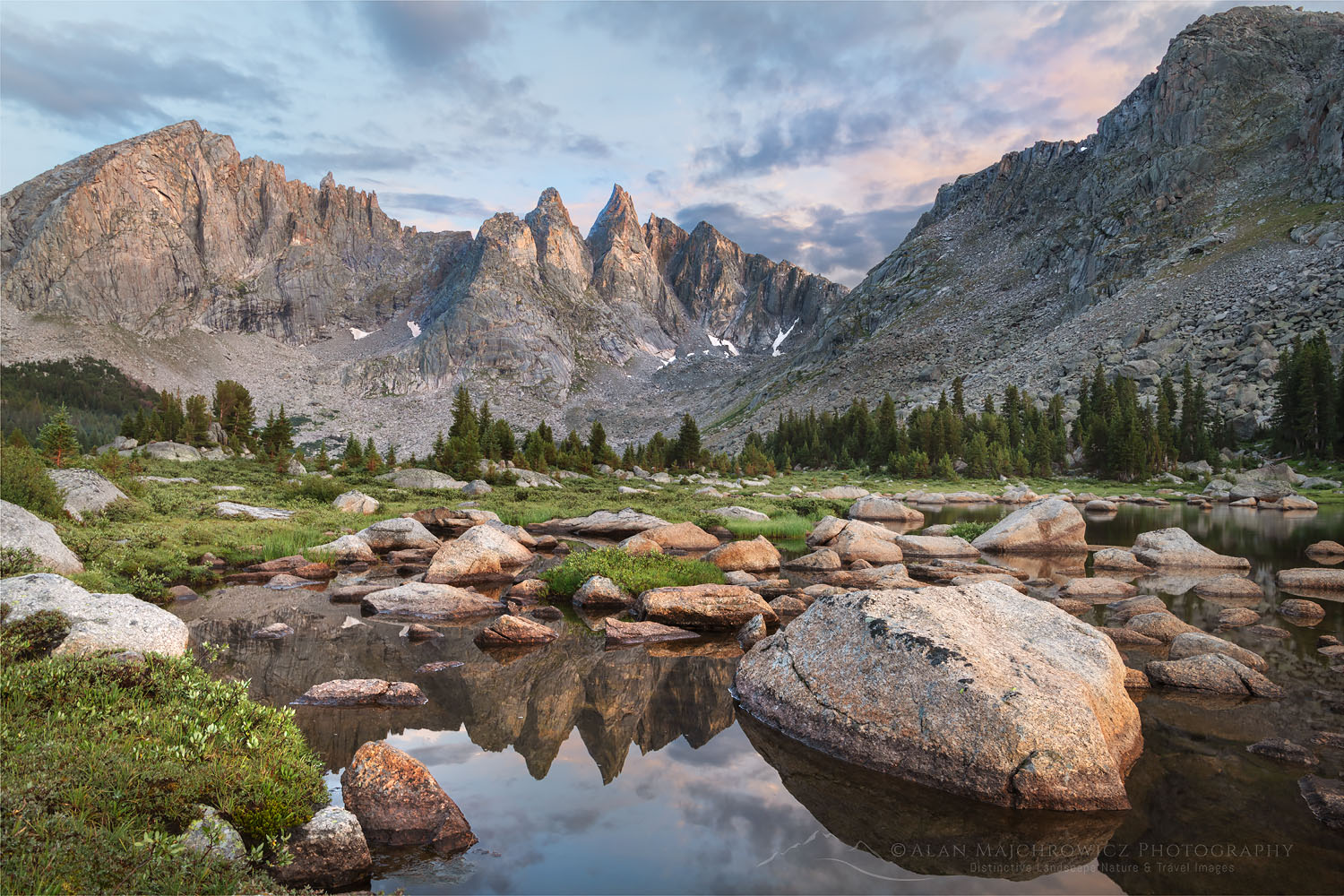 Shadow Lake Wind River Range #78112   Purchase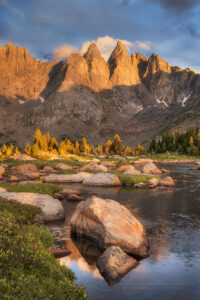 Evening at Shadow Lake Wind River Range #78143   Purchase
Even though I was stuck in the tent all day everything turned out for the better.  Just before sunset, the clouds began to part and some beautiful light began to illuminate the peaks. It was just the kind of condition I was waiting for and did much to reaffirm my decision to stay and be patient.
The next day I packed up and hiked back out to the trailhead, with the warm feeling of satisfaction that comes at the end of an enjoyable backpacking trip. And also that I was returning with many great photos.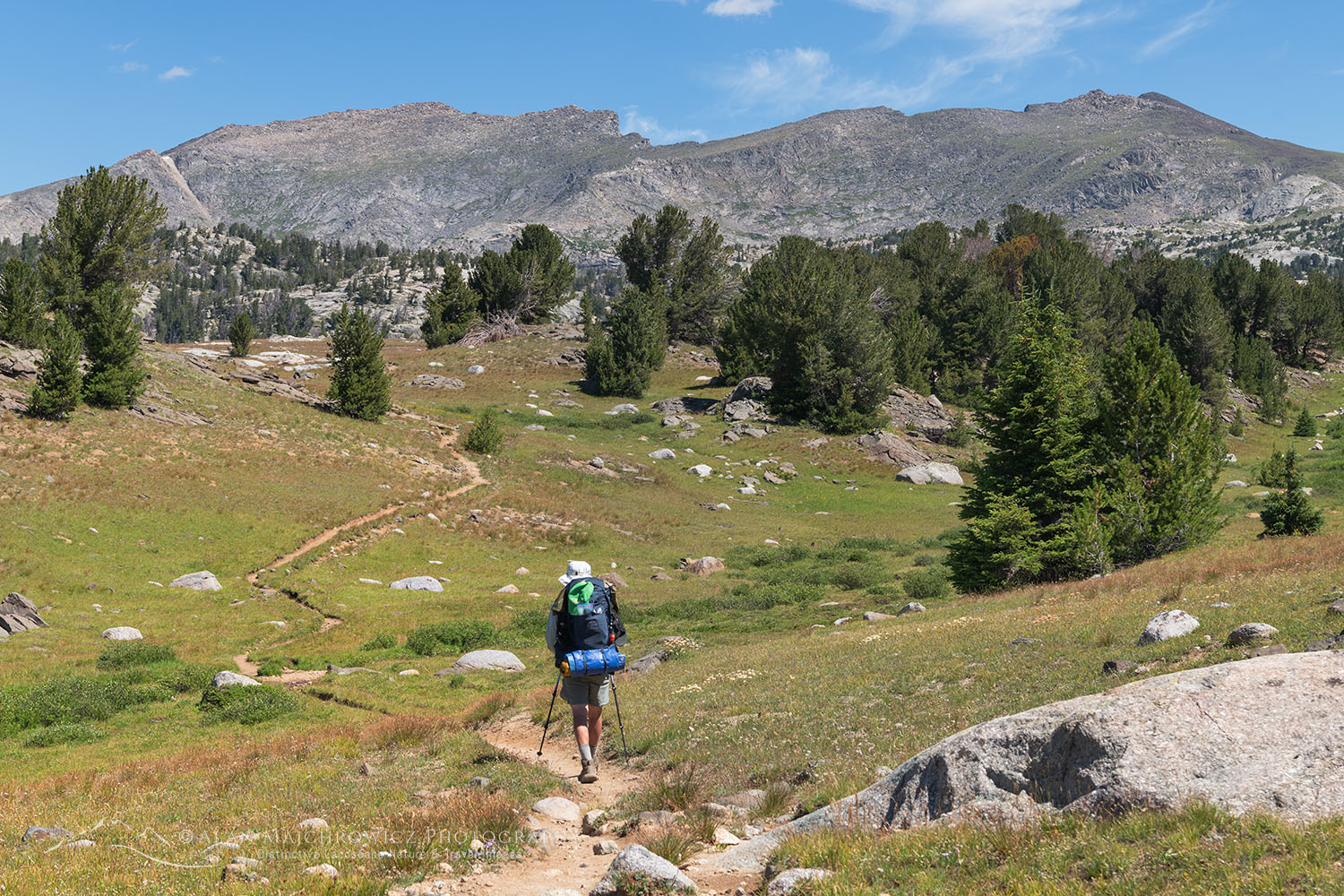 Backpacker Wind River Range #77923  Purchase
If You Go to Pyramid and Shadow Lakes:
Distance: ~34 miles round trip
Elevation: ~3500″ not including numerous elevation gains and losses
Difficulty:  Moderate
Red Tape:  As of 2022, no permits are needed
Maps: Wind River Range South; Beartooth Publishing
Guidebooks: Beyond Trails in the Wind River Mountains
The Big Sandy Trailhead is located about 56 miles south of Pinedale. The last eight miles or so can be rough and slow going but is passable for ordinary passenger cars. Adjacent to the trailhead there is a small campground, and there are also scattered sites along the last few miles of the road. Like most trailheads in the Winds, parking can be at a premium, get an early start.
Make sure you take along plenty of insect repellant. The Winds are notorious for their ravenous hordes of mosquitoes and flies. Although they weren't too bad during my trip in early August. Also, be prepared for dramatic weather changes. Summer thunder and lightning storms are very common along the Continental Divide. Because of this stay off high ridges and summits during the afternoon.
The town of Pinedale makes a great base for multiple trips into the Winds. It has everything you'll need, from good food and lodging to one of my favorite outdoor recreation stores, the Great Outdoor Shop. It's stocked with everything needed for a successful trip, including a very knowledgeable and friendly staff. Don't visit Pinedale without dropping in! Right next door to the great Outdoor Shop is the best place to go for a post-trip meal, the Wind River Brewing Company. They have excellent burgers and great brews!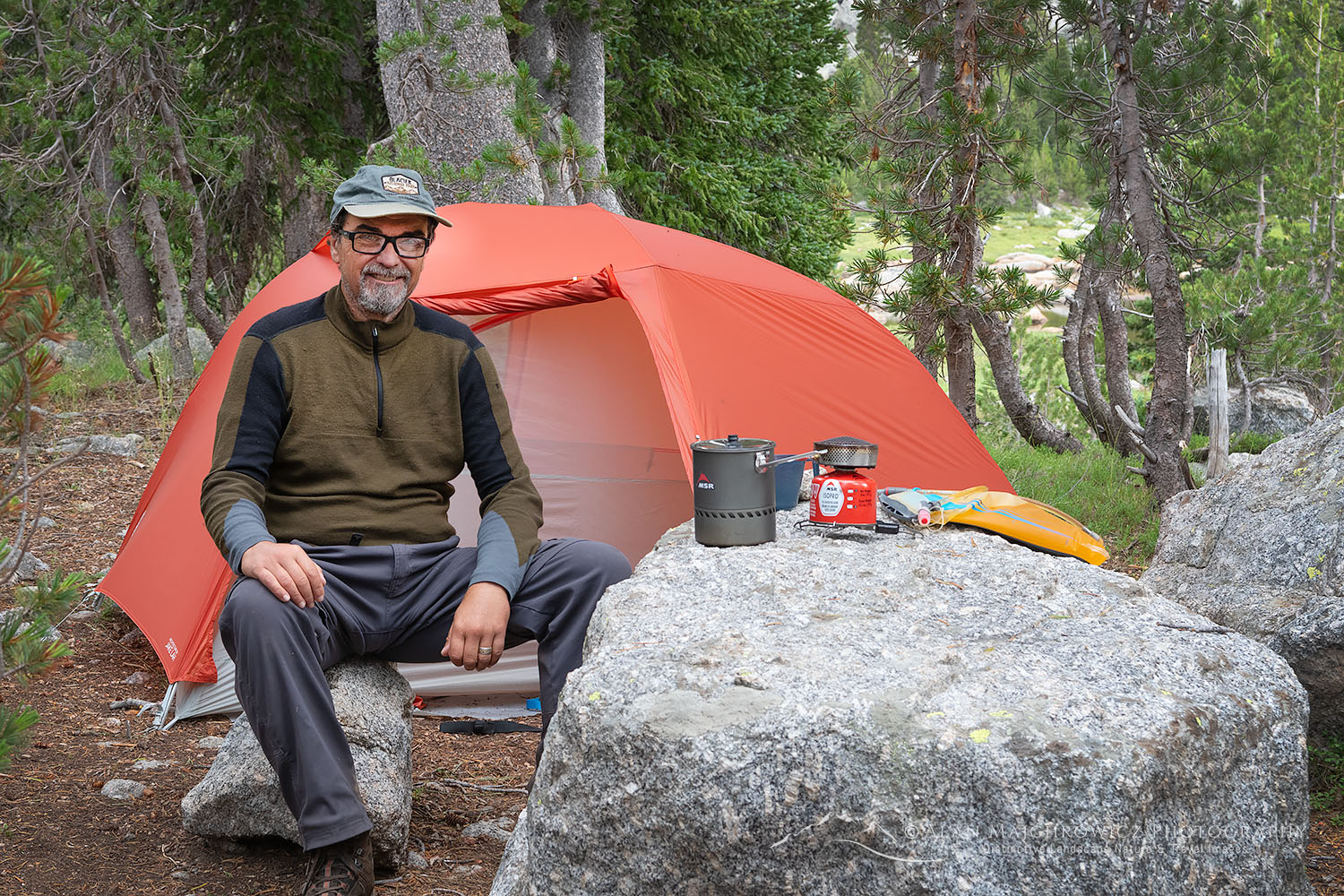 The author at Shadow Lake camp
Leave No Trace
Please Please Please!  Don't plan a trip to this or any other wilderness area unless you are prepared to follow the guidelines of Leave No Trace (LNT). The Wind River Range and all other wilderness areas throughout the world are under incredible pressure from growing amounts of visitors. Please do your part to help preserve these precious areas for future generations!
To learn more about the principles and practicing LNT please take a few minutes to visit the Leave No Trace Center for Outdoor Ethics. Your children and grandchildren will thank you!
Seven Leave No Trace Principles
Plan ahead and prepare.                                       

Travel and camp on durable surfaces.                 

Dispose of waste properly.                                                                         

Leave what you find.                                            

Minimize campfire impacts (be careful with fire).

Respect wildlife.  

Be considerate of other visitors.
Photo Gear Used On This Trip
Nikon D850
Nikkor Lens:
14-24mm 2.8G ED
24-70mm 2.8E ED
70-200mm 2.8E FL ED
Gitzo 1532 Tripod
Really Right Stuff B-55 Ball Head
B+H Polarizing Filter
Vello FWM-N2 Remote Shutter Release
If you enjoyed reading Pyramid and Shadow Lakes Wind River Range please share it with your friends and family.
Also, check out these other Wind River posts!
Cirque of the Towers Wind River Range
Central Wind River Range Backpacking
Bonneville Lakes Wind River Range
Island Lake Wind River Range
Titcomb Basin Wind River Range
Indian Basin Wind River Range
Green River Lakes Wind River Range
All photos appearing in Pyramid and Shadow Lakes Wind River Range are available for Commercial Licensing and Fine Art Prints. Click on any image to purchase, or contact me for more info!
Pyramid and Shadow Lakes Wind River Range